New Canadiana :: Femminielli // Araignée – Chauffeur b/w Silvia
---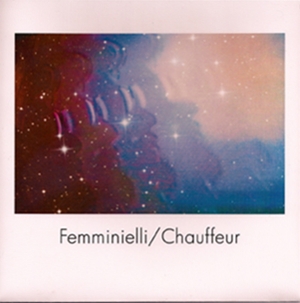 Femminielli // Araignée
Chauffeur b/w Silva
Montreal, QC
De la limousine noire de Jesse Locke:
Fixture Records' first foray into wax is a serious stunner. Sharing a split 7" with himself, Bernardino Femminielli presents a song from two different projects, revealing the dual sides of his musical personality. "Chauffeur" not only aligns itself with the best Duran Duran song but also cops its cult vibes from Carpenter scores of the '80s late nite multiplex. Layering sensual whispers on a bed of chilly synths, it's a leather daddy sex cave you won't want to escape. On the flip, "Silvia" introduces the impassioned soap opera pop of his Araignée offshoot, all shuffling beats, electro gleams and water-damaged vocals, and equally jaw-dropping. Get your mitts on this now.
De la solitude euphorique de Trevor Angst: (Le mode en rafale de Odile Leclerc)
La première percée de Fixture Records dans la cire est un sérieux coup de masse. Partageant un album divisé 7'' avec lui-même, Bernardino Femminielli présente une chanson de deux différents projets, révélant les deux côtés de sa personnalité musicale. "Chauffeur" ne s'aligne pas seulement avec la meilleure chanson de Duran Duran mais attrape aussi les sensations cultes des scores de Carpenter des multiplex de nuit des années 80. Superposant de sensuels chuchotements sur un lit de synths frileuses, c'est une grotte de sex à papa en cuir dont vous ne voudrez pas vous échappez. D'un autre côté, "Silvia" introduit un passionné feuilleton pop de la ramification de son Araignée, tout autant de rythmes brouillés, de reflets d'électro et de voix endommagées par l'eau, et également à rester bouche bée. Mettez vos mains sur ça maintenant.
---
---
---