New Canadiana :: Brazilian Money – This Is Not A Dream
---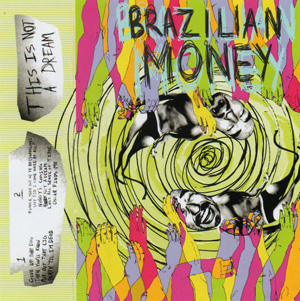 Brazilian Money
This Is Not A Dream
Edmonton, AB

The boys from Brazil (ian Money) throw it all at the wall on their latest c32 dispatch, and — surprise, surprise — everything sticks. Like an overheated Pizza Pop™, This Is Not A Dream bursts at the seams with genre-blurring gunk rockers,
bellyaching'
bummer folk and falsetto piss 'n' vinegar. Guitars warble and strum with hand-bleeding repetition, horns squeal like a
second line
and frontman Garrett Johnson hog hollers in a variety of voices. Wake up and grip with the sweaty-palmed quickness.
[audio:http://weirdcanada.com/wp-content/uploads/2011/05/Weird_Canada-Brazilian_Money-Party_Til-Im_Dead.mp3|titles=Brazilian Money – Party Til I'm Dead]Brazilian Money – Party Til I'm Dead
[audio:http://weirdcanada.com/wp-content/uploads/2011/05/02-Then-Youll-Know.mp3|titles=Brazilian Money – Then You'll Know] Brazilian Money – Then You'll Know
[audio:http://weirdcanada.com/wp-content/uploads/2011/05/Weird_Canada-Brazilian_Money-Give_Up_That_Dog.mp3|titles=Brazilian Money – Give Up That Dog]Brazilian Money – Give Up That Dog
---
---
---