Inferred Views :: Wolf Edwards of Iskra and the University of Victoria
---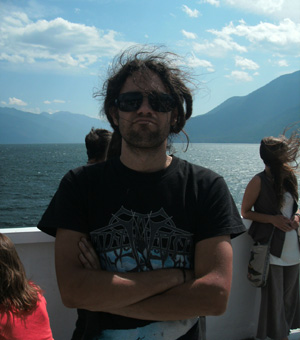 Wolf Edwards is a composer and former stand-in instructor at the University of Victoria. His music is physical, violent, it disturbs, it instigates, and transcends. It is spectral and glistening – sheets or razor sharp sounds, clashing and colliding around your body, it is like being trapped in a birth of star. Perhaps Wolf's aggressive approach is in-forced by his background and involvement in other forms of extreme music. Wolf started out playing hardcore punk and currently plays guitar for super heavy anarchist hardcore band Iskra. Wolf has been featured in Dusted Reviews as a part of their "Composers that Matter" series and this year he will be releasing a record of his string music. Wolf, being a very busy man, kindly took the time to answer some questions.
Zachary Fairbrother
Weird Canada
www.weirdcanada.com
/////////////// WOLF EDWARD INFERRED VIEWS ///////////////
Zachary
::
How did you find yourself on two such divergent musical paths? How did one lead to the other and how are they related?
Wolf
::
I was a punk rocker at Ucluelet Secondary School in the 1980s. It was during that time that I taught myself electric guitar by listening to Black Flag and Crass. I was also toiling in the largest fish factory on the West Coast of Vancouver Island: Ucluelet Seafood Producers with the rest of my family. I don't know if you've worked in factories, but I'll tell you that the environment was intolerable. My bandmates and I hated the blatent racism, homophobia, and sexism that was constant in the workplace. Add to that a violent disregard for the environment or any kind of intellectual stimulation and, for us, the factory was an embodiment of everything we came to hate. Our band left Ucluelet for Victoria. I spent the next eight or so years playing in Anarchist bands. We lived in poverty, and played music.
I was on Social Assistance at the time and, around 1993, was forced to take one of their many forced job programs. Such programs, rather than assist, were generally designed to degrade and humilate. It was at this time that I lived near a Conservatory of Music. Having played electric guitar in various bands for a number of years, I, on a whim, entered and inquired about classic guitar lessons. When I heard the cost, I told the receptionist that there was no way I could afford such lessons. She promptly informed me that I could apply for student loans and take a few courses. Since the welfare program was giving me a hard time, I decided to enroll. My family being poor, I was able to aquistion the loans necessary for the courses. I took theory, classic guitar, music history, and sight singing.
While studying guitar, my teacher, Alexander Dunn, who was a student of Pepe Reomero, noticed my interest in certain twentieth century compositions that I had been playing. The music was not very good, but I was never-the-less more interested in modern music, as well as that of the 15th century and Baroque, much more than the Romantic and Classical. Alex informed me that the "modern" music I was playing on guitar, Leo Brouwer, and Toru Takemitsu, was not the most challenging and that I should, in fact, check out the leading composers of the era. He introduced me to his old composition teacher's music with whom he'd studied with at UCSD. This composer was non other than the great Brian Ferneyhough. I was immediately attracted to the energy, and life, of the music. I went to the Conservatory library and there discovered Stockhausen, Xenakis, and Cage. After that, there was no going back, so to speak. I fell in love with the music of the 1940s on. After a few months of listening, I decided that I must write music. The guitar repertoire, with the exception of a few works, left me unimpressed. I left behind the idea of becoming a guitar performer. I told this to Mr. Dunn. He informed me that if I wanted to make any headway with music composition that I'd better think about enrolling in the University, which I did the following year.
Ever since then I've written, and performed, what one might call "extreme" music, while at the same time written what one might call "classical" music. For me, neither title fits. The music I play with my band ISKRA is, in many ways, more "classical" than that which I write for acoustic instruments.
Zachary
::
Do you think that in the end punk/hardcore and rigorous experimental music are different means to the same end?
Wolf
::
I can't say because I don't think about "the end." I am extremely dedicated to both, and prefer to work through them, on my own terms, without any end goal in mind. I try, in both fields, to simply do my best. To write better. If I reached some kind of "end" then I think I would no longer need to write.
I never mix the two different genres. For me, this post-modern idea of pastiche is far to simple and contrived. Personally, I would much rather push the limits of both, but on their own terms. Different things need to be done within each musical sphere. They are not the same language.
Zachary
::
Are your approaches to composing for other instruments grounded in the sounds of punk and hardcore musics? It terms of the use of noise, dissonance, rhythms, extended techniques, or else?
Al
::
No. I never think about punk when writing classical music. Ironically, the music I write for my band is more "classical" than my "classical!" That is, in ISKRA, I write tonal music, mostly in sonata form. There are of course elements that cross over, mostly because they both deal with sound. Distortion, for example. One could say that I use distortion in my classical music. In reality this so-called "distortion" is simply complex sounds. That is, there are many frequencies present.
Zachary
::
Being in an anarchist hardcore band on one hand and a composer on the other seem on the surface contradictory; one is thought of as being a communal democratic process while the other is associated with emperical tendencies. Can you talk about your approach?
Wolf
::
I don't believe that one is "democratic" and one is "emperical." I suppose one can think of it this way, but I do not. Obviously it depends on how one views the process of making music as well as how one approaches the process. First of all, I don't see the composer ias being a tyrant, telling people what to do and so on. When a composer writes a chart, s/he needs a community to ensure the piece happens. When I walk into a room full of experienced, and talented, musicians, I am not there to be a dictator, I am there to make music with them. To bring music to life. We work together and great things happen. It is a communal effort. I am sure some composers have a different outlook, but, as I am an anarchist, that is how I view the musical process. The band is the same thing. The group gets together and brings the compositions to life. We work out alternate ideas, find the rhythms we want, and make the songs happen. So these two worlds are not contradictory, so far as process goes. They are seemingly contradictory, however, in terms of their historical root. Anarchist punk/metal is rooted in working class revolt to a status quo system that, in reality, doesn't work. Classical music is rooted in an aristocratic tradition, or at least that's what most people think. That is the apparent opposition. Times have changed, however, and now we can have someone like me who works in both worlds.
Zachary
::
I have read that your politics influence your music in terms of form and architecture. I am curious to your methods, could you speak about them?
Wolf
::
The music I make is mediated through a political, or anti-political, lens(depending on what one thinks when reviewing the word "politic"). I work with crumbling foundations, and open experimentation. Multiple possibilities are present at every stage of my work. I work without law. As well, the laws of our society have no place in my creative process. I work with sound only. My sounds are alive. They communicate with me. I work with them to create a labyrinth of communications. In my music, the sounds are interactive. In fact the sounds write the music. I am a type of medium that listens to what the sounds require. There is no clear method, but I am fully conscious at every moment. The real "performance" is happening for me in each moment of the creative act. I don't work from sketches for fear of, as Feldman once said, "pushing the sounds around." The piece is the sketch and vice-versa.
Zachary
::
I noticed that the Quasar Sax Quartet will be playing a piece of yours this year. Can you speak a bit about it and any other projects you have coming up.
Wolf
::
The Quasar have performed my piece ISKRA about 12 times all over the world. Now we are working together on an octet that will be performed by the Quasar and Arte(Switzerland). I will go with the group to Europe and work with both quartets. In addition, the Quasar just performed in a work I wrote for Walter Boudreau and the SMCQ entitled IRONS. This piece was for saxophone quartet, amplified strings, contrabassoon, and six percussionists. I'm also writing a piece for an instrument invented by Montreal composer Jean-Francoise Laporte, which will be premiered in May. Aside from that, I have a record coming out of all my string music to date.
Zachary
::
Lastly, any other Canadian Composers Weird Canadians should know about?
Wolf
::
Yes, you should know about Mark Molnar from Ottawa, and Charles-Antoine Frechette from Montreal. These are great composers who also work with sounds, not systems. They are original, intelligent, and uncompromising sound artists.
(Traduit par Odile Leclerc)
Wolf Edward est un compositeur et un ancient instructeur remplaçant à l'Université de Victoria. Sa musique est physique, violente, elle dérange et transcende. C'est spectral et éclatant—des feuilles de sons coupant comme des lames de rasoirs, s'entrechoquant et se heurtant autour de votre corps, c'est comme être piégé dans la naissance d'une étoile. Peut-être que l'approche agressive de Wolf est renforcée par son contexte de vie et son implication dans d'autres formes de musique extrême. Wolf a commence en jouant du punk hardcore et joue présentement de la guitare pour le hardcore groupe anarchiste super lourd Iskra. Wolf fut présenté dans Dusted Review en tant qu'une partie de leur série de ''Compositeurs qui comptent'' et cette année il va sortir un enregistrement de sa musique à corde. Wolf, étant un homme très occupé, a gentiment pris le temps de répondre à quelques questions
Zachary Fairbrother
Weird Canada
www.weirdcanada.com

/////////////// LES IDÉES INFÉRÉES DE WOLF EDWARD ///////////////
Zachary
::
Comment vous être vous retrouvé sur deux chemins musicaux si divergents? Comment l'un a mené à l'autre et comment sont-ils relies?
Wolf
::
J'étais un rockeur punk à l'École Secondaire d'Ucluelet dans les années 1980. C'était durant ce temps que je me suis appris moi-même la guitar électrique en écoutant du Black Flag et du Crass. Aussi, je travaillais dur dans la plus grande usine de poisson sur la Côte Ouest de l'Île deVancouver: Ucluelet Seafood Producers avec le reste de ma famille. Je ne sais pas si vous avez déjà travaillé dans des usines, mais je peux vous dire que l'environnement était intolerable. Les potes du groupe et moi détestions le flagrant racisme, l'homophobie et le sexism qui étaient constant dans le lieu de travail. Ajouter à ça une violente indifference pour l'environnement ou pour toute autre sorte de stimulation intellectuelle et, pour nous, l'usine était l'incarnation de tout ce que nous détestions. Notre groupe a quitté Ucluelet pour Victoria. J'ai passé les huit prochaines années environ à jouer dans des groupes Anarchistes. Nous vivions dans la pauvreté et jouions de la musique.
J'étais sur l'assistance sociale dans le temps et, vers 1993, je fus forcé de prendre une de leurs multiples programmes forcés de travail. De tels programmes, plutôt que d'assister, étaient généralement désignés pour degrader et humilier. C'était à ce temps que je vivais près d'un Conservatoire de Musique. Ayant joué de la guitare électrique dans plusieurs groupes pour un certain nombre d'années, moi, sur un coup de tête, j'ai entré et je me suis renseigné à propos de leçons de guitare classique. Quand j'ai entendu le coût, j'ai dit au réceptionniste qu'il n'y avait pas moyen que je pourrais payer de telles leçons. Elle ma promptement informé que je pourrais appliquer pour des prêts étudiants et prendre quelques cours. Puisque le programme d'aide sociale me donnait de la difficulté, j'ai décidé de m'inscrire. Ma famille étant pauvre, je fus en mesure d'acquérir les prêts nécessaires pour les cours. J'ai pris de la théorie, de la guitare classique, histoire de la musique et chant de vue.
Pendant que j'étudiais la guitar, mon professeur, Alexander Dunn, qui fut un étudiant de Pepe Reomero, a remarqué mon intérêt pour certaines compositions du 20e siècle qui j'avais jouées. La musique n'était pas très bonne, mais j'était néanmoins plus intéressé dans la musique moderne, aussi que celle du 15e siècle et de l'époque Baroque, beaucoup plus que le romantique ou le classique. Alex m'a informé que la musique ''moderne'' que je jouais à la guitare, Leo Brouwer et Toru Takemitsu, n'était pas la plus stimulante et que je devrais, en fait, jeter un coup d'œil aux compositeurs principaux de cet ère. Il m'a introduit à la musique de son ancien professeur de composition duquel il avait étudié avec à UCSD. Ce compositeur n'était nul autre que le grand Brian Ferneyhough. Je fus immédiatement attiré par l'énergie et la vie de la musique. Je suis allé à la bibliothèque du Conservatoire et là j'ai découvert Stockhausen, Xenakis et Cage. Après ça, il n'y avait pas de retour, pour ainsi dire. J'ai tombé en amour avec la musique des années 1940 là. Après quelques mois d'écoutes, j'ai décidé que je devais écrire de la musique. Le répertoire de guitare, à l'exception de quelques travaux, ne m'a pas impressionné. J'ai laissé derrière l'idée de devenir un interprète de guitare. J'ai dit ça à Mr Dunn. Il m'a informé que si je voulais faire un quelconque avancement avec la composition de musique, je ferais mieux de penser à m'inscrire à l'Université, ce que j'ai fait l'année suivante. Depuis ce temps, j'ai écris et interprété ce qu'une personne pourrait appeler de la musique ''extrême'', alors qu'en même temps j'ai écris ce que quelqu'un pourrait appeler de la musique ''classique''. Pour moi, aucun des deux titres n'est approprié. La musique que je joue avec ISKRA est, dans plusieurs sens, plus ''classique'' que ce que j'écris pour les instruments acoustiques.
Zachary
::
Pensez-vous qu'à la fin le punk/hardcore et la musique expérimentale rigoureuse sont différents moyens pour atteindre le même but?
Wolf
::
Je ne pourrais pas dire parce que je ne pense pas à propos de ''la fin''. Je suis extrêmement dévoué aux deux et je préfère travailler à travers eux, à ma façon, sans but précis à l'esprit. J'essais, dans les deux champs, de simplement faire de mon mieux. Pour mieux écrire, si j'atteins un genre de ''fin'', après je crois que je n'aurais plus besoin d'écrire.
Je ne mélange jamais deux genres différents. Pour moi, cette idée post-moderne d'imitation est trop simple et artificielle. Personnellement, je préférerais plutôt pousser les limites de chacune, mais à leurs propres façons. Différentes choses doivent être faites dans chaque sphère musicale. Elles ne sont pas le même langage.
Zachary
::? Est-ce que vos approches pour faire de la composition d'autres instruments sont établies dans les sons de musiques punk et hardcore? Concernant l'utilisation de bruit, de discordance, de rythmes, de techniques étendues, ou autre?
Al
::
Non. Je ne pense jamais au punk quand j'écris de la musique classique. Ironiquement, la musique que j'écris pour mon groupe est plus ''classique'' que mon ''classique''! C'est dans ISKRA que j'écris de la musique tonale, majoritairement sous la forme de sonate. Il y a bien sûr des éléments qui se croisent, la plupart parce que ils s'arrangent tous deux avec du son. La distorsion par exemple. Une personne pourrait dire que j'utilise la distorsion dans ma musique classique. En réalité ce qu'on appelle ''distorsion'' est simplement des sons complexes. Ceci, quand il y a plusieurs fréquences présentes.
Zachary
::
Étant dans un groupe anarchiste hardcore dans un main et étant un compositeur dans l'autre semble contradictoire à première vue; l'un est vue comme étant un procédé démocratique commun pendant que l'autre est associé avec des tendances empiriques. Pouvez-vous me parlez de votre approche?
Wolf
::
Je ne crois pas qu'un sois ''démocratique'' et qu'un sois ''empirique''. Je présume qu'une personne peut y penser de cette façon, mais pas moi. Évidemment, ça dépend de comment la personne voit le procédé de création de musique autant que comment la personne approche le procédé. En premier, je ne vois pas le compositeur comme étant un tyran, disant aux gens quoi fait et ainsi de suite. Quand un compositeur écrit une charte, elle/lui a besoin d'une communauté pour s'assurer que le morceau est lieu. Quand je marche dans une pièce pleine de musiciens expérimentés et talentueux, je ne suis pas là pour être un dictateur, je suis là pour faire de la musique avec eux. D'apporter la musique à la vie. Nous travaillons ensemble et de grandes choses arrivent. C'Est un effort commun. Je suis sûr que certain compositeurs ont une perspective différente, mais, puisque je suis un anarchiste, c'est comme ça que je vois le procédé musical. Le groupe est la même chose. Le groupe se rassemble et apporte les compositions à la vie. Nous mettons au point des idées alternées, trouvons les rythmes que nous voulons et faisons en sorte que les chansons se produisent. Alors ces deux mondes ne sont pas contradictoires, dans la mesure que le procédé arrive. Ils sont apparemment contradictoires, cependant, en termes de leurs racines historiques. Le punk/métal anarchiste est ancré dans la révolte de la classe des travailleurs vers un système quo qui en réalité ne fonctionne pas. La musique classique est ancrée dans une tradition aristocratique ou c'est ce que la plupart des gens croient. Ceci est l'opposition apparente. Les temps ont changés cependant, et maintenant nous pouvons avoir quelqu'un comme moi qui travail dans les deux mondes.
Zachary
::
J'ai lu que vos politiques influencent votre musique en termes de forme et d'architecture. Je suis curieux de vos méthodes, pourriez-vous m'en parler?
Wolf
::.
La musique que je fais est conciliée à travers une lentille politique ou anti-politique (dépendamment à quoi quelqu'un pense en examinant le mot ''politique''). Je travaille avec des fondations qui s'écroulent et des expérimentations ouvertes. Des possibilités multiples sont présentes à chaque étape de mon travail. Je travail sans loi. Aussi, les lois de notre société n'ont pas de place dans mon procédé créatif. Je travaille avec du son seulement. Mes sons sont vivants. Ils communiquent avec moi. Je travaille avec eux pour créer un labyrinthe de communications. Dans ma musique, les sons sont interactifs. En fait, les sons écrivent la musique. Je suis un type de médium qui écoute ce que les sons exigent. Il n'y a pas de méthode claire, mais je suis pleinement conscient à tout moment. La vraie ''performance'' arrive pour moi à chaque moment de l'acte créatif. Je ne travaille pas à partir d'esquisses par peur de, comme l'A dit une fois Feldman, de ''pousser les sons à l'entour.'' Le morceau est l'esquisse et vice-versa.
Zachary
::. J'ai remarqué que le Quasar Sax Quartet va jouer une de vos pieces cette année. Pouvez-vous me parler un peu de ça et de n'importe quels autres projets qui s'en viennent?
Wolf
::
Les Quasar ont joué ma pièce ISKRA environ 12 fois partout autour du monde. Maintenant nous travaillons ensemble sur un octet qui va être joué par les Quasar et Arte (Suisse). Je vais aller avec le groupe en Europe et travailler avec les deux quartets. De plus, les Quasar viennent juste de performé dans travail que j'ai écris pour Walter Boudreau et les SMCQ appelés IRONS. Ce morceau était pour un quartet de saxophone, de cordes amplifiées, de contre bassons et pour six percussionnistes. j'écris aussi une pièce pour un instrument inventé par le compositeur de Montréal, Jean-Francoise Laporte, lequel va faire sa première en Mai. À part ça, j'ai un enregistrement qui sort de toute ma musique à corde jusqu'à maintenant.
Zachary
::
Dernièrement, est-ce qu'il y a un autre Compositeur Canadien que les Weird Candiens devrait connaître?
Wolf
::
Oui, vous devriez connaître Mark Molnar d'Ottawa et Charles-Antoine Frechette de Montréal. Ce sont de grands compositeurs qui travaillent aussi avec des sons et non des systèmes. Ils sont originaux, intelligents et des artistes du son absolus.
---
---
---