New Canadiana :: Krang – Speed of Tent b/w Spirit Animal
---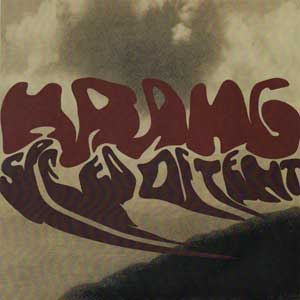 Krang
Speed of Tent b/w Spirit Animal
Edmonton, AB
From the wormhole of Mike Deane:
Fall back into a hazy groove and get enveloped in Krang's tangible smog. Soulful, desolate, driving, soaring, otherworldly – the Edmonton band is in a constant state of psych-flux, but you're able to completely absorb the sonic explosion; picture spiraling through a wormhole while being aurally blasted from all sides. From meandering builds to garage energy to Sabbath-styled riffioso, you're always involved and immersed. Krang goes full on, so don't feel this fringe from the fringe – dive deep into these murky waters.
Du trou de ver de Mike Deane: (Traduit par l'explosion sonique de Maya Keshav)
Allonge-toi sur un brouillard balançant et envelope-toi dans le smog palpable de Krang. Émouvant, désolé, battant, planant, surnaturel— le groupe d'Edmonton est toujours dans une phase évolutive et psychédélique, mais on est capable d'absorber complètement l'explosion sonique; imagine s'élever en spirale à travers un trou de ver pendant qu'on est abattu auralement de tous les côtés. Depuis les builds vagabondants jusqu'au riffioso façon Sabbath, on est toujours impliqué et immergé. Krang va jusqu'au bout alors écoute pas cette marge de la marge— saute dans ces eaux troubles.
---
---
---