New Canadiana :: Wyrd Visions // Castlemusic – My Boat b/w Voice of God
---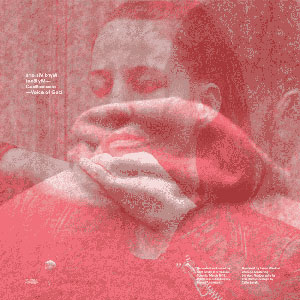 Wyrd Visions // Castlemusic
My Boat b/w Voice of God
(Blue Fog)
Toronto, ON
From the (blue) fog bath of Michael Deane
The Bog Lord and Haunting Pixie return to add to each other's tales, but gently, with contemplative, (blue) fog-bathed, repetitively folk-essed meditations. Side Wyrd finds Colin Bergh reveling in single guitar riffs that cascade from their centre into softly sung Nordic tales. Finger-plucked medieval guitar patterns sit in the back while a four-note bass line twists and repeats. Bergh's voice brings you further into a trance, struggling to find the beginning and end. When Jennifer Castle joins him, the waves combine and the tide swells, prepping you for Queen-like vocal stabs that bring this to new levels of acoustic-black-metal-folk-prog. Side Castle flips the script with a delicately plucked minor guitar pattern and soulfully smooth, airy vocals examining the powers above. Sporadic toms fill in the emptiness to give a surprisingly lush start to this solo-turned-strange-duet. Bergh re-enters the fold, echoing CM's questioning of the voice of God. Together, they create an epically surreal musical landscape. Grip Hurr..
Du bain de brume (bleue) de Michael Deane:
(Traduit par Odile Leclerc)
Le Bog Lord et Haunting Pixie reviennent pour ajouter à chacun de leurs contes, mais gentiment, avec de répétitives méditations folklorisées contemplatives baigné de brume (bleue). Side Wyrd trouve Coling Bergh savourant des riffs de solo de guitare qui cascadent de leur centre vers des contes Nordique doucement chantés. Les motifs de guitare médiévale grattée s'assoient en arrière pendant qu'une ligne de basse à quatre notes se tort et se répète. La voix de Bergh vous apporte plus profondément dans une transe, se démenant pour trouver le début et la fin. Quand Jennifer Castle le rejoint, les vagues se combinent et la marée se gonfle, vous préparent pour des coups de couteau de chants comme Queen qui apportent ceci à d'autres niveaux de métal noir de folk progressif acoustique. Side Castle retourne le script avec une suite mineure de guitare délicatement pincée et d'attendrissant, doux et agréable chants examinant les pouvoirs d'en haut. Les sporadiques toms emplissent le vide pour donner un surprenant et riche début à cet anciennement solo-tourné-étrange duo. Bergh revient parmi nous, faisant écho au questionnement de la voix de Dieu de CM. Ensemble, ils créent un épique paysage musicale surréel. À attraper. Hurr.
---
---
---