New Canadiana :: Shearing Pinx – Live Thunder
---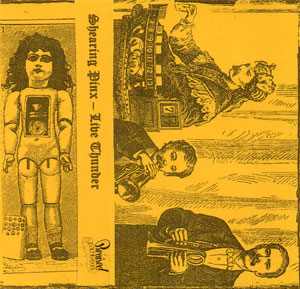 Shearing Pinx
Live Thunder
Vancouver, BC
From the living thunder of Joni Sadler:
After last year's killer Weaponry LP, Shearing Pinx one-up themselves with this live recording from a gig in Thunder Bay. Anyone who's been lucky enough to witness these Vancouverites tear up a basement on one of their cross-country ventures knows that their live show is a blistering, noisy affair; this tape is a testament to the sheer distorted force that is Shearing Pinx in their element. Choice cuts from Weaponry take on a whole new sense of urgency when they're drenched in this much grit and fuzz. Get your hands on the tape or better yet – catch the band next time they hit your town and watch this shit go down in real life.
Du tonnerre vivant de Joni Sadler: (Traduit par le sens de l'urgence de Maya Keshav)
Après le LP étonnant "Weaponry" de l'année passée, Shearing Pinx se dépassent avec cet enregistrement live d'un concert à Thunder Bay. N'importe qui est assez chanceux d'avoir vu ces vancouverois anéantir sur une de leurs tournées à travers Canada connaît que leur spectacle vive est un événement cinglant et bruyant; cette cassette est témoign de l'énergie pure et déformée qui est Shearing Pinx dans leur élément. Les parties de choix de Weaponry prennent un tout nouveau sens de l'urgence quand elles sont trempées de cette quantité de poussière et de fuzz. Mettez la main sur cette cassette ou encore mieux— allez voir le groupe la prochaine fois qu'il rend visite à votre coin et regardez ces conneries se passer dans la vie vraie.
Shearing Pinx – Live Thunder Side A
Shearing Pinx – Live Thunder Side B
---
---
---