New Canadiana :: Sans AIDS – Loaners
---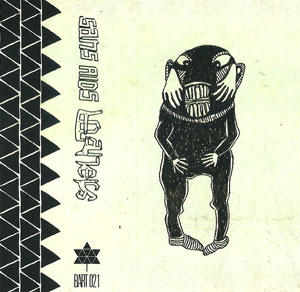 Sans AIDS
Loaners
Edmonton, AB
From the stoop of Aaron Levin
Sans AIDS continues to explore the gnarled fringes of our pop continuum, welding their aggro-pop catch into the grey matter lurking behind our ears. Waves of frenetic tremolo glint off the trademark bass drones and sultry tom-snare combos, combing their complex pop sensibilities into prom-worthy anti-glam. Loaners shines with a rusty glare, twisting your aural signals into the deep nostalgia hiding behind every mirror.
Du perron d'Aaron Levin
(Traduit par les éclats de Maya Keshav)
Sans AIDS continue d'explorer les marges noueuses de notre continuum pop, en maniant leur prise aggro-pop dans la matière grise qui se cache derrière nos oreilles. Les ondes du trémolo frénétique étincellent des drones caractèristiques de basse et les combos sensuelles de caisse claire, en peignant leur style complexe de pop en anti-glamour digne d'un bal des finissants. Loaners brille avec un éclat éblouissant et rouillé, qui tord tes signales auditifs vers la nostalgie profonde qui cache derrière chaque miroir.
---
---
---