New Canadiana :: Rich Aucoin – Public Publication
---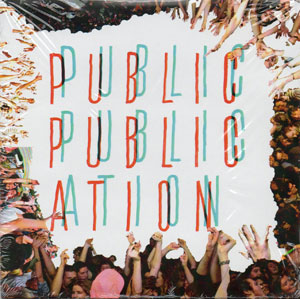 Rich Aucoin
Public Publication
Halifax, NS
From the glittering chaos of Aaron Levin:
What starts out like a cosmic tiki lounge briskly lunges into a heady array of dance-floor filling funky white-man soul. Rich Aucoin's effortlessly catchy waves of rad will caress your shoulders and ease you into any evening mood, so chant along to the smooth gang vocals and silky strings while they hang in the vibrant air. But do this for real, as the sound is really something you need to experience; the Rich Aucoin live show is an unparalleled journey into the furthest reaches of his self-proclaimed fun-core. All it takes is one grip.
De l'étincelant chaos d'Aaron Levin:
(Traduit par Odile Leclerc)
Qu'est-ce qui a commencé comme une suite cosmique de tiki se jète vivement dans une enivrante multitude de piste de danse emplissant l'âme funky de l'homme blanc. Les vagues de rad facilement accrocheuses de Rich Aucoin vont caresser vos épaules et vous détendre vers n'importe quel atmosphère de soirée, alors chantez au long des chants onctueux du gang et des soyeux instruments à cordes pendant qu'ils se balancent dans l'air vibrant. Mais faites le pour de vrai, alors que le son est vraiment quelque chose dont vous avez besoin de faire l'expérience; le show en direct de Rick Aucoin est un voyage sans pareil vers les confins plus éloigné de son fun-core autoproclamé. Tout ce que ça prend c'est une poigne.

Rich Aucoin – Brian Wilson is A.L.i.V.E.

Rich Aucoin – PUSH
---
---
---