New Canadiana :: CORSE – CORSE
---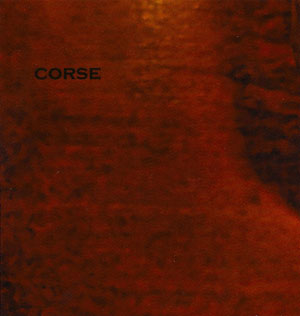 Corse
Corse
(Self Released)
Montreal, QC
From the corsage of Jesse Locke:
Running parallel but all too rarely overlapping with Montreal's many other status quo-challenging subsets, a cluster of avant-jazz, electroacoustic and free improv freedom fighters can be found tucked inside the crevices. With their set-up of trumpet, trombone, drums and laptop, the mighty CORSE are prime specimens of this class, blitzkrieging (relatively) recognizable instrument sounds with a blizzard of computerized bleeps, swirls, chirps and garbled vocals. Recorded live over three days at experimental music hotspot L'Envers and painstakingly tweaked in post-production for many moons afterwards, the quartet's eponymous CD is a challenging, off-kilter yet consistently engaging listen. Of course.
Du corsage de Jesse Locke:
(Traduit par Odile Leclerc)
Se promenant en parallèle, mais qui ne croisent que très rarement les multiples autres status-quo de Montréal- les sous-ensembles difficiles, un amas d'avant-jazz, d'électro-acoustique et des combattants de la liberté librement improvisés peuvent être trouvés nichés dans les fissures. Avec leur ensemble de trompette, de trombone, de batteries et un ordinateur portable, les grands CORSE sont de fins spécimens de cette classe, blitzkriegant (relativement) des sons d'instruments reconnaissables avec un blizzard de bip informatisés, de tourbillons, de pépiements et de chants déformés. Enregistré en direct pendant trois jours à la boîte de nuit de musique expérimentale, L'Envers, et minutieusement mis au point dans une postproduction pour ensuite plusieurs lunes, le CD éponyme du quartet offre un défi, est déjanté quoiqu'il est toujours engageant pour l'écoute. Bien sûr.

CORSE – vi

CORSE – iii
---
---
---