New Canadiana :: Meta Gruau – Tendre et mauve
---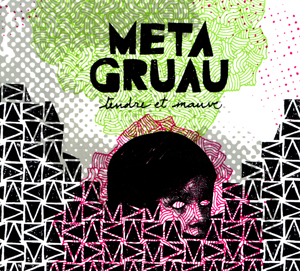 Meta Gruau
Tendre et mauve
(Flange Patrol)
Montreal, QC
From all the tenderness of Benoit Poirier:
Montreal's left-field electro-rock scene has been drawing attention since the late Georges Leningrad put it on the map, and then Duchess Says and We Are Wolves took the torch. Meta Gruau fits in this line of fine music providers but sets itself apart with a more constructed form (easy), a plastic poetry and a louder rhythm. And they also proudly silkscreened their 500 CD covers. By integrating uncanny but danceable synths, the whole thing oscillate to either make you move, close in on you or make you feel gazed upon if you pay too much attention. Dance, don't listen with headphones. But then again, it's your choice.
De la tendresse de Benoit Poirier
:
L'électro-rock oblique montréalais attire l'attention depuis un bail, grâce au défrichage de feu Les Georges Leningrad, à la prise du flambeau de
Duchess Says
et à l'ascension pop de
We Are Wolves
. Meta Gruau s'inscrit dans cette lignée mais se démarque avec une forme plus construite (facile), une poésie plastique et un rythme plus lourd. Ils ont l'avantage d'avoir eux-mêmes sérigraphié leurs 500 pochettes. En intégrant des synthés rythmés par une inquiétante étrangeté , l'ensemble oscille, si bien que tu peux danser, te sentir enveloppé ou encore observé si tu prêtes trop attention. Danse, écoute pas ça avec des écouteurs. Pis encore, c'est de tes affaires.
---
---
---