Arbutus Records & Weird Canada @ Pop Montreal
---
Arbutus Records Showcase
Pop Montreal 2010
(Thursday September 30, 2010 @ The Rialto Theatre)
Montreal, QC
::web/sounds::


From the new indie of Aaron Levin:
In the closing tides of 2010 there are few festivals left. And as this little corner of a website gleaned a few weeks ago, Canada's premiere indie-music festival (Pop Montreal) came through with a succinct and telling slogan: Weird is the New Indie. The obvious correlation is incidental, but the shifting focus to emerging music is a welcomed modulation in agenda. And to further drive the point home, Pop Montreal and Weird Canada will be presenting a showcase from one of Canada's furthest reaching boutique imprints. Arbutus Records (home to Sean Nicholas Savage, Grimes, Silly Kissers and many more) has become an asylum for many westward ex-pats flourishing within the inexplicable fringe-pop spectrum and has occupied prime real estate within Weird Canada's own borders. The label has grown from an e-mail address and a cd burner to a veritable force within the diy pop explosion running its course through our collective consciousness. Arbutus' materials have appeared on Pitchfork, Gorilla VS Bear, Altered Zones, Stereogum, Weird Canada (ha!), etc. and I can say without hyperbole that many within the indie music community are anxiously awaiting to hear their future. So, with much excitement, I'd like to encourage all of our readers in-and-around the Montreal area to attend both Pop Montreal and one of the best showcases during the five-day festival. Sebastian Cowan has worked many magicks; for that we love him dearly. Congratulations!
Pop Montreal & Weird Canada Present
Arbutus Records Showcase
SILLY KISSERS
GRIMES (album release)
POP WINDS
BLUE HAWAII
Date: Thursday September 30th @ 9pm
Location: The Rialto Theatre
Price: Five Dollars (available at Phonopolis & Cheap Thrills)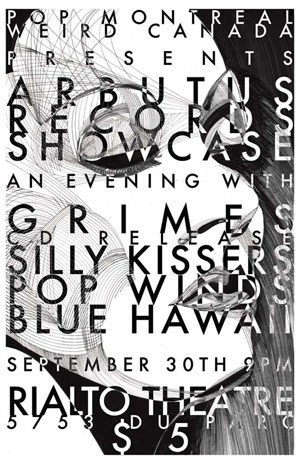 ---
---
---