New Canadiana :: Grimes – Halfaxa
---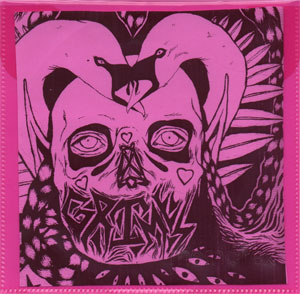 From the cosmic slop of Aaron Levin:
If Grimes' tour CDR (to be officially released via Arbutus on September 30th at Pop Montreal) is any indication, the cosmic-pop deity is transcending into a vocal-cruising eidolon of celestial proportions. Layers of wyspy vocals form the cooling galaxies of Halfaxa while her minimal drums synthesize Enja's lingering espers into a club anthem fit for the Restaurant at the End of the Universe. Or the Mos Eisley Cantina. Either way, Grimes' future-stream sinusoids are peeling wigs.
De la bouillie cosmique d'Aaron Levin: (Traduit par la perruque épluchée de Maya Keshav)
Si le CD-Rom de la tournée de Grimes (qui sera publié officiellement via Arbutus le 30 septembre à Pop Montréal) est la moindre indication, la déesse de cosmique-pop est en train de se transformer en eidolon chant-roulant des dimensions célestes. Les couches floues de chant forment les galaxies rafraîchissantes d'Halfaxa pendant que sa batterie minimale synthétise les vêpres persistantes d'Enja à un hymne de boîte qui est approprié pour Le Dernier Restaurant avant la fin du monde. Ou pour la Mos Eisley Cantina. Quoi qu'il en soit, les sinusoïdes futuristes de Grimes sont en train d'éplucher les perruques.
---
---
---