Review :: Tonetta – 777
---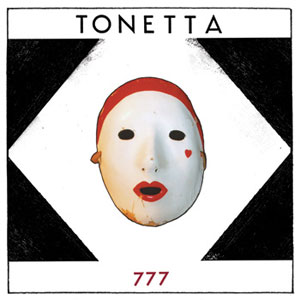 From the there-is-no-describing-this-confusion of Paul Lawton & Aaron Levin:
Long overdue debut LP from Toronto-based sexual hyperbole that collects material recorded between 1983 and 2009. Tonetta's recipe for success consists of wasted erotic lo-fi dripping in wet bass, fruity drum loops, and occasional 80's guitar sleaze; backdrops for his variety show of graphic sexual acts, perverts, prostitutes, drug use, hedonism and occasional political rhetoric. Once a song is recorded, Tonetta dons a costume (g-string, Kabuki mask, demon makeup, etc), takes off most of his clothes, and dances. After the initial sexual overload, a gripping desire to break through the facade takes over. The songs are compelling enough to dive right in and the LP, removed from the visceral overload, allows a new entry-point into Tonetta's garish existence. As a compilation of material spanning 25 years, the album is one highlight after another, from the soaring 80's cheese of "Drugs Drugs Drugs" and "I Want to Marry a Prostitute" (which could be a viagrafied Jimmy Buffett song), to the Bowie-esque album standout "I'm Still a Slave." In the tradition of musical oddities like Jandek, J.T. IV, or more recently Blank Dogs, Tonetta is a mystery best left unsolved. Weird Canada grants this our highest recommendation.
De l'on-ne-peut-pas-décrire-cette-confusion de Paul Lawton et d'Aaron Levin: (Traduit par les boucles fruitées de Maya Keshav )
Le début LP qui aurait dû être fait il y a tellement longtemps de sexual hyperbole de Toronto, qui ramasse la matière qui était enregistrée entre 1983 et 2009. La recette du succès selon Tonetta comprend le lo-fi bourré, érotique, et trempé de basse mouillée, les boucles fruitées de batterie et la vulgarité occasionnelle de la guitare aux années 80; ce sont les toiles de fond pour son spectacle de variétés qui comprennent le sexe cru, les pervers, les prostitués, la toxicomanie, l'hédonisme, et parfois la rhétorique politique. Une fois qu'une chanson est enregistrée, Tonetta met un costume (un string, un masque de kabuki, le maquillage de démon, etc), il enlève la plupart de ses vêtements, et il danse. Après la première surcharge sexuelle, il arrive une envie folle de démolir la façade. Les chansons sont aussi captivantes qu'on peut sauter là-dedans, et le LP, retiré de la surcharge viscérale, est un nouveau point d'entrée à l'existence criarde de Tonetta. En tant que compilation de matière de 25 ans, l'album est un flot de temps forts, du kitsch volant des années 80 de "Drugs Drugs Drugs" et "I Want to Marry a Prostitute" (qui pourrait être une chanson Viagra-lisé de Jimmy Buffett), jusqu'au morceau extraordinaire et Bowie-esque "I'm Still a Slave". Dans la coutume des bizarreries musicales comme Jandek, J.T. IV, ou plus récemment Blank Dogs, Tonetta est une énigme mieux non résolue. Weird Canada vous la présente avec la meilleure recommandation.

Tonetta – Still A Slave

Tonetta – Drugs Drugs Drugs

Tonetta – John And Yoko
---
---
---