Review :: Lab Coast – Wilding
---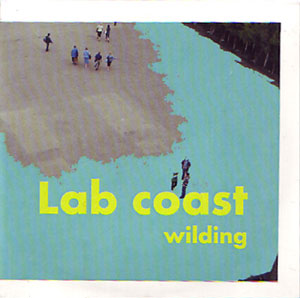 Lab Coast
Wilding
(TRANIST)
Calgary, AB
From the steady wildin' lifestyle of Jesse Locke
In a music community as modest as Calgary's, it seems somewhat baffling how anyone talented can remain subterranean. All the same, that's the case with the prolific Bug Incision record label and collective, with past projects including the polarizing out-jazz leanings of the Bent Spoon Duo/Trio, sophisticated pop turns of Phil Withers and a plethora of others. Lab Coast is the DIY camp's latest offshoot, and the group's debut long-player on satellite label Tranist is a ramshackle channeling of 1990s junk-pop. Cheap-o synth presets, slacker-rock guitar strums and GBV melodies abound, so don't let this one slip through the cracks.
Du style de vie sauvage stable de Jesse Locke:
(Traduit par Maya Keshav)
Dans une communauté de musique aussi modeste que celle de Calgary, il semble quelque peu étonnant que quelqu'un de talentueux puisse rester sous terre. Tout de même, c'est le cas avec la maison de disque prolifique Bug Incision et collective, avec des projets passés incluant les penchants polarisant tout jazz des Bent Spoon Duo/Trio, des tournants pop sophistiqués de Phil Withers et multitude d'autres. Lab Coast est le dernier rejeton du camp DIY et le long lecteur des débuts du groupe sur satellite du nom de Tranist est une canalisation délabrée du junk-pop des années 1990. Des préréglages de synth pas chères, des accords de guitare de rock paresseux et des mélodies de GBV abondantes, alors ne laissez pas celle-ci glisser à travers les craques.
Lab Coast – Walking Through The Park
---
---
---