Review :: Krang – They Came From Planet D
---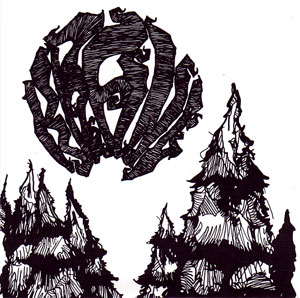 Krang
They Came From Planet D
Edmonton, AB
From the Planet D residing citizen named Jesse Locke
With their second transmission from the heart of the black hole sunrise, Edmonton's Krang continue their clusterfuck of stoner rock, noise-haze and squiggly electronics. The band's debut self-released EP was a voyage in its own right, but until now, they've never been able to bottle the total gnarlitude of the extended space jams doubling as their live shows. Happily, with the addition of fourth member Dean "The Ram" Watson on guitar, this five-song flummox released via Eamon McGrath's Cassettes Records has finally captured the experience on CD-R. Faithful followers will recognize the bass line from "Farmer" within seconds, along with Krang's trademark echoed harmonica. Cold Bebop's standout banger "Ships" has been re-recorded with the addition of Watson's desolate licks, and finally "Snakes on the Brain" closes things off with some furious Danzig-on-psychedelic-fungi freak-outs. Best of all, the new and improved line-up can still melt faces live.
De l'habitant de Planet D qui s'appelle Jesse Locke:
(Traduit par Maya Keshav)
Avec leur deuxième retransmission du fond de l'aube trou-noir, Krang d'Edmonton continuent leur gangbang du rock camé, du noise-brouillard, et de l'électronique ondulée. Le début EP autopublié du groupe était un voyage tout seul, mais jusqu'à maintenant, ils ne pouvaient pas saisir l'attitude complètement ratatinée des boeufs prolongés de l'espace qui étaient aussi leur spectacles live. Heureusement, avec l'addition du quatrième membre Dean "The Ram" Watson à la guitare, cette stupéfaction de cinq chansons publiée via Cassettes Records d'Eamon McGrath a finalement saisi l'expérience sur CD-Rom. Les fans fidèles reconnaîtront la mélodie de basse de "Farmer" tout de suite, à côté de l'harmonica résonné caractéristique de Krang. Le succès vedette "Ships" de Cold Bebop a été réenregistré avec l'ajout des plans de guitare désolées de Watson, et enfin "Snakes on the Brain" le finit avec quelques crises folles de Danzig-sur-le-champignon-psychédélique. Le meilleur, c'est que cette nouvelle programmation améliorée peut encore fondre les visages live.
---
---
---