Review :: Alienation – 2010
---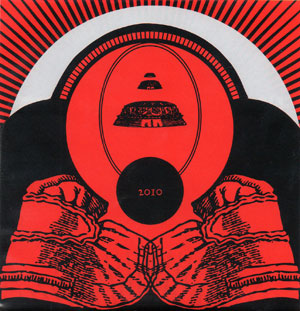 Alienation
2010
(Patente)
Québec, QC
From the Jabroka-filled pockets of Aaron Levin:
Beneath Alienation's beautifully die-cut packaging (typical Patente fare) lays a harrowing journey into Quebec's multi-format experimental scene. Alienation is the audible outlet by visual artist Simon Langevin. Simon's autodidactic approach to the genre's freedom gives 2010 a welcomed erraticism resulting in a strange mix between multi-format, avant-meanderings and static post-techno beat collages. Add an 11-minute minor-key ethereal floater and you've got yourself a veritable trip through Simon's consciousness; corrugated tunnels lined with deep, dark textures appropriate for any hang-out setting not involving: smiles, fun, or not-goths. Killer psychedelic artwork to boot. +1 Patente.
Des poches remplies de Jabroka d'Aaron Levin: (Traduit par Odile Leclerc)
Sous l'emballage joliment découpé d'Aliénation (typical de Patente) repose un agonisant voyage dans la scène expérimentale multi-format de Québec. Aliénation est la sortie audible de l'artiste visuel Simon Langevin. L'approche autodidacte de Simon vers la liberté du genre donne à 2010 un erraticisme bienvenu résultant en un mélange étrange de multi-format, d'avant-méandres et de collages tapés post-techno. Ajoutez un flotteur éthéré en touche mineur de 11 minutes et vous avez un véritable voyage à travers la conscience de Simon; des tunnels ondulés garnis de sombres textures profondes appropriées pour tout arrangement de sortie qui n'implique pas : des sourires, du plaisir ou du non-gothique. Une œuvre-d'art psychédélique qui tue à démarrer. +1 pour Patente.
---
---
---