Review :: Grown-Ups – I Can't Win
---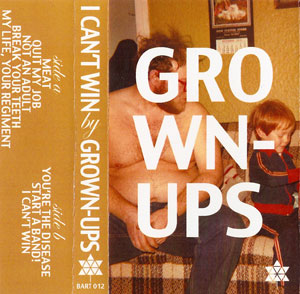 Grown-Ups
I Can't Win
(Bart Records)
Calgary, AB
From the post-pubescent sludge of Jesse Locke:
From The Cramps (radical) to Mates of State (barf) to the Plastic Ono Band (radical barfing), musical married couples are nothing new. However, what sets thee Grown-Ups' Sara and Josiah Hughes apart is that they're cuter than a pair of bulldogs on snowboards that know how to turn up the rock and turn down the suck. Joined by third member/producer Darrell on "dad guitar" (nice Conchords reference, guys), they've now teamed with the almighty Bart for tape release number two. Eight songs of angry punk sludge that sound just as pitted as their debut but now with more Crazy Horse guitar solos (see: opener "Meat") and Art Brut-esque motivational meta-songs (see: "Start A Band!"). This is the soundtrack for the skateboarding video game you invented in your brain. The musical equivalent of a cherry-coke slurpee with a stolen chocolate bar tucked in the cup. The creepy-lovable cover photo rules too, but I really just wish it was a drawing of Odie crossed with Jughead.
Des vidanges post-pubères deJesse Locke:
(Traduit par la boîte à rythmes de Odile Leclerc)
Venant des The Cramps (radicale) à Mates of States (vomit) aux Plastic Ono Band (vomir radicalement), les couples musicaux mariés ne sont rien de nouveau. Cependant, qu'est-ce qui différencie Sara et Josiah Hugues de Grown-Ups est qu'ils sont plus mignons qu'une paire de bulldogs sur planche-à-neige qui sait comment faire monter le rock et descendre le nulle. Joints par le troisième membre/producteur Darrell sur ''la guitare papa'' (joli référence à Conchords les mecs), ils ont maintenant fait équipe avec le tout-puissant Bart pour une sortie de cassette numéro deux. Huit chansons de bourbe punk fâchée qui sonne autant grêlées que leurs débuts mais maintenant avec plus de solos de guitare de Crazy Horse (voir; ouvreur ''meat'') et d'art Brut-esque de méta-chansons motivationnelles (voir; ''Start a Band!''). C'est la bande sonore pour les jeux-vidéo de planches-à-roulettes que vous avez inventés dans votre cerveau. L'équivalent musical d'une slush au coke-cerise avec une barre de chocolat volée coincée dans la tasse. L'adorable et terrifiante photo de couverture règne aussi, mais vraiment je souhaite juste que c'était un dessin d'Odie croisé avec Jughead.
---
---
---