Review :: Grimes – Geidi Primes
---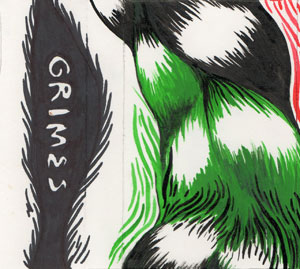 Grimes
Geidi Primes
Montreal, QC
From the Kimono-draped androgyny of Aaron Levin:
Geidi Primes is a landmark album of modern Canadian fringe, an assemblage of space-station pop memorabilia teleported from a time-static nether-zone beyond the scope of our earthly understanding. I've been waiting months for this, posting anxious pleas to Grimes after hearing the sinuous, harrowing bass-line on Rosa. With the curiously packaged cassette in my fiending grip, the orbiting swaths of synthetic warmth and echoing drum-machines have caused exciting astral projections outside my usual mental musicalia. Geidi Primes takes off from Rosa's minimal bass-lines and launches straight into a strange hybrid of Björk, The Cure, Micachu, and other avant seamstresses, leaving a footprint in every decade and thankfully landing in ours. Chord progressions and samples are pulled from any source imaginable and the aggregation results in a Kate Bushian trail of decadence. It seems pointless and restrictive attempting to describe its brilliance, so I'll stop with this: Geidi Primes is a flagship of hyperbolic dimensions. Get on board.
De l'androgynie drapé en kimono d'Aaron Levin:
(Traduit par Maya Keshav)
Geidi Primes est un album marquant de la marge moderne canadienne, une collection des souvenirs station-spatiale pop téléportée d'une netherzone statique du temps au-delà de l'étendue de notre comprehension terrestriale. J'attendais des mois pour ceci, en envoyant des appels anxieux à Grimes après avoir entendu les mélodies de basse sinueuse et éprouvantes dans Rosa. Avec la cassette curieusement-emballé dans mon poing diabolique, les bandes tournantes de la chaleur synthétique et des boîtes à rythme résonnantes a causé des projections excitantes et astrales hors de mon musicalia mental habituel. Geidi Primes s'envole des mélodies minimales de basse de Rosa et se lance directement dans un hybride bizarre de Björk, The Cure, Micachu, et les autres couturières avante-garde, en laissant un empreinte dans chaque décennie et heureusement en atterrisant dans la-nôtre. Les séries d'accords et les échantillons sont tirés de n'importe quelle source imaginable et l'accumulation donne comme résultat une trace Kate Bushian de la décadence. Il me semble inutile et restrictif d'essayer de décrire son génie, alors je vais arrêter avec ceci: Geidi Primes, c'est un produit phare des aspects hyperboliques. Monte à bord!
---
---
---