Review :: Sex Church – Dead End b/w Let Down
---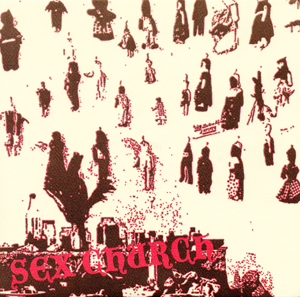 Sex Church
Dead End b/w Let Down
Vancouver, BC
Aaron Levin:
Canada's modern-psychedelic scene is re-emerging, painted new colours and worshiping new Gods. Gone are the pretenses of 60s pop-lysergia; in its place we gladly fall before false idols and re-hashed idioms. And why not? When it's done well, we put our minds on a true trip thru hell. Sex Church easily accomplishes this with their mix of doomy, pedantic guitar drones and gothic romanticism; parsing liturgy and psych in a bewildering and addictive way. The songs are long, depressing and mesmerizing; perfect musical beds for basement-evenings in your teenage vortex. And if that all made sense, they throw in a pop-punk ballad for the last minute of Dead End; nothing is ever too easy anymore. 300 copies pressed on black vinyl via Vancouver's Sweet Rot records. Die vicariously.
Aaron Levin:
(Traduit par les oreilles contentes de Maya Keshav)
La scène moderne-psychédélique du Canada est en train de reformer, peinte en nouvelles couleurs et adorante les nouveaux Dieux. Les prétensions de pop-LSD des années 60 sont disparues; maintenant on vénère les idoles fausses et les idiomes recyclées. Et pourquoi pas? Quand c'est bien fait, on fait voyager le cerveau sur un vrai voyage à travers l'enfer. Sex Church le fait facilement avec son mélange des drones lugubres et pinailleurs et du romantisme gothique; en analysant la liturgie et la psychologie dans une façon déconcertante et entraînante. Les chansons sont longues, déprimantes, et hypnotiques; les lits musicaux parfaits pour les soirées sous-sol dans ton tourbillon ado. Et si ça avait du sens, ils ajoutent une ballade de pop-punk pour la dernière minute de Dead End; rien n'est trop facile de nos jours. 300 reproductions imprimées en vinyle noir grâce à Sweet Rot Records de Vancouver. Meurs indirectement.
---
---
---