Review :: Nü Sensae – Three Dreams
---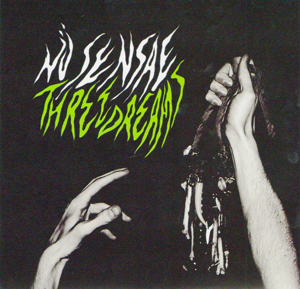 Nü Sensae
Three Dreams
(Critiscum Internationale)
Vancouver, BC
Aaron Levin:
Andrea and Daniel, the two voodoo witchmasters branding themselves Nü Sensae, are one of the most exciting streams of punk-consciousness gestating in the west-coast. Which is why I chose Three Dreams as the soundtrack to the hobo fight in my parking lot. Andrea's iconic flannel-screaming accentuates the mumblings of a displaced mass left behind by unnatural poverty while Daniel sets the dying-pace of their battle with the relentless destruction of his drum kit. The whole listening experience is soon tainted by a hobo army of undead Matoolians raised from their graves by twin jabs of fried bass and fractured drum patterns; it's voodoo punk and it reanimated your annoying dead-and-beat uncle who's back to hit on your sister and borrow some money. The now-undead hobos are done fighting. They're looking for fresh meat. They hear my Nü Sensae. They are devouring my mind and tasting Nü Sensae's mutant spell running laps in my subconsciousness. This is past-tense. MMMMOooOOooOoOoOOOoORorRRrRRrrerrreeeeeeeeeEEEee.
Aaron Levin:
( Traduit par la boîte à rythmes de Odile Leclerc)
Andrea et Daniel, les deux maîtres sorciers s'étiquettant comme Nü Sensae, sont un des courants les plus excitant de conscience punk dans le ventre de la côte-ouest. Voilà pourquoi j'ai choisi Three Dreams comme bande sonore pour la bataille de clochard dans mon stationnement. Les iconiques cris de baratin d'Andrea accentuent les marmonnements d'une masse déplacée abandonnée derrière par la pauvreté artificielle pendant que Daniel fixe le rythme mourant de leur bataille avec la destruction sans repos de son ensemble de batterie. Toute l'expérience d'écoute sera bientôt tâchée par une armée de clochard de morts vivant Matooliens sortis de leurs tombes par un double coup de basse frite et de répétitions fracturées de batterie; c'est du punk voodoo et ça l'a réanimé votre énervant oncle avare qui est de retour pour flirter avec votre sœur et pour emprunter de l'argent. Les clochards présentement morts ont fini de se battre. Ils cherchent de la viande fraîche. Ils entendent mon Nü Sensae. Ils dévorent mon esprit et goûtent au sortilège mutant de Nü Sensae qui fait des tours de pistes dans mon subconscient. C'est du passé simple.
PPPPLLllLLllLLllLLUUUUUUuuuUUUUUUuuSSSSsssSSS.
---
---
---