Review :: Grown-Ups – Tape
---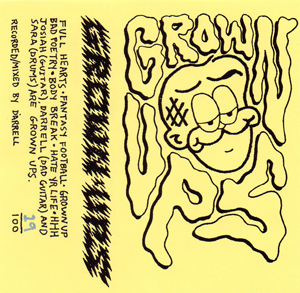 Grown-Ups
Tape
(Self Released)
Calgary, AB
Aaron Levin:
The early-90s caused a massive identity crisis. We can't spank our kids anymore? Generation X? Divorce? Bored teenagers started manifesting themselves in major cities as opposed to burrowing in the corners of rural-anything. Addicted to entertainment, they yearned for the kind of on-demand content the internet now provides. My generation had no fathers; we nested in the bussom of a confused media conglomerate and lost any sense of conviction. We stole from our friends and made out with boys-and-girls in public. We smoked weed in the alley and threw rocks at cats. We played music to our friends over the phone and the conference-call was the greatest invention ever. We had nothing to do and all the time in the world. We were aimless and bored. Which is why the Grown-Ups make me feel wistful. Their first cassette is the ultimate 90s summer-bummer, wonderfully lost in an innocent teenage vortex of shit-culture and why-won't-she-date-me losertude. It's your basement anthem for listless junkies who just want to have fun. The Grown-Ups get it; being an adult is all about being a kid and growing up really sucks. Especially in the 90s. Brilliant.
Aaron Levin:
(Traduit par les oreilles contentes de Maya Keshav)
Le début des années 90 a commencé une crise d'identité énorme. On peut plus donner une fessée à nos enfants? La génération X? Le divorce? Les ados qui s'ennuyaient ont commencé de se manifester dans les grandes villes au lieu de se cacher dans les coins ruraux. Accro aux divertissements, ils meuraient d'envie de surfer le genre du contenu à la demande que l'internet nous fournit maintenant. Ma génération n'avaient pas de pères; on a niché dans la poitrine d'un secteur mêlé des médias et on a perdu le sens de la conviction. On a volé de nos enfants et on se roulait des pelles avec les-filles-et-les-garçons en public. On a fumé de l'herbe dans la ruelle et on a frappé des chats avec les pierres. On a joué de la musique à nos amis par téléphone et la téléconférence était la meilleure invention de tous les temps. On avait rien à faire et on avait tout notre temps. On était sans-but et on s'ennuie. Et ça c'est pourquoi les Grown-Ups me fait perdre dans mes pensées. Leur première cassette est le zut-alors d'été suprême des années 90, perdu merveilleusement dans un tourbillon naïf d'ado de la merde-culture et la loosertude pourquoi-je-serai-jamais-en-couple. C'est ton hymne sous-sol pour les junkies léthargiques qui veulent juste s'amuser. Les Grown-Ups pigent; être adulte c'est penser d'être enfant et grandir c'est vraiment nul. Surtout dans les années 90. Brillant.
---
---
---