Review :: Seizure Salad / Indiensoci Split Cassette
---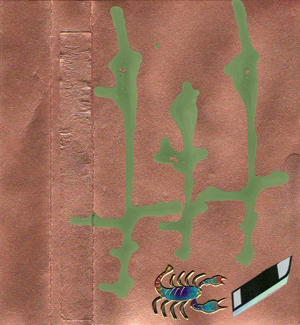 Seizure Salad / Indiensoci
The New The Good The Bad and The Ugly Sound Track
(Ice Cream Ala Mode Tape and Sound)
Calgary, AB / Montreal, QC
This cassette woke me up on the first day of my vacation. My buzzer rang at 8am this morning and I was pissed-off. I ripped open the parcel and the Seizure Salad / Indiensoci split-cassette fell out; I was excited and ashamed. Seizure Salad's side skidded into my mind with a lo-fi barrage of experimental psychedelia; a droning, rhythmic travelogue to the far-reaches of Disneyâ"¢-hell filled with distorted film illusions and guitar shreddery. It's a real narrative with emotionally percussive climaxes and mellow, ambient descents. On the flip-side, Indiensoci sends her parsed, ambient bellowing in an attempt to balance the intricate mind-barrage of Seizure Salad. Indiensoci is the not-so-secret side project from BRAIDS' singer and it all makes sense; mellifluous echoes of her voice traveling from every direction in cassette-quad beauty and sentient brilliance – it's all the things we love about BRAIDS in one stream of magnetic tape. Where Seizure Salad takes you on a Trip Thru Hell, Indiensoci brings you back to the world of the half-alive, allowing a return to your dreams, naps, narratives, and lives with the subtle feeling that everything is not-OK, but it's all lovely because her vocal wysps linger on in half-audible existence. An easy contender for best experimental cassette of 2009.
Seizure Salad – Sleeping Buddy
Seizure Salad – The Lion Thing
Indiensoci – Boys aRe Stupid 1 (the snowshoe)
Indiensoci – Boys aRe Stupid 2 (touched by a sentiment)
And for fun, here is two more Seizure Salad tracks…
Seizure Salad – Beauty Lewis & The News
Cette cassette m'a réveillé le premier jour de mes vacances. Mon réveil a sonné à 8am ce matin et j'étais énervé. J'ai brutalement ouvert la pièce et la cassette divisée en Seizure Salad/ Indiensoci en tomba; j'étais excité et honteux. Le côté de Seizure Salad dérapa dans mon esprit avec un barrage lo-fi de psychédélie expérimentale; un bourdonnement, un carnet de voyage rythmique aux confins de l'enfer de Disney rempli d'illusions d'un film tordu et le déchirement d'une guitare. C'est un vrai récit avec des sommets émotionnellement renversants et de douces descentes d'ambiances. En revanche, Indiensoci lui envoie des beuglements ambiants distingués dans un effort pour équilibrer les barrages complexes de l'esprit de Seizure Salad. Indiensoci est un projet secondaire pas-si-secret de la chanteuse de BRAID et tout ça fait du sens; les échos suaves de sa voix voyageant dans toutes les directions de la beauté de la quadruple cassette et de la sensible brillance –
C'est toutes les choses que nous aimons à propos de BRAIDS dans un flot de
bande magnétique. Où Seizure Salad vous apporte dans un Trip Thru Hell, Indiensoci vous ramène au monde des mi-vivants, permettant un retour à vos rêves, vos siestes, vos narrations et vos vies avec le subtil sentiment que tout n'est pas OK, mais c'est tout adorable parce que ses chants wysps* s'attardent sur un existence à moitié audible. Un candidat facile pour la cassette expérimentale de 2009.
Seizure Salad – Sleeping Buddy
Seizure Salad – The Lion Thing
Indiensoci – Boys aRe Stupid 1 (the snowshoe)
Indiensoci – Boys aRe Stupid 2 (touched by a sentiment)
Et si vous n'avez pas eu assez, voici deux autres chansons par Seizure Salad…
Seizure Salad – Beauty Lewis & The News
---
---
---