I sleep underground.
---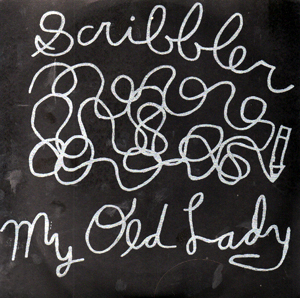 Scribbler
My Old Lady
(Stumparumper)
Halifax, NS
Scribbler is, as far as I can tell, a strange group of pseudo-druid, feudal-revivalists operating in the Halifax region (where there are more bands than people). I got their 7″ in the mail and it's a mixed brew of depressing one-mic-in-a-box loner folk, manic distorted folk-rock, and (my favorite) a thirty-second cosmic noise-hippie freak-out. Even stranger is their remix project featuring a variety of artists I had never heard about doing even-weirder interpretations of their songs (including one amazing electro-psych track that's no longer on their **Space (but will hopefully be on the soon-to-be-released C-90 containing all the remixes)). You, the reader, are also welcome to participate in the remix project, so feel free to contact them. In the meantime, pick up the 7″ if you're into echoey lonertude from the bowels of Canada's most creative city.
Scribler est, aussi loin que je puisse dire, un étrange groupe de pseudo druide, d'évangélistes feudal opérant dans la région d'Halifax (où il y a plus de groupes que de gens). J'ai eu leur 7'' par la poste et c'était un bouillon d'un mélange de déprimant un-micro-dans-une-boîte de reclus, de rock-folk tordu maniaque et (mon préféré) un trente secondes de panique de bruit hippie cosmique. Encore plus étrange est leur projet de remix présentant une variété d'artistes que je n'avais jamais entendu parlés à propos de faire des interprétations de leurs chansons (incluant une époustouflante piste de psych électro qui n'est plus sur leur Space, mais qui va, on espère, figurée sur le bientôt-en-vente C-90 contenant tout les remix.) Vous, le lecteur, êtes aussi bienvenue à participer dans le projet de remix, alors n'hésitez pas à les contacter. Entre temps, choisissez le 7'' si vous êtes dans la solitude qui fait écho des tripes de la cité la plus créative du Canada.
---
---
---