Review :: Cresting – An E.P.
---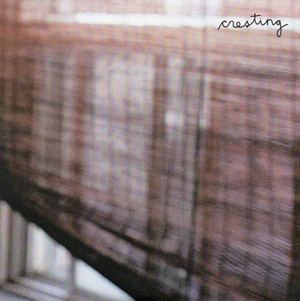 Cresting
An E.P.
Montreal, QC
I was not prepared for Cresting's beautiful basement-pop macabre. I had a fist-full of spaghetti (dinner related) half-way through An E.P. when I suddenly realized my whole environment had changed. The combinations of cassette-warmth and sharp, repetitive percussion drenched in brilliant grey-scale low-end formed continuous sequences of pop hyperbole too advanced for my supper preparations. With this in mind, An E.P. is suitable for: late-night/early-morning bike-rides, not being homeless and waking up in a park at 2pm, realizing you got punched in the face because you're 16 and deserved it, blowing cigarette smoke into a flashlight so you can pretend you're film-noir, and contemplation. I'm at the contemplation stage of my Cresting cycle so let me gush: this album is thoroughly convincing, clever, innocent, wonderful, pastiche, subtle, and vivid. Do the right thing and listen while you're sitting down. And make sure you purchase the beautifully packaged CD from Fixture Records whose aesthetic reminds me that compact discs are still a viable format.
J'étais pas prête pour le sous-sol-pop merveilleusement macabre de Crestings. J'avais une poignée des spaghettis (lié au souper) au milieu du An E.P. quand je me suis rendue compte tout à coup que mon environnement entier a changé. Les combinaisons de la cassette-chaleur et la percussion aiguë et répétitive trempé par l'echelle-de-gris bas-de-gamme a formé les séquences ininterrompues d'hyperbole pop trop avancé pour mes préparatifs du souper. Dans cet esprit, An E.P. est approprié pour: les tours à vélo en nocturne ou tôt le matin, ayant une domicile et se réveillant dans un parc à 14h, réalisant que t'as reçu un coup de poing à la visage parce que t'as 16 ans et tu l'as mérité, soufflant la fumée de cigarette dans une lampe de poche pour que tu puisses imaginer que t'es film-noir, et la contemplation. Je suis à l'étape de contemplation dans mon cycle Cresting alors laisse-moi babiller: cet album est complètement convaincant, naïf, merveilleux, pastiche, subtil, et vif. Fais la bonne chose et écoute pendant que tu t'assieds. Et fais attention que t'achètes le CD merveilleusement emballé de Fixture Records, l'esthétique duquel me rappelle que les disques compacts sont encore un format viable.
---
---
---