Pubescent tarnation!
---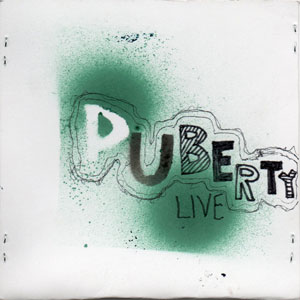 Puberty
Live
(Self Released)
Calgary, Alberta
From the nostalgic words of Aaron Levin:
Puberty sucks. Remember that sterile, confusing, and awkward time in every person's life? Where they quickly discover just how ugly they really are. On the other hand, Puberty's incarnation as three beautiful and awkward women from Calgary is exciting, inspiring, and everything that puberty isn't. It's hard to not become affectionate with their weird concoction of post-punk jangle and water-slide slurpee pop. Every time I see them in Calgary I want to shout with glee: "the pubes!" while the drummer bashes away on cymbals and microphones. They're everyone's favorite band and why the hell not? Their unadulterated approach to punk makes me think back to my experience with puberty. Maybe bus-stop boners and B.O weren't so bad? This Live CD (#6 in an edition of 10) is pretty raw, but the sessions recorded at CJSW lead us in the right direction; Mac's – let's purchase cigarettes for minors and continue the trend.

Des mots nostalgiques d'Aaron Levin:
(Traduit par l'esprit rétro de Maya Keshav)
La puberté est dégoûtante. Te souviens-tu cette époque stérile, mêlante et maladroite dans la vie de chaque personne? Quand on découvre rapidement à quel point on est laid. D'autre part, l'incarnation de Puberty comme trois belles et gauches femmes de Calgary est géniale, exaltante, et tout ce que la puberté n'est pas. Il est difficile d'éviter de tomber en amour avec leur concoction bizarre du fracas post-punk avec le sloche-pop toboggan. Chaque fois je les vois à Calgary j'ai envie de crier de joie: "vive la puberté!" pendant que le batteur cogne ses cymbales et ses micros. C'est la groupe préférée de tout le monde et pourquoi pas? Son approche naturelle au punk me fait penser à mon éxperience avec la puberté. Peut-être que les gourdins aux arrêts de bus et l'odeur corporelle n'étaient pas si mal qui ça? Ce CD live (sixième dans une édition de dix) est assez cru, mais les sessions enregistrées à CJSW nous amènent dans la bonne direction; Mac's — allons acheter les cigarettes pour les mineurs et continuer la tendance.
---
---
---