Endangered Levin.
---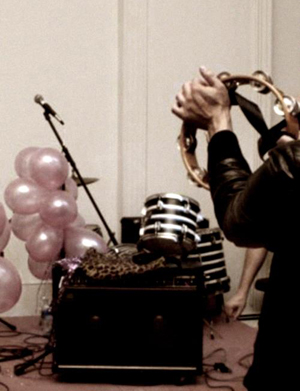 … This Week In **Space …
Vancouver, BC
OK, I apologize for not posting a review yesterday. I was too busy trying to see Lethbridge's weird-science-punk marvella Endangered Ape, Calgary's what-is-going-on-in-that-city Hunter Gatherer, and hobo power-popper Nobunny. All of this spread over two venues and many hours. Endangered Ape and Hunter Gatherer will be coming very soon to a Weird Canada nearest you.
In the meantime I'll posted my latest **Space obsession. Maybe I'll even start a "This Week in **Space" for those great bands that don't have releases yet.
OK, j'suis désolé de n'avoir pas posté une critique hier. J'étais trop occupé en essayant de voir la merveille bizarre-science-punk Endangered Ape de Lethbridge, le qu'est-ce-qui-se-passe-dans-cette-ville Hunter Gatherer de Calgary, et le power-pop-iste clodo Nobunny. Tout ça à travers deux venues et plusieurs heures. Endangered Ape et Hunter Gatherer arriveront très bientôt à un Weird Canada près de chez toi. En attendant, j'ai posté ma dernière obsession **Space. Peut-être je vais même commencer un "Cette semaine dans **Space" pour ceux grands groupes qui n'ont pas encore les morceaux.
---
---
---