New Canadiana :: Sean Nicholas Savage – Summer 5000
---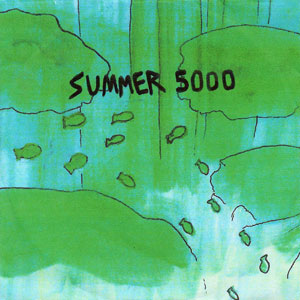 Sean Nicholas Savage
Summer 5000
(Self Released)
Edmonton, AB
From the nostalgic words of Aaron Levin:
Legend has it Sean once performed naked, painted entirely blue to a room full of teens. I say legend because it's so damn fitting. Cementing himself on the CJSR Top 30 for almost 5 months (spending two months at number one), it was no doubt that his perfect DIY pop effort resonated with all; young and old; naked and clothed; 16 year-old high-school thug and 27 year-old burn-out Music Director. The 8-song, 20 minute album was rereleased on Arbutus Records when Sean left the prairies for a life in Montreal. All the songs were recorded by Sean directly to an MP3 recorded using a process I still do not understand. He wrote a lot of songs. A lot. And many of them are great. Many of them.

Des mots nostalgiques d'Aaron Levin:
(Traduit par l'esprit rétro de Maya Keshav)
La légende raconte qu'une fois Sean a joué nu, peint en bleu devant une salle pleine d'ados. Je dis légende parce que c'est lui tout craché. En se cimentant sur le CSJR top 30 pendant presque 5 mois (en restant deux mois en numéro un), il ne fait aucun doute que sa réussite parfaite de DIY pop à touché tout le monde; les jeunes et les vieux; les nus et les vêtus; le voyou du secondaire de 16 ans et le directeur musical has-been de 27 ans. L'album comptant 8 chansons et 20 minutes était ressorti par Arbutus Records quand Sean a quitté les prairies pour une vie à Montréal. Sean a enregistré toutes les chansons directement au format mp3 avec un processus que je comprends pas encore. Il a écrit beaucoup de chansons. Beaucoup. Et de nombreuses sont géniales. De nombreuses.
---
---
---