Tag: winnipeg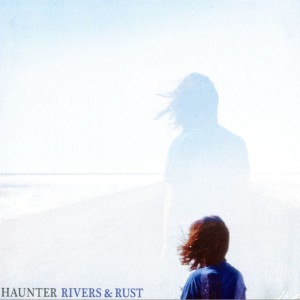 Haunter
Rivers & Rust
Winnipeg, MB
From the whispered words of Joshua Robinson:
Winnipeg's Haunter spill over the brim of summer and flow onto the autumnal floor, bringing with them the vocal melodies and stirring chorus lines that run hot on the heels of college-era nostalgia. Stumbling home and scraping knees on sidewalks, they fall victim to the night and the resonance of prairie nocturnes comforting the desperate and lonely in their time of lunar-induced vulnerability. Rivers & Rust is the manifestation of this youthful and exuberant call to reckless abandon, anathema to the ecclesiastically ordained tenements of routine, order, and calculable action. This is all for the best, however, as Haunter embody the spirit of the memorable night, the stars overhead, the sound of voices on the breeze, and the tacit love that hangs between carefully chosen words whispered into strangers' ears in dormitory hallways.
Des mots chuchotés de Joshua Robinson:
(Traduit par les rêves d'automne d'Andréanne Dion)
Haunter, de Winnipeg, se répandent par-dessus le bord de l'été et coulent sur le sol automnal, amenant avec eux des mélodies vocales et des refrains débordants qui pourchassent la nostalgie des années au collège. Trébuchant sur le chemin du retour et s'écorchant les genoux sur les trottoirs, ils sont victimes de la nuit et des tableaux nocturnes des Prairies qui réconfortent les âmes désespérées et solitaires dans leur vulnérabilité lunaire. Rivers & Rust est la manifestation de cet appel juvénile et exubérant à la témérité, anathème de la routine, de l'ordre et des gestes calculés ordonnés par le clergé. C'est pour le mieux, pourtant, puisque Haunter incarnent l'esprit d'une nuit inoubliable, avec les étoiles au-dessus de nos têtes, le son des voix portées par le vent, et l'amour implicite suspendu entre les mots soigneusement choisis, chuchotés aux oreilles d'étrangers dans les couloirs de dortoirs.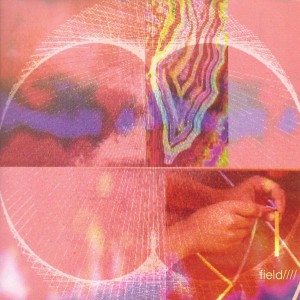 field ////
field ////
(Self Released)
Winnipeg, MB
From the DADADADADADADA of Taylor Burgess:
The matter of field //// is one of a boundless journey, once you subtract the quartet's self-imposed limitations. On each of their "compositions," instrument changes are predetermined to the second. Tone, technique and motifs are not. Soon, the four grown men of field //// (including members of Philia, Auntie Dada and Mahogany Frog) are flying and fooling alongside one another, collectively passing through the timer, never to return to the sonic combinations which made you wince or pause to deliberate. Projections of Charles Ives and AIDS Wolf watch overhead, detached. A performance of "Enfolded Origins" will never again have pulsing keys fading into deadened jungle drumming, but will always end with the buzzer at 16 minutes and 13 seconds, bringing the arranged freeform quartet back to earth and the big, open stages they often play.
Du DADADADADADADA de Taylor Burgess:
(Traduit par le pouls ralenti de Patrick Du Tremble)
La question de field //// en est une de voyage sans borne, une fois les limites auto-imposées par le quatuor retirées. Sur chacune de leurs « compositions », les changements d'instruments sont prédéterminés à la seconde près. La tonalité, la technique et les motifs ne le sont pas. Donc, rapidement, les quatre hommes de field //// (incluant des membres de Philia, Auntie Dada et Mahogany Frog) s'envolent et jouent l'un à côté de l'autre, passant collectivement le temps sans jamais retourner aux combinaisons sonores qui vous ont fait tressaillir ou arrêter pour réfléchir. Des manifestations de Charles Ives et de AIDS Wolf observent avec détachement. Une performance de « Enfolded Origins » n'aura jamais plus la pulsation des claviers qui se dissipent en laissant place aux rythmes tropicaux feutrés, mais se terminera toujours avec la sonnerie à 16 minutes 13 secondes, ramenant le quatuor de freeform arrangé sur terre, sur les grandes scènes ouvertes sur lesquelles ils se produisent souvent.
field //// – Frankenstein Movements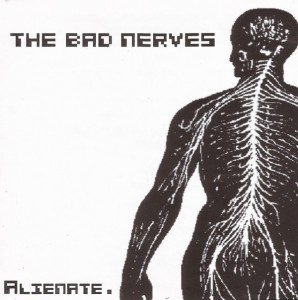 The Bad Nerves
Alienate
(Self Released)
Winnipeg, MB
From the 122 hours of Taylor Burgess:
Synth-punk trio the Bad Nerves can't grok what the shit's going on around them in this strange land, sending them headlong into a prolonged period of fear and a brutal disassociation with the human race. Watch them spaz out in anxious fits, crying to be accepted beyond this world. There aren't any UFO synths sweeping within Alienate, but the trio's phasers are set to induce helplessness, paranoia, and general chaos. Hold tight, because the Bad Nerves are on the attack until someone takes them home.
Des 122 heures de Taylor Burgess:
(Traduit sur un lit assis en indien, par Juitch)
Bad Nerves, le trio de synthé-punk, ne catche vraiment pas ce qui se passe autour de lui en cette terre étrange, qui les fait plonger la tête la première dans une période prolongée de peur et une dissociation brutale avec la race humaine. Regarde-les péter leur coches dans des crises de nerfs, suppliant d'être acceptés dans l'autre-monde. Il n'y a aucun synthé-OVNI qui balaye Alienate, mais les phrasés du trio s'apprêtent à causer l'impotence, la paranoïa et le chaos général. Accroche-toi bien car les Bad Nerves sont au front attendant qu'on les ramène à la maison.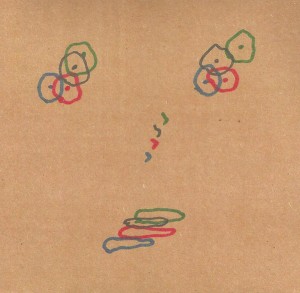 The Girth
The Girth
(Self Released)
Winnipeg, MB
From the proto-pogo of Taylor Burgess:
Fronted by the absurd Steve Basham, The Girth can be considered amongst the best jokers, jesters, and harlequins. Well versed in the schools of pogo and proto, they warble through one non-sequitur after another—chased by the "Messy Man," conversing with fish, or dealing with an outbreak of scabies. And the parts of their tunes that aren't imagined (actually, the scabies outbreak was real) all coalesce into a whimsical and impassioned journey. Their armpits reek of art school funk, their notebooks are full of 4 a.m. observations, and their throats are sore from screaming along to one last side before the night's gone bright again.
Du proto-pogo de Taylor Burgess:
(Traduit de la bouffonnerie par Audrey Roy)
Piloté par l'absurde Steve Basham, The Girth compte parmi les meilleures troupes de blagueurs, de bouffons et d'arlequins. Versés dans les arts du pogo et du proto, ils bondissent d'une fausse conclusion à une autre, poursuivis par l'"Homme Désordonné", en pleine discussion avec un poisson ou aux prises avec une épidémie de gale. Les parties de leurs chansons qui ne sont pas inventées (car il y a vraiment eu une épidémie de gale!) fusionnent toutes pour se transformer en une aventure exaltante et fantasque. Leurs aisselles suintent de funk d'école d'art, leurs cahiers de notes sont pleins d'observations faites à 4 heures du matin et leurs gorges sont endolories à force de s'époumoner sur ce dernier côté, avant que la nuit ne soit de nouveau éclairée.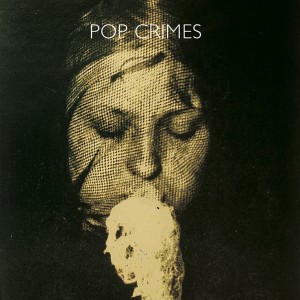 Pop Crimes
Digital Dream b/w Radio Eye
(Self Released)
Winnipeg, MB
From the doom swells of Paul Lawton:
I caught this band at one of Sled Island 2013′s many lost soul refugee camps for Canada's rock set. Pop Crimes were perfectly suited for that particular form of climate crisis: deep, heady and drowning in hopelessness. When you're running from the floods, you have to pick your poison: do we bliss out and pretend that nothing is wrong? Do we try and connect with the internal doom swells and ride the lightning? Consider this post-Sled guilt that I was busy shotgunning warm Pilsner and asking "what band is this?" instead of getting dirty, filling sandbags or rescuing puppies. Winnipeg remains the soundtrack for my guilty conscience.
Des vagues pessimistes de Paul Lawton:
(Traduit par la mauvaise conscience d'Andréanne Dion)
J'ai vu ce groupe à un des nombreux camps de réfugiés pour les âmes perdues du rock canadien du festival Sled Island 2013. Pop Crimes convenait parfaitement à ce genre de crise météo: riche en émotions, enivrant et se noyant dans le désespoir. Quand on fuit des inondations, il y a un choix à faire : est-ce qu'on se la coule douce et on fait semblant que tout va bien? Est-ce qu'on essaie de connecter avec les vagues pessimistes intérieures et risque l'électrocution? Considérez ceci de la culpabilité d'après Sled, où j'étais occupé à caler de la Pilsner chaude et à demander "C'est quoi ce groupe?", plutôt que de me salir à remplir des sacs de sable ou à sauver des chiots. Winnipeg reste la bande-sonore de ma mauvaise conscience.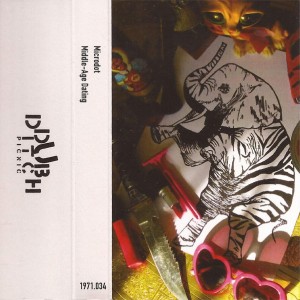 Microdot
Middle-Age Dating
Winnipeg, MB
From the bittersweet beach of Taylor Burgess:
Kick the biggest flanger pedal around and kick back, because here comes Microdot's newest take on kiwi-pop. This time, Rob Nay and Bill Northcott are back with a vengeance for their relatively cold realities — they'd rather not impress prospective mates, they have no money for their broken car, and they just can't unwind. Don't worry though — what sounds like a heap of bummers actually makes for a heap of bittersweet beach tunes and you could easily run this tape thin by rocking it and rewinding it, which you probably already did to their first outing by now.
De la plage douce-amère de Taylor Burgess:
(Traduit par l'ex-Parisien Juitch)
Donne un bon coup de pied sur la plus grosse pédale de flanger à ta disposition et détends-toi, car voici la nouvelle attaque de Microdot contre la kiwi-pop. Cette fois, Rob Nay et Bill Northcott sont de retour pour se venger de leurs existences plutôt mornes (ils préféreraient ne pas faire bonne impression auprès d'éventuels amis, n'ont pas d'argent pour réparer leur char pété et sont tout simplement incapables de se calmer). Pas d'inquiétude, ce qui semble n'être qu'un tas de situations poisseuses est en réalité un tas de chansons de plage douces-amères rassemblées sur une cassette dont tu pourrais facilement ruiner la bande audio en l'écoutant en boucle, ce que tu as probablement déjà fait avec leur première parution.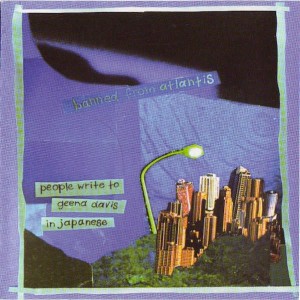 Banned from Atlantis
People Write to Geena Davis in Japanese
(Sister Records)
Winnipeg, MB
Originally Released: 1995
From the prairie myth of Joe Strutt:
Winnipeg makes an effective backdrop for a personal struggle to understand how a benevolent God could have created such a hostile universe.

Kingwell would go on to bestow the name "Plague City" on the town he grew up in, as a not-quite-fond nod to its general hostility toward eking out a comfortable life in any season. It's the sort of place where there's not much to do, so you start a band. I guess that was sort of the case for Banned From Atlantis — I remember reading an interview where they joked that they got together because they were the only Superchunk fans in the city. Starting with some good songs on a decent self-recorded cassette, People Write to Geena Davis in Japanese would emerge as something startlingly transformed, with thunderous drums and aggressively slacker-ish guitars provided by Bob Weston who was brought in to produce the record. The album would be released against the backdrop of the funeral for the Jets (the real Jets, still exiled in Arizona, not the new, fake, militarism-humping Jets). The team would last for one more lame-duck season, but the band would be done by year's end.
Things were grim in Plague City, with an unsavoury right-wing political-correctness ("how did they ever get so good at calling other people names?") establishing a flimsy "Save Our Jets" narrative where we weren't supposed to question the elites' plans to cut a blank cheque for the city's failed and cowardly capitalists. The home I grew up in got sold, and on the cusp of getting my degree (alongside — and this is a true story — no less than Fred Penner) I moved downtown, into my first apartment and quickly learned to recognize the local gang signs. Waving goodbye to all my friends left and leaving, I decided to stay for one more year. I put my polisci courses to work in a dead-end job that involved breathing in other people's cigarette smoke and watching them piss away their paycheques on VLTs. I put my philosophy courses to work by settling into a winter-long existential funk, wondering what the hell I was going to do with my life.
Long story short: the things you don't know about yourself in 1995 are going to be the things you don't know about yourself in 2013. There's a prairie myth of winter stoicism — that it toughens you up, makes things endure — but in the end it simply breaks some things, like the ice on the rivers at the city's heart: solid ground heaved into fragments by remorseless, unseen forces. Long story short: the band would break up (though guitarist Doug McLean would notably move on to The Bonaduces and The Paperbacks), the Jets would leave, and I too would leave. "Because the thing about a Plague City summer is that it's never quite long enough to let you forget that winter."
Joe Strutt blogs at Mechanical Forest Sound, a slow-paced investigation of a wide range of artists — mostly reflecting on concerts as shared experiences, acts of citizenship and a chance to get down. Fuzzy photographs and clear-sounding original live recordings a specialty.
Du mythe des Prairies de Joe Strutt:
(Traduit par la peste urbaine de Vincent Rondeau)
Winnipeg est un endroit particulièrement propice à la crise de conscience de l'individu qui tente de comprendre comment un Dieu bienveillant aurait pu créer un univers aussi hostile.

Kingwell a aussi donné à la ville de son enfance le surnom pas si affectueux de « Plague City » (la ville de la peste), en référence à la difficulté d'y trouver une vie confortable, peu importe la saison. C'est le genre d'endroit où il n'y a pas grand chose à faire, alors on part un band. J'imagine que c'est le cas de Banned From Atlantis : je me rappelle avoir lu une entrevue avec les membres du groupe qui disaient s'être rencontrés parce qu'ils étaient les seuls fans de Superchunk en ville. À partir de quelques bonnes chansons sur une cassette enregistrée maison, People Write to Geena Davis in Japanese s'est métamorphosé en un album surprenant, plein de percussions retentissantes et de guitares slacker agressives offertes par le producteur invité Bob Weston. Le disque a paru pendant les funérailles des Jets (les vrais Jets encore exilés en Arizona, pas la fausse nouvelle équipe aux tendances militaristes). L'équipe a continué de jouer pour une saison pitoyable, mais le groupe s'est dissolu avant la fin de l'année.
Tout allait mal alors à Plague City : des relents déplaisants de rectitude politique de droite alimentaient un point de vue « sauvez nos Jets! » selon lequel on n'était pas supposé remettre en question l'idée des élites de faire un chèque en blanc aux capitalistes ratés et lâches de la ville. La maison de mon enfance a été vendue, et juste au moment où j'allais compléter mon diplôme (en même temps que Fred Penner, sans blague) j'ai emménagé dans mon premier appartement au centre-ville, où j'ai rapidement appris à reconnaître les symboles des gangs locaux. Au moment où tous mes amis partaient, j'ai décidé de rester en ville pour un an de plus. À l'aide de mes cours de science politique, j'ai décroché un emploi sans avenir où je respirais la fumée de cigarette des gens venus gaspiller leurs chèques de paye à la loterie vidéo. À l'aide de mes cours de philosophie, j'ai sombré dans le doute existentiel tout l'hiver en me demandant ce que j'allais faire de ma vie.
Bref, ce qu'on ne connaît pas à propos de soi-même en 1995, on ne le connaît pas plus en 2013. Il y a un mythe du stoïcisme hivernal qui veut que l'hiver des Prairies bâtit le caractère, qu'il permet de mieux endurer toutes sortes de vicissitudes, mais au fond, tout finit par casser comme la glace des rivières au coeur de la ville, un bloc solide fragmenté par des forces invisibles et impitoyables. Bref, le groupe s'est dissolu (toutefois, le guitariste Doug McLean a ensuite fait partie des Bonaduces et des Paperbacks), les Jets sont partis et moi aussi. « Parce que le problème avec l'été à Plague City, c'est qu'il n'est jamais assez long pour oublier l'hiver. »
Joe Strutt écrit pour le blog Mechanical Forest Sound, qui examine en profondeur un large éventail d'artistes en réfléchissant sur la notion du concert en tant qu'expérience partagée, acte de citoyenneté et occasion de s'amuser. Points forts : les photos floues et les enregistrements originaux clairs.
Banned From Atlantis – Sovereign Thug
From the waterfall of Chris Jacques:
I'll jump into the wayback machine for this one. Welcome to 1984. I'm 13 and just heading out of my dumb headbanger phase and tumbling headlong into punk rock. I head downtown every weekend to learn about new sounds at Pyramid Records and Records of Wheels. On a whim or by chance, I come across this local 7″ by Johnny Zhivago. I remember having seen a performance a year or so before on Alternative Rockstand and maybe even a video on Video Video, both great local access shows on the much missed VPW (West of the Red).
I held the record with both interest and mild revulsion. These guys use synths! Blech. It would be another couple of years before I could fully appreciate the damage that could be wrought with a Moog / Korg / Arp, etc. Throwing caution and taste to the wind, I hand over $2 and scurry home with my funny sounding record. I played it all the time — for myself — never for others. It was my guilty pleasure — a truly guilty pleasure — as it was never displayed, often hidden. That all changed a number of years ago when I could comprehend and appreciate the great pop synth wave aktion they had happening.
I don't know anything more about these guys — if they had anything else recorded or what they're doing now. I'd be super down with doing some reissue stuff for certain.
Chris Jacques lives in Winnipeg. He runs Dub Ditch Picnic Records and is a closet New Romantic.
De la cascade de Chris Jacques:
(Traduit par l'attraction morbide de Nicolas Coutlée)
Je vais devoir sauter dans ma machine à voyager dans le temps pour celle-là. Bienvenue en 1984. J'ai 13 ans et m'apprête tout juste à sortir de ma stupide phase de headbanger pour plonger tête première dans le punk rock. Chaque fin de semaine, je me rends au centre-ville pour découvrir de nouveaux sons chez Pyramid Records et Records of Wheels. Sur un coup de tête ou par simple chance, je tombe sur un 7″ du groupe local Johnny Zhivago. Je me rappelle une prestation vue sur Alternative Rockstand il y a à peu près un an et peut-être même un vidéoclip sur Video Video, deux excellentes émissions locales diffusées sur la très regrettée chaîne de télévision publique VPW (West of the Red).
Mi-fasciné, mi-dégoûté, je tenais le disque dans mes mains. Du synthé? Ouache. Il me faudrait encore quelques années avant que je puisse apprécier pleinement les dommages que pouvaient affliger un Moog, un Korg ou autres Arp. Envoyant au diable toute forme de précaution ou de goût artistique, j'ai sorti un 2$ de mes poches et suis retourné en hâte chez moi avec mon disque aux drôles de sonorités. Je le faisais jouer constamment – pour moi-même – jamais pour qui que ce soit d'autre. C'était mon plaisir coupable, un vrai plaisir coupable; jamais je ne le montrais et même je le cachais souvent. Tout cela devait changer des années plus tard lorsque j'apprendrais à comprendre et à apprécier cette magnifique vague de pop synthétique qui avait alors cours.
Je ne sais vraiment rien de plus sur eux – s'ils ont enregistré autre chose ou ce qu'ils font à présent. Je serais toutefois tout à fait disposé à rééditer de leur matériel.
Chris Jacques habite à Winnipeg. Il est à la tête de Dub Ditch Picnic Records et est un Nouveau Romantique inavoué.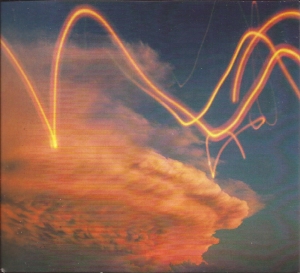 Vampires
Vampires
(Self Released)
Winnipeg, MB
From the mapped-out Manitoba of Taylor Burgess:
Deep into the driving dizzy riffage of Vampires, you may need to step outside their acid lounge for a smoke break, or a breath of unscuzzed air. That is, if you can elbow your way past your fellow deadhead dregs who are screaming their post-punk, post-pubescent, post-party paranoia to the tune of "Cops are calling you from their homes!" But the Dionysus of their lone discus has done found you again — duped you into such fits you could eagerly dig up your grave. But at the end of the day (and the dawn of the next), Vampires have burned their hearts to their sleeves, taken their trips to the sand, and spread their ashes to the coast. One grand gesture after the next.
Du Manitoba cartographié de Taylor Burgess:
(Traduit par Nicolas Coutlée)
Pénétré par les puissants riffs étourdissants de Vampires, peut-être éprouverez-vous le besoin de quitter leur lounge lysergique le temps d'une pause cigarette ou d'une bouffée d'air dégrisante. Bien sûr, seulement si vous parvenez à vous frayer un chemin parmi vos têtes brûlées d'épaves de camarades qui beuglent leur paranoïa post-punk, post-pubère et post-party en entonnant en choeur « Cops are calling you from their homes! » Mais le Dionysos qui habite leur disque solitaire a retrouvé votre trace à nouveau, provoquant chez vous de telles convulsions que vous pourriez bien creuser avidement votre propre tombe. Mais à la fin de la journée (et à l'aube le lendemain), les Vampires se sont embrasés à cœur ouvert, transportés jusqu'à la plage, pour finalement répandre leurs cendres sur la côte. Un geste grandiose n'attend pas l'autre.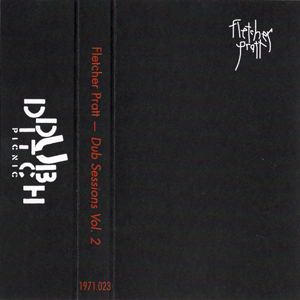 Fletcher Pratt
Dub Sessions Vol. 2
Winnipeg, MB

Eschewing the murk and screwed stylings of his
previous offering
, Winnipeg's Fletcher Pratt spitshines a wonderful sheen on his second volume of excursions into inner space. "Huge Dub" starts the journey in a mid-80s
Mad Professor
style, were he scoring a John Carpenter flick about the Miami
cocaine wars
. Digi-warmth for miles on this tape, all wrapped up with Mr. Pratt's tightest arrangements to date. A stalking urban vibe staggers through quite a few of these tracks, broken up beautifully by the beatific piano stabs of side two's "Sunny Dub", a real
dolphin watcher
if there ever was one. "Odd Dub"'s warped keyboard textures and sub-bass wonk along heat-stricken before the alone-in-an-airport "Outro" drops you off at the side of the road, stranded and searching for your car keys. All you can find in your pockets is some dusted roaches and a strange phone number written on a Burger King receipt. Time to go home and sleep it off, brother.
Audio clip: Adobe Flash Player (version 9 or above) is required to play this audio clip. Download the latest version here. You also need to have JavaScript enabled in your browser.
Audio clip: Adobe Flash Player (version 9 or above) is required to play this audio clip. Download the latest version here. You also need to have JavaScript enabled in your browser.
---