Tag: victoria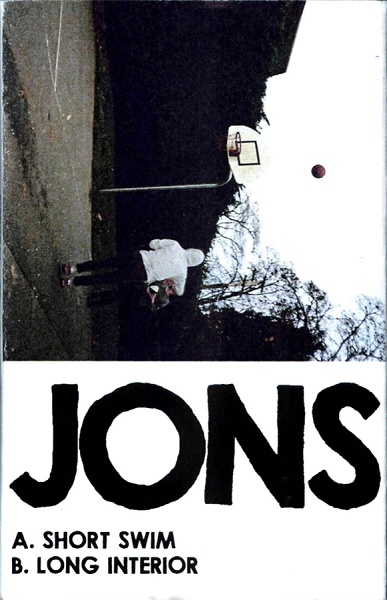 Jons
Short Swim
Victoria, BC
From the purple wagon of Eva Jane:
A murmur comes from the deep ocean – something releases its salt chuck vibrations. Is it the sounds of a giant squid? An evolutionary leap for mussels? No, it's Jons new single release, Short Swim. Projecting from their Island home, they share the true sounds that a floating piece of rock in the ocean can create. And even if Jons say it's a Short Swim, their shanties are audible through the far swim to the Mainland. It's a Surfing Psych tide towing you out.
Du wagon pourpre d' Eva Jane:
(Traduit par Mylène Roc Quevillon)
Un murmure émerge des grands fonds marins – quelque chose a déclenché ses vibrations salées. Est-ce le bruit d'un calmar géant? Les moules qui viennent de connaître un saut évolutif? Non, c'est le nouveau single de Jons, Short Swim. Depuis leur résidence sur l'île de Vancouver, le groupe nous partage les vrais sons qu'un bout de rocher flottant sur l'océan peut produire. Et même si Jons dit que ce n'est qu'une saucette, leurs chansons de marins s'entendent du large jusqu'au continent. Une vague de surf enivrante qui t'emporte au loin.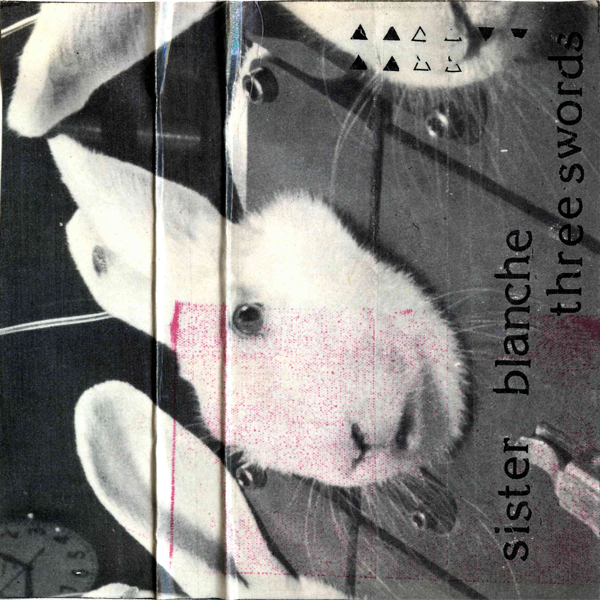 Sister Blanche
Three Swords
(Self Released)
Victoria, BC
From the overgrown backyard of Johnnie Regalado:
With an ear pressed against the wall, the throbbing loops of a neighbour's solo shed session reverberates through insulated plaster and skin. An audible distance makes the heart drone fonder. Tape decay mimics the falling ceiling tiles and peeling paint of our scruddy homes. When this building comes tumbling down, the cassette will be the only treasure worth saving.
De l'arrière-cour négligée de Johnnie Regalado:
(Traduit par la poussière accumulée sur Jessica Grenier)
Les boucles musicales lancinantes de ton voisin qui joue seul dans sa remise se répercutent à travers le plâtre et la peau de ton oreille, collée sur le mur – une distance sonore qui fait s'amouracher du drone. La dégradation de bande rappelle le son des tuiles du plafond s'écrasant par terre, de la peinture s'effritant dans des maisons abandonnées. Cette cassette sera la seule chose méritant d'être sauvée lorsque l'édifice s'effondrera.
Sister Blanche – I'm Also Sorry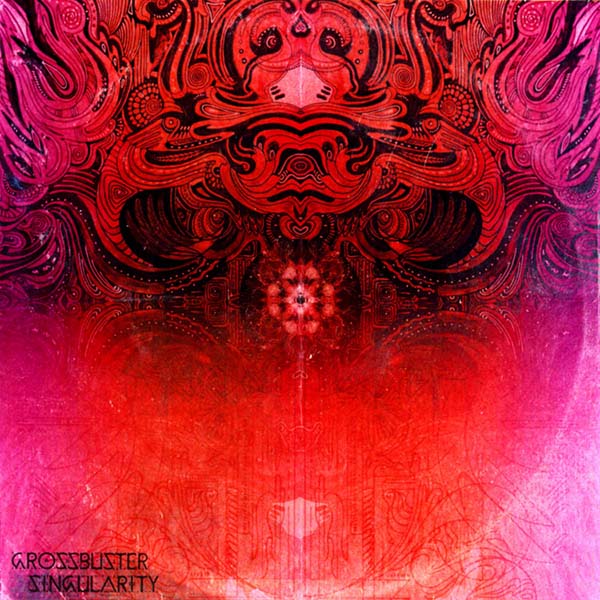 Grossbuster
Singularity
(Self Released)
Victoria, BC
From the rapid fingertips of Johnnie Regalado:
Take a mad stack of rare tapes and boil them down in the brain basin, rinse 'em through the rhythm veins, and fire 'em off through rapid fingertips . Grossbuster blasts an injection of the raw and analogue into a dose of dance music rarely heard on island time. Fresh loops lapping waves of bliss mist against the shores of our audible bays.
Du bout des doigts rapides de Johnnie Regalado:
(Traduit par la non-insulaire Mylène Quevillon)
Prenez une quantité folle de cassettes rares et faites les bouillir dans le bassin du cerveau, rincez-les à travers le rythme des veines, et faites les éclater par un mouvement rapide du bout des doigts. Grossbuster fait exploser une injection de sons crus et analogiques en une dose de musique dance rarement entendu au rythme de l'île. Un nouveau circuit de clapotis de vagues de brouillard extatique contre les rives de nos calanques audibles.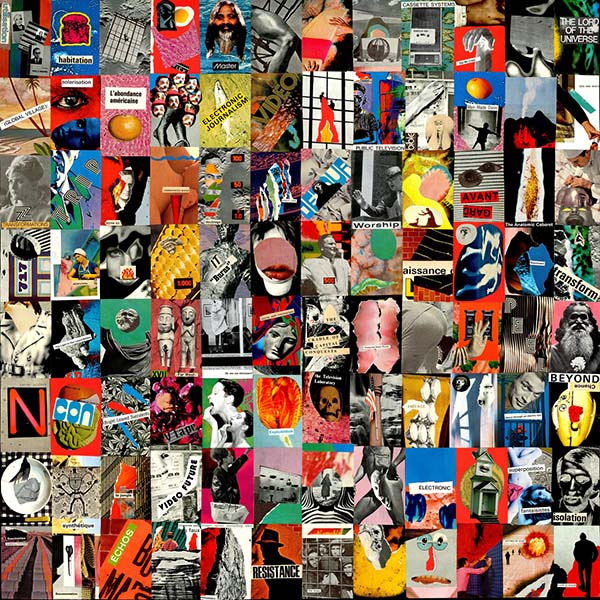 Freak Heat Waves
Bonnie's State of Mind
Victoria, BC
From the island beside an island of Johnnie Regalado:
The freaky boys' latest wave of heat has picked up some serious space debris after reflecting back from their original transmissions. Now wielding their solo palace as a brush to paint in the space between the sound, the trio have reached the equilibrium of master mixer tinkering and raw-from-the-floor reality. Subtle additions to their style blip up in the delicately placed loops and sharply focused vocals. When their songs aren't trying to reprogram your mind they are trying to move your feet.
D'une île à côté d'une île de Johnnie Regalado:
(Traduit par les coins de rue cafféinés de Marie-Pier Chevrier)
La dernière vague de chaleur de ces insolites garçons a collecté d'importants débris spatiaux depuis de leurs premières transmissions. Brandissant maintenant leur propre royaume tel un pinceau pour peindre l'espace entre les sons, le trio a atteint cet équilibre entre le mixage rafistolé à la perfection et la réalité cueillie à même le sol. De subtils ajouts à leur style en ponctuent les boucles délicatement placées et les voix finement mises au point. Quand leurs chansons n'essaient pas de vous reprogrammer le cerveau, elles font tout pour faire bouger votre corps.
Freak Heat Waves – A Civil Servant Awakening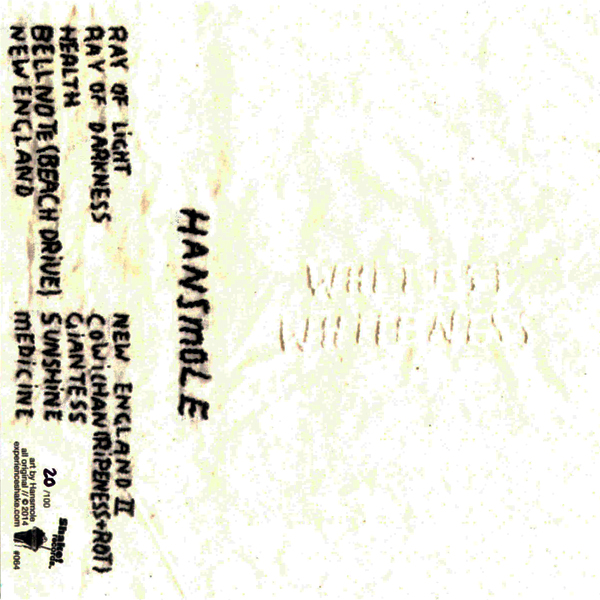 Hansmole
Whitest Whiteness
Victoria, BC
From the harmonic monstrosity of Johnnie Regalado:
Here sprout rhythms that tidal shift you into the lucidity of cycled seasons. The product of the water colour creature in the closet creeping out to duets on bedroom synth sessions. To weave tales of the struggle between the lightness and the darkness. To espouse the eternal growth and decay. With these twisted sorts of lullabies what dreams will come?
De la monstruosité harmonique de Johnnie Regalado:
(Traduit par Jessica Grenier)
Ici germent des rythmes qui vont synchroniser vos marées à la lucidité du cycle des saisons. C'est le produit de la créature en eau colorée qui sort en rampant d'une garde-robe, pour joindre une session privée de synthétiseurs. Pour tisser des contes sur la lutte entre légèreté et obscurité. Pour épouser la croissance éternelle et la pourriture. Quels rêves naitront de ces berceuses tordues?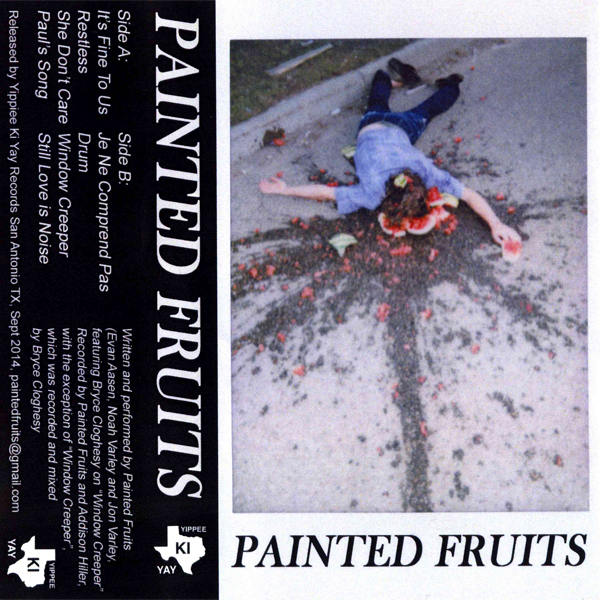 Painted Fruits
Painted Fruits
Victoria, BC
From the sincerely insincere smile of Johnnie Regalado:
If you burn it all down something else is bound to sprout from the ashes. There's an inherent lightness in the new, but time and experience always bring change. Here the stretch from lo-fi to deranged manifests in both the tone and the theme; warbled like fresh tape into pure hiss. Eager to please pop songs Jekyll-and-Hyde into the sound of lurkers outside your windows. Two-faced like their city that seeds so many great bands: supportive and fun but shadowed by that cloud-and-rain induced darkside vibe.
Du sourire sincèrement pas sincère de Johnnie Regalado:
(Traduit par Julie Forget)
Si tu brûles tout, quelque chose finira forcément par naître des cendres. Il y a une légèreté inhérente dans la nouveauté, mais le temps et l'expérience amènent toujours le changement. Ici, l'instant lo-fi à l'instant dérangé se manifeste autant dans la sonorité que dans le thème; chanté comme le pur sifflement d'une nouvelle cassette. Impatientes de plaire, des chansons pop font place à des bruits de rôdeurs tapis quelque part sous ta fenêtre, tel le Dr Jekyll qui se métamorphose en M. Hyde. Elles possèdent une double face tout comme leur ville d'où proviennent tant d'excellents groupes : solidaire et amusante, mais ombragée par cette ambiance sombre de nuages et de pluie.

Painted Fruits – It's Fine To Us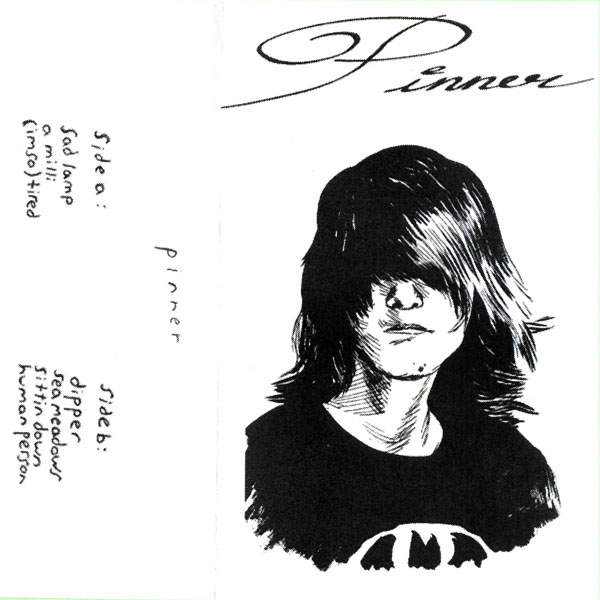 Pinner
#1 Demos
(Self Released)
Victoria, BC
From the heavy light of Johnnie Regalado:
Victoria's lightest heavies shed some heavy light on the dual natured aesthetic of Victoria post punk. Doubled down power chords and smash crashing backlines form the arched spine of this vicious release. This tape is stacked with airy odes to things like the friendly/weird pizza joint across from the venue and the perennial west coast weather small talk. With their first set of demos, this quartet has perfected the persona of politely obnoxious and it's no big deal.
De la lumière lourde de Johnnie Regalado:
(Traduit par Jessica Grenier)
Les plus doux parmi les plus durs de Victoria éclairent d'une lumière lourde la dualité esthétique du post punk de la ville. Des accords de puissance doubles et une sonorisation percutante composent la colonne tordue de cet album brutal, où fourmillent des odes légères à des choses comme la bizarre/sympathique pizzeria en face de la salle de spectacle et les éternelles conversations de la côte est sur la pluie et le beau temps. Avec sa première cassette de démos, le quatuor a mis au point la persona de la politesse énervante – et ce n'est pas bien grave.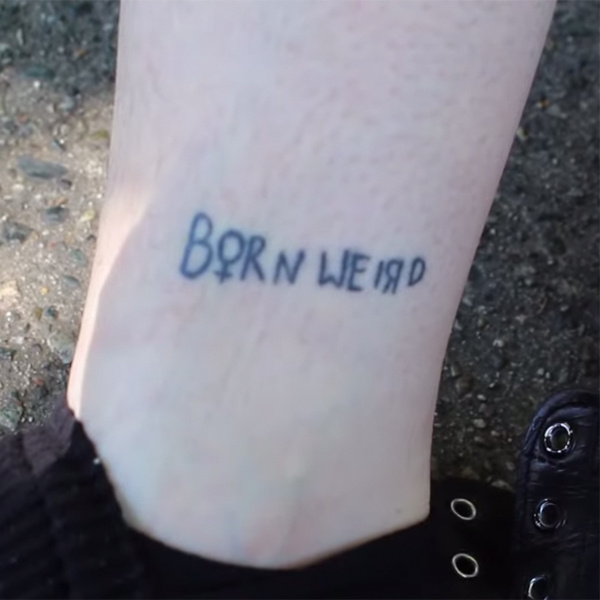 Open Relationship
"Girl Like You"
(Director: Kay Gallivan)
Victoria, BC
From the imaginary lagoons of Randee Keiver:
Marking the disbanding of Victoria BC's favourite born weirdos, "Girl Like You" is an ode to the mythical Chick-toria–proof that there is indeed an island out there (somewhere) populated entirely by sweet and pretty babes on bikes, that may or may not drink beers with you.
Des lagons imaginaires de Randee Keiver:
(http://www.randeekeiver.com/ Jessica Grenier)
Marquant la séparation du groupe de bizarroïdes préférés de Victoria, « Girl Like You » est une ode à la mythique Chicktoria – preuve qu'il y a réellement quelque part une île seulement peuplée par de jolies jeunes femmes à vélo, disposées (ou non) à aller prendre un verre avec toi.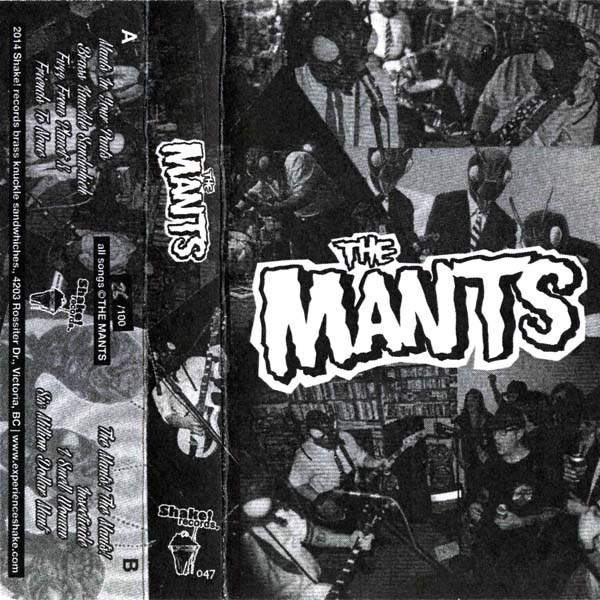 The Mants
The Mants
Victoria, BC
From the abduction manifesto of Johnnie Regalado:
Attention pesky humans, this is rock from the remote garages of Planet-X. Faster-than-light tunes from a trio of humanoid xenophobes ready to squash you under the weight of their tone. These well-dressed bugs have perfected your primitive forms of expression and are ready to ruin your picnic with power-punk that probes under your skin and leaves you itchin' for more. End transmission.
Du manifeste de l'enlèvement de Johnnie Regalado:
(Traduit par Jessica Grenier)
Votre attention, sales humains : voilà du rock en provenance des garages éloignés de la Planète-X . Les chansons plus rapides que la lumière du trio de xénophobes humanoïdes sont prêtes à vous écraser sous le poids de leur son. Ces insectes bien habillés maitrisent maintenant vos formes d'expression primitives et sont prêts à ruiner votre pique-nique avec du power-punk qui s'infiltre sous votre peau, vous laissant avec l'envie de gratter pour en avoir plus. Fin de la transmission.

The Mants – Brass Knuckle Sandwich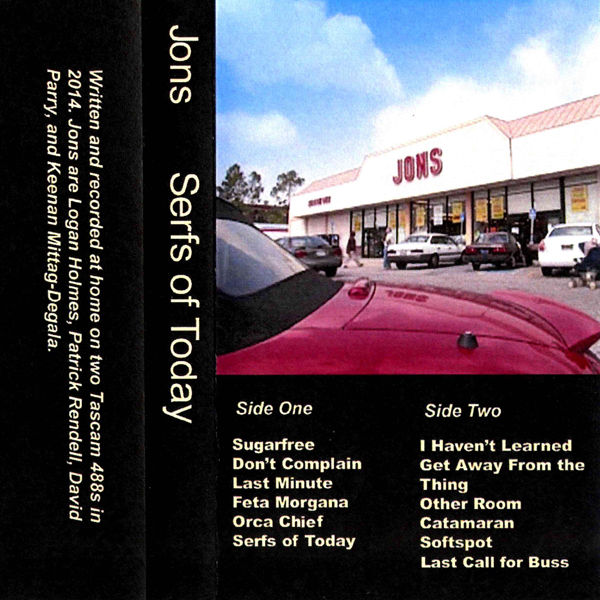 Jons
Serfs of Today
(Self Released)
Victoria, BC
From the hazy summer waves of Johnnie Regalado:
Some more warm and fuzzy basement tunes from another stellar crew of Victoria upstarts. Guitars chiming in unison, elevating each other with a friendly hand up. Riffs that wash in and out like lullaby brain waves. A fresh-faced revisit to some familiar vibes. This is the chilled out soundtrack for the ultimate summer staycation.
Des vagues brumeuses estivales de Johnnie Regalado:
(Traduit par Jessica Grenier)
Quelques nouvelles chansons de sous-sol, fuzzy et chaleureuses, d'un autre groupe stellaire provenant de Victoria : des guitares carillonnent à l'unisson, s'élevant ensemble d'un coup de main amical; des riffs qui vont et viennent comme les vagues cérébrales d'une berceuse. La fraîcheur d'une reprise pour des ambiances familières. C'est la trame sonore parfaite pour profiter, tranquille, des dernières vacances estivales.
---