Tag: victoria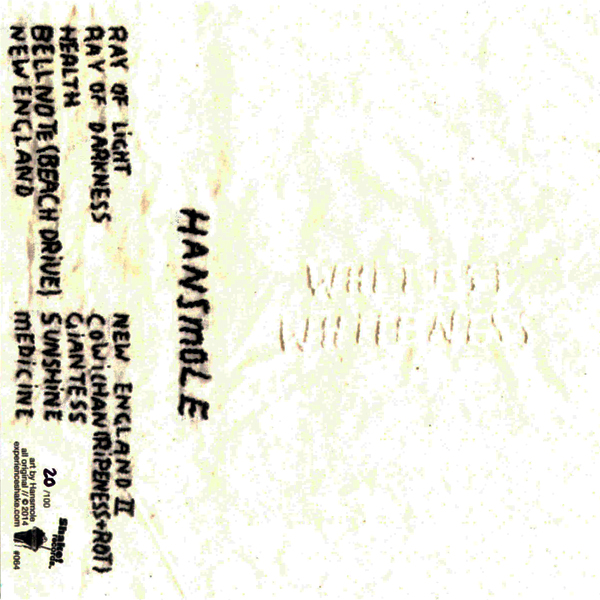 Hansmole
Whitest Whiteness
Victoria, BC
From the harmonic monstrosity of Johnnie Regalado:
Here sprout rhythms that tidal shift you into the lucidity of cycled seasons. The product of the water colour creature in the closet creeping out to duets on bedroom synth sessions. To weave tales of the struggle between the lightness and the darkness. To espouse the eternal growth and decay. With these twisted sorts of lullabies what dreams will come?
De la monstruosité harmonique de Johnnie Regalado:
(Traduit par Jessica Grenier)
Ici germent des rythmes qui vont synchroniser vos marées à la lucidité du cycle des saisons. C'est le produit de la créature en eau colorée qui sort en rampant d'une garde-robe, pour joindre une session privée de synthétiseurs. Pour tisser des contes sur la lutte entre légèreté et obscurité. Pour épouser la croissance éternelle et la pourriture. Quels rêves naitront de ces berceuses tordues?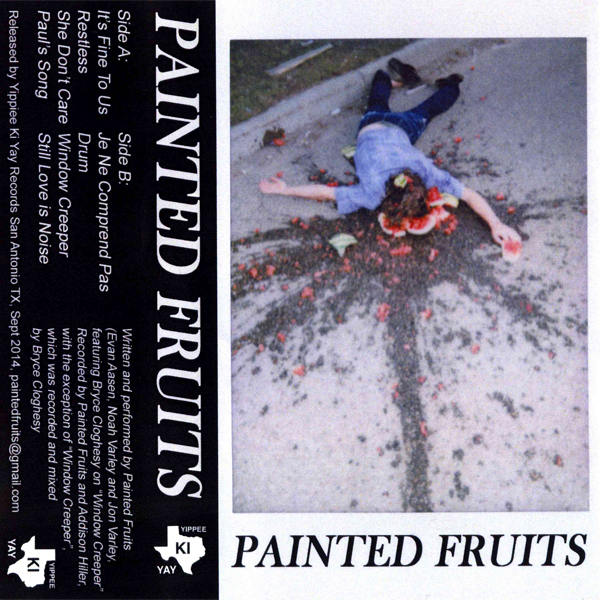 Painted Fruits
Painted Fruits
Victoria, BC
From the sincerely insincere smile of Johnnie Regalado:
If you burn it all down something else is bound to sprout from the ashes. There's an inherent lightness in the new, but time and experience always bring change. Here the stretch from lo-fi to deranged manifests in both the tone and the theme; warbled like fresh tape into pure hiss. Eager to please pop songs Jekyll-and-Hyde into the sound of lurkers outside your windows. Two-faced like their city that seeds so many great bands: supportive and fun but shadowed by that cloud-and-rain induced darkside vibe.
Du sourire sincèrement pas sincère de Johnnie Regalado:
(Traduit par Julie Forget)
Si tu brûles tout, quelque chose finira forcément par naître des cendres. Il y a une légèreté inhérente dans la nouveauté, mais le temps et l'expérience amènent toujours le changement. Ici, l'instant lo-fi à l'instant dérangé se manifeste autant dans la sonorité que dans le thème; chanté comme le pur sifflement d'une nouvelle cassette. Impatientes de plaire, des chansons pop font place à des bruits de rôdeurs tapis quelque part sous ta fenêtre, tel le Dr Jekyll qui se métamorphose en M. Hyde. Elles possèdent une double face tout comme leur ville d'où proviennent tant d'excellents groupes : solidaire et amusante, mais ombragée par cette ambiance sombre de nuages et de pluie.

Painted Fruits – It's Fine To Us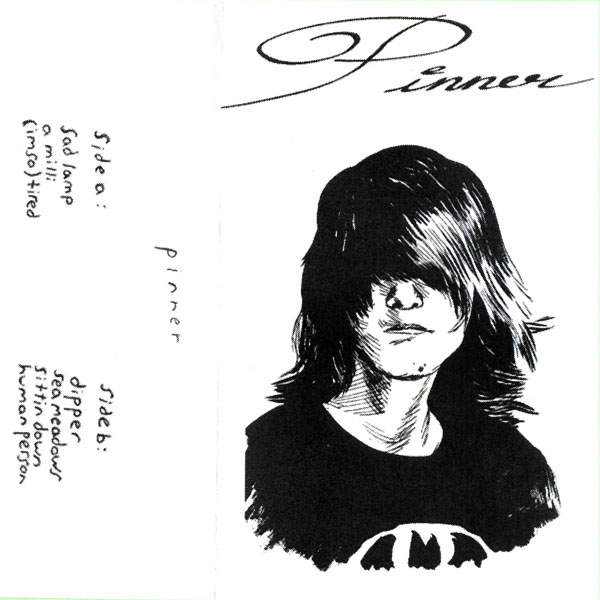 Pinner
#1 Demos
(Self Released)
Victoria, BC
From the heavy light of Johnnie Regalado:
Victoria's lightest heavies shed some heavy light on the dual natured aesthetic of Victoria post punk. Doubled down power chords and smash crashing backlines form the arched spine of this vicious release. This tape is stacked with airy odes to things like the friendly/weird pizza joint across from the venue and the perennial west coast weather small talk. With their first set of demos, this quartet has perfected the persona of politely obnoxious and it's no big deal.
De la lumière lourde de Johnnie Regalado:
(Traduit par Jessica Grenier)
Les plus doux parmi les plus durs de Victoria éclairent d'une lumière lourde la dualité esthétique du post punk de la ville. Des accords de puissance doubles et une sonorisation percutante composent la colonne tordue de cet album brutal, où fourmillent des odes légères à des choses comme la bizarre/sympathique pizzeria en face de la salle de spectacle et les éternelles conversations de la côte est sur la pluie et le beau temps. Avec sa première cassette de démos, le quatuor a mis au point la persona de la politesse énervante – et ce n'est pas bien grave.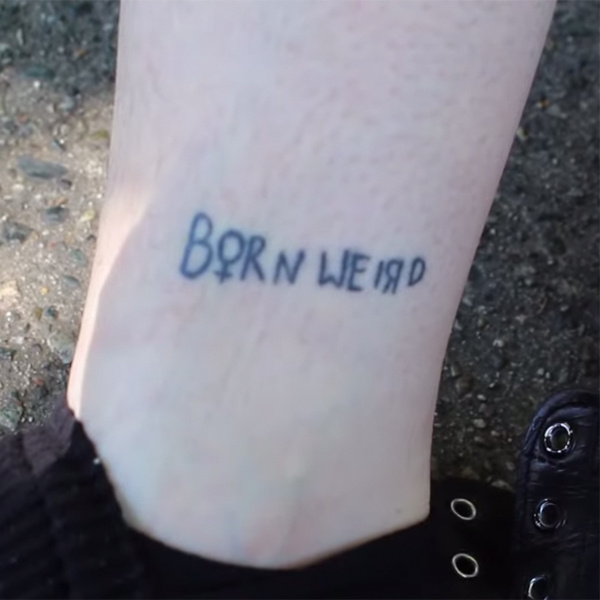 Open Relationship
"Girl Like You"
(Director: Kay Gallivan)
Victoria, BC
From the imaginary lagoons of Randee Keiver:
Marking the disbanding of Victoria BC's favourite born weirdos, "Girl Like You" is an ode to the mythical Chick-toria–proof that there is indeed an island out there (somewhere) populated entirely by sweet and pretty babes on bikes, that may or may not drink beers with you.
Des lagons imaginaires de Randee Keiver:
(http://www.randeekeiver.com/ Jessica Grenier)
Marquant la séparation du groupe de bizarroïdes préférés de Victoria, « Girl Like You » est une ode à la mythique Chicktoria – preuve qu'il y a réellement quelque part une île seulement peuplée par de jolies jeunes femmes à vélo, disposées (ou non) à aller prendre un verre avec toi.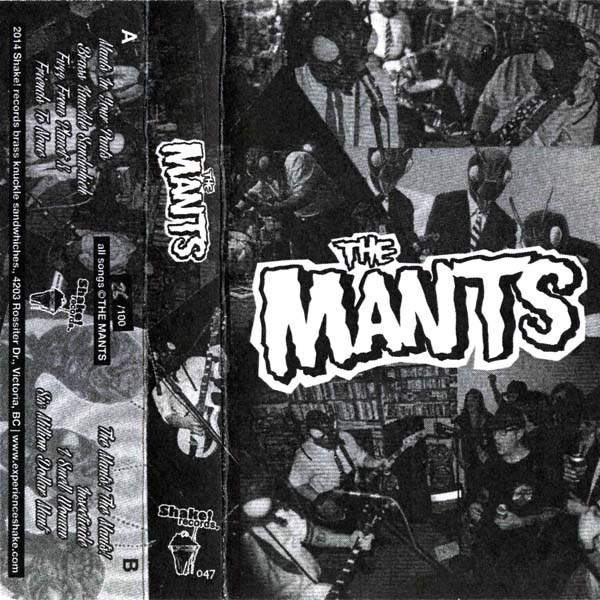 The Mants
The Mants
Victoria, BC
From the abduction manifesto of Johnnie Regalado:
Attention pesky humans, this is rock from the remote garages of Planet-X. Faster-than-light tunes from a trio of humanoid xenophobes ready to squash you under the weight of their tone. These well-dressed bugs have perfected your primitive forms of expression and are ready to ruin your picnic with power-punk that probes under your skin and leaves you itchin' for more. End transmission.
Du manifeste de l'enlèvement de Johnnie Regalado:
(Traduit par Jessica Grenier)
Votre attention, sales humains : voilà du rock en provenance des garages éloignés de la Planète-X . Les chansons plus rapides que la lumière du trio de xénophobes humanoïdes sont prêtes à vous écraser sous le poids de leur son. Ces insectes bien habillés maitrisent maintenant vos formes d'expression primitives et sont prêts à ruiner votre pique-nique avec du power-punk qui s'infiltre sous votre peau, vous laissant avec l'envie de gratter pour en avoir plus. Fin de la transmission.

The Mants – Brass Knuckle Sandwich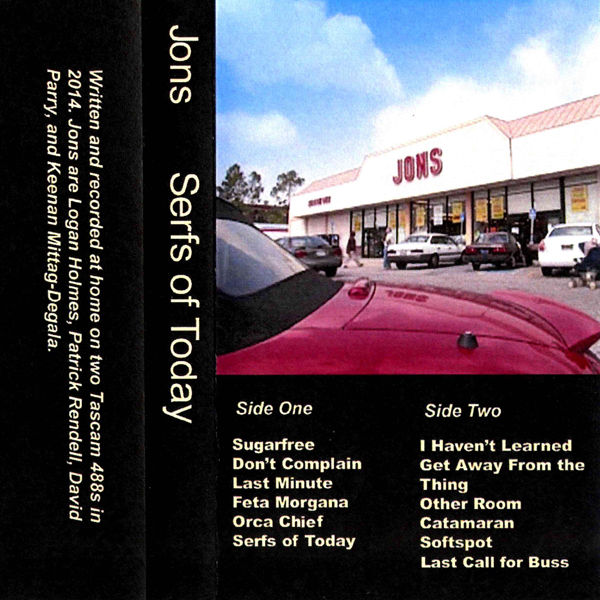 Jons
Serfs of Today
(Self Released)
Victoria, BC
From the hazy summer waves of Johnnie Regalado:
Some more warm and fuzzy basement tunes from another stellar crew of Victoria upstarts. Guitars chiming in unison, elevating each other with a friendly hand up. Riffs that wash in and out like lullaby brain waves. A fresh-faced revisit to some familiar vibes. This is the chilled out soundtrack for the ultimate summer staycation.
Des vagues brumeuses estivales de Johnnie Regalado:
(Traduit par Jessica Grenier)
Quelques nouvelles chansons de sous-sol, fuzzy et chaleureuses, d'un autre groupe stellaire provenant de Victoria : des guitares carillonnent à l'unisson, s'élevant ensemble d'un coup de main amical; des riffs qui vont et viennent comme les vagues cérébrales d'une berceuse. La fraîcheur d'une reprise pour des ambiances familières. C'est la trame sonore parfaite pour profiter, tranquille, des dernières vacances estivales.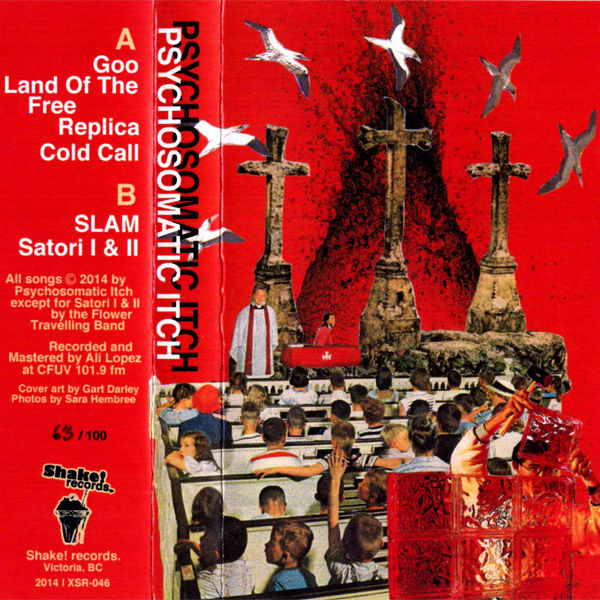 Psychosomatic Itch make noise beneath the floorboards, captured masterfully in a Live @ CFUV in Victoria.
Psychosomatic Itch
live@CFUV
Victoria, BC
From the perpetual pruritus of Johnnie Regalado:
The scraping sound from beneath the floorboards, throbbing in your eardrums, is not just another manifestation of your imagination. Masterfully captured, in a sweaty, deafening and close-quarters live studio performance during CFUV's Basement Closet Sessions, is a glimpse at the doom-boom freak-synthers raucously taking over Victoria's late night haunts. Another living relic of disharmonic symphony and ceiling smash head thrash reverberation.
Du prurit perpétuel de Johnnie Regalado:
(Traduit par la sensibilité défectueuse de Jessica Grenier)
Le son de raclement provenant du plancher qui vrombit dans les tympans n'est pas qu'une autre hallucination. Reproduisant l'atmosphère assourdissante et les sueurs claustrophobiques des prestations live qui ont lieu dans le cadre des Basement Closet Sessions de CFUV, cet enregistrement réussit à capter un aperçu du doom-boom guttural des synthétiseurs-monstres qui hantent Victoria tard la nuit. Voici une autre relique vive de discorde symphonique et de réverbération trash à en faire éclater le plafond.

Psychosomatic Itch – Cold Call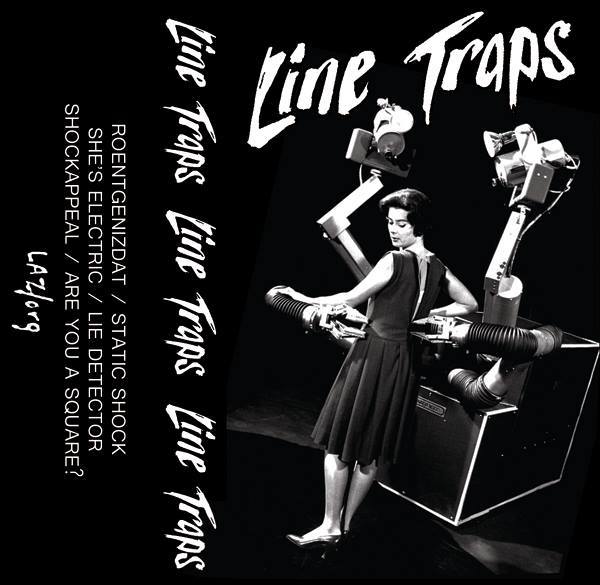 Line Traps
Demo
Victoria, BC
From the tightrope walking balance of Preacher Katie:
The high transmitting frequency of the Line Traps channels auditory communication signals to unwanted destinations, resisting the temptations of noise. Tightrope walking ringmasters' balance on the powerlines of transient bandwidths. The needle of the anarchist's "lie detector" lingers in the red stretched space of this three-piece punk band's static shock. Another electric grunge bolt from Victoria's own Shake! Records.
Du funambulisme de Preacher Katie:
(Traduit par les clowneries linguistiques de Louis-Félix Pellerin)
La haute fréquence de transmission de Line Traps canalise des signaux de communication auditive vers des destinations non désirées, résistant à la tentation du bruit. Des Monsieurs Loyals se tiennent en équilibre sur les lignes à haute tension de bandes passantes éphémères. L'aiguille du « détecteur de mensonges » de l'anarchiste s'attarde dans l'espace rouge étendu du choc statique de ce trio punk. C'est une autre décharge électrique grunge venue tout droit de Victoria et offerte par Shake! Records.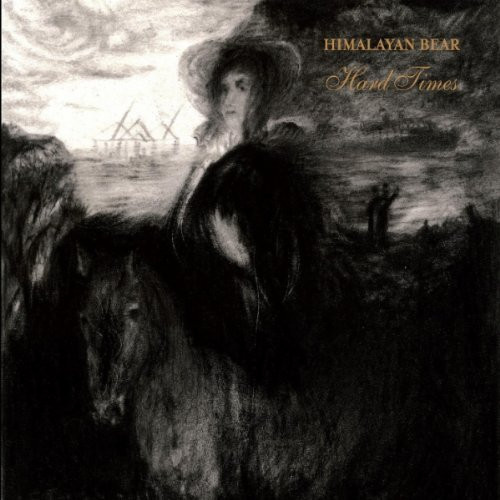 Himalayan Bear
Hard Times
Victoria, BC
From the hibernation stockpile of Johnnie Regalado:
The Himalayan Bear is the way west coast version of the Yeti, except this beast is more like a moseying minstrel. One you might find slinging beers or strumming guitars inside Victoria's Tavern of the Damned. One you've seen alongside the likes of other Victoria music heroes. On wax, Hard Times unspools like a grand tapestry. These songs strike a lingering loneliness that can only be understood through the crashing crescendos.
Des réserves d'hibernation de Johnnie Regalado:
(Traduit par la patte d'ours de Geneviève Simard)
L'ours de l'Himalaya est la version côte ouest du Yeti, sauf que cette bête fait davantage penser à un troubadour flâneur. Un de ceux que vous pourriez trouver à Victoria, dans la Tavern of the Damned, en train d'enfiler des bières ou de gratter sa guitare. Un de ceux que vous avez vus graviter aux côtés d'autres héros de la scène musicale de Victoria. Sur disque, Hard Times se déroule comme une imposante tapisserie. Les chansons assènent une solitude persistante qui ne peut être comprise que par le truchement des crescendo qui se fracassent.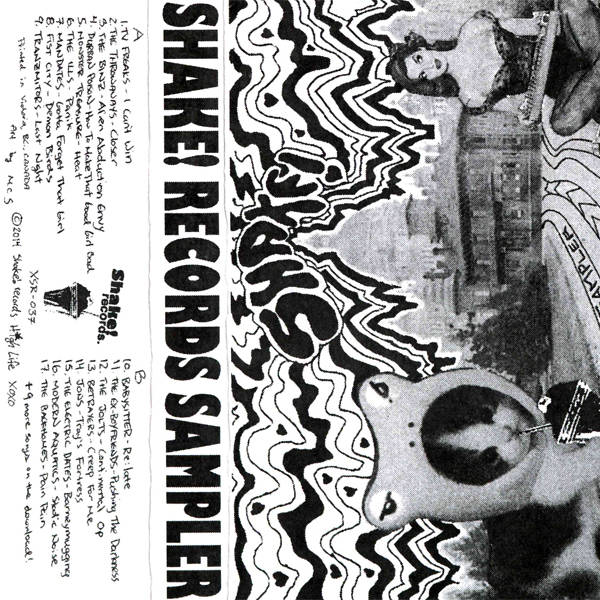 Various Artists – Shake! Records Sampler :: The staggeringly heavy shred of 26 of the west coast's finest is shifting the tectonics. Another punk rock compendium from which you could get lost in study.
Various Artists
Shake! Records Sampler
Victoria, BC
From the fault lines of Johnnie Regalado:
Here the potential of the mighty Shake! is on full display. The staggeringly heavy shred of 26 of the west coast's finest is shifting the tectonics. Another punk rock compendium from which you could get lost in study. So many damn finely crafted tapes.
Des failles de Johnnie Regalado:
(Traduit par les vibrations tectoniques de Louis-Félix Pellerin)
Le potentiel du formidable Shake! est mis en évidence ici. Le shred extraordinairement abondant des 26 meilleurs musiciens de la côte ouest fait bouger les plaques tectoniques. Voici une autre collection punk rock dans laquelle vous pouvez vous perdre à l'écoute tellement elle regorge de cassettes foutrement bien arrangées.

The Ex-Boyfriends – Pushing the Darkness
---