Tag: victoria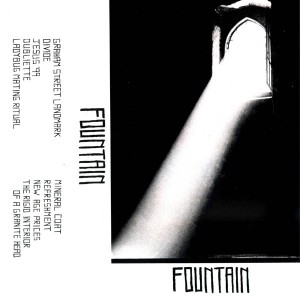 Fountain
Fountain
(Self Released)
Victoria, BC
From the long dormant landline of Johnnie Regalado:
There's no shortage of influences when you first crack open the music of Fountain. That isn't surprising given that half the band members were raised by the kind of dude that had the guts to recently open a record shop in Kelowna, BC. The spiking duo of guitar lines recall Calgary legends Women. The low-toned vocal wash was clearly picked up from a summer of deafening exposure to Copenhagen's finest noise-punks Iceage. But there's also an island-life-inspired lightness that separates this band's twisted tunes.
Assembled as Fountain, they've been tight and raucous since their amps first warmed up. This quartet who are usually all smiles and wylin' out have some loud and lengthy lineage in Victoria. Their debut release demonstrates how a perfectionist approach can really float the tone above its own noise. The dual guitars howl like wild hounds left out in the backyard. The vocals have that same dragging and raspy drawl as a rough morning's first dialogue. The bass and drum lines are the sleek sweeps that usher the frenetic thrash forward. This 20-minute collection of jams feels responsible for maintaining the momentum of the earth's constant rotation.
Du numéro de téléphone inactif de Johnnie Regalado:
(Traduit par le jappement à la lune de Vincent Rondeau)
Les influences de Fountain sont faciles à reconnaître dès la première écoute, ce qui n'est pas si surprenant quand on sait que la moitié du groupe a été élevée par le genre de gars qui a récemment eu le courage d'ouvrir une boutique de disques à Kelowna, BC. Les guitares angulaires en duo rappellent les légendaires Women de Calgary et les rafales de voix basse laissent supposer un été assourdissant passé à écouter les meilleurs noise-punks de Copenhague, Iceage. Les chansons tordues du groupe se démarquent cependant par une légèreté inspirée par la vie insulaire.
Fountain font du tapage avec précision depuis leur premier souffle, mais le quatuor, charmeur et souriant, est issu d'une lignée longue et bruyante. L'approche perfectionniste du groupe porte fruit sur cette première galette où les mélodies se distinguent sans effort du bruit qui les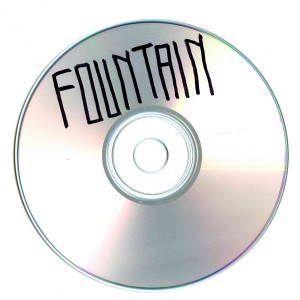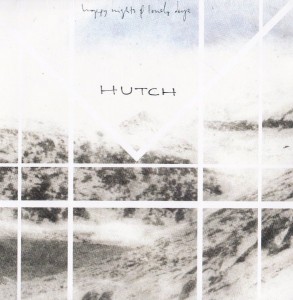 Hutch
Happy Nights & Lonely Days
(Self Released)
Victoria, BC
From the tin cans of Joshua Robinson:
Hutch, the creative outlet for brothers Lucas and Jesse Henderson, embodies the poetically transformative West Coast. Spruce trees and salt air the smells of compromise; the poetics of leaving and having been left buoyed by a soft acoustic instrumentation that carries the hushed heaviness of arboreal storytelling through the damp thickness of the Pacific's caterwauling. Happy Nights & Lonely Days spurns the eternal slow-dance between our having and wanting, hubris and piety juxtaposed as the colours of our yesterdays; we, aiming to sever our heartstrings from their callous confines. But there exists a waveringly succinct hopefulness in the timbre of Lucas Henderson's voice, as if these songs are whispered apologies to the past in the presence of the here and now; temporal confessions and proclamations through tins cans attached by worn string, circumventing a distance and establishing a fleeting contact with all that we have done and will do differently.
Des boîtes en fer-blanc de Joshua Robinson:
(Traduit par Virginie Langlois, à l'ouest)
Hutch, la forme d'expression créative des frères Lucas et Jesse Henderson, incarne la côte Ouest en pleine transformation poétique. Ici, les épinettes et les embruns ont l'odeur du compromis; le sentiment poétique de laisser et d'être laissé flottant au milieu d'une douce musique instrumentale acoustique qui transporte la pesanteur feutrée du récit arborescent à travers l'épaisseur moite des miaulements du Pacifique. Happy Nights & Lonely Days repousse le lent va-et-vient éternel entre notre désir d'avoir et de vouloir, orgueil et piété juxtaposés comme les couleurs des jours passés alors que nous aspirons à dissocier nos cordes sensibles de leurs confins impitoyables. Mais il y a dans le timbre de la voix de Lucas Henderson un espoir succinct et vacillant, comme si ces chansons étaient des excuses chuchotées au passé ici et maintenant; des confessions et des proclamations temporelles faites au moyen de boîtes en fer-blanc reliées par des ficelles usées, contournant la distance et établissant un contact fugace avec tout ce que nous avons accompli et ce que nous ferons différemment.
Babysitter
"Cemetary House"
(Directed by Phil Osborne)
Victoria, ON
From the melted mouth of Johnnie Regalado:
How quickly does the phrase 'face-melting' come to mind when you hear cuts from Babysitter? For the song "Cemetary House", which appears on both Tape 666 and the Monster Treasure split, Ottawa-based artist Phil "Uncle Phil" Osborne has sculpted and layered a video that aesthetically emulates these shredders' ability to mush your mind. That mask is probably what you looked like the first time you saw Babysitter live.
De la bouche fondue de Johnnie Regalado:
(Traduit par la fonte des glaces de Julie Forget)
À quelle vitesse est-ce que l'expression « face-melting » vient à l'esprit, lors de l'écoute d'extraits sonores de Babysitter ? Pour la chanson « Cemetary House », qui apparaît sur Tape 666 ainsi que sur le split Monster Treasure, Phil « Uncle Phil » Osborne, artiste établi à Ottawa, a sculpté et superposé en strates d'images une vidéo dont l'esthétique imite l'aptitude de ces destructeurs de son à mettre votre esprit en bouillie. Ce masque est probablement ce à quoi vous ressembliez après votre première présence à un show de Babysitter.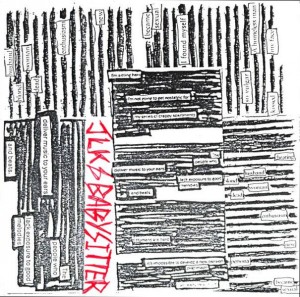 JLK & Babysitter
II
(Self Released)
Montreal, QC // Victoria, BC,
From the super highway of Eamon Quinn:
JLK & Babysitter's second collaborative release is every bit as gleeful as their first outing. This cassette documents the Victorian trio's trip down the rabbit hole as they and Jane L. Kasowicz wiled away a productive unofficial 2013 Montreal summer residency bein' illegal and developing a third eye revision of their sound. If previous releases showed off the group's lurching Bonehead Crushin' chops, even during the most song-oriented moments ("Super highway", "Fur rust ray shone"), II appears to hitch that vibe onto the cracked avant-garage of more emotionally-varied no-fi psych like Photograph Burns or, even more accurately, Cyborgs Revisited.
The rarest hear-it-to-believe-it takes, for my money, are on the spookier end of the affair. Here, JLK's voice is a standout: a downright chilling presence over the percussion-led unmade monster movie soundtrack "Humans are hard" or in her disembodied blues vocalizations on the way-gone lunar boogie of "A homeless man kissed my face". And finally, recalling the Haino / Fushitsusha school of world-embracing psych, the twin weepy balladeering guitars of album closer "All saints down" tunnel like two divining rods towards eerie, dizzying six-string excess. Nothing is left in its wake but the hope they've got their own Double Live in the works. Already sold out at the source, so look out for the upcoming reissue courtesy of Pleasence.
De la méga autoroute d' Eamon Quinn:
(Traduit de source sure par Nicolas Coutlée)
La deuxième collaboration entre JLK et Babysitter s'avère tout aussi jubilatoire que leur première. Cette cassette documente le périple du trio de Victoria jusqu'au fond du terrier du lapin, à l'occasion d'une résidence estivale non officielle d'une prodigieuse productivité à Montréal; en compagnie de Jane L. Kasowicz, les garçons se sont complus gaiement dans l'illégalité tout en révisant leur son à partir d'un tout nouveau troisième oeil. Si leurs parutions précédentes nous ont montré toute la brusquerie de leurs riffs à la Bonehead Crushers, II emboîte le pas (même durant les moments mélodiques de « Super Highway » et de « Fur rust ray shone ») et s'aventure sur les routes rocailleuses avant-garage au dénivelé émotionnel prononcé du no-fi psychédélique de Photograph Burns ou encore plus précisément de Cyborgs Revisited.
À mon avis, les morceaux qu'il faut entendre pour le croire se retrouvent du côté obscur de cette galette. La voix de JLK y est époustouflante : une présence à vous glacer le sang qui flotte sur la trame sonore percussive du film de monstres jamais tourné « Humans are hard » ou encore ces vocalisations blues désincarnées sur le [boogie lunaire] anémique de « A homeless man kissed my face ». Et pour finir, rappelant l'école psychédélique universelle de Haino/Fushitsusha, les guitares jumelles larmoyantes de la ballade ultime, « All saints down », s'élancent comme deux baguettes de sourcier vers un débordement étourdissant et effrayant de six cordes. Rien ne survit à cette éruption, sauf l'espoir qu'un Double Live soit en cours de production. Le tirage initial s'étant déjà écoulé, gardez l'oeil pour la réédition à venir sur Pleasence.
JLK & Babysitter – Super Highway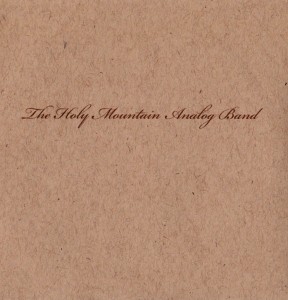 The Holy Mountain Analog Band
The Return To Lonely Mountain
(Self Released)
Victoria, BC
From the barometric upthrusts of Joshua Robinson:
Somewhere along the path to Lonely Mountain, the Holy Mountain Analog Band found themselves trapped and blinded in the haze of their harrowing ascent to the summit of these tectonic tales. This Lonely Mountain, this monster riding the abridged back of the horizon, stabs its vitrified solemnity through the stomach and out the back of the loosely hanging clouds above. These fragile escarpments, these songs of stone and glass, these winding sojourns through the rough and the wild, emerge undaunted by their barometic upthrusts. What are these nomads of the travelling heart returning to? What have they left behind? So much remains unanswered by these parables of soft travels through rolling divides. That their folk could be so lachrymose yet so palpably optimistic makes this ascent to the Mountain's balding head instantly nostalgic; nomadic folk for the helplessly landlocked.
Des sursauts barométriques de Joshua Robinson:
(Traduit lentement par l'orégénèse estomaquée de Hugo Hyart)
Quelque part sur le chemin de Lonely Mountain, le Holy Mountain Analog Band s'est retrouvé piégé et aveuglé par la brume de sa poignante ascension vers le sommet de ces contes tectoniques. Cette Lonely Mountain, ce monstre chevauchant le dos abrégé de l'horizon, poignarde sa solennité vitrifiée dans l'estomac et ressort par le dos des nuages accrochés nonchalamment au-dessus. Ces escarpements fragiles, ces chansons de pierre et de verre, ces séjours sinueux dans le rude et le sauvage, émergent vaillamment par leurs sursauts baromètriques. Où retournent donc ces nomades au coeur voyageur ? Que laissent-ils derrière eux? Tant de choses restent sans réponses par ces paraboles de voyage doux à travers des divisions roulantes. Que leur peuple puisse être si morne et pourtant si manifestement optimiste rend cette ascension vers le sommet dégarni de la Montagne instantanément nostalgique; peuple nomade pour les désespérés enclavés.
The Holy Mountain Analog Band – Return to Lonely Mountain
The Holy Mountain Analog Band – The Cheerup Boy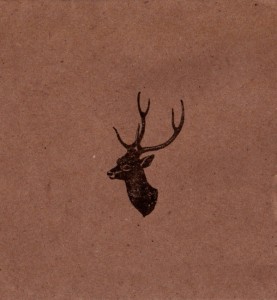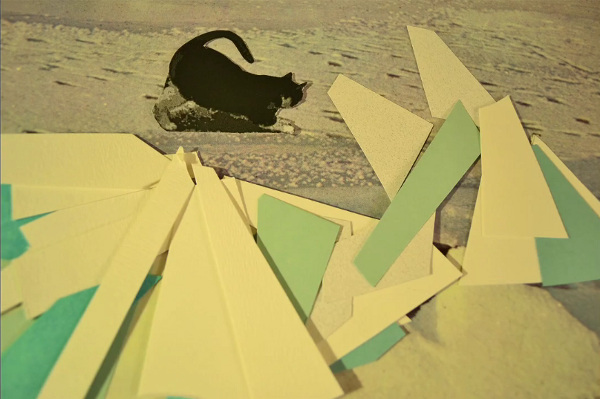 Iceberg Ferg
I Wanna Go Home
[Directed by: Zilla]
Victoria, BC
From the construction paper collection of Max Mohenu:
The geographical art-attack that is the video for Iceberg Ferg's "I Wanna Go Home" finds his feline friend all over the world in the span of three minutes. Carefully guided by a flurry of colourful cut-out shapes that form the very foundation, Socks (the cat) skips, glides and dances on. These stop-animated landscapes change at the blink of an eye, making this rad kitty's never-ending quest for milk and cuddles all the more exciting.
Du papier de construction de Max Mohenu:
(Traduit par la colle en bâton de Nicolas Coutlée)
L'assaut géo-artistique qu'est le vidéo d'Iceberg Ferg pour « I Wanna Go Home » suit un sympathique félin qui fait le tour du monde en trois petites minutes. Guidé patiemment par un florilège de formes découpées et colorées, Socks (le chat) bondit, glisse et se dandine. Les paysages animés qui se transforment en un clin d'oeil rendent le périple éternel de ce minou en quête de lait et de caresses d'autant plus excitant.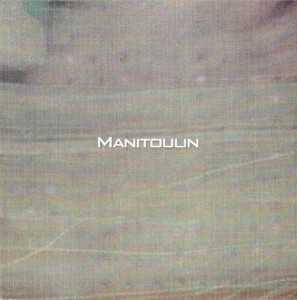 Manitoulin
Manitoulin
(Self Released)
Victoria, BC
From the forest songs of Joshua Robinson:
Manitoulin is both context and content, a release inspired by scenic landscapes that in turn evokes mental images of what inspired its creation. As you listen, imagine stretches of highway winding through rolling fields and towering mountains (see the description on Manitoulin's bandcamp page). Framing music as a means of expression intimately connected to its surroundings, Manitoulin's Greg Atkinson has found us at our most poignant core: meaning-oriented beings searching for the meaning in our being. As much as it's a product of subjective experience, the inspiration behind this release is tantamount to the fundamental nature of our creative consciousness: finding meaning in the ways that we interact with our environment, with others, and with ourselves. At its surface, this is electronic music, but at its core, this is an inspired recasting of life's experiences in a sound all their own.
Des chansons de la forêt de Joshua Robinson:
(Traduit par la nuit blanche d'Andréanne Dion)
Manitoulin est à la fois le contexte et le contenu, un album inspiré par des paysages pittoresques qui évoque des images mentales de ce qui a inspiré sa création. Lorsque vous l'écoutez, imaginez des portions d'autoroutes qui serpentent à travers des champs vallonnés et des montagnes immenses (voir la description sur la page Bandcamp de Manitoulin). Présentant la musique comme un moyen d'expression intimement lié à l'environnement qui l'entoure, Greg Atkinson de Manitoulin nous expose de façon poignante en tant qu'êtres axés sur le sens, cherchant la signification de notre existence. Même s'il s'agit d'un produit de l'expérience personnelle, l'inspiration derrière cet album est équivalente à la nature fondamentale de notre conscience créative : trouver un sens dans notre façon d'intéragir avec notre environnement, les autres et nous-mêmes. C'est de la musique électronique en surface, mais son essence est une reformulation inspirée du vécu dans un son bien particulier.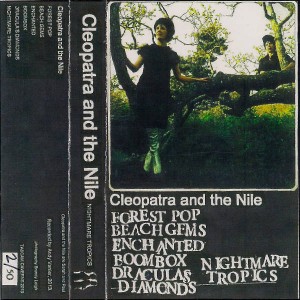 Cleopatra and the Nile
Nightmare Tropics
(Self Released)
Victoria, BC
From the eroded sapphires of Kristian North:
Cleopatra and the Nile is not a new band. They've been donning bejeweled turbans and creating haunted soundtracks to film projections for at least five years (if my damaged memory serves me). Nightmare Tropics, recorded live to tape at the Roxy Theatre, is the first release and it shreds like a monkey with a razorblade. Paul Pedrosa plays synths, bass, drum machines and always drives rad cars. Sarah Murphy plays the theremin all calm and cool with amazing technique (if you've ever waved yer hand in front of one of these things you know it's not the easiest instrument). Together they make music that's refreshingly organic in a genre that's moved so heavily towards laptops and all that man or machine shit. Dang-a-lang do they got style. When they play the anthemic Lil Wayne cum John Carpenter opening track "Dracula's Diamonds" live Paul runs his pre-recorded, Auto-Tuned vocals through the sampler and just plays the bass in his sweet getup, all dreaaamy. "Beach Gems" stalks you like a faceless serial killer in an attic and "Forest Pop" explodes like ballerinas falling through stained glass windows. Shades of hip-hop, science fiction, ambient noise, dated futures, Giallo, alien funk, neon lit diners, and every imaginary film playing inside yer head. xo.
Kristian North is the lead shredder in Victoria's Babysitter. Join their revolution by catching them on their infinite tour.
Des saphirs érodés de Kristian North:
(Traduit avec une touche giallo par Dominic MPILE)
Cleopatra and the Nile n'est pas un nouveau groupe. Ses membres ont porté des turbans décorés de joyaux et ont créé des bandes sonores hantées pour des projections de films pendant au moins cinq ans (si ma mémoire endommagée est bonne). Nightmare Tropics, leur premier album, a été enregistré en direct sur bande au Roxy Theatre, et déchire comme un singe avec une lame de rasoir. Paul Pedrosa joue du synthétiseur, de la basse et de la boîte à rythme, et conduit toujours des voitures formidables. Sarah Murphy joue du thérémine et reste de marbre, en jouant avec une technique incroyable (si vous avez déjà essayé, vous savez que ce n'est pas l'instrument le plus facile à jouer). Ensemble, ils font de la musique agréablement organique dans un genre qui est devenu énormément axé sur les ordinateurs portables et dont on se demande toujours s'il est produit par un homme ou par une machine. Ils ont un style fou lorsqu'ils jouent le morceau d'ouverture en spectacle, une hymne qui rappelle à la fois Lil Wayne et John Carpenter, intitulée « Dracula's Diamonds » : Paul fait jouer un pré-enregistrement de sa voix passée à l'Auto-Tune à travers l'échantillonneur, et joue simplement de la basse dans sa belle tenue, en nous faisant rêver. « Beach Gems » vous traque comme un tueur en série sans visage dans un grenier; et « Forest Pop » explose comme des ballerines qui tombent à travers des vitraux. Nuances de hip-hop, science-fiction,noise ambiant, futurs démodés, Giallo, funk extraterrestre, soupers aux néons…tous les films imaginaires jouent dans votre tête. xo.

Kristian North est le guitariste solo du groupe Babysitter, de Victoria. Joignez-vous à leur révolution en allant les voir en tournée.

Cleopatra and the Nile – Boom Box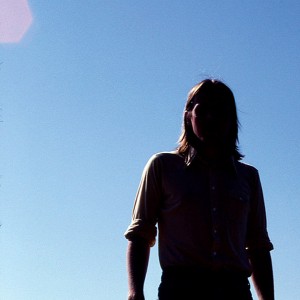 The Backhomes
Only Friend
Victoria, BC
From the hibernation dreams of Johnnie Regalado:
Only Friend, the debut album from The Backhomes, engulfs you in a cathartic soundscape akin to stepping out of a dark winter cave into the first sunny days of pure blue sky. When the needle catches the groove, the heat waves begin. With just a couple of guitars and some pedals, this duo – featuring a former member of The Besnard Lakes and a talented visual artist – is able to create a wall of sound that could smother a cathedral. Each song is crafted with the delicacy and dedication of master musicians; they know exactly what they want to sound like, and always hit that level, live or recorded. The Backhomes pulled the opposite move of most Vancouver Island bands, throwing away the bohemia of Montreal to ride the slow waves. Until they came to town, this seemed like another Victoria one-way street. Their perfection and precision is a sharp contrast to the usual lo-fi pop-rock the Capital City is known for and this has allowed The Backhomes a quick rise to the top of the scene — a position well earned and deserved.
Des rêves hibernaux de Johnnie Regalado:
(Traduit par Jacinthe Laplante)
Only Friend, le premier album de The Backhomes, vous précipite dans un paysage sonore cathartique, comme si vous émergiez d'une sombre caverne hivernale sous le ciel bleu des premiers jours ensoleillés. Dès que l'aiguille trouve le sillon, les vagues de chaleur commencent. Avec seulement deux guitares et de quelques pédales, ce duo, qui met en vedette un ancien membre du groupe The Besnard Lakes et une talentueuse artiste visuelle, réussit à créer un mur de son qui pourrait recouvrir une cathédrale. Chaque chanson est composée avec la délicatesse et le dévouement de musiciens au sommet de leur art : ils savent parfaitement quel son ils veulent donner à leur musique et ils l'atteignent à chaque fois, qu'ils soient en spectacle ou en studio. The Backhomes s'opposent à la plupart des groupes originaires de l'Île de Vancouver en délaissant le style bohème de Montréal pour surfer les vagues lentes. Avant leur arrivée en ville, tout semblait être une rue à sens unique de plus à Victoria. Leur perfection et leur précision tranchent nettement avec le pop-rock lo-fi pour lequel la capitale est reconnue, et ceci aura permis à The Backhomes de grimper rapidement au sommet de la scène — une position bien méritée.
The Backhomes – You Gotta Move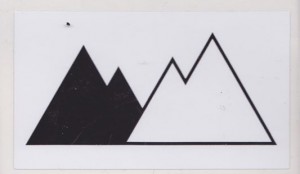 Snoqualmie
Skyland Mtn.
(Self Released)
Victoria, BC
From the space junk drawer of Johnnie Regalado:
Victoria's perennial nice guy and longtime scene stalwart, Blake Enemark, has one last parting gift for the Island Capital before real life takes him to the mainland — Skyland Mtn. Forsaking his usual lyric-based work, this ultra-grippable, never digitized cassette features hypno-ambient guitar work, found-sound and dying organs. These meditations harness the creative tentacles of Enemark and fellow bush beater Simon Haisell. The duo's genre explorations range from caravan orchestra to alt-country noise rock. In a perfect parallel universe, Snoqualmie would have scored the soundtracks for The X-Files or Twin Peaks. One day you may find yourself adrift in that infinite expanse, but as long as you have this album looping through your space helmet, it'll be beautiful instead of terrifying.
Du tiroir à débris spatiaux de Johnnie Regalado:
(Traduit par l'état méditatif d'Andréanne Dion)
Blake Enemark, éternel bon gars de Victoria et pilier de la scène musicale, offre un cadeau d'adieu à l'Île-Capitale, avant que la réalité ne le ramène sur le continent — Skyland Mtn. Sur cette cassette jamais numérisée et digne d'être collectionnée, Enemark renonce à son habituel style lyrique au profit de guitares hypno-ambiantes, de bruits en tous genres et d'orgues agonisantes. Ces méditations exploitent les tentacules créatives de Enemark and de Simon Haisell, co-animateurs de l'émission de radio Beating Around The Bush. Les explorations musicales du duo sont variées, allant d'un orchestre de roulotte à un son rock-country alternatif. Dans un monde parallèle idéal, Snoqualmie aurait écrit la bande-son de X-Files ou de Twin Peaks. Un jour vous vous retrouverez peut-être à la dérive dans cette étendue sans fin, mais pourvu que vous ayez cet album en boucle dans votre casque d'astronaute, ce sera beau à couper le souffle plutôt que terrifiant.
---