Tag: victoria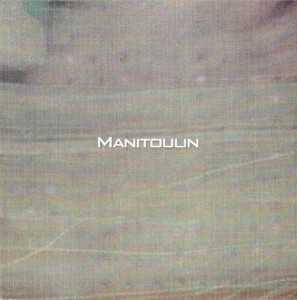 Manitoulin
Manitoulin
(Self Released)
Victoria, BC
From the forest songs of Joshua Robinson:
Manitoulin is both context and content, a release inspired by scenic landscapes that in turn evokes mental images of what inspired its creation. As you listen, imagine stretches of highway winding through rolling fields and towering mountains (see the description on Manitoulin's bandcamp page). Framing music as a means of expression intimately connected to its surroundings, Manitoulin's Greg Atkinson has found us at our most poignant core: meaning-oriented beings searching for the meaning in our being. As much as it's a product of subjective experience, the inspiration behind this release is tantamount to the fundamental nature of our creative consciousness: finding meaning in the ways that we interact with our environment, with others, and with ourselves. At its surface, this is electronic music, but at its core, this is an inspired recasting of life's experiences in a sound all their own.
Des chansons de la forêt de Joshua Robinson:
(Traduit par la nuit blanche d'Andréanne Dion)
Manitoulin est à la fois le contexte et le contenu, un album inspiré par des paysages pittoresques qui évoque des images mentales de ce qui a inspiré sa création. Lorsque vous l'écoutez, imaginez des portions d'autoroutes qui serpentent à travers des champs vallonnés et des montagnes immenses (voir la description sur la page Bandcamp de Manitoulin). Présentant la musique comme un moyen d'expression intimement lié à l'environnement qui l'entoure, Greg Atkinson de Manitoulin nous expose de façon poignante en tant qu'êtres axés sur le sens, cherchant la signification de notre existence. Même s'il s'agit d'un produit de l'expérience personnelle, l'inspiration derrière cet album est équivalente à la nature fondamentale de notre conscience créative : trouver un sens dans notre façon d'intéragir avec notre environnement, les autres et nous-mêmes. C'est de la musique électronique en surface, mais son essence est une reformulation inspirée du vécu dans un son bien particulier.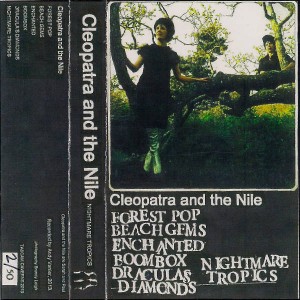 Cleopatra and the Nile
Nightmare Tropics
(Self Released)
Victoria, BC
From the eroded sapphires of Kristian North:
Cleopatra and the Nile is not a new band. They've been donning bejeweled turbans and creating haunted soundtracks to film projections for at least five years (if my damaged memory serves me). Nightmare Tropics, recorded live to tape at the Roxy Theatre, is the first release and it shreds like a monkey with a razorblade. Paul Pedrosa plays synths, bass, drum machines and always drives rad cars. Sarah Murphy plays the theremin all calm and cool with amazing technique (if you've ever waved yer hand in front of one of these things you know it's not the easiest instrument). Together they make music that's refreshingly organic in a genre that's moved so heavily towards laptops and all that man or machine shit. Dang-a-lang do they got style. When they play the anthemic Lil Wayne cum John Carpenter opening track "Dracula's Diamonds" live Paul runs his pre-recorded, Auto-Tuned vocals through the sampler and just plays the bass in his sweet getup, all dreaaamy. "Beach Gems" stalks you like a faceless serial killer in an attic and "Forest Pop" explodes like ballerinas falling through stained glass windows. Shades of hip-hop, science fiction, ambient noise, dated futures, Giallo, alien funk, neon lit diners, and every imaginary film playing inside yer head. xo.
Kristian North is the lead shredder in Victoria's Babysitter. Join their revolution by catching them on their infinite tour.
Des saphirs érodés de Kristian North:
(Traduit avec une touche giallo par Dominic MPILE)
Cleopatra and the Nile n'est pas un nouveau groupe. Ses membres ont porté des turbans décorés de joyaux et ont créé des bandes sonores hantées pour des projections de films pendant au moins cinq ans (si ma mémoire endommagée est bonne). Nightmare Tropics, leur premier album, a été enregistré en direct sur bande au Roxy Theatre, et déchire comme un singe avec une lame de rasoir. Paul Pedrosa joue du synthétiseur, de la basse et de la boîte à rythme, et conduit toujours des voitures formidables. Sarah Murphy joue du thérémine et reste de marbre, en jouant avec une technique incroyable (si vous avez déjà essayé, vous savez que ce n'est pas l'instrument le plus facile à jouer). Ensemble, ils font de la musique agréablement organique dans un genre qui est devenu énormément axé sur les ordinateurs portables et dont on se demande toujours s'il est produit par un homme ou par une machine. Ils ont un style fou lorsqu'ils jouent le morceau d'ouverture en spectacle, une hymne qui rappelle à la fois Lil Wayne et John Carpenter, intitulée « Dracula's Diamonds » : Paul fait jouer un pré-enregistrement de sa voix passée à l'Auto-Tune à travers l'échantillonneur, et joue simplement de la basse dans sa belle tenue, en nous faisant rêver. « Beach Gems » vous traque comme un tueur en série sans visage dans un grenier; et « Forest Pop » explose comme des ballerines qui tombent à travers des vitraux. Nuances de hip-hop, science-fiction,noise ambiant, futurs démodés, Giallo, funk extraterrestre, soupers aux néons…tous les films imaginaires jouent dans votre tête. xo.

Kristian North est le guitariste solo du groupe Babysitter, de Victoria. Joignez-vous à leur révolution en allant les voir en tournée.

Cleopatra and the Nile – Boom Box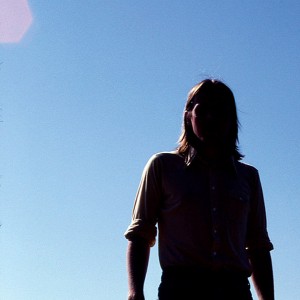 The Backhomes
Only Friend
Victoria, BC
From the hibernation dreams of Johnnie Regalado:
Only Friend, the debut album from The Backhomes, engulfs you in a cathartic soundscape akin to stepping out of a dark winter cave into the first sunny days of pure blue sky. When the needle catches the groove, the heat waves begin. With just a couple of guitars and some pedals, this duo – featuring a former member of The Besnard Lakes and a talented visual artist – is able to create a wall of sound that could smother a cathedral. Each song is crafted with the delicacy and dedication of master musicians; they know exactly what they want to sound like, and always hit that level, live or recorded. The Backhomes pulled the opposite move of most Vancouver Island bands, throwing away the bohemia of Montreal to ride the slow waves. Until they came to town, this seemed like another Victoria one-way street. Their perfection and precision is a sharp contrast to the usual lo-fi pop-rock the Capital City is known for and this has allowed The Backhomes a quick rise to the top of the scene — a position well earned and deserved.
Des rêves hibernaux de Johnnie Regalado:
(Traduit par Jacinthe Laplante)
Only Friend, le premier album de The Backhomes, vous précipite dans un paysage sonore cathartique, comme si vous émergiez d'une sombre caverne hivernale sous le ciel bleu des premiers jours ensoleillés. Dès que l'aiguille trouve le sillon, les vagues de chaleur commencent. Avec seulement deux guitares et de quelques pédales, ce duo, qui met en vedette un ancien membre du groupe The Besnard Lakes et une talentueuse artiste visuelle, réussit à créer un mur de son qui pourrait recouvrir une cathédrale. Chaque chanson est composée avec la délicatesse et le dévouement de musiciens au sommet de leur art : ils savent parfaitement quel son ils veulent donner à leur musique et ils l'atteignent à chaque fois, qu'ils soient en spectacle ou en studio. The Backhomes s'opposent à la plupart des groupes originaires de l'Île de Vancouver en délaissant le style bohème de Montréal pour surfer les vagues lentes. Avant leur arrivée en ville, tout semblait être une rue à sens unique de plus à Victoria. Leur perfection et leur précision tranchent nettement avec le pop-rock lo-fi pour lequel la capitale est reconnue, et ceci aura permis à The Backhomes de grimper rapidement au sommet de la scène — une position bien méritée.
The Backhomes – You Gotta Move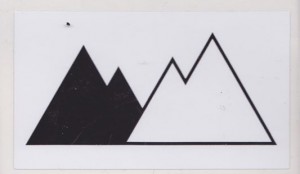 Snoqualmie
Skyland Mtn.
(Self Released)
Victoria, BC
From the space junk drawer of Johnnie Regalado:
Victoria's perennial nice guy and longtime scene stalwart, Blake Enemark, has one last parting gift for the Island Capital before real life takes him to the mainland — Skyland Mtn. Forsaking his usual lyric-based work, this ultra-grippable, never digitized cassette features hypno-ambient guitar work, found-sound and dying organs. These meditations harness the creative tentacles of Enemark and fellow bush beater Simon Haisell. The duo's genre explorations range from caravan orchestra to alt-country noise rock. In a perfect parallel universe, Snoqualmie would have scored the soundtracks for The X-Files or Twin Peaks. One day you may find yourself adrift in that infinite expanse, but as long as you have this album looping through your space helmet, it'll be beautiful instead of terrifying.
Du tiroir à débris spatiaux de Johnnie Regalado:
(Traduit par l'état méditatif d'Andréanne Dion)
Blake Enemark, éternel bon gars de Victoria et pilier de la scène musicale, offre un cadeau d'adieu à l'Île-Capitale, avant que la réalité ne le ramène sur le continent — Skyland Mtn. Sur cette cassette jamais numérisée et digne d'être collectionnée, Enemark renonce à son habituel style lyrique au profit de guitares hypno-ambiantes, de bruits en tous genres et d'orgues agonisantes. Ces méditations exploitent les tentacules créatives de Enemark and de Simon Haisell, co-animateurs de l'émission de radio Beating Around The Bush. Les explorations musicales du duo sont variées, allant d'un orchestre de roulotte à un son rock-country alternatif. Dans un monde parallèle idéal, Snoqualmie aurait écrit la bande-son de X-Files ou de Twin Peaks. Un jour vous vous retrouverez peut-être à la dérive dans cette étendue sans fin, mais pourvu que vous ayez cet album en boucle dans votre casque d'astronaute, ce sera beau à couper le souffle plutôt que terrifiant.
Gal Gracen
Blue Hearts in Exile
Vancouver, BC
From the electrified exotica of Bryce Warnes:
Seven chill communications from Role Mach janglist Gal Gracen make up Blue Hearts in Exile. Alternating between instrumentals and songs – electrified guitar exotica and wavering, soulful proclamations of love – this cassette creates the perfect atmosphere for a romantic night-time beach picnic or basement couch makeout party. "Love Fantasy, My Beautiful Girl" chugs along with an earworming bassline, while "Sylvan Tragedy" glistens with sleazy, falsetto melancholia. These are soft 'n sexy jams for summer '13's Casanovan conquests.
De l'exotisme électrisant de Bryce Warnes:
(Traduit sous la pleine lune par Patrick Du Tremble)
Sept transmissions décontractées par Gal Gracen (projet solo de Patrick Geraghty de Role Mach) constituent Blue Hearts in Exile. En alternant instrumentaux et chansons – entre l'exotisme électrisant de la guitare et les déclarations d'amour chancelantes et émouvantes – cette cassette crée l'ambiance parfaite pour un pique-nique romantique au clair de lune sur la plage ou pour les câlins sur le canapé du sous-sol. La ligne de basse qui transporte "Love Fantasy, My Beautiful Girl" reste ancrée dans la tête, et "Sylvan Tragedy" scintille d'un curieux falsetto mélancolique. La bande sonore douce et sexy des conquêtes casanoviennes de l'été 2013.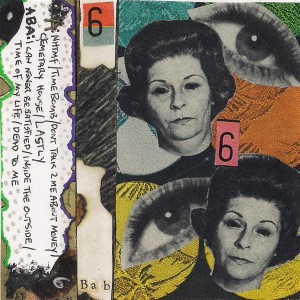 Babysitter
Tape 666
(Self Released)
Victoria, BC
From the deranged ride of Joel French:
Don't let the name fool you. Babysitter has no business being around children. They're loud. They've got riffs. They've got lots of hair. They can be as bizarre as they can be beautiful and it's all wrapped up in recordings so fuzzed out they hum. Tape 666 is a deranged ride (a six-sided triple cassette, to be specific) through the minds of wizards – pissed wizards who dig grunge, like to trip out and have one hell of a pop sensibility. Just lean back, close your eyes and see what dark corners and strange places these tapes will take you.
De l'embarqué déroutante de Joel French:
(Traduit par la plume voyageuse d' AnneMarie Papillon)
Ne vous laissez pas tromper par le nom. Babysitter n'est pas pour les enfants. Ils jouent fort. Ils ont des riffs. Ils ont du cheveu en masse. Aussi bizarre que sublime, leur son est tellement saturé qu'il en bourdonne. Tape 666 est une ballade déroutante (six faces réparties sur trois cassettes, pour être précis) au cœur de l'imaginaire de sorciers – des sorciers dérangés qui tripent sur le grunge, qui hallucinent fort et qui démontrent toute une sensibilité pop. Asseyez-vous confortablement, fermez les yeux et observez dans quelles contrées sombres et mystérieuses ces cassettes vous amèneront.
Babysitter – Way High on the Highway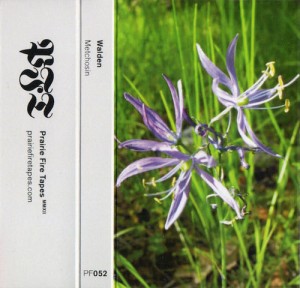 Walden
Metchosin
Victoria, BC
From the pumping fist of Kevin Hainey:
Tracking the progression of metal has become a difficult and hair raising task, and Walden aren't helping the situation. Bridging genre ideas as diverse as lo-fi, American Primitive, and black metal, the dynamic-pushing duo of Jacob Moyer (drums, flute, vocals), and ES Festus (bass, guitars) have a unique, modest sound. This could appeal to black metal and lo-fi fans with a penchant for folk and rock divergences as well as admirers of pointed post-rock movers such as Mogwai or Polvo.
Des poings serrés de Kevin Hainey:
(Traduit par le stylo à l'effigie black métal de Dominic Mpilé)
Suivre l'évolution du métal est devenu un exercice difficile et tiré par les cheveux; par ailleurs, la musique de Walden n'arrange pas les choses. En mélangeant le lo-fi, la musique folk traditionnelle et le black métal, le duo énergique de Jacob Moyer (batterie, flûte, chant) et ES Festus (basse, guitare) produit un son unique et modeste qui pourrait seoir aux fans du black métal et du lo-fi ouverts au folk et aux divergences du rock, mais aussi aux amateurs de post-rock pointu dans la veine de Mogwai et de Polvo.
Walden – MMII – Golden Light Broke Over The Waves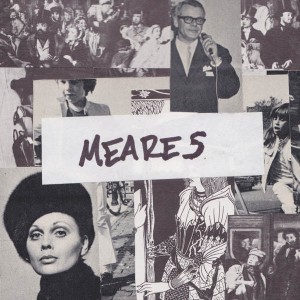 Capital Region
Meares
(Self Released)
Victoria, BC
From the dog-eared pages Johnnie Regalado:
This 10-minute recording by Capital Region is so much more than pure shred. This is what it might've sounded like if Romeo or Jay Gatsby fronted a grunge band. There's a dense drudge of riffs and narrative sustained across the four tracks on Meares that unravels a story of love and thrash that could easily be a drama in four acts with detailed footnotes. Not satisfied with simply naming themselves after the regional government of Southern Vancouver Island, this band of seasoned sonic soldiers named their EP Meares — a reference to both the three best blocks of parking downtown and a storied explorer. There aren't a lot of bands that rock and rep this hard for the way west coast. Bonus points for the fantastic limited edition packaging!
Des pages écornées de Johnnie Regalado:
(Traduit en quatre actes par Dominic Mpilé)
Cet enregistrement de 10 minutes produit par Capital Region offre beaucoup plus que des guitares déchirantes. Ça ressemble un peu à Roméo ou Jay Gatsby au micro d'un groupe grunge. Les riffs densément dynamiques accompagnent une histoire d'amour et de thrash qui se déroule sur les quatre pistes de Meares comme une tragédie en quatre actes. En plus de son nom faisant allusion au gouvernement régional du sud de l'île de Vancouver, ce groupe, composé de soldats sonores chevronnés, a intitulé son EP Meares, en référence aux trois meilleurs stationnements du centre-ville ainsi qu'au légendaire explorateur. Il n'existe pas beaucoup de groupes qui se donnent autant corps et âme à la côte ouest. Bonus pour l'emballage incroyable de l'édition limitée!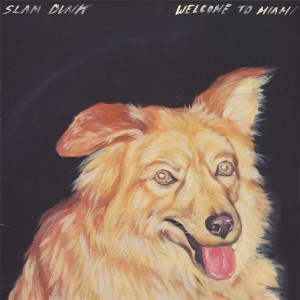 Slam Dunk
Welcome to Miami
Victoria, BC
From the score sheet of Johnnie Regalado:
You'll find one in every town. That rock and roll workhorse that plays so goddamn hard you want to keep it a secret. That band you never want to stop or leave. In Victoria, that band is called Slam Dunk. On their sophomore album Welcome to Miami, Slam Dunk deliver rollicking pop songs about the shortage of scabies cream in pharmacies, their good friends' very average grades, and just about every other demented whim they've ever had a good laugh over. This album is a compilation of all those beautiful things that crowds of sweaty drunks are ready to pump their fists to. Strip away the silliness and you're left with a tight and technical perfection of pop rock that's sure to leave you with a sore neck from excessive thrashing. This album isn't just a two-pointer. It's an all-out, 360, through the legs NBA jam of unprecedented awesomeness.
De la feuille de pointage de Johnnie Regalado:
(Traduit par le culte rodmanien de Nicolas Coutlée)
Il y en a un dans chaque ville. Ce cheval de trait du rock'n'roll qui bûche tellement fuckin' fort que vous aimeriez garder le secret juste pour vous; ce groupe que vous souhaiteriez ne jamais voir arrêter ou disparaître. À Victoria, il s'appelle Slam Dunk. Sur leur deuxième album intitulé Welcome to Miami, Slam Dunk parle dans ses chansons pop-noise de pénuries de crème contre les morpions, des notes plus que moyennes de leurs bons amis et d'à peu près n'importe quelle connerie démente dont ils ont pu rire un jour. Il s'agit d'une compilation de toutes ces belles choses qui font brandir le poing des foules d'ivrognes en sueur. Mais enlevez les pitreries, et vous vous retrouverez avec un petit joyau de pop-rock technique bien taillé sûr de vous donner le torticolis à force de trop mosher. Cet album n'est pas qu'un simple deux-points. C'est un 360 complet de pur brio entre les jambes.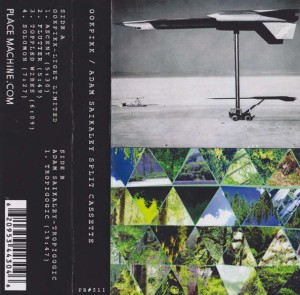 Ookpikk // Adam Saikaley
Light Limited // Tropigogic
Victoria, BC // Ottawa, ON
From the prescription pad of Johnnie Regalado:
Light Limited is a swan song for sentient synthesizers. A mad mathematician at the helm of an airship. The beats on "Flutter" paint your blood like a delicately composed CAT Scan. Just try to prevent a primordial arm swing during "Toppled Wires." This Doctor recommends deep bass and techno and prescribes a healthy overdose. For rest and relaxation, Adam Saikaley serves up Tropigogic. A Kubrickian portrait of a jettisoned escape pod drifting through space.
De l'ordonnancier de Johnnie Regalado:
(Traduit par les placebos sucrés de Nicolas Coutlée)
Light Limited est le chant du cygne des synthétiseurs sensibles. Un mathématicien fou à la barre d'un dirigeable. Les rythmes sur « Flutter » peignent votre sang comme une tomodensitométrie délicatement composée. Essayez seulement de réfréner un balancement de bras primordial à l'écoute de « Toppled Wires ». Le docteur recommande basse bien lourde et techno et vous en prescrit une saine overdose. Pour le repos et la relaxation, Adam Saikaley vous sert Tropigogic. Un portrait kubrikien d'une capsule de secours larguée à la dérive dans l'espace.
---