Tag: the pink noise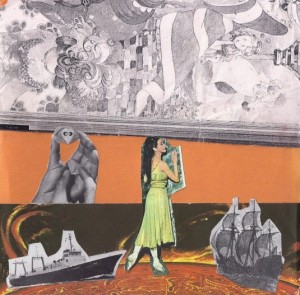 The Pink Noise // Man Made Hill
Split 7"
(Inyrdisk)
Montréal, QC // Toronto, ON
From the cryptic decisions of Jesse Locke:
This split disk surpasses expectations with a pair of institutions in peak form. The three-piece Pink Noise lurches like a post-punk Prometheus juiced on daisy-chained FX pedals as it wobbles askew and utters its first blasé words. The tightly coiled configuration that arrived on Greedy Heart has never sounded more menacing. Meanwhile, the man made mystery known as Randy Gagne shows off his vocal mutations with the burbling kiss and tell "Sweeter Than Ice" and ghoulish synth-pomp falsetto of "Cryptic Decision." Available with risograph cover art or 50 unique collages, like the fever dream scene up above.
Des décisions cryptiques de Jesse Locke:
(Traduit par les contorsions spiraloïdes de Nicolas Coutlée)
Ce split réunissant deux institutions en pleine possession de leurs moyens surpasse toutes les attentes. Le trio Pink Noise titube comme un Prométhée post-punk fou raide de pédales à effets interconnectées, alors qu'il gigote dangereusement et prononce ses premières paroles désenchantées. Les arrangements ficelés serrés de « Greedy Heart » n'auront jamais sonné aussi menaçants. Pendant ce temps, le mystère érigé de main d'homme, connu sous le nom de Randy Gagne, fait étalage de ses mutations vocales sur le secret d'alcôve guttural « Sweeter Than Ice » et de son fausset macabre aux accents de synthé cérémonieux sur « Cryptic Decision ». Offert avec une pochette imprimée sur risographe ou cinquante collages uniques, comme la scène de rêve fiévreux ci-dessus.
Man Made Hill – Cryptic Decision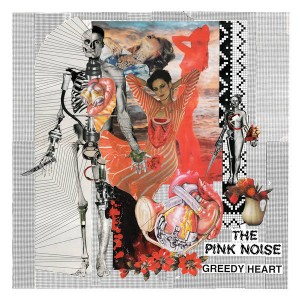 The Pink Noise
Greedy Heart
(Skrot Up)
Montréal, QC
From the 10 cent masquerade of James Lindsay:
Mark Sauner's overdue return to vinyl, with full band in tow, finds him swaggering more towards the sexiness of Jim Morrison's rock 'n roll poet than Mark E. Smith's surreal, blue-collar acid-bark — of which many a comparison to his vocal styling has been made. There's still the synth-as-bass (care of Matt Samways from Electric Voice) that's helped define the Pink Noise over the years, but the scratchy, echo-punk guitar attack of Graeme Langdon (Psychic Handshake boss) and the mesmerizing, rolling drums of Tara Desmond redirect the sound to a more playful place. Greedy Heart is the place where the No Wave kids with the skinny lapels rub shoulders with quick-witted culture snobs, making mean little jabs so acute that you can't help but snicker.
De la masquarade à dix sous de James Lindsay:
(Traduit du party-de-maison-adolescent-quand-les-parents-sont-partis de Catherine Debard)
Le retour plus que dû de Mark Sauner au format vinyle, avec un groupe complet dans la remorque, le montre se dandinant davantage vers l'aura sexy d'un poète rock 'n' roll comme Jim Morrison que l'[acide aboiement de col bleu] surréaliste de Mark E. Smith — avec qui on l'a plus d'une fois comparé à cause de son style vocal. On retrouve encore le synthé-comme-guitare (gracieuseté de Matt Samways d'Electric Voice ) qui a aidé à définir le son de Pink Noise au fil des années, mais la guitare rêche écho-punk de Graeme Langdon (un des fondateurs de Psychic Handshake et le roulement hypnotisant de la batterie de Tara Desmond redirigent le son vers un lieu plus enjoué. Greedy Heart, c'est le lieu où les gamins No Wave aux revers de veste serrés se frottent aux snobs vifs d'esprit, se donnant de petits coups de poing vicieux tellement vifs qu'on ne peut que ricaner.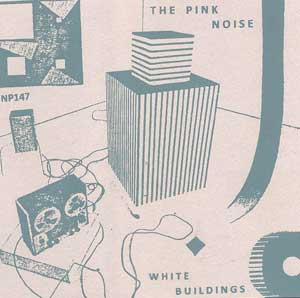 The Pink Noise
White Buildings
Montreal, QC

Minimal snaps and snips of the crash and burn generation are captured in this dimension, as songs heard in the underground dance clubs of Orwell's
1984
. We feel the bleak disgust of
Mark Sauner
's mind, but he refuses to step it back. This is as classy as he'll get, back alley hustler, smoke screen. On "Garden Times", you know he's trying to show you the way, but you don't get it. And you never will—this is his nightmare. Broken and torn in two, needing an escape that isn't possible.
The end of the world
already happened, and this is the soundtrack.
Audio clip: Adobe Flash Player (version 9 or above) is required to play this audio clip. Download the latest version here. You also need to have JavaScript enabled in your browser.
Audio clip: Adobe Flash Player (version 9 or above) is required to play this audio clip. Download the latest version here. You also need to have JavaScript enabled in your browser.
---