Tag: tenderness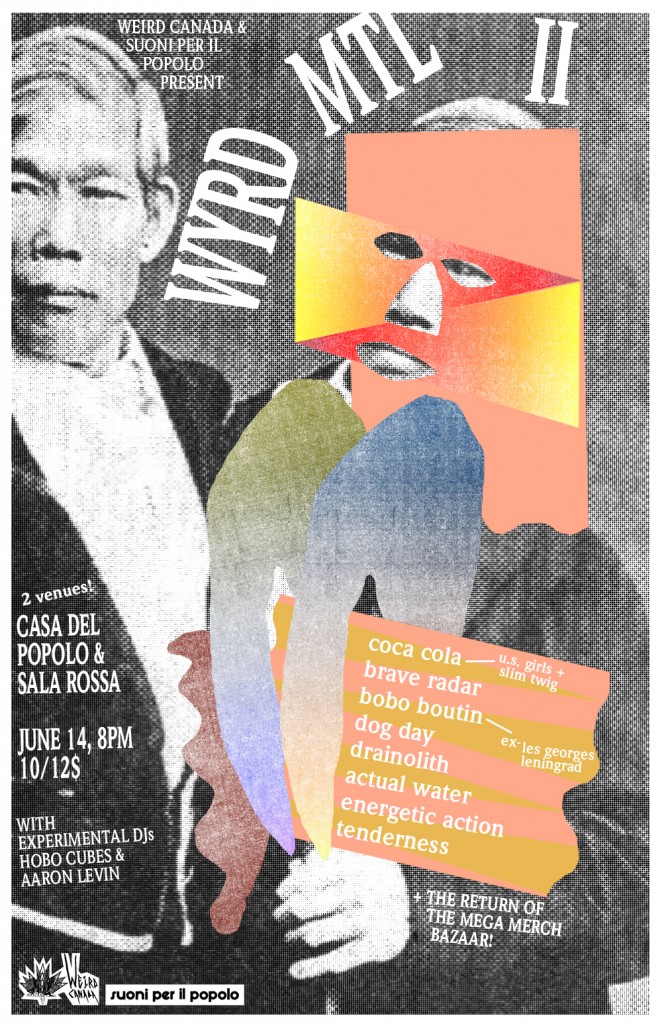 Wyrd MTL II
Thursday June 14, 2012
Montreal, QC
We are excited to announce the second annual
Wyrd Montreal
festival occurring
Thursday, June 14 2012
! Once again, we have teamed with beloved experimental music festival
Suono Per Il Popolo
to offer a multi-stage showcase of boundary pushing artists from the northernly fringes. Alongside the returning
Mega Merch Bazaar
(featuring a selection of Canada's best record labels) Weird Canada will be taking over both
La Sala Rossa
and
Casa del Popolo
simultaneously for a one-night-only cornucopia of sinusoidal delight. This will allow fans the chance to bounce back and forth between the two bars conveniently located across the street from one another. Should fans find themselves needing a respite between wondrous electronics and/or bludgeoning chaos, experimental DJs Aaron Levin and Hobo Cubes will take residency in Casa del Popolo delivering a strange brew of new age, electronic, and avant psychedelics.
Date: Thursday June 14, 2012
Venue #1: La Sala Rossa (4848 Boulevard Saint-Laurent, Montreal)
Venue #2: Casa del Popolo (4873 Boulevard Saint-Laurent, Montreal)
Cost: $10 (adv.) / $12 (door)
Doors: 8pm
Lineup
La Sala Rossa
Brave Radar
Dog Day
Actual Water
Coca Cola (U.S. Girls + Slim Twig)
Casa del Popolo
Drainolith
Energetic Action
Tenderness
Bobo Boutin
Artist Bios
Coca Cola (U.S. Girls + Slim Twig) (Toronto)
Continuing Wyrd's philosophy of unique collaborations, we're proud to include a rare performance by this duo known as Coca Cola. Combining the rhythmic polyphonies of Toronto's Slim Twig with the miasmic chaos of U.S. Girls, Coca Cola conjure an arpeggiated ethos of Cluster-inspired jammery. Expect a fantastic array of electronic drone and perturbed psychedelics.
Actual Water (Toronto)
Born in the depths of Ben Cook's (Fucked Up, Young Guv, Bitters) epic space in East Toronto, Actual Water's jangled power-pop transforms their 12-string anthems and insatiable marimba-laced punk into vocal bonanzas and summery attitudes. Every song is laced with their flowering '60s slacker vibes and live the whole calamity is wrapped by frontman Tony's enigmatic 'tude. Stoked!
Drainolith (Montreal)
Drainolith is the multi-throned oscillating 8-bit transmigration of Montreal native Alex Moskos (ex-guitarist for the now defunct AIDS Wolf). Diving deep into polyrhythmic hood jams and clamouring solos of synthetic marvel, Drainolith hams heavy, agnostic experimentalism into a creative vehicle the world may or may not be ready to digest.
Energetic Action (Edmonton)
Edmonton, Alberta is home to many improbable entities, and Energetic Action's revisionist goth-punk paradigm is no exception. Straddling the unknown line between The Pop Group and This Heat, their impossible rhythms and extravagant performances wrap an undisturbed nascency into music hardened by generations of nuclear waste. A certified western anomaly.
Brave Radar (Montreal)
Local Montreal darlings Brave Radar have kept quiet a long time. So long, in fact, that we reluctantly started to believe their demise. We can barely conceive they'll be back on stage with brand new oblique pop sweetness.
Bobo Boutin (Montreal)
Ex-Les Georges Leningrad drummer Bobo Boutin inhabits a delirious world of warped electronics. One man, yet an overwhelming performance slowly mounting into a frenzy of nightmarish proportions.
Dog Day (Halifax)
Dog Day's bent alt-rock resonates with grand designs. Seth and Nancy are husband and wife, a charming duo who constantly keep slinging sharp and heavy anti-heroic hooks at every corner.
Tenderness (Toronto)
With bizarre loop sampling wizardry, cracked electronics and sexy sax swoons, Chrissy Reichert redefines any conceivable notions of contemporary R & B. Tenderness is not to be missed, because true originality comes in small doses.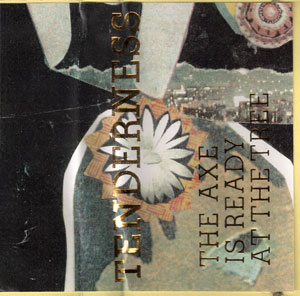 Tenderness
The Axe Is Ready At The Tree
(Self Released)
Toronto, ON

Free-floating memories of
Sunday morning devotionals
merge with the
holy ghost of Ann Peebles
on this earth-rattling rave-up in the name of. Fresh to def with instantaneous heft and a front-to-back set of unshakeable tunes, Chrissy Reichert's pitch (and paradigm) shifted bangers twist up
Tranzac
avant-squawk with dusted brother
'No C' Zukerman
, including feline sound effects guaranteed to freak out your cats. Tenderness could be 2012's sonic salvation.
Get ur grip on
.
Audio clip: Adobe Flash Player (version 9 or above) is required to play this audio clip. Download the latest version here. You also need to have JavaScript enabled in your browser.
Tenderness – We Lay Our Broken World In Sorrow At Your Feet
Audio clip: Adobe Flash Player (version 9 or above) is required to play this audio clip. Download the latest version here. You also need to have JavaScript enabled in your browser.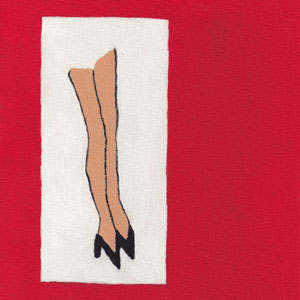 Shortpants Romance
Shotgun Divorce
(Autoproduit / Vintage Violence)
Montréal, QC

On peut faire ben des choses avec le punk tout en gardant ça simple. Un power trio pas de basse. S'il y avait une chose telle que le post-grunge, qu'est-ce que tu ferais avec? Tu lui ferais mal pour le fun et après tu le regretterais d'un trait de mélancolie – entre la tendresse et la force, entre la romance et les fusils. Pour que ça fasse du bien. Les mots sont criés ou coulent comme un mantra susurré à ton oreille par un fantôme des 90s et les riffs, serrés ou lousses, transpirent le plaisir possible à travers l'angoisse. Bizarrement cathartique.
From the arranged romance of Benoit Poirier:
You can do so much with punk while keeping it simple. Like a bass-less power trio. If there was a thing such as post-grunge, what would you do with it? You'd hurt it a bit for sure, just for fun, and then you'd regret it with a bit of melancholy – somewhere between tenderness and force, between romance and guns. Just so it feels good. Here, the words are shouted or whispered like a mantra by a ghost from the 90s and the riffs, tight or loose, are sweating out the max of fun you can get out of anxiety. Weirdly cathartic.
Audio clip: Adobe Flash Player (version 9 or above) is required to play this audio clip. Download the latest version here. You also need to have JavaScript enabled in your browser.
Audio clip: Adobe Flash Player (version 9 or above) is required to play this audio clip. Download the latest version here. You also need to have JavaScript enabled in your browser.
---