Tag: synth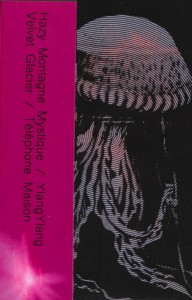 Various Artists
Perdu dans l'abysse
(La Cohu)
Montréal, QC
From the liquid mind of Hugo Hyart:
(Translated by the dip of Hugo Hyart)
What happens when two of the most productive entities in Canada team up? They go down to the abyss on the edge of the known world. Taking cues from the James Cameron film with aliens coming from beneath for a change, they make a detour from their trail of galactical altitude. The companions of Jeunesse Cosmique stop by La Cohu for a submarine ramble, trading their spacesuits for scubas. Past a certain depth, beyond conventional human conceptions and away from any stellar ray, this is a space odyssey the other way round into Neptune. Resting in deep ambience, altered heaviness, forgotten gravities. Hazy Montagne Mystique dip our stars' dust in the water to depths where the sun can't reach. YlangYlang makes us dance in analgesy until there's no up or down anymore. Velvet Glacier distort us our minds with enunciations and killer vibes. Téléphone Maison touches the bottom to take its pulse, as we briefly see what it is to be the other. Makes me want to see the movie.
De l'esprit liquide de Hugo Hyart:
Que se passe-t-il quand deux des entités les plus productives du Canada font équipe ? Ils descendent dans l'abysse aux frontières du monde connu. Prenant son inspiration du film de James Cameron avec les aliens venant des profondeurs pour changer, ils font un détour de leur chemin d'altitude galactique. Les compères de Jeunesse Cosmique passent chez La Cohu pour un petit tour en sous-marin et troquent leurs combinaisons spatiales pour des scaphandres. Passé une certaine profondeur, au-delà des conceptions humaines convenues , loin de tout rayon stellaire, une odyssée de l'espace dans l'autre sens direction Neptune. Ambiances reposantes et profondes, pesanteur altérée, gravité oubliée. Hazy Montagne Mystique propage notre poussière d'étoiles sous l'eau jusqu'aux profondeurs où le soleil n'éclaire plus. YlangYlang nous fait valser en analgésie et nous fais oublier haut et bas. Velvet Glacier va ensuite distordre nos esprits en énonciations et en vibrations qui tuent. Téléphone Maison touche le plancher abyssal pour prendre son pouls, tandis qu'on entrevoie le fait de devenir l'autre. Ça donne envie de voir le film.
Velvet Glacier – L'unique (Remix pour Marie Davidson)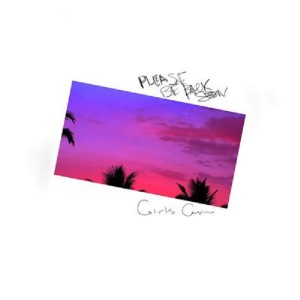 Girls Casino
Leave It To Them
(Self Released)
Calgary, AB
From the teenage dreams of Mann Durian:
In every adult there are feelings of fleeting adolescence that never quite fully diminish. These are visual feelings in nature; communal in their universality, emotional and intensely focused on the sensorium of the individual. Girls Casino is the sonic embodiment of these feelings. Under a lush mist of shimmering synths and Balearic beats, an androgynous voice chants mantras like pink Sunny-D. These songs live in a world where every friendly hello, brush of the skin or passing glance in the hallway means so much more. Where every house party or starlit Friday night presents another endless pool of possibilities to truly soak in the foolish freedom of being young.
Des rêves d'adolescent de Mann Durian:
(Traduit par l'hypnogramme de Catherine Gaucher)
Au tréfonds de chaque adulte, les sentiments fugaces de l'adolescence ne disparaissent jamais totalement. Ce sont des émotions de nature imagée : collectives de par leur universalité, émotionnelles et intensément focalisées sur le sensorium individuel. Girl Casino est l'incarnation sonique de ces sentiments. Sous une bruine luxuriante de synthés chatoyants et de Balearic house coule une voix androgyne chantant des mantras rose Sunny-D. Ces chansons vivent dans un monde où chaque salutation amicale, chaque effleurement de la peau ou chaque bref passage dans un couloir ont une plus grande symbolique encore. Où chaque fête à la maison ou chaque vendredi soir étoilé présente une mer infinie de possibilités dans laquelle nage une liberté insensée d'être jeune.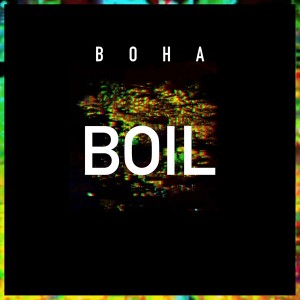 From the uncoiling cruise of Josefa Cameron:
Boha's Boil is explicit sound art found somewhere between reality and dreamland. It's a gloomy but spiritually transcendent experience. An orchestra of thick digital processing, field sounds, guitar and synths quite literally boil through the headphones. Boha seeks to surpass common song formats that shock the listener with abrupt blasts of futuristic reverberation. With field recordings collected over a year and an adaption of live instrumentation during shows, he has mastered the usually unattainable skill of fostering a relationship between musical and non-musical sounds, allowing the noise to interact with melodies through tasteful rhythm. Boil is suspended in a confused state of analog magic and sensual realism, each track an uncoiling cruise through a divergent world. The resonating emotion of "Soft Square" and delicate darkness of "Solstice" help secure respect for this beautifully crafted masterpiece.
De la traversée initiatique de Josefa Cameron:
(Traduit par les coups de rames de Catherine Gaucher)
Art sonore explicite, Boil de Boha se situe quelque part entre la réalité et le rêve. C'est une expérience sombre, mais spirituellement transcendante. Un orchestre d'effets numériques denses, d'enregistrements de terrain, de guitares et de synthés bouillonne littéralement à travers les écouteurs. Boha cherche à dépasser les formats de chansons qui déstabilisent généralement l'auditeur à coups de brusques décharges de réverbérations futuristes. Collectionnant depuis un an les enregistrements de terrain qu'il parvient à transposer sous forme instrumentale durant ses spectacles, Boha maîtrise l'art normalement impossible de mettre en relation sons musicaux et non musicaux, permettant ainsi aux échantillons d'interagir avec les mélodies à travers de délicieux rythmes. Boil flotte dans un brouillard de magie analogue et de réalisme sensuel, chaque piste entreprenant une traversée vers un monde divergent. L'émotion qui résonne de « Soft Square » et l'obscurité délicate de « Solstice » solidifient notre admiration pour cet impeccable chef-d'œuvre.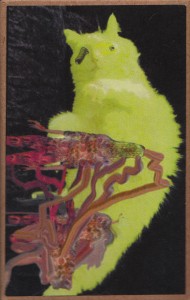 Bile Sister // Wolfcow
Split Tape
Toronto, ON // Toronto, ON
From the wild oscillation of Catherine Debard:
(Cosmic translations by Catherine Debard)
This luxurious 90-minute split is a trip through catchy nihilist (punk) power-pop, flippant DIY expression, two awesome senses of humour and a synth/pedal effects sci-fi party. Up first, Bile Sister's side jams juicy bouncing beats against a robotic hi-NRG voice, eerie I-don't-care-about-the-world synths and constant but subtle distortion to create a sugar-rush addiction; the body is moving strangely, the brain is filled with fizz candies. Listening to short, smashed up earworms like "Mock Sin" and long, trippy synth jams like "Sustained Preventative Medicinal Penetration (Long Version)" feels like chilling in her living room while she's experiencing a crazy inspiration wave. Meanwhile, the gang of teenage street kids in the first TMNT movie would love Wolfcow's side. It's rebellious, lo-fi, inventive, fast-paced and wild, oscilliating between harsh punk-pop, experimental electroclash sequences and strangely smooth synth-layered moments. The voices are buried in effects, while the whole is wrapped in crunchy saturated sound. These guys seem to channel a raw and unpredictable Residents vibe, or Caroliner with a touch of Les Georges Leningrad. All in all, this split activates the production of endorphins, like running a marathon or spending four hours in a Lazer Quest.
Écrit et traduit de l'oscillation démente de Catherine Debard:
Ce luxuriant split de 90 minutes est un voyage powerpop(punk) nihiliste (mais) entrainant, un party sci-fi de synthés et de pédales à effets roulés dans la désinvolture DIY et l'humour désopilant. Tout d'abord, Bile Sister jamme sur de bons gros rythmes gras surplombés par la voix énergique d'une déesse robotique, de sinistres synthés je-me-fous-du-monde-entier et une subtile mais omniprésente distorsion à vous rendre accroc. Le cerveau rempli de bonbons Fizz, le corps danse en se tortillant nonchalamment. En écoutant ces courts hits fracassés (« Mock Sin ») et ces longs périples de synthés hypnotiques (« Sustained Preventative Medicinal Penetration (Long Version) »), on se croirait évachés dans le salon de l'artiste alors que déferle sur elle une vague d'inspiration déjantée. Pendant ce temps, les enfants de la rue du premier film des Tortues Ninjas écouteraient sûrement dans leur baladeur le côté de Wolfcow. Rebelle, lo-fi, inventif, rapide et sauvage, le tout oscille entre un punk-pop corrosif, des moments d'expérimentation électroclash et d'étranges séquences de synthétiseurs planants. Les voix baignent dans les effets et la saturation grésillante. Ces deux-là semblent canaliser une atmosphère crue et imprévisible à la Residents, un peu de Caroliner et une touche de Georges Leningrad. En somme, ce split active la production d'endorphines, tout comme courir un marathon ou passer quatre heures dans un Lazer Quest.
Wolfcow – Whatever's Hovering Above Me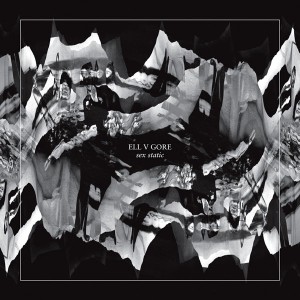 Ell V Gore
Sex Static
Calgary, AB
From the death strings of Hugo Hyart:
Ell V Gore is cold, grey and agitated. The debut transmissions of Elliot Jones and co. are crafted with care, precision and attention that matches intention. No fancy colours, no useless waves, only pure efficiency. In these times of reconquest of the industrial wastelands, their songs evoke a darkness predating the year punk broke. The Sex Static platter is delivered in style by Bad Actors who have recently emerged with another beautiful banger. Total grip!
Hugo Hyart:
(Traduit par Hugo Hyart)
Ell V Gore est froid, gris et agité. Les premières transmissions d'Elliot Jones et sa clique sont manufacturées avec soin, précision et attention intentionnée. Pas de couleur superflue, pas de vagues inutiles, simplement de l'efficacité. En ces temps de reconquêtes des friches industrielles, leurs morceaux évoquent une noirceur précédant l'année où le punk a explosé. L'assiette Sex Static est servie avec style par Bad Actors qui a récemment émergé avec une autre belle bestiole. À empoigner franchement !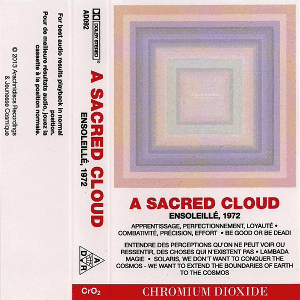 A Sacred Cloud
ENSOLEILLÉ, 1972
Montréal, QC
From the bewildering torrent of Joshua Robinson:
Montreal, that great and bewildering torrent of sprawl and assertion; of grand presence and might. Swallowing, its stomach that mighty crucible that, on occasion, explodes to rebirth what it has consumed in entirely new form: post-rock reborn as futurist ambient drone-rock. Artefacts of cultural and creative convergence at play, its mountains congregating at the point where the old begets the new, and the new adopts the old. Distinctions born of interaction and close-quarters, musical and otherwise.
Released on vinyl from Montreal's Jeunesse Cosmique and cassette from Etobicoke's Arachnidiscs, ENSOLEILLÉ, 1972 is subdued in its capacity to serve as cathartic overture, quick and quiet with its breaths, careful… intentional. A Sacred Cloud are the sounds of a community stirring, not to draw attention, but rather to remind itself that it is still there. That amidst the churning of urban sprawl, identities can indeed remain distinct, artistries uncompromised, and genres — those proverbial melting pots of self-expression — are able to adapt to changing climates; global, yet micro-level. Elegiacal and momentous. The tonalities of a place existing within a place. Sunny, 1972.
Du torrent ahuri de Joshua Robinson:
(Traduit du shaolin kung fu de Yoko Ono)
Montréal, ce grand torrent qui s'affale et s'affirme; de grande présence et volonté. Absorbant, son ventre est un puissant creuset qui, à l'occasion, explose afin de faire renaître tout ce qu'il a consommé dans une forme entièrement nouvelle : le post-rock se réincarne en drone-rock futuriste ambiant. Artéfacts de la convergence culturelle et créative en jeu, ses montagnes se rassemblent en un point où le vieux engendre le neuf, où le nouveau adopte le vieux. Les distinctions naissent de l'interaction et de la proximité, musicale et autre.
Prévu en sortie vinyle au mois de novembre sur l'étiquette montréalaise Jeunesse Cosmique ainsi qu'en cassette sur Arachnidiscs d'Etobicoke, ENSOLEILLÉ, 1972 est soumis à sa capacité à servir d'ouverture cathartique, rapide et douce, avec ses souffles, prudents… intentionnels. A Sacred Cloud est le son d'une communauté bouillonnante, non pas pour attirer l'attention mais plutôt pour se rappeller qu'elle est toujours là. Qu'au coeur de l'étalement urbain en série, les identités peuvent en effet rester distinctes, l'art sans compromis, et les genres — ce melting pot proverbial d'expression personnelle — sont capables de s'adapter aux climats changeants; globalement, mais aussi à un niveau micro. Élégiaque et important. Les tonalités d'un endroit existant à l'intérieur d'un endroit. Ensoleillé, 1972.
A Sacred Cloud – Be good or be dead!
A Sacred Cloud – Entendre des perceptions qu'on ne peut voir ou ressentir, des choses qui n'existent pas
From the black market wetware of Bryce Warnes:
Koban's semi-automatic goth punk paints an image of a Gibsonian nightmare world. Britt of Lié fame's synth crashes and moans from the mouth of a dark alley, while Samuel's drum machine crackles with poisonous needlegun rhythms. All the cyberpunk kids are getting messed up on black market wetware and making out to "L'Ombre". "Re-entry" rattles flesh-prison bars and "Not Broken" longs for an escape to the wide-open expanse of the flat field. Welcome to the future. Everything is amazing and nobody is happy.
Des pouvoirs bioniques du marché noir de Bryce Warnes:
(Traduit depuis la prison gothique d'Andréanne Dion)
Le punk gothique semi-automatique de Koban peint le portrait d'un monde gibsonien cauchemardesque. Le synthétiseur de Britt, connue pour son rôle dans Lié, s'écrase et gémit depuis l'entrée d'une ruelle sombre, alors que la boîte à rythme de Samuel grésille avec des cadences empoisonnées de poivrière. Tous les cyberpunks se défoncent aux pouvoirs bioniques du marché noir et se tripotent au son de « L'Ombre ». « Re-entry » secoue les barreaux des prisons de chair et « Not Broken » aspire à s'évader dans la vaste étendue des plaines. Bienvenue dans le futur. Tout est extraordinaire et personne n'est heureux.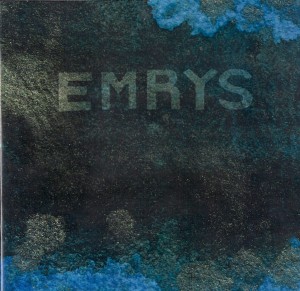 From the parasomnia of Aaron Levin:
Another cryptic dispatch from the dungeonground of Haunted Clockwork. Churning, outer-terrestrial sinusoids yield to surreal séances, while our collective de-tuning undulates beneath. The hive-mind's nirvanic irrelevance gurgles within the synth swaths tracing visions of a new world. The grip is out there.
De la parasomnie d'Aaron Levin:
(Traduit au son de la musique de X-Files par Andréanne Dion)
Une autre dépêche énigmatique venue du donjon souterrain d'Haunted Clockwork. Les ondes sinusoïdales agitées de l'au-delà cèdent aux séances surréalistes, pendant que notre dérèglement collectif ondule en dessous. L'insignifiance nirvanique de l'intelligence collective gargouille à l'intérieur des morceaux synth qui calquent les visions d'un monde nouveau. L'emprise est aux frontières du réel.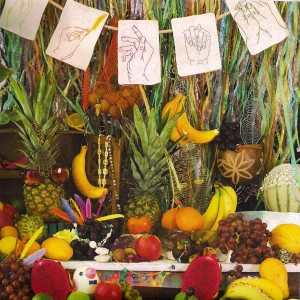 Various Artists
F R U I T S
Toronto, ON
From the Carmen Miranda rights of Jesse Locke:
This platter flows over with a prismatic array of bodacious sounds and mixed mood-inducers from Toronto's female class of fall 2013. The nine exclusive tunes include Isla Craig's soft shimmer, Bile Sister wave-dancing in her rave cave, and a freshly bucked 'n' blended devotional banger from Tenderness. The righteous Lido Pimienta leads the charge with martial snares and multi-tracked vocals that could summon the revolution, while the all-powerful Petra Glynt booms through a blacklit underground opera hall. Grip this disc quick and get a bonus baggie of bath salts from the krautrock-inspired scents of Spa Kosmische.
D'après les droits Carmen Miranda de Jesse Locke:
(Traduit dans un rythme tordant de Dominic MPILÉ)
Ce disque résonne de façon remarquable au moyen d'une gamme prismatique et d'une sensibilité inductrice jouées par des Torontoises de la cuvée printemps 2013. Les neuf chansons exclusives incluent le doux chatoiement d'Isla Craig, l'onde dansante à caractère rave de sous-sol de Bile Sister, et le tout nouveau lancement de ruade tordant, plein de dévotion de Tenderness. La vertueuse Lido Pimienta mène la cadence avec des pièges martiaux et de multiples pistes vocales qui pourraient appeler à la révolution, pendant que l'omnipotente Petra Glynt retentit dans une salle d'opéra souterraine éclairée à contre-jour. Procurez-vous rapidement ce disque et obtenez en bonus un sac de bain de sel au parfum d'inspiration krautrock de Spa Kosmische.
Tenderness – Orphans Howling in the Wild (Bucked & Blended Mix)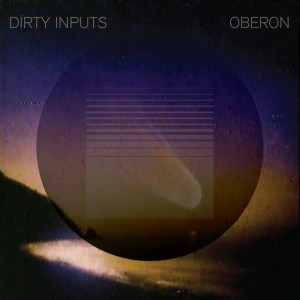 Dirty Inputs
Oberon EP
(Self Released)
Toronto, ON
From the orbiting radar of Adam Bradley:
Awake to this. Drifting in the void, on double-axis spin, a vast dappling of starlight perforates an ocean of black. Oberon delivers us to this, the view of a stone on course through the solar system, a voyeuristic tour of sublimity. It invites us to visit its namesake, a moon of Uranus that orbits some 2,720,000,000 kilometers away from Earth. Using warm synths, software and drum machines, Aaron Dawson (Off The International Radar), chose to approach ambient electronic music with a classical mind. At times channeling Gustav Holst, this suite explores the reaches of epic expanse, liminal space and plain awe.
Du radar en orbite d' Adam Bradley:
(Traduit à 2,720,000,000 kilomètres d'Obéron par Andréanne Dion)
Prenez-en conscience. À la dérive dans le vide, dans une révolution sur deux axes, une immense étendue d'étoiles mouchète un océan de noir. Oberon nous livre ceci, la vue d'une pierre qui traverse le système solaire, une visite voyeuriste de la sublimité. Il nous invite à visiter son homonyme, une lune d'Uranus qui orbite à quelques 2,720,000,000 kilomètres de la terre. À l'aide de synthétiseurs chaleureux, de logiciels et de boîtes à rythmes, Aaron Dawson (de Off The International Radar) choisit d'aborder la musique électronique ambiante avec un esprit classique. Évoquant parfois Gustav Holst, ces morceaux explorent les confins d'une étendue interminable, l'espace frontière et l'émerveillement pur et simple.
Dirty Inputs – Oberon//Overture
---