Tag: synth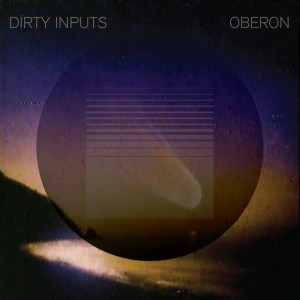 Dirty Inputs
Oberon EP
(Self Released)
Toronto, ON
From the orbiting radar of Adam Bradley:
Awake to this. Drifting in the void, on double-axis spin, a vast dappling of starlight perforates an ocean of black. Oberon delivers us to this, the view of a stone on course through the solar system, a voyeuristic tour of sublimity. It invites us to visit its namesake, a moon of Uranus that orbits some 2,720,000,000 kilometers away from Earth. Using warm synths, software and drum machines, Aaron Dawson (Off The International Radar), chose to approach ambient electronic music with a classical mind. At times channeling Gustav Holst, this suite explores the reaches of epic expanse, liminal space and plain awe.
Du radar en orbite d' Adam Bradley:
(Traduit à 2,720,000,000 kilomètres d'Obéron par Andréanne Dion)
Prenez-en conscience. À la dérive dans le vide, dans une révolution sur deux axes, une immense étendue d'étoiles mouchète un océan de noir. Oberon nous livre ceci, la vue d'une pierre qui traverse le système solaire, une visite voyeuriste de la sublimité. Il nous invite à visiter son homonyme, une lune d'Uranus qui orbite à quelques 2,720,000,000 kilomètres de la terre. À l'aide de synthétiseurs chaleureux, de logiciels et de boîtes à rythmes, Aaron Dawson (de Off The International Radar) choisit d'aborder la musique électronique ambiante avec un esprit classique. Évoquant parfois Gustav Holst, ces morceaux explorent les confins d'une étendue interminable, l'espace frontière et l'émerveillement pur et simple.
Dirty Inputs – Oberon//Overture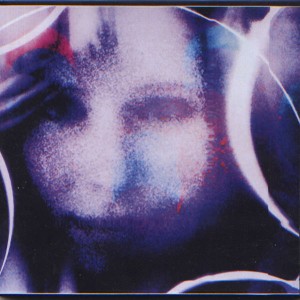 Nouveau Zodiaque
Nouveau Zodiaque EP
Montréal , QC
From the medina full of flowers of Hugo Hyart:
(Translated by the half-common, half-occult co-existence of Hugo Hyart)
Subterranean behemoth Hobo Cult Records presents four new pieces by Xarah Dion of Les Momies des Palerme in her Nouveau Zodiaque alias, each containing an entire universe. These songs arise from a half-common, half-occult co-existence of synthesisers, rhythm machines, Arabic, Albanian and Turkish instruments, plus Dion's diva-esque chants. "Au Parc Jarry" could be a new visit to "À la claire fontaine", while "Combustible" conjures mist darkening into big clouds full of rain. A meeting of modern, ancient and timeless.
De la médina fleurie d'Hugo Hyart:
Le béhémoth souterrain Hobo Cult Records présente quatre nouvelles pièces par Xarah Dion des Momies de Palerme, sous le nom de Nouveau Zodiaque, chacune porteuses d'univers différents. Ces morceaux donnent lieu à des coexistences mi-courantes-mi-occultes entre synthétiseurs, boîtes à rythme et instruments arabes, albanais et turcs, sur lesquelles viennent s'enfiler pareils à des draps flottants, les chants lyriques et divaesques de Dion. « Au Parc Jarry » pourrait être une nouvelle viste « À la claire fontaine », tandis que « Combustible » invoque une brume qui s'assombrit en de gros nuages de pluie. Une rencontre entre le moderne, l'ancien et l'intemporel.
Nouveau Zodiaque – Au Parc Jarry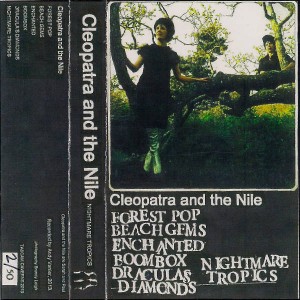 Cleopatra and the Nile
Nightmare Tropics
(Self Released)
Victoria, BC
From the eroded sapphires of Kristian North:
Cleopatra and the Nile is not a new band. They've been donning bejeweled turbans and creating haunted soundtracks to film projections for at least five years (if my damaged memory serves me). Nightmare Tropics, recorded live to tape at the Roxy Theatre, is the first release and it shreds like a monkey with a razorblade. Paul Pedrosa plays synths, bass, drum machines and always drives rad cars. Sarah Murphy plays the theremin all calm and cool with amazing technique (if you've ever waved yer hand in front of one of these things you know it's not the easiest instrument). Together they make music that's refreshingly organic in a genre that's moved so heavily towards laptops and all that man or machine shit. Dang-a-lang do they got style. When they play the anthemic Lil Wayne cum John Carpenter opening track "Dracula's Diamonds" live Paul runs his pre-recorded, Auto-Tuned vocals through the sampler and just plays the bass in his sweet getup, all dreaaamy. "Beach Gems" stalks you like a faceless serial killer in an attic and "Forest Pop" explodes like ballerinas falling through stained glass windows. Shades of hip-hop, science fiction, ambient noise, dated futures, Giallo, alien funk, neon lit diners, and every imaginary film playing inside yer head. xo.
Kristian North is the lead shredder in Victoria's Babysitter. Join their revolution by catching them on their infinite tour.
Des saphirs érodés de Kristian North:
(Traduit avec une touche giallo par Dominic MPILE)
Cleopatra and the Nile n'est pas un nouveau groupe. Ses membres ont porté des turbans décorés de joyaux et ont créé des bandes sonores hantées pour des projections de films pendant au moins cinq ans (si ma mémoire endommagée est bonne). Nightmare Tropics, leur premier album, a été enregistré en direct sur bande au Roxy Theatre, et déchire comme un singe avec une lame de rasoir. Paul Pedrosa joue du synthétiseur, de la basse et de la boîte à rythme, et conduit toujours des voitures formidables. Sarah Murphy joue du thérémine et reste de marbre, en jouant avec une technique incroyable (si vous avez déjà essayé, vous savez que ce n'est pas l'instrument le plus facile à jouer). Ensemble, ils font de la musique agréablement organique dans un genre qui est devenu énormément axé sur les ordinateurs portables et dont on se demande toujours s'il est produit par un homme ou par une machine. Ils ont un style fou lorsqu'ils jouent le morceau d'ouverture en spectacle, une hymne qui rappelle à la fois Lil Wayne et John Carpenter, intitulée « Dracula's Diamonds » : Paul fait jouer un pré-enregistrement de sa voix passée à l'Auto-Tune à travers l'échantillonneur, et joue simplement de la basse dans sa belle tenue, en nous faisant rêver. « Beach Gems » vous traque comme un tueur en série sans visage dans un grenier; et « Forest Pop » explose comme des ballerines qui tombent à travers des vitraux. Nuances de hip-hop, science-fiction,noise ambiant, futurs démodés, Giallo, funk extraterrestre, soupers aux néons…tous les films imaginaires jouent dans votre tête. xo.

Kristian North est le guitariste solo du groupe Babysitter, de Victoria. Joignez-vous à leur révolution en allant les voir en tournée.

Cleopatra and the Nile – Boom Box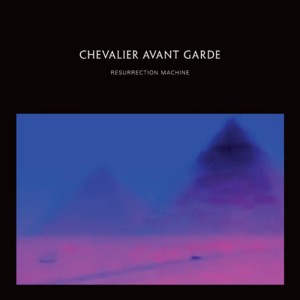 Chevalier Avant Garde
Resurrection Machine
Montréal, QC
From the bedroom goth-disco of Pavan Brar:
Melancholy and bliss permeate the entirety of Resurrection Machine, infiltrating the body via the auditory organs and spreading throughout. On their newest release, Chevalier Avant Garde show a great command of the ability to transduce lows into mid-tempo grooves, a transformative process impelling one to both dance and sulk. A composite of ambient electronics and reverbed post-punk vocals, the band's collective consciousness echoes from within to without, emitting cold psychical waves which set up a suitable aura to welcome the arrival of fall.
De la chambre disco gothique de Pavan Brar:
(Traduit par l'inspiration de Julie Forget)
La mélancolie et le bonheur imprègnent Resurrection Machine en entier, en infiltrant le corps par les organes auditifs et en s'y étendant d'un bout à l'autre. Dans leur plus récente parution, les membres de Chevalier Avant Garde maitrisent parfaitement l'art d'accélérer les grooves lents, un processus de transformation qui incite autant à danser qu'à se renfrogner. Mélange de musique électronique ambiante et de voix post-punk reverbérée, la conscience collective du groupe résonne de l'intérieur vers l'extérieur en émettant de froides vagues psychiques qui créent une ambiance propice à l'accueil de l'automne.
Chevalier Avant Garde – Rose Rider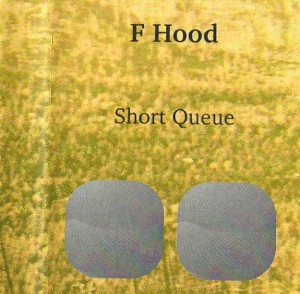 F Hood
Short Queue
(Self Released)
Ottawa, ON
From the moodwave of Adam Bradley:
Through a wizened viewmaster lifted from the topsoil, a child gains a glimpse of an austere future, a grey dimension. A moodwave of sparing highs and chasmic lows map out the emotional poles of living and its heavy truths. Recorded on time-known Uher 4400 reel-to-reel and Tascam 424 devices, these gauzy songs could be pulled from a prophesied future of a time long past. F Hood stir mangled guitar with early-Berlin-style synthesis to make a grim but contented face, dark and diamond and unforgiving.
Du flot changeant d'Adam Bradley:
(Traduit par les ondes mouvantes de Joannie Pharand)
À travers un View-Master délabré soulevé de terre, un enfant entrevoit un futur austère, une dimension grise. Un flot de hauts modérés et de gouffres sans fin mettent en évidence les oppositions entre les émotions ressenties et leurs pénibles vérités. Enregistrées sur des appareils Uher 440 et Tascam 424, ces chansons vaporeuses pourraient être tirées d'un futur prophétisé dans un temps depuis longtemps révolu. F Hood mélange des guitares mutilées et un synthétiseur qui rappelle le style des débuts de Berlin pour s'exprimer par une grimace sinistre mais satisfaite…sombre, scintillante et impitoyable.
Various Artists
Afterburners Vol. 3
Asterisk, Canada
From the cryogenic dream pod of Johnnie Regalado:
The latest offering from Ottawa super-label Bruised Tongue is a curatorial holy grail. Doubling down on their contributors to the first and second Afterburners compilations, Vol. 3 showcases 27 stellar jams from some key players and new heroes in weirdo rock. How are there this many shred-heavy bands in our country, let alone compacted onto a single comp? A feast of fuzz and freak-outs, Afterburners Vol. 3 could be the centerpiece of a twisted time capsule, blowing even more minds when it's cracked open after a few millennia underground.
Du cocon cryogénique de Johnnie Regalado:
(Traduit par les affolements bizarres d'Andréanne Dion)
La dernière parution de Bruised Tongue, le super-label d'Ottawa, est un saint graal de sélection minutieuse. Redoublant les contributions retrouvées sur les première et deuxième compilations Afterburners, le volume 3 présente 27 excellentes chansons de quelques-uns des principaux acteurs et nouveaux héros du rock bizarre. Comment peut-il y avoir autant de groupes portés sur le shred dans notre pays, sans compter sur une seule compilation? Un festin de bourdonnements et d'affolements, la compilation Afterburners Vol. 3 pourrait être la pièce maîtresse d'une capsule historique tordue, qui sera encore plus hallucinante lorsqu'elle sera ouverte après quelques millénaires sous terre.
Organ Eyes – Teenage Kingdomdom
Grime Kings – One Of Us Is Lonely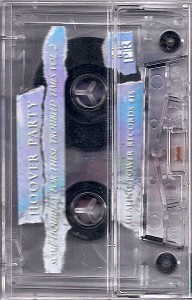 Hoover Party
Some Liquidity for these Troubled Times, Vol. 2
Toronto, ON
From the tiny chakras of James Lindsay:
The devout drones heard here are what's left after Hoover Party takes apart the historical kaleidoscope of psychedelic music and tinkers with its spare parts. Some happy hums hold hands with extraordinary organs around a bonfire for the soul. Here, the sparks dance like tiny chakras, writing positive cursive in the night air. Another great chapter in Healing Power's omnibus of Toronto electric-spirituals.
Des minuscules chakras de James Lindsay:
(Traduit par les étincelles dansantes d'Andréanne Dion)
Les bourdonnements fervents que l'on entend ici sont ce qui reste après qu'Hoover Party a démonté le kaléidoscope historique de la musique psychédélique et a bricolé avec ses pièces de rechange. De joyeux fredonnements et un orgue extraordinaire se tiennent par la main autour d'un feu de joie pour l'âme, où les étincelles dansent comme de minuscules chakras en écrivant des messages positifs en cursives dans l'air nocturne. Voici un autre formidable chapitre de l'anthologie spirituelle-électrique torontoise de Healing Power.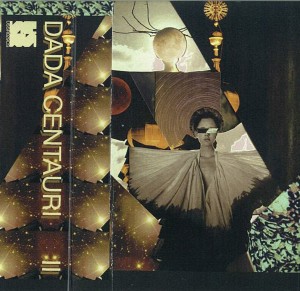 Dada Centauri
II
Calgary, AB
From the space jamb of Bryce Warnes:
When Max Ernst's clone is recruited to design the next ISS module, you can expect that he'll require the on-board sound-system to blast this tape at full volume. Andrew Hume and Whitney Ota of Burro fame reunite under the Dada Centauri banner to pump out a C60′s worth of nebulous space jams. II careens from cosmic tideline ambience to foreboding quasar pulse, computer bleep-bloop to the drone of singing spheres. Occasionally, a loop or phrase straight from the library raises its hauntological head. A stellar grip courtesy of the astro-avant-garde.
Du montant spatial de Bryce Warnes:
(Traduit du balcon d'Andréanne Dion)
Quand le clone de Max Ernst est recruté pour créer le prochain module de la Station spatiale internationale, on peut s'attendre à ce qu'il ait besoin de la chaîne audio à bord pour faire jouer cette cassette à plein volume. Andrew Hume et Whitney Ota, connus pour leur rôle dans Burro, sont réunis à nouveau sous la bannière de Dada Centauri pour produire l'équivalent d'une C60 de sessions spatiales nébuleuses. II oscille entre une ambiance de démarcation cosmique et les battements prémonitoires des quasars, entre les bruits d'ordinateurs et le ronronnement de l'Harmonie des sphères. De temps à autre, un son en boucle ou une expression directement tirée de la bibliothèque pointe le bout de son nez fantomatique. Une emprise stellaire, offerte par l'avant-garde astrale.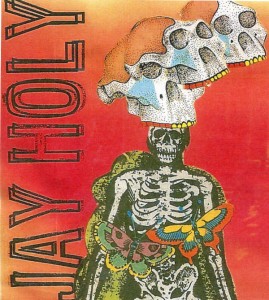 Jay Holy
Skeletor EP
(Self Released)
Toronto, ON
From the sharpened senses of V. Rachel Weldon:
His Holyness speaks in tongues to the skinny congregation. Bones rattle under the floorboards of the neon chapel, and He sweats, waiting for the right time to tear them up and lay eyeballs on an exquisite corpse. Madness sharpens the senses. There is no shame. Call it masturbatory self-annihilation.
The deflated postmodern Medusa folds like a cheap suit. Out of her music box, baroque pop floats on ether, playing with paradox. We're all living like skeletons.
Des sens aiguisés de V. Rachel Weldon:
(Traduit par la folie macabre de Julie Forget)
Sa Sainteté parle en langues à la petite congrégation. Des os s'entrechoquent sous le plancher de la chapelle néon et Il transpire, attendant le bon moment pour les défaire en morceaux et déposer des globes oculaires sur un cadavre exquis. La folie aiguise les sens. Il n'y a aucune honte. Appelez cela de l'autoanéantissement masturbatoire.
La Méduse postmoderne démoralisée se froisse comme un costume bon marché. À l'extérieur de sa boîte à musique, du pop baroque flotte sur de l'éther en jouant avec le paradoxe. On vit tous comme des squelettes.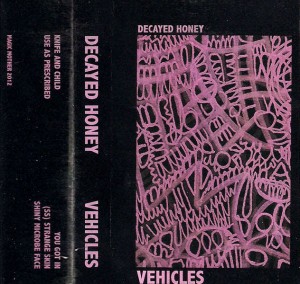 Decayed Honey
Vehicles
Montréal, QC
From the doom room of James Lindsay:
Colder than Cold Wave, more emaciated than Skinny Puppy and more godless than Godflesh, Montreal's already extinct Decayed Honey birthed some of the bleakest minimal Industrial to ever see the moonlight of night. Like an undead corpse from a Pink Noise nightmare, these blackened beats crawl out from under your bed, down the flickering candlelit hall, and into the locked room of doom that no known key can open.
De la pièce maudite de James Lindsay:
(Traduit par l'encre noire de Dominic Mpilé)
Plus froid que le Cold Wave, plus sec que la musique de Skinny Puppy et plus impie que Godflesh, Decayed Honey, groupe montréalais dissout, a accouché de la plus ténébreuse musique industrielle minimaliste sous la lumière de la lune. Comparable à un zombie dans les cauchemars de Pink Noise, ce son glauque surgit de sous votre lit, évolue en rampant dans un couloir illuminé de chandelles et pénètre dans une pièce maléfique qu'aucune clé connue ne peut ouvrir.
Decayed Honey – SS (Strange Skin)
---