Tag: strange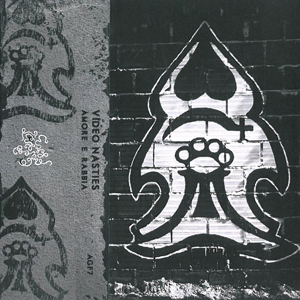 Video Nasties
Amore e Rabbia
Montreal, QC

Subliminal dub vibes strut through the Yamaha netherzone of Rob Feulner's latest blitz. Though not as overtly blunted as the territory patrolled by the
White Dog Family Band
these cosmic currents still jolt where the average synthesist is content to merely shimmer. Portuguese label
A Giant Fern
has housed a limited edition in
screenprinted caskets
, offering a fittingly eye-pleasing package for Wyrd MTL's resident projectionist, coming soon to
a screen near you
.
Audio clip: Adobe Flash Player (version 9 or above) is required to play this audio clip. Download the latest version here. You also need to have JavaScript enabled in your browser.
Video Nasties – Amore: (1) Weak History Text (2) Where Were We? (3) Their Last Days As Children (4) …Those Who See May Become Blind.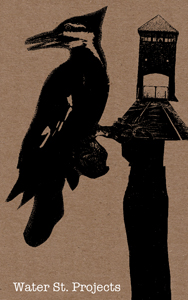 Water St. Projects
Bad Canada
Guelph, ON

Big Sturge's
aquarian guitar heeds a cumulonimbus warning. Low rumbling thunder resides in the near future and if I were a betting man, I'd put twenty across the board on a storm. Near is the rumble, with strings drawn out to bode a "brewing". Get off your hog and walk it to the cabin with the light in the window.
Refuge
comes with Side B, for you've discovered it was a light behind those clouds. From that mountain above you where the fog surrounds the peak comes a holler of "help!" The loop behind it all disintegrates, the guitar begins
plimping
and you've found an old baseball mitt and bottle of Scotch while looking for a pack of waterproof matches.
Audio clip: Adobe Flash Player (version 9 or above) is required to play this audio clip. Download the latest version here. You also need to have JavaScript enabled in your browser.
Water St. Projects – Welcome Home, Dangerous Town
Audio clip: Adobe Flash Player (version 9 or above) is required to play this audio clip. Download the latest version here. You also need to have JavaScript enabled in your browser.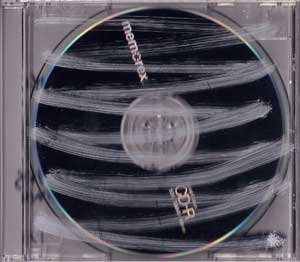 Crabe
(Self Released)
Montreal, QC

Crabe have unleashed a totally blasted and inexplicable artifact from the Montreal underground. Forging undefined links between Archimedean power pop and wasted
Ramones covers
, their unreadably-titled CDR gives the briefest glimpse into basemental prog conjured by the dialectically adventurous. Quintessentially bizarre. We're not even sure if this is
grippable
.
Audio clip: Adobe Flash Player (version 9 or above) is required to play this audio clip. Download the latest version here. You also need to have JavaScript enabled in your browser.
Audio clip: Adobe Flash Player (version 9 or above) is required to play this audio clip. Download the latest version here. You also need to have JavaScript enabled in your browser.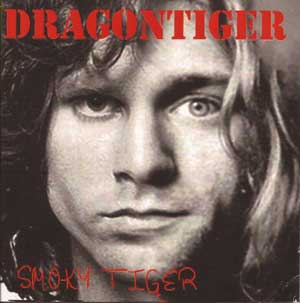 Smoky Tiger
Dragontiger
(Self Released)
Winnipeg, MB

The Cyber Prophet is back, reppin' the Chinese zodiac—playing ubiquitous anthems from two (
supposedly
) suicidal songwriters who you (and classic rock radio) love. His weird cacophony of organ, electric beats, Jim Morrison recordings, and on-board SFX all swish around lyrics you've been mumbling since you were in utero, strange, and all one in the sun. After releasing a profoundly
fractal-shaped
affair, what else could the Year of the Dragon have in store for our Tiger?! West coast: watch out.
Audio clip: Adobe Flash Player (version 9 or above) is required to play this audio clip. Download the latest version here. You also need to have JavaScript enabled in your browser.
Audio clip: Adobe Flash Player (version 9 or above) is required to play this audio clip. Download the latest version here. You also need to have JavaScript enabled in your browser.
The Haiduks
Use Up My Time
[Directed By: Moduli TV]
Montreal, QC

Like a third generation DGC
Rarities
boot melting on Kevin Shields' dashboard, the debut transmission from Montreal's Haiduks is the sound of a popsicle turned to sweet, sweet sugar juice. Switching planes from the ambient bliss-out of his primary project,
Élément Kuuda
, Christian Richer kicks his amp into overdrive with this unstoppably awesome shoegaze pop fist-pumper. The accompanying visuals from Frank "
Hobo Cult
" Ouellette flick through sun-bleached memories from a found-footage family vacation, serving up a pitch-perfect song/video combo.
I want to jump in a lake
.


From the Kimono-draped androgyny of Aaron Levin:
Geidi Primes is a landmark album of modern Canadian fringe, an assemblage of space-station pop memorabilia teleported from a time-static nether-zone beyond the scope of our earthly understanding. I've been waiting months for this, posting anxious pleas to Grimes after hearing the sinuous, harrowing bass-line on Rosa. With the curiously packaged cassette in my fiending grip, the orbiting swaths of synthetic warmth and echoing drum-machines have caused exciting astral projections outside my usual mental musicalia. Geidi Primes takes off from Rosa's minimal bass-lines and launches straight into a strange hybrid of Björk, The Cure, Micachu, and other avant seamstresses, leaving a footprint in every decade and thankfully landing in ours. Chord progressions and samples are pulled from any source imaginable and the aggregation results in a Kate Bushian trail of decadence. It seems pointless and restrictive attempting to describe its brilliance, so I'll stop with this: Geidi Primes is a flagship of hyperbolic dimensions. Get on board.
Audio clip: Adobe Flash Player (version 9 or above) is required to play this audio clip. Download the latest version here. You also need to have JavaScript enabled in your browser.
Audio clip: Adobe Flash Player (version 9 or above) is required to play this audio clip. Download the latest version here. You also need to have JavaScript enabled in your browser.
Audio clip: Adobe Flash Player (version 9 or above) is required to play this audio clip. Download the latest version here. You also need to have JavaScript enabled in your browser.
Audio clip: Adobe Flash Player (version 9 or above) is required to play this audio clip. Download the latest version here. You also need to have JavaScript enabled in your browser.
---