Tag: rock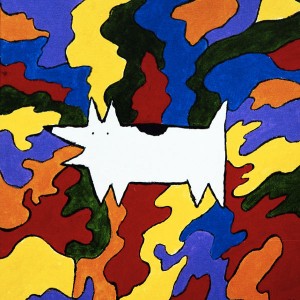 The Unbelievable Bargains
Fun Times Why Not
(Self Released)
Winnipeg, MB
From the explosive hits of Taylor Burgess:
Behold a totally economical batch of jams, deeee-rect from the thrifty city! The Unbelievable Bargains are burning straight out of the birthplace of Monty Hall and K-Tel Records, squeezing 18 whole songs onto a single disc! And dig, I said, DIG, as they breathlessly play hit after scorching hit, leaving you scrambling to decode their light-hearted romps. What's that? You like dogs? Ducks? Rotating fans? Clam-flavoured tomato juice? Well, boy, girl, do you ever need to hear this bouncing, deep fried, battered 'n' buttered, no holds barred album that don't sputter. Act now, and the Bargains will throw in this distinguished warble in the background, absolutely free.
Des hits puissants de Taylor Burgess:
(Traduit de la plume haletante de Dominic MPILÉ)
Voici du jam en abondance, totalement économique, produit diiii-rect de la ville économe! Le groupe The Unbelievable Bargains, tout droit issu du même endroit que Monty Hall et K-Tel Records fait des ravages en mixant 18 chansons complètes en un seul disque! De plus, il creuse, j'ai bien dit CREUSE, tandis que les musiciens jouent des morceaux en haletant après les avoir épuisés; ça secoue à un tel point qu'on essaie de décoder leurs jeux bruyants d'artistes écervelés. Qu'est-ce que ça peut bien être? Aimes-tu les chiens? Aimes-tu les canards? Aimes-tu les ventilateurs ou les palourdes au jus de tomate? Eh bien mon chum, ma chum, n'as-tu jamais envie d'écouter cet album qui fait bouger, exploré plusieurs fois, réutilisé et remixé, un album sans restriction qui ne postillonne pas? Remue-toi, les Bargains joueront ce bourdonnement raffiné dans l'arrière-scène, c'est totalement gratuit.
The Unbelievable Bargains – Disgusting Organs
Couples
In The Grass
(Self Released)
Montréal, QC
From the beastly incantations of Joshua Robinson:
Montréal's Couples cut a vicious rug, and In The Grass is the beastly incantations of the 8-track tape machine that sired it. All raw, no illusion: "I'm sick of this life night after night/Can't you see I'm on the outside?" Find the most perfect and symmetrical wall, and decorate it with a hole authored by your foot. Be angry because you can be. Find that farcical bit of yourself and expose it for all of its inherent baseness. Dark begets dark, with Couples applauding your near collapse, time and again.
Des incantations bestiales de Joshua Robinson:
(Traduit par la maison joviale de Julie Forget)
Le groupe montréalais Couples danse à en arracher les fleurs du tapis et les incantations bestiales de In The Grass, capturées sur magnétophone huit pistes, en sont la cause. Que du brut, pas d'illusion : « Nuit après nuit je ne veux plus de cette vie/Ne vois-tu pas que je ne cadre pas? » Trouvez le mur le plus parfait et symétrique et décorez-le d'un trou gracieuseté de votre pied. Soyez fâché simplement parce que vous le pouvez. Trouvez cette part d'absurdité inhérente en vous et affichez-la au grand jour. La noirceur engendre la noirceur, et Couples applaudit tandis que vous frôlez l'effondrement, encore et encore.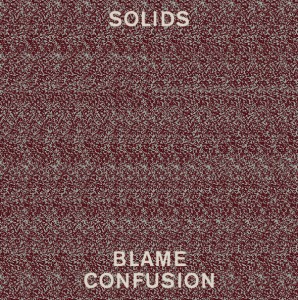 Solids
Blame Confusion
(Self Released)
Montréal, QC
From the impressed ears of d'AnneMarie Papillon:
(Translated by AnneMarie Papillon)
Solids' first LP is worth your attention and — pardon me the obvious pun — ridiculously solid. This Montreal-based duo prove they have the two-piece power and that there's certainly no need for anyone else. This 10-song journey into high quality heavy music is something you'll want to bang your head to, the kind that intentionally sets you into elbow-kick-and-shoulder-romp mode. Solids have put aside the pop-punk sound of their previous EP and are better than ever with more of the loud grungy punk vibe we know and love, still strained through the same lo-fi filter. If you ask nicely, they might even come make their riotous magic in your basement.
Des oreilles pas mal impressionnées d'AnneMarie Papillon:
Le premier LP de Solids' mérite toute votre attention et — pardonnez-moi le jeu de mot évident — est ridiculement solide. Ces deux francophones de Montréal prouvent qu'ils ont le contrôle total de leur ensemble de deux pièces et qu'ils n'ont certainement pas besoin d'une troisième paire de mains. Blame Confusion, c'est un trip de 10 chansons de musique heavy de qualité qui vous fera violemment brasser de la cage, le genre de trip qui vous donne intentionnellement envie de 'varger' à coup de coudes et d'épaules. Le son un peu plus pop-punk du EP précédent est mis de côté ici… Les gars sont de retour et ils sont meilleurs que jamais, avec cette sonorité punk-grunge assourdissante qu'on aime, toujours passée à travers le même filtre lo-fi. Et si vous demandez gentiment, ils viendront peut-être faire leur tapage musical dans votre sous-sol.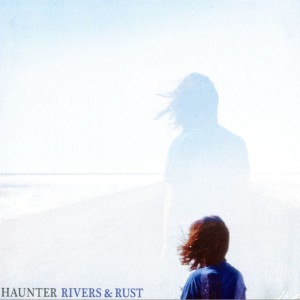 Haunter
Rivers & Rust
Winnipeg, MB
From the whispered words of Joshua Robinson:
Winnipeg's Haunter spill over the brim of summer and flow onto the autumnal floor, bringing with them the vocal melodies and stirring chorus lines that run hot on the heels of college-era nostalgia. Stumbling home and scraping knees on sidewalks, they fall victim to the night and the resonance of prairie nocturnes comforting the desperate and lonely in their time of lunar-induced vulnerability. Rivers & Rust is the manifestation of this youthful and exuberant call to reckless abandon, anathema to the ecclesiastically ordained tenements of routine, order, and calculable action. This is all for the best, however, as Haunter embody the spirit of the memorable night, the stars overhead, the sound of voices on the breeze, and the tacit love that hangs between carefully chosen words whispered into strangers' ears in dormitory hallways.
Des mots chuchotés de Joshua Robinson:
(Traduit par les rêves d'automne d'Andréanne Dion)
Haunter, de Winnipeg, se répandent par-dessus le bord de l'été et coulent sur le sol automnal, amenant avec eux des mélodies vocales et des refrains débordants qui pourchassent la nostalgie des années au collège. Trébuchant sur le chemin du retour et s'écorchant les genoux sur les trottoirs, ils sont victimes de la nuit et des tableaux nocturnes des Prairies qui réconfortent les âmes désespérées et solitaires dans leur vulnérabilité lunaire. Rivers & Rust est la manifestation de cet appel juvénile et exubérant à la témérité, anathème de la routine, de l'ordre et des gestes calculés ordonnés par le clergé. C'est pour le mieux, pourtant, puisque Haunter incarnent l'esprit d'une nuit inoubliable, avec les étoiles au-dessus de nos têtes, le son des voix portées par le vent, et l'amour implicite suspendu entre les mots soigneusement choisis, chuchotés aux oreilles d'étrangers dans les couloirs de dortoirs.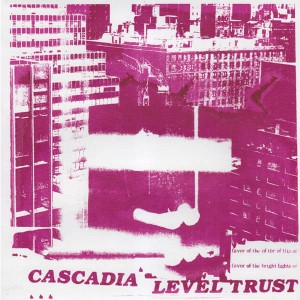 Cascadia
Level Trust
Vancouver, BC
From the passed deadlines of Christopher Laramee:
Here's a lean and mean one from our friends on the left coast. Melodic fury recalling Boston's finest, The Swirlies, duking it out with a punch-drunk and possibly deafened Jesus Lizard. Shoegaze (starting to hate that word) styled lackadaisical vocals push "Yours" into a sonic space few venture near. KARP meets MBV? Yeah, I'm down. Flip the fucker and the b-side's opener "Deny" hits all the right spots with railroad guitars nudging the vocals into a late-night meeting by the bridge for some FINALIZING of a situation. Closer "Ever" pulls the rug out with some neat sludge action and a speed-up that shows the folks to be no mere grunge (hate that one too) copyists. Check this Van City trio quick and maybe they'll drive you into the woods. And leave you there.
Du délai expiré depuis longtemps de Christopher Laramee:
(Traduit par la bougie enflammée de Julie Forget)
Voici tout un EP de nos amis de la côte Ouest. Une fureur mélodique rappelant les meilleurs de Boston, The Swirlies, jouant avec un Jesus Lizard sonné et possiblement assourdi. Les voix apathiques de style shoegaze (je commence à haïr ce mot) poussent « Yours » dans un espace acoustique que peu osent approcher. KARP rencontre MBV? Ouais, j'suis partant. Retournez ce connard de disque et la première pièce de la face B, « Deny », vise juste à l'aide de chemins de fer de guitares, encourageant les voix vers un rendez-vous de fin de soirée près du pont pour FINALISER une situation. Le dernier morceau, « Ever », coupe l'herbe sous le pied avec de l'action boueuse intéressante et une accélération qui montre que ces gens ne sont pas de simples copieurs de grunge (j'haïs ce mot-là aussi). Jetez un coup d'œil à ce trio de Vancouver, ils vous mèneront peut-être dans les bois. Et vous y laisseront.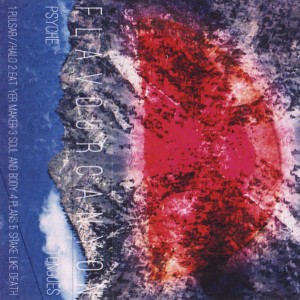 Psyche Tongues
Flavour Canyon
Toronto, ON
From the space-taste of Bryce Warnes:
Psyche Tongues' orange slice of psych-pop confection is a tightly planned astral daytrip. "Eat Yer Maker"'s relentless snare and gamboling bassline set the scene for an expedition to Titan's shores, and the call-and-response chorus of "Soul and Body" recalls certain mutants. "Shake Like Death" is a slowly unfolding, acoustic-picked hymn suitable for summer worship of our local yellow dwarf. None of these tunes clocks in past four minutes, making for a concise and all-too-brief sunburst of citrine space-taste. Juicy!
De l'arôme spatial de Bryce Warnes:
(Traduit par la concision juteuse de Vincent Rondeau)
Ce bonbon pop-psychédélique en forme de tranche d'orange est une excursion astrale hautement planifiée. Le snare insistant et la basse sautillante de « Eat Yer Maker » préparent le terrain pour une expédition sur les rivages de Titan et le refrain à répondre de « Soul and Body » rappelle un certain groupe de mutants. « Shake Like Death » se déroule tranquillement en forme d'hymne acoustique propice à la vénération de notre naine jaune locale. Aucune piste ne dépasse les quatre minutes, donnant une concision juteuse à cette explosion, peut-être trop brève, d'arôme spatial citronné.
Psyche Tongues – Eat Yer Maker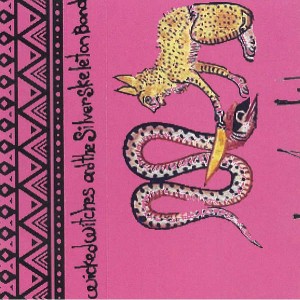 Wicked Witches // Silver Skeleton Band
Split EP
Toronto, ON // Vancouver, BC
From the secret orders of Bryce Warnes:
Toronto's Wicked Witches sing swamp hymns for a sock hop at Arthur Machen Junior High. Tally the garage pop gematria of "666 Cigarettes" and you may find yourself burning your soul at both ends; fast-forward to "Cold Blooded" for a Cadillac cruise into the Abyss. Meanwhile, Vancouver's Silver Skeleton Band surf waves of aural decay and throw a post-spill beach party for the city's restless dead; as "Jangle Bell Blues" rides hashishin smoke rings and lite-doom riffs to the top of the Holy Mountain, the cadavers start necking. Welcome to the gnostic front.
De l'ordre occulte de Bryce Warnes:
(Traduit par le pentagramme incomplet de Nicolas Coutlée)
Les Wicked Witches de Toronto entonnent leurs hymnes marécageux lors d'une soirée dansante au Collège Arthur Machen. Osez déchiffrer la gématrie pop garage de « 666 Cigarettes » et peut-être vous retrouverez-vous à vous brûler l'âme par les deux bouts. Puis, sautez jusqu'à « Cold Blooded » pour une ballade en Cadillac jusqu'au fond de l'Abysse. Pendant ce temps, le Silver Skeleton Band de Vancouver surfe les vagues de décadence sonore et organise un party de plage post-marée noire en mémoire des morts incapables de reposer en paix. Et tandis qu'au sommet de la Montagne sacrée s'élève « Jangle Bell Blues » parmi les ronds de fumée des Hashishins et les riffs doom allégés, les cadavres se mettent à s'embrasser à pleine bouche. Bienvenue sur le front gnostique.
Silver Skeleton Band – Jangle Bell Blues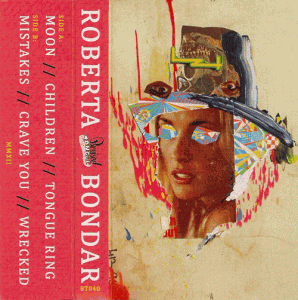 Roberta Bondar
Roberta Bondar EP
Ottawa, ON

Man, space is
cool
. The sheer limitlessness and expanse makes it rife for uninhibited interpretation and dissection. I'm sure you've at least heard the name Roberta Bondar before – probably stuck somewhere in your
elementary subconscious
. Part of a historical menagerie of
noteworthy Canucks
, Bondar now shares a moniker with four young Ottawa weirdos. Their debut EP, a cassette released on heavy-feeling Bruised Tongue, is a hyper-modern swig of what Canadian indie may be decades in the future. With a couple tracks eclipsing the seven-minute mark, Roberta Bondar (the band) is retracing the steps of Canada's original femi-naut. While most of these songs venture deep into blackness ("Tongue Rings", "Crave You"), there certainly are some more solarized tunes. "Mistakes" stretches over fragments of
vogue 90s slackerism
while the oretic, half-time happiness of "Wrecked" seems right in the gimbals of
satellite-spinning no-wavers
. Remember: we're not alone, so let's keep
twirling, twirling, twirling
into oblivion.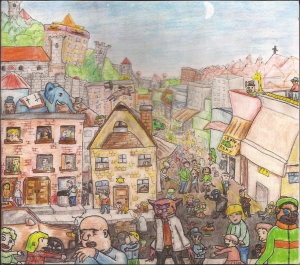 J Riley Hill
J Riley Hill
Winnipeg, MB

After releasing eight albums in eight weeks, J Riley Hill took a full year to record this whacked-out studio pop — heaping on synthesizers, banjos and trombones and wrapping the full-length up with a guitar solo finale worthy of sending you
soaring over rainbows
. Hill's deft wordplay jumps around from
losing the game
to the impossibility of you experiencing his dreams to tearing off your skin and jumping in the fire cuz it feels so good. Serious WTF stuff that feels great bouncing around your intestines.
(rec. traxx: 4, 8)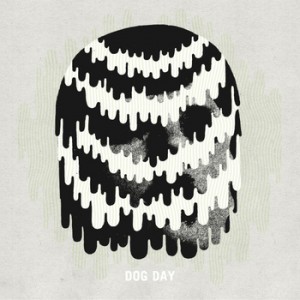 Dog Day
Deformer
(Self Released)
Halifax, NS

Adding salience, excitement and nuance to pop is like having a couple-based band that isn't nauseating; it's a tough thing to do, and if you ever need
some tips
on how to do it, look no further than Dog Day. On
Deformer
, interesting melodies are always on the cusp of sweetness, but they never go full-on, instead they take the infectious side of college rock and marry it to interesting
textures
and unexpected directions, then propel it with earnest energy. Not that you need to feel guilty about listening to pop music, but this has enough substance, roughness and ingenuity that you don't have to justify it to anyone.
Audio clip: Adobe Flash Player (version 9 or above) is required to play this audio clip. Download the latest version here. You also need to have JavaScript enabled in your browser.
Audio clip: Adobe Flash Player (version 9 or above) is required to play this audio clip. Download the latest version here. You also need to have JavaScript enabled in your browser.
---