Tag: rock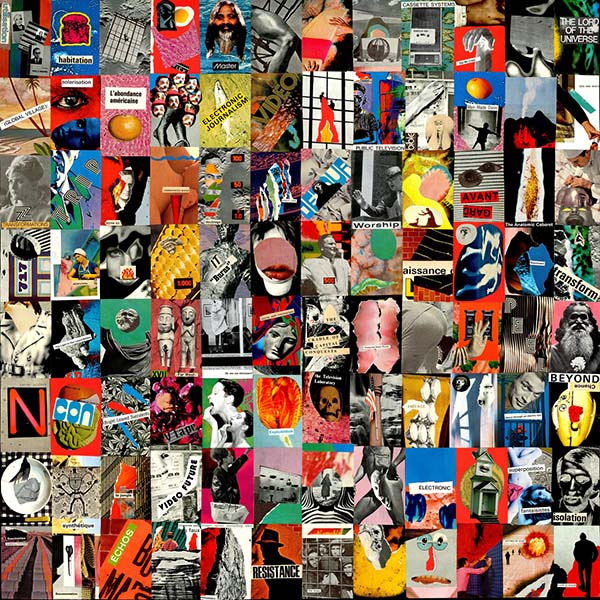 Freak Heat Waves
Bonnie's State of Mind
Victoria, BC
From the island beside an island of Johnnie Regalado:
The freaky boys' latest wave of heat has picked up some serious space debris after reflecting back from their original transmissions. Now wielding their solo palace as a brush to paint in the space between the sound, the trio have reached the equilibrium of master mixer tinkering and raw-from-the-floor reality. Subtle additions to their style blip up in the delicately placed loops and sharply focused vocals. When their songs aren't trying to reprogram your mind they are trying to move your feet.
D'une île à côté d'une île de Johnnie Regalado:
(Traduit par les coins de rue cafféinés de Marie-Pier Chevrier)
La dernière vague de chaleur de ces insolites garçons a collecté d'importants débris spatiaux depuis de leurs premières transmissions. Brandissant maintenant leur propre royaume tel un pinceau pour peindre l'espace entre les sons, le trio a atteint cet équilibre entre le mixage rafistolé à la perfection et la réalité cueillie à même le sol. De subtils ajouts à leur style en ponctuent les boucles délicatement placées et les voix finement mises au point. Quand leurs chansons n'essaient pas de vous reprogrammer le cerveau, elles font tout pour faire bouger votre corps.
Freak Heat Waves – A Civil Servant Awakening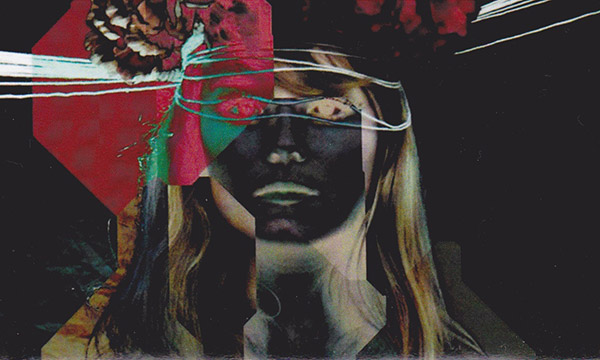 The Yips
Air Loom
Ottawa, ON
From the distorted parapets of Joshua Robinson:
Ouija words spill across distorted distances. Sound waves imbued with garage spirits that once stood so still now force their way through the parapets that keep their potential energy at bay. Air Loom is a staggering edifice of sound; a source of the waves that emanates from the eye of the storm , intorting its breath to the point of becoming the heavy dissonance that turns calm to clamour; 'yeah yeah yeahs' that reverberate across the northernly compass.
Des garde-fous tordus de Joshua Robinson:
(Traduit par Jessica Grenier)
Des mots de Ouija s'étendent sur un horizon déformé. Des vagues de son imprégnées d'esprits de garage, qui jadis restaient si immobiles, essayent de défoncer les garde-fous tenant à distance leur énergie potentielle. Air Loom est un édifice de son vertigineux; c'est la source de ces vagues qui émanent de l'œil de la tempête en tordant sa respiration intérieure, au point de devenir une lourde dissonance changeant le calme en cacophonie. Les « yeah yeah yeah » se répercutent à travers l'étendue nordique.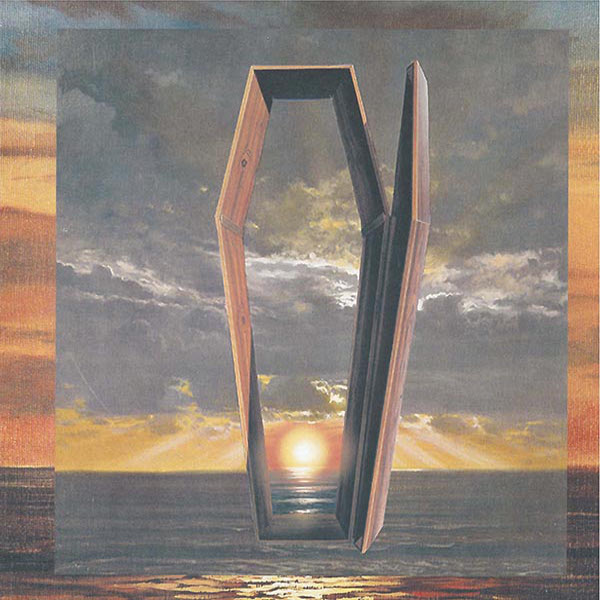 Dead Soft
Dead Soft
Vancouver, BC
From the reaching signals of Brian Fauteux:
Our windows open to the sounds and smells that haven't been present in a season's time. It's the first day of a new year when landlords turn off the heat. In rush transmissions from decades back, when music videos first tumbled through coaxial cable, hitting us with feelings that made our hairs stand on end. Or are these the signals from the dawn of college radio? Either way, Dead Soft delivers the spirit of what these forces once were, of what they never could always be.
Des signaux parvenant à Brian Fauteux:
(Traduit par Jessica Grenier)
Nos fenêtres s'ouvrent sur des sons et des odeurs qui s'étaient absentés le temps d'une saison. Les propriétaires arrêtent le chauffage, c'est le premier jour d'une nouvelle année. Ce sont des transmissions expéditives datant de plusieurs décennies; quand les vidéoclips arrivaient pour la première fois à travers les câbles coaxiaux, nous tombant dessus avec des émotions à nous dresser les cheveux sur la tête. En tout cas, Dead Soft ramène l'esprit de ce qu'étaient alors ces forces – ce qu'elles ne pouvaient pas toujours rester.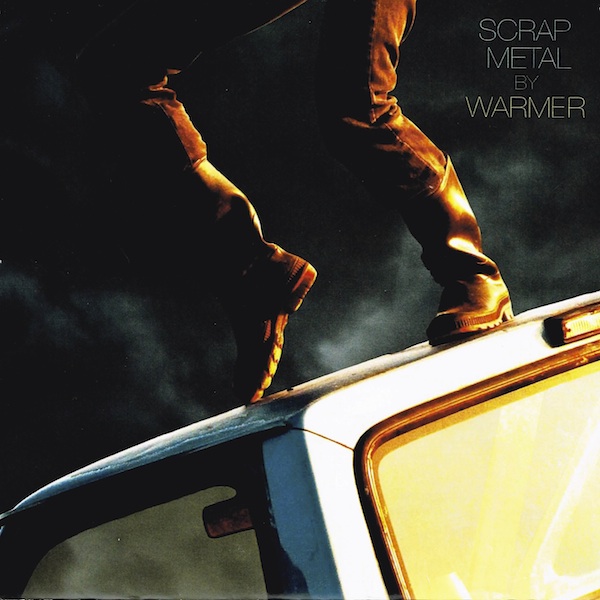 Warmer
Scrap Metal
(Self Released)
Kingston, ON
From the cannabinoid receptors of Sara Bortolon-Vettor:
Tripped out psych-punk trio Warmer teaches us to consistently embrace our environment whether we are in the woods "Howling With Coyotes" or smoking grass with friends. Scrap Metal is a fuzzed-out forest of hallucinogenic guitar accompanied by smooth, dynamic vocals. Sunlight swirls dance beneath your eyelids as tranquil, yet blunt rhythmic textures evoke inner ecstasy. These hazy-punks of Kingston deliver a hard-hitting, psychotropic debut.
Des récepteurs cannabinoïdes de Sara Bortolon-Vettor:
(Traduit par le sac de chips éventré de Jessica Grenier)
Le trio de psych-punk capoté Warmer nous apprend l'acceptation systématique notre environnement, que l'on soit dans les bois (« Howling With Coyotes ») ou en train de fumer de l'herbe avec des amis. Scrap Metal est une forêt *fuzz*ante de guitares hallucinogènes accompagnées d'une voix douce et dynamique. Des tourbillons de soleil dansent derrière nos paupières en suivant l'extase entraînée par les rythmes texturés, directs mais paisibles. Ces punks enfumés de Kingston nous livrent un premier album psychotrope qui frappe fort.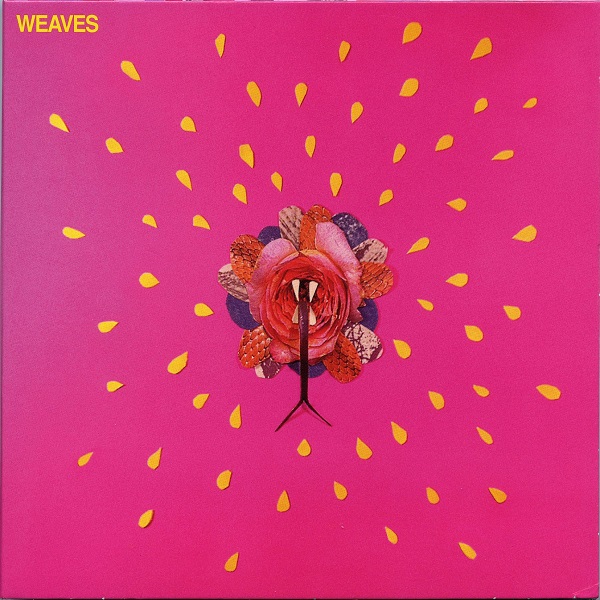 Weaves
Weaves
Toronto , ON
From the convection compartment of Brandon Gray:
Weaves melt buttery, effortless melodies atop the crunch and crumble of a freshly baked, fully loaded grunge funk potato. On "Motorcycle" the quartet turn bristling cock rock on its head as singer Jasmyn Burke's groovy ode to a badboy cutie wrestles with a muscular rhythm section, wooly guitars and pitch-perfect Hammond organ riffs. Meanwhile, "Hulahoop" teeters forward at a comfy pace, leaving room for the sultry elasticity in Burke's voice to morph and fizz alongside guitarist Morgan Waters' understated fuzz fussing. Sour cream anyone?
Du four à convection de Brandon Gray:
(Traduit par Jessica Grenier)
Weaves fond comme du beurre, des mélodies faciles sur une belle grosse patate funk-grunge fondante et croquante. Le quatuor vire le cock rock énergique à l'envers sur « Motorcycle », alors que l'ode chantée par Jasmyn Burke pour un badboy à croquer se bat avec une section rythmique musclée, des guitares confuses et des riffs parfaits d'orgue Hammond. Pendant ce temps, « Hulahoop » vacille vers un endroit confortable, laissant de la place pour que la voix élastique et sensuelle de Burke puisse changer, moussant au rythme du fuzz discret du guitariste Morgan Water. Quelqu'un veut de la crème sure?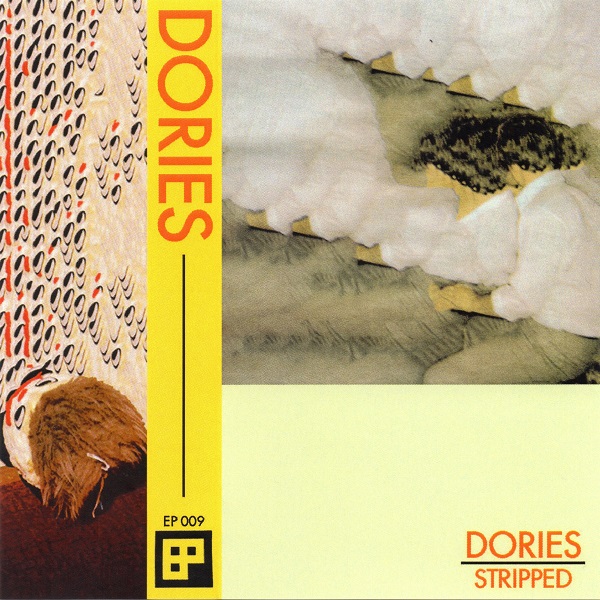 Dories
Stripped
Montreal, QC
From the contained explosion of Mark Gillis:
On Stripped, Dories unveil their perfected strain of Montreal's signature spidery-pop sound. The locked in bass digs a trench that is set against the glistening dissonance of prickly guitars sending needles through your nerves. As these songs start to burst at the seams, the dreamy, droned-out vocals tightly fasten their way around the puzzle pieces to create a contained explosion of hyper-melodies, propelling them into the bright blue sky. We're floating on the clouds now; let's never descend.
De l'explosion contenue de Mark Gillis:
(Traduit par Jessica Grenier)
Avec Stripped, Dories dévoile son type perfectionné de pop arachnéen typiquement montréalais. Une basse bien ancrée creuse une tranchée s'opposant à la chatoyante dissonance des guitares épineuses qui envoient des aiguilles dans vos nerfs. Au moment où les chansons paraissent sur le point de faire exploser leurs coutures, une voix monotone et onirique vient entourer étroitement les pièces du casse-tête, créant une explosion contenue d'hyper mélodies, puis les expulsant vers le ciel bleu. Nous flottons maintenant sur les nuages… ne descendons jamais.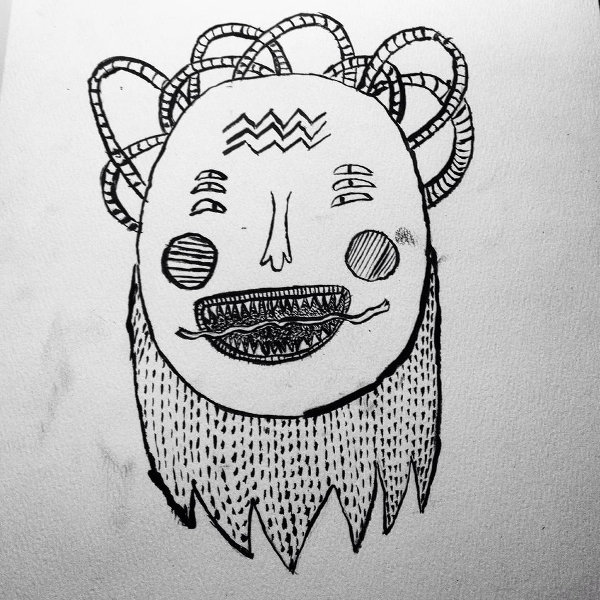 From the low tide of Brian Fauteux:
NVN's EP is more evidence that Saint John, New Brunswick is ripe with affective and atmospheric rock. The purveyor of EP, Sharktooth Records, is an active node at the centre of this sound. These four songs offer a momentary glimpse into an inviting soundscape shaped by bays and shores. Layered beneath wooly rhythms are inviting melodies that ignite feelings of warmth – impervious to the frigid fog banks of the salty Eastern Sea.
De la marée basse de Brian Fauteux:
(Traduit par Jessica Grenier)
Le EP de NVN est une nouvelle preuve que Saint John au Nouveau-Brunswick est rempli de rock affectif et atmosphérique. Le pourvoyeur de EP, Sharktooth Records est le centre névralgique de ce son. Ces quatre chansons permettent d'entrevoir un paysage invitant fait de baies et de rivages. Sous une couche de rythmes enveloppants se trouvent des mélodies qui irradient une sensation de chaleur – imperméables aux bancs de brouillard frigorifique de la mer orientale saline.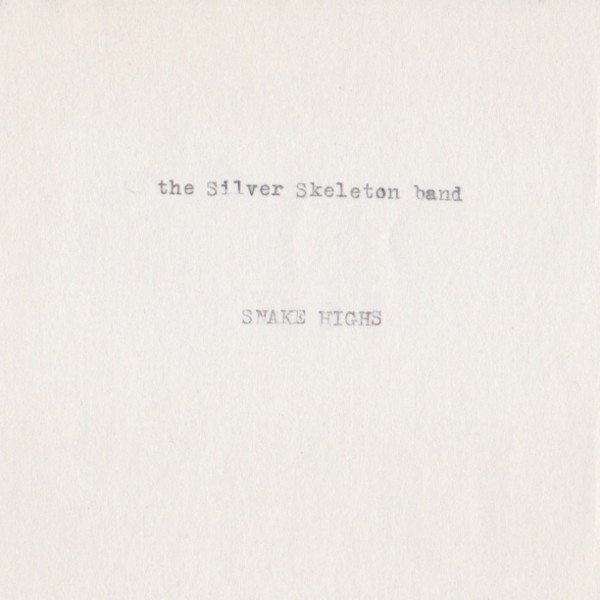 Nick Dirksen and the gang have returned with another collection of ghoulish shanties that cast spells on your corporeal functions and drive you to dance. Next thing you know, you're throwing back strange brews with Dante at his Inferno beach party to welcome the recently deceased. These dudes surely surf the same lysergic waves as Dennis Wilson and the dark side of the Beach Boys, as their cult of nostalgia worships and apotheosizes the shadowy transgressions of the venerated past.
The Silver Skeleton Band
Snake Highs
(Self Released)
Vancouver, BC
From the ghoulish shanties of Trevor Blumas:
Nick Dirksen and the gang have returned with another collection of ghoulish shanties that cast spells on your corporeal functions and drive you to dance. Next thing you know, you're throwing back strange brews with Dante at his Inferno beach party to welcome the recently deceased. These dudes surely surf the same lysergic waves as Dennis Wilson and the dark side of the Beach Boys, as their cult of nostalgia worships and apotheosizes the shadowy transgressions of the venerated past.
Des chansons de marin macabres de Trevor Blumas:
(Traduit par Andréanne Dion)
Nick Dirksen et sa bande sont de retour avec une nouvelle collection de chansons de marin macabres qui jettent un sort sur vos fonctions corporelles et qui vous poussent à danser. Tout à coup, vous êtes sur la plage en train de boire des boissons étranges avec Dante, à un party de bienvenue pour les récemment défunts. Ces gars surfent sans doute sur les mêmes vagues lysergiques que Dennis Wilson et le côté sombre des Beach Boys, alors que leur culte nostalgique adore et glorifie les transgressions obscures d'un passé vénérable.
The Silver Skeleton Band – Isolation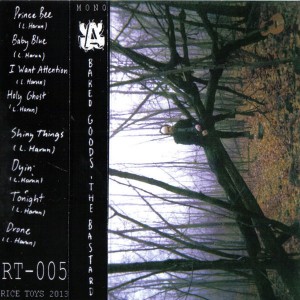 Baked Goods
The Bastard
(Rice Toys)
Montréal, QC
From the shiny things of Gabe Girard:
Getting something of substance across with limited materials seems to be a hallmark of Baked Goods. Their latest release is a stripped-down, bluesy affair with the ambience, loops and effects of previous releases taking a back seat to more structured, gritty rock and roll reverie. The Bastard tells tales of wear and tear, bringing listeners into a world where love is not what it seems. Pop sensibilities left in the street for passers-by, only to be found again — weathered but still working — are all over this tape.
Des objets brillants de Gabe Girard:
(Traduit par la mitaine perdue de Benoit Arcand)
Créer quelque chose de substantifique à partir de peu de matière semble être la marque de commerce de Baked Goods. Leur dernier album est une aventure bluesy dépouillée qui fait passer l'ambiance, les loops et autres effets conjurés sur les précédents efforts sur la banquette arrière à la faveur d'une rêverie rock n' roll rauque plus structurée. The Bastard raconte l'usure et la fatigue, invite l'auditeur dans un monde où l'amour est faux-semblant. Cette cassette est traversée d'une sensibilité pop laissée à l'abandon en pleine rue, érodée mais toujours agissante, attendant d'être retrouvée par un passant.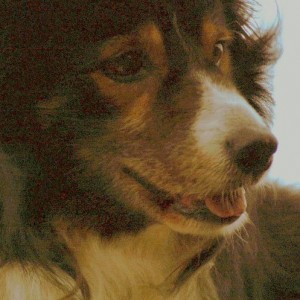 Dog Day
"In Another Life"
(Directed by Seth Smith)
Halifax, NS
From the surreal feel of Christina Bell:
Seth and Nancy's particularly adventurous, superstar pup Woofy is front and centre in this cute dog video made for "In Another Life." The roaming rock 'n' roll track is fresh off their 2013 album Fade Out. Acid aesthetics give the majestic landscape in the video a certain surreal feel. The visuals lend themselves to a hypnagogic atmosphere that is typical of director Seth Smith. The melancholic rock riffs and longing vocals play perfectly with entrancing imagery resulting in a complete dream drenched package.
De la sensation surréaliste de Christina Bell:
(Traduit par les rêves acides de Catherine Gaucher)
Woofy, le chien particulièrement aventureux de Seth et Nancy, est la vedette de ce vidéo de chien mignon tourné pour « In Another Life ». Cette chanson de rock 'n' roll déferlant est fraîchement tirée de leur album Fade Out, paru en 2013. L'esthétique acide du vidéo donne au paysage majestueux une certaine touche surréaliste. L'imagerie se prête à une atmosphère hypnagogique, typique du réalisateur Seth Smith. Ces images envoûtantes s'agencent parfaitement avec les riffs de rock mélancolique et les chants nostalgiques, le résultat étant tout entier imbibé de rêve.
---