Tag: rock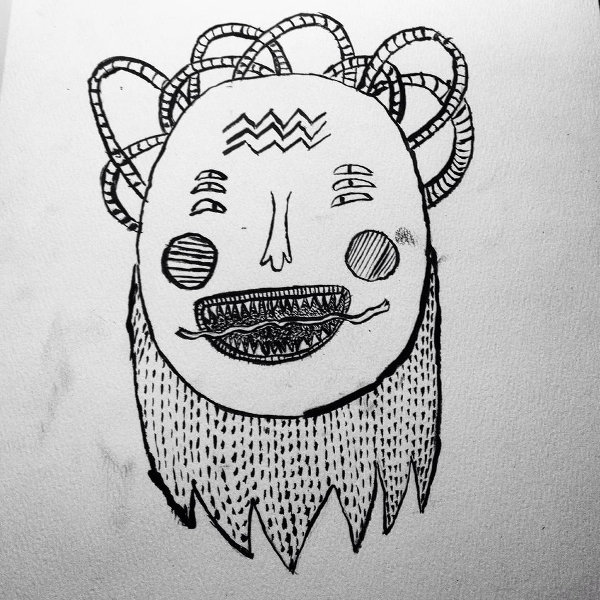 From the low tide of Brian Fauteux:
NVN's EP is more evidence that Saint John, New Brunswick is ripe with affective and atmospheric rock. The purveyor of EP, Sharktooth Records, is an active node at the centre of this sound. These four songs offer a momentary glimpse into an inviting soundscape shaped by bays and shores. Layered beneath wooly rhythms are inviting melodies that ignite feelings of warmth – impervious to the frigid fog banks of the salty Eastern Sea.
De la marée basse de Brian Fauteux:
(Traduit par Jessica Grenier)
Le EP de NVN est une nouvelle preuve que Saint John au Nouveau-Brunswick est rempli de rock affectif et atmosphérique. Le pourvoyeur de EP, Sharktooth Records est le centre névralgique de ce son. Ces quatre chansons permettent d'entrevoir un paysage invitant fait de baies et de rivages. Sous une couche de rythmes enveloppants se trouvent des mélodies qui irradient une sensation de chaleur – imperméables aux bancs de brouillard frigorifique de la mer orientale saline.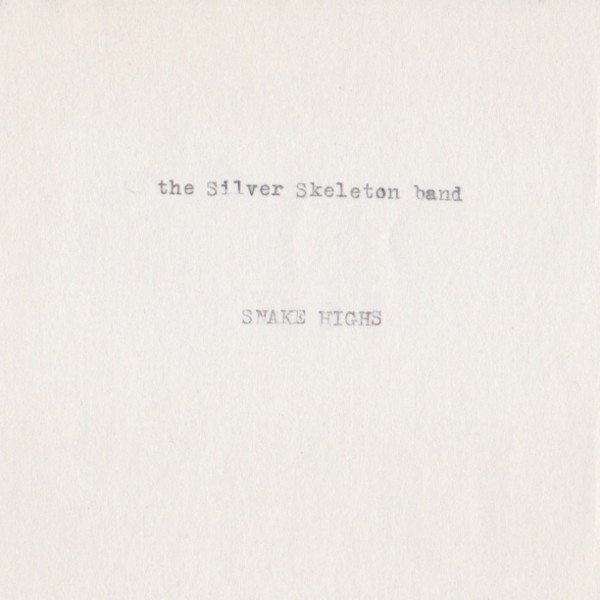 Nick Dirksen and the gang have returned with another collection of ghoulish shanties that cast spells on your corporeal functions and drive you to dance. Next thing you know, you're throwing back strange brews with Dante at his Inferno beach party to welcome the recently deceased. These dudes surely surf the same lysergic waves as Dennis Wilson and the dark side of the Beach Boys, as their cult of nostalgia worships and apotheosizes the shadowy transgressions of the venerated past.
The Silver Skeleton Band
Snake Highs
(Self Released)
Vancouver, BC
From the ghoulish shanties of Trevor Blumas:
Nick Dirksen and the gang have returned with another collection of ghoulish shanties that cast spells on your corporeal functions and drive you to dance. Next thing you know, you're throwing back strange brews with Dante at his Inferno beach party to welcome the recently deceased. These dudes surely surf the same lysergic waves as Dennis Wilson and the dark side of the Beach Boys, as their cult of nostalgia worships and apotheosizes the shadowy transgressions of the venerated past.
Des chansons de marin macabres de Trevor Blumas:
(Traduit par Andréanne Dion)
Nick Dirksen et sa bande sont de retour avec une nouvelle collection de chansons de marin macabres qui jettent un sort sur vos fonctions corporelles et qui vous poussent à danser. Tout à coup, vous êtes sur la plage en train de boire des boissons étranges avec Dante, à un party de bienvenue pour les récemment défunts. Ces gars surfent sans doute sur les mêmes vagues lysergiques que Dennis Wilson et le côté sombre des Beach Boys, alors que leur culte nostalgique adore et glorifie les transgressions obscures d'un passé vénérable.
The Silver Skeleton Band – Isolation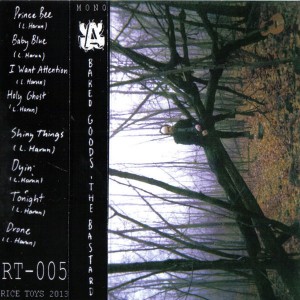 Baked Goods
The Bastard
(Rice Toys)
Montréal, QC
From the shiny things of Gabe Girard:
Getting something of substance across with limited materials seems to be a hallmark of Baked Goods. Their latest release is a stripped-down, bluesy affair with the ambience, loops and effects of previous releases taking a back seat to more structured, gritty rock and roll reverie. The Bastard tells tales of wear and tear, bringing listeners into a world where love is not what it seems. Pop sensibilities left in the street for passers-by, only to be found again — weathered but still working — are all over this tape.
Des objets brillants de Gabe Girard:
(Traduit par la mitaine perdue de Benoit Arcand)
Créer quelque chose de substantifique à partir de peu de matière semble être la marque de commerce de Baked Goods. Leur dernier album est une aventure bluesy dépouillée qui fait passer l'ambiance, les loops et autres effets conjurés sur les précédents efforts sur la banquette arrière à la faveur d'une rêverie rock n' roll rauque plus structurée. The Bastard raconte l'usure et la fatigue, invite l'auditeur dans un monde où l'amour est faux-semblant. Cette cassette est traversée d'une sensibilité pop laissée à l'abandon en pleine rue, érodée mais toujours agissante, attendant d'être retrouvée par un passant.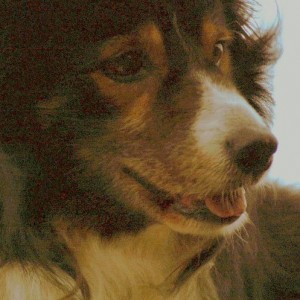 Dog Day
"In Another Life"
(Directed by Seth Smith)
Halifax, NS
From the surreal feel of Christina Bell:
Seth and Nancy's particularly adventurous, superstar pup Woofy is front and centre in this cute dog video made for "In Another Life." The roaming rock 'n' roll track is fresh off their 2013 album Fade Out. Acid aesthetics give the majestic landscape in the video a certain surreal feel. The visuals lend themselves to a hypnagogic atmosphere that is typical of director Seth Smith. The melancholic rock riffs and longing vocals play perfectly with entrancing imagery resulting in a complete dream drenched package.
De la sensation surréaliste de Christina Bell:
(Traduit par les rêves acides de Catherine Gaucher)
Woofy, le chien particulièrement aventureux de Seth et Nancy, est la vedette de ce vidéo de chien mignon tourné pour « In Another Life ». Cette chanson de rock 'n' roll déferlant est fraîchement tirée de leur album Fade Out, paru en 2013. L'esthétique acide du vidéo donne au paysage majestueux une certaine touche surréaliste. L'imagerie se prête à une atmosphère hypnagogique, typique du réalisateur Seth Smith. Ces images envoûtantes s'agencent parfaitement avec les riffs de rock mélancolique et les chants nostalgiques, le résultat étant tout entier imbibé de rêve.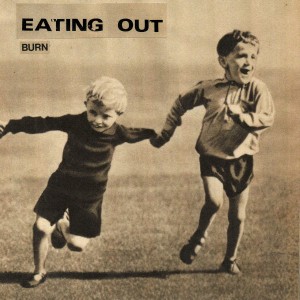 Eating Out
Burn
Vancouver, BC
From the cloudbursts of Alison Lang:
Supergroup is a funny word. It summons visions of older men in sharp hats, or maybe younger men in eyeliner. Eating Out is a supergroup in that it features four punx from three super bands, but there is not a shred of ego heard in the music, nor a single note wasted. The songs on Burn sparkle and crunch like a smashed bottle on pavement darkened by West Coast cloudbursts. And then the closer, "That's My Man," is a ghostly-winsome grunge-pop dream. 100% fun.
Des averses d' Alison Lang:
(Traduit par le déchaînement de Julie Forget)
Le terme « supergroupe » est amusant. Il rassemble les visions de vieux hommes portant d'élégants chapeaux, ou peut-être d'hommes plus jeunes portant du eye-liner. Eating Out est un supergroupe dans le fait qu'il comporte 4 punks provenant de 3 super groupes, mais aucune trace d'ego ne se trouve dans leur musique et aucune note n'y est perdue. Les chansons de Burn éclatent et craquent comme une bouteille se brisant sur la chaussée assombrie par les averses de la côte Ouest. Et puis, le dernier morceau, « That's My Man », se voit être un rêve pop grunge fantomatique-charmant. Voilà 100 % de plaisir.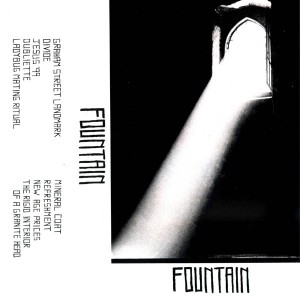 Fountain
Fountain
(Self Released)
Victoria, BC
From the long dormant landline of Johnnie Regalado:
There's no shortage of influences when you first crack open the music of Fountain. That isn't surprising given that half the band members were raised by the kind of dude that had the guts to recently open a record shop in Kelowna, BC. The spiking duo of guitar lines recall Calgary legends Women. The low-toned vocal wash was clearly picked up from a summer of deafening exposure to Copenhagen's finest noise-punks Iceage. But there's also an island-life-inspired lightness that separates this band's twisted tunes.
Assembled as Fountain, they've been tight and raucous since their amps first warmed up. This quartet who are usually all smiles and wylin' out have some loud and lengthy lineage in Victoria. Their debut release demonstrates how a perfectionist approach can really float the tone above its own noise. The dual guitars howl like wild hounds left out in the backyard. The vocals have that same dragging and raspy drawl as a rough morning's first dialogue. The bass and drum lines are the sleek sweeps that usher the frenetic thrash forward. This 20-minute collection of jams feels responsible for maintaining the momentum of the earth's constant rotation.
Du numéro de téléphone inactif de Johnnie Regalado:
(Traduit par le jappement à la lune de Vincent Rondeau)
Les influences de Fountain sont faciles à reconnaître dès la première écoute, ce qui n'est pas si surprenant quand on sait que la moitié du groupe a été élevée par le genre de gars qui a récemment eu le courage d'ouvrir une boutique de disques à Kelowna, BC. Les guitares angulaires en duo rappellent les légendaires Women de Calgary et les rafales de voix basse laissent supposer un été assourdissant passé à écouter les meilleurs noise-punks de Copenhague, Iceage. Les chansons tordues du groupe se démarquent cependant par une légèreté inspirée par la vie insulaire.
Fountain font du tapage avec précision depuis leur premier souffle, mais le quatuor, charmeur et souriant, est issu d'une lignée longue et bruyante. L'approche perfectionniste du groupe porte fruit sur cette première galette où les mélodies se distinguent sans effort du bruit qui les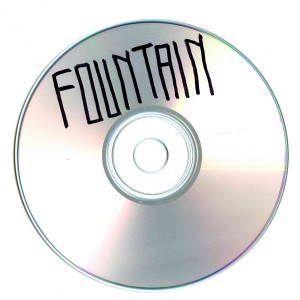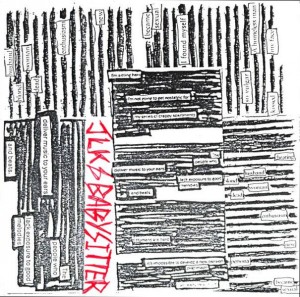 JLK & Babysitter
II
(Self Released)
Montreal, QC // Victoria, BC,
From the super highway of Eamon Quinn:
JLK & Babysitter's second collaborative release is every bit as gleeful as their first outing. This cassette documents the Victorian trio's trip down the rabbit hole as they and Jane L. Kasowicz wiled away a productive unofficial 2013 Montreal summer residency bein' illegal and developing a third eye revision of their sound. If previous releases showed off the group's lurching Bonehead Crushin' chops, even during the most song-oriented moments ("Super highway", "Fur rust ray shone"), II appears to hitch that vibe onto the cracked avant-garage of more emotionally-varied no-fi psych like Photograph Burns or, even more accurately, Cyborgs Revisited.
The rarest hear-it-to-believe-it takes, for my money, are on the spookier end of the affair. Here, JLK's voice is a standout: a downright chilling presence over the percussion-led unmade monster movie soundtrack "Humans are hard" or in her disembodied blues vocalizations on the way-gone lunar boogie of "A homeless man kissed my face". And finally, recalling the Haino / Fushitsusha school of world-embracing psych, the twin weepy balladeering guitars of album closer "All saints down" tunnel like two divining rods towards eerie, dizzying six-string excess. Nothing is left in its wake but the hope they've got their own Double Live in the works. Already sold out at the source, so look out for the upcoming reissue courtesy of Pleasence.
De la méga autoroute d' Eamon Quinn:
(Traduit de source sure par Nicolas Coutlée)
La deuxième collaboration entre JLK et Babysitter s'avère tout aussi jubilatoire que leur première. Cette cassette documente le périple du trio de Victoria jusqu'au fond du terrier du lapin, à l'occasion d'une résidence estivale non officielle d'une prodigieuse productivité à Montréal; en compagnie de Jane L. Kasowicz, les garçons se sont complus gaiement dans l'illégalité tout en révisant leur son à partir d'un tout nouveau troisième oeil. Si leurs parutions précédentes nous ont montré toute la brusquerie de leurs riffs à la Bonehead Crushers, II emboîte le pas (même durant les moments mélodiques de « Super Highway » et de « Fur rust ray shone ») et s'aventure sur les routes rocailleuses avant-garage au dénivelé émotionnel prononcé du no-fi psychédélique de Photograph Burns ou encore plus précisément de Cyborgs Revisited.
À mon avis, les morceaux qu'il faut entendre pour le croire se retrouvent du côté obscur de cette galette. La voix de JLK y est époustouflante : une présence à vous glacer le sang qui flotte sur la trame sonore percussive du film de monstres jamais tourné « Humans are hard » ou encore ces vocalisations blues désincarnées sur le [boogie lunaire] anémique de « A homeless man kissed my face ». Et pour finir, rappelant l'école psychédélique universelle de Haino/Fushitsusha, les guitares jumelles larmoyantes de la ballade ultime, « All saints down », s'élancent comme deux baguettes de sourcier vers un débordement étourdissant et effrayant de six cordes. Rien ne survit à cette éruption, sauf l'espoir qu'un Double Live soit en cours de production. Le tirage initial s'étant déjà écoulé, gardez l'oeil pour la réédition à venir sur Pleasence.
JLK & Babysitter – Super Highway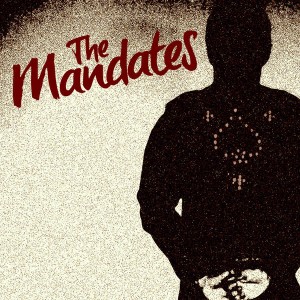 The Mandates
The Mandates
(Self Released)
Calgary, AB
From the secret cave hideaway of Matthew Lazenby:
The Mandates trade in greasy, sleazy rock 'n roll without a care in the world, yet every moment is tight and compact. Some may hear this collection of fist-pumping gems and refer to it as a throwback: three-minute tunes basking in timeless traditions of balls-out rock. And while it's true that songs like "Gotta Forget That Girl" and "Daggers Girl" get me thinking about the Dead Boys or Richard Hell and the Voidoids, the sheer pluckiness and charm of this record is pretty irresistible. "She's Walkin' Over" closes the album in style with a driving beat, trashy power chords, and infectious hooks. Simply put, the Mandates' new record is a barrage of snot-nosed guitar-laden fun.
De la cave secrète de Matthew Lazenby:
(Traduit par Catherine Gaucher)
The Mandates font dans le rock 'n' roll graisseux, mal famé, sans le moindre tracas du monde, et pourtant chaque instant qu'ils produisent est juste et concis. Percutant comme un coup de poing, certains diront de ce rassemblement de petits bijoux qu'il est une visite dans le passé : des chansons de trois minutes faites dans les traditions pures d'un rock couillu. Même s'il est vrai que des titres comme « Gotta Forget That Girl » et « Daggers Girl » me font penser aux Dead Boys ou à Richard Hell and the Voidoids, la pure bravoure et le charme de cet album sont assez irrésistibles. Dans un rythme déferlant, c'est avec style que « She's Walkin' Over » clôt cet album grâce à ses power chords trash et ses hooks contagieux. En bref, ce dernier album de The Mandates est rempli d'un plaisir chargé d'arrogance et de guitares.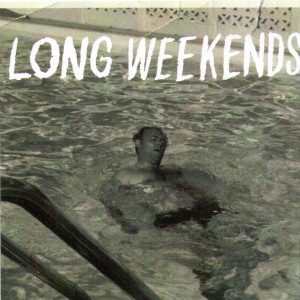 Long Weekends
Tell It To My Heart
(Self Released)
Halifax, NS
From the tremulous cadence of Mark Streeter:
True story: I jammed this EP all summer long at my bookstore job in Southern Ontario, and people were always coming up to the desk to ask what it was. That their guesses would range everywhere from — true story, remember — Arcade Fire (I suspect this has to do with Noel's slightly tremulous cadence) to the Wipers (witness the searing first minute of "Trades") says a lot about the band's versatility and its range of sonic touchstones.
Long Weekends sound as immediate and energetic as anybody's first band, but also full of the kind of craftsmanship and confidence that comes from a solid decade of playing in dozens of bands and sharing practice spaces/apartments/record collections with dozens of other people in bands. From the 'verbed out guitars to the drums thudding off the walls, and lyrics about feeling like a chump for having done the right thing, this sounds like music that is made in a part of the world where you go surfing in a full body suit, equal parts courageous and vulnerable.
There's (probably) no such thing as a "Halifax sound" — a term that is likely to strike you as insufferable if you're from there — but there's a great Walrus article yet to be written about the unique circumstances that make the city such a strong incubator of tradition. Bands like Monomyth and Moon (another Noel M project!) are getting a lot of recognition outside Halifax city limits, but the well runs so much deeper. It's unlikely that this very part-time band of guys with very full-time jobs will ever come to play your town (the band name doubles as their jam schedule) so let these recordings transport you to the coast.
De la cadence frémissante de Mark Streeter:
(Traduit par le repos complet de Catherine Gaucher)
Histoire vraie : Durant tout un été, alors que j'étais libraire dans le sud de l'Ontario, j'ai écouté cet EP et les gens affluaient à mon comptoir pour me demander ce qui jouait. Les suppositions allaient dans toutes les directions — rappelez-vous, c'est une histoire vraie — d'Arcade Fire (probablement à cause de la cadence légèrement frémissante de Noel) aux Wipers (en raison de la brûlante première minute de « Trades ») : cela en dit long sur la polyvalence de ce groupe et sur la diversité de ses références soniques.
Le son de Long Weekends est aussi immédiat et énergique que n'importe quel groupe débutant, mais aussi travaillé et rempli d'une assurance obtenue grâce à une bonne décennie à faire partie d'une dizaine de groupes et à partager des espaces de pratique/appartements/collections de disques avec une dizaine d'autres personnes dans des groupes. Des guitares retentissantes jusqu'aux imprévisibles battements sourds de tambours et grâce à des paroles évoquant l'impression de se sentir idiot pour avoir bien agi, cette musique sonne comme si elle avait été composée dans un endroit du monde où l'on surfe vêtu de la tête au pied d'une combinaison, à la fois courageux et vulnérable.
Il n'existe (probablement) pas de « son Halifax » — un terme sûrement insupportable si vous êtes originaire de là-bas — mais il y aurait un excellent article à écrire dans le Walrus au sujet des circonstances uniques qui font de cette ville un tel incubateur de traditions. Des groupes tels que Monomyth et Moon (un autre projet de Noel M!) attirent beaucoup d'attention à l'extérieur des limites de la ville d'Halifax, mais la source est loin d'être épuisée. Il est peu probable que ces groupes à temps très partiel formés par des gars ayant des emplois à temps très plein viennent jouer dans votre ville (le nom du groupe évoque leur emploi du temps très chargé), alors laissez cet enregistrement vous transporter sur la côte.
Long Weekends – The Best You Ever Had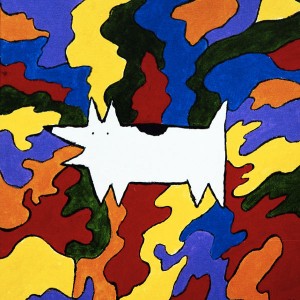 The Unbelievable Bargains
Fun Times Why Not
(Self Released)
Winnipeg, MB
From the explosive hits of Taylor Burgess:
Behold a totally economical batch of jams, deeee-rect from the thrifty city! The Unbelievable Bargains are burning straight out of the birthplace of Monty Hall and K-Tel Records, squeezing 18 whole songs onto a single disc! And dig, I said, DIG, as they breathlessly play hit after scorching hit, leaving you scrambling to decode their light-hearted romps. What's that? You like dogs? Ducks? Rotating fans? Clam-flavoured tomato juice? Well, boy, girl, do you ever need to hear this bouncing, deep fried, battered 'n' buttered, no holds barred album that don't sputter. Act now, and the Bargains will throw in this distinguished warble in the background, absolutely free.
Des hits puissants de Taylor Burgess:
(Traduit de la plume haletante de Dominic MPILÉ)
Voici du jam en abondance, totalement économique, produit diiii-rect de la ville économe! Le groupe The Unbelievable Bargains, tout droit issu du même endroit que Monty Hall et K-Tel Records fait des ravages en mixant 18 chansons complètes en un seul disque! De plus, il creuse, j'ai bien dit CREUSE, tandis que les musiciens jouent des morceaux en haletant après les avoir épuisés; ça secoue à un tel point qu'on essaie de décoder leurs jeux bruyants d'artistes écervelés. Qu'est-ce que ça peut bien être? Aimes-tu les chiens? Aimes-tu les canards? Aimes-tu les ventilateurs ou les palourdes au jus de tomate? Eh bien mon chum, ma chum, n'as-tu jamais envie d'écouter cet album qui fait bouger, exploré plusieurs fois, réutilisé et remixé, un album sans restriction qui ne postillonne pas? Remue-toi, les Bargains joueront ce bourdonnement raffiné dans l'arrière-scène, c'est totalement gratuit.
The Unbelievable Bargains – Disgusting Organs
---