Tag: rare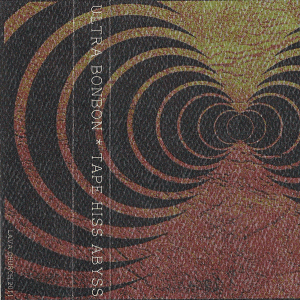 Ultra Bonbon
Tape Hiss Abyss
Ponoka, AB

Danny Milanese (a.k.a. Ultra Bonbon) kicks it out for Sarasota, Florida's
Lava Church Records
on these two sides of cold stare. This aptly titled release was apparently recorded in the dead of winter in good ol'
Ponoka
, perhaps influencing the desolate vibes that wander like a lone dog on a lonely street.
Nurse With Wound
comes to mind at moments, also a sense of stillness, maybe due to geographical or personal disconnection with what's going on. I'm just fishing here, but let me wander….Two tracks, two sides, no titles, nothing to get in the way of some fine brain scrub, a cleanse for the psyche, if you will. Anyhoo, get on top of this one before it's gone. Dan's tapes disappear quick!
Audio clip: Adobe Flash Player (version 9 or above) is required to play this audio clip. Download the latest version here. You also need to have JavaScript enabled in your browser.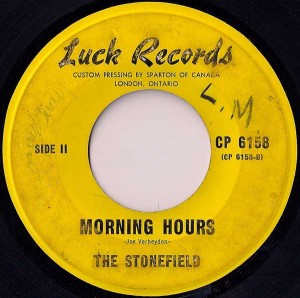 The Stonefield
Deep Shades of Blue b/w Morning Hours
(Luck Records)
Rycroft, AB
Originally Released: 1967

Hailing from one of the most northernly outposts in Canada, The Stonefield remain an enigma within the Canadian garage-punk cosmos. An easy personal favorite and serious head-scratcher with its brutal fuzz massacre, dual piano weirdness, and bewildering A/B-side pairing. "Deep
Shades of Blue
" oozes an addictive, lysergic weariness with its mid-tempo somber organ stuck firmly in a minor-key while their drummer, seemingly in his own universe, augments the pacing with a complete disregard for
drum pattern awareness
. "Morning Hours", the track that has grippers sweating this single pretty hard, is equally confusing, with a relentless bawdy piano swirling beneath the primitive fuzz lead, secondary organ (two keyboards?!), and
bleary vocals
(singer Joe Verheyden has stated that he had a flu the day they recorded). The pièce de résistance hits mid-way through "Morning Hours" when one of the most intense and ridiculous fuzz-guitar solos totally drowns out the entire track. I once drove to
The Hub of the Peace
(Rycroft) on a mission to uncover the mystery behind the band and their insanely obscure 7″ to little success. They recorded in Edmonton and later reformed as The Exit, leaving the rest of the world to ponder the sheer awesomeness and absurdity of their legacy. I'd like to dedicate this post to my very close friend
Jon Murphy
who has brought a much needed light to many unknown 60s singles throughout Canada, including The Stonefield.
Audio clip: Adobe Flash Player (version 9 or above) is required to play this audio clip. Download the latest version here. You also need to have JavaScript enabled in your browser.
The Stonefield – Morning Hours
Audio clip: Adobe Flash Player (version 9 or above) is required to play this audio clip. Download the latest version here. You also need to have JavaScript enabled in your browser.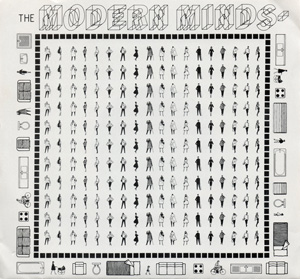 The Modern Minds
Theresa's World b/w Bungalow Rock, It's Gone
(Bumstead)
Edmonton, AB
Originally Released: 1980

In his infinite pursuit of happiness,
Moe Berg
tore Edmonton asunder with his madly obscure pop bonanza, The Modern Minds. Their lone, over-sized 7″ comes packaged in a sandwich bag and screams ultimate grippage with its chic 80s print and references to the Pointed Sticks and
Rock 'n' Roll Bitches
plastered on the back. Inside the 7″ is teeming with Berg's teen angst, kiltered hooks, and bewildering guitar shreddery, making it an instant hit factory for anyone fortunate enough to stumble into a copy. Berg's brilliance resides in cementing every lyric and riff deep within your pop consciousness while transfiguring his strangely warm and intimate personality into every frenetic strum. He remains a personal favorite and infinite source of ridiculous pop inspiration. While Weird Canada fetishes the physical object, the true majesty of The Modern Minds is best experienced through the
Japanese reissue
of in-studio tracks performed (presumably) at
CKUA
, or you can venture through these
recently-surfaced live recordings
featuring covers of The Modernettes and a song about Edmonton stabbings! BERGMONTON!
Audio clip: Adobe Flash Player (version 9 or above) is required to play this audio clip. Download the latest version here. You also need to have JavaScript enabled in your browser.
The Modern Minds – Theresa's World
Audio clip: Adobe Flash Player (version 9 or above) is required to play this audio clip. Download the latest version here. You also need to have JavaScript enabled in your browser.
Christmas
Heritage
(Daffodil)
Oshawa, ON
Originally Released: 1970


From the spirited christmas of Aaron Levin:
Bob Bryden's recorded legacy is a humbling testament to the zenith of teenage creative potential. At the age of eighteen, Bob walked into a studio to record his fourth LP, the second under the banner of his hand-picked band Christmas (having already recorded two LPs as a leading member of Reign Ghost). Heritage remains a brilliant synthesis of lysergic hard-rock and the emerging streams of progressive shreddery. Crisp, punchy drums burst through the continuous leads, crunchy guitar, and trademark machine-gun bass lines to reveal an imaginative, surprising, and radiant vision of pop musics' future. One of the best and most creative records released in Canada and a great way to start adventuring within Byrden's amazing career.
Audio clip: Adobe Flash Player (version 9 or above) is required to play this audio clip. Download the latest version here. You also need to have JavaScript enabled in your browser.
Audio clip: Adobe Flash Player (version 9 or above) is required to play this audio clip. Download the latest version here. You also need to have JavaScript enabled in your browser.
---