Tag: punk
Hag Face
Hag Face
(Self-Released)
Calgary, AB
From the creep-surf of Penny Clark:
This album sounds like a slew of demons tearing it up at the biggest house party. On a tropical island. With surfing. During a lightning storm. After an ominous introduction, the album sprints with wicked fast creep-surf riffs, metallic wah wah and cackling vocals. Careening basslines slash through with the fury of a Bash Brother and the pull-no-punches drummer punctuates the joyously vicious lyrics. Screeching guitar feedback glistens alongside their seething rhythms. Closer "Shake" shifts the tone and becomes even noisier, which creates an effect of distance as Hag Face withdraw into the night's fog.
Du creep-surf de Penny Clark:
(Traduit de l'île tropicale de Justine Gabias)
Cet album sonne comme un tas de démons s'envoyant en l'air dans un immense house party. Sur une île tropicale. Avec du surf. Pendant un orage électrique. Après une introduction menaçante, l'album déferle avec des riffs effrénés de creep-surf, du wah wah métallique et une voix crépitante. Les jeux de basse chancelants tranchent avec la furie d'un Bash Brother et la batteuse, qui ne fait pas de quartiers, souligne des paroles joyeusement vicieuses. Le feedback grinçant des guitares miroite aux côtés de leurs rythmes enragés. La piste finale « Shake » change le ton et devient encore plus bruyante, ce qui crée un effet de distance alors que Hag Face se retire dans le brouillard nocturne.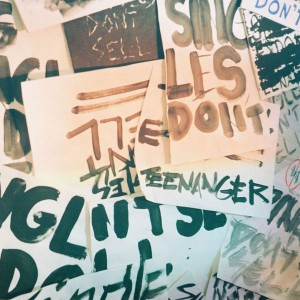 Teenanger
Singles Don't $ell
Toronto, ON
Du buzzsaw ouvrier de James Lindsay:
(Traduit par Jankarza)
La génération favorite de (Snott)Y punks de Toronto et piliers de l'importante maison de disques Telephone Explosion laissent le garage pour un new wave sale en continuant de hurler un rock buzzsaw de façon astucieuse, sexy et cynique. Ils sont devenus des adultes (dans un bon sens), mais pas nécessairement plus matures (aussi dans un bon sens), tout comme quelque riche garçon fou et désorienté que tu ne peux cesser de regarder.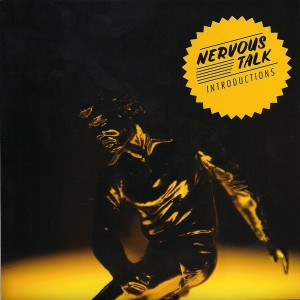 Nervous Talk
Introductions
Vancouver, BC
From the buzzing brain-bin of Alex Hamlyn:
After delightfully fraying nerves and chasing the white whale that is perfect garage pop, Joel Butler has rounded up a new crew of lean, mean West Coast rock 'n' roll veterans. Guitars chug, toms pound and the gang will have you joining in with their "ah ah"s before you know it, but the lyrics come straight from the grand punk tradition of the airing of grievances. These lads are too wise to take any crap, and they want to "introduce you/ to a fist/ that's just been waiting to meet you", so be glad they're on the side of good.
De la poubelle cérébrale d' Alex Hamlyn:
(Traduit par les oeufs catapultés de Nicolas Coutlée)
Après nous avoir délicieusement tapé sur les nerfs et chassé la baleine blanche qu'est la parfaite chanson garage pop, Joel Butler s'entoure d'une redoutable bande de vétérans rockeurs de la côte Ouest. Leurs guitares haletantes et leurs rythmes martelés auront tôt fait de vous faire entonner en choeur leurs « ah ah », même si les paroles s'inscrivent plutôt dans la grande tradition punk d'expression de doléances. Ces gars-là ne se laissent pas marcher sur les pieds et veulent « vous présenter / un poing / qui se meure de faire votre connaissance », alors soyez reconnaissant qu'ils se trouvent du côté des gentils.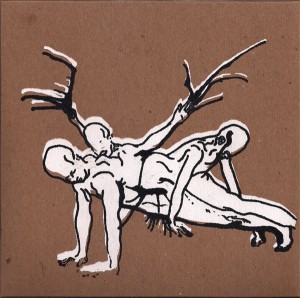 WTCHS // Das Rad
Split Lathe
(Perdu)
Hamilton, ON // Toronto, ON
From the brooding darkness of James Lindsay:
It's been a big year for Hamilton's WTCHS, whose mournful post-hardcore could be a soundtrack for Steeltown in decay. On "Overkilmer/Some Girls" they have a chilly, haunted echo like the members of Fugazi holding a séance to channel the spirit of young Robert Smith. This contrasts their live performances, where the lights go off, the bottom drops out, and all the shadows nod their heads in agreement with the brutish monster that broods in the dark. They're never afraid to share their releases with kindred souls, but hopefully there's a solo LP looming just over the horizon.
On the flipside, Toronto's morticians of rock 'n' roll, Das Rad, exhume their strongest work to date. Like a deranged surgeon sewing bits of bodies together, they graft the Cocteau Twins' romantic moods and non-lyrical vocalizations with Black Sabbath's cloak and cross wearing proto-metal. Surprisingly, the Promethean they create is anything but dour, loving life as it reenacts Saint Vitus's dance around the room, even though it dresses only in black.
Des ténèbres rampantes de James Lindsay:
(Traduit par la danse de Saint-Guy désapprise de Nicolas Coutlée)
Grosse année pour le groupe WTCHS de Hamilton, dont le post-hardcore mélancolique pourrait servir de bande sonore à la ville de l'acier en déclin. L'écho paisible et fantomatique de « Overkilmer/Some Girls » résonne comme si les membres de Fugazi tenaient une séance de spiritisme pour entrer en contact avec le jeune Robert Smith. Cette ambiance contraste avec leurs concerts, où les lumières s'éteignent, quelque chose se brise, et soudain les ombres se mettent à hocher de la tête à l'unisson avec la bête sauvage qui rôde dans les ténèbres. Le groupe ne craint pas de partager la vedette avec des âmes compatibles, mais heureusement un album solo point à l'horizon.
De l'autre côté, les croque-morts du rock and roll, les Torontois de Das Rad, exhument leurs meilleures pièces à ce jour.Tels des chirurgiens fous couseurs de bouts d'organe hétéroclites, ils greffent au romantisme et aux vocalisations sans paroles des Cocteau Twins le proto-métal à croix et tunique de Black Sabbath. Surprenamment, la créature prométhéenne qui voit le jour n'a rien d'effrayant, mais incarne plutôt l'amour de la vie alors qu'elle réinterprète [la danse de Saint-Vitus] tout de noir vêtue.Grosse année pour WTCHS de Hamilton dont le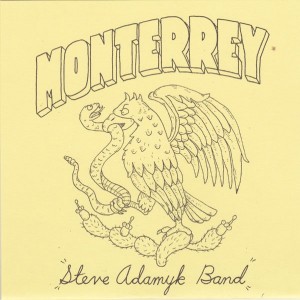 Steve Adamyk Band
Monterrey
Ottawa, ON
From the empty pint glass of Joel French:
From our nation's capital by way of Toronto's always excellent Hosehead Records comes another punishing punk gem by Steve and the boys. Four songs that cut sharper than a custom Bryan Adams switchblade and showcase exactly what this band does best: fist pumping sing-a-longs with hooks for days and a party vibe that will make you not give a single care about the beer that was just poured on your head.
De la pinte vide de Joel French:
(Traduit par la tasse pleine d'Andréanne Dion)
Depuis la capitale nationale, par le biais du toujours excellent Hosehead Records de Toronto, nous provient une autre perle rare de punk infernal de la part de Steve et son groupe. Quatre chansons plus acérées qu'un couteau à cran d'arrêt de Bryan Adams fait sur mesure et qui mettent en valeur précisément ce que ce groupe fait de mieux : des chansons accrocheuses que l'on peut chanter tous ensemble, les poings dans les airs, et une ambiance de fête qui vous fera oublier la bière qu'on vient de vous verser sur la tête.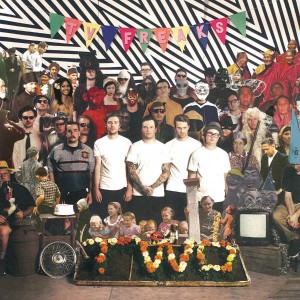 TV Freaks
Two
Hamilton, ON
From the TV eye of Joel French:
If Iggy Pop looked less like a catcher's mitt and more like a tattooed shit-disturber with a beer gut. If the Stooges played spastic punk at breakneck speeds. If they all still had the early energy of the Funhouse days. Then maybe they could hold a candle to these Hamilton punks' live performance. This record sounds and feels just like that. I dare you to stay calm.
De l'œil télévisuel de Joel French:
(Traduit par la danse effrénée d'Andréanne Dion)
Si Iggy Pop ressemblait moins à un gant de baseball et plus à fouteur de merde tatoué avec une bedaine de bière. Si The Stooges jouaient du punk spasmodique à une vitesse casse-cou. Si ils avaient encore l'énergie du début, au temps de Funhouse. Alors peut-être pourraient-ils arriver à la cheville de la performance en direct de ces punks d'Hamilton. Cet album évoque ce son et ces sentiments. Je vous défie de rester calme.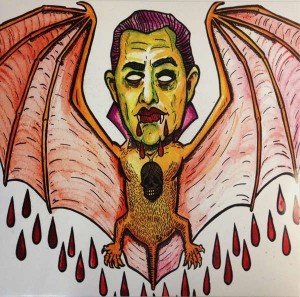 Pink Wine
Untitled
Toronto, ON
From the pink whine of Jesse Locke:
You can only beat on the brat for so long before he starts to beat back. On Pink Wine's debut platter (LP from the Canuck-punk lovers at P. Trash and cassette from the hosers at Hosehead), these rough-and-tumble charmers slick back their quiffs and hit the street with baseball bats swingin'. Joel French's bubblegum vox would make Nobunny proud, and the tunes are a timeless blast of soda shop bop. Oh yeah!
Du gémissement rosé de Jesse Locke:
(Traduit par Jankarza)
Vous ne pouvez taper sur le petit morveux que pour un certain temps avant qu'il ne vous tape dessus en retour. Sur le premier album de Pink Wine (33 tours offert par les amoureux de punk canadiens de P. Trash et cassette offerte par les arroseurs de Hosehead), ces chahuteurs charmeurs se lissent les cheveux en arrière et sortent dans la rue en balançant leurs battes de baseball. La voix gomme balloune de Joel French rendrait Nobunny fier, et les chansons sont une explosion intemporelle de be-bop de snack-bar. C'est ça!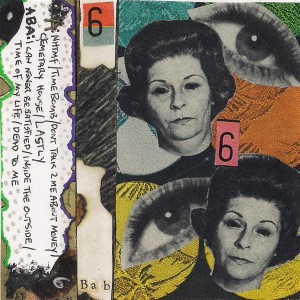 Babysitter
Tape 666
(Self Released)
Victoria, BC
From the deranged ride of Joel French:
Don't let the name fool you. Babysitter has no business being around children. They're loud. They've got riffs. They've got lots of hair. They can be as bizarre as they can be beautiful and it's all wrapped up in recordings so fuzzed out they hum. Tape 666 is a deranged ride (a six-sided triple cassette, to be specific) through the minds of wizards – pissed wizards who dig grunge, like to trip out and have one hell of a pop sensibility. Just lean back, close your eyes and see what dark corners and strange places these tapes will take you.
De l'embarqué déroutante de Joel French:
(Traduit par la plume voyageuse d' AnneMarie Papillon)
Ne vous laissez pas tromper par le nom. Babysitter n'est pas pour les enfants. Ils jouent fort. Ils ont des riffs. Ils ont du cheveu en masse. Aussi bizarre que sublime, leur son est tellement saturé qu'il en bourdonne. Tape 666 est une ballade déroutante (six faces réparties sur trois cassettes, pour être précis) au cœur de l'imaginaire de sorciers – des sorciers dérangés qui tripent sur le grunge, qui hallucinent fort et qui démontrent toute une sensibilité pop. Asseyez-vous confortablement, fermez les yeux et observez dans quelles contrées sombres et mystérieuses ces cassettes vous amèneront.
Babysitter – Way High on the Highway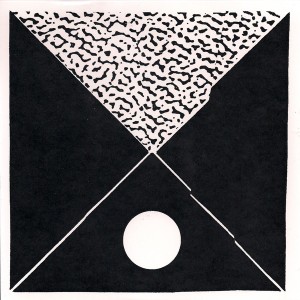 Dead Ghosts
1,000 Joints
Vancouver, BC
From the swirling sands of Joel French:
A peyote trip in a cool breeze. A camelback saunter through the desert. Swirling sands bring hallucinations as the night sky closes in. There's no shelter to be found. The horizon is bare. "Stoned and nowhere to go." The camel lurches forward, pulling you further and further from reality… This is a very sexy song by a sweet band. Raw and powerful. Really digging what Kingfisher Bluez is doing with this Vancouver DIY scene 7″ series. Killer artwork as well.
Des tourbillons de sable de Joel French:
(Traduction par Félix HT)
Un trip de peyote sous une brise fraîche. Une promenade en chameau dans le désert. Les sables tournoyants font halluciner alors que tombe la nuit. Il n'y a aucun abri en vue. L'horizon est à nu. "Stoned and nowhere to go", nous précisent les paroles. Le chameau s'avance, te tirant de plus en plus loin de la réalité. C'est une chanson très sexy d'un délicieux groupe, crue et puissante. J'aime vraiment ce que fait Kingfisher Bluez avec cette série de 7″ issues de la scène DIY de Vancouver. La pochette torche, aussi.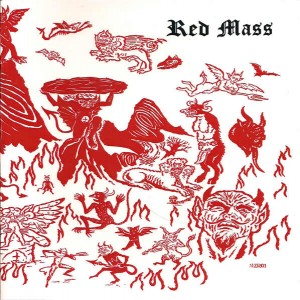 Red Mass // Cindy Lee
Candy b/w Holding The Devil's Hand
Montréal, QC // Vancouver, BC
From the hound's tooth of Jesse Locke:
The first vinyl release from Vancouver's Mongrel Zine is every bit as crucial as the mag. A-Side "Candy" is a star-studded affair with Red Mass main-man Choyce joined by Mark 'BBQ' Sultan on bongos and King Khan on theremin for a hippy-dippy, love bead smoke-out. Groovy times. Cindy Lee's tearjerker "Holding The Devil's Hand" has been a favourite at the HQ since the tape dropped a few months ago, so it's a real treat to have it pressed on 45. Word on the street is that Dirty Beaches has even been covering this number lately. Grip it here and find out why…
Du pied-de-poule de Jesse Locke:
(Traduit par Alex Gauthier en paisley, parce que le pied-de-poule me va pas tellement bien…)
Le premier lancement vinyle de Mongrel Zine est en tout point aussi important que le magazine vancouvérois lui-même. La face A, «Candy», en est truffée de célébrités, réunissant Choyce, le leader de Red Mass, Mark «BBQ» Sultan aux bongos, et King Khan au thérémine. Ça groove, avec un joint partagé entre des mains mi-hippies, mi-yuppies. Depuis l'arrivée de la cassette il y a quelques mois, «Holding the Devil's Hand» de Cindy Lee, qui tire les larmes des yeux, est l'élue des cœurs de nos quartiers généraux. C'est un bonheur de l'avoir maintenant en 45 tours. La rumeur selon laquelle Dirty Beaches en a même fait un cover court récemment. Découvrez pourquoi ici…
---