Tag: punk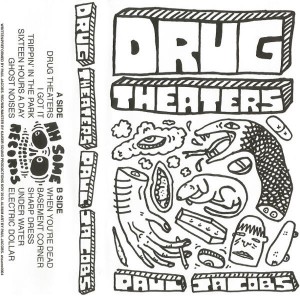 Paul Jacobs
Drug Theaters
Windsor, ON
From the ghostly noises of Kelly MacNeil:
Deep under the mountains of antiquity and reason, water drips from the ceilings in an infinite chorus of reverb. Stalagmites form from these drips, borrowing the reverb while mocking the mountains and their eternal rumbles. Young in contrast to the rocks from which they form, they are the mountain's essence of youth. Paul Jacobs is a stalagmite. He rises from deep undercurrents, and yells into the depths.
Des bruits fantômatiques de Kelly MacNeil:
(Traduit par la chute lente de Catherine Gaucher)
Dans un refrain infini de réverbération, l'eau s'écoule des voûtes profondément enfouies sous les montagnes de l'Antiquité et de la raison. De ces gouttes d'eau s'élèvent des stalagmites, puisant à même les réverbérations et imitant ces montagnes et leurs grondements éternels. D'existence récente en comparaison des roches depuis lesquelles ils se forment, ils sont l'essence de la jeunesse de la montagne. Paul Jacobs est tel un stalagmite. Il s'élève par-delà des lointains courants sous-marins et hurle dans les profondeurs.
The New Values
The New Values
(Self Released)
Vancouver, BC
From the noizy scuzz of Matty Jeronimo:
The New Values' self-titled LP opens with a crash, like a beat up hot rod skidding to a stop on the neighbours' lawn. The nervous mania of the class of 2013 makes fast friends with the relentless power chords of classic Stooges sped up to breakneck pace while the ghost of Malcolm Owen lingers in the corner. Smoke is pouring out of the car. It could explode at any moment. The pace is ever-shifting without letting up, lingering for a minute on noizy scuzz before deftly switching to tight Televisionesque rhythm. The driver stumbles out of the car, wild-eyed and coughing. Fifteen minutes later, you're sitting in your quiet living room wondering what happened.
De la crasse bruyante de Matty Jeronimo:
(Traduit par la vitesse vertigineuse de Hugo Hyart-Dauvergne)
Le disque LP éponyme des New Values s'ouvre avec fracas, comme une hot rod cabossée dérapant sur le gazon des voisins. La manie nerveuse de la classe de 2013 s'acoquine rapidement avec les accords de puissance entêtés classiques des Stooges accélérés à une cadence folle, alors que le fantôme de Malcolm Owen lambine dans un coin. De la fumée se déverse de la voiture. Ça pourrait exploser à tout moment. Le rythme est en constante évolution sans s'adoucir, s'attardant une minute sur une crasse bruyante avant de passer habilement à un rythme Televisionesque. Le conducteur s'extirpe en titubant de la voiture, les yeux fous et toussant. Quinze minutes plus tard, vous vous retrouvez assis dans votre salon au calme et vous vous demandez ce qui s'est passé.
The New Values – Straight Line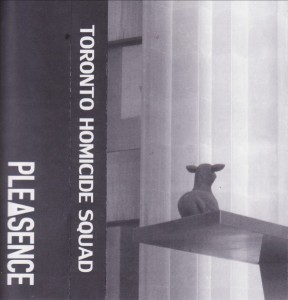 Toronto Homicide Squad
Nein Bullets
Toronto, ON
From the megacity delirium of Liam Kennedy:
This drum and bass combo brings an uneasy rhythmic counterweight to songs perfect for a dystopian French Connection in downtown Toronto, let's say, 2035. Fully setting the scene for Nein Bullets will require co-channeling William Gibson and Phillip K. Dick, an experiment they would probably both be up for.
You're a cop, and not some replicant-hunter eating soba in the rain. You're a beat cop rubbing shoulders with the day-traders turned nuke-junkies in TTC corridors. Your life is zur tshong khang (Tibetan corner store)-fueled all-night stakeouts, shaking down derelict Queen West hipsters, and losing perps in the dark alley birdsnest of MetaScarborough.
Another day bleeds into night and you're searching for him, your flagitious Moby Dick. Every step you take closer to him the further away you end up. Tonight, you're aimlessly rolling through cracked Annex side streets, Lakeshore ruins, and Toronto's leaky ventricle, the DVP – like Conrad's Congo snaking through the GTA's own fattened and sluggishly opaque myocardium. Nein Bullets is the soundtrack to the sodium-vapour tinted pallet of your megacity delirium.
Du délire de mégapole de Liam Kennedy:
(Traduit par le calot rayé en cavale de Julie Mayer)
Cette combinaison basse/batterie apporte un contrepoids rythmique inconfortable à des morceaux parfaits pour une French Connection contre-utopique au cœur d'un Toronto situé, disons, en 2035. Pour réaliser la mise en scène de Nein Bullet, il faudrait brancher William Gibson et Phillip K. Dick sur la même longueur d'onde, une expérience à laquelle tous deux auraient sans doute participé. Vous êtes flic, et non pas un chasseur de réplicants qui mange des soba sous la pluie. Vous êtes un flic de quartier qui se frotte aux spéculateurs sur séance devenus accros à la nuke dans les corridors de la TTC. Votre vie carbure au zur tshong khang (dépanneur tibétain). Vous passez vos veilles à secouer des hipsters, épaves de Queen West, et à vous faire semer par des malfrats dans le réseau de sombres allées qu'est Meta-Scarborough. Un autre crépuscule sanglant coule vers la nuit alors que vous êtes à la recherche de votre Moby Dick infâme. Chaque pas qui vous rapproche de lui vous mène de plus en plus loin. Cette nuit, vous roulez sans but à travers les petites rues fissurées de l'Annex, les ruines de Lakeshore et le ventricule suintant de la Ville Reine. Le DVP, similaire au Congo de Conrad,serpente dans le myocarde opaque, empâté et léthargique du Grand Toronto. Nein Bullets est la bande sonore originale de la palette teintée de vapeur de sodium de votre délire de mégapole.
Toronto Homicide Squad – Cold Eggs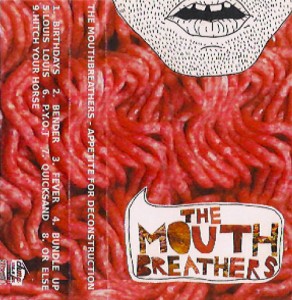 The Mouthbreathers
Appetite for Deconstruction
Sackville, NB
From the swamp magic of Alison Lang:
This time of year, as winter approaches, as the days lurch into longer, darker, heavier nights, it can be hard to keep your head up. It can be hard to care. Deep from the land of swamp magic come the Mouthbreathers, with nine joyful tunes that will worm their way into the sour core of your heart. These guys are preternaturally wise and yet sweetly raw, with a warm vitality thrumming beneath the surface. The lyrics are funny and friendly and wayyy too smart, and each song snaps like a whip, peppered with crunchy guitars and oddly heartfelt bon mots. It's true, as singer/wordsmith Lucy Niles confesses on "Bender", that some of us prefer songs about stuff, but it's the deceptively simple stuff that feels like it matters — getting a crush and being a goof, loving your small town, yet dying to get out, getting baked and talking too much about your feels. The band says all of this is fine, and you will be fine. So stay here. Sit longer. Cherish the sweet, warming glow.
Du marais magique de Alison Lang:
(Traduit par le solstice de Catherine Gaucher)
En cette période de l'année, comme l'hiver approche, les journées se transforment en nuits plus longues, plus sombres, plus lourdes et il peut être difficile de garder le moral. Il peut être difficile de se soucier de quelque chose. De la terre lointaine du marais magique nous arrive Mouthbreathers avec neuf joyeuses chansons qui se faufileront droit vers le noyau aigre de votre cœur. Ces gars sont prématurément sages, encore doucement bruts et possèdent une vibrante et chaleureuse vitalité. Leurs paroles sont drôles, amicales et beaaaaucoup trop intelligentes. Claquant comme le fouet, chacune de leurs chansons est parsemée de guitares croustillantes et de bons mots étrangement sincères. Il est vrai, comme l'avoue la chanteuse/parolière Lucy Niles sur « Bender », que certains d'entre nous préfèrent les chansons qui racontent quelque chose, mais ce sont les petites choses en apparence si simple qui finissent par nous parler le plus — tomber en amour et faire l'imbécile, aimer son patelin tout en rêvant de partir, se défoncer et parler trop de ses sentiments. Le groupe nous assure que tout cela est très bien, et que nous aussi nous irons bien. Alors restez ici. Installez-vous. Chérissez cette lueur, douce et chaleureuse.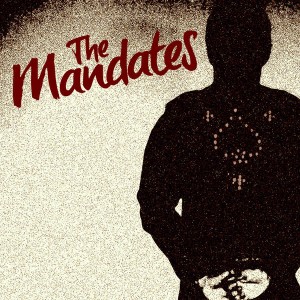 The Mandates
The Mandates
(Self Released)
Calgary, AB
From the secret cave hideaway of Matthew Lazenby:
The Mandates trade in greasy, sleazy rock 'n roll without a care in the world, yet every moment is tight and compact. Some may hear this collection of fist-pumping gems and refer to it as a throwback: three-minute tunes basking in timeless traditions of balls-out rock. And while it's true that songs like "Gotta Forget That Girl" and "Daggers Girl" get me thinking about the Dead Boys or Richard Hell and the Voidoids, the sheer pluckiness and charm of this record is pretty irresistible. "She's Walkin' Over" closes the album in style with a driving beat, trashy power chords, and infectious hooks. Simply put, the Mandates' new record is a barrage of snot-nosed guitar-laden fun.
De la cave secrète de Matthew Lazenby:
(Traduit par Catherine Gaucher)
The Mandates font dans le rock 'n' roll graisseux, mal famé, sans le moindre tracas du monde, et pourtant chaque instant qu'ils produisent est juste et concis. Percutant comme un coup de poing, certains diront de ce rassemblement de petits bijoux qu'il est une visite dans le passé : des chansons de trois minutes faites dans les traditions pures d'un rock couillu. Même s'il est vrai que des titres comme « Gotta Forget That Girl » et « Daggers Girl » me font penser aux Dead Boys ou à Richard Hell and the Voidoids, la pure bravoure et le charme de cet album sont assez irrésistibles. Dans un rythme déferlant, c'est avec style que « She's Walkin' Over » clôt cet album grâce à ses power chords trash et ses hooks contagieux. En bref, ce dernier album de The Mandates est rempli d'un plaisir chargé d'arrogance et de guitares.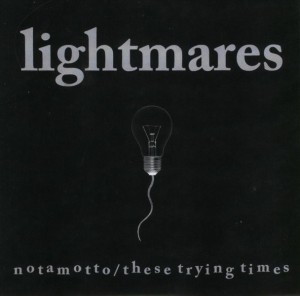 Lightmares
Notamotto b/w These Trying Times
(Self Released)
Sudbury, ON
From the trying times of Joel French:
It must have been seven or eight years now since I first saw Lightmares play a show. These three dudes weren't old enough to stay in the bar after their set, but that didn't stop them from giving out an insanely captivating and raw performance — or from handing out their demos to everyone as we went out to smoke. Since then they've tightened up their live show, songwriting and banter quite a bit, yet they seem just as hungry every time I see them play. This pair of weirdo pop-rock songs is a great representation of what these boys are capable of.
Des temps difficiles de Joel French:
(Traduit avec fébrilité par Andréanne Dion)
Ça doit maintenant faire sept ou huit ans que j'ai vu Lightmares en spectacle pour la première fois. Ces trois gars n'étaient pas assez vieux pour rester dans le bar après leur prestation, mais ça ne les avait pas empêchés de donner une performance extrêmement captivante et brut, ou de distribuer leur démo à tous ceux qui sortaient fumer. Depuis, ils ont pas mal amélioré leur spectacle, la composition de leurs chansons et leurs plaisanteries, mais ils semblent toujours aussi avides à chaque fois que je les vois jouer. Cette paire de chansons pop-rock étranges représente bien de quoi ces gars sont capables.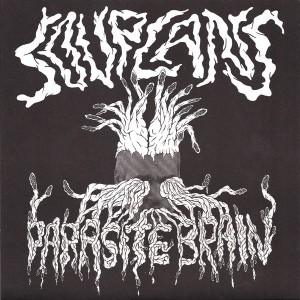 The Soupcans
Parasite Brain EP
Toronto, ON
From the substantia nigra of Brendan Lehman:
Enter the Soupcans. Enter the Soupcans into a world of dystopian chaos, one of grinding distortions and impenetrable walls of sound. Manic screams guide you through dim-lit alleyways vaguely remembered. Living here, it sometimes calms down into a groove, but more days than not it's the unceasing noise of your state oppressor, eating away at your once-sane consciousness. It's hard to tell if it's the cocktail your guy down the street cooked up for you or if that's just the way it has become. Thoughts are fleeting, and you begin to wonder if anyone could ever help. Until you re-emerge, standing in the crowd of your local punk bar, listening to the Soupcans blow your mind. Thankfully it's not the brain-oozing hell you thought it would be, just really good punk.
De la substantia nigra de Brendan Lehman:
(Traduit de la contre-utopie effrayante de Catherine Debard)
Entrez dans Soupcans. Entrez dans Soupcans, dans un monde dystopique, un cauchemar chaotique de distortion écrasante et de murs du son impénétrables. Des cris déments vous guident le long de sombres ruelles vaguement familières. Ici, parfois, ça se calme dans une sorte de groove, mais la majorité du temps, les journées sont imprégnées du bruit incessant de votre oppresseur, qui bouffe tranquillement votre conscience jadis intacte. C'est assez nébuleux, à savoir si c'est le cocktail que ce type en bas de la rue a cuisiné pour vous ou si c'est juste ce que les choses sont devenues maintenant. Les pensées s'enfuient et vous vous demandez si quelqu'un pourra un jour vous aider. Jusqu'à ce que vous émergiez debout dans une foule, dans votre bar punk local, en écoutant Soupcans et en hallucinant carrément. Heureusement, ce n'est pas l'enfer cérébral suintant que vous imaginiez, c'est juste du punk vraiment bon.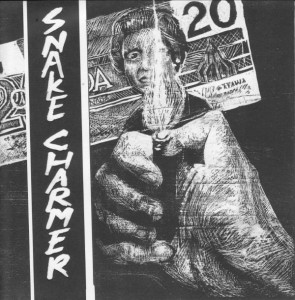 Snake Charmer
7"
(Self Released)
Hamilton, ON
From the heralded cacophony of Liam Kennedy:
Dateline: Hardcore Hamilton. What's audible is a powerful energy release manifesting in squealing feedback and blast beats. What's apparent from the cover art and lyrics is an anger with Canada's militarism contrasted with an internationally promoted peacemaker image. This cacophony may herald the welcome return of political hardcore. The relative lack of political music in general leaves the impression of generational apathy towards how much and how quickly our country has changed. When the sky bled and nature screamed for Edvard Munch he knew the world was alive. At the very least, this strident frustration feels like it cares. Consider both sides of Snake Charmer's 7" a rival national anthem.
De la proclamation cacophonique de Liam Kennedy:
(Traduit des signes avant-coureurs de Catherine Gaucher)
Lieu de rédaction : Hardcore Hamilton. Ce qui est audible, c'est une puissante libération d'énergie se manifestant par de grinçantes réverbérations et des rythmes explosifs. Ce qui ressort de l'imagerie de la pochette et des paroles des chansons est une colère contre le militarisme du Canada contrastant avec la prédication de son image pacificatrice mondialement. Cette cacophonie peut annoncer le retour bienvenu d'un hardcore conscient politiquement. L'absence globale de musique à contenu politique laisse une impression d'apathie générationnelle par rapport à combien notre pays a changé et à quel point il l'a fait rapidement. Quand le ciel saigna et quand la nature cria pour Edvard Munch, il eut conscience que le monde était vivant. À tout le moins, cette stridente sensation de frustration lui donne le sentiment que l'univers est attentif. Considérez chaque côté du 7 pouces de Snake Charmer comme le rival d'un hymne national.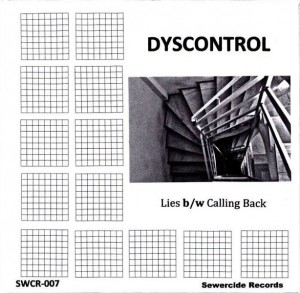 Dyscontrol
Lies b/w Calling Back
Halifax, NS
From the disapproving dirge of Mark Streeter:
Dyscontrol's songs are soaked with urgency. They grab me by the collar, pull me up to eye level and demand to know if am living my life to the best and fullest of my abilities. "Sure I am," I reply, dropping the needle on "Lies." Sweat beads on my brow as a telecaster unsheathes itself, its clear tone gleaming through the speakers. By the time the band has pummeled through to its disapproving dirge chorus, I am thinking that it's time I took a long look in the mirror about a few things.
That should be enough, but the band's not done yelling at me. "Calling Back" is all defiant resolve, rising to a gotta-go-I-got-something-in-my-eye quaver by the end. Sometimes I look back on my life and see only one set of footprints. Those are the moments when Dyscontrol is carrying me. They could've left me behind with all the other lying liars who don't call back, but they care about me and they want me to stop wasting my life right now. So many lies, indeed. I am going to the gym now.
Du chant funèbre désapprobateur de Mark Streeter:
(Traduit par Claudine Maclure)
Les chansons de Dyscontrol sont imbibées d'urgence. Elles m'attrapent par le collet, me tirent à la hauteur des yeux et me demandent si, dans ma vie, j'exploite au maximum le meilleur de mes capacités. Je réponds « bien sûr » en déposant le bras de lecture sur « Lies ». Des perles de sueur glissent sur mon sourcil quand la chaîne se dégaine; sa sonorité cristalline brille à travers les haut-parleurs. Au moment où le groupe roue de coups son funèbre refrain désapprobateur, je me dis qu'il est temps d'examiner longuement mon reflet dans le miroir pour réévaluer certaines choses.
Tout cela pourrait suffir, mais le groupe n'a pas fini de me crier après. « Calling back » est un rebelle déterminé qui soulève, vers la fin, une croche « je-dois-partir-j'ai-quelque-chose-dans-mon-œil ». Parfois, je regarde le chemin que j'ai mené et je ne vois qu'une paire d'empreintes. C'est dans ces moments que Dyscontrol me transporte. Il aurait pu me laisser derrière avec tous les autres menteurs menteurs qui ne rappellent jamais, mais il se soucie de moi et il veut que j'arrête de gaspiller ma vie. Trop de mensonges, en effet. Je vais m'entraîner au gym.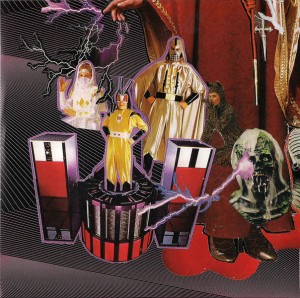 The Ketamines
So Hot!
Toronto, ON
From the spraying hose of Christopher Laramee:
They're dragging the bodies out of the basement again. The quadrilogy nearly complete, our buds in THE KETAMINES embrace the snot and blow it out strong on this HOSEHEAD seven incher. A-side "SO HOT!" pulls into the parking lot with some quality advice for the kidz: Get a job, ya lazy yobs. More Cosby than Cleaver, though. Wire plays blackjack with Count Five for luck, and comes up aces. Next blast "NEW SKULL TATTOO" deals drum machine tease and shit tattoo memories into something Ric Ocasek would be proud to mount above his fireplace. "SUMMER MOTHERS" ends the whole she-bang solid with a bittersweet backward glance on romance, twilight and heavy endings. Six minutes and change. Hits it out of the park like Ortiz. No offence, Jays fans. Next year…
Du pulvérisateur de Christopher Laramee:
(Traduit par Catherine Debard)
Ils traînent à nouveau des corps hors du sous-sol. La quadrilogie presque complétée, nos copains THE KETAMINES étreignent la morve, puis l'expulsent sur ce 7 pouces nommé HOSEHEAD. La face A, "SO HOT!", arrive dans le stationnement avec de bons conseils pour les gamins: Trouve-toi une job petit voyou fénéant. Plus Cosby que Cleaver, cependant. Wire joue au blackjack avec Count Five pour la chance, et nous sort des as. La détonation suivante, "NEW SKULL TATTOO" traite avec une boîte à rythmes racoleuse et des souvenirs de tattoos merdiques et en fait quelque chose que Ric Ocasek serait fier d'avoir au-dessus de sa cheminée. "SUMMER MOTHERS" conclut solidement avec un regard vers l'arrière doux-amer sur la romance, le crépuscule et les lourds dénouements. Six minutes et quelques pièces. Il cogne en dehors du terrain comme Ortiz. Sans vouloir vous offenser, fans des Jays. L'année prochaine…
The Ketamines – New Skull Tattoo
---