Tag: punk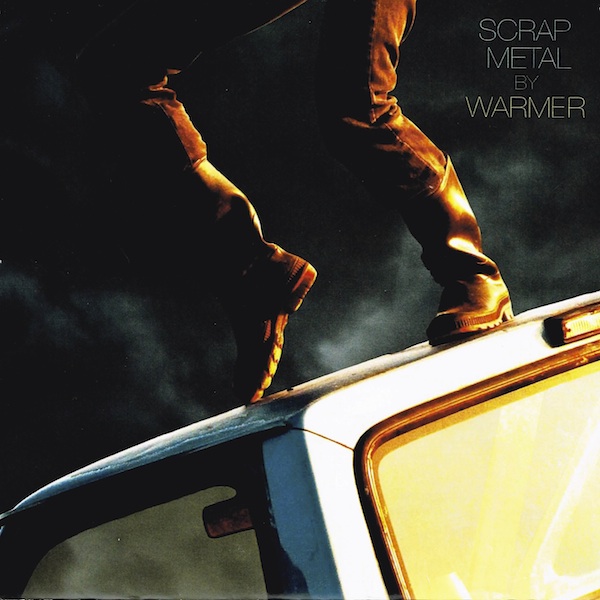 Warmer
Scrap Metal
(Self Released)
Kingston, ON
From the cannabinoid receptors of Sara Bortolon-Vettor:
Tripped out psych-punk trio Warmer teaches us to consistently embrace our environment whether we are in the woods "Howling With Coyotes" or smoking grass with friends. Scrap Metal is a fuzzed-out forest of hallucinogenic guitar accompanied by smooth, dynamic vocals. Sunlight swirls dance beneath your eyelids as tranquil, yet blunt rhythmic textures evoke inner ecstasy. These hazy-punks of Kingston deliver a hard-hitting, psychotropic debut.
Des récepteurs cannabinoïdes de Sara Bortolon-Vettor:
(Traduit par le sac de chips éventré de Jessica Grenier)
Le trio de psych-punk capoté Warmer nous apprend l'acceptation systématique notre environnement, que l'on soit dans les bois (« Howling With Coyotes ») ou en train de fumer de l'herbe avec des amis. Scrap Metal est une forêt *fuzz*ante de guitares hallucinogènes accompagnées d'une voix douce et dynamique. Des tourbillons de soleil dansent derrière nos paupières en suivant l'extase entraînée par les rythmes texturés, directs mais paisibles. Ces punks enfumés de Kingston nous livrent un premier album psychotrope qui frappe fort.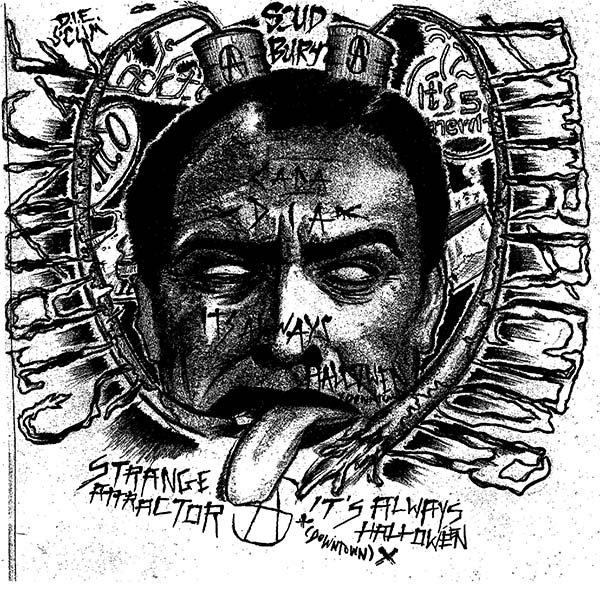 Strange Attractor
It's Always Halloween (Downtown)
Sudbury, ON
From the February costume of Brendan Lehman:
Real life and the night life – two versions of the same city. As the debate rages as to which is the new normal, each is populated with their own share of freaks and punks. Everyone in their work uniform, from denim suits to long johns to a button-covered leather jacket. Who is the real freak? Probably you and probably me. All in a swirl of Strange Attractor's distorted haze with the rest of the people hanging out downtown.
Du costume de février de Brendan Lehman:
(Traduit par la garde-robe trouée de Jessica Grenier)
La vie quotidienne et la vie nocturne – deux versions d'une même ville. Alors que le débat fait rage à savoir laquelle est la nouvelle normalité, chacune a sa dose de bizarroïdes et de punks : tous ont leur uniforme, du costume en jean aux caleçons longs en passant par le blouson en cuir couvert de boutons. Qui est le plus bizarre? Probablement toi et moi… et tous les autres qui se tiennent au centre-ville dans un des tourbillons de brume distordue de Strange Attractor.

Strange Attractor – It's Always Halloween (Downtown)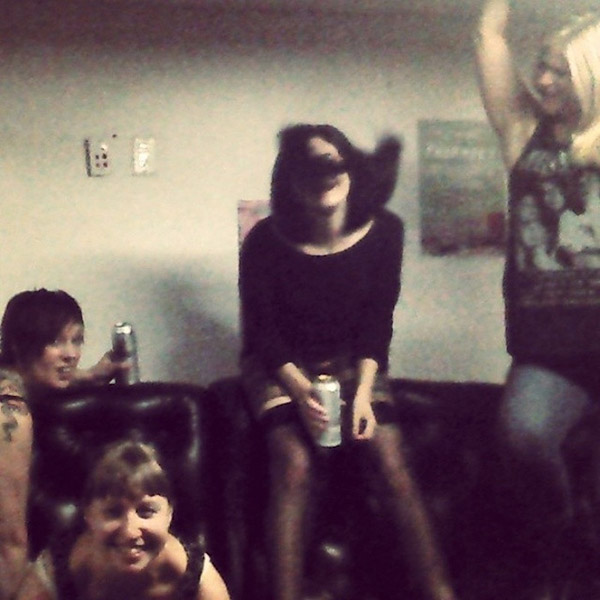 Glad Rags
Glad Rags
(Self-Released)
Vancouver , BC
From the infatuated dude bros of Gabe Girard:
This compliment of raucous Vancouver riotgrrls lets you in on a little secret, and its not the one you were looking for. Infatuated dude-bros beware, they will show you the pavement just as fast they show you the door, should you overstep your bounds. Somewhere between Liliput and the Ramones, Glad Rags' debut EP is a celebration of Popsicles, Meat Legs, femme firebrands and punk rock. With their full length release coming up this fall, The Glad Rags will be an act to watch out for. Not for the faint of hearrrt.
Des chums de gars amourachés de Gabe Girard:
(Traduit par Jessica Grenier)
Ce cadeau des tapageuses riot grrrls de Vancouver vous confie un petit secret, et ce n'est pas celui que vous auriez souhaité. Chums de gars amourachés, soyez prévenus : si vous dépassez les limites, elles vous jetteront dehors pour vous faire embrasser l'asphalte. Quelque part entre Liliput et les Ramones, le premier EP de Glad Rags célèbre les Popsicles, les jambes-viande, les fouteuses de trouble et le punk rock. Avec un album complet qui sortira l'automne prochain, Glad Rags sera un groupe à surveiller. mes sensibles s'abstenirrr.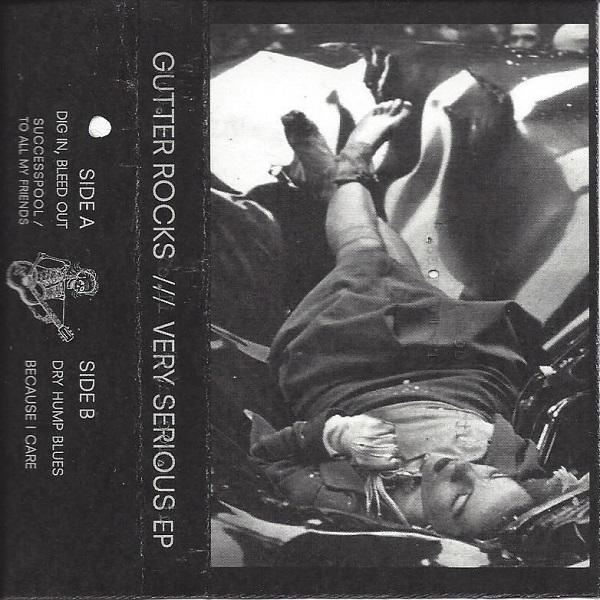 The Gutter Rocks
Very Serious
(Self Released)
Ottawa, ON
The Gutter Rocks – Dig In Bleed Out
The Gutter Rocks – Successpool
Successpool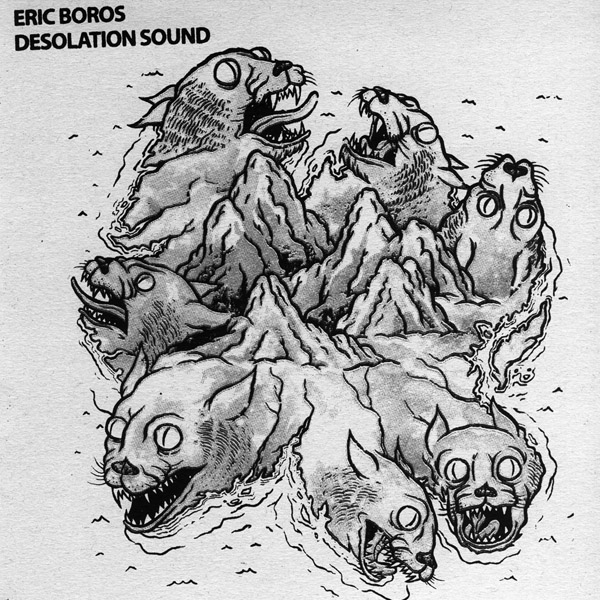 Eric Boros
Desolation Sound
Nanaimo, BC
From the desolate rifles of Joshua Robinson:
Desolation breaks the pitter patter of quiet thoughts from quiet minds. Punk legionnaires with sounds-as-rifles stick it to the overlords with crass wit and sharp retort; pin pricks in the soft cushions of light-headed indulgences. These ramblings breathe ashen flame, decisive in their delivery and impressive in their ability to stir the pot. Take shelter, presiders of force and fame. This one's out to get ya.
Des fusils désespérés de Joshua Robinson:
(Traduit par Jessica Grenier)
Le désespoir interrompt le bruissement des pensées calmes des esprits tranquilles. Ces légionnaires punks attaquent les grands patrons à coup de son-fusil, d'esprit crasse et de répartie cinglante; trous minuscules dans le doux coussin des gâteries étourdies. Ces marmonnements, cracheurs de flammes cendreuses, ont une livraison décisive et une impressionnante facilité à brasser la cage. Que ceux célébrant la force et la reconnaissance se cachent : cet album veut votre peau.
Eric Boros – Survival of the Fittest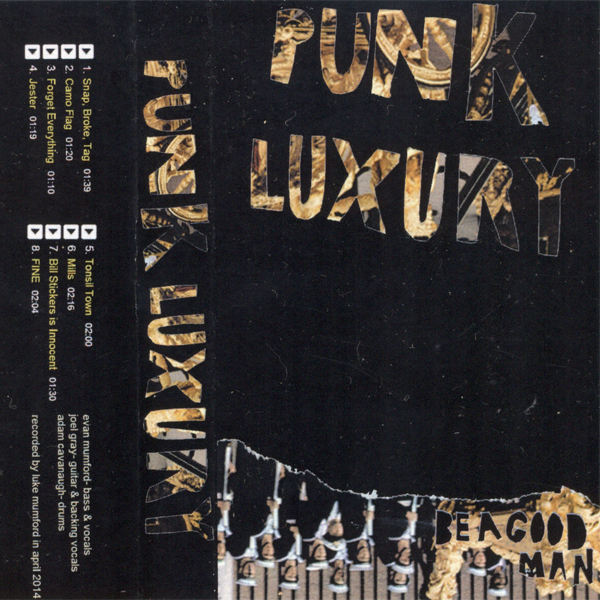 Punk Luxury
Be a Good Man
(Self Released)
Truro, NS
From the pizza stained cargo shorts of Simon Petley:
A far cry from frontman Evan Mumford's cathartic brand of pop punk, the Truro trio backed by Joel Gray and Adam Cavanaugh embody the spirit of a teeth-clenching, toque hoarding pit rat. They are disgruntled. They are jaded. And they don't give a shit if you care. "Jester" rivals 1980's hardcore in its ephemeral spurt of indignation, reminding us that the shape of punk in Nova Scotia is still a vascular, pulsating mass.
Des taches de pizza sur le short cargo de Simon Petley:
(Traduit par Jessica Grenier)
Très éloigné du pop punk cathartique du chanteur Evan Mumford, le trio Truro – complété par Joel Gray et Adam Cavanaugh – personnifie l'esprit d'un rat au sourire carnassier qui accumule des toques. Ils sont mécontents, ils sont blasés, et ils s'en foutent que ça vous fasse quelque chose ou non. « Jester » rivalise avec le hardcore des années 1980 dans sa giclée éphémère d'indignation, nous rappelant que le punk en Nouvelle-Écosse a toujours la forme d'un amas vasculaire pulsant.

Punk Luxury – Snap, Broke, Tag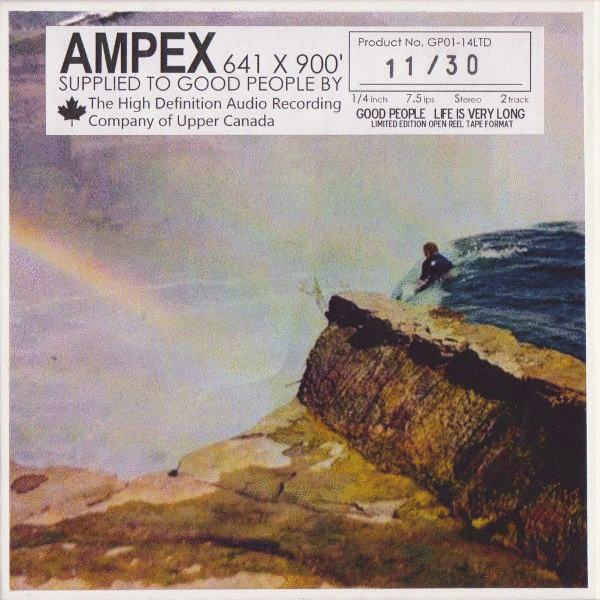 Good People
Life is Very Long
(Self Released)
Toronto, ON
From the sticknpoke-stained hand of Liam Kennedy:
The stick-n'-poke-stained hand of the lifeguard waves you on. You're up next on Powerviolence, the waterslide in the multi-gen post-grow-op punk-house. It smells like bongwater. Inside, your experience parallels a DMT trip soaked in the legacy of the hardcore music that is the very fabric of your enclosure. Blows to the head may not be a part of the design but certainly contribute to the experience. Like Alice, you tumble into a wonderland of frustration, black-out aggression, and the marginalization of humanity in general. The pit and the sweaty, bruised mess you'll be after is your White Rabbit. You did this to yourself.
Du sticknpoke tachant la main de Liam Kennedy:
(Traduit par Jessica Grenier)
La main recouverte de tatouages artisanaux du sauveteur te fait signe d'avancer. C'est ton tour de grimper dans Powerviolence, glissade d'eau dans la maison punk multigén post-grow-op . Ça sent comme l'eau d'un bong. Une fois à l'intérieur, ton expérience se dédouble en un trip de DMT inondé de musique hardcore, celle-là même qui compose ton enclos. Les coups que tu reçois sur la tête ne sont peut-être pas voulus, mais ils font partie de l'expérience. Tout comme Alice, tu tombes dans un pays des merveilles fait de frustration, d'agressions, de pertes de connaissance et de marginalisation générale de l'humanité. L'épave couverte de sueur et de bleus que tu seras après, c'est ton Lapin blanc. Tu t'es fait ça à toi-même.

Good People – You're Only as Rank as You Feel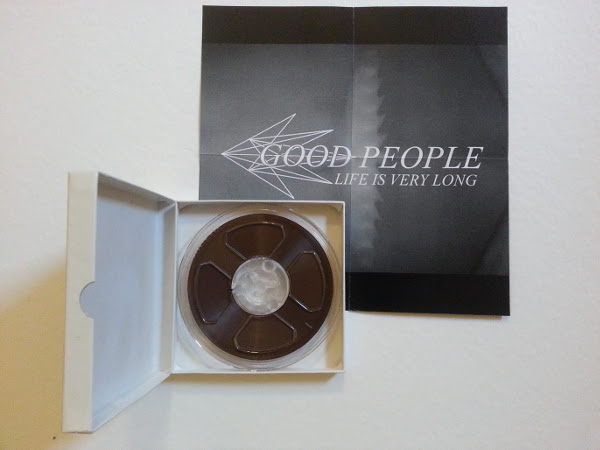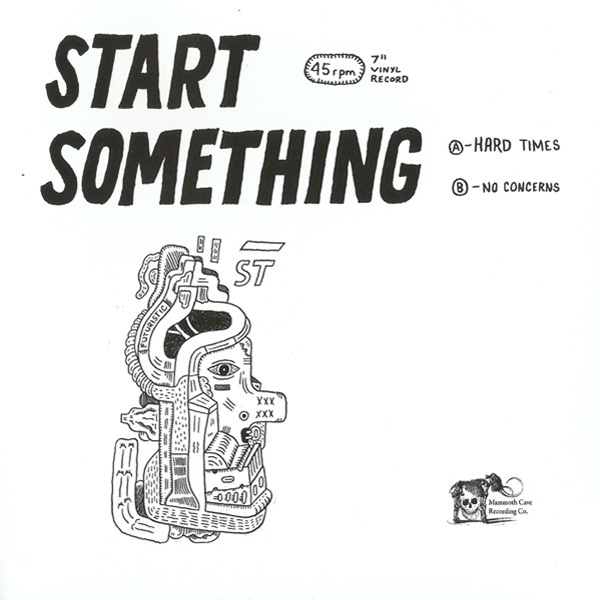 Start Something
Hard Times b/w No Concerns
Guelph, ON
From the hard rhymes of Jesse Locke:
The Hüsker Düdes in Start Something tear through their debut 7" like radical adults in search of a crowdsurf. Guelph's greatest drive time comedy duo Deaner and Dunster–plus drummer Ryan Masters–make up this econoline trio, revving up the punx with anthems of neck-vein popping intensity. Chainsaw riffs, tempo shifts, and art by Marc Bell = grip!
Des rimes brutales de Jesse Locke:
(Traduit par Jessica Grenier)
Les Hüsker Düdes de Start Something déchirent ce premier 7" comme des adultes radicaux en quête de crowdsurfing. Le drummer Ryan Masters et le meilleur duo comique – diffusé durant les heures de grande écoute – de Guelph, Deaner and Dunster forment ce trio en Econoline qui vient exalter les punx avec des hymnes à en faire exploser des jugulaires. Riffs tronçonnants, changements de tempo et illustrations de Marc Bell = fou!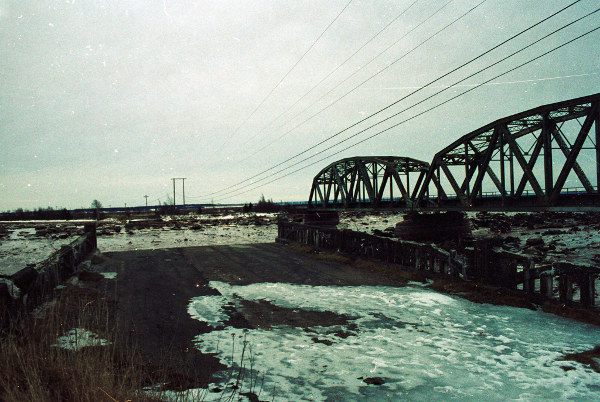 Stereophonic 12
January 22-24
Sackville, NB
Photo: Colin Medley
From the snow-flecked eyebrows of Kevin Brasier:
Stereophonic, is a winter fundraiser/hellraiser for Sackville's community station, CHMA 106.9FM. If you've ever wondered "what's in that Sackville water" that produces the finest bands in the land, the answer is CHMA's FM-freakuencies. Stereophonic is how Sackville says thank you to CHMA for offering the community free postering services, PA equipment for shows, and much more. Far from an ordinary fundraiser– co-directors Scott Brown and Ilse Kramer (also bandmates in the mighty Kappa Chow) are throwing a three-day rager featuring musical legends from bag-town and beyond including Astral Gunk, Bry Webb, Old and Weird, and Monomyth. Check out the release video for the full-line up, and listen to the festival mix-tape to preview the sweetest sounds of the marshes.
Des sourcils parsemés de flocons de neige de Kevin Brasier:
(Traduit par le nez incandescent de Jessica Grenier)
Stereophonic est une collecte de fonds infernale/hivernale pour la station radio communautaire de Sackville, CHMA 106.9FM. Si vous vous êtes déjà demandé ce qu'il y a dans l'eau de la ville pour qu'elle produise les meilleurs groupes du pays, la réponse se trouve dans les freakences de CHMA. Stereophonic, c'est aussi Sackville qui dit merci à CHMA pour le service d'affichage qu'elle offre gratuitement à la communauté, l'équipement de sonorisation lors des spectacles, et bien d'autres choses encore. Stereophonic est loin d'être un spectacle-bénéfice ordinaire : les codirecteurs Scott Brown et Ilse Kramer (aussi membres du grandiose Kappa Chow préparent une fête de trois jours avec des légendes de la musique povenant de la ville ou d'ailleurs, comme Astral Gunk, Bry Webb, Old and Weird et Monomyth. Regardez l'annonce vidéo pour savoir la programmation et écoutez la cassette du festival pour vous donner un aperçu des meilleurs sons du marécage.
1 Best Fiends – "Uh Huh"
2 Zakary Slax – "Remains"
3 Monomyth – "Candleholder"
4 Coach Longlegs – "Baycation With You"
5 Klarka Weinwurm – "TMSB"
6 Bry Webb – "Prove Me Wrong"
7 Corey Isenor – "Beneath The Bramble"
8 Jon Mckiel – "I Know, I Know"
9 Astral Gunk – "Astral Theme"
10 Heaven For Real – "Hard Done By"
11 Union Suit – "Delirious Vista"
12 Adam Mowery – "Follow Me To The Bottom*"
13 The Kavorkas – "The Grocery Store (demo)*"
14 Old and Weird – "She Seems Stressed"
15 Legendary Golden River Show Band – "Stay Yonder (Honeysuckle)"
16 Zachary Lucky – "Salty Air"
17 Old Bones – "I Can See Through You*"
18 Painful Shivers – "Blu"
* denotes that the track is unreleased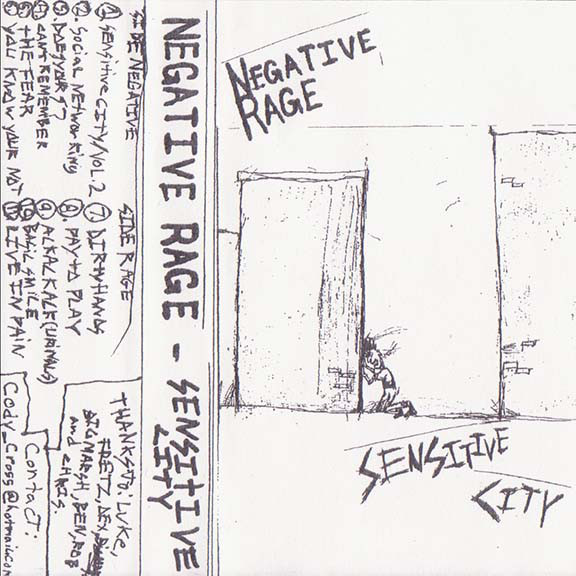 Negative Rage
Sensitive City
(Self Released)
Halifax, NS
From the mundane horrors of Liam Kennedy:
Priced to sell split level with wall-to-wall carpeting and minimal water damage, the location of boredom, unmet expectations, constraint, and fear of the unknown is back on the market! Finished basement requires refurbishing and contains all of the mundane horrors that conjured hardcore punk out from suburb kids of defence contractors, public servants, and middle management. Features two-car garage where psychic tension between adolescent ideals and adult compromises are permanently at a stalemate. Please direct all inquiries to jean jacketed and chaos-pouched newly unemployed video rental store workers.
Des horreurs ordinaires de Liam Kennedy:
(Traduit par la terreur blasée de Jessica Grenier)
Cette maison unifamiliale comprenant beaucoup de tapis et peu de dégâts d'eau – à prix abordable pour un environnement d'ennui, de contraintes, d'attentes déçues et de peur de l'inconnu – est de nouveau sur le marché! Le sous-sol aménagé est à rénover et renferme les horreurs ordinaires que le punk hardcore a fait sortir de la progéniture banlieusarde des servants publics, des gestionnaires intermédiaires et des entrepreneurs de défense. Comprend un garage deux places où les tensions créées par les idéaux adolescents et les compromis adultes sont dans une impasse permanente. Pour toute question, veuillez vous adresser aux anciens commis de club vidéo à la chaotique veste de jeans.

Negative Rage – Sensitive City
---