Tag: punk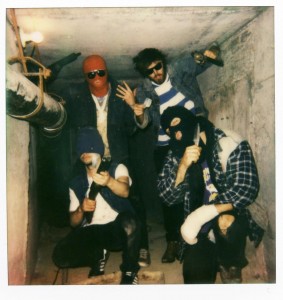 New Swears
Paradise
[Director: Nigel Somerville]
Ottawa, ON
From the punktopia of Travis Boisvenue and Emmanuel Sayer:
New Swears are a bunch of wild kids that live in a place called the Fun Boy Club House. It's been host to a lot of great shows, a lot of demented videos, and a lot of blood.
The first time I saw these guys they were called The Girlfriends. When they actually got around to playing music, they played perfect punk songs: snotty, careless, and full of heart. But they spent most of their set getting naked, flipping on their heads, and wearing monster masks. It one was one of the best things I'd ever seen.
Nowadays they're calling themselves New Swears and are playing music more than they're wearing monster masks. "Paradise" is one of my favourite music videos, and sums up pretty accurately what these guys are all about: partying like lunatics and playing great rock 'n roll.
How can they be so bonkers and still get their act together to crank out such good tunes? It boggles my mind. In any case, Emmanuel and I have put together an unsolicited commentary track for a video we both love, and that we had absolutely nothing to do with. Enjoy!
Travis Boisvenue and Emmanuel Sayer are the hosts of City Slang, a weekly rock 'n roll radio show airing Mondays at 9 pm on 89.1 FM in Ottawa (or online for the rest of us). Follow them @cityslangradio.
De la punktopie de Travis Boisvenue and Emmanuel Sayer:
(Traduit par Vincent Rondeau)
New Swears est un groupe de jeunes sauvages qui ont baptisé leur domicile « Fun Boy Club House ». On y a joué plusieurs excellents concerts, tourné beaucoup de vidéos déments, et fait couler pas mal de sang.
La première fois que je les ai vus, ils s'appelaient The Girlfriends et ils jouaient des chansons punk parfaitement construites : morveuses, désordonnées, du fond du coeur. Mais surtout, ils ont passé la plus grande partie de leur show à se déshabiller, à faire le poirier et à porter des masques de monstres. C'était un des grands moments de ma vie.
De nos jours, ils s'appellent New Swears et ils jouent plus de musique qu'autre chose. « Paradise » compte parmi mes clips préférés et donne une bonne idée de l'essence du groupe : faire le party comme des fous et jouer du rock 'n' roll de qualité.
Comment peuvent-ils être aussi malades et pourtant s'arranger pour produire d'aussi bonnes tounes? C'est un casse-tête. En tout cas, Emmanuel et moi avons assemblé spontanément un commentaire audio (ntr : en anglais seulement) pour un vidéo que nous adorons et avec lequel nous n'avons strictement rien eu à voir. Bonne écoute!
Travis Boisvenue et Emmanuel Sayer animent l'émission hebdomadaire de rock 'n' roll City Slang les lundis à 21h00 sur les ondes du 89.1 FM dans la région d'Ottawa (ou en ligne n'importe où). Suivez-les au @cityslangradio.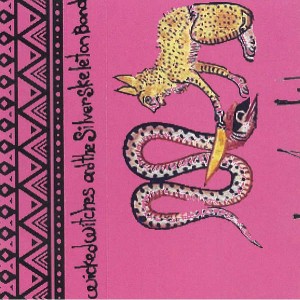 Wicked Witches // Silver Skeleton Band
Split EP
Toronto, ON // Vancouver, BC
From the secret orders of Bryce Warnes:
Toronto's Wicked Witches sing swamp hymns for a sock hop at Arthur Machen Junior High. Tally the garage pop gematria of "666 Cigarettes" and you may find yourself burning your soul at both ends; fast-forward to "Cold Blooded" for a Cadillac cruise into the Abyss. Meanwhile, Vancouver's Silver Skeleton Band surf waves of aural decay and throw a post-spill beach party for the city's restless dead; as "Jangle Bell Blues" rides hashishin smoke rings and lite-doom riffs to the top of the Holy Mountain, the cadavers start necking. Welcome to the gnostic front.
De l'ordre occulte de Bryce Warnes:
(Traduit par le pentagramme incomplet de Nicolas Coutlée)
Les Wicked Witches de Toronto entonnent leurs hymnes marécageux lors d'une soirée dansante au Collège Arthur Machen. Osez déchiffrer la gématrie pop garage de « 666 Cigarettes » et peut-être vous retrouverez-vous à vous brûler l'âme par les deux bouts. Puis, sautez jusqu'à « Cold Blooded » pour une ballade en Cadillac jusqu'au fond de l'Abysse. Pendant ce temps, le Silver Skeleton Band de Vancouver surfe les vagues de décadence sonore et organise un party de plage post-marée noire en mémoire des morts incapables de reposer en paix. Et tandis qu'au sommet de la Montagne sacrée s'élève « Jangle Bell Blues » parmi les ronds de fumée des Hashishins et les riffs doom allégés, les cadavres se mettent à s'embrasser à pleine bouche. Bienvenue sur le front gnostique.
Silver Skeleton Band – Jangle Bell Blues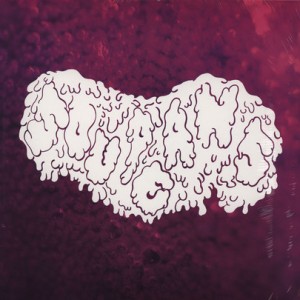 The Soupcans
Good Feelings
Toronto, ON
From the negative jeans of Jonathan Carroll:
I'd like to invite you all to participate in a new game: The Soupcans' "Lights Off Challenge." In the dark, the primally dissonant and vaguely British "Feelings" created by the Toronto band's latest outing seem far and away from what is typically thought of as "Good," but maybe my idea of that word is too narrow. Good Feelings probably sounds like the alternate universe zombie apocalypse Beach Boys, living in a nuclear winter California. Proving that they're not modern-day four horsemen, The 'Cans take a few space odysseys into the comedically crude and crass. That being said, I think I made it through three songs before the darkness started pressing in, and the lights came back on. Let's see if you can do any better, punk.
Des jeans négatifs de Jonathan Carroll:
(Recousus par Vincent Rondeau)
J'aimerais vous proposer de participer à un nouveau jeu : le Défi « Dans le noir » des Soupcans. Dans l'obscurité, « Good Feelings », le dernier album vaguement british et brutalement dissonant du groupe torontois, semble très loin de ce qu'on croit généralement être « bon », mais c'est peut-être ma conception de ce mot qui est trop limitée. C'est peut-être le son qu'auraient eu les Beach Boys dans un univers parallèle de zombies au beau milieu de l'hiver nucléaire post-apocalyptique californien. Pour prouver qu'ils ne sont tout de même pas les quatre cavaliers de l'apocalypse de l'ère moderne, les 'Cans se livrent volontiers à des exercices comiques ou vulgaires. Ceci étant dit, ça ne m'a pris que trois chansons avant que les ténèbres deviennent étouffantes et que je doive rallumer les lumières. Voyons voir si t'es capable de faire mieux, jeune punk.
Fun 100
Goodbye EP
Abbotsford, BC
Originally Released: 2007
From the foam improvement of Josiah Hughes:
When I lived in Abbotsford, there was no Champion Jack's and certainly no chillwave. There were, however, a million church basements, a handful of awesome thrift stores and a one-good-band-per-four-hippie-jam-bands ratio. Actually, there were a lot of goth bands too. A dude from my high school played in one called Ms. Anne Thropy, and now he's in some Skinny Puppy side-project.
Anyway, living in a shitty city with nothing to do is actually a lot of fun. We spent our time playing shows in houses and church basements, and the best band in the city was Fun 100. When I say they were the best band in the city, I mean that they had a middle-aged guitarist who butchered Sabbath and Police riffs through his awful Peavey practice amp before the whole band broke into a brutal "Blitzkrieg Bop." But twin towers Bruce and Ryan Dyck (k brothers, not twins) knew what was up. The former bashed his drums with Frankenstein arms, while the latter knew that a good frontman prioritizes throwing expired Twinkies at the audience over pitch or tone.
Since meeting them at the Burlesque House, Bruce and Ryan (and soon Adam and Marcus and Steve) became and remained my best friends. We released a split fan-CD, had Nelly dance parties and played with mohawked Christian pop-punk bands in tiny towns with names like Mission and Hope. We wheatpasted dumb jokes all over Abbotsford, started Internet fights and talked a whole lot of shit.
Somewhere along the way, Fun 100 evolved from my favourite friends to my favourite band, a remarkable songwriting prowess shining through more and more with each new release. From the droning-but-addictive chorus of "Computer" to Hit It and Quit and the Paper Lanterns split, Fun 100 were circling in on pop-punk perfection. Then, they called it quits. I've seen cry-moshing before, but until that night I'd never teared up at a hall show. It didn't matter, however, because they played an impossibly legendary, mic-less final set.
Not to get all Kevin Arnold on you, but everything from your childhood ends and changes, and the loss of my Favourite Band Ever has evolved from a bummer to the best teenage memories a guy could ask for. Those wildly absurd shows were literally the most formative times of my life, and the time I spent with these goofs shaped me as a person. My love of music writing can be seriously credited to Ryan's Bull Sheet zine.
It also helps that Fun 100's final release, the limited Goodbye CD-R, is secretly one of the best Canadian punk releases of its time. "Shitty Band" is all addictive guitar and synth interplay, "Slide Into Jerry" sees Ryan's comedic genius lyricism at its most loboto, "Foam Improvement" is a timeless power-pop classic that sounds like a way cooler Atom and his Package or a slightly lamer Pointed Sticks, "Ghetto Mall" is a Will Sasso-approved pop hit, and "Prom" is an incredible farewell to high school with absurd lyrics and million-part harmonies.
Clearly, the members of Fun 100 did the right thing by throwing in the towel — they've all moved on to better projects. One of 'em's a dad, one of 'em's a soldier and three of 'em are still in high school. Now if you'll excuse me, I have a Fun One Hun tattoo to design.
Josiah Hughes is the Music and Film Editor of FFWD Weekly, a regular contributor to Exclaim!, guit and choral for Grown-Ups, and a general shit disturber.
De la mousse intelligente de Josiah Hughes:
(Traduit par la larme à l'œil de Nicolas Coutlée)
Dans le temps où je vivais à Abbotsford, il n'y avait pas de Champion Jack's et certainement pas de chillwave. Il y avait cependant un million de sous-sols d'église, une poignée d'incroyables comptoirs familiaux et un ratio d'un-bon-band-pour-quatre-bands-de-jam-hippie. En fait, il y avait pas mal de groupes gothiques aussi. Un gars de mon école secondaire jouait dans l'un d'eux, Ms. Anne Thropy, et aujourd'hui il fait partie d'un side-project quelconque de Skinny Puppy.
Peu importe, vivre dans une ville de merde avec rien à faire est somme toute très amusant. On passait notre temps à donner des concerts dans les maisons et les sous-sols d'église, et Fun 100 était le meilleur groupe en ville. Par meilleur groupe en ville, je veux dire que leur guitariste de près de cinquante ans massacrait au travers de son horrible ampli de pratique Peavey des riffs de Sabbath et de Police avant que tous ne se lancent dans une version brutale de « Blitzkrieg Bop ». Mais les deux tours jumelles qu'étaient Bruce et Ryan Dyck (pas des jumeaux, juste les frères k) savaient ce qu'ils faisaient. Le premier piochait sur sa batterie avec ses bras de Frankenstein, tandis que l'autre priorisait le fait de lancer des Twinkies périmés dans la foule plutôt que de chanter dans le ton.
Depuis notre rencontre à la Burlesque House, Bruce et Ryan (suivis peu après par Adam et Marcus et Steve) sont devenus et restent encore à ce jour mes meilleurs amis. Nous avons fait paraître un split, organisé des partys à danser sur des tounes de Nelly et partagé la scène avec des groupes de pop-punk chrétiens dans des petits patelins avec des noms comme Mission et Hope. Nous couvrions les murs d'Abbotsford de posters comiques niaiseux, instiguions des batailles sur Internet et déconnions substantiellement.
De fil en aiguille, les membres de Fun 100 sont passés du statut de meilleurs amis à celui de groupe préféré, leur remarquable talent de composition se démarquant de plus en plus à chaque nouvelle parution. Du refrain monocorde-mais-contagieux de « Computer » à Hit It and Quit en passant par le split Paper Lanterns, Fun 100 gravitait autour de la perfection pop-punk. Puis, ils ont tiré leur révérence. J'ai déjà vu pleurer dans un mosh-pit, mais avant ce soir-là je n'avais jamais éclaté en sanglots à un concert de salle communautaire. Mais ça ne faisait rien puisqu'ils nous offrirent un dernier concert sans micro, légendaire au possible.
Je ne veux pas faire mon Kevin Arnold, mais tout ce qui est issu de l'enfance est voué à disparaître un jour et à évoluer, et la perte de mon Groupe Préféré À Vie, vécu d'abord avec dépit, est à la source aujourd'hui des meilleurs souvenirs d'adolescence que j'aurais pu espérer. Ces concerts sauvagement absurdes constituent littéralement l'époque la plus formatrice de ma vie et le temps que j'ai passé auprès de ces bouffons m'a façonné en tant qu'individu. Je dois d'ailleurs directement mon amour du journalisme musical au zine Bull Sheet de Ryan.
Le fait que le dernier effort de Fun 100, le CD-R à tirage limité Goodbye, soit l'un des secrets les mieux gardés du punk canadien de son époque n'est pas à négliger non plus. « Shitty Band » n'est que guitare contagieuse et jeux de synthé, « Slide Into Jerry » dévoile le génie des textes comiques de Ryan à son plus délirant, « Foam Improvement » s'impose comme un classique power-pop intemporel plus cool que Atom and his Package ou légèrement plus ringard que Pointed Sticks, « Ghetto Mall » est un hit pop portant le sceau d'approbation de Will Sasso et « Prom », un incroyable adieu au secondaire avec ses paroles absurdes et ses harmonies à un million de voix.
Il est évident que les membres de Fun 100 ont pris la bonne décision en se retirant – ils sont tous passés à de meilleurs projets. L'un d'entre eux est papa, un autre est soldat et trois d'entre eux fréquentent toujours le secondaire. Maintenant, si vous voulez bien m'excuser, j'ai un tatouage Fun One Hun à concevoir.
Josiah Hughes botte des culs, tous les autres puent.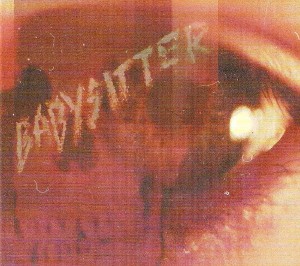 Babysitter
Eye
Victoria, BC
From the Canrock monarchy of James Lindsay:
For years, Babysitter's drop-out-fuzz lent itself perfectly to the less-than-perfect hiss of the cassette tape, so it took a great label like Psychic Handshake to have the keen ear to massage their sound onto long play vinyl without losing what was always so enduring. It still sounds like DRI jamming on Crazy Horse, but the music has taken on a more epic quality, something, that in the best sense of the denim/flannel stereotype, sounds Canadian as fuck while also evoking Grunge's greatest ideals. "Never gonna die! Never gonna die!" screams "Talking 'Bout The New Generation", an anthem for the ne'er-do-wellkids with hair in their faces and holes in their jeans, spilling Blue all over the basement floor as they slamdance to keep warm during long winters. With dedicated touring, prolific releases, and a new association with one of the country's best indies, Eye is set to position Babysitter as modern Canrock kings.
De l'humour Bleue de James Lindsay:
(Traduit par le rire jaune de Nicolas Coutlée)
Durant des années, le fuzz parasite de Babysitter s'est prêté parfaitement au sifflement moins-que-parfait de la cassette; il a donc fallu l'oreille attentive d'une maison de disques de renom comme Psychic Handshake pour transmuer leur son sur vinyle sans perdre ce qui a toujours fait sa marque. On a encore l'impression d'entendre DRI jammer avec Crazy Horse, mais la musique prend ici des proportions épiques, un son canadien comme le crisse, dans le meilleur sens du stéréotype denim/flanelle, qui évoque en même temps les plus grands idéaux grunge. « Never gonna die! Never gonna die! » entend-on hurler sur « Talking 'Bout The New Generation », un hymne pour les jeunes bons à rien, cheveux dans face et jeans troués, éclaboussant de la Bleue partout sur le plancher du sous-sol tandis que le mosh pit va bon train, question de se garder au chaud durant les longs hivers. Couplé à des tournées constantes, des parutions innombrables et une nouvelle collaboration avec l'un des piliers indie du pays, Eye place Babysitter en bonne position pour accéder au titre de rois des temps modernes du rock canadien.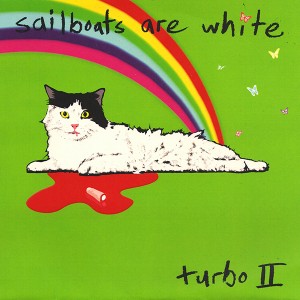 Sailboats are White
Turbo 2… The Best of
Hamilton, ON
From the hypnotic bass of Max Cotter:
A blistering and gut-churning onslaught of hypnotic bass, vociferous guitar, and perverse shrieks stagger stridently over a relentless, possessed drum machine at ungodly BPMs. Sailboats are White sear the soul with another blitz of true tinnitus toe tappers sure to split your ears. Feel the endorphins flow.
Du flétrissement de l'âme de Max Cotter:
(Traduit par les muqueuses marécageuses de Nicolas Coutlée)
Un assaut de basse hypnotique à vous en boursoufler et retourner les entrailles, une guitare vocifératrice et de stridents cris pervers oscillant au-dessus du BPM impie d'une inépuisable boîte à rythmes possédée. Sailboats Are White flétrit l'âme d'un autre vrai blitz de déchirements acouphèniques à vous faire taper du pied. Sentez les endorphines se répandre.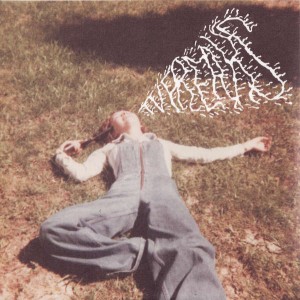 TV Freaks
EP
Hamilton, ON
From the truth-bombs of Mark Teo:
Like their hometown on Hamilton, TV Freaks possess an untameable — cough, ungentrifiable — streak. Their brand of punk is misanthropic, antisocial and, not surprisingly, devoid of art-school pretension. Beneath a Flipper-esque wall of distortion, though, lies a razor-sharp, tongue-in-cheek sense of humour. The speedy "Mall Punk," deadpans that "I wish I had convictions"; "Freelancer," atop a Male Bonding-esque lead, drops a truthbomb with the line that "I know a guy who does it cheaper"; "Identity Crisis," comes across as a brattier, crustier, Angry Samoans, and it might very well be the EP's finest offering. Call it ugly music for ugly people.
De la vérité explosive de Mark Teo:
(Traduit bras dessus bras dessous par Roxanne Navai et Nicolas Coutlée)
Comme Hamilton, leur ville d'origine, les TV Freaks ont un côté sauvage, pour ne pas dire impossible à embourgeoiser. Leur style de punk est misanthrope, antisocial et, sans surprise, exempt de la prétention caractéristique aux écoles d'art. Mais derrière le mur de distorsion Flipperesque se cache un humour ironique, tranchant comme un rasoir. Sur la frénétique « Mall Punk », le chanteur fredonne impassiblement qu'il aimerait avoir des convictions; sur l'air Male Bondingesque de « Freelancer », la vérité tombe comme une bombe : il connaît un gars qui peut le faire moins cher; sur « Identity Crisis », peut-être le meilleur morceau du EP, on croirait entendre les Angry Samoans, seulement plus aigres et effrontés. En gros, de la musique laide pour des gens laids.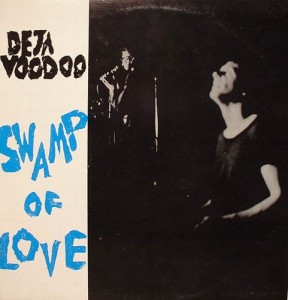 Deja Voodoo
Swamp of Love
(Og Music)
Montreal, QC
Originally Released: 1986
From the greasy gumbo of Steve Guimond:
Tony Dewald (drums) and Gerard van Herk (guitar/voice) were musical men ahead of their time. Born into a Montreal scene — and somewhat reflective of a greater pan-Canadian one — in the early 1980s that offered little or no support to independent bands, Deja Voodoo took control of their careers like no one who came before them. The duo birthed Og Music (home to their six records and the highly influential It Came from Canada compilation series), hosted and curated the annual Voodoo BBQs, and somehow managed to tour the world before calling it a day at the dawn of the next decade. Deja Voodoo's third LP, Swamp of Love, was where it was at for me, a teen growing up sheltered on the South Shore of Montreal. It's a greasy gumbo of rock, sludge, garage, and 'billy. Case in point is the awesome tune "Coelecanth": "I live in the sea, and swim around, the coolest fish, you ever found. A coelacanth…"
Steve Guimond is the booker for Montreal venues Casa del Popolo and La Sala Rossa, and the artistic director of Suoni Per Il Popolo, an annual experimental music festival celebrating its 13th year.
Du ragoût gras de Steve Guimond:
(Traduit par Vincent Rondeau)
Tony Dewald (batterie) et Gerard van Herk (guitare et chant) étaient des musiciens en avance sur leur époque. Laissés pour compte comme tant de groupes indépendants au beau milieu de la scène montréalaise du début des années 1980 (qui n'était pas si différente, à cet égard, de la grande scène pan-canadienne) Deja Voodoo ont pris les rênes de leur carrière comme personne d'autre auparavant. Le duo a ainsi donné naissance à Og Music (qui a mis sur le marché leur six albums ainsi que l'influente série de compilations It Came from Canada), animé et dirigé les événements annuels Voodoo BBQ et réussi à effectuer une tournée mondiale avant de se séparer au début des années 1990. Le troisième album de Deja Voodoo, Swamp of Love, est un ragoût gras de rock, de sludge, de garage et de rockabilly qui a été un événement marquant pour l'adolescent isolé de la Rive-Sud que j'étais à l'époque. Pour la preuve, je cite l'excellente « Coelacanth » : "I live in the sea, and swim around, the coolest fish, you ever found. A coelacanth…" (Je vis dans la mer et je me déplace en nageant, je suis le poisson le plus cool que vous ayez jamais vu : un coelacanthe…).
Steve Guimond organise les concerts des salles montréalaises Casa del Popolo et La Sala Rossa. Il est également directeur artistique du festival annuel de musique expérimentale Suoni Per Il Popolo qui célèbre cette année son treizième anniversaire.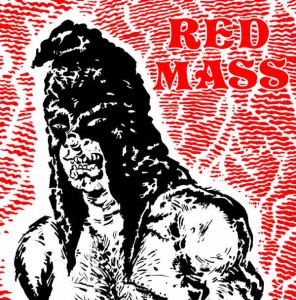 Red Mass
Television Personalities b/w Kill It From The Inside
Montreal, QC
From the shortwave vexation of David Ferris:
Red Mass's two-song single features formerly itinerant songs which have finally found a home on vinyl, thanks to the nurturing hands of Mammoth Cave. Unfortunately, even within his friendly new neighbourhood, Roy Choyce can't seem to turn over a leaf or curb his cur nature; he spends the duration of all seven inches scaring the neighbours and exploring the roles of bad cop integrator and fervent tormentor. You, dear reader, may think you're special, but make no mistake: you are all part of "the masses," and on "Television Personalities" our narrator's altered voice will crackle out of your speakers, enter your head and immediately begins to self-replicate, inducing lunatic bobbing and psychosis. B-side "Kill It From the Inside" reveals Choyce as harrier and hector, with sleazy and violent guitars wife-swapping channels while he announces his itinerary to the listener: killing, lies and lust. A must-get icy cold grip.
Du désarroi à ondes courtes de David Ferris:
Le simple de deux pièces de Red Mass regroupe des chansons orphelines qui ont finalement trouvé demeure sur vinyle grâce aux bons soins de Mammoth Cave. Malheureusement, même dans son nouveau quartier sympathique, Roy Choyce semble incapable de tourner la page ou de museler sa nature de chien enragé; il s'ingénie sur toute l'étendue de ces sept pouces à effrayer les voisins et à incarner les rôles de policier véreux et de fervent tourmenteur. Vous, chers lecteurs, peut-être vous croyez-vous spéciaux, mais n'allez pas vous tromper : vous faites tous partie « des masses », et, sur « Television Personalities », la voix altérée http://youtu.be/ypGxYM3MHqY du narrateur sortira grésillante de vos haut-parleurs, pénétrera votre tête et immédiatement commencera à se dédoubler, engendrant psychose et hochements de tête lunatiques. Sur la face B « Kill It From the Inside », Choyce se révèle tout aussi ravageur et tapageur, avec ses fréquences échangistes de guitares violentes et sordides, tandis qu'il annonce à l'auditeur son itinéraire : meurtre, mensonges et lubricité. À saisir absolument d'une poigne froide et glaciale.
Red Mass – Television Personalities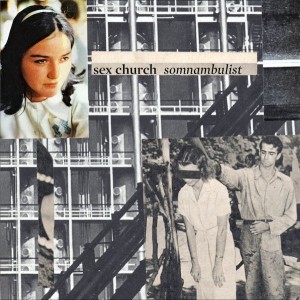 Sex Church
Somnambulist
Vancouver, BC
From the 9-5 grind of Jesse Locke:
The Somnambulist 12" is a straight-line descent into Sex Church psychosis. Churning and grinding like a bellyful of barbed wire, this ceaselessly bleak Vancouver crew pops their latest dose of downers on 45 rpm. "Hidden Hand" skulks off the needle drop with torture chamber vox and a spiked wall of sound, before "Slipped" rockets from the tomb on a pulse-quickening riff ripped from the pages of their beloved Cheater Slicks. Switch it to the "Wrong Side" and the tempo plunges down to Flipper territory via death-march guitars, thunderstruck drums and sinister sax. Props to St. Henri pirate Shaun Anderson for raising the flag on Instant Pleasure and the continued unfuckwithability of thee Psychic Handshake.
Du 9 à 5 de Jesse Locke:
Le 12″ « Somnambulist » est une descente vertigineuse dans la psychose de Sex Church. Les Vancouvérois résolument sombres nous offrent cette dernière dose déprimante en 45 tours de rythmes tordus et grinçants comme un bouquet garni de barbelés. Sur « Hidden Hand » une voix de torture se démène à travers un mur de son hérissé, tandis que « Slipped » surgit de la tombe avec un riff électrisant venu tout droit de chez Cheater Slicks. De l'autre côté (« Wrong Side ») le tempo s'alourdit et devient flipperesque avec des guitares de marche funèbre, une batterie retentissante et un saxophone sinistre. Remercions le pirate de Saint-Henri Shaun Anderson d'avoir hissé le drapeau d'Instant Pleasure avec la collaboration de l'irréductible Psychic Handshake.
---