Tag: prog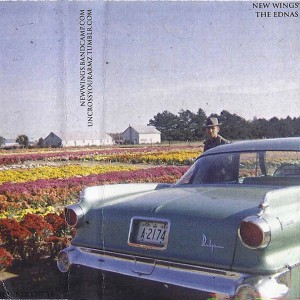 The Ednas // New Wings
Grounds Sits on Ground
Kitchener, ON // Waterloo, ON
From the feedback frenzy of Javier Fuentes:
This split tape features ecstatic fuzz and aerial themes pulled straight from the Mongolian wilderness of Kitchener/Waterloo. The Ednas emerge from desolate swamps of broken laptops, fighting back waves of content. Jekyll and Hyde vocals trade off between doom and despair while a parallel universe keeps Kevin Shields stuck in New York. To recover from the frenzy and feedback, one only needs to flip the tape for the instrumental musings of New Wings. Although they come from the same noisy birthplace, these guys have their sights set on a different set of constellations, somewhere beyond these salty skies.
De la frénésie de larsen de Javier Fuentes:
(Traduit par la Petite Ourse de Hugo Hyart-Dauvergne )
Cette cassette partagée offre du fuzz à l'extase et des thèmes aériens tous droits sortis de la Mongolie sauvage de Kitchener/Waterloo. Les Ednas émergent de marais désolés d'ordinateurs portables brisés en repoussant des vagues de contentement. Des voix à la Jekyll et Hyde oscillent entre désespoir et fatalité pendant qu'un univers parallèle retiens Kevin Shields à New-York. Pour se reposer de la frénésie et du larsen, il suffit simplement de retourner la cassette pour profiter des songeries de New Wings. Bien qu'ils viennent du même berceau tapageur, ces types ont le regard tourné vers d'autres constellations, quelque part au-delà de ces cieux salés.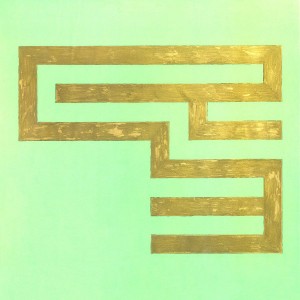 Yellowthief
Second Level Skills Vol. 1
Vancouver, BC
From the gorilla biscuits of Joe Smiglicki:
Vancouver's Yellowthief (guitarist Adam Flood and now ex-drummer Poib Fehr), spent countless hours crafting bloodcurdling encryptions of songs that question all reason. These are the type of tunes that make you wonder where your black leather gloves are. Flood's guitar cuts like precision medical devices used in the wrong hands, while Fehr sounds like an insane gorilla with sledgehammers. The duo has the skill, finesse, and brutality to showcase their love of free-jazz and extreme shredding on both sides of the wax.
Des biscuits pour gorille de Joe Smiglicki:
(Traduit par les gants de cuir noir de Stéphanie Trottier)
Le groupe vancouvérois Yellowthief, composé du guitariste Adam Flood et de l'ex-batteur Poib Fehr, a passé de nombreuses heures à chiffrer des chansons qui savent glacer le sang dans nos veines et qui nous font douter de notre raison. Le genre de chansons qui nous font chercher nos gants de cuir noir. La guitare de Flood tranche telle une lame de précision médicale tombée entre de mauvaises mains, tandis que Fehr donne l'impression qu'un gorille détraqué s'est emparé d'un marteau de forgeron. Le duo a assez d'habileté, de finesse et de brutalité pour démontrer son amour pour le jazz libre et le shredding extrême, et ce, des deux côtés de la médaille.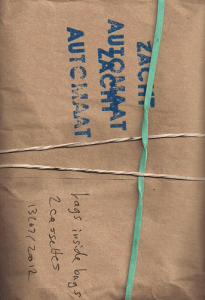 Zacht Automaat
Bags Inside Bags
(Self Released)
Toronto, ON

The depth of
Zacht Automaat's
bag of tricks seemingly knows no bounds, as evidenced by this lysergic whirligig of a double cassette. The Toronto-via-Hamilton-via-The Spaceways duo bent minds with their inaugural 2010-11 onslaught (seven original albums and a Beatles cover record) and have now drifted back into the cosmic consciousness with another hour-plus of mood-altering bubblegum. For
Bags Inside Bags
, the O.G. pairing of Ganesha-armed multi-instrumentalists Carl Didur and Michael McLean have enlisted Louis Percival (a.k.a. Broken Tree Fort a.k.a.
Onakabazien
) to man the traps, and Colin Fisher (one half of
NTW,NTF
) to lay down some skin-peeling sax. This monster release travels from kraut stomp to interstellar bliss-out with stops at the circus and of course a day-trip to
Canterbury
. For a deeper dip into the Automaat ouevre, check this in-depth and in-the-know
article
from the desk of Slim Twig.
Audio clip: Adobe Flash Player (version 9 or above) is required to play this audio clip. Download the latest version here. You also need to have JavaScript enabled in your browser.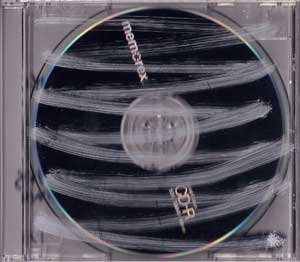 Crabe
(Self Released)
Montreal, QC

Crabe have unleashed a totally blasted and inexplicable artifact from the Montreal underground. Forging undefined links between Archimedean power pop and wasted
Ramones covers
, their unreadably-titled CDR gives the briefest glimpse into basemental prog conjured by the dialectically adventurous. Quintessentially bizarre. We're not even sure if this is
grippable
.
Audio clip: Adobe Flash Player (version 9 or above) is required to play this audio clip. Download the latest version here. You also need to have JavaScript enabled in your browser.
Audio clip: Adobe Flash Player (version 9 or above) is required to play this audio clip. Download the latest version here. You also need to have JavaScript enabled in your browser.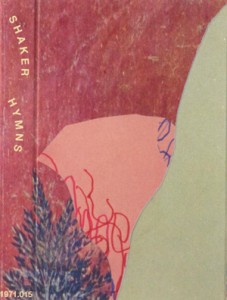 Shaker Hymns
Dub Sawyer EP
Montreal, QC

Imagine following that silly rabbit down a hole and never finding the bottom. A soundtrack to your descent may sound frightening but in fact, after about two minutes of free falling, a sense of peace licks your brain and you forget what it feels like to keep
two feet
on the ground. Shaker Hymns whoop and flip chords to penetrate typical guitar riffs for the ultimate in desert spy movie darkness. A voice squelches from behind a dune but the
bass 'n' drums
are your canteen of agua. Lifesavers in a strange place that leave you afraid but intrigued. A
plane in the sky
writes a message that reads: "keep going".
Audio clip: Adobe Flash Player (version 9 or above) is required to play this audio clip. Download the latest version here. You also need to have JavaScript enabled in your browser.
Audio clip: Adobe Flash Player (version 9 or above) is required to play this audio clip. Download the latest version here. You also need to have JavaScript enabled in your browser.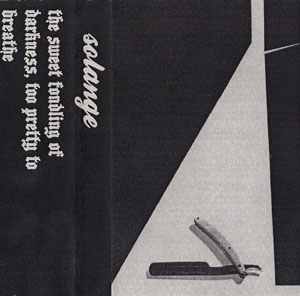 Solange
The Sweet Fondling Of Darkness,
Too Pretty To Breathe
Calgary, AB

This time-warped transmission from the
Watchtower Bible and Tract Society
drifts the listener deep into transoceanic distress. Sampledelic hydro vibes drenched in tape-warbled
basement prog
make for heavy loner moves in a cf. 2011 artifact of modern fringe. Solange's radiophonic workshop spins skyward as a cast of disembodied voices spin the
wheels of confusion
. Grip?
Audio clip: Adobe Flash Player (version 9 or above) is required to play this audio clip. Download the latest version here. You also need to have JavaScript enabled in your browser.
Solange – murder nutured by the brittle, cold teat of death
Audio clip: Adobe Flash Player (version 9 or above) is required to play this audio clip. Download the latest version here. You also need to have JavaScript enabled in your browser.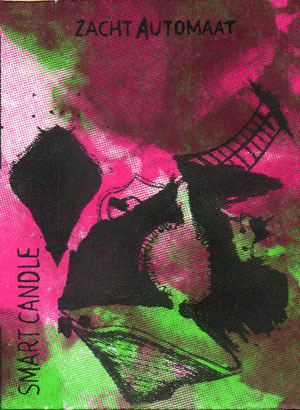 Zacht Automaat
Smart Candle
(Medusa)
Toronto, ON

Dense, hallucinogenic migrations emenate from the spinning magnetic strips
tucked
inside Zacht Automaat's phased journey through pressure-wave manipulation. Each side is a colossal trip through transcended flares, beat cut-ups, major-key Kraut drones, and swathes of
library dramatics
. The tape defies all classification and straddles a wicked line between beats/samples and live shredding. Completely unassuming, understated, and unforgettable, with an extra make 'em say un for the
unique packaging
. Must grip++
Audio clip: Adobe Flash Player (version 9 or above) is required to play this audio clip. Download the latest version here. You also need to have JavaScript enabled in your browser.
Zacht Automatt – Museum Robbery
Audio clip: Adobe Flash Player (version 9 or above) is required to play this audio clip. Download the latest version here. You also need to have JavaScript enabled in your browser.


From the (blue) fog bath of Michael Deane:
The Bog Lord and Haunting Pixie return to add to each other's tales, but gently, with contemplative, (blue) fog-bathed, repetitively folk-essed meditations. Side Wyrd finds Colin Bergh reveling in single guitar riffs that cascade from their centre into softly sung Nordic tales. Finger-plucked medieval guitar patterns sit in the back while a four-note bass line twists and repeats. Bergh's voice brings you further into a trance, struggling to find the beginning and end. When Jennifer Castle joins him, the waves combine and the tide swells, prepping you for Queen-like vocal stabs that bring this to new levels of acoustic-black-metal-folk-prog. Side Castle flips the script with a delicately plucked minor guitar pattern and soulfully smooth, airy vocals examining the powers above. Sporadic toms fill in the emptiness to give a surprisingly lush start to this solo-turned-strange-duet. Bergh re-enters the fold, echoing CM's questioning of the voice of God. Together, they create an epically surreal musical landscape. Grip Hurr.
Audio clip: Adobe Flash Player (version 9 or above) is required to play this audio clip. Download the latest version here. You also need to have JavaScript enabled in your browser.
Wyrd Visions – My Boat
Audio clip: Adobe Flash Player (version 9 or above) is required to play this audio clip. Download the latest version here. You also need to have JavaScript enabled in your browser.
Castlemusic – Voice of God
Christmas
Heritage
(Daffodil)
Oshawa, ON
Originally Released: 1970


From the spirited christmas of Aaron Levin:
Bob Bryden's recorded legacy is a humbling testament to the zenith of teenage creative potential. At the age of eighteen, Bob walked into a studio to record his fourth LP, the second under the banner of his hand-picked band Christmas (having already recorded two LPs as a leading member of Reign Ghost). Heritage remains a brilliant synthesis of lysergic hard-rock and the emerging streams of progressive shreddery. Crisp, punchy drums burst through the continuous leads, crunchy guitar, and trademark machine-gun bass lines to reveal an imaginative, surprising, and radiant vision of pop musics' future. One of the best and most creative records released in Canada and a great way to start adventuring within Byrden's amazing career.
Audio clip: Adobe Flash Player (version 9 or above) is required to play this audio clip. Download the latest version here. You also need to have JavaScript enabled in your browser.
Audio clip: Adobe Flash Player (version 9 or above) is required to play this audio clip. Download the latest version here. You also need to have JavaScript enabled in your browser.
---