Tag: pop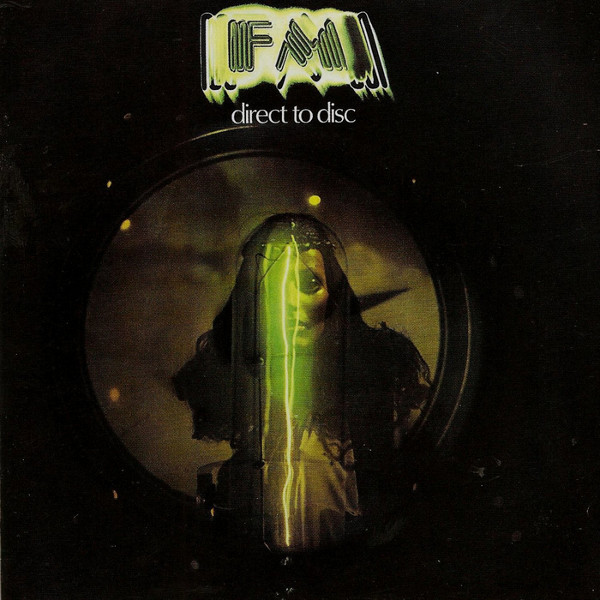 FM
Direct to Disc
Toronto, ON
Originally Released: 1977
From the real time of Jesse Frank Matthews:
In 2001 I took up playing the drums in order to get a psychedelic-heroin-punk band going with two talented Scotts I'd recently meet. We called ourselves The Strag and released one compact disc during our brief run, which we aimed to release on our own imprint, initially called 'Cut Throat Records'. I'd burned a few promotional copies and was eager to pass them to some clubs, then headed to a random show in Hamilton to try to secure an out of town show.
As I perused the records on the merch table I realized who was playing that evening — Nash the Slash (and SIANspheric or maybe Russian Futurists). It appeared that Cut-Throat Records was in fact already taken, and was the name of Nash's own label. We quickly changed our label name before the CDs got printed and distributed.
When I was 15 I inherited my father's eclectic LP collection. One of the real gems was a live recording made in Toronto in 1977 called Direct to Disc by a Canadian band called FM. Nash played in this band for years. I used one of my favourite passages from that record (listen below) as the main element behind a recent JFM track entitled "EENUFF". Only after the old LP sleeve was found again after misplacing it for years, I realized this FM record was in fact the first to not feature Nash, but a rather good imitator instead.
In my own practices I always use bits and pieces from life that engage and inspire me. I don't always know their respective origins and sometimes by the time I'm done I can't recall what it was to begin with. It's the thought that counts. R.I.P. Nash.
JFM lives out by the Atlantic ocean where he makes music for the jellyfish; a pirate without a ship.
Du temps bien réel de Jesse Frank Matthews:
(Traduit par le clavier gazéifié de Geneviève Faubert)
En 2001, je me suis mis à la batterie pour fonder un groupe punk héroïno-psychédélique, The Strag, avec deux gars talentueux nommés Scott que je venais de rencontrer. Au cours de notre brève existence, nous avons produit un disque compact que nous avions l'intention de lancer sur notre propre étiquette, qui s'appelait à l'origine « Cut Throat Records ». J'ai gravé quelques exemplaires promotionnels pour les remettre à des boîtes de nuit, puis je me suis rendu à un concert à Hamilton un peu par hasard afin de trouver un endroit où jouer en dehors de la ville.
C'est en parcourant les albums du stand de vente que j'ai appris qui jouait ce soir-là : Nash the Slash (avec SIANspheric, ou peut-être était-ce Russian Futurists). Apparemment, notre nom d'étiquette Cut-Throat Records était déjà utilisé par nul autre que Nash the Slash. Nous nous sommes empressés de trouver un nouveau nom avant l'impression et la distribution de nos albums.
À l'âge de 15 ans, j'ai hérité de la collection éclectique de disques vinyle de mon père. J'y ai découvert un trésor : Direct to Disc, un disque enregistré en direct à Toronto en 1977 par un groupe canadien du nom de FM, dont Nash a été membre pendant des années. L'un de mes extraits préférés du disque (à écouter ci-bas) a été l'inspiration principale d'une pièce de JFM intitulée "EENUFF". Ce n'est qu'en retrouvant la vieille pochette de l'album, des années plus tard, que je me suis rendu compte que ce disque de FM était en fait le premier album paru sans la contribution de Nash, et qu'il s'agissait plutôt d'une bonne imitation.
J'ai pris l'habitude d'incorporer à mes travaux des éléments glanés au hasard de la vie qui m'inspirent et me font réfléchir. Je ne connais pas toujours leur origine respective, et lorsque je termine un échantillonnage, il m'arrive parfois d'oublier de quoi il était question au départ. C'est la pensée qui compte. R.I.P. Nash.
JFM, pirate sans navire, habite la côte atlantique où il crée de la musique pour les méduses.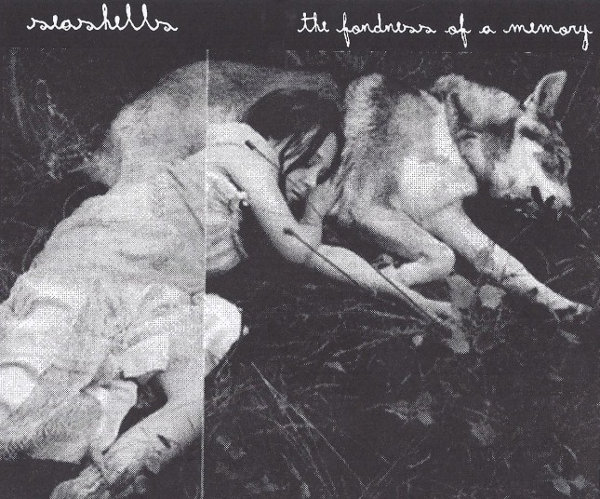 Seashells
The Fondness of a Memory
(Inyrdisk)
London, ON
From the transcending clock of Javier Fuentes:
Disorienting and sometimes harsh zones are par for the course when digging through the Inyrdisk crates, but this latest release from Seashells throws its curveball in the form of unassuming pop precision. Soft strums brush off our troubles with a melodic sleight of hand. Teresa Daniele's vocals announce their calming presence without waking the silent spaces. Cut through your radio static and pay close attention to how the signal mixes with the hushed breeze outside. Your unfound memories from simpler times will transcend the clock through these saccharine gems.
De l'horloge transcendante de Javier Fuentes:
(Traduit par la mélodie déroutante de Julie Forget)
Des zones déroutantes et parfois discordantes sont courantes quand on cherche parmi les boîtes d'Inyrdisk, mais cette récente sortie de Seashells lance sa balle courbe avec une précision de pop modeste. Des grattements doux écartent nos difficultés avec une dextérité mélodique. Les voix de Teresa Daniele annoncent leur présence calmante sans réveiller les espaces silencieux. Choisissez votre radio statique et prêtez attention à la manière dont le signal se mélange avec la brise feutrée à l'extérieur. Vos souvenirs cachés de temps plus faciles transcenderont l'horloge grâce à ces pierres précieuses saccharines.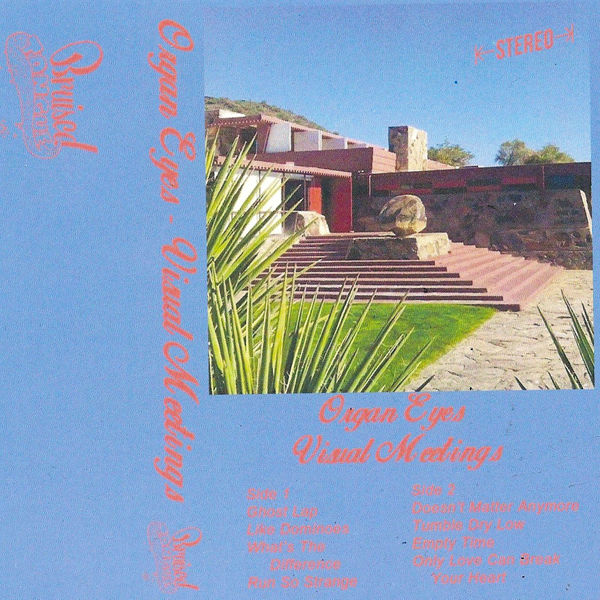 Organ Eyes
Visual Meetings
Ottawa, ON
From the daybreak and eventide of Brian Fauteux:
At dawn, Visual Meetings is perhaps the darkest. Waves of heavy fog, moving in from beyond. Rolling hills break up the heavy, low clouds with a hypnotic rhythm that mirrors our pulse. Yet, there is a warmth that carries through. As it brightens, strings and "Ahs" and an upbeat kick call-and-respond to a poppy psychedelic sensibility. Glowing, growing, spiraling and winding into a room that echoes, revealing its vastness. At dusk voices near and far, past and present, remind us that it's only love that will break our hearts.
De l'aube jusqu'aux dernières lueurs de Brian Fauteux:
(Traduit au rythme de Louis-Félix Pellerin)
C'est aux premières lueurs du jour que Visual Meetings est à son plus sombre. Un épais brouillard surgit de l'au-delà. Un vallon de collines perce les nuages volant à basse altitude avec un rythme hypnotique qui évoque notre pouls. Pourtant, on peut sentir le passage d'une certaine chaleur. Alors que la journée avance, des coups de cordes, des multiples « Ah ! » ainsi qu'un bon coup enjoué réagissent harmoniquement à une sensibilité pop-psychédélique. Le son brille, croît, serpente et se répercute à l'intérieur d'une chambre avec un écho qui révèle son immensité. Au crépuscule, des voix de près et de loin, d'antan et d'aujourd'hui nous rappellent qu'il n'y a que l'amour qui peut nous briser le cœur.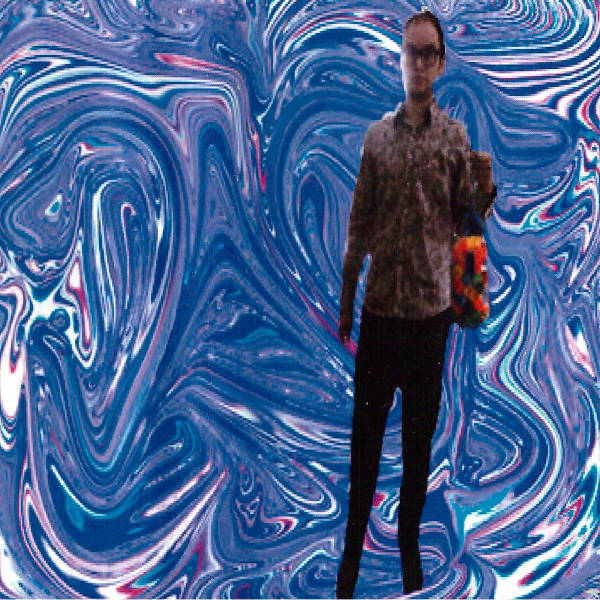 The Party Upstairs
Cartoon Universe
(Self Released)
Halifax, NS
From the blue dolphins pouring out of the enthusiaastic head of Hugo Hyart:
Like a magnetic tape trip in a world of glitched cartoons. Like a virtual tour in a ghostly carnival-casino-city. Like augmented reality trances through the information magic beans forest. Like a blink of human sentience. Holy lustig music.
Des dauphins bleus qui tombent du crâne enthousiaaste de Hugo Hyart:
Comme un voyage sur bande-magnétique dans un monde de dessin-animés bugués. Comme une virée virtuelle hallucinée dans une ville-carnaval-casino fantômatique. Comme des transes en réalité augmentée à travers la fôret des harricots magiques de la communication. Comme un clignotement de la sentience humaine. De la musique de sacré foufou.

The Party Upstairs – Languid Laughing Infinity

The Party Upstairs – The Jackrabbit Boogie in the Desert Under the Moon and the Sun As Well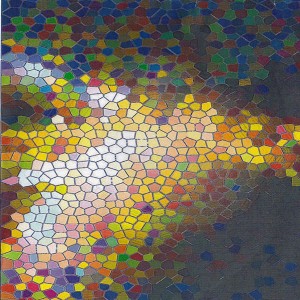 Carl Weathers
Tern
(Self Released)
Montréal, QC
From the theatre of the absurd of Josh Silver:
The most atmospheric experiences demand a counterpoint of unearthly disembodiment, a rhythm breaking the monotony of pure ambience. Montreal via Calgary's Carl Weathers blend pointed repetition, cutting through their constructed aura of wide reverb. Tern is an exercise in musical closure, where sharp and soft instrumentation intertwine and coexist. Imagine a cup of coffee on a cold day, or watching the world go by from your window; this is the music of Carl Weathers.
Du théâtre de l'absurde de Josh Silver:
(Traduit de la tasse de café de Catherine Gaucher)
Les expériences les plus atmosphériques exigent un contrepoint de désincarnation surnaturelle, un rythme pour briser la monotonie de l'ambiance pure. Les Montréalais originaires de Calgary Carl Weathers créent un mélange de répétitions pointues qui coupent à travers leur aura construit de larges réverbérations. Tern est un exercice d'acceptation musicale où sonorités tranchantes et souples s'entrelacent et coexistent. Imaginez boire une tasse de café lors d'une journée froide, ou regarder le monde passer à travers votre fenêtre : telle est la musique de Carl Weathers.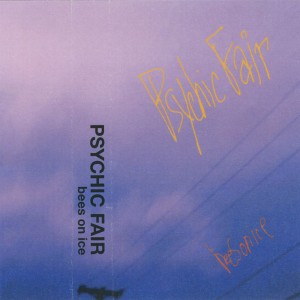 Psychic Fair
Bees on Ice
(Self Released)
Halifax, NS
From the third eye of Josh Silver:
Bees on Ice glitters in its glammy pop like a neon sign for the mysterious palm reader down the street you always meant to visit. Gritty guitars grind like a weather beaten door, while clean drums cushion like dense velvet drapery slung across windows. The crystal ball conjures up Psychic Fair's surreal world, bringing forth a prismatic, sparkling, and methodical strangeness, drawing the listener into the deeper mystery.
Du troisième œil de Josh Silver:
(Traduit par les lignes de la main de Julie Forget)
Bees on Ice brille dans sa glam pop comme l'enseigne au néon de la mystérieuse diseuse de bonne aventure un peu plus loin sur la rue que vous avez toujours voulu visiter. Des guitares rugueuses bûchent comme une porte battue par le vent pendant que les drums purs amortissent le tout comme un épais rideau de velours suspendu devant les fenêtres. La boule de cristal fait apparaître le monde surréel de Psychic Fair, donnant naissance à une étrangeté prismatique, étincelante et méthodique, amenant l'auditeur dans le plus profond des mystères.

Psychic Fair – Won't it Be Weird When We Can't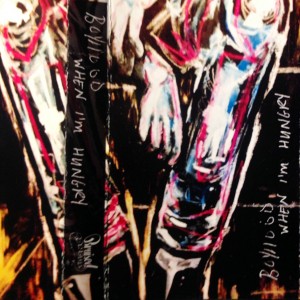 Boyhood
When I'm Hungry
Ottawa, ON
From the tardy basement incubator of Pavan Brar:
An all-encompassing and soothing coziness cloaks the 10-track span of Boyhood's When I'm Hungry. The album unconceals a familiar and intimate kind of bedroom-solipsism, carving out delta waves in static and crafting out lo-fi hummed lullabies. Let ocean-fuzz seep through the pores of your speakers, reverberating through the room in an embryonic warmth that's all too sedating to not become immersed in at once.
De l'incubateur au ralenti de Pavan Brar:
(Traduit par l'encéphale mou de Nicolas Coutlée)
Une douceur enveloppante et curatrice recouvre les dix pièces de Boyhood sur When I'm Hungry. Dévoilant une sorte de solipsisme de chambre à coucher intime et familier, l'album taille dans la statique des ondes delta au son des berceuses lo-fi fredonnées. Laissez le fuzz océanique infiltrer les pores de vos haut-parleurs et se réverbérer à travers la pièce telle une chaleur embryonnaire beaucoup trop anesthésiante pour ne pas vous y noyer aussitôt.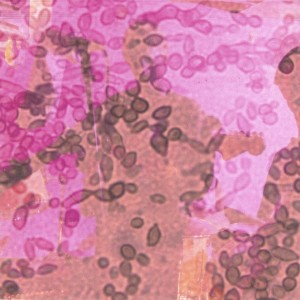 Mold Boy
Lost My Day
(Self Released)
Montréal, QC
From the ying yang of Javier Fuentes:
Upon first discovering Mold Boy, this secretive persona left many a WC writer scratching their heads as they tried to verify the identity of the project's creative mastermind. Clues went everywhere as bandcamp tags were analyzed and anagrams investigated. Turns out we didn't have to look farther than our own pages to find the six-string orchestrator. Alex Calder's effortless pop chops rewind our minds back to the last carefree moment found in the memory log. We walk around paused in this state, slowly creeping towards hazy VHS images that carousel around us. The desire to break through this mirage weakens with each note.
Du yin et du yang de Javier Fuentes:
(Traduit par la douceur mécanique de David Kohler)
Lors de la découverte de Mold Boy, ce persona cachottier laissa plus d'un membre de WC à se gratter la tête en tentant de vérifier l'identité du cerveau créatif derrière ce projet. Les indices fusaient de partout alors que les tags sur bandcamp étaient analysés et divers anagrammes étudiés. Il se trouve que nous n'avions pas à chercher plus loin que nos propres pages pour trouver cet orchestrateur à six cordes. Avec une technique pop nonchalante, Alex Calder renvoie notre esprit aux derniers moments d'abandon trouvés dans l'historique de notre mémoire. On déambule, suspendu dans cet état, en glissant doucement vers un carousel d'images voilées de VHS tournant autour de nous. Le désir de percer au travers de ce mirage s'atténue avec chaque note.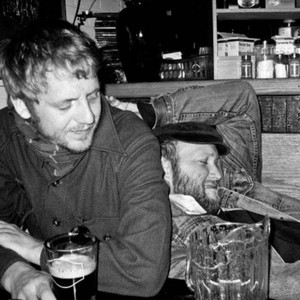 Hurricane & Able
The Last Temptation (Of H&A)
(Self Released)
Toronto, ON
From the wallflower wonderings of Chizz Mbamalu:
With every lyric and guitar riff of The Last Temptation the heart caves, causing the slight feeling of beautiful sadism. Each track of the album echoes relatable feelings of love and friendship, but also, of being lonely and being alone; two very cold topics that are brought to warmth by the passion and strength of Barry and Shawn's musicianship. The record is described as "little snippets here and there of ideas on (Barry's) computer and then turned into something just before heading to London."
However, this album isn't just a slapdash job thrown together at the last minute. It was first recorded in February 2012 and then released July 2013. A lot of vigour and spirit went into this album and it's apparent. There are some really special things this record does to cozily wrap you up into it. The surf-rock sound of "Little Girl" sends you back in time to being a young wallflower at a school dance and the anxiousness over whether you should ask your crush to dance. The additional vocals on "The Glory of Love" add a drunken, loving sense of community to give us the extra courage we might need to talk to the one we long for. This album goes well with a broken heart, a day off, your comfy bed and a pack of cigarettes.
Des introspections bucoliques de Chizz Mbamalu:
(Traduit par le semoir à mots d'Aliké Harel)
Chaque parole et chaque riff de guitare dans The Last Temptation taillade le cœur, ce qui éveille un soupçon de charme sadique. Toutes les pistes de l'album évoquent des émotions connues d'amour et d'amitié, mais aussi d'isolement et de solitude, deux sujets de glace que Barry et Shawn animent du feu de leur passion musicale. L'album est décrit comme « de petites bribes, ici et là, des idées compilées à l'ordinateur (celui de Barry) et ensuite mises en forme juste avant le départ pour Londres ».
Cependant, il ne s'agit pas d'un travail bâclé improvisé à la dernière minute. Le premier enregistrement a été fait en février 2012 et lancé en juillet 2013. L'album a été conçu avec beaucoup de vivacité et d'esprit, on le sent. Plusieurs aspects singuliers à The Last Temptation enveloppent tendrement l'auditeur. La touche de rock surf dans « Little Girl's » vous ramène à l'époque où vous étiez une fleur timide au bal de l'école et vous remémore les sueurs froides causées par l'idée d'inviter votre flamme à danser… ou pas. Les voix supplémentaires dans « The Glory of Love » ajoutent un sentiment d'appartenance teinté d'amour et d'ivresse, de quoi donner la force de parler à celui ou celle pour qui on se languit. Cet album accompagne bien les cœurs brisés, pendant un jour de congé, dans un lit douillet et muni d'un paquet de cigarettes.
Hurricane & Able – Little Girl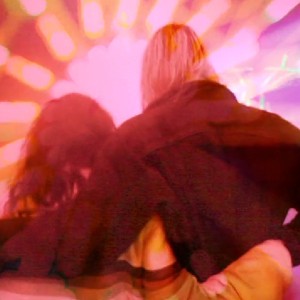 The Courtneys
"Lost Boys"
(Director: Rose Gagnon and Andrew Volk)
Vancouver, BC
From the neon mind of Harriet Wild:
Teen dreaming is fang-tipped and splashed in neon in The Courtneys' latest video: a hedonistic homage to vampire babes and school nights on the boardwalk. Under the spotlight-full moon, this is a teenage riot set to the thrust and jump of the arcade and amusement park; the whiff of cotton candy; the twirl 'n' hurl of no-curfew romance. Ride the Crazy Beach Party tonight!
De l'esprit néon de Harriet Wild:
(Traduit par Hugo Hyart)
La rêverie adolescente est plantée de crocs et aspergée de néon dans la dernière vidéo des Courtneys: un hommage hédoniste aux vampires adorables et aux nuits d'écoles sur les passerelles. Sous la pleine lune-projecteur, c'est une révolte adolescente au rythme de la poussée et des sauts de la salle de jeux-vidéos et du parc d'attraction; la bonne odeur de barbe à papa; le tournoiement lancé de la romance sans couvre-feu. Tous à la Crazy Beach Party ce soir!
---