Tag: pop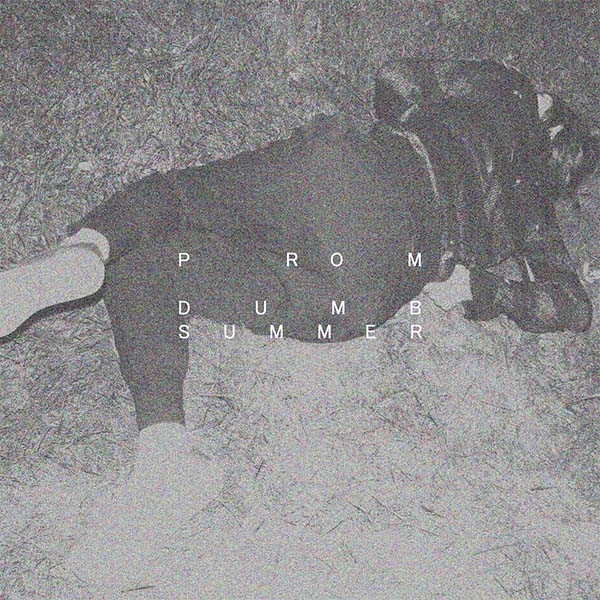 Prom
dumb summer
(Self Released)
Toronto, ON
From the shattered ornithology of Joshua Robinson:
They return, with lo-fi proverbs that speak to the static heart housed in the most whirling of us all. Tapestries hang from mildewed ceilings, affectations and tenderness falling from water spouts as charcoal recoils spiral scorned innuendo. To the criers prostrate on the yellowed floor: hold hands under cold taps as aquafirs pool in cupped hands; lips pursed, inhaling liquid healing. For those caught in the roundabout, know that heartstrings double as damaged ornithologies; clipped wings and tear ducts attuned to the crisp crackle of 'hello' followed by 'goodbye'. We are young. We are broken.
De l'ornithologie éclatée de Joshua Robinson:
(Traduit par Jessica Grenier)
Ils sont de retour avec des proverbes lo-fi qui parlent au cœur statique habitant les plus mouvementés d'entre nous. Tapisseries suspendues à des plafondsmoisis, manières et tendresse tombant de gerbes d'eau tels les rejets charbonneux spiralés d'une insinuation méprisable. Au crieur prostré sur le plancher jauni : joins tes mains sous le robinet froid comme des paumes recueillant un réservoir aquifère, les lèvres tendues pour recevoir la guérison liquide. Pour ceux perdus entre les lignes, sachez que les cordes sensibles sont aussi des ornithologies endommagées : ailes coupées et canaux lacrymaux accordés au crépitement craquant d'un « bonjour » suivi d'un « au revoir ». Nous sommes jeunes. Nous sommes brisés.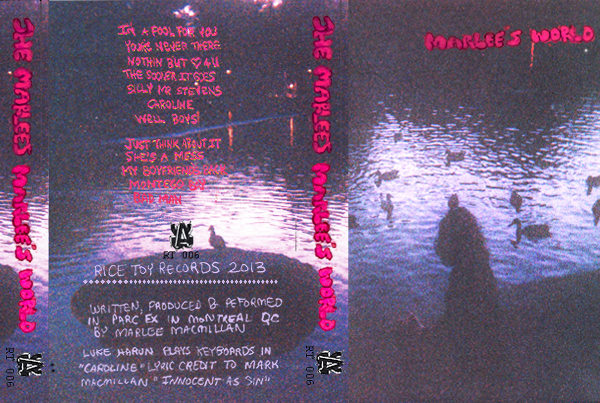 Whether breezily evoking a weary lo-fi Velvets or the Byrds-influenced strand of downer teenage garage, Marlee coats everything in the kind of murk characteristic of the best past and current NZ/Australian imprints.
The Marlees
Marlee's World
(Rice Toys)
Montréal, QC
From the murky mind of Eamon Quinn:
Whether breezily evoking a weary lo-fi Velvets or the Byrds-influenced strand of downer teenage garage, Marlee coats everything in the kind of murk characteristic of the best past and current NZ/Australian imprints. The near-boogie on the last two tracks suggest the tape a sleepier Marc Bolan might have cut for K with Stephen Pastel producing.
De l'esprit glauque d' Eamon Quinn:
(Traduit par Andréanne Dion)
Qu'il évoque avec désinvolture un Velvet lo-fi las ou un garage adolescent déprimé sous l'influence des Byrds, Marlee enveloppe tout des traits glauques des meilleurs sons néo-zélandais et australiens du passé et du présent. Les deux dernières chansons, qui inspirent presque la danse, rappellent ce qu'un Marc Bolan légèrement endormi aurait pu enregistrer pour K avec Stephen Pastel à la production.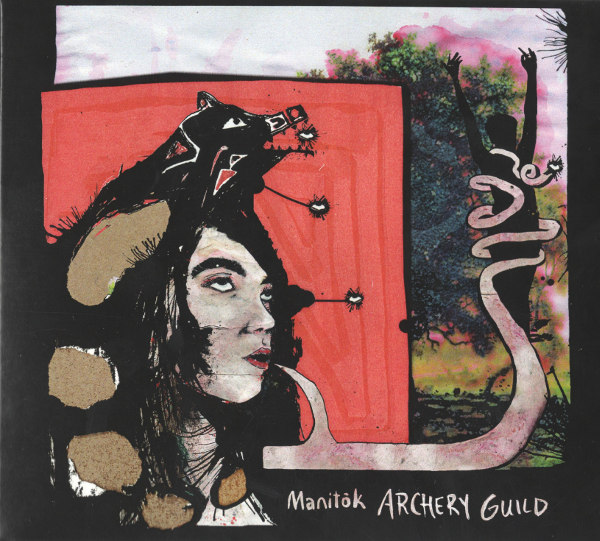 Dream sequences hint at things hidden and mythical from our collective memories, experiences that we can all understand even if they're hard to explain. Michael Cota is adept at allegory, able to coax meaning from the music and texts on this album. What this means is that Manitòk's oblique narrative is fully realized and succinctly fleshed out by his multi-tasking band mates.
Archery Guild
Manitòk
(Self Released)
Montréal, QC
From the axial silence of Nick Smith:
Dream sequences hint at things hidden and mythical from our collective memories, experiences that we can all understand even if they're hard to explain. Michael Cota is adept at allegory, able to coax meaning from the music and texts on this album. What this means is that Manitòk's oblique narrative is fully realized and succinctly fleshed out by his multi-tasking band mates. Like the guiding northern star of a boreal night, these sound-stories remain a beacon for campfire vigils. An Algonquin homeric epic-in-miniature, well worth a spin while on your settee.
Du silence axial de Nick Smith:
(Traduit en solidarité par Nadine Tkatchevskaia)
Les séquences de rêves font allusion aux choses cachées et mythiques de nos mémoires collectives, des expériences que nous pouvons tous comprendre malgré le fait qu'elles soient difficiles à expliquer. Michael Cota est un adepte des allégories et capable d'amadouer une signification par la musique et les textes de cet album. Cela veut dire que la narration oblique de Manitòk est tout à fait accomplie et étoffée de manière concise par ses copains de groupe qui font plusieurs choses à la fois. Tout comme l'étoile du Nord qui guide dans la nuit d'une aurore boréale, ces histoires en sons restent le signal pour les veilles de feu de camp. Un Algonquin homérique, grandiose en miniature, qui vaut bien la peine d'être écouté sur votre canapé.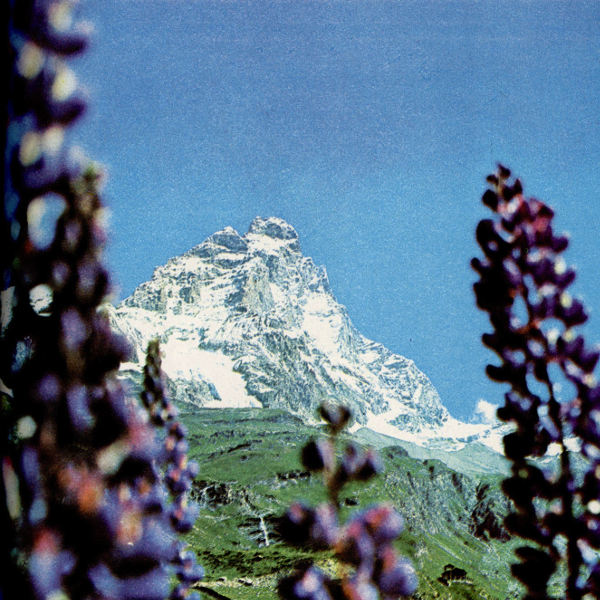 Strange Fires
Strange Fires
(Self Released)
Morinville, AB
From the summer haze of Davita Guslits:
If the album art from Strange Fires' self-titled EP was a still from a film, you wouldn't be surprised to press play and hear the billowing notes waft lazily towards you. They would lull you into a hazy memory of a teenage summer fling, or a vacation in the city spent grasping for—and almost reaching—the meaning of happiness. But with the closing lyrics of the EP, you come back down to Earth. Here, you realize that your fling wasn't all wine and roses, and that your vacation gave way too soon to the usual routine, because "nothing really lasts".
De la brume d'été de Davita Guslits:
(Traduit par elfranc)
Si le visuel de l'album éponyme de Strange Fires était un cliché tiré d'une scène de film, on ne serait pas étonnés d'entendre les notes tourbillonner et flotter avec paresse dans notre direction. Elles nous transporteraient dans une mémoire floue d'un amour d'été d'adolescence ou dans des vacances en ville où nous avons essayé d'atteindre (et avons presque réussi) un vrai moment de bonheur. Mais les dernières paroles du EP nous ramènent sur terre. Ici, on réalise que notre amourette n'était pas toute de vin et de roses et que nos vacances ont laissé place trop tôt à la routine quotidienne, car « rien n'est éternel ».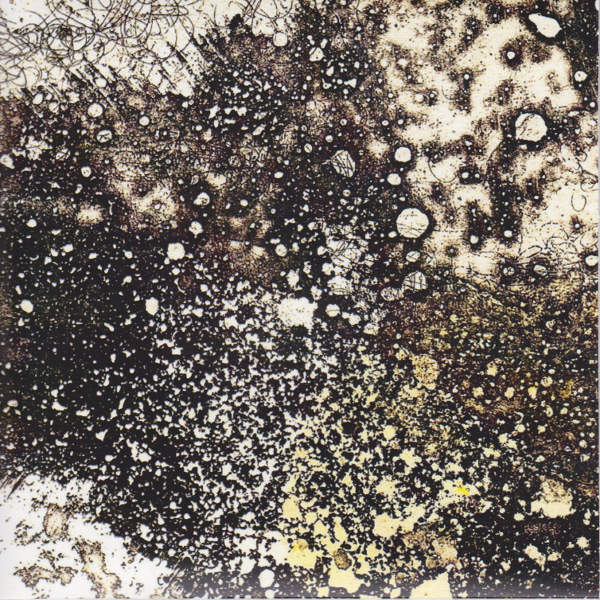 Le Pélican Noir
Le silence tendu au-dessus de nos têtes comme un orage en suspens
(Faff Records)
Montréal, QC
From the fulgent telescope of Joshua Robinson:
Celestial circumflexes as astral bodies collide to the subterranean syntax of voices registering an instrumental intonation, with arms and heads tilting skywards as the commiseration of the night wraps itself about the day. Take sartorial solace as bodies sway to the reassurances of the timbred phonetics that dance loosely on floors of imagined terrestrialism. The sky breathes heavily, exhaling a dusk that renders moot the muggy light emanating from dimly lit doorways, as denizens of Krautrock propinquities are captured in motion, swaying to the post-rock sepia of slow-form stellar dramatics. Projections of these asymptotic stargazers stand ghostly and translucent before the break of reverie, as the firmament collapses under the weight and provocation of stylistic convergence. Colours bleed into one another as telescopes turn inwards to capture the sights that are the sounds of the nothernly whispering amongst themselves.
Du brillant téléscope de Joshua Robinson:
(Traduit par les pulsations galactiques de David Kohler)
Circonflexes célestes pendant que des corps astraux entrent en collision avec la syntaxe souterraine de voix qui enregistrent une intonation instrumentale, avec bras et têtes inclinés en direction du ciel, alors que la commisération de la nuit s'enveloppe autour du jour. Consolez-vous alors que ces astres se balancent aux timbres phonétiques rassurants qui dansent nonchalamment sur des planchers au terrestrisme imaginé. Le ciel a le souffle lourd; il exhale un crépuscule qui rend discutable la lumière moite émanant des portes faiblement éclairées, tandis que les proches de Krautrock sont capturés dans le mouvement, balançant aux sépias post-rock d'un lent drame stellaire. Les projections fantomatiques et translucides de ces astronomes asymptotiques se tiennent à l'aube de rêveries alors que le firmament fléchit sous le poids et la provocation de convergences stylistiques. Les couleurs déteignent les unes dans les autres tandis que le téléscope se retourne contre soi pour capturer les vues que constituent les sons des chuchotements du Grand Nord.
Les Pélican Noir – …Et Les Arbres Déserteront Les Champs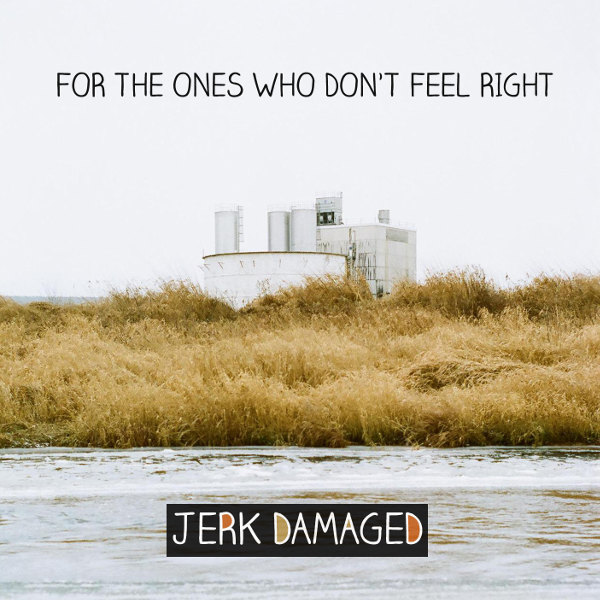 Jerk Damaged
For the Ones Who Don't Feel Right
(Self Released)
Truro, NS
From the hazy outline of Kevin Braiser:
Channeling Hüsker Dü and the Replacements, Truro legend Evan Mumford crafts a crucial reminder for us old-punks: it is still cool to wax poetic on the steady flashes of frustration, pain, and joy we haven't lost ourselves to since high school. Half the tracks are backed by Sackville rats Joe Chamandy (Astral Gunk) and Scott Brown (Kappa Chow), making this an essential grip for fans of recent marsh-scuzz releases. For the Ones Who Don't Feel Right is currently soothing my grown-up pains, and I'm considering crowd surfing on the TTC.
De la silhouette floue de Kevin Braiser:
(Traduit par la forme assombrie de Louis-Félix Pellerin)
C'est en canalisant Hüsker Dü et The Replacements que la légende truroise Evan Mumford rappelle aux vieux punks quelque chose de crucial : il n'y a pas de honte à poétiser ces moments de frustration, de douleur et de joie dans lesquels on ne s'est pas abandonné depuis l'école secondaire. La moitié des morceaux sont faits en collaboration avec les rats sackvillois Joe Chamandy (Astral Gunk) et Scott Brown (Kappa Chow), faisant de cet album un incontournable pour les fans de punk sale et marécageux contemporain. For the Ones Who Don't Feel Right met du baume sur mes plaies existentielles, et je pense sérieusement aller faire du body surfing sur le réseau de la TTC.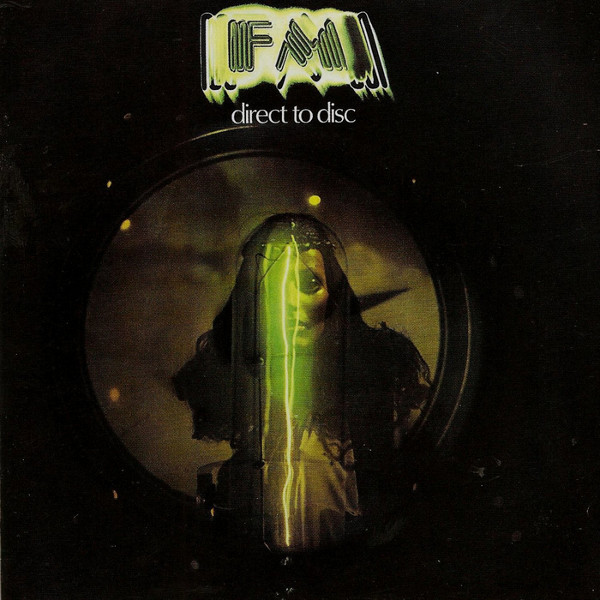 FM
Direct to Disc
Toronto, ON
Originally Released: 1977
From the real time of Jesse Frank Matthews:
In 2001 I took up playing the drums in order to get a psychedelic-heroin-punk band going with two talented Scotts I'd recently meet. We called ourselves The Strag and released one compact disc during our brief run, which we aimed to release on our own imprint, initially called 'Cut Throat Records'. I'd burned a few promotional copies and was eager to pass them to some clubs, then headed to a random show in Hamilton to try to secure an out of town show.
As I perused the records on the merch table I realized who was playing that evening — Nash the Slash (and SIANspheric or maybe Russian Futurists). It appeared that Cut-Throat Records was in fact already taken, and was the name of Nash's own label. We quickly changed our label name before the CDs got printed and distributed.
When I was 15 I inherited my father's eclectic LP collection. One of the real gems was a live recording made in Toronto in 1977 called Direct to Disc by a Canadian band called FM. Nash played in this band for years. I used one of my favourite passages from that record (listen below) as the main element behind a recent JFM track entitled "EENUFF". Only after the old LP sleeve was found again after misplacing it for years, I realized this FM record was in fact the first to not feature Nash, but a rather good imitator instead.
In my own practices I always use bits and pieces from life that engage and inspire me. I don't always know their respective origins and sometimes by the time I'm done I can't recall what it was to begin with. It's the thought that counts. R.I.P. Nash.
JFM lives out by the Atlantic ocean where he makes music for the jellyfish; a pirate without a ship.
Du temps bien réel de Jesse Frank Matthews:
(Traduit par le clavier gazéifié de Geneviève Faubert)
En 2001, je me suis mis à la batterie pour fonder un groupe punk héroïno-psychédélique, The Strag, avec deux gars talentueux nommés Scott que je venais de rencontrer. Au cours de notre brève existence, nous avons produit un disque compact que nous avions l'intention de lancer sur notre propre étiquette, qui s'appelait à l'origine « Cut Throat Records ». J'ai gravé quelques exemplaires promotionnels pour les remettre à des boîtes de nuit, puis je me suis rendu à un concert à Hamilton un peu par hasard afin de trouver un endroit où jouer en dehors de la ville.
C'est en parcourant les albums du stand de vente que j'ai appris qui jouait ce soir-là : Nash the Slash (avec SIANspheric, ou peut-être était-ce Russian Futurists). Apparemment, notre nom d'étiquette Cut-Throat Records était déjà utilisé par nul autre que Nash the Slash. Nous nous sommes empressés de trouver un nouveau nom avant l'impression et la distribution de nos albums.
À l'âge de 15 ans, j'ai hérité de la collection éclectique de disques vinyle de mon père. J'y ai découvert un trésor : Direct to Disc, un disque enregistré en direct à Toronto en 1977 par un groupe canadien du nom de FM, dont Nash a été membre pendant des années. L'un de mes extraits préférés du disque (à écouter ci-bas) a été l'inspiration principale d'une pièce de JFM intitulée "EENUFF". Ce n'est qu'en retrouvant la vieille pochette de l'album, des années plus tard, que je me suis rendu compte que ce disque de FM était en fait le premier album paru sans la contribution de Nash, et qu'il s'agissait plutôt d'une bonne imitation.
J'ai pris l'habitude d'incorporer à mes travaux des éléments glanés au hasard de la vie qui m'inspirent et me font réfléchir. Je ne connais pas toujours leur origine respective, et lorsque je termine un échantillonnage, il m'arrive parfois d'oublier de quoi il était question au départ. C'est la pensée qui compte. R.I.P. Nash.
JFM, pirate sans navire, habite la côte atlantique où il crée de la musique pour les méduses.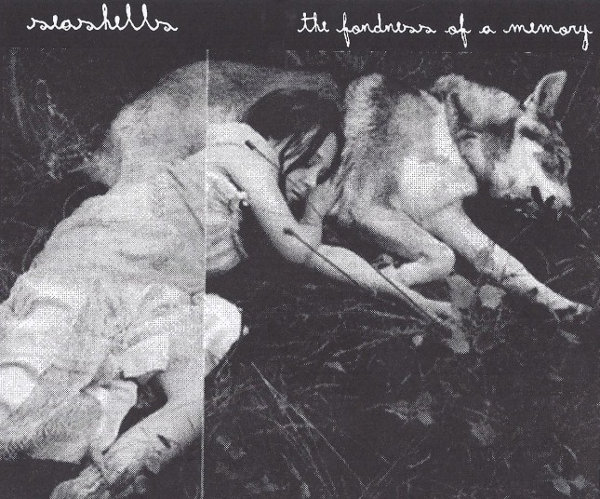 Seashells
The Fondness of a Memory
(Inyrdisk)
London, ON
From the transcending clock of Javier Fuentes:
Disorienting and sometimes harsh zones are par for the course when digging through the Inyrdisk crates, but this latest release from Seashells throws its curveball in the form of unassuming pop precision. Soft strums brush off our troubles with a melodic sleight of hand. Teresa Daniele's vocals announce their calming presence without waking the silent spaces. Cut through your radio static and pay close attention to how the signal mixes with the hushed breeze outside. Your unfound memories from simpler times will transcend the clock through these saccharine gems.
De l'horloge transcendante de Javier Fuentes:
(Traduit par la mélodie déroutante de Julie Forget)
Des zones déroutantes et parfois discordantes sont courantes quand on cherche parmi les boîtes d'Inyrdisk, mais cette récente sortie de Seashells lance sa balle courbe avec une précision de pop modeste. Des grattements doux écartent nos difficultés avec une dextérité mélodique. Les voix de Teresa Daniele annoncent leur présence calmante sans réveiller les espaces silencieux. Choisissez votre radio statique et prêtez attention à la manière dont le signal se mélange avec la brise feutrée à l'extérieur. Vos souvenirs cachés de temps plus faciles transcenderont l'horloge grâce à ces pierres précieuses saccharines.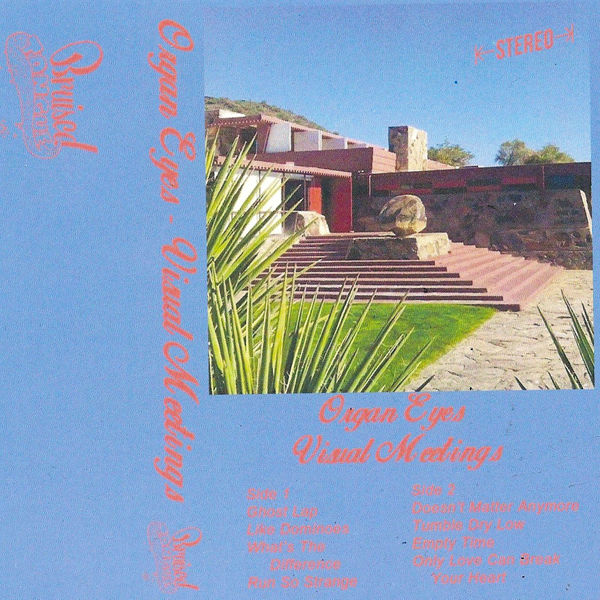 Organ Eyes
Visual Meetings
Ottawa, ON
From the daybreak and eventide of Brian Fauteux:
At dawn, Visual Meetings is perhaps the darkest. Waves of heavy fog, moving in from beyond. Rolling hills break up the heavy, low clouds with a hypnotic rhythm that mirrors our pulse. Yet, there is a warmth that carries through. As it brightens, strings and "Ahs" and an upbeat kick call-and-respond to a poppy psychedelic sensibility. Glowing, growing, spiraling and winding into a room that echoes, revealing its vastness. At dusk voices near and far, past and present, remind us that it's only love that will break our hearts.
De l'aube jusqu'aux dernières lueurs de Brian Fauteux:
(Traduit au rythme de Louis-Félix Pellerin)
C'est aux premières lueurs du jour que Visual Meetings est à son plus sombre. Un épais brouillard surgit de l'au-delà. Un vallon de collines perce les nuages volant à basse altitude avec un rythme hypnotique qui évoque notre pouls. Pourtant, on peut sentir le passage d'une certaine chaleur. Alors que la journée avance, des coups de cordes, des multiples « Ah ! » ainsi qu'un bon coup enjoué réagissent harmoniquement à une sensibilité pop-psychédélique. Le son brille, croît, serpente et se répercute à l'intérieur d'une chambre avec un écho qui révèle son immensité. Au crépuscule, des voix de près et de loin, d'antan et d'aujourd'hui nous rappellent qu'il n'y a que l'amour qui peut nous briser le cœur.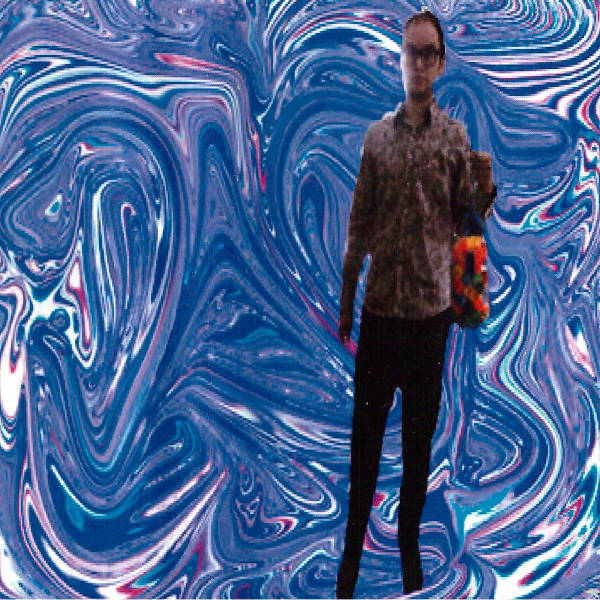 The Party Upstairs
Cartoon Universe
(Self Released)
Halifax, NS
From the blue dolphins pouring out of the enthusiaastic head of Hugo Hyart:
Like a magnetic tape trip in a world of glitched cartoons. Like a virtual tour in a ghostly carnival-casino-city. Like augmented reality trances through the information magic beans forest. Like a blink of human sentience. Holy lustig music.
Des dauphins bleus qui tombent du crâne enthousiaaste de Hugo Hyart:
Comme un voyage sur bande-magnétique dans un monde de dessin-animés bugués. Comme une virée virtuelle hallucinée dans une ville-carnaval-casino fantômatique. Comme des transes en réalité augmentée à travers la fôret des harricots magiques de la communication. Comme un clignotement de la sentience humaine. De la musique de sacré foufou.

The Party Upstairs – Languid Laughing Infinity

The Party Upstairs – The Jackrabbit Boogie in the Desert Under the Moon and the Sun As Well
---