Tag: pop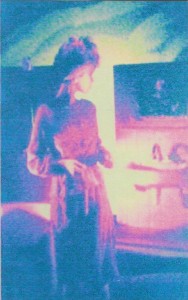 Cassida Pax
Sin by Proxy
Windsor, ON
From the Molly Ringwald heart of Catherine Debard:
(Translated by Catherine Debard)
Listening to Cassida Pax, I suddenly remember the art of pop: crafting a song by finding the true essence of a riff, the ultimate guitar line that will stick in your head. Cassida Pax appears unexpectedly with beats tainted by sweet '80s reverby heaven, like a forgotten four-track-hero, a young Ariel Pink before da fame, with a genuine skill for melodies and catchy lyrics. These solid songs will haunt you until the ribbon is as worn out as your personal best of 1995 mixtape featuring Mariah Carey and Edwyn Collins. Shout out to those teenage years when time stretches endlessly in front of you like a burned orange sunset horizon, when secretely exchanging folded papers with scribbled poetry in class fills you with intense feelings (the carelessness, oh!). If you dig it, you should spend some time in the sunshine world of Memory No. 36 Recordings, Cassida Pax's label. I know I did and almost forgot the snow falling on my fingers as cold as popsicles as I write these words.
Du coeur de Molly Ringwald de Catherine Debard:
En écoutant Cassida Pax, je me souviens soudainement de l'art de la pop. Confectionner soigneusement une chanson en trouvant l'essence même d'un riff, la ligne de guitare parfaite qui va rester dans la tête. Cassida Pax surgit à l'improviste avec ses beats sucrés 80's dans un rêve de reverb, comme un héros-du-quatre-pistes oublié, un jeune Ariel Pink d'avant la gloire, avec un véritable don pour la mélodie et pour les paroles accrocheuses. Quatre solides pièces qui vous hanteront jusqu'à ce que le ruban de la cassette soit usé comme votre mix-cassette personnel de 1995 avec Mariah Carey et Edwyn Collins. Mention d'honneur aux douces années d'adolescence quand le temps s'étire devant soi à l'infini comme un coucher de soleil orange-brûlé à l'horizon, quand échanger secrètement des papiers pliés gribouillés de poèmes nous remplit de sentiments intenses, la désinvolture (l'insouciance, oh!). Et si vous aimez, vous devriez passer faire un tour dans l'univers ensoleillé de Memory No. 36 Recordings, le label de Cassida Pax. En tout cas c'est ce que j'ai fait et j'en ai presque oublié la neige et mes doigts gelés comme des popsicles tandis que j'écris ce texte.
Cassida Pax – Clinging Moments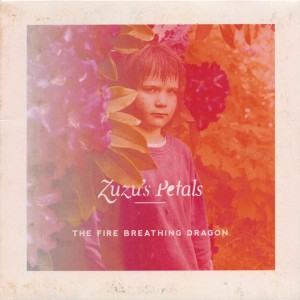 Zuzu's Petals
The Fire Breathing Dragon
(Self Released)
Cowichan Valley, BC
From the long and winding drive of Johnnie Regalado:
A laid-back and lazy listen to Zuzu's Petals' debut evokes the same satisfaction as wiping a dirty day's work off your hands on the thighs of your favourite blue jeans. Guitar lines wail away with the determination of fast-flying clouds over a mountainous skyline. The raw and rootsy jams are a solid sonic interpretation of the slow life found north of the Malahat Highway on Vancouver Island, a place where the beauty isn't always enough to get you out of the basement. This collection of tracks is a snapshot of the happenings in a town where a passersby might think nothin's going on.
De la route longue et sinueuse de Johnnie Regalado:
(Traduit par la carte routière pliée en quatre de Catherine Gaucher)
Une écoute décontractée et nonchalante du premier opus de Zuzu's Petals évoque la même satisfaction que celle d'essuyer de vos mains, sur votre jean préféré, la saleté d'une journée de travail. Les lignes de guitares hurlent avec la détermination des nuages flottant rapidement sur un horizon montagneux. Les jams bruts et traditionnels transposent musicalement la tranquillité de la vie se retrouvant au nord de l'autoroute Malahat sur l'île de Vancouver, un lieu où même la beauté ne semble pas toujours assez convainquante pour faire sortir quiconque de son sous-sol. Cette collection de pistes dresse le portrait des épisodes d'une ville où un passant pourrait croire que rien ne s'y passe.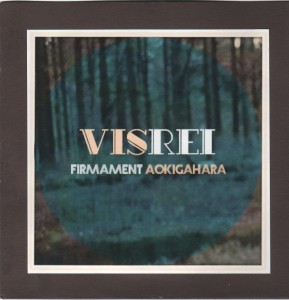 Visrei
Firmament / Aokigahara
(Self Released)
Montréal, QC
From the dreaming heart of AnneMarie Papillon:
(Translated by AnneMarie Papillon)
Take a deep, cleansing breath and exhale all your worries, far from the scholarly chaos, far from the 9 to 5. Take a break from the uncontrollable speed with an alternative pace, full of contemplative electronica and urgent beats. A defiance to surrender, Visrei might be the sheer personification of escape. It's both an element of and a remedy to this rapid melancholy of our hearts constantly dreaming of an easier, slower life. In this place, our eyes linger longer at the majesty of the night sky, illuminated with sincerity.
Du coeur rempli d'étoiles d'AnneMarie Papillon:
Prenez une grande inspiration restauratrice, puis expirez tous vos soucis, loin du chaos estudiantin, loin du 9 à 5. Accordez-vous une pause loin du mouvement effréné pour prendre le temps de contempler les mélodies électroniques et les rythmes fébriles. Ennemi de l'abdication, Visrei incarne l'évasion même. Partie intégrante de cette fièvreuse mélancolie qui fait battre nos coeurs perpétuellement en quête d'une vie plus facile, plus lente, il en est également le remède. Une vie où nos yeux peuvent s'attarder plus longuement sur la majesté d'un ciel étoilé, illuminé de sincérité.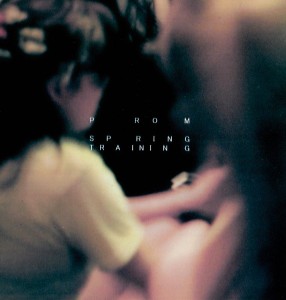 Prom
Spring Training
(Self Released)
Toronto, ON
From the lurid temporality of Joshua Robinson:
Immutable youth. Vexing, cursive, immutable youth. This cementation of the present in past is a folly cast in the bright nostalgic fragments and loose ends of migratory missives; locked are we to those blurry nights, to the day's shadow reaching back into its brighter yesterdays.
Prom's Daniel Wilson and Sufian Malik profess a solace that seems unendingly contingent on the prevalence of their programmed melancholy, as if drawn by some lurid temporality to exist forever at the boundary between the then and the now; a harrowing selflessness cast in the dwindling vestige of having been the one to stay, victim to the hanging on; victim to folly cubs rummaging through the thick cardboard boxes that we hide in the back of our minds, teeth gnawing and claws tearing at our harboured past.
If only our days were endless and unnumbered. If only our arms-length could be measured in backwards-reaching-years. We'd be forever immutable; spring's training of the tirelessly tempered.
De la temporalité macabre de Joshua Robinson:
(Traduit par le fatum flou de Nicolas Coutlée)
Jeunesse immuable. Jeunesse immuable, tourmentée et cursive. Cette cimentation du présent en passé n'est que délire réfléchi sur les fragments nostalgiques scintillants et les missives migratoires inachevées; prisonniers que nous sommes de ces nuits confuses, de l'ombre du jour qui retourne à ce passé toujours plus beau.
Prom, composé de Daniel Wilson et Sufian Malik, procure un réconfort intrinsèquement lié à l'omnipotence de leur mélancolie calculée, ancré éternellement par quelque temporalité macabre à la frontière du jadis et du maintenant; déchirante abnégation s'enracinant dans la reconnaissance chancelante d'être le seul rescapé, victime d'être demeuré; victime de la folie des chiots farfouillant dans les boîtes de carton cachées dans le fond de nos esprits, mâchouillant et déchiquetant notre passé préservé.
Si seulement nos jours n'étaient pas comptés. Si seulement notre promiscuité perdue pouvait être calculée à rebours. Alors nous serions pour toujours immuables; entraînement printanier pour ceux et celles à l'humeur inlassable.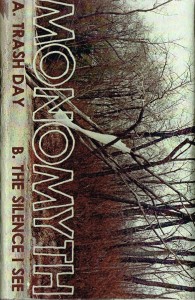 Monomyth
Trash Day
Halifax, NS
From the post-apocalyptic beer of Max Cotter:
This dystopian look at the glass half-full begs the question: Who says disenchanted youth can't throw a bitchin' party? Monomyth stand on a Halifax pier celebrating its unswimmability, diving into the toxic sludge without hesitation. They can tell the difference between mud and chocolate, but find a cause for celebration within that distinction. Each chord of "Trash Day" and "The Silence I See" ring out like a retrospective laugh over a post-apocalyptic beer amongst lifelong pals sporting shit-eating grins. The world was fun while it lasted but its desecration was inevitable, so take it in stride and song as the ending credits roll.
De la bière post-apocalyptique de Max Cotter:
(Traduit par le générique de début de Virginie Langlois)
Cette manière dystopique de voir le verre à demi-plein amène la question suivante : Qui a dit que la jeunesse désenchantée était incapable d'organiser une putain de bonne fête? Sur un quai du port d'Halifax, Monomyth célèbre le fait qu'on ne s'y baigne pas et n'hésite pas à plonger dans les boues toxiques. Le groupe sait faire la différence entre boue et chocolat, mais trouve un prétexte à la célébration au sein de cette distinction. Chaque corde de « Trash Day » et de « The Silence I See » résonne comme un rire rétrospectif autour d'une bière post-apocalyptique bue entre vieux potes arborant un rictus empreint d'arrogance. Le monde a été bien tant qu'il a duré mais sa profanation était inévitable, alors suivez bien les paroles et la musique, c'est l'heure du générique de fin.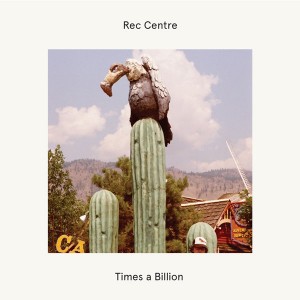 Rec Centre
Times a Billion
(Self Released)
Vancouver, BC
From the reverse heartbeat of Jesse Locke:
Vancouver's blitz kids have been delivering the goods all year long. Alex Hudson a.k.a. Rec Centre (a.k.a. the other tall guy second from left here) is a longtime associate of Jay Arner, and wafts in on a twin current of pure-pop melancholia. A clack-track deluge of digital handclaps, drum machine sputter and sensitive vocals tint these songs with outsized adolescent emotions, while the mopey perspective is patently adult. Grip time a billion!
Du battement de coeur inversé de Jesse Locke:
(Traduit par les pas de danse de Julie Forget)
Les nouveaux romantiques vancouvérois ont respecté leurs engagements tout au long de l'année. Alex Hudson alias Rec Centre (alias l'autre grand gars, deuxième à partir de la gauche ici), est un associé de longue date de Jay Arner et fait parvenir un courant double de mélancolie pop pur. Un déluge musical d'applaudissements digitaux, un crépitement de boîte à rythme et des voix délicates teintent ces chansons d'émotions surdimensionnées d'adolescent alors que la perspective boudeuse est manifestement adulte. À saisir des milliards de fois !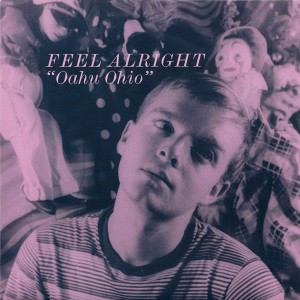 Feel Alright
Oahu Ohio
Calgary, AB
From the fevered dance of Javier Fuentes:
The thermostat may be telling you to drag out your warmest attire, but one spin of this Feel Alright 7" will start the search for your palm printed shirts and sand soaked shorts. Memories of winter goths get cast to the side under the melting vocal spells of Craig Fahner. Giddy guitars tickle you out of your static stance and into a fevered dance. Take your sled out for a spin on the snowy hill and watch as it turns into a slick surfboard. Shorter days call for an action plan to get the most of your time, so take these songs as your first step.
De la danse fiévreuse de Javier Fuentes:
(Traduit par le thermomètre de Catherine Gaucher)
Même si votre thermostat semble vous indiquer qu'il vous faut revêtir vos vêtements les plus chauds, une seule écoute de ce 7 pouces de Feel Alright déclenchera en vous la recherche pour retrouver vos chemises aux imprimés de palmiers et vos shorts couverts de sable. Sous les sorts vocaux envoûtants de Craig Fahner, les souvenirs de Winter Goths sont mis de côté. Des guitares vertigineuses vous balancent en dehors de votre statisme et vous jettent dans une danse fiévreuse. Sortez votre traîneau pour une glissade sur une colline enneigée et voilà que ce dernier se transforme soudainement en une belle planche de surf. Parce que les journées écourtées exigent un plan d'action pour tirer le meilleur parti de votre temps possible, prenez ces chansons comme une première étape.
Feel Alright – Dark Incantations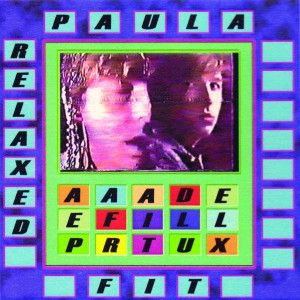 Paula
Relaxed Fit
Montréal, QC
From the blue sunrise of Simon Frank:
More than a year after it was released online, Paula's Relaxed Fit hits the vinyl big time. In the meantime, Tops guitarist David V. Carriere's alter ego has helped me soundtrack 12-hour bus rides, poured out of roommates' speakers during exam season, and made it to the playlist at a party or two. Relaxed Fit is a high-quality collection of semi-electronic, hyper-positive pop miniatures. Punchy drum machines, synth hooks, and cut-up processed guitars set up meaningless/meaningful, melancholic/euphoric lyrics. Even Cadence Weapon stops by for a guest verse, and on "Totally Nice" (one of two previously unreleased tracks) most of the chorus is just "ecstasy!" shouted out. So only one question remains: when we will get the Prime Cuts 12"?
American dreamers: David Carriere from Paula is currently on tour with his other band TOPS. They're playing shows with Sean Nicholas Savage and King Krule. See the Arbutus Records page for more info!
Du lever de soleil bleu de Simon Frank:
(Traduit de l'aube azur de Catherine Gaucher)
Plus d'un an après sa sortie en ligne, Relaxed Fit de Paula nous frappe de plein fouet en vinyle. Entre-temps, l'alter ego de David V. Carriere, guitariste de Tops, m'a déjà fourni la bande sonore pour mes interminables périples d'autobus, a joué dans les haut-parleurs de mes colocs durant les fins de session et s'est immiscé dans une fête ou deux. Semi-électronique et ultra-positif, Relaxed Fit est une brillante collection de miniatures pop. De percutantes boîtes à rythmes, des synthés entraînants et des collages de guitares modulées mettent la table pour des paroles insignifiantes/signifiantes, mélancoliques/euphoriques. Même Cadence Weapon s'invite le temps d'un couplet, tandis que le refrain de «Totally Nice!» (l'un des deux titres précédemment inédits) est un pur cri d'« extase! ». Une seule question demeure : quand aurons-nous droit au 12 pouces de Prime Cuts?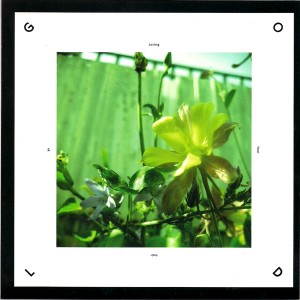 Gold
Losing Your Hair
Calgary, AB
From the gossamer yearnings of David Ferris:
When it's cold as fuck, put the top down and make a sojourn to a place which is beautiful, bittersweet and sepia-toned. The cymbals wash on forever and the almost-psychic interplay of guitars and harmonies chase each other, intertwining all plaintive and beautiful-like — all of this cast under a towering, sublime shadow.
In 2012, Kaelen Ohm and Rena Kozak, along with Chris Reimer and Matt Swann, recorded four excellent and affecting songs, and the context of the EP may be familiar to many of you.
The reason there are no proper synonyms for "bittersweet" is because these things seem obvious and natural to us until we attempt to nail them down. Breaking them up into smaller, more articulable components, we can never seem to capture it in the least, and all we are left with are gobbledygook fragments (like this very write-up). Let's just leave this for now with "Drugs" being a straight-up perfect pop song: the right people in a room at the right time.
Des aspirations étoffées de David Ferris:
(Traduit de la trajectoire douce-amère de Catherine Gaucher)
Lorsqu'il fait foutrement froid, descendez votre toit ouvrant et dirigez-vous vers un endroit magnifique, doux-amer teinté de sépia. Une ombre sublime imprègne le microcosme où des cymbales s'effacent éternellement et où une interaction quasi-psychique s'établit entre guitares et harmonies qui se pourchassent, s'entrelacent, toutes aussi plaintives et belles qu'elles soient.
En 2012, Kaelen Ohm et Rena Kozak, accompagnés de Chris Reimer et Matt Swann, enregistrent quatre excellentes et émouvantes chansons. Certains d'entre-vous êtes familiers avec le contexte du EP en question.
Aucun synonyme ne peut exprimer l'exactitude symbolique du mot «doux-amer» parce que les choses ne nous semblent évidentes et naturelles qu'avant que nous ne tentions de précisément les définir. Même en les subdivisant en composantes plus petites, plus précises, nous n'arrivons jamais à les capturer le moins du monde et au final, nous nous retrouvons avec des fragments de charabia (comme cette critique). Laissons cela de côté pour l'instant avec « Drugs », une parfaite chanson pop sans détour : être avec les bonnes personnes, au bon endroit, au bon moment.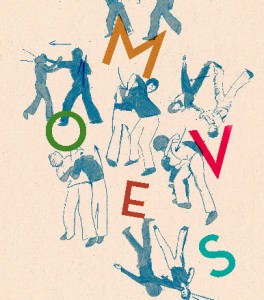 Moves
Tape
(Self Released)
Toronto, ON
From the tug-of-war of Joel French:
From B-52s-ish weirdo pop ("Let's Go", "Take Me") to Paul Simon-esque acoustic numbers ("A Little Longer", "Senseless", "Call Each Other Love") with a short garage-rock banger in the middle ("Do You Know What It Is I Want"), Toronto's Joseph Organ isn't scared to wear his heart, or influences, on his sleeve. This type of obvious contrast in song writing and delivery might not work on an LP, but on this six-song cassette it's refreshing and leaves me excited to see which direction will win the tug-of-war for the next Moves release.
Du tir à la corde de Joel French:
(Traduit par le dernier après-midi estival d'Andréanne Dion)
Depuis la pop étrange qui rappelle B-52s (« Let's Go », « Take Me » ), jusqu'aux morceaux acoustiques à la Paul Simon (« A Little Longer », « Senseless », « Call Each Other Love »), avec un pétard garage-rock au milieu (« Do You Know What It Is I Want »), Joseph Organ de Toronto n'a pas peur de se montrer vulnérable et de nous montrer ses influences. Ce genre de contraste flagrant entre la composition des chansons et le débit ne marcherait peut-être pas sur un album complet, mais sur cette cassette de six chansons, c'est rafraîchissant et ça me rend impatient de voir quelle direction gagnera le tir à la corde pour la prochaine parution de Moves.
---