Tag: pop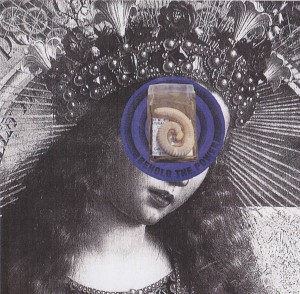 Monomyth
King Does This Not Please You? (Behold the Power)
(Self Released)
Halifax, NS
From the smoke and mirrors of Johnnie Regalado:
An offering from below. A self-aware relic. Sacrificial lamb for the gods of rock. This would surely please the kings. There's enough blissful harmony here to make a chorus of angels bashful. There are enough duels to the death between dual guitar lines to spill a carpet of blood. Monomyth have composed their opera in a house of mirrors. Twang and tones flex from concave to convex, fine-tuned over a friendly game of cards between fiends. Behold the power….
De la poudre aux yeux de Johnnie Regalado:
(Traduit par l'équilibre de Julie Forget)
Une offrande provenant de plus bas. Une relique qui se connaît bien. Une victime expiatoire pour les dieux du rock. Cela plairait sûrement aux rois. Il y a ici une assez grande harmonie bienheureuse pour rendre les anges d'une chorale timides. Il y a assez de duels à mort entre les doubles lignes de guitare pour faire couler un tapis de sang. Monomyth a composé son opéra dans une maison de miroirs. Des sons de corde pincée et des tonalités se courbent en traits concaves et convexes, bien réglés lors d'une partie de cartes amicale entre démons. Voici la puissance…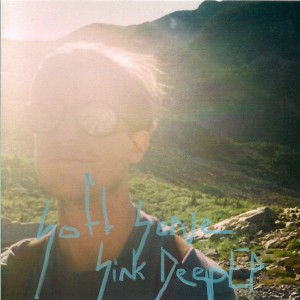 Soft Serve
Sink Deep
(Self Released)
Vancouver, BC
From the ice cream paint job of Jesse Locke:
Glorious jean-jacket jangle from a young Vancouver trio yet to celebrate their one-year birthday. This EP is a quickie, but I haven't come across many finer mission statements than opener "Words For Others" in 2013. The Josef K-styled speak-sing of frontman Kyle Thiessen hovers above glistening guitarmonies and Feelies twitch throughout three minutes in heaven. Hat tip to Jay Arner for another production home run.
De la job de peinture à la crème glacée de Jesse Locke:
(Traduit par Jacinthe Laplante)
Un brillant tintamarre de veste de jean d'un jeune trio de Vancouver qui n'a pas encore célébré son premier anniversaire. Cet EP est bref, mais je ne suis pas tombé en 2013 sur un meilleur énoncé de mission que l'ouverture « Words For Others ». Le style chanté-parlé à la Josef K du leader Kyle Thiessen erre dans les harmonies polies de guitare et les tics à la Feelies pendant trois minutes au paradis. Je tire mon chapeau à Jay Arner à la production pour un autre coup de circuit.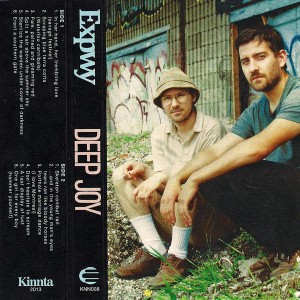 EXPWY
Deep Joy
Montréal, QC
From the Parisian nightsuit boutique of Joseph Stephenson Taylor:
We borrowed grandma's Volvo and headed east to Montreal for the weekend, and an adolescent life affirmation via stage presence. Spirits: Pumped! Bellies: Full of pop and Teen Burgers! IDs: Scored one for you, scored one for me! The perfect weekend can't be rained out with the tapedeck chewing on Deep Joy, the new tops magnetic fidelity from Expwy. Dances? We danced the caution to the wind dances of those stationary in car seats. The gray Volvo swerved side to side to the sway of "Erect a Southern Gate" and sped faster from the influence of "Porthole Mariage Dance (I Love Montreal)" as our eagerness to arrive intensified. Pit-stop, gassed-up skyline in view — high-five air-drum air-guitar power-pop, Jesus it's cool.
De la boutique de pyjamas parisiens de Joseph Stephenson Taylor:
(Traduit en voyageant dans le coffre par Mathieu Bédard)
Empruntant la Volvo de grand-maman, nous nous sommes dirigés vers l'est pour la fin de semaine, vers Montréal et vers une affirmation adolescente de la vie via présence scénique. Morale des troupes : gonflée à bloc! Estomac des troupes : remplis de Teen Burgers et de liqueurs! Cartes d'identités : ressemblantes à s'y méprendre! Une fin de semaine parfaite qui ne pouvait pas être gâchée par le lecteur cassette faisant des siennes et décidant d'avaler Deep Joy, la nouvelle bonne vieille bande magnétique d'Expwy. Avons-nous dansé, alors? Ça en devenait le facteur principal d'accident, au milieu de tous ces gens en position stationnaire dans leur siège d'auto. La volvo grise faisait des embardées en cadence avec les déhanchements d' "Erect a Southern Gate" et accélérait considérablement sous l'influence de "Porthole Mariage Dance (I Love Montreal)", à mesure que l'excitation de l'arrivée s'intensifiait. Arrêt au puit final, ravitaillement, centre-ville bien en vue — du power pop à nous faire mimer les sons de batteries et de guitares, cool sans bon sens, tout ça.
EXPWY – Scraping blue terra cotta (Waterloo Cannibals)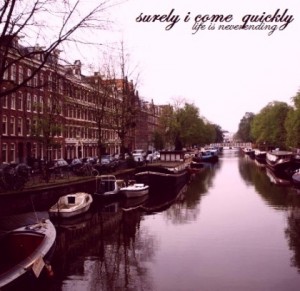 Surely I Come Quickly
Life Is Neverending
(Self Released)
Saskatoon, SK
From the neverending story of Joshua Robinson:
Surely I Come Quickly's Life Is Neverending is a hazy accompaniment to the short film that shares its name. Throughout, there is the succinct omnipresence of a gradual build to a catastrophic end that remains within arms reach, rooted in place as if determined to outlast the bombast of the swells and surges that never quite come to fruition. The subtlety of these recordings is captivating, with lo-fi basement artistry and a minimalism fueled by sleepless nights. Aron Zacharias of The Wizards has crafted a soundtrack to accompany the brief intervals between calm and clamour, meandering about as opposed to crashing into the walls that house the echos of his ambience.
De l'histoire interminable de Joshua Robinson:
(Traduit par les vagues nordiques d'Andréanne Dion)
Life Is Neverending de Surely I Come Quickly est un accompagnement brumeux du court métrage qui porte le même nom. Tout au long de l'album, le développement graduel qui mène à une fin catastrophique est omniprésent et reste à portée de main, enraciné comme s'il était déterminé à survivre au gonflement des vagues et aux déferlements qui ne se réalisent jamais vraiment. Les subtilités de ces enregistrements sont captivantes et révèlent un talent artistique lo-fi de sous-sol et un minimalisme alimenté par des nuits sans sommeil. Aron Zacharias de The Wizards a créé une bande-son pour accompagner les brefs intervalles entre calme et cacophonie, qui vagabondent plutôt que d'entrer en collision avec les murs dans lesquels habitent les échos de son ambiance.
Surely I Come Quickly – Ghost Highway 389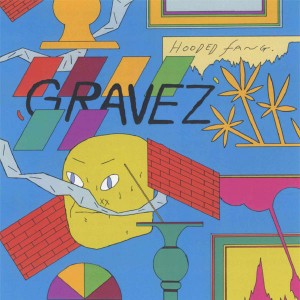 Hooded Fang
Gravez
Toronto, ON
From the zombie doo wop of Johnnie Regalado:
Gravez begins and ends like the transition from restless leg syndrome to rapid eye movement. It's an album of dreamy existence where intertwining harmonies line the sides of an audio highway deep into a land where wastelands are prime real estate and zombies play doo wop at the homecoming dance. The ghastly afterlife vocals march you along like the piper, calling you deeper into the canals of your own ears. The guitars rattle back and forth like a creepy yet comforting barbershop quartet. Once you've entered their grave you won't want to come out.
Du doo-wop de zombie de Johnnie Regalado:
(Traduit par les terreurs nocturnes d'Andréanne Dion)
Gravez commence et se termine comme la transition entre des impatiences musculaires et un sommeil paradoxal. C'est un album d'existence chimérique, où des harmonies entrelacées revêtent les côtés d'une autoroute sonore dans les profondeurs d'un pays où les terrains vagues sont des investissements immobiliers de premier choix et où les zombies jouent du doo-wop au bal des finissants. Les terrifiants chants de l'au-delà vous entraînent comme un joueur de flûte, vous amenant de plus en plus loin dans vos propres conduits auditifs. Les guitares s'entrechoquent dans un va-et-vient qui rappelle un quatuor a cappella à la fois effrayant et réconfortant. Une fois que vous vous serez engouffrés dans leur tombe, vous ne voudrez plus en sortir.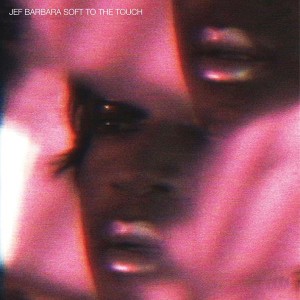 Jef Barbara
Soft to the Touch
Montréal, QC
From the loose diamonds of Jesse Locke:
Gliding through the glitz, glamour and grime of Montreal's late nite/all nite party, pop provocateur Jef Barbara has emerged as a modern day disco evangelist. Soft to the Touch is a neo-NRG masterclass of nightsuit strut, emotional rescue and six-string scorch delivered by one of the best backing bands in the biz: Jack Mac of Sheer Agony, Shub Roy of Dirty Beaches and Asäel Robitaille of Bataille Solaire. Vive le Kebekelektrik!
Des diamants en vrac de Jesse Locke:
(Traduit par la corde vocale de JulieForget)
Se glissant dans l'extravagance, le glamour et la crasse des fêtes nocturnes de Montréal, le provocateur pop Jef Barbara apparaît comme un évangéliste disco contemporain. Soft to the Touch est un cours de maître de néo-NRG qui enseigne à se pavaner en habit de soirée, un secours émotionnel et une brûlure à 6 cordes livrés par un des meilleurs groupes d'accompagnement du business : Jack Mac de Sheer Agony, Shub Roy de Dirty Beaches et Asäel Robitaille de Bataille Solaire. Vive le Kebekelektrik!
Jef Barbara – Soft to the Touch
Jef Barbara – I Don't Know What's Going On But Something's Coming On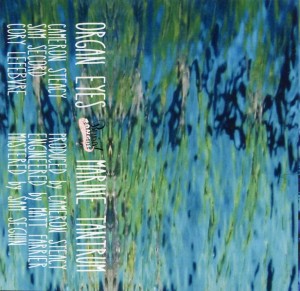 Organ Eyes
Marine Tantrum
Ottawa, ON
From the mashed bangers of V. Rachel Weldon:
This prolific Ottawa songwriting duo have put out three full-length releases this year alone, with no signs of slowing down. Marine Tantrum's title does well to reflect its fine balance of bangers and mash, but gets the chronology backwards. Out of the gate, "British Grafitti", "Teenage Kingdomdom" and "Jesus Fish" throw fits like angry mall punx, before mellowing out later tracks like "Needle Beach" and "Tumble Dry" with submerged distortion, wavy falsetto and effortless indifference. Closer "Zola Saw", which most closely resembles Multibody's teen-dreamy vibration, is spacious and drawn-out, playing with pseudo-naïveté. Knowing and not knowing, it negotiates between youth and maturity, light and heavy, resolving nothing.
Des saucisses en purée de V. Rachel Weldon:
(Traduit par les entre-deux d'Andréanne Dion)
Ce prolifique duo de compositeurs d'Ottawa a sorti trois albums complets rien que cette année, et il ne semble pas vouloir ralentir. Le titre, Marine Tantrum, reflète bien la fine balance entre saucisses et purée de pomme de terre, mais inverse la chronologie. Dès le départ, « British Grafitti », « Teenage Kingdomdom » et « Jesus Fish » piquent des crises comme des punks de banlieues enragés, avant de s'adoucir sur les morceaux « Needle Beach » et « Tumble Dry » avec une distorsion submergée, une voix de fausset ondulée et une indifférence facile. « Zola Saw », la dernière chanson, ressemble de plus près aux vibrations adolescentes rêveuses de Multibody : elle est étendue et interminable, jouée avec une fausse naïveté. À la fois expérimenté et ignorant, cet album négocie entre la jeunesse et la maturité, la légèreté et la lourdeur, mais ne résout rien.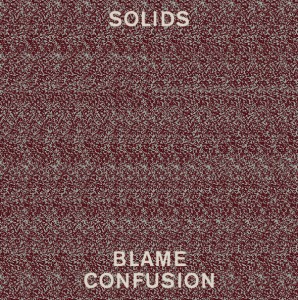 Solids
Blame Confusion
(Self Released)
Montréal, QC
From the impressed ears of d'AnneMarie Papillon:
(Translated by AnneMarie Papillon)
Solids' first LP is worth your attention and — pardon me the obvious pun — ridiculously solid. This Montreal-based duo prove they have the two-piece power and that there's certainly no need for anyone else. This 10-song journey into high quality heavy music is something you'll want to bang your head to, the kind that intentionally sets you into elbow-kick-and-shoulder-romp mode. Solids have put aside the pop-punk sound of their previous EP and are better than ever with more of the loud grungy punk vibe we know and love, still strained through the same lo-fi filter. If you ask nicely, they might even come make their riotous magic in your basement.
Des oreilles pas mal impressionnées d'AnneMarie Papillon:
Le premier LP de Solids' mérite toute votre attention et — pardonnez-moi le jeu de mot évident — est ridiculement solide. Ces deux francophones de Montréal prouvent qu'ils ont le contrôle total de leur ensemble de deux pièces et qu'ils n'ont certainement pas besoin d'une troisième paire de mains. Blame Confusion, c'est un trip de 10 chansons de musique heavy de qualité qui vous fera violemment brasser de la cage, le genre de trip qui vous donne intentionnellement envie de 'varger' à coup de coudes et d'épaules. Le son un peu plus pop-punk du EP précédent est mis de côté ici… Les gars sont de retour et ils sont meilleurs que jamais, avec cette sonorité punk-grunge assourdissante qu'on aime, toujours passée à travers le même filtre lo-fi. Et si vous demandez gentiment, ils viendront peut-être faire leur tapage musical dans votre sous-sol.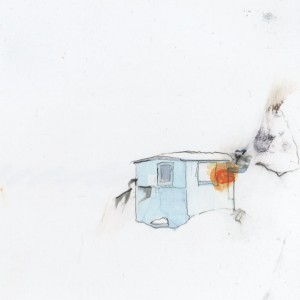 Ought
More Than Any Other Day
(Self Released)
Montréal, QC
From the controlled burn of Claire Marie Guimond:
Picture yourself as a passenger in a vehicle, the kind that you might be found in typically, riding towards a place that you frequent. There's 20 percent of the travel time left to go, and you have several open-road activities in your inventory. You might choose one, and feel satisfied. But there's no need to search far, because there are also threads of conversation being picked up by your conscious mind. They come from other riders behind you. It sounds vaguely like an argument. You want to agree but you waver, slightly (you're educated), and so it's not easy to distinguish controlled burn from post-boredom recklessness in some voices. But really, now, how could you mistake this voice, wretched in its own clearness. It's rising above the engine-noise, taunting containment. They're no longer laughing, and neither are you. Everyone is riding a time machine that only goes forward, second by diligent second.
De la passion contrôlée de Claire Marie Guimond:
(Traduit par Jacinthe Laplante)
Imaginez-vous passager d'un véhicule, le genre dans lequel vous vous trouvez habituellement, en route vers un endroit que vous fréquentez. Il vous reste 20 % du trajet à parcourir et votre répertoire contient plusieurs activités pour route déserte. Vous pourriez en choisir une et vous en satisfaire. Mais pas besoin de chercher loin parce que votre esprit capte des bribes de conversation. Ça provient des autres passagers derrière vous. Ça ressemble vaguement à une dispute. Vous voulez être d'accord, mais vous hésitez, un peu (vous êtes instruit) alors, ce n'est pas facile de faire la différence, pour certaines voix, entre une passion contrôlée et une témérité pour tromper l'ennui. Mais vraiment, comment avez-vous pu vous méprendre sur cette voix, lamentable dans sa précision. Elle domine le bruit du moteur, défiant toute maîtrise. Ils ne rient plus, et vous non plus. Vous vous promenez tous dans une machine à voyager dans le temps qui ne peut qu'avancer, seconde par minutieuse seconde.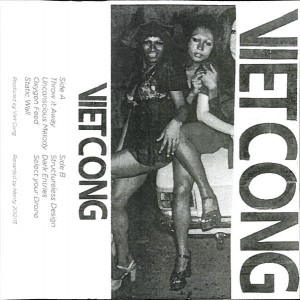 Viet Cong
Cassette
(Self Released)
Calgary, AB
From the unconscious melody of Claire Marie Guimond:
The elevator doors ring at the end of the countdown, and you couldn't have been kept any longer. You get out of there before the exit is wide enough, dragging it open – you land on one foot and are off sprinting with a half-stumble. Don't let yourself think about how close they are behind you, just pray that your head start will be enough. Grazing a corner you hear something fall, but you can't worry about that now. It's so very vital that you're absolutely focused. Then the sun hits — you've reached the outside — and you're much higher than you thought. A siren creeps in from somewhere and your stomach sinks, but it passes: this one's not for you. Concentrate. Steel ramparts are rushing by. Are you sure that you've been the one running away? It doesn't matter, just don't get interrupted, and don't get scared. The heat of your target is blinding — and now everything is silent. You feel absolutely nothing, which is exactly what you need. There's a wall coming up fast ahead. You're going straight through it. All this energy is only generated inside you. These serrated bricks are going to shatter and you must be powerful enough, you were designed to break walls.
The name of this band is Viet Cong; they are the finish line of Calgary's race to overtake the postpunk eruption building within itself through the past six years. Members of Women, the Chad VanGaalen band, Sharp Ends and Feel Alright have crafted something so gripping that they will clearly soon be Canada's favourite new band. Pass it around.
De la mélodie inconsciente de Claire Marie Guimond:
(Traduit de la chair de poule de Catherine Debard)
Le compte à rebours prend fin et l'ascenseur sonne; vous n'auriez pu attendre plus longtemps. Vous sortez dès que possible en ouvrant la porte de force. Ne pensez surtout pas à eux, qui se rapprochent de plus en plus, mais priez pour que votre longueur d'avance tienne. Effleurant le coin d'un mur, vous entendez quelque chose tomber, mais impossible de s'en inquiéter maintenant. Toute votre attention se focalise en ce moment crucial. Soudain, le soleil cogne —- vous êtes à l'extérieur, beaucoup plus haut que vous ne l'auriez cru. Une sirène retentit au loin, une crampe vous saisit au ventre, mais disparait aussitôt : celle-là n'était pas pour vous. Restez concentré. Les remparts d'acier défilent à toute allure. Êtes-vous certain que c'est bien vous qui vous sauvez? C'est sans importance, ne vous laissez pas interrompre, et surtout n'ayez pas peur. Votre objectif vous aveugle, et maintenant tout est silencieux. Vous ne sentez absolument rien, exactement ce qu'il faut. Un mur se rapproche rapidement. Vous vous dirigez droit sur lui. Toute cette énergie est générée à l'intérieur de vous. Ces briques dentelées vont voler en éclats, mais vous devez être assez puissant, car vous êtes né pour briser des murs.
Le groupe s'appelle Viet Cong et il couronne cette course qui perdure depuis six ans au sein de la scène post-punk toujours grandissante de Calgary. Des musiciens de Women, du groupe de Chad VanGaalen, de Sharp Ends et de Feel Alright ont créé quelque chose de si saisissant qu'ils deviendront bientôt le groupe favori du Canada. Passez le mot.
---