Tag: pop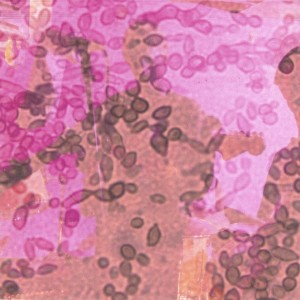 Mold Boy
Lost My Day
(Self Released)
Montréal, QC
From the ying yang of Javier Fuentes:
Upon first discovering Mold Boy, this secretive persona left many a WC writer scratching their heads as they tried to verify the identity of the project's creative mastermind. Clues went everywhere as bandcamp tags were analyzed and anagrams investigated. Turns out we didn't have to look farther than our own pages to find the six-string orchestrator. Alex Calder's effortless pop chops rewind our minds back to the last carefree moment found in the memory log. We walk around paused in this state, slowly creeping towards hazy VHS images that carousel around us. The desire to break through this mirage weakens with each note.
Du yin et du yang de Javier Fuentes:
(Traduit par la douceur mécanique de David Kohler)
Lors de la découverte de Mold Boy, ce persona cachottier laissa plus d'un membre de WC à se gratter la tête en tentant de vérifier l'identité du cerveau créatif derrière ce projet. Les indices fusaient de partout alors que les tags sur bandcamp étaient analysés et divers anagrammes étudiés. Il se trouve que nous n'avions pas à chercher plus loin que nos propres pages pour trouver cet orchestrateur à six cordes. Avec une technique pop nonchalante, Alex Calder renvoie notre esprit aux derniers moments d'abandon trouvés dans l'historique de notre mémoire. On déambule, suspendu dans cet état, en glissant doucement vers un carousel d'images voilées de VHS tournant autour de nous. Le désir de percer au travers de ce mirage s'atténue avec chaque note.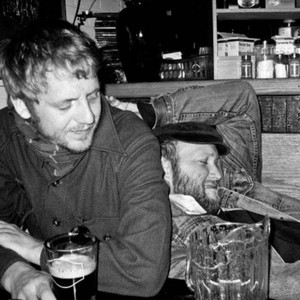 Hurricane & Able
The Last Temptation (Of H&A)
(Self Released)
Toronto, ON
From the wallflower wonderings of Chizz Mbamalu:
With every lyric and guitar riff of The Last Temptation the heart caves, causing the slight feeling of beautiful sadism. Each track of the album echoes relatable feelings of love and friendship, but also, of being lonely and being alone; two very cold topics that are brought to warmth by the passion and strength of Barry and Shawn's musicianship. The record is described as "little snippets here and there of ideas on (Barry's) computer and then turned into something just before heading to London."
However, this album isn't just a slapdash job thrown together at the last minute. It was first recorded in February 2012 and then released July 2013. A lot of vigour and spirit went into this album and it's apparent. There are some really special things this record does to cozily wrap you up into it. The surf-rock sound of "Little Girl" sends you back in time to being a young wallflower at a school dance and the anxiousness over whether you should ask your crush to dance. The additional vocals on "The Glory of Love" add a drunken, loving sense of community to give us the extra courage we might need to talk to the one we long for. This album goes well with a broken heart, a day off, your comfy bed and a pack of cigarettes.
Des introspections bucoliques de Chizz Mbamalu:
(Traduit par le semoir à mots d'Aliké Harel)
Chaque parole et chaque riff de guitare dans The Last Temptation taillade le cœur, ce qui éveille un soupçon de charme sadique. Toutes les pistes de l'album évoquent des émotions connues d'amour et d'amitié, mais aussi d'isolement et de solitude, deux sujets de glace que Barry et Shawn animent du feu de leur passion musicale. L'album est décrit comme « de petites bribes, ici et là, des idées compilées à l'ordinateur (celui de Barry) et ensuite mises en forme juste avant le départ pour Londres ».
Cependant, il ne s'agit pas d'un travail bâclé improvisé à la dernière minute. Le premier enregistrement a été fait en février 2012 et lancé en juillet 2013. L'album a été conçu avec beaucoup de vivacité et d'esprit, on le sent. Plusieurs aspects singuliers à The Last Temptation enveloppent tendrement l'auditeur. La touche de rock surf dans « Little Girl's » vous ramène à l'époque où vous étiez une fleur timide au bal de l'école et vous remémore les sueurs froides causées par l'idée d'inviter votre flamme à danser… ou pas. Les voix supplémentaires dans « The Glory of Love » ajoutent un sentiment d'appartenance teinté d'amour et d'ivresse, de quoi donner la force de parler à celui ou celle pour qui on se languit. Cet album accompagne bien les cœurs brisés, pendant un jour de congé, dans un lit douillet et muni d'un paquet de cigarettes.
Hurricane & Able – Little Girl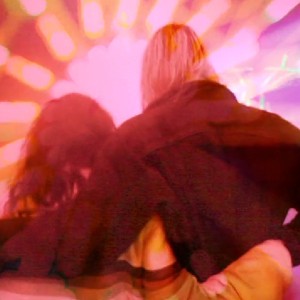 The Courtneys
"Lost Boys"
(Director: Rose Gagnon and Andrew Volk)
Vancouver, BC
From the neon mind of Harriet Wild:
Teen dreaming is fang-tipped and splashed in neon in The Courtneys' latest video: a hedonistic homage to vampire babes and school nights on the boardwalk. Under the spotlight-full moon, this is a teenage riot set to the thrust and jump of the arcade and amusement park; the whiff of cotton candy; the twirl 'n' hurl of no-curfew romance. Ride the Crazy Beach Party tonight!
De l'esprit néon de Harriet Wild:
(Traduit par Hugo Hyart)
La rêverie adolescente est plantée de crocs et aspergée de néon dans la dernière vidéo des Courtneys: un hommage hédoniste aux vampires adorables et aux nuits d'écoles sur les passerelles. Sous la pleine lune-projecteur, c'est une révolte adolescente au rythme de la poussée et des sauts de la salle de jeux-vidéos et du parc d'attraction; la bonne odeur de barbe à papa; le tournoiement lancé de la romance sans couvre-feu. Tous à la Crazy Beach Party ce soir!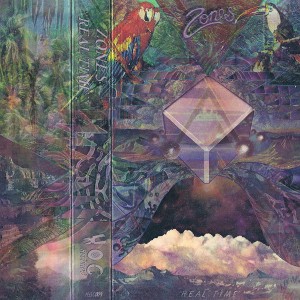 Zones
Real Time
Toronto, ON
From the temporal parts of Robin Jenkins:
In a musical landscape of genres built on pastiche and nostalgia, Derek McKeon a.k.a. Zones has carved out something unique. Images of a past not quite remembered and familiar feelings that cannot be pinpointed pervade the six songs of Real Time. Opener "Open Sky" sways with filtered voices, wavering into inaudibility as the guitar washes in and out. There is a certain feeling of memory evoked, much like looking at old travel photos; a familiar mood without a particular location. As the album progresses, this déjà vu dissipates and we see Zones' krautrock and even prog sensibilities in a clearer light. With the driving bassline and meandering guitars of "Not Chet", Zones draws up altogether alien forms. An assemblage of elements combine, detach and readjust as we continue to drive forward through unrecognizable terrain.
Traduit par l'irréversibilité de Robin Jenkins:
(De la temporalité de Catherine Gaucher)
Dans un paysage musical de genres basé sur le pastiche et sur la nostalgie, Derek McKeon alias Zones a construit quelque chose d'unique. Les six chansons de Real Time sont envahies par des images d'un passé flou et des sentiments familiers indéfinissables. En ouverture, « Open Sky » valse avec des voix filtrées et chancelle vers l'inaudible grâce au va-et-vient des guitares. Un certain sentiment de mémoire est évoqué, un peu comme quand on regarde des vieilles photos de voyage; un sentiment familier sans lieu particulièrement défini. À mesure que progresse l'album, cette impression de déjà-vu se dissipe et les sensibilités krautrock, voire progressives de Zones se dévoilent sous un jour plus clair. Grâce aux lignes de basses fermes et aux guitares sinueuses de « Not Chet », Zones élabore des formes hors de ce monde. Un assemblage d'éléments se combine, se détache et se modifie alors que nous continuons à avancer à travers un terrain méconnaissable.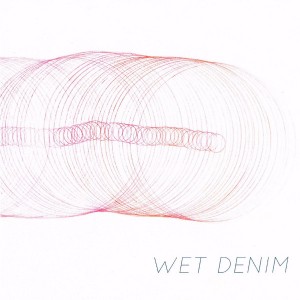 Wet Denim
Wet Denim
(Self Released)
Halifax, NS
From the sincere grin of Brennan McCracken:
The four members of Wet Denim have musical fingerprints all over the Halifax scene (see: Cousins, Cactus Flower and the Just Barelys), but make no mistake: their debut album is filled with songs that belie the side-project tag they may receive. This music is unabashedly pop, brimming with melodies that embrace, and slight turns of phrase that tickle the brain. It's earnestly sweet with an ornery underbelly, like a Nova Scotian hillside where wildflowers are indistinguishable from weeds.
Du large sourire sincère de Brennan McCracken:
(Traduit par le flair auditif de Julie Mayer)
Les quatre membres de Wet Denim marquent toute la scène haligonienne de leurs empreintes digitales musicales (voir : Cousins, Cactus Flower et The Just Barelys), mais ne vous y méprenez pas : leur premier album est rempli de chansons qui démentent l'étiquette de projet parallèle qu'on pourrait leur coller. Leur musique est résolument pop, débordante de mélodies enveloppantes et de tours de phrases subtils qui titillent le cerveau. C'est d'une douceur sincère aux dessous vicieux, comme une colline néo-écossaise où il est impossible de distinguer les fleurs sauvages des mauvaises herbes.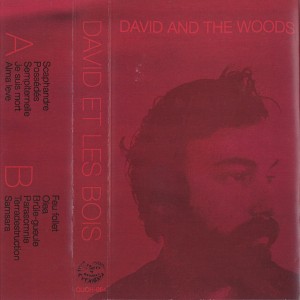 David and the Woods
David et les bois
Montréal, QC
From the tower of Babel of Benoit Arcand:
(Translated by AnneMarie Papillon)
Late in 2013, a few satyrs chose to show their hairy backs to the English language while playing their flutes for a relocated fauna. David and the Woods are some of those tricksters, hiking uphill over ten years of invisible trails to their original lair, only to reflect on themselves and re-emerge as David et les bois. Their meticulousy crafted odes, synthesizing Dyonisian grunge and Orphic folk, are largely paying their toll to the ferryman. Here we are, startled souls, rushing to these restored shores, from the pond where antique reveries of love and dismemberment get played, to the tree hiding its fruits from the ones hungry for meaning. The secret of David's reconstructed skin oozes in its roots. As they intermingle together, suggesting everything but a sterile prodigal son's tomb, they spring up again as a ubiquitous rhizome.
De la tour de Babel de Benoit Arcand:
Ils sont quelques satyres qui, tard en 2013, ont choisi de montrer leur dos velu à l'anglais et de jouer de leur flûte pour une faune relocalisée. David and the Woods est l'un de ces vire-capot, remontant quant à lui dix ans de sentiers invisibles jusqu'au ravage originel pour se réfléchir David et les bois. Ses odes soignées syncrétisant grunge dionysiaque et folk orphique, paient largement leur écot au passeur. Sur cette rive rénovée, on se rue, touriste ahuri ou garde forestier, de la mare où se joue un antique rut aquatique à l'arbre qui dérobe ses fruits aux affamés de sens. C'est dans ses racines que le pari de cette peau revirée est relevé : s'enchevêtrant d'imagination prodigue, jamais tarie, toujours rejaillissant, rhizome ubique.
David and The Woods – Scaphandre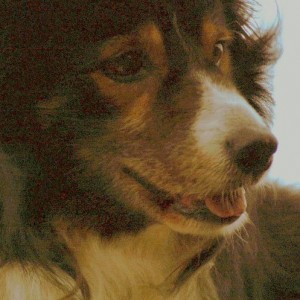 Dog Day
"In Another Life"
(Directed by Seth Smith)
Halifax, NS
From the surreal feel of Christina Bell:
Seth and Nancy's particularly adventurous, superstar pup Woofy is front and centre in this cute dog video made for "In Another Life." The roaming rock 'n' roll track is fresh off their 2013 album Fade Out. Acid aesthetics give the majestic landscape in the video a certain surreal feel. The visuals lend themselves to a hypnagogic atmosphere that is typical of director Seth Smith. The melancholic rock riffs and longing vocals play perfectly with entrancing imagery resulting in a complete dream drenched package.
De la sensation surréaliste de Christina Bell:
(Traduit par les rêves acides de Catherine Gaucher)
Woofy, le chien particulièrement aventureux de Seth et Nancy, est la vedette de ce vidéo de chien mignon tourné pour « In Another Life ». Cette chanson de rock 'n' roll déferlant est fraîchement tirée de leur album Fade Out, paru en 2013. L'esthétique acide du vidéo donne au paysage majestueux une certaine touche surréaliste. L'imagerie se prête à une atmosphère hypnagogique, typique du réalisateur Seth Smith. Ces images envoûtantes s'agencent parfaitement avec les riffs de rock mélancolique et les chants nostalgiques, le résultat étant tout entier imbibé de rêve.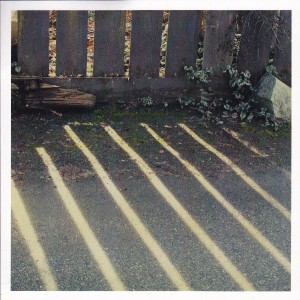 Rose Melberg
Distant Ships
Vancouver, BC
From the glittering prizes of Penny Clark:
Rose Melberg's striding drums and sunny melodies pedal her song like a bicycle through a bright green day. Recorded as part of the Kingfisher Bluez Single Sided Singles club, this 7" has the hazy, warm quality of a projection film reel. Her vivid guitar tone and calm-breeze vocals sail across the horizon, while the song disappears over the glittering waves just as abruptly as it begins. Melberg offers a brief memory of summer, the scent of the rich earth and gentle salt air.
Des récompenses étincelantes de Penny Clark:
(Traduit par la hâte du printemps de Catherine Gaucher)
Grâce à ses percussions marquantes et à ses mélodies ensoleillées, Rose Melberg pédale sur ses chansons comme sur une bicyclette défilant lors d'une radieuse journée. Enregistré pour Kingfisher Bluez et sa collection Single Sided Singles, ce 7 pouces possède une qualité diffuse, chaleureuse et comparable à celle même d'une bobine de projection de film. Ses tonalités vives de guitares et sa voix légère comme la brise voguent à l'horizon, tandis que ses chansons disparaissent tout aussi soudainement qu'elles étaient apparues, parmi les vagues scintillantes. Melberg nous livre un bref souvenir de l'été, un riche parfum de terre et d'air salin léger.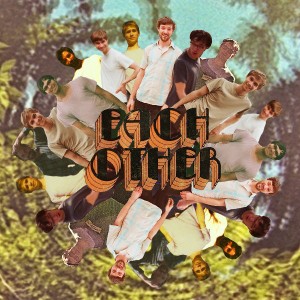 Each Other
Being Elastic
Montréal, QC
From the exploding elastic inevitable of Kevin Stebner:
These boys have been pumping out the jams for years with near unrivaled pedigree, and are now off on a tangent of Beatlesisms warring with Womenisms. Monotone harmonies reverberate atop plucky guitar lines and cracked cymbal, tambo-heavy percussion. Each Other hold sway over the mountains of kids mining the past. You can take the boys outta Halifax, but you can't stop them from pop exploding.
De l'inévitable explosion élastique de Kevin Stebner:
(Traduit par l'onomatopée percussive de Catherine Debard)
Durant des années, ces garçons ont jammé leur son avec un pedigree presque sans rival. Aujourd'hui, ils entament une bataille sonore entre Beatlesisme et Womenisme. Des harmonies monotones réverbèrent sur de courageuses mélodies de guitares, cymbales craquées et percussions lourdement tambourinées. Each Other ont de l'emprise sur la montagne de gamins qui déterrent le passé. Vous pouvez sortir ces types d'Halifax, mais ne pourrez les empêcher d'exploser dans la pop.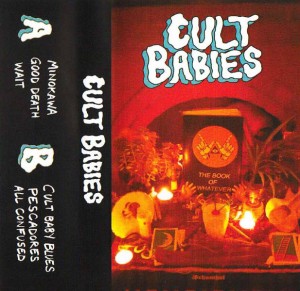 Cult Babies
Cult Babies EP
(Self Released)
Vancouver, BC
From the western gothica of Kyle Valade:
Cult Babies' self released EP threads metric tonnes of instrumentation and vocals into one magnetic strip. These sounds roll between the permutations on top of the steady and droning crashes of the drummer, whose name is strangely difficult to find. Where some bands might gladly jam into the double digits with melodies as hypnotic as these, Cult Babies keep their songs nice and concise, making for some of the most stylized restraint I've ever heard. The lush instrumentation and vaguely repetitive lyrics create an almost cinematic atmosphere where everything disappears at times into the underlying (and almost danceable) Western-Gothic dirge so that it's a shock when the album ends. Makes you wish you could just — I don't know — join a cult and never go back to the real world.
Du western gothique de Kyle Valade:
(Traduit par les oubliettes de Catherine Gaucher)
Sur une seule bande magnétique, ce EP auto-produit de Cult Babies renferme des tonnes métriques d'instrumentation et de mélodies vocales. Les sons flottent entre les permutations et au-dessus du drone constant de leur batteur, dont le nom est étrangement difficile à retracer. Là où certains groupes font volontiers durer leur jam dans les doubles chiffres grâce à des mélodies hypnotiques, Cult Babies garde ses chansons agréables et concises, usant de la contrainte avec style comme j'ai rarement entendu. L'instrumentation luxuriante et les paroles vaguement répétitives créent une atmosphère presque cinématographique où tout disparaît par moments à l'intérieur d'un latent (et quasi dansant) hymne funèbre western-gothique ; c'est donc un choc lorsque l'album se termine. Vous souhaiterez pouvoir — je ne sais trop — joindre un culte et ne jamais réintégrer le monde réel.
---