Tag: pop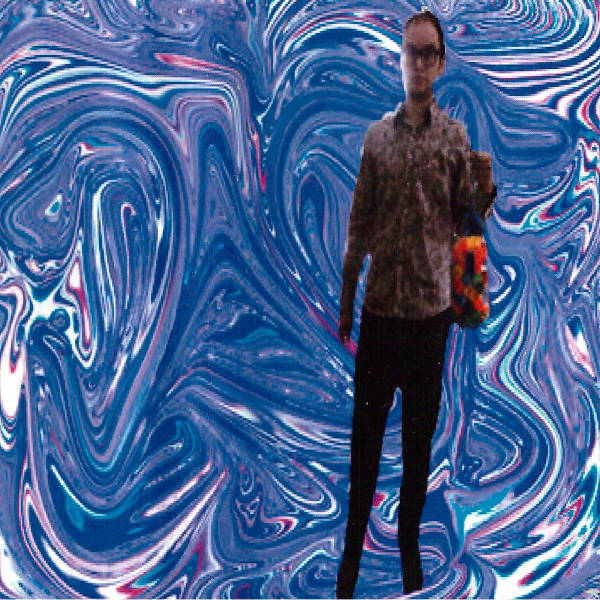 The Party Upstairs
Cartoon Universe
(Self Released)
Halifax, NS
From the blue dolphins pouring out of the enthusiaastic head of Hugo Hyart:
Like a magnetic tape trip in a world of glitched cartoons. Like a virtual tour in a ghostly carnival-casino-city. Like augmented reality trances through the information magic beans forest. Like a blink of human sentience. Holy lustig music.
Des dauphins bleus qui tombent du crâne enthousiaaste de Hugo Hyart:
Comme un voyage sur bande-magnétique dans un monde de dessin-animés bugués. Comme une virée virtuelle hallucinée dans une ville-carnaval-casino fantômatique. Comme des transes en réalité augmentée à travers la fôret des harricots magiques de la communication. Comme un clignotement de la sentience humaine. De la musique de sacré foufou.

The Party Upstairs – Languid Laughing Infinity

The Party Upstairs – The Jackrabbit Boogie in the Desert Under the Moon and the Sun As Well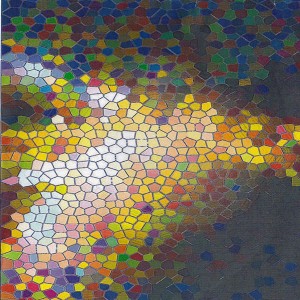 Carl Weathers
Tern
(Self Released)
Montréal, QC
From the theatre of the absurd of Josh Silver:
The most atmospheric experiences demand a counterpoint of unearthly disembodiment, a rhythm breaking the monotony of pure ambience. Montreal via Calgary's Carl Weathers blend pointed repetition, cutting through their constructed aura of wide reverb. Tern is an exercise in musical closure, where sharp and soft instrumentation intertwine and coexist. Imagine a cup of coffee on a cold day, or watching the world go by from your window; this is the music of Carl Weathers.
Du théâtre de l'absurde de Josh Silver:
(Traduit de la tasse de café de Catherine Gaucher)
Les expériences les plus atmosphériques exigent un contrepoint de désincarnation surnaturelle, un rythme pour briser la monotonie de l'ambiance pure. Les Montréalais originaires de Calgary Carl Weathers créent un mélange de répétitions pointues qui coupent à travers leur aura construit de larges réverbérations. Tern est un exercice d'acceptation musicale où sonorités tranchantes et souples s'entrelacent et coexistent. Imaginez boire une tasse de café lors d'une journée froide, ou regarder le monde passer à travers votre fenêtre : telle est la musique de Carl Weathers.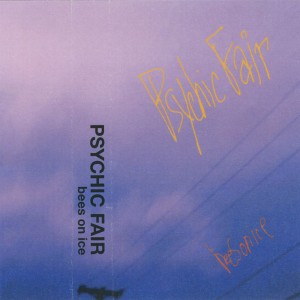 Psychic Fair
Bees on Ice
(Self Released)
Halifax, NS
From the third eye of Josh Silver:
Bees on Ice glitters in its glammy pop like a neon sign for the mysterious palm reader down the street you always meant to visit. Gritty guitars grind like a weather beaten door, while clean drums cushion like dense velvet drapery slung across windows. The crystal ball conjures up Psychic Fair's surreal world, bringing forth a prismatic, sparkling, and methodical strangeness, drawing the listener into the deeper mystery.
Du troisième œil de Josh Silver:
(Traduit par les lignes de la main de Julie Forget)
Bees on Ice brille dans sa glam pop comme l'enseigne au néon de la mystérieuse diseuse de bonne aventure un peu plus loin sur la rue que vous avez toujours voulu visiter. Des guitares rugueuses bûchent comme une porte battue par le vent pendant que les drums purs amortissent le tout comme un épais rideau de velours suspendu devant les fenêtres. La boule de cristal fait apparaître le monde surréel de Psychic Fair, donnant naissance à une étrangeté prismatique, étincelante et méthodique, amenant l'auditeur dans le plus profond des mystères.

Psychic Fair – Won't it Be Weird When We Can't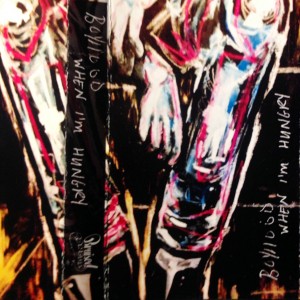 Boyhood
When I'm Hungry
Ottawa, ON
From the tardy basement incubator of Pavan Brar:
An all-encompassing and soothing coziness cloaks the 10-track span of Boyhood's When I'm Hungry. The album unconceals a familiar and intimate kind of bedroom-solipsism, carving out delta waves in static and crafting out lo-fi hummed lullabies. Let ocean-fuzz seep through the pores of your speakers, reverberating through the room in an embryonic warmth that's all too sedating to not become immersed in at once.
De l'incubateur au ralenti de Pavan Brar:
(Traduit par l'encéphale mou de Nicolas Coutlée)
Une douceur enveloppante et curatrice recouvre les dix pièces de Boyhood sur When I'm Hungry. Dévoilant une sorte de solipsisme de chambre à coucher intime et familier, l'album taille dans la statique des ondes delta au son des berceuses lo-fi fredonnées. Laissez le fuzz océanique infiltrer les pores de vos haut-parleurs et se réverbérer à travers la pièce telle une chaleur embryonnaire beaucoup trop anesthésiante pour ne pas vous y noyer aussitôt.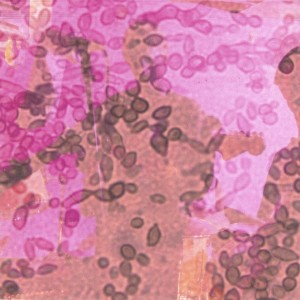 Mold Boy
Lost My Day
(Self Released)
Montréal, QC
From the ying yang of Javier Fuentes:
Upon first discovering Mold Boy, this secretive persona left many a WC writer scratching their heads as they tried to verify the identity of the project's creative mastermind. Clues went everywhere as bandcamp tags were analyzed and anagrams investigated. Turns out we didn't have to look farther than our own pages to find the six-string orchestrator. Alex Calder's effortless pop chops rewind our minds back to the last carefree moment found in the memory log. We walk around paused in this state, slowly creeping towards hazy VHS images that carousel around us. The desire to break through this mirage weakens with each note.
Du yin et du yang de Javier Fuentes:
(Traduit par la douceur mécanique de David Kohler)
Lors de la découverte de Mold Boy, ce persona cachottier laissa plus d'un membre de WC à se gratter la tête en tentant de vérifier l'identité du cerveau créatif derrière ce projet. Les indices fusaient de partout alors que les tags sur bandcamp étaient analysés et divers anagrammes étudiés. Il se trouve que nous n'avions pas à chercher plus loin que nos propres pages pour trouver cet orchestrateur à six cordes. Avec une technique pop nonchalante, Alex Calder renvoie notre esprit aux derniers moments d'abandon trouvés dans l'historique de notre mémoire. On déambule, suspendu dans cet état, en glissant doucement vers un carousel d'images voilées de VHS tournant autour de nous. Le désir de percer au travers de ce mirage s'atténue avec chaque note.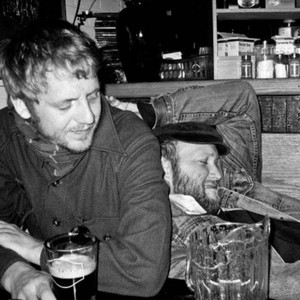 Hurricane & Able
The Last Temptation (Of H&A)
(Self Released)
Toronto, ON
From the wallflower wonderings of Chizz Mbamalu:
With every lyric and guitar riff of The Last Temptation the heart caves, causing the slight feeling of beautiful sadism. Each track of the album echoes relatable feelings of love and friendship, but also, of being lonely and being alone; two very cold topics that are brought to warmth by the passion and strength of Barry and Shawn's musicianship. The record is described as "little snippets here and there of ideas on (Barry's) computer and then turned into something just before heading to London."
However, this album isn't just a slapdash job thrown together at the last minute. It was first recorded in February 2012 and then released July 2013. A lot of vigour and spirit went into this album and it's apparent. There are some really special things this record does to cozily wrap you up into it. The surf-rock sound of "Little Girl" sends you back in time to being a young wallflower at a school dance and the anxiousness over whether you should ask your crush to dance. The additional vocals on "The Glory of Love" add a drunken, loving sense of community to give us the extra courage we might need to talk to the one we long for. This album goes well with a broken heart, a day off, your comfy bed and a pack of cigarettes.
Des introspections bucoliques de Chizz Mbamalu:
(Traduit par le semoir à mots d'Aliké Harel)
Chaque parole et chaque riff de guitare dans The Last Temptation taillade le cœur, ce qui éveille un soupçon de charme sadique. Toutes les pistes de l'album évoquent des émotions connues d'amour et d'amitié, mais aussi d'isolement et de solitude, deux sujets de glace que Barry et Shawn animent du feu de leur passion musicale. L'album est décrit comme « de petites bribes, ici et là, des idées compilées à l'ordinateur (celui de Barry) et ensuite mises en forme juste avant le départ pour Londres ».
Cependant, il ne s'agit pas d'un travail bâclé improvisé à la dernière minute. Le premier enregistrement a été fait en février 2012 et lancé en juillet 2013. L'album a été conçu avec beaucoup de vivacité et d'esprit, on le sent. Plusieurs aspects singuliers à The Last Temptation enveloppent tendrement l'auditeur. La touche de rock surf dans « Little Girl's » vous ramène à l'époque où vous étiez une fleur timide au bal de l'école et vous remémore les sueurs froides causées par l'idée d'inviter votre flamme à danser… ou pas. Les voix supplémentaires dans « The Glory of Love » ajoutent un sentiment d'appartenance teinté d'amour et d'ivresse, de quoi donner la force de parler à celui ou celle pour qui on se languit. Cet album accompagne bien les cœurs brisés, pendant un jour de congé, dans un lit douillet et muni d'un paquet de cigarettes.
Hurricane & Able – Little Girl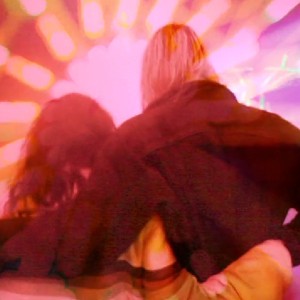 The Courtneys
"Lost Boys"
(Director: Rose Gagnon and Andrew Volk)
Vancouver, BC
From the neon mind of Harriet Wild:
Teen dreaming is fang-tipped and splashed in neon in The Courtneys' latest video: a hedonistic homage to vampire babes and school nights on the boardwalk. Under the spotlight-full moon, this is a teenage riot set to the thrust and jump of the arcade and amusement park; the whiff of cotton candy; the twirl 'n' hurl of no-curfew romance. Ride the Crazy Beach Party tonight!
De l'esprit néon de Harriet Wild:
(Traduit par Hugo Hyart)
La rêverie adolescente est plantée de crocs et aspergée de néon dans la dernière vidéo des Courtneys: un hommage hédoniste aux vampires adorables et aux nuits d'écoles sur les passerelles. Sous la pleine lune-projecteur, c'est une révolte adolescente au rythme de la poussée et des sauts de la salle de jeux-vidéos et du parc d'attraction; la bonne odeur de barbe à papa; le tournoiement lancé de la romance sans couvre-feu. Tous à la Crazy Beach Party ce soir!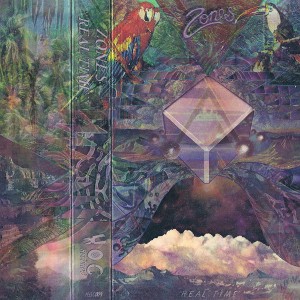 Zones
Real Time
Toronto, ON
From the temporal parts of Robin Jenkins:
In a musical landscape of genres built on pastiche and nostalgia, Derek McKeon a.k.a. Zones has carved out something unique. Images of a past not quite remembered and familiar feelings that cannot be pinpointed pervade the six songs of Real Time. Opener "Open Sky" sways with filtered voices, wavering into inaudibility as the guitar washes in and out. There is a certain feeling of memory evoked, much like looking at old travel photos; a familiar mood without a particular location. As the album progresses, this déjà vu dissipates and we see Zones' krautrock and even prog sensibilities in a clearer light. With the driving bassline and meandering guitars of "Not Chet", Zones draws up altogether alien forms. An assemblage of elements combine, detach and readjust as we continue to drive forward through unrecognizable terrain.
Traduit par l'irréversibilité de Robin Jenkins:
(De la temporalité de Catherine Gaucher)
Dans un paysage musical de genres basé sur le pastiche et sur la nostalgie, Derek McKeon alias Zones a construit quelque chose d'unique. Les six chansons de Real Time sont envahies par des images d'un passé flou et des sentiments familiers indéfinissables. En ouverture, « Open Sky » valse avec des voix filtrées et chancelle vers l'inaudible grâce au va-et-vient des guitares. Un certain sentiment de mémoire est évoqué, un peu comme quand on regarde des vieilles photos de voyage; un sentiment familier sans lieu particulièrement défini. À mesure que progresse l'album, cette impression de déjà-vu se dissipe et les sensibilités krautrock, voire progressives de Zones se dévoilent sous un jour plus clair. Grâce aux lignes de basses fermes et aux guitares sinueuses de « Not Chet », Zones élabore des formes hors de ce monde. Un assemblage d'éléments se combine, se détache et se modifie alors que nous continuons à avancer à travers un terrain méconnaissable.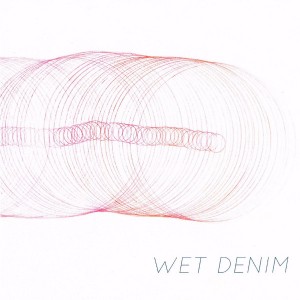 Wet Denim
Wet Denim
(Self Released)
Halifax, NS
From the sincere grin of Brennan McCracken:
The four members of Wet Denim have musical fingerprints all over the Halifax scene (see: Cousins, Cactus Flower and the Just Barelys), but make no mistake: their debut album is filled with songs that belie the side-project tag they may receive. This music is unabashedly pop, brimming with melodies that embrace, and slight turns of phrase that tickle the brain. It's earnestly sweet with an ornery underbelly, like a Nova Scotian hillside where wildflowers are indistinguishable from weeds.
Du large sourire sincère de Brennan McCracken:
(Traduit par le flair auditif de Julie Mayer)
Les quatre membres de Wet Denim marquent toute la scène haligonienne de leurs empreintes digitales musicales (voir : Cousins, Cactus Flower et The Just Barelys), mais ne vous y méprenez pas : leur premier album est rempli de chansons qui démentent l'étiquette de projet parallèle qu'on pourrait leur coller. Leur musique est résolument pop, débordante de mélodies enveloppantes et de tours de phrases subtils qui titillent le cerveau. C'est d'une douceur sincère aux dessous vicieux, comme une colline néo-écossaise où il est impossible de distinguer les fleurs sauvages des mauvaises herbes.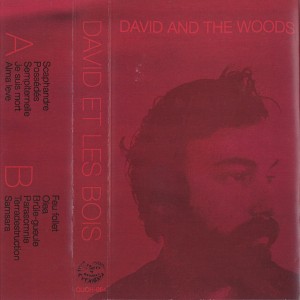 David and the Woods
David et les bois
Montréal, QC
From the tower of Babel of Benoit Arcand:
(Translated by AnneMarie Papillon)
Late in 2013, a few satyrs chose to show their hairy backs to the English language while playing their flutes for a relocated fauna. David and the Woods are some of those tricksters, hiking uphill over ten years of invisible trails to their original lair, only to reflect on themselves and re-emerge as David et les bois. Their meticulousy crafted odes, synthesizing Dyonisian grunge and Orphic folk, are largely paying their toll to the ferryman. Here we are, startled souls, rushing to these restored shores, from the pond where antique reveries of love and dismemberment get played, to the tree hiding its fruits from the ones hungry for meaning. The secret of David's reconstructed skin oozes in its roots. As they intermingle together, suggesting everything but a sterile prodigal son's tomb, they spring up again as a ubiquitous rhizome.
De la tour de Babel de Benoit Arcand:
Ils sont quelques satyres qui, tard en 2013, ont choisi de montrer leur dos velu à l'anglais et de jouer de leur flûte pour une faune relocalisée. David and the Woods est l'un de ces vire-capot, remontant quant à lui dix ans de sentiers invisibles jusqu'au ravage originel pour se réfléchir David et les bois. Ses odes soignées syncrétisant grunge dionysiaque et folk orphique, paient largement leur écot au passeur. Sur cette rive rénovée, on se rue, touriste ahuri ou garde forestier, de la mare où se joue un antique rut aquatique à l'arbre qui dérobe ses fruits aux affamés de sens. C'est dans ses racines que le pari de cette peau revirée est relevé : s'enchevêtrant d'imagination prodigue, jamais tarie, toujours rejaillissant, rhizome ubique.
David and The Woods – Scaphandre
---