Tag: pop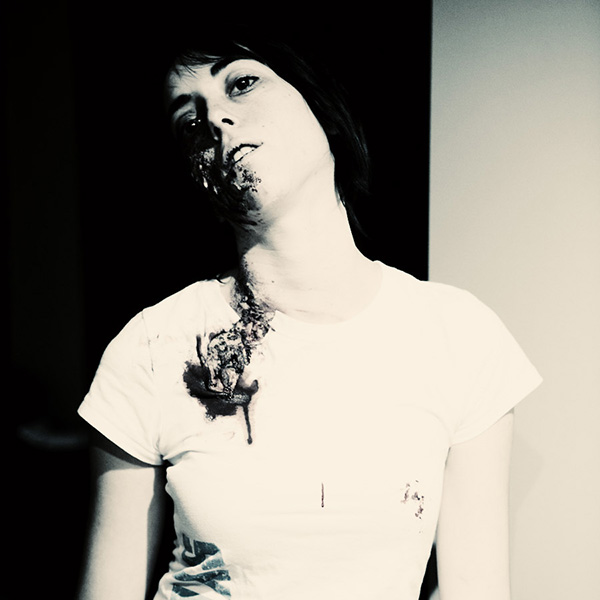 Le Poisson d'Argent
Youth EP
(Self Released)
Montréal, QC
From the rusted tilt-a-whirl of Alexandra Jaworiwsky:
Le Poisson d'Argent orchestrate a carnival of sounds that fall together to create a beautifully disjointed melody. A ferris wheel rocks back and forth but does not spin; the paint of the merry-go-round has gone grey and cracked from the elements. The amusement has seeped out of the park. But there is magic in these memories. Sneaking in to forgotten places early in the morning, dreaming of what once was. Closing your eyes, you can hear the rumblings of a roller coaster, vendors calling, and the looped cackles from the horror house. Youth is a memory of sounds, bringing back a simpler time while walking boldly in the future.
Du manège rouillé d'Alexandra Jaworiwsky:
(Traduit par la poussière de barbe à papa de Jessica Grenier)
Le Poisson d'Argent orchestre un carnaval de sons qui s'emboitent pour former une mélodie joliment déglinguée. Une grande roue qui se balance d'avant en arrière, mais qui ne tourne pas, la peinture du carrousel qui a été déteinte et craquelée par les éléments : le parc a perdu tout amusement, mais les souvenirs restent magiques. Se faufiler dans cet endroit oublié tôt le matin pour rêver de ce qui a déjà été; fermer les yeux, puis entendre le grondement des montagnes russes, le cri des vendeurs, le ricanement en boucle des maisons hantées. La jeunesse, c'est se souvenir des sons pour réanimer un passé plus simple tout en marchant résolument vers l'avant.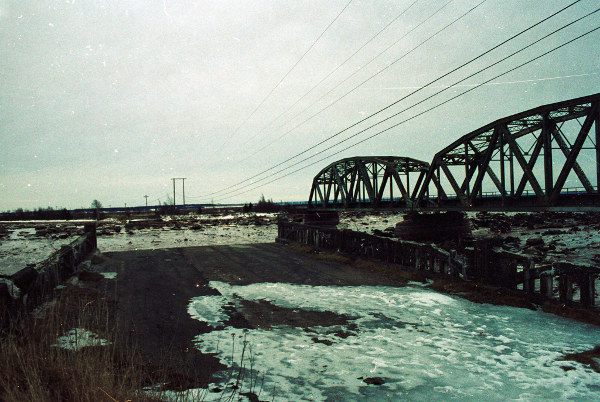 Stereophonic 12
January 22-24
Sackville, NB
Photo: Colin Medley
From the snow-flecked eyebrows of Kevin Brasier:
Stereophonic, is a winter fundraiser/hellraiser for Sackville's community station, CHMA 106.9FM. If you've ever wondered "what's in that Sackville water" that produces the finest bands in the land, the answer is CHMA's FM-freakuencies. Stereophonic is how Sackville says thank you to CHMA for offering the community free postering services, PA equipment for shows, and much more. Far from an ordinary fundraiser– co-directors Scott Brown and Ilse Kramer (also bandmates in the mighty Kappa Chow) are throwing a three-day rager featuring musical legends from bag-town and beyond including Astral Gunk, Bry Webb, Old and Weird, and Monomyth. Check out the release video for the full-line up, and listen to the festival mix-tape to preview the sweetest sounds of the marshes.
Des sourcils parsemés de flocons de neige de Kevin Brasier:
(Traduit par le nez incandescent de Jessica Grenier)
Stereophonic est une collecte de fonds infernale/hivernale pour la station radio communautaire de Sackville, CHMA 106.9FM. Si vous vous êtes déjà demandé ce qu'il y a dans l'eau de la ville pour qu'elle produise les meilleurs groupes du pays, la réponse se trouve dans les freakences de CHMA. Stereophonic, c'est aussi Sackville qui dit merci à CHMA pour le service d'affichage qu'elle offre gratuitement à la communauté, l'équipement de sonorisation lors des spectacles, et bien d'autres choses encore. Stereophonic est loin d'être un spectacle-bénéfice ordinaire : les codirecteurs Scott Brown et Ilse Kramer (aussi membres du grandiose Kappa Chow préparent une fête de trois jours avec des légendes de la musique povenant de la ville ou d'ailleurs, comme Astral Gunk, Bry Webb, Old and Weird et Monomyth. Regardez l'annonce vidéo pour savoir la programmation et écoutez la cassette du festival pour vous donner un aperçu des meilleurs sons du marécage.
1 Best Fiends – "Uh Huh"
2 Zakary Slax – "Remains"
3 Monomyth – "Candleholder"
4 Coach Longlegs – "Baycation With You"
5 Klarka Weinwurm – "TMSB"
6 Bry Webb – "Prove Me Wrong"
7 Corey Isenor – "Beneath The Bramble"
8 Jon Mckiel – "I Know, I Know"
9 Astral Gunk – "Astral Theme"
10 Heaven For Real – "Hard Done By"
11 Union Suit – "Delirious Vista"
12 Adam Mowery – "Follow Me To The Bottom*"
13 The Kavorkas – "The Grocery Store (demo)*"
14 Old and Weird – "She Seems Stressed"
15 Legendary Golden River Show Band – "Stay Yonder (Honeysuckle)"
16 Zachary Lucky – "Salty Air"
17 Old Bones – "I Can See Through You*"
18 Painful Shivers – "Blu"
* denotes that the track is unreleased
Alvvays
Alvvays
Toronto, ON
From the comfortable sadness of Scott Brown:
Alvvays is an entity of nostalgia. This is music that elicits a comfortable sadness that we all assume will end with our teenage years, but still appears from time-to-time. However, to pigeonhole them as solely a heart-on-sleeve pop act is wrong and a disservice to the nine near-perfectly crafted tracks found on this debut. Electric guitar jangles and synthesizer hums act as the backdrop to treacherous swimming trips, differing opinions on matrimony, thoughts of a red planet, and the moments of beauty inhabiting the world of Alvvays.
De la tristesse confortable de Scott Brown:
(Traduit par le spleen de Jessica Grenier)
Alvvays est une entité faite de nostalgie. C'est une musique d'où émane une tristesse confortable – celle que nous pensions morte avec la fin de l'adolescence, mais qui apparait toujours de temps en temps. Par contre, les cataloguer en tant que groupe pop sentimental serait faussement réducteur et ne rendrait pas justice aux neuf pistes de leurs débuts, qui frôlent la perfection. Des Tintements de guitare électrique et des bourdonnement de synthétiseurs forment la toile de fond de sorties de baignade dangereuses, de divergences d'opinions sur le mariage, de pensées d'une planète rouge et des moments de beauté habitant le monde d'Alvvays.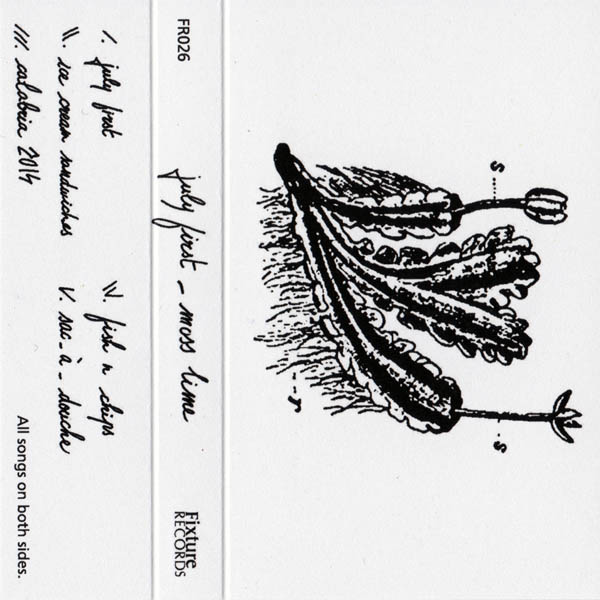 Moss Lime
July First
Montréal, QC
From the lounging sprawl of Evan Matthews:
Moss Lime are a characteristicly cosmopolitan Montreal crew, formed in spare time while hanging through the city's playground summer. Murmuring chants calling back and forth over angle-surfing guitars and an ESG-sensible rhythm section recall double dutch tall cans in a parc before a late night swim in someone else's pool. These songs have an influence-honest, naturalistic vibe. From the call & response lilt of "Ice Cream Sandwiches" to the tape-delay drone of "Fish N Chips" to the reimagining/improvement of Euro-pop song "Calabria", each one will charm you with a shared memory of wet heat, cutoffs and iced coffee.
Du divan où est avachi Evan Matthews:
(Traduit par l'orteil étiré vers la télécommande de Jessica Grenier)
Moss Lime est un groupe montréalais typiquement cosmopolite, formé lors des temps libres passés à profiter des terrains de jeu urbains durant l'été : des murmures se répondent par-dessus des guitares qui surfent en équilibre ainsi qu'une section rythmique rappelant ESG évoquent une soirée dans un parc à boire des grosses cannettes de Double Dutch avant d'aller squatter la piscine de quelqu'un d'autre. Ces chansons exhalent des ondes de naturalisme et d'honnêteté. De la cadence question-réponse de « Ice Cream Sandwiches » au drone en boucle de « Fish N Chips » en passant par la reprise/amélioration de la chanson pop européenne « Calabria », chaque pièce vous séduira en partageant un souvenir de chaleur humide, de shorts en jean et de cafés glacés.

Moss Lime – Ice Cream Sandwiches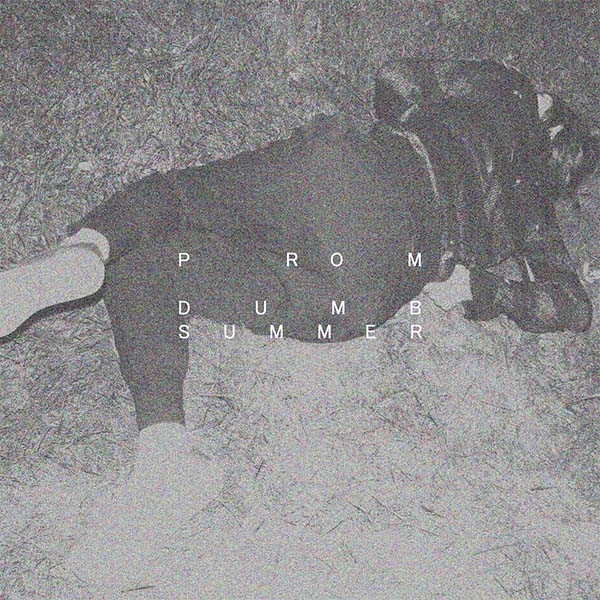 Prom
dumb summer
(Self Released)
Toronto, ON
From the shattered ornithology of Joshua Robinson:
They return, with lo-fi proverbs that speak to the static heart housed in the most whirling of us all. Tapestries hang from mildewed ceilings, affectations and tenderness falling from water spouts as charcoal recoils spiral scorned innuendo. To the criers prostrate on the yellowed floor: hold hands under cold taps as aquafirs pool in cupped hands; lips pursed, inhaling liquid healing. For those caught in the roundabout, know that heartstrings double as damaged ornithologies; clipped wings and tear ducts attuned to the crisp crackle of 'hello' followed by 'goodbye'. We are young. We are broken.
De l'ornithologie éclatée de Joshua Robinson:
(Traduit par Jessica Grenier)
Ils sont de retour avec des proverbes lo-fi qui parlent au cœur statique habitant les plus mouvementés d'entre nous. Tapisseries suspendues à des plafondsmoisis, manières et tendresse tombant de gerbes d'eau tels les rejets charbonneux spiralés d'une insinuation méprisable. Au crieur prostré sur le plancher jauni : joins tes mains sous le robinet froid comme des paumes recueillant un réservoir aquifère, les lèvres tendues pour recevoir la guérison liquide. Pour ceux perdus entre les lignes, sachez que les cordes sensibles sont aussi des ornithologies endommagées : ailes coupées et canaux lacrymaux accordés au crépitement craquant d'un « bonjour » suivi d'un « au revoir ». Nous sommes jeunes. Nous sommes brisés.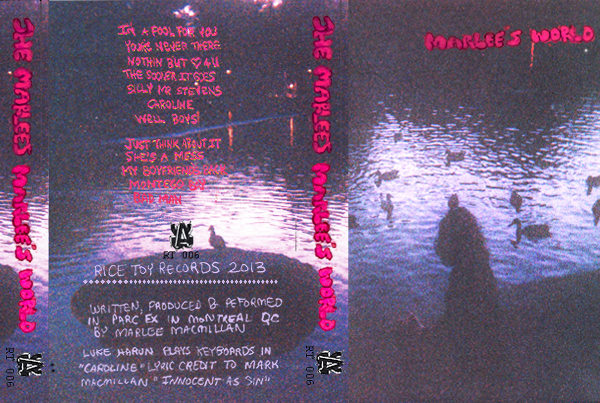 Whether breezily evoking a weary lo-fi Velvets or the Byrds-influenced strand of downer teenage garage, Marlee coats everything in the kind of murk characteristic of the best past and current NZ/Australian imprints.
The Marlees
Marlee's World
(Rice Toys)
Montréal, QC
From the murky mind of Eamon Quinn:
Whether breezily evoking a weary lo-fi Velvets or the Byrds-influenced strand of downer teenage garage, Marlee coats everything in the kind of murk characteristic of the best past and current NZ/Australian imprints. The near-boogie on the last two tracks suggest the tape a sleepier Marc Bolan might have cut for K with Stephen Pastel producing.
De l'esprit glauque d' Eamon Quinn:
(Traduit par Andréanne Dion)
Qu'il évoque avec désinvolture un Velvet lo-fi las ou un garage adolescent déprimé sous l'influence des Byrds, Marlee enveloppe tout des traits glauques des meilleurs sons néo-zélandais et australiens du passé et du présent. Les deux dernières chansons, qui inspirent presque la danse, rappellent ce qu'un Marc Bolan légèrement endormi aurait pu enregistrer pour K avec Stephen Pastel à la production.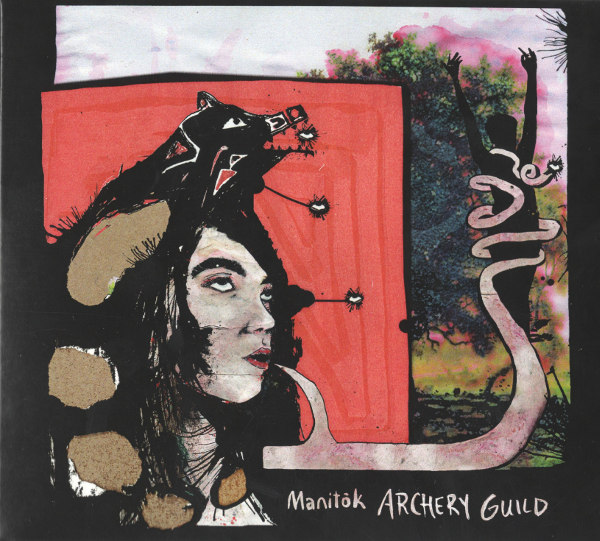 Dream sequences hint at things hidden and mythical from our collective memories, experiences that we can all understand even if they're hard to explain. Michael Cota is adept at allegory, able to coax meaning from the music and texts on this album. What this means is that Manitòk's oblique narrative is fully realized and succinctly fleshed out by his multi-tasking band mates.
Archery Guild
Manitòk
(Self Released)
Montréal, QC
From the axial silence of Nick Smith:
Dream sequences hint at things hidden and mythical from our collective memories, experiences that we can all understand even if they're hard to explain. Michael Cota is adept at allegory, able to coax meaning from the music and texts on this album. What this means is that Manitòk's oblique narrative is fully realized and succinctly fleshed out by his multi-tasking band mates. Like the guiding northern star of a boreal night, these sound-stories remain a beacon for campfire vigils. An Algonquin homeric epic-in-miniature, well worth a spin while on your settee.
Du silence axial de Nick Smith:
(Traduit en solidarité par Nadine Tkatchevskaia)
Les séquences de rêves font allusion aux choses cachées et mythiques de nos mémoires collectives, des expériences que nous pouvons tous comprendre malgré le fait qu'elles soient difficiles à expliquer. Michael Cota est un adepte des allégories et capable d'amadouer une signification par la musique et les textes de cet album. Cela veut dire que la narration oblique de Manitòk est tout à fait accomplie et étoffée de manière concise par ses copains de groupe qui font plusieurs choses à la fois. Tout comme l'étoile du Nord qui guide dans la nuit d'une aurore boréale, ces histoires en sons restent le signal pour les veilles de feu de camp. Un Algonquin homérique, grandiose en miniature, qui vaut bien la peine d'être écouté sur votre canapé.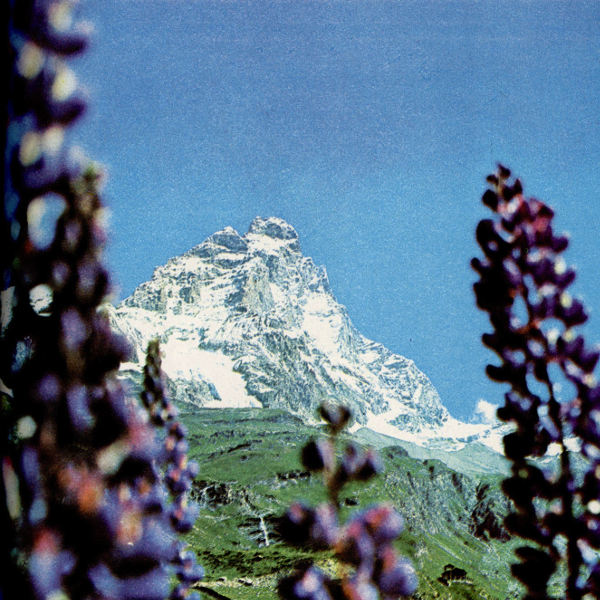 Strange Fires
Strange Fires
(Self Released)
Morinville, AB
From the summer haze of Davita Guslits:
If the album art from Strange Fires' self-titled EP was a still from a film, you wouldn't be surprised to press play and hear the billowing notes waft lazily towards you. They would lull you into a hazy memory of a teenage summer fling, or a vacation in the city spent grasping for—and almost reaching—the meaning of happiness. But with the closing lyrics of the EP, you come back down to Earth. Here, you realize that your fling wasn't all wine and roses, and that your vacation gave way too soon to the usual routine, because "nothing really lasts".
De la brume d'été de Davita Guslits:
(Traduit par elfranc)
Si le visuel de l'album éponyme de Strange Fires était un cliché tiré d'une scène de film, on ne serait pas étonnés d'entendre les notes tourbillonner et flotter avec paresse dans notre direction. Elles nous transporteraient dans une mémoire floue d'un amour d'été d'adolescence ou dans des vacances en ville où nous avons essayé d'atteindre (et avons presque réussi) un vrai moment de bonheur. Mais les dernières paroles du EP nous ramènent sur terre. Ici, on réalise que notre amourette n'était pas toute de vin et de roses et que nos vacances ont laissé place trop tôt à la routine quotidienne, car « rien n'est éternel ».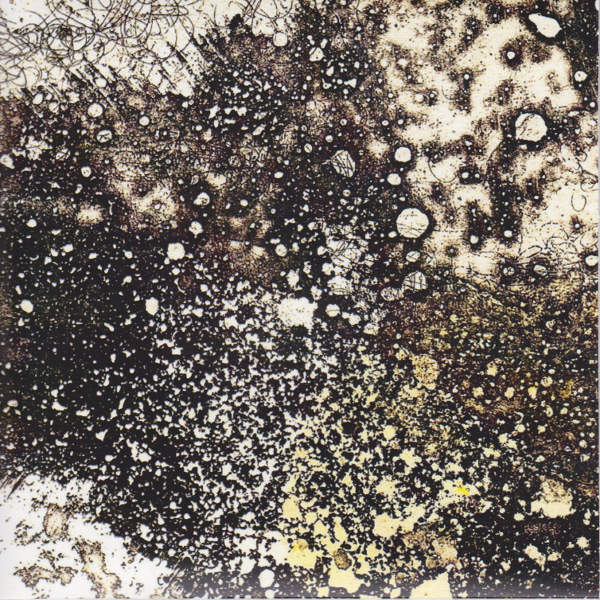 Le Pélican Noir
Le silence tendu au-dessus de nos têtes comme un orage en suspens
(Faff Records)
Montréal, QC
From the fulgent telescope of Joshua Robinson:
Celestial circumflexes as astral bodies collide to the subterranean syntax of voices registering an instrumental intonation, with arms and heads tilting skywards as the commiseration of the night wraps itself about the day. Take sartorial solace as bodies sway to the reassurances of the timbred phonetics that dance loosely on floors of imagined terrestrialism. The sky breathes heavily, exhaling a dusk that renders moot the muggy light emanating from dimly lit doorways, as denizens of Krautrock propinquities are captured in motion, swaying to the post-rock sepia of slow-form stellar dramatics. Projections of these asymptotic stargazers stand ghostly and translucent before the break of reverie, as the firmament collapses under the weight and provocation of stylistic convergence. Colours bleed into one another as telescopes turn inwards to capture the sights that are the sounds of the nothernly whispering amongst themselves.
Du brillant téléscope de Joshua Robinson:
(Traduit par les pulsations galactiques de David Kohler)
Circonflexes célestes pendant que des corps astraux entrent en collision avec la syntaxe souterraine de voix qui enregistrent une intonation instrumentale, avec bras et têtes inclinés en direction du ciel, alors que la commisération de la nuit s'enveloppe autour du jour. Consolez-vous alors que ces astres se balancent aux timbres phonétiques rassurants qui dansent nonchalamment sur des planchers au terrestrisme imaginé. Le ciel a le souffle lourd; il exhale un crépuscule qui rend discutable la lumière moite émanant des portes faiblement éclairées, tandis que les proches de Krautrock sont capturés dans le mouvement, balançant aux sépias post-rock d'un lent drame stellaire. Les projections fantomatiques et translucides de ces astronomes asymptotiques se tiennent à l'aube de rêveries alors que le firmament fléchit sous le poids et la provocation de convergences stylistiques. Les couleurs déteignent les unes dans les autres tandis que le téléscope se retourne contre soi pour capturer les vues que constituent les sons des chuchotements du Grand Nord.
Les Pélican Noir – …Et Les Arbres Déserteront Les Champs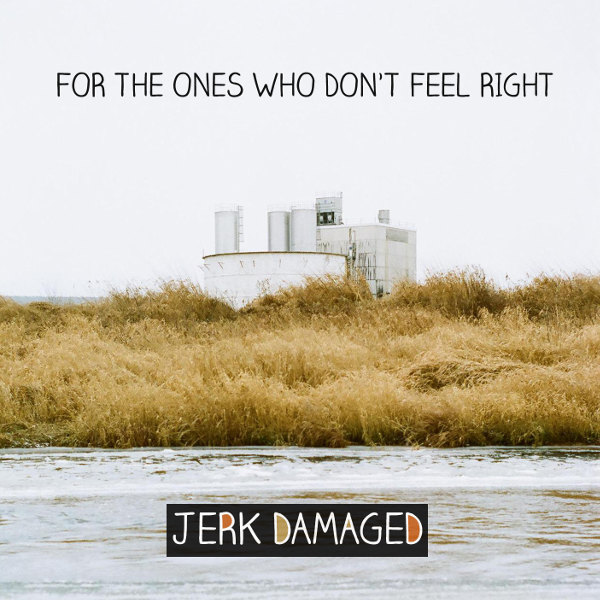 Jerk Damaged
For the Ones Who Don't Feel Right
(Self Released)
Truro, NS
From the hazy outline of Kevin Braiser:
Channeling Hüsker Dü and the Replacements, Truro legend Evan Mumford crafts a crucial reminder for us old-punks: it is still cool to wax poetic on the steady flashes of frustration, pain, and joy we haven't lost ourselves to since high school. Half the tracks are backed by Sackville rats Joe Chamandy (Astral Gunk) and Scott Brown (Kappa Chow), making this an essential grip for fans of recent marsh-scuzz releases. For the Ones Who Don't Feel Right is currently soothing my grown-up pains, and I'm considering crowd surfing on the TTC.
De la silhouette floue de Kevin Braiser:
(Traduit par la forme assombrie de Louis-Félix Pellerin)
C'est en canalisant Hüsker Dü et The Replacements que la légende truroise Evan Mumford rappelle aux vieux punks quelque chose de crucial : il n'y a pas de honte à poétiser ces moments de frustration, de douleur et de joie dans lesquels on ne s'est pas abandonné depuis l'école secondaire. La moitié des morceaux sont faits en collaboration avec les rats sackvillois Joe Chamandy (Astral Gunk) et Scott Brown (Kappa Chow), faisant de cet album un incontournable pour les fans de punk sale et marécageux contemporain. For the Ones Who Don't Feel Right met du baume sur mes plaies existentielles, et je pense sérieusement aller faire du body surfing sur le réseau de la TTC.
---