Tag: pop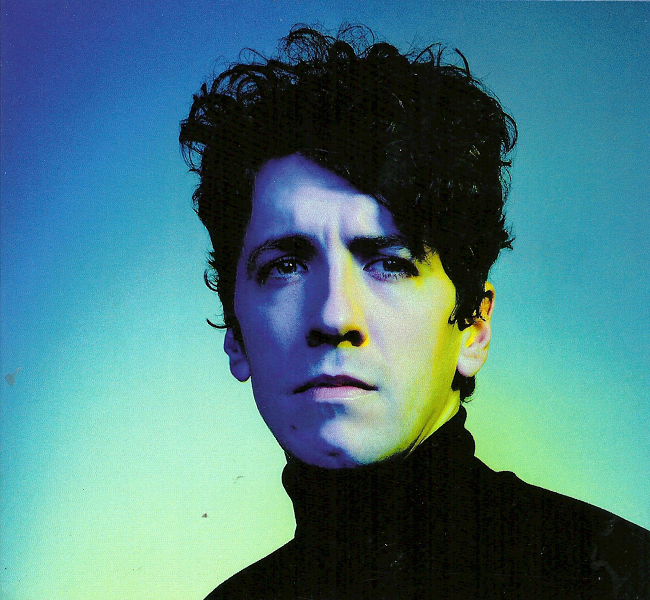 Blonde Elvis
On Vanity
Toronto, ON
From the ruby slipper of Katie Jensen:
A somber gigue leads a funeral procession through a damp cavern. Sconces of flickering candlelight bounce off slick, cratered rock. Venerable Britpop relics give a knowing wink from their influential promontories.
The procession nudges aside a heavy velvet curtain to reveal a psychedelic dance cave resplendent with glittering heavenly bodies. A troupe of well-dressed cavernicoles devour each other hungrily, wiping their mouths on shredded pop anthems.
A flautist gleefully unfurls a playful tattoo as a harpsichord circles the room giving vigorous handshakes. Crushing drumbeats anchor frayed synth vibratos and unholy harmonies. The wet air hums with hedonistic friction, ready to collapse and expand all at once.
De la pantoufle rubis de Katie Jensen:
(Traduit par les diamants sur canapé de Julie Mayer)
Une gigue sombre guide une procession funèbre à travers une grotte humide. Des candélabres aux chandelles vacillantes rebondissent sur de la roche glissante et couverte de cratères. De vénérables reliques de la britpop font un clin d'œil complice du haut de leurs promontoires influents.
La procession écarte un lourd rideau de velours pour révéler une caverne de danse psychédélique resplendissante de corps célestes scintillants. Une troupe de cavernicoles bien vêtus se dévorent les uns les autres avec avidité, s'essuyant la bouche sur des hymnes pop en lambeaux.
Une flûtiste déroule avec allégresse un tattoo enjoué tandis qu'un clavecin décrit des cercles dans la pièce et donne des poignées de main vigoureuses. De terribles battements de tambour ancrent des vibratos démêlés faits au synthé et des harmonies impies. L'air humide bourdonne d'une friction hédoniste, prêt à se contracter et à se dilater en même temps.
Blonde Elvis – Slow Fall On Egypt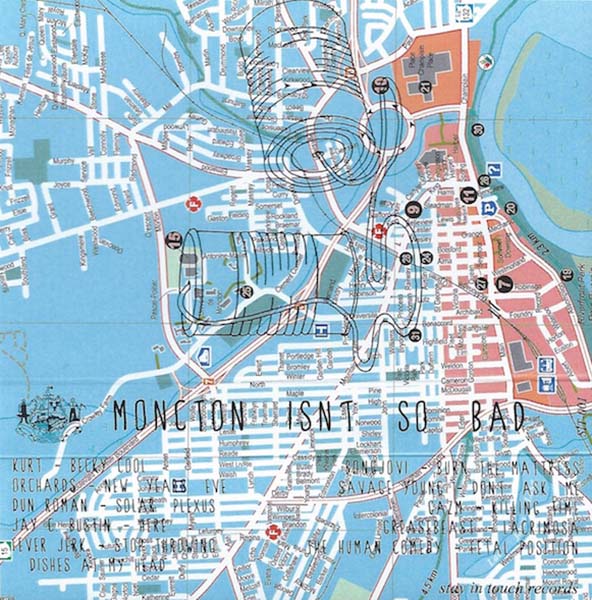 Stay In Touch Records
"Moncton Isn't So Bad" Compilation
Moncton, NB / Halifax, NS / Montreal, QC
From the poutine pizza of Mike Roy:
From the shadows of the East Coast rises Stay in Touch Records and their tribute compilation to the city that raised them, Moncton, NB. Moncton Isn't So Bad serves up a hot-and-ready, sonic pizza, its 10 slices topped with the tastes and flavours of a diverse community. The sweet and steamy bedroom pop from Kurt Inder will immediately entice you, while the piping hot garage riffs of Bong Jovi scorch at your tastebuds, and Gazm turn the notch to 11 for a golden crust that is not too crunchy or soft. Stay in Touch delivers the beautiful underbelly of a talented Moncton community simply bubbling with potential (and possibly mozzarella cheese).
De la pizza-poutine de Mike Roy:
(Traduit par le capharnaüm infernal de Julie Mayer)
Stay in Touch Records émerge des ombres de la côte Est et leur compilation rend hommage à la ville qui les a élevés : Moncton au Nouveau-Brunswick. Moncton Isn't So Bad sert de la pizza acoustique toute-chaude-toute-prête dont les 10 pointes sont garnies de goûts et de saveurs issus d'une communauté diverse. La pop de chambre douce et humide de Kurt Inder va vous allécher sur-le-champ alors que les riffs de garage fumants de Bong Jovi brûlent vos papilles gustatives et que Gazm tourne le bouton à 11 pour produire une croûte dorée qui n'est ni trop croustillante ni trop molle. Stay in Touch livre la belle face cachée d'une talentueuse communauté monctonienne bouillante de potentiel (et sans doute de fromage mozzarella).
Fever Jerk – Stop Throwing Dishes at My Head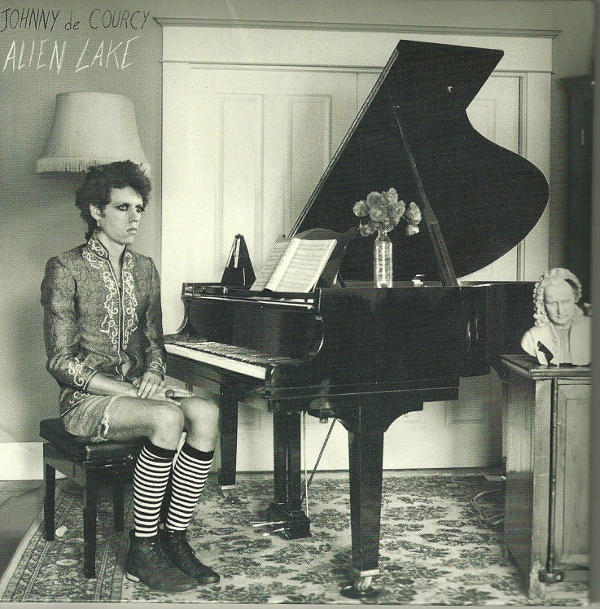 Johnny de Courcy
Alien Lake
New Westminster, BC
From the arterial reference of Josh Rohs:
Be ye in need of one of the following: gut-punch powerpop hooks, fuzz-smothered Pinkertonesque ragers, whimsical balladry, or classic rokk rave-ups (with references arterial intact)? Look no further. Not a lot could hold a Roman Candle to this Neptunian essential. As for the aqua-extraterrestrial, I'm a firm believer.
De la référence artérielle de Josh Rohs:
(Traduit par Sami Imgaline)
Êtes-vous à la recherche de hooks power pop qui déchirent? De soirées Pinkertonesques saturées? De balades fantasques, ou de* raves* classique rokk (avec références artérielles intactes? Ne cherchez plus. Presque rien n'arrive à la cheville de cet indispensable Neptunien. En ce qui concerne l'existence des aqua-extraterrestes, j'y crois fermement.
Johnny de Courcy – I Can't Be That Man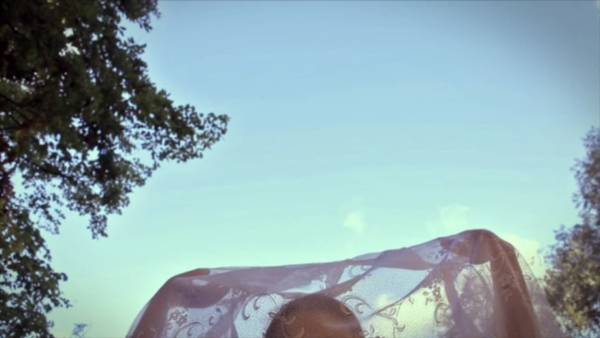 From the sloppy sobbing gob of Rachel Bellone:
It's hard not to fawn over the cloying melodrama of New Love Underground's "Prom Night Break Up". They use the forest to frame quick and poignant shots weaving in and out of a synth dream ballad. Nearly four minutes of bouncing between catharsis and nostalgia; a contrast we know and love. Regardless of how your prom night turned out, there is a schmaltz about this video that we can all relate to.
Du tas de reniflements fleur bleue de Rachel Bellone:
(Traduit par le coeur serré de Julie Mayer)
Difficile de ne pas lécher les bottes du mélodrame mièvre qu'est Prom Night Break Up de New Love Underground. Le duo utilise la forêt afin de cadrer des clichés instantanés poignants qui se faufilent à travers une ballade onirique sur synthétiseur. Cette dernière représente près de quatre minutes de rebondissements entre la catharsis et la nostalgie; un contraste familier qu'on aime. Peu importe comment s'est terminé votre bal de finissants, il y a, dans cette vidéo, un sentimentalisme auquel on peut tous s'identifier.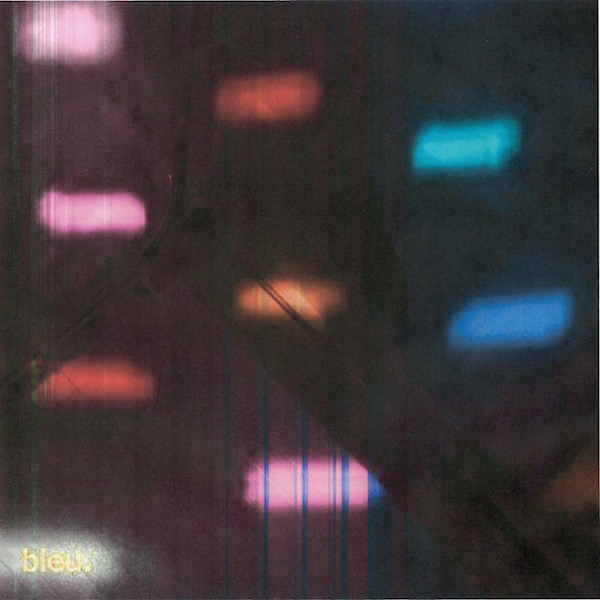 Bleu
Colours II
(Self-Released)
St. John's, NFLD
From the sand between the toes of Mike Roy:
Bleu's Colours II operates like a childhood memory of the beach – sitting in the hot and sticky leather seats of your parents' stationwagon as your father turns on the radio dial. A familiar soundtrack greets your ears as the bubblegum ice cream drips from your cone and gently stains your shirt. Suddenly, a melody washes over you. It's a sonic maelstrom of dreamy, new wave rock that submerges you soothingly. The moment exists peripherally as another drip from cone slowly falls to your skin, but the smile that lingers becomes timeless.
Du sable entre les orteils de Mike Roy:
(Traduit à grands coups de massue solaire par Julie Mayer)
Colours II de Bleu agit comme un souvenir d'enfance à la plage. Pendant que tu es assis sur les sièges de cuir chaud et collant de la familiale de tes parents, ton père allume le poste de radio. Une chanson familière se présente à tes oreilles alors que la crème glacée à la gomme balloune dégouline de ton cornet et tache légèrement ton chandail. Tout à coup, une mélodie t'inonde. C'est un maelström acoustique de rock new wave onirique qui te submerge d'une manière apaisante. L'instant existe en périphérie tandis qu'une autre goutte se détache du cornet pour tomber lentement sur ta peau, mais le sourire persistant devientintemporel.
From the severely overdubbed mixtape of Johnnie Regalado:
Songs lifted from a forgotten book of sheet music re-employed as a diary. That special brand of after hours pop music that draws on the best moments of the era when home taping should've killed music. Take a dark ride on the abandoned psych carousel where sentiment and synth blur the lines of sound and vision
Du mixtape sérieusement repiqué de Johnnie Regalado:
(Du poisson Babel de Joel Mak)
Des chansons copiées d'un livre de partitions oublié sont réutilisés comme un journal intime. Le mélange spécial de la musique pop after hours, qui s'inspire des meilleurs moments de l'époque où l'enregistrement à domicile aurait dû tuer la musique. Montez à bord du carrousel psychédélique abandonné où le sentiment et le synthé brouillent les frontières entre le bruit et les images .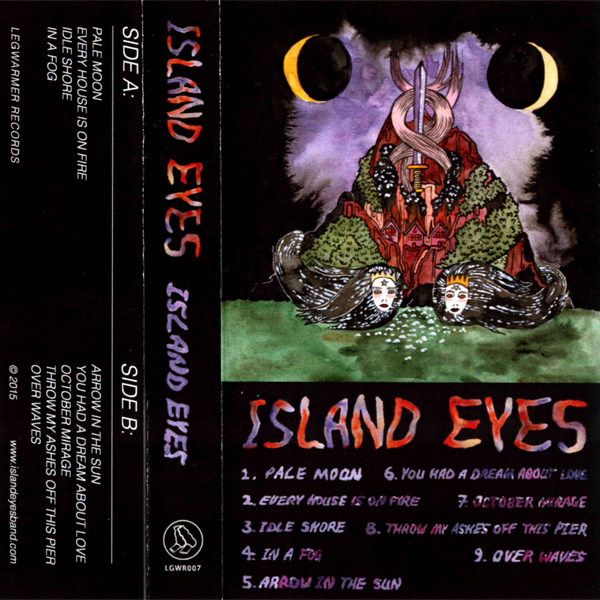 Island Eyes
Island Eyes
Victoria, BC
From the sea salt eyes of Johnnie Regalado:
These synths and drum machines have been programmed to love. The 1s and 0s migrate across the rolling drum lines, herded by delicately arranged strings. The engineer/composer of these whimsical songs has reinvented himself; his eyes now fully opened to the sea salt mist of island life. A seafaring cyborg who croons lullabies over the sound of a moored ship knocking against the dock. Gather round for the new era ballad.
Des yeux de sel marin de Johnnie Regalado:
(Traduit par les cornées brumeuses de Louis-Félix Pellerin de Chevigny)
Ces synthés et ces boîtes à rythmes ont été programmés pour aimer. Les mesures se succèdent et traversent des lignes de percussions naturelles, le tout suivi de cordes délicatement arrangées. L'ingénieur-compositeur de ces morceaux abracadabrants s'est réinventé; ses yeux maintenant totalement ouverts à la brume de sel marin de l'insularité. Un cyborg marin qui fredonne des berceuses au son des bateaux amarrés se heurtant au quai. Tous en cercle pour la ballade de la nouvelle ère.
Island Eyes – Every House Is On Fire
Pat Jordache
Steps
Montreal , QC
From the summer-pop vibes of Sara Bortolon-Vettor:
Dancing mania is precisely what happens when listening to Pat Jordache's Steps. We are invited to explore his world, a chaotic orchestral playground. Synths rise and fall like peaks and valleys. Guitars represent the sun and the groove guides us with commanding beats and luscious bass. The voice is always changing, representing characters who carry the album's narrative – a pursuit for utopia. Do we watch the flowers grow or do we move to oil city? What is your paradise?
Des ondes de pop estivale de Sara Bortolon-Vettor:
(Traduit par les glaçons en sueur de Julie Mayer)
La manie dansante est précisément ce qui se passe lorsqu'on écoute Steps de Pat Jordache. On est invité à explorer son monde : un terrain de jeu orchestral et chaotique. Les synthés montent et descendent comme monts et vallées. Les guitares représentent le soleil et le groove nous guide d'un rythme ferme et d'une basse aguicheuse. La voix de l'artiste ne cesse de changer afin de représenter les personnages qui portent le récit de l'album : la poursuite de l'utopie. Regardons-nous les fleurs pousser ou déménageons-nous vers pétroville? Quel est votre paradis?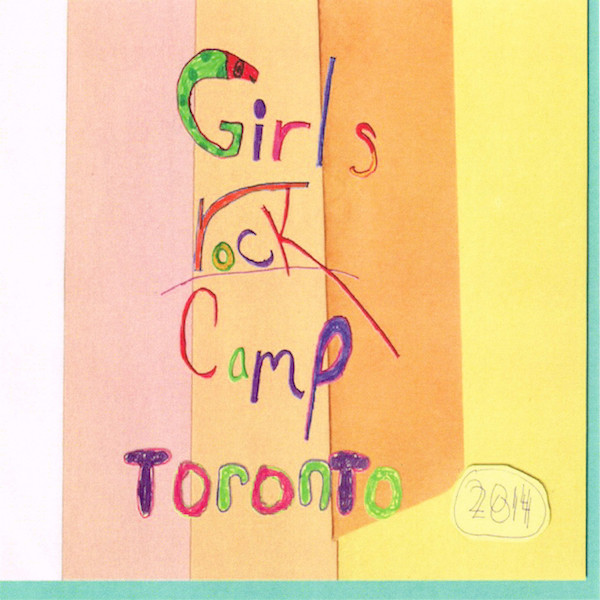 Various Artists
Girls Rock Camp Toronto – 2014
Toronto, ON
From the gushing dopamine levels of Sara Bortolon-Vettor:
Girls Rock Camp Toronto is a non-profit community organization empowering young women to play rock music. Their 2014 Compilation CD features a new kind of pop music: a fresh perspective from the voices of girls. It is genuine, fun, honest and quirky – there's nothing jaded about it. A spectacle of talents, diverse genres and instrumentations with all songs written and performed entirely by girls. The compilation includes 11 tracks highlighting the broad scope of songwriting and playing from Meteor Season's rock-pop gem, "Coming Your Way" to #pandabandits' punk-rocker, "The Great Release." To hear how this new pop will grow is worth the anticipation.
Des niveaux de dopamine débordants de Sara Bortolon-Vettor:
(Traduit par les terrasses caféïnées de Marie-Pier Chevrier)
Girls Rock Camp Toronto est un organisme communautaire à but non lucratif qui encourage les jeunes femmes à jouer de la musique rock. Leur CD Compilation 2014 met en valeur un nouveau style de musique pop de la perspective rafraîchissante des voix des filles. Authentique, ludique et farfelu, on n'y trouve absolument rien de réchauffé. Le tout, entièrement écrit et interprété par des filles, explore différents genres et instrumentations. L'album comprend 11 pistes qui dévoilent une vaste étendue d'écriture et d'interprétation, du bijou pop-rock « Coming Your Way » de Meteor Season au punk-rock « The Great Release » des #pandabandits. L'écoute patiente de l'évolution de cette nouvelle pop en vaudra certainement l'attente.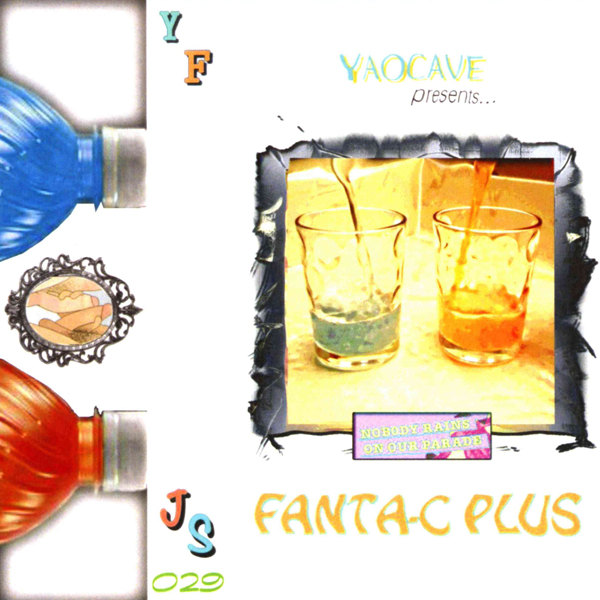 Yàocavé
Fanta-C Plus
Montréal, QC
From the psychedelic sweet dreams of Johnnie Regalado:
Please standby as we upload a more youthful consciousness. Spectral-audio analysis completed: time to dance. Fanta-C Plus foams with the playful intensity of a pop rocks and cola super sugar high. These songs transition like a channel surf across the spectrum of psychedelic sweet dreams. A sonic journey for your eyes, a visual voyage for your ears; each track possesses its own gravitational grip that flexes your eardrums further from the sun and closer to blissful madness.
Des beaux rêves psychédéliques de Johnnie Regalado:
(Traduit par Mylene LSD Quevillon)
Veuillez patienter pendant que nous téléchargeons une plus grande conscience juvénile. Analyse sonore spectrale terminée : dansons. Fanta-C Plus pétille avec l'intensité ludique d'un pop rocks et d'un cola super sucré. Ces chansons s'enchaînent telle une séance de zapping à travers une multitude de beaux rêves psychédéliques. Une incursion acoustique oculaire, un voyage visuel auditif; chaque piste musicale possède sa propre emprise gravitationnelle qui éloigne votre tympan du soleil et le rapproche d'une bienheureuse démence.
Yàocavé – MIDNITE CLUB 2 (FT. TALIA BOGUSKI)
Yàocavé – RIVERDALE HIGH SCHOOL (FT. MICHAEL STOKES)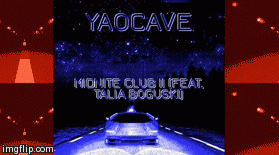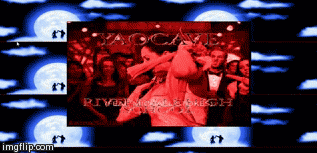 ---