Tag: pop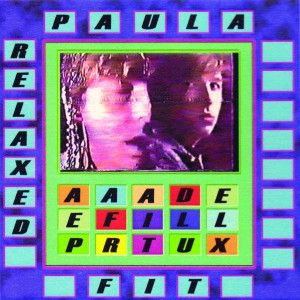 Paula
Relaxed Fit
Montréal, QC
From the blue sunrise of Simon Frank:
More than a year after it was released online, Paula's Relaxed Fit hits the vinyl big time. In the meantime, Tops guitarist David V. Carriere's alter ego has helped me soundtrack 12-hour bus rides, poured out of roommates' speakers during exam season, and made it to the playlist at a party or two. Relaxed Fit is a high-quality collection of semi-electronic, hyper-positive pop miniatures. Punchy drum machines, synth hooks, and cut-up processed guitars set up meaningless/meaningful, melancholic/euphoric lyrics. Even Cadence Weapon stops by for a guest verse, and on "Totally Nice" (one of two previously unreleased tracks) most of the chorus is just "ecstasy!" shouted out. So only one question remains: when we will get the Prime Cuts 12"?
American dreamers: David Carriere from Paula is currently on tour with his other band TOPS. They're playing shows with Sean Nicholas Savage and King Krule. See the Arbutus Records page for more info!
Du lever de soleil bleu de Simon Frank:
(Traduit de l'aube azur de Catherine Gaucher)
Plus d'un an après sa sortie en ligne, Relaxed Fit de Paula nous frappe de plein fouet en vinyle. Entre-temps, l'alter ego de David V. Carriere, guitariste de Tops, m'a déjà fourni la bande sonore pour mes interminables périples d'autobus, a joué dans les haut-parleurs de mes colocs durant les fins de session et s'est immiscé dans une fête ou deux. Semi-électronique et ultra-positif, Relaxed Fit est une brillante collection de miniatures pop. De percutantes boîtes à rythmes, des synthés entraînants et des collages de guitares modulées mettent la table pour des paroles insignifiantes/signifiantes, mélancoliques/euphoriques. Même Cadence Weapon s'invite le temps d'un couplet, tandis que le refrain de «Totally Nice!» (l'un des deux titres précédemment inédits) est un pur cri d'« extase! ». Une seule question demeure : quand aurons-nous droit au 12 pouces de Prime Cuts?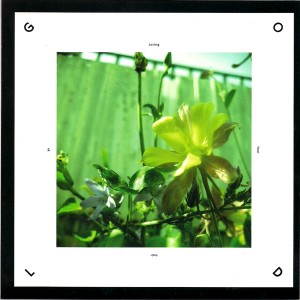 Gold
Losing Your Hair
Calgary, AB
From the gossamer yearnings of David Ferris:
When it's cold as fuck, put the top down and make a sojourn to a place which is beautiful, bittersweet and sepia-toned. The cymbals wash on forever and the almost-psychic interplay of guitars and harmonies chase each other, intertwining all plaintive and beautiful-like — all of this cast under a towering, sublime shadow.
In 2012, Kaelen Ohm and Rena Kozak, along with Chris Reimer and Matt Swann, recorded four excellent and affecting songs, and the context of the EP may be familiar to many of you.
The reason there are no proper synonyms for "bittersweet" is because these things seem obvious and natural to us until we attempt to nail them down. Breaking them up into smaller, more articulable components, we can never seem to capture it in the least, and all we are left with are gobbledygook fragments (like this very write-up). Let's just leave this for now with "Drugs" being a straight-up perfect pop song: the right people in a room at the right time.
Des aspirations étoffées de David Ferris:
(Traduit de la trajectoire douce-amère de Catherine Gaucher)
Lorsqu'il fait foutrement froid, descendez votre toit ouvrant et dirigez-vous vers un endroit magnifique, doux-amer teinté de sépia. Une ombre sublime imprègne le microcosme où des cymbales s'effacent éternellement et où une interaction quasi-psychique s'établit entre guitares et harmonies qui se pourchassent, s'entrelacent, toutes aussi plaintives et belles qu'elles soient.
En 2012, Kaelen Ohm et Rena Kozak, accompagnés de Chris Reimer et Matt Swann, enregistrent quatre excellentes et émouvantes chansons. Certains d'entre-vous êtes familiers avec le contexte du EP en question.
Aucun synonyme ne peut exprimer l'exactitude symbolique du mot «doux-amer» parce que les choses ne nous semblent évidentes et naturelles qu'avant que nous ne tentions de précisément les définir. Même en les subdivisant en composantes plus petites, plus précises, nous n'arrivons jamais à les capturer le moins du monde et au final, nous nous retrouvons avec des fragments de charabia (comme cette critique). Laissons cela de côté pour l'instant avec « Drugs », une parfaite chanson pop sans détour : être avec les bonnes personnes, au bon endroit, au bon moment.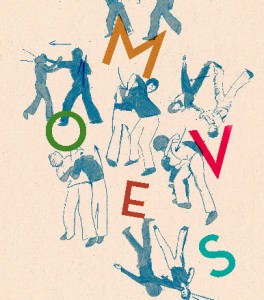 Moves
Tape
(Self Released)
Toronto, ON
From the tug-of-war of Joel French:
From B-52s-ish weirdo pop ("Let's Go", "Take Me") to Paul Simon-esque acoustic numbers ("A Little Longer", "Senseless", "Call Each Other Love") with a short garage-rock banger in the middle ("Do You Know What It Is I Want"), Toronto's Joseph Organ isn't scared to wear his heart, or influences, on his sleeve. This type of obvious contrast in song writing and delivery might not work on an LP, but on this six-song cassette it's refreshing and leaves me excited to see which direction will win the tug-of-war for the next Moves release.
Du tir à la corde de Joel French:
(Traduit par le dernier après-midi estival d'Andréanne Dion)
Depuis la pop étrange qui rappelle B-52s (« Let's Go », « Take Me » ), jusqu'aux morceaux acoustiques à la Paul Simon (« A Little Longer », « Senseless », « Call Each Other Love »), avec un pétard garage-rock au milieu (« Do You Know What It Is I Want »), Joseph Organ de Toronto n'a pas peur de se montrer vulnérable et de nous montrer ses influences. Ce genre de contraste flagrant entre la composition des chansons et le débit ne marcherait peut-être pas sur un album complet, mais sur cette cassette de six chansons, c'est rafraîchissant et ça me rend impatient de voir quelle direction gagnera le tir à la corde pour la prochaine parution de Moves.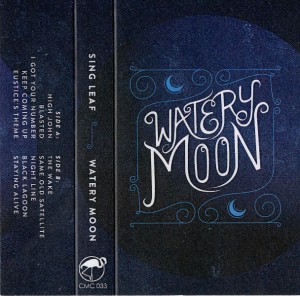 Sing Leaf
Watery Moon
Toronto, ON
From the bursting clouds of Shawna Naklicki:
Submerged in a wave pool of sound, Sing Leaf shines through with a multitude of colours. Throughout the ten songs of his latest release, Watery Moon, Dave Como lets melancholia and longing percolate through both sound and lyrics in a landscape that includes expertly woven synth textures, ethereal echoing choir vocals and Paul Simon-esque influences. Sing Leaf can be a man and his guitar as in "Staying Alive", while in "I've Got your Number" the cryptic sounds invoke imagery of a late night stalking and the struggle between hunter and prey. Whether singing about High John the Conqueror or relating to a grounded bird, Como does it with a sincerity that's both uplifting and haunting.
Des nuages prêts à rompre de Shawna Naklicki:
(Traduit par la pluie cervicale d' Aliké Harel)
Submergé dans une piscine à vagues de son, Sing Leaf nous éblouit de mille couleurs. Dans les dix chansons de son dernier album Watery Moon, Dave Como laisse mélancolie et langueur percoler dans la musique et les paroles d'un décor où siéent des textures de synthé fignolées à point, un chœur de voix éthérées et l'influence d'un Paul Simon. Sing Leaf peut être un homme et sa guitare comme dans « Staying Alive », alors que dans « I've Got your Number » les sons énigmatiques évoquent une traque nocturne, la lutte entre le chasseur et sa proie. Qu'il chante sur High John ou se représente comme un oiseau pris au sol, Como le fait en toute sincérité, ce qui est à la fois édifiant et troublant.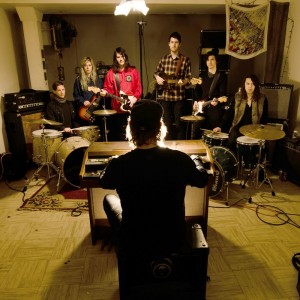 V. Vecker Ensemble
In The Tower
Vancouver, BC
From the dark tower of Selina Koop:
No stone is left unturned in this dark and epic transmutation led by Vancouver's Keith Wecker. A haunting and timeless approach to a fully formed aesthetic comes to life with a pulse and many heads. True visionaries and boundary pushers are few and far between. Enter V. Vecker Ensemble.
De la sombre tour de Selina Koop:
(Traduit par le pouls et la tête d' Aliké Harel)
Rien n'est laissé pour compte dans cette sombre transmutation épique dirigée par le vancouvérois Keith Wecker. Lancinante et intemporelle, son approche esthétique portée à maturité prend vie avec un pouls et plusieurs têtes. Les vrais visionnaires et les êtres qui transcendent les fontières sont loin d'être nombreux. Découvrez le V. Vecker Ensemble.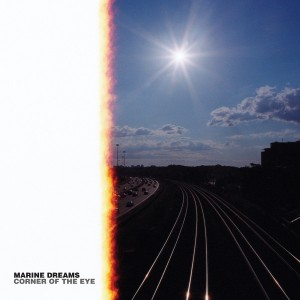 Marine Dreams
Corner of the Eye
Toronto, ON
From the bronzed love of Joshua Robinson:
You've Changed Records, Canada's folk-crucible answering our call for earnest songwriting, continues its crisscrossing foray into the beautifully romantic art of friends collaborating with friends. The end results are triumphant in their hearkening of spirited wisdom; the aged wrinkling of weathered storytelling, youthfully seasoned, carefully crafted. Artistic marriages born of a bronzed love for stories shared through music.
Bristling with the warmth of AM gold, Marine Dream's Ian Kehoe continues his songwriting form with Corner of the Eye. Where 2011's Marine Dreams embodied the ennobled spirit of alt-folk, Corner of the Eye speaks of a more controlled sensibility, as if Kehoe himself has indeed weathered the expanse of Canada, absorbing through some form of root-seeking osmosis those artifacts of northernly character. That presence and personality imbues these songs with the ardour of lengthy waits, of the bending of trees in cross breezes, of the subdued brilliance of late-night introspection.
The instrumentation on this release, marvelously captured by Daniel Romano — who, along with You've Changed mainstays Tamara Lindeman, Ian Romano, and Ross Miller are all prominently featured as musicians and backing vocalists — is startlingly austere. This playing is purposeful, as if it's that character caught in the corner of the eye, slow-dancing to to the lyrically and seasonally heavy timbre of Gordon Lightfoot's journeyman drawl. This music speaks to the weathered sentiment of the heavy-hearted, circumventing ubiquity by withdrawing to the eddies of the Canadian folk-rock underbelly, branching away from the current, flowing against the grain, spirited along by our northernly providence.
De l'amour de bronze de Joshua Robinson:
(Traduit par le coeur nordique d' AnneMarie Papillon)
You've Changed Records, le creuset folk canadien qui répond à notre besoin de sérieuses compositions musicales, poursuit son incursion dans l'art magnifiquement romantique des amis qui collaborent entre eux. Les résultats triomphent par leur penchant pour la sagesse fougueuse: les vieux adages de contes presque ridés saupoudrés de jeunesse et soigneusement conçus. Des mariages artistiques nés d'un amour de bronze pour ces histoires partagées à travers la musique.
Tout hérissé par la chaleur de l'or du AM, Ian Kehoe de Marine Dreams poursuit sur sa lancée de composition avec Corner Of the Eye. Là où l'album de 2011, Marine Dreams, incarnait les esprits anoblis du folk alternatif, Corner of the Eye évoque une sensibilité plus contrôlée, comme si Kehoe lui-même avait érodé les étendues du Canada, absorbant ces artéfacts nordiques à travers une certaine osmose à se connecter aux racines. Cette présence et personnalité imprègne ses chansons de l'ardeur des longues attentes, des arbres qui plient sous les brises croisées, de l'éclat discret des introspections qui durent toute une nuit.
L'instrumentation de cette parution, merveilleusement capturée par Daniel Romano — un habitué de You've Changed, avec Tamara Lindeman, Ian Romano et Ross Millet qui y figurent tous comme musiciens ou choristes — est étonnamment austère. Cette parution sait ce qu'elle veut, comme un personnage tapis dans un coin de l'oeil, dansant un slow au son du lourd timbre de son compagnon d'errence, Gordon Lightfoot. Une musique qui parle aux sentiments éffrités des coeurs lourds, contournant l'ubiquité en s'accrochant aux tourbillons du folk-rock Canadien, bifurquant loin du courant, flottant à contre-courant, pleine de cette vive providence nordique.
Marine Dreams – Roots Come After Lengthy Waits
Quivers
Self Portrait In E
Halifax, NS
From the grouplove innuendo of Joshua Robinson:
Rich with the esotericism of an anachronistic and nostalgic release, Quivers sublimate to fruition with live performance grouplove innuendo. Manifest as the middle ground between pastism and presentism (in the most respectful of ways), the Halifax band is a modern embodiment of the orgiastic creativity of the free-thought '70s. Quivers hold the flame to reconstitute music as an artform that is equal parts nostalgia and progression. In the light of all that is truly authentic, they bear the mark of transitional beings praying for a return to our fruitful and artfully idiosyncratic past.
Des allusions à l'amour de groupe de Joshua Robinson:
(Traduit par les voix lumineuses de Julie Forget)
Riche de l'ésotérisme d'une sortie anachronique et nostalgique, Quivers sublime et se réalise grâce à une prestation live allusive à l'amour de groupe. Terrain d'entente manifeste entre le passéisme et le présentisme (de la plus respectueuse des manières), le groupe d'Halifax est une incarnation moderne de la créativité orgiaque des années 70, période de libre-pensée. Quivers détient la flamme pour restituer la musique en tant que moyen d'expression artistique puisant autant dans la nostalgie que dans l'évolution. À la lumière de tout ce qui est réellement authentique, le groupe porte la marque de ces êtres transitoires qui prient pour un retour à notre passé fécond et habilement idiosyncrasique.
Kurvi Tasch // The Knows
Split Tape
(Self Released)
Montréal, QC // Montréal, QC
From the dusty wurlitzer of Javier Fuentes:
A few Montreal pals take up residence in a denim themed nightclub and transcribe their experiences on a golden tape. The Knows kick up their legs and opt for a more relaxed approach as a dusty wurlitzer swirls its way around the smooth six-string melodies. Kurvi Tasch jam away in a haunted part of the building where the shadows dance away to their jangly hooks. Eager grippers set up camp outside this new hit factory waiting on the next offering. Let these tunes hold you over for now.
Du Wurlitzer poussiéreux de Javier Fuentes:
(Traduit par la Flûte enchantée de Joannie Pharand)
Quelques copains de Montréal adoptent un lieu de résidence dans un club à thématique de jeans et transcrivent leurs expériences sur un ruban d'or. The Knows font rebondir leurs jambes choisissant une approche plus relax pendant qu'un piano Wurlitzer poussiéreux tourbillonne autour d'une mélodie fluide à six cordes. Kurvi Tasch continue à jammer dans une partie hantée de l'immeuble où les ténèbres s'emportent en dansant sur le son de leurs riffs cliquetants. Des machinistes impatients établissent un campement à l'extérieur de cette nouvelle usine à hits en attendant la prochaine proposition. Que ces chansons vous tiennent en haleine pour le moment.
Stolen Organ Family Band
The Glitter Cream Supreme Tape
(Self Released)
Vancouver, BC
From the automated love of Jesse Locke:
This cult-like family band of self-knighted psychedelic hillbillies have been cranking out their own homebrewed concoctions for as far back as a hazy brain can remember. Yet The Glitter Cream Supreme Tape might be the Stolen Organs' magnum opus. Big Muffed guitar solos wail, Bella from Chains of Love gets cosmic on the keys, Casio bongos do battle with a flesh and blood funky drummer, and the duets of Kelly Badger and Conor Mack alternate from warped Johnny & June to a manic Father Yod. Ooo oww…
De l'amour automatisé de Jesse Locke:
(Traduit par le tracteur atomique de Nicolas Coutlée)
Hillbillies psychédéliques autoproclamés, les membres de ce groupe familial quasi-culte concoctent leurs mixtures artisanales aussi loin que mon cerveau embrouillé peut se souvenir. The Glitter Cream Supreme Tape est peut-être le magnum opus des Stolen Organs. Pédale Big Muff au plancher, envolées cosmiques de Bella de Chains of Love au synthé, affrontements sans merci entre les bongos Casio et un nouveau batteur funky en chair et en os, sans oublier les duos de Kelly Badger et Conor Mack qui ressemblent tantôt à une performance déjantée de Johnny & June, tantôt à celle d'un Father Yod maniaque. Ooo oww…
Stolen Organ Family Band – Glenn
Stolen Organ Family Band – Destroying The Past 2 Save The Future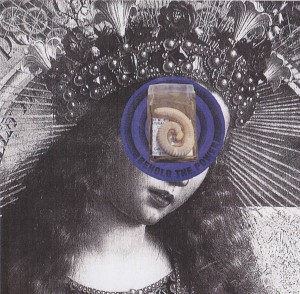 Monomyth
King Does This Not Please You? (Behold the Power)
(Self Released)
Halifax, NS
From the smoke and mirrors of Johnnie Regalado:
An offering from below. A self-aware relic. Sacrificial lamb for the gods of rock. This would surely please the kings. There's enough blissful harmony here to make a chorus of angels bashful. There are enough duels to the death between dual guitar lines to spill a carpet of blood. Monomyth have composed their opera in a house of mirrors. Twang and tones flex from concave to convex, fine-tuned over a friendly game of cards between fiends. Behold the power….
De la poudre aux yeux de Johnnie Regalado:
(Traduit par l'équilibre de Julie Forget)
Une offrande provenant de plus bas. Une relique qui se connaît bien. Une victime expiatoire pour les dieux du rock. Cela plairait sûrement aux rois. Il y a ici une assez grande harmonie bienheureuse pour rendre les anges d'une chorale timides. Il y a assez de duels à mort entre les doubles lignes de guitare pour faire couler un tapis de sang. Monomyth a composé son opéra dans une maison de miroirs. Des sons de corde pincée et des tonalités se courbent en traits concaves et convexes, bien réglés lors d'une partie de cartes amicale entre démons. Voici la puissance…
---