Tag: pop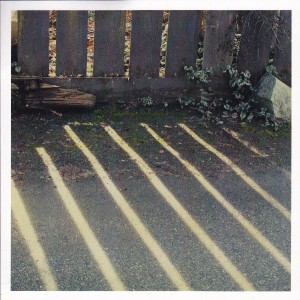 Rose Melberg
Distant Ships
Vancouver, BC
From the glittering prizes of Penny Clark:
Rose Melberg's striding drums and sunny melodies pedal her song like a bicycle through a bright green day. Recorded as part of the Kingfisher Bluez Single Sided Singles club, this 7" has the hazy, warm quality of a projection film reel. Her vivid guitar tone and calm-breeze vocals sail across the horizon, while the song disappears over the glittering waves just as abruptly as it begins. Melberg offers a brief memory of summer, the scent of the rich earth and gentle salt air.
Des récompenses étincelantes de Penny Clark:
(Traduit par la hâte du printemps de Catherine Gaucher)
Grâce à ses percussions marquantes et à ses mélodies ensoleillées, Rose Melberg pédale sur ses chansons comme sur une bicyclette défilant lors d'une radieuse journée. Enregistré pour Kingfisher Bluez et sa collection Single Sided Singles, ce 7 pouces possède une qualité diffuse, chaleureuse et comparable à celle même d'une bobine de projection de film. Ses tonalités vives de guitares et sa voix légère comme la brise voguent à l'horizon, tandis que ses chansons disparaissent tout aussi soudainement qu'elles étaient apparues, parmi les vagues scintillantes. Melberg nous livre un bref souvenir de l'été, un riche parfum de terre et d'air salin léger.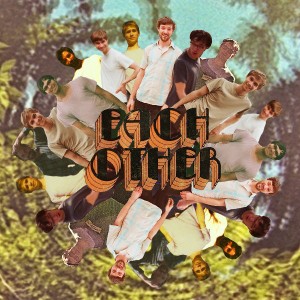 Each Other
Being Elastic
Montréal, QC
From the exploding elastic inevitable of Kevin Stebner:
These boys have been pumping out the jams for years with near unrivaled pedigree, and are now off on a tangent of Beatlesisms warring with Womenisms. Monotone harmonies reverberate atop plucky guitar lines and cracked cymbal, tambo-heavy percussion. Each Other hold sway over the mountains of kids mining the past. You can take the boys outta Halifax, but you can't stop them from pop exploding.
De l'inévitable explosion élastique de Kevin Stebner:
(Traduit par l'onomatopée percussive de Catherine Debard)
Durant des années, ces garçons ont jammé leur son avec un pedigree presque sans rival. Aujourd'hui, ils entament une bataille sonore entre Beatlesisme et Womenisme. Des harmonies monotones réverbèrent sur de courageuses mélodies de guitares, cymbales craquées et percussions lourdement tambourinées. Each Other ont de l'emprise sur la montagne de gamins qui déterrent le passé. Vous pouvez sortir ces types d'Halifax, mais ne pourrez les empêcher d'exploser dans la pop.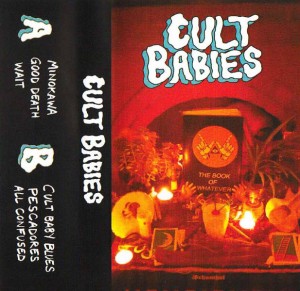 Cult Babies
Cult Babies EP
(Self Released)
Vancouver, BC
From the western gothica of Kyle Valade:
Cult Babies' self released EP threads metric tonnes of instrumentation and vocals into one magnetic strip. These sounds roll between the permutations on top of the steady and droning crashes of the drummer, whose name is strangely difficult to find. Where some bands might gladly jam into the double digits with melodies as hypnotic as these, Cult Babies keep their songs nice and concise, making for some of the most stylized restraint I've ever heard. The lush instrumentation and vaguely repetitive lyrics create an almost cinematic atmosphere where everything disappears at times into the underlying (and almost danceable) Western-Gothic dirge so that it's a shock when the album ends. Makes you wish you could just — I don't know — join a cult and never go back to the real world.
Du western gothique de Kyle Valade:
(Traduit par les oubliettes de Catherine Gaucher)
Sur une seule bande magnétique, ce EP auto-produit de Cult Babies renferme des tonnes métriques d'instrumentation et de mélodies vocales. Les sons flottent entre les permutations et au-dessus du drone constant de leur batteur, dont le nom est étrangement difficile à retracer. Là où certains groupes font volontiers durer leur jam dans les doubles chiffres grâce à des mélodies hypnotiques, Cult Babies garde ses chansons agréables et concises, usant de la contrainte avec style comme j'ai rarement entendu. L'instrumentation luxuriante et les paroles vaguement répétitives créent une atmosphère presque cinématographique où tout disparaît par moments à l'intérieur d'un latent (et quasi dansant) hymne funèbre western-gothique ; c'est donc un choc lorsque l'album se termine. Vous souhaiterez pouvoir — je ne sais trop — joindre un culte et ne jamais réintégrer le monde réel.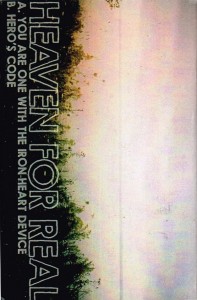 Heaven For Real
Hero's Code
Halifax, NS
From the iron heart device of Max Cotter:
Hero's Code is a mathematically calculated insurrection waged on every mediocre house show ever booked. It may be the music blowing your mind or the fact that you left your ear plugs at home. One way or another, whoever's basement this is will be going up in flames tonight while we dance to sounds as sharp as the broken glass underfoot and pop hooks as pervasive as the smell of mold and sweat. Heaven For Real's spontaneity gets straight to the point with precision and a simple message: grip this, buckle in, and groove to its meandering-yet-meticulous tidal riffs.
Du cœur d'acier de Max Cotter:
(Traduit par la pensée sinueuse mais méticuleuse de Virginie Langlois)
Hero's Code est une insurrection méthodique menée à l'assaut de toutes les soirées house pas terribles. Soit vous avez le souffle coupé par la musique, soit vous regrettez d'avoir oublié vos bouchons d'oreille à la maison. En tout cas, quel que soit le lieu choisi pour la performance, attendez-vous à ce que la salle s'embrase ce soir lorsqu'on va se mettre à danser au rythme de sonorités aussi acérées que du verre brisé sous le pied et d'accroches pop aussi puissantes que l'odeur de moisissure et de sueur. La spontanéité de Heaven For Real's va droit au but avec précision et un message simple : emparez-vous de la musique, accrochez-vous et laissez-vous porter par le raz-de-marée sinueux mais méticuleux des riffs.
Heaven For Real – You Are The One With The Iron Heart Device
WHOOP-Szo
Qallunaat / Odemin
Guelph, ON
From the Qallunology of Benoit Poirier:
(Translated by Benoit Poirier)
A binomial of pancanadian ubiquity framed on the Guelph-Salluit polar vector, Qallunaat/Odemin feels the scope of passing time and attests of the humility of the voyageur/guest. An incremental project (its third part is already in the works) in which intimate fires are woven of quiet plains and mountains, of troubled waters and storms, warm like a midnight sun: hope is gray like that, tacking between arable rock and carved folk with a propensity for the tragic. Kudos to the Out Of Sound Rezonance Program, an initiative from the OoS label which allows young Inuits to take part in different steps of the DIY gestalt of an album (here, the silk-screening of the cover art, and some backing vocals). Of quiet plains and mountains, of troubled waters and storms, Qallunaat/Odemin is an abundant oxymoron as vast as the Canadian Shield.
De la Qallunology de Benoit Poirier:
Binôme d'ubiquité pancanadienne tramé dans le vecteur polaire Guelph-Salluit, Qallunaat/Odemin décèle l'espace du temps qui passe ailleurs et témoigne de l'humilité du visiteur. Un projet incrémentiel (le volet tierce est déjà en chantier) dans lequel sont campés des feux intimes, voilés, ourdis ensemble de calme plaine en rocaille, d'eau trouble à tempête, chauds comme un soleil de minuit : de l'espoir gris comme ça, louvoyé entre rock arable et folk sculpté aux épisodes grecs. Des pouces en l'air au Out Of Sound Rezonance Program, une initiative du label Out Of Sound qui permet à de jeunes Inuits de Salluit de prendre part à différentes étapes du gestalt DIY d'un album (ici, la sérigraphie de la pochette, des chœurs). De calme plaine en rocaille, d'eau trouble à tempête, Qallunaat/Odemin est un abondant oxymoron vaste comme le bouclier canadien.
By Benoit Poirier:
(Translated by Monty McGahey II)
Mii go iw ngamawin Guelph, ge Salluit bi-zhaamigak, Qallunaat/Odemin zhinkaade. Qallunaat/Odemin bzindang, mii gaa-zhiwebak daa-nendang. Gewii gonaa dibendang e-mdwewechiged waabmaa. Mindaadendaanaa Out of Sound Rezonance Program. Mii gwa iw gii-zhitoon Oos label wii-bgidnaawaad Inuit shkiniigijig wii-naadmaagewaad nooj gegoo DIY album'ing (Silk-screenwitoong ntam-maziniganing miinwaa shkweyaang ngamad). Gechwaa gonaa mshkode ge aazhiw, gzhiijwang ge niiskaadak, Qallunaat/Odemin aagnwetaadzad naasaab gwa zhinaagozid Canadian Shield.
By Benoit Poirier:
(Translated by Ryan Oliver)

Spring
"Yer Chimurenga"
(Directed by Josh Nisbeth)
Vancouver, BC
From the mystifying orb of Josefa Cameron:
Spring's (ex-SSRIs) "Yer Chimurenga" has sprung forth both a visually hypnotic video and a radiantly buoyant tune. Director Josh Nisbeth constructed this pleasantly delirious clip, airing his evidently masterful talent in the computer animation department. An ensemble of flickering designs glimmer across the screen adorned with triangles, leafs and cartoon faces, all bouncing to the rhythm of Spring's sparkly tumult of sound.
Du globe mystifiant de Josefa Cameron:
(Traduit par le temps brumeux de Julie Forget)
« Yer Chimurenga », de Spring (les ex-SSRI), propose une vidéo visuellement hypnotique et se voit être une chanson radieusement joyeuse. Le directeur, Josh Nisbeth, a produit ce délirant clip en exprimant son talent magistral dans le domaine de l'animation par ordinateur. Un ensemble de motifs vacillent et miroitent dans l'écran orné de triangles, de feuilles d'arbres et de figures dessinées qui suivent le rythme de l'animé tumulte de sons de Spring.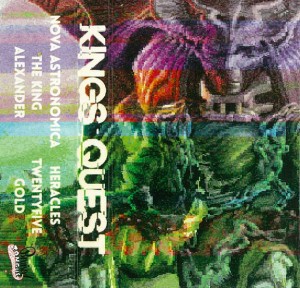 Kings Quest
Kings Quest EP
Ottawa, ON
From the magic mirror of Brendan Lehman:
From the vaunted halls of Bruised Tounge, another rewind-inducing gem rides in with the form of the Kings Quest EP; an homage to the mind of Roberta Williams. A musical sojourn of the fingers behind Ottawa's video game collective Dirty Rectangles, the tape quickly sets sail south from Daventry, riding waves of crisp harmony up through a starry sky. Winds of the dreamiest pop carry our hero forth on the whimsical and dangerous quest to rescue the king. The hero, delving the dungeons of faraway lands for great treasures, is grabbed by infectious guitar hooks that refuse to let go, invading the mind from some distant sonic plane. In the end, the hero — with a king rescued and treasures earned — sails into the sun on a cloud of shimmering noise, waiting eagerly for the next quest.
Du miroir magique de Brendan Lehman:
(Traduit de la figure de proue de Catherine Gaucher)
Du réputé château de Bruised Tounge, nous arrive le EP Kings Quest, un autre joyau entraînant une envie insatiable de rembobiner encore et encore; un hommage à l'esprit de Roberta Williams. Le périple musical de cette bande magnétique, également derrière le collectif de jeux vidéos d'Ottawa Dirty Rectangles, met rapidement le cap vers le sud de Daventry, voguant sur de fraîches harmonies sous un ciel étoilé. Des vents de pop rêveuse transportent notre héros vers une quête périlleuse et dangereuse pour sauver le roi. Fouillant les donjons des terres lointaines à la recherche de grands trésors, notre héros est attrapé par des hooks de guitares contagieux qui refusent de le laisser partir et qui envahissent son esprit depuis des avions soniques. À la fin du récit, le héros, un roi rescapé ainsi que les trésors mérités naviguent sur un nuage chatoyant de bruit en direction d'un soleil brûlant. Le héros attend sa prochaine quête avec impatience.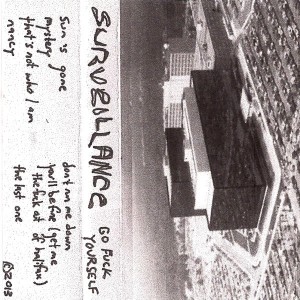 Surveillance
Go Fuck Yourself
(Self Released)
Halifax, NS
From the stereo mountain of Jesse Locke:
Tucked inside a zine-grade cassette sleeve with the sinister image of NSA HQ, this shambly Halifax trio upholds the Nova Scotian no-fi tradition. Slashing through the hiss with a barrage of blurred hooks, caterwaul harmonies and Mascisized overdrive, Surveillance alternate between sensitive slack and slam-dance squeal. Just because you're paranoid doesn't mean they aren't after you…
De la montagne stéréo de Jesse Locke:
(Traduit d'un pied de chèvre par Nicolas Coutlée)
Derrière une pochette de cassette arborant la sinistre image du QG de la NSA, ce chaotique trio d'Halifax perpétue la tradition néo-écossaise no-fi. Se frayant un chemin à travers le grichage à coups de mélodies embrouillées, d'harmonies de miaulements et de distortion mascisisée, Surveillance alterne entre la mollesse sensible et les cris perçants du mosh pit. Ce n'est pas parce que vous êtes paranoïaque qu'ils ne sont nécessairement pas après vous…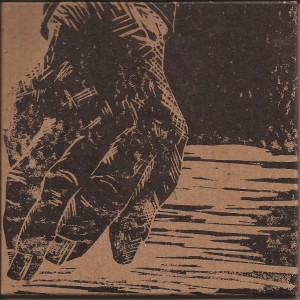 Animal Teeth
Me & You
(Self Released)
Winnipeg, MB
From the Faustian dreams of Matt Lazenby:
Winnipeg four-piece Animal Teeth pull no punches. Me & You is six songs of whirring chords, fuzzy tones, and delicate chimes. Each tune is awash with understated melodies simple enough to belie their own beauty. Never plodding or dull, Animal Teeth's sound is dynamic enough to segue from the ebb and flow of tender atmospherics to noise-strewn wails of guitar and howling screams, while managing to sound vital and steer clear of pretension.
Des rêves faustiens de Matt Lazenby:
(Traduit par l'alpha-moulin d'Aliké Harel)
Le quatuor de Winnipeg Animal Teeth n'y va pas de main morte. Me & You, c'est six chansons où les cordes frémissent, où les tonalités se brouillent et où les tintements se font délicats. Chaque piste est inondée de mélodies modestes, assez simples pour dissimuler leur propre beauté. Jamais stagnant ni terne, le son d'Animal Teeth est assez dynamique pour enchaîner des fluctuations d'ambiances douces, des plaintes dissonantes de guitare et des hurlements tout en réussissant à sembler essentiel et à balayer toute prétention.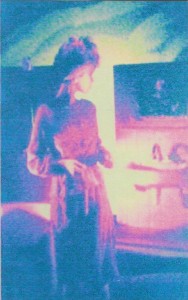 Cassida Pax
Sin by Proxy
Windsor, ON
From the Molly Ringwald heart of Catherine Debard:
(Translated by Catherine Debard)
Listening to Cassida Pax, I suddenly remember the art of pop: crafting a song by finding the true essence of a riff, the ultimate guitar line that will stick in your head. Cassida Pax appears unexpectedly with beats tainted by sweet '80s reverby heaven, like a forgotten four-track-hero, a young Ariel Pink before da fame, with a genuine skill for melodies and catchy lyrics. These solid songs will haunt you until the ribbon is as worn out as your personal best of 1995 mixtape featuring Mariah Carey and Edwyn Collins. Shout out to those teenage years when time stretches endlessly in front of you like a burned orange sunset horizon, when secretely exchanging folded papers with scribbled poetry in class fills you with intense feelings (the carelessness, oh!). If you dig it, you should spend some time in the sunshine world of Memory No. 36 Recordings, Cassida Pax's label. I know I did and almost forgot the snow falling on my fingers as cold as popsicles as I write these words.
Du coeur de Molly Ringwald de Catherine Debard:
En écoutant Cassida Pax, je me souviens soudainement de l'art de la pop. Confectionner soigneusement une chanson en trouvant l'essence même d'un riff, la ligne de guitare parfaite qui va rester dans la tête. Cassida Pax surgit à l'improviste avec ses beats sucrés 80's dans un rêve de reverb, comme un héros-du-quatre-pistes oublié, un jeune Ariel Pink d'avant la gloire, avec un véritable don pour la mélodie et pour les paroles accrocheuses. Quatre solides pièces qui vous hanteront jusqu'à ce que le ruban de la cassette soit usé comme votre mix-cassette personnel de 1995 avec Mariah Carey et Edwyn Collins. Mention d'honneur aux douces années d'adolescence quand le temps s'étire devant soi à l'infini comme un coucher de soleil orange-brûlé à l'horizon, quand échanger secrètement des papiers pliés gribouillés de poèmes nous remplit de sentiments intenses, la désinvolture (l'insouciance, oh!). Et si vous aimez, vous devriez passer faire un tour dans l'univers ensoleillé de Memory No. 36 Recordings, le label de Cassida Pax. En tout cas c'est ce que j'ai fait et j'en ai presque oublié la neige et mes doigts gelés comme des popsicles tandis que j'écris ce texte.
Cassida Pax – Clinging Moments
---