Tag: Pleasence Records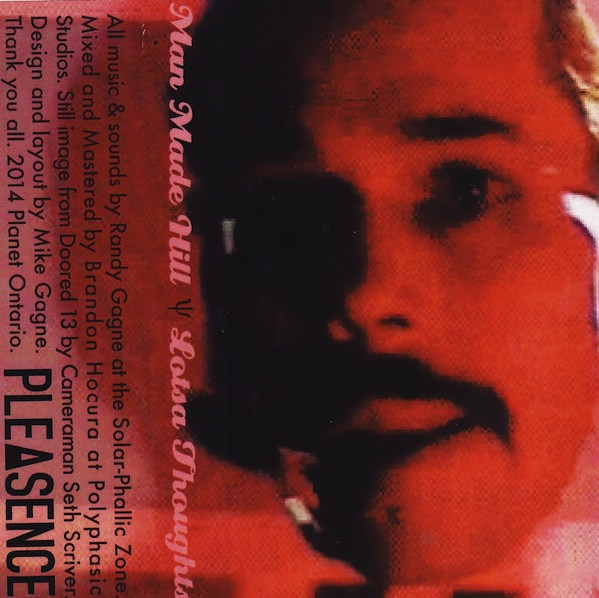 Man Made Hill
Lotsa Thoughts
Toronto, ON
From the engulfing blob of Brad Casey:
Imagine an old high school friend is visiting. You moved to the city and haven't seen him in 10 years. He never left your small hometown. Ever. You two go to a bar. The bar is empty but there's a closed off back room and it sounds like there's a party happening back there. You both open the doors to the back room. There's a flash of light. Everything sounds like it's underwater. There's a man onstage and he's planking on top of a ladder. His whole body is painted silver and music is shooting from his body in colourful light as he spins like a record. The crowd is one anomalous blob of furries and they engulf your friend. Later, you'll find him covered in sparkles, wearing only a t-shirt that says Man Made Hill and reciting the words to "Ballad of a Thin Man" as if in a trance.
Du blob vorace de Brad Casey:
(Traduit par l'appétit pour les mots de Louis-Félix Pellerin)
Imagine qu'un ami du secondaire te rend visite. Vous ne vous êtes pas vus depuis dix ans parce que tu as déménagé à la grand'ville et lui n'a jamais, jamais, quitté votre patelin d'enfance. Vous allez boire un verre. Le bar est vide, mais vous entendez ce qui est clairement un party venir de l'arrière-salle. En ouvrant les portes, de la lumière en jaillit. Vous avez l'impression d'être rendus sous l'eau. Sur la scène, un homme fait la planche au sommet d'une échelle. Son corps est recouvert de peinture argentée et la musique jaillit en rayons de lumière colorée de son corps qui tourne tel un vinyle. La foule est un étrange troupeau de furries qui s'empresse d'engloutir ton ami. Plus tard, tu le retrouves, étincelant, en train de réciter les paroles de "Ballad of a Thin Man" comme s'il était en transe, avec comme seul vêtement un t-shirt qui dit Man Made Hill.
Man Made Hill – Repetitive Party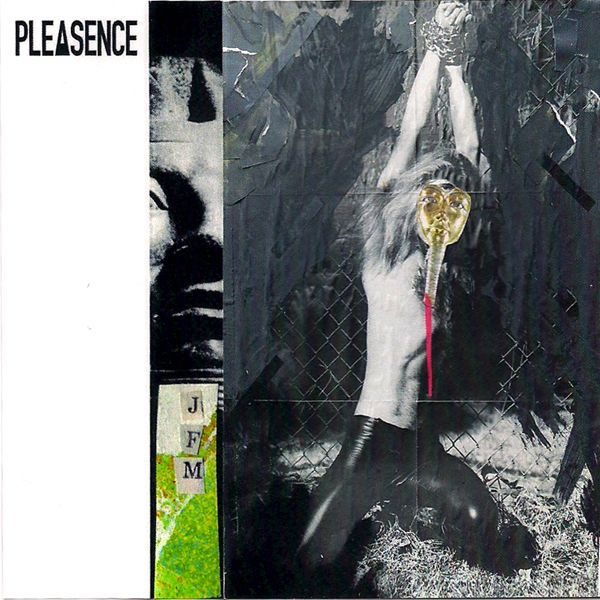 From the crass cranium of Farah Barakat:
JFM (Jesse Frank Matthews) constructs groovy soundscapes using a sampler and effects. For his cassette debut on Pleasence Records, the loops are minimally constructed, maximally effective. One carefully chosen beat, riff or rhythm is looped for minutes at a time, as intricate tweaks are added to create titillating audio collages before switching the vibe. Squat is a long, pleasant (pun intended) city drive late at night, with identical streetlights guiding you down the road like outstretched arms.
Du crâne insensible de Farah Barakat:
(Traduit par le doux murmure d'Anaïs Njike)
Producteur de musique décalée et compositeur solo de musique électronique, JFM (Jesse Frank Matthews) crée une atmosphère musicale groovy à partir d'un sampleur et d'effets sonores. Sa première cassette sortie sur Pleasence Records est l'exemple d'une boucle minimale, pour un effet maximal. Une rythmique ou un riff minutieusement choisis qui constituent une boucle répétée pendant plusieurs minutes, à laquelle s'ajoutent des éléments complexes pour créer un univers audio émoustillant avant de passer à l'ambiance suivante. Squat est aussi agréable qu'une longue virée en voiture tard dans la nuit, dans une ville dont les réverbères, identiques, vous tendent les bras pour guider votre chemin.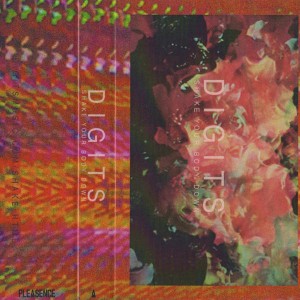 Digits
Shake Your Body Down
Toronto, ON
From the polyphonic pen of Ryan Warner:
Armed with Moroder-style synths and a penchant for high drama, Digits' latest mixtape Shake Your Body Down seduces listeners into a sensual realm of disco paranoia. The tape offers a smorgasbord of original tunes, remixes, reworkings and collaborations with Toronto's Doomsquad and Digits side-project Bad Passion. The music here is texturally rich, deeply saturated and full of attention grabbing sonics (no doubt due to Alt Altman's Artscape residency). However, it isn't studio wizardry that makes this tape intoxicating; the high quality of songwriting and deft arrangements keep it on steady loop.
Du stylo polyphonique de Ryan Warner:
(Traduit par la richesse musicale de Julie Forget)
Armé de synthés de style Moroder et d'un penchant pour le grand drame, le dernier mixtape de Digits, Shake Your Body Down, entraîne les auditeurs dans un royaume sensuel de paranoïa disco. La cassette offre une panoplie de chansons originales, de remixes, de reprises et de collaborations avec Doomsquad, de Toronto, et avec le projet parallèle de Digits, Bad Passion. La musique est riche en textures, profondément saturée et remplie de sons attirant l'attention (sans doute grâce à la résidence d'Alt Altman à l'Artscape). Toutefois, ce n'est pas la magie du studio qui rend cette cassette enivrante; la grande qualité de la composition des chansons et les arrangements habiles maintiennent sa complète harmonie.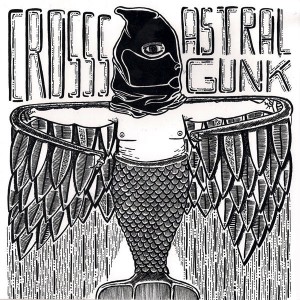 Crosss // Astral Gunk
Split 7″
Toronto, ON // Sackville, NB
From the prophetic dirge of Josh Boguski:
Darkness envelopes a barren landscape as cloaked figures surround their fallen chapter. Though trembling, we are euphoric as the beast they've summoned welcomes us into its arms. Crosss seamlessly combine doom and post-punk with the disorienting pop sensibilities that we've come to expect from Halifax. And they're destined to the throne. On the flipside, chain-gun percussion accompanies the proclamation that punk is not dead. In their own maniacal language, Sackville's Astral Gunk abandon convention and leave the capitol in search of unpredictable territory.
De l'hymne funèbre prophétique de Josh Boguski:
(Traduit par elfranc)
L'obscurité enveloppe un paysage aride alors que des personnages cagoulés entourent leur acolyte tombé. Malgré les tremblements, nous sommes euphoriques : la bête qui a été invoquée nous accueille dans ses bras. Crosss combinent sans couture le doom et le post-punk avec la sensibilité pop désorientante d'Halifax. Ils sont destinés au trône. De l'autre côté, des rythmes de mitraillette accompagnent la proclamation que le punk n'est pas mort. Dans leur propre langue maniaque, Astral Gunk, de Sackville, abandonnent les conventions et quittent le Capitole à la recherche de territoires imprévisibles.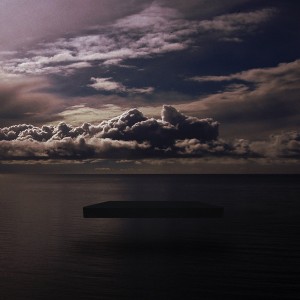 Black Walls
Communion
Toronto, ON
From the PTSD march of Jesse Locke:
Arising from the Paleolithic mist, one-man monolith Ken Reaume (a.k.a. Black Walls) obscures all hints of sunshine and big spins with his latest saga of overcast elegies. This funereal march floats above fields of headstones, stretching blackened tone poems to the point of oblivion. Strong contender for cover art of the year, and Liz Harris-level heartrend.
Du cortège de SSPT de Jesse Locke:
(Traduit dans l'ataraxie par Benoit Arcand)
Émergeant du brouillard paléolithique, l'homme-monolithe Ken Reaume (alias Black Walls) annihile toute possibilité d'ensoleillement ou de big spins avec sa dernière épopée d'oppressantes élégies. Cette marche funèbre plane sur un champ de stèles, étalant ses poèmes enténébrés jusqu'à l'amnésie. Prétendant sérieux au titre de pochette de l'année et porteur d'un accablement digne de Liz Harris.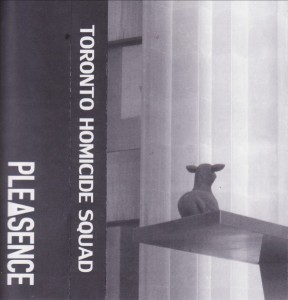 Toronto Homicide Squad
Nein Bullets
Toronto, ON
From the megacity delirium of Liam Kennedy:
This drum and bass combo brings an uneasy rhythmic counterweight to songs perfect for a dystopian French Connection in downtown Toronto, let's say, 2035. Fully setting the scene for Nein Bullets will require co-channeling William Gibson and Phillip K. Dick, an experiment they would probably both be up for.
You're a cop, and not some replicant-hunter eating soba in the rain. You're a beat cop rubbing shoulders with the day-traders turned nuke-junkies in TTC corridors. Your life is zur tshong khang (Tibetan corner store)-fueled all-night stakeouts, shaking down derelict Queen West hipsters, and losing perps in the dark alley birdsnest of MetaScarborough.
Another day bleeds into night and you're searching for him, your flagitious Moby Dick. Every step you take closer to him the further away you end up. Tonight, you're aimlessly rolling through cracked Annex side streets, Lakeshore ruins, and Toronto's leaky ventricle, the DVP – like Conrad's Congo snaking through the GTA's own fattened and sluggishly opaque myocardium. Nein Bullets is the soundtrack to the sodium-vapour tinted pallet of your megacity delirium.
Du délire de mégapole de Liam Kennedy:
(Traduit par le calot rayé en cavale de Julie Mayer)
Cette combinaison basse/batterie apporte un contrepoids rythmique inconfortable à des morceaux parfaits pour une French Connection contre-utopique au cœur d'un Toronto situé, disons, en 2035. Pour réaliser la mise en scène de Nein Bullet, il faudrait brancher William Gibson et Phillip K. Dick sur la même longueur d'onde, une expérience à laquelle tous deux auraient sans doute participé. Vous êtes flic, et non pas un chasseur de réplicants qui mange des soba sous la pluie. Vous êtes un flic de quartier qui se frotte aux spéculateurs sur séance devenus accros à la nuke dans les corridors de la TTC. Votre vie carbure au zur tshong khang (dépanneur tibétain). Vous passez vos veilles à secouer des hipsters, épaves de Queen West, et à vous faire semer par des malfrats dans le réseau de sombres allées qu'est Meta-Scarborough. Un autre crépuscule sanglant coule vers la nuit alors que vous êtes à la recherche de votre Moby Dick infâme. Chaque pas qui vous rapproche de lui vous mène de plus en plus loin. Cette nuit, vous roulez sans but à travers les petites rues fissurées de l'Annex, les ruines de Lakeshore et le ventricule suintant de la Ville Reine. Le DVP, similaire au Congo de Conrad,serpente dans le myocarde opaque, empâté et léthargique du Grand Toronto. Nein Bullets est la bande sonore originale de la palette teintée de vapeur de sodium de votre délire de mégapole.
Toronto Homicide Squad – Cold Eggs
Ephemera of Francesco de Gallo
Existing during the recording of Hobo Cubes // Taiwan – Split 12"
Montréal, QC
[photos: Aliya Kahsay]
From the happy hunting ground of Christina Bell:
The dogma of slowing right down is at the root of the symphonic revelation that is Hobo Cubes' Francesco de Gallo's recent work. The new sound is an experiment in deliberate unhurriedness. Inspired by artistic connections, de Gallo paired up with Edmonton's Taiwan to release a 12" split. Things that are independently constructed can merge together in magical ways. Fully succumbing to the wayward spirit of collaboration, the 12" released by Toronto's Pleasence Records demonstrates physical proof of this phenomenon in the fluid conjoining of artists — but also in Hobo Cubes' approach to his contribution. Through the involved process of collaging, deconstructing and layering, intricate soundscapes emerged. And although this variegated sound occupies a world of its own, we indulgently explored the nexus of "stuff" that contributed. Align your senses. Listen to this track while you float through these gorgeous photos.
Labyrinths by Jorge Luis Borges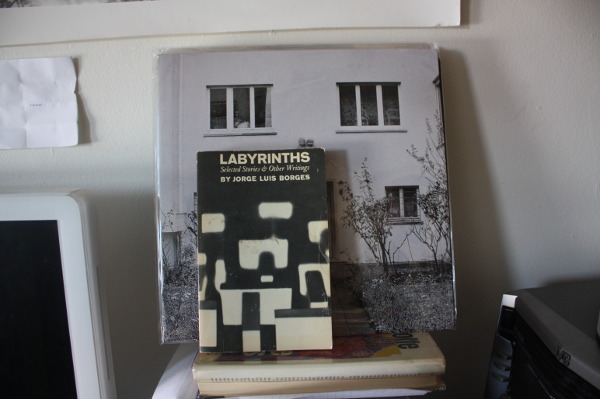 My friend Ryan lent me this Borges book before I knew his writing at all. It doesn't really directly have anything to do with the album but I just feel like after I read this I had a different state of mind. I wanted to go into more minimal but deeper sounds conceptually. Borges' stuff is super illustrative but almost abstract. Also, I just love labyrinths and the concept of the maze. Maybe this marked the beginning of the slowness in my life. I recently found this copy for sale and it has the same cover as the one my friend lent me.
Synthesizer (Roland JX-3P) // Controller (PG-200)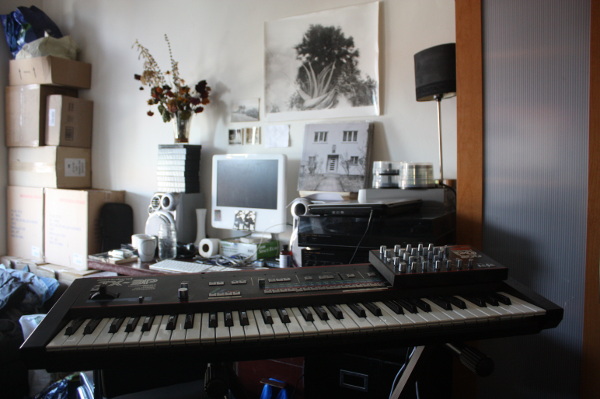 I bought the synth from a guy in Montreal. It had been in storage for 10 years and I bought it really cheap but then had to get it fixed and that cost a lot of money. The controller, which you can buy separately, I got from my friend Christian. His friend found the controller, and gave it to him, so he just gave it to me. But, I had to get a specific cable from Italy. Unfortunately this was during a time when Canada Post was on strike, so I had to wait for like two months until I could even use it. [The controller] truly opened up a different world of sounds because I could manipulate the synth more. It's possible to manipulate the synth from inside but I don't have that logic. I don't want to get inside the synth. The controller is just hands-on. You hear it a little bit on the album.
Alto-Sax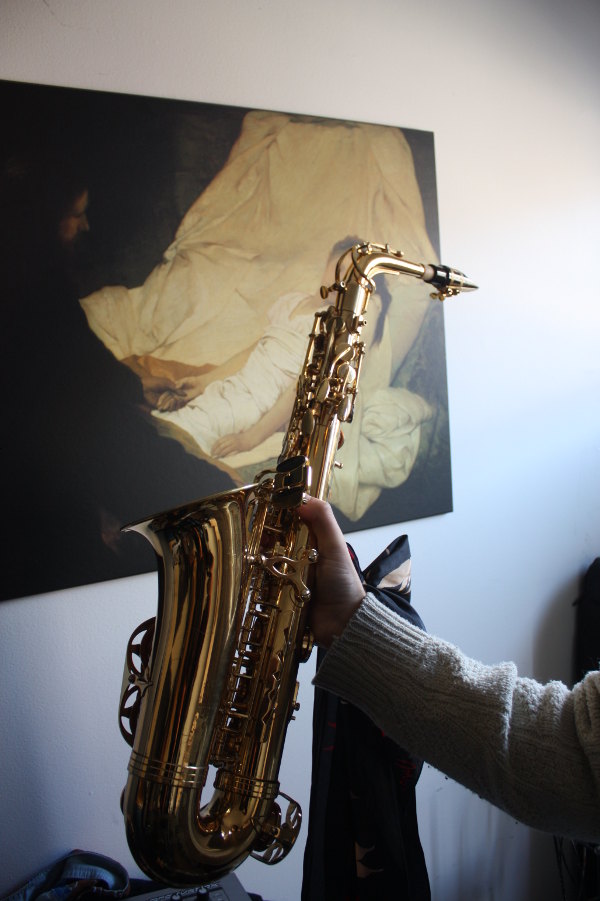 I learned on this saxophone. This is the one I was using to tour a little bit and it's what Alex Dirty Beaches saw me playing in Calgary when he said we should tour together. The first tour [with Dirty Beaches] was done with this sax. One show in France we were playing in this small venue inside a boat. The show was so crazy and at the end of the set I pulled off this weird punk move and dropped the sax. During the next show I was like "why is the sound all… fuck, I broke the sax." It sucked, but it's something that people remember from that show. I could get it fixed, I just never have, because in my heart I know I want a tenor sax — that heavier sound.
"Focus" Tattoo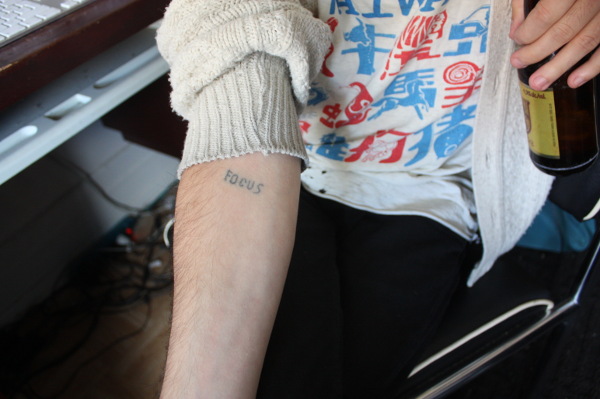 When I got it, I was really in that focus zone. Now it's harder to focus in general. But I have it here, so now I can't not focus. At the same time, the tattoo is sort of blurry. So it becomes this double-edged message. Sometimes life is pretty fucked, but you just gotta see what's in there anyways — and sometimes you have to focus.
Tapes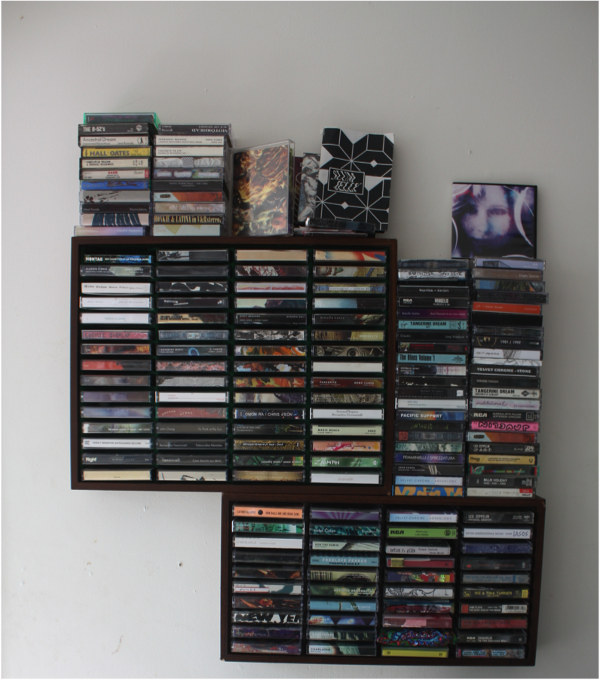 Du joyeux terrain de chasse de Christina Bell:
(Traduit par les retours d'électricité d' Aliké Harel)
« Ralentir radicalement », c'est le dogme au cœur de la révélation symphonique qu'est l'œuvre récente de Hobo Cubes de Francesco de Gallo. Ce nouveau son est une expérience dans l'art de prendre délibérément son temps. Inspiré par leurs connexions artistiques, de Gallo s'est joint à Taiwan d'Edmondton pour nous offrir un split sur vinyle. Des éléments élaborés séparément peuvent fusionner de façon magique. Fruit d'un abandon total aux aléas de la collaboration, ce 12 pouces du label torontois Pleasence Records est la preuve concrète de ce phénomène, d'abord dans la fluidité de cette rencontre entre artistes, puis dans l'approche collaborative même d'Hobo Cubes pour ce projet. Du processus complexe d'assemblage, de déconstruction et de mise en couches, émerge un paysage sonore complexe. Bien que ce son bigarré subsiste dans un monde qui lui est propre, nous avons exploré avec indulgence la constellation de « choses » ayant contribué au tableau. Ajustez vos sens. Écoutez cette piste tout en laissant planer votre regard sur ces images magnifiques.
Labyrinths de Jorge Luis Borges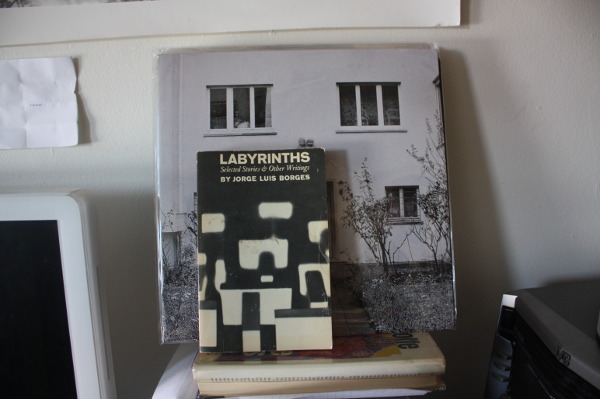 Mon ami Ryan m'a prêté ce livre de Borges avant même que je connaisse l'auteur. Il n'y a pas vraiment de lien avec cet album, mais je sens simplement qu'après cette lecture, je n'ai plus été dans le même état d'esprit. J'ai voulu explorer un son minimaliste mais de conception plus profonde. Ce qu'écrit Borges est hyper illustratif, mais presque abstrait. De plus, j'adore les labyrinthes et le concept de dédales. C'est peut-être le point de départ de la lenteur dans ma vie. Récemment, j'ai trouvé cette édition à vendre et elle a la même couverture que celle que mon ami m'avait prêtée.
Synthétiseur (Roland JX-3P) // Contrôleur (PG-200)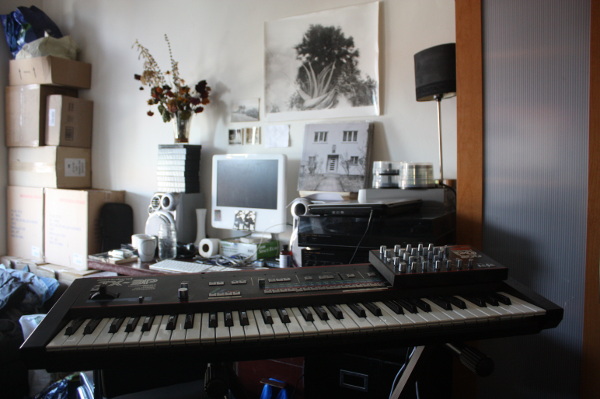 J'ai acheté ce synthétiseur d'un gars à Montréal. Il était entreposé depuis dix ans et je l'ai eu pour pas cher du tout, mais j'ai ensuite dû le faire réparer, ce qui a coûté vraiment cher. Le contrôleur qu'on peut acheter séparément, je l'ai eu de mon ami Christian. Son ami l'avait trouvé et le lui avait donné, et il me l'a donné par la suite. Par contre, j'ai dû obtenir un fil spécial d'Italie. Malheureusement, tout ça se déroulait au moment où Poste Canada était en grève. J'ai dû attendre deux mois avant de pouvoir m'en servir. Le contrôleur m'a ouvert la porte sur un nouveau monde sonore en me permettant de manipuler davantage le synthétiseur. C'est possible de faire ça en jouant avec les circuits du synthétieur, mais je ne suis pas doué avec ces trucs. Le contrôleur est plus pratique. On peut l'entendre un peu sur l'album.
Le sax alto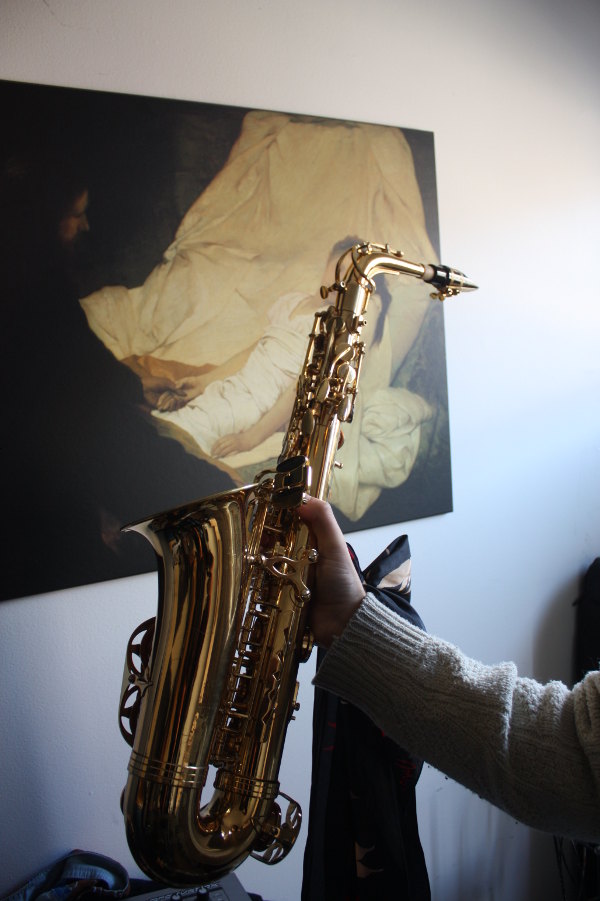 J'ai appris avec ce saxophone. C'est celui que j'utilisais en tournée et c'est celui avec lequel je jouais à Calgary le jour où Alex Dirty Beaches(http://weirdcanada.com/tag/dirty-beaches/) a proposé qu'on fasse une tournée ensemble. J'ai joué avec ce saxophone lors de ma première tournée avec Dirty Beaches. Pendant un concert en France, nous jouions dans une petite salle sur un bateau. L'ambiance était malade et à la fin j'ai fait une genre de pirouette punk bizarre et je l'ai échappé. Au concert d'après, je me demandais « pourquoi est-ce que le son est tout… merde, j'ai brisé le sax ». C'était chiant, mais c'est quelque chose que les gens ont retenu du spectacle. Je pourrais le faire réparer mais je ne l'ai jamais fait, parce qu'au fond de mon cœur, je veux un saxophone ténor — pour ce son plus grave.
Le tatouage « Focus »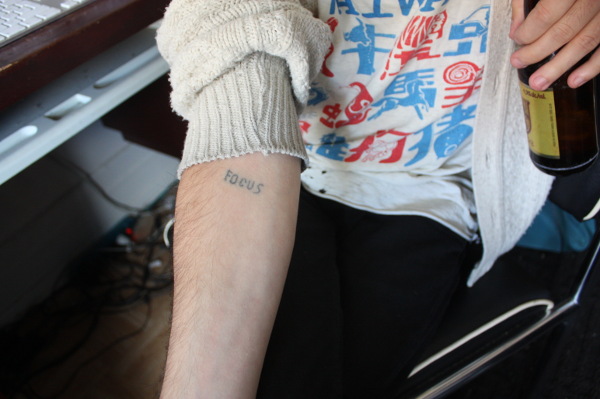 Quand je l'ai fait faire, j'étais vraiment dans une phase de concentration. Maintenant, c'est généralement plus difficile de rester concentré. Mais je l'ai, donc je ne peux pas ne pas être concentré. En même temps, le tatouage est un peu flou. Donc, ça devient un peu un message à double sens. Parfois, la vie est un vrai foutoir, mais tu dois quand même voir ce qui s'y trouve malgré tout — et parfois il faut se concentrer.
Les cassettes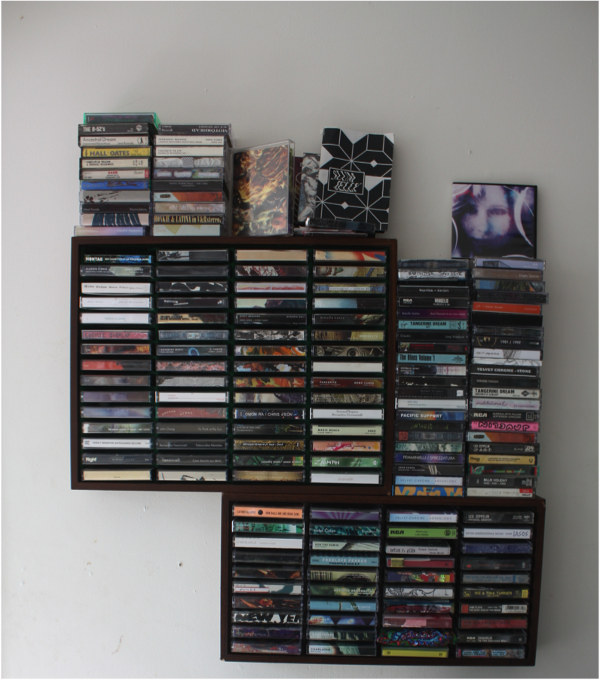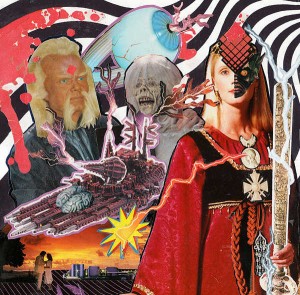 The Ketamines
All The Colours of Your Heart b/w Turning You On
Toronto, ON
From The Mortal Coil of Christopher Laramee:
Tired of smashing your head against the punk rock 'til it bleeds? Nah, me neither. Neither are The Ketamines. As always, they're up to their old tricks again. Side A kicks off proceedings with "Colours"'s wicked Steve-Cropper-jonesing GEETAR licks bumping with some uptight rythym urgency. Hit a sideways pogo to "chase away the gloom", as our heroes say. Besides being a nice (ahem) sexualized horizontal anthem, this punk-as-funk mover's got hooks aplenty. Imagine Sky Saxon lighting boards (JOINTS!, squares!) for The Meters, and you're almost there. Side B's "Turning You On"'s a teen monster movie throb, the one where the zombie rises off the floor and tries to grab some flesh before getting bounced out of the party. I feel like I've seen this show awhile back, but shit, I'm still gonna watch! This single's the first in a four-part series that, when all the covers are assembled, form a certain kind of Jedi-soft-core-daytime pleasure zone. Everyone stays safe, while still feeling threatened. Ummm, Rock'n Roll !?!??!
De l'Enveloppe Mortelle de Christopher Laramee:
(Traduit par le mambo de Hugo Hyart-Dauvergne)
Vous en avez assez de vous taper la tête contre le punk rock jusqu'à ce que ça saigne ? Nan, moi non plus, pas plus que les Ketamines. Comme toujours, les voilà de retour pour nous jouer leurs bon vieux mauvais tours. La face A lance les festivités en procédant avec un méchant jones-ment à la Steve Cropper et des coups de GUITARRRE bien léchés qui s'entrechoquent avec une envie pressante de rythme crispé. Lance-toi dans un pogo sur le trottoir « pour chasser la morosité », pour reprendre les mots de notre héros. En plus d'être une hymne sympa (ahem) sexualisée et horizontale, ce mambo aussi-punk-que-funk est largement fourni en airs entraînants. Imaginez Sky Saxon qui allume des oinjs (des JOINTS ! bandes de coincés du … !) pour The Meters et vous y êtes presque.
La Face B, « Turning On », est un bombardement de films de monstres pour adolescent, celui où le zombie sort du sol et essaie d'attraper un peu de chair fraiche avant de se faire éjecter. C'est comme si j'avais déjà vu ce truc il y a longtemps, mais merde, ça va pas m'empêcher de le reregarder. Ce single est le premier d'une quadrilogie qui quand on en assemble les couvertures forme une certaine sorte de zone de plaisir Jedi-softc¬ore-en-journée. Tout le monde est à l'abri, tout en se sentant menacé. Heeeeeeuuuum, Rock'n Roll !?!??!
The Ketamines – All the Colours of Your Heart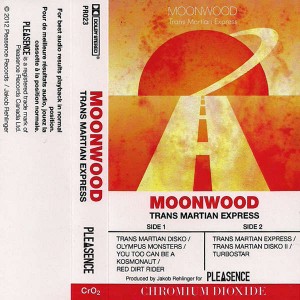 Moonwood
Trans Martian Express
Toronto, ON
From the shakra shake of Jared Majeski:
Who is this mysterious alien creature and where is he taking us? Moonwood is a perpetual concept from Toronto's Jakob Rehlinger, and these numerous EPs, splits and live takes straddle the rhythms and hypnoses of global obscura: shakra shakes, erotic drones and German-American soul for mushy-minded transcendentalists. The latest kaleidoscopic signpost on the new highway of life is Trans Martian Express. The silked-out analog of "You Too Can Be a Kosmonaut" is more Hallo Gallo than Mother Sky, and "Red Dirt Rider" crunches endlessly between tape echo slap-backs. Nothing less than cosmic grippage – there's plenty of road and the sun ain't quite up yet.
Du trémoussement des chakras de Jared Majeski:
(Traduit par le pouceux pas sûr de Nicolas Coutlée)
Quelle est cette mystérieuse créature extraterrestre et où nous amène-t-elle? Moonwood est un concept perpétuel du Torontois Jakob Rehlinger, et ces innombrables EP, splits et enregistrements live raccordent les rythmes et les hypnoses de l'obscurantisme mondial : trémoussement des chakras, bourdonnements érotiques et soul germano-américain pour transcendantalistes à l'esprit nébuleux. Le plus récent panneau kaléidoscopique sur la nouvelle autoroute de la vie est Trans Martian Express. L'analogisme dépouillé de « You Too Can Be a Kosmonaut » fait plus Hallo Gallo que Mother Sky et « Red Dirt Rider » crisse incessamment entre l'écho répété de la cassette. À agripper rien de moins d'une poigne cosmique – il y a en masse de route à faire et le soleil n'est pas tout à fait levé encore.
Moonwood – You Two Can Be a Kosmonaut
Sexy Merlin
Heater
Toronto, ON
From the bongo beat of Paul Lawton:
Adjectives serve no purpose here, as Sexy Merlin is not something you come to intellectually. Which is not to call Heater anti-intellectual, as this maxi-single has a mindfulness most modern dance producers would be wise to cop. You either feel the bass in your pleasure centres or you miss the point entirely. Rhythmic layering, unique sonic textures and a sprinkle of mystery emerge from these tunes, colluding to embed themselves in the body. Move. Don't think.
Editor's Note: The scanned image above is the j-card for the limited edition cassette, but the quintessential format of Heater is its 12″ version complete with disco sleeve. Sexy, indeed.
Du bongo beat de Paul Lawton:
Ici, tous les adjectifs sont inutiles. Sexy Merlin ne se prête pas à une approche intellectuelle. Mais ce n'est pas non plus de l'anti-intellectualisme : ce maxi démontre une présence d'esprit que la plupart des créateurs de musique dance moderne feraient bien d'imiter. Soit on ressent les basses fréquences dans les organes du plaisir ou on n'a rien compris. Il ressort de ces pièces des textures sonores uniques, des rhythmes à plusieurs niveaux et une pincée de mystère qui s'unissent pour s'incruster dans le corps. Bougez, ne pensez pas.
---