Tag: PIG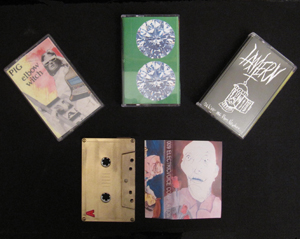 Matt Samways is a young upstart from Truro, the so-called 'hub' of Nova Scotia. Before touching the age of 20 he led the pitiless doom punk of
Pig
, started the
Electric Voice
imprint, and played sideman to
Scribbler
and
the Friendly Dimension
. He has once again departed on another musical continuum with his latest project,
Transfixed
, a more sinister and contemplative vision of the
futuristic isolation
and robotic vocals of Kraftwerk and Gary Numan.
Electric Voice is not exclusive to the regional talent of the 902, but has entertained releases from across Canada, with ambitions to release music from around the globe. Up next is a 12" from Jeff & Jane Hudson, who were part of the New York No Wave movement during the late '70s and early '80s, arguably one of the greatest incubators for creative music of all genres, ever. Matt kindly took the time to answer some questions.
Zachary Fairbrother
Contributor
Weird Canada // Lantern
http://weirdcanada.com // http://lantern.bandcamp.com
Audio clip: Adobe Flash Player (version 9 or above) is required to play this audio clip. Download the latest version here. You also need to have JavaScript enabled in your browser.
What inspired you to start a label?

It was conceived as a vanity label in 2008 with a partner I was collaborating with at the time, who actually titled the label. It was suggested by a peer that we began documenting our releases to enhance professionalism. We had no intentions of channeling anything other than our own material. As our group was disbanding a personal desire to continue the archive still existed. My friends are all making extremely good music and I can't suppress supporting it materialize.

Since Pig split, you've devoted much of your attention to Electric Voice. Are you taking a break from music or do you prefer running label?

I wasn't really interested in performing or releasing my own music at the time, but I wanted to keep contributing to the physical production of it. I hold a strong value in the aesthetic of sound and its presentation, and the idea of being able to manipulate it is appealing to me. About a year ago I started receiving funding from the Government of Nova Scotia via the Emerging Business Music Program on behalf of Electric Voice. That defiantly provided me with a lot of motivation to get the label off the ground and start working outside the current community in Halifax and Montreal. Though I am becoming passionate about the label, I am a musician first and still focus on writing and recording with aspirations of touring the material. Putting a lot of energy into the label in turn benefits my musical endeavors.

Transfixed is quite a departure from your previous musical adventures. How is it related/un-related to other projects?

The formation of Transfixed was completely organic. It is a collaborative project between myself, Ian Phillips and a number of rotating musicians. We had no intentions of forming a group when we first started playing together, but when we discovered that the house we had been jamming in was previously owned by Ian's grandparents in the early '60s, and that his grandfather grew up in the house, we decided to channel our time spent there with Transfixed. It has become an interesting and rapidly progressing project that there's no reason to stop. Our ideas are constantly abstracting themselves and moving faster than we create the music. It's exciting and with the lack of expectation we have become more prolific than any other project I've been involved with.

With my other projects/collaborations there has been a lot more premeditation on the sounds and how they should be presented. It becomes tough when a collective of people share the same visions without matching the logistics. The extrasensory parts of music can be difficult to communicate. I also work with Troy Richter and the Friendly Dimension in molding his sounds.
Synthesizers or guitars?

Guitars that sound like synthesizers. I think the combination can be a masterful force when properly conducted. I am ultimately a guitar player, but I've been spending a lot of time learning the keyboard. For the last few months I've hardly touched my guitar.

You hitchhike between Truro and Halifax. It seems like hitchhiking is a fading activity. Do you enjoy it, and do you have any good stories? Have you met some interesting people? Where is the farthest you've hitched?

It's never really been something I enjoyed, but it's done out of necessity. When I cannot afford to be bussing back and forth, it's usually my only means to get to practices/gatherings, as all of the bands I play in are based in Halifax. I live back and forth from Halifax and Truro, which are about an hour's drive apart. Truro is very isolated and is a great environment to work in, though can be compromising with my schedule.

I've only been hitching through Nova Scotia and Newfoundland for the last five years. I've been consistently traveling this way and have never encountered any trouble. Dress nice with a clean appearance. A lot of mothers have picked me up, also on- and off-duty police officers. The only questionable encounter was a lady who spoke in a thick rural Nova Scotian tongue. She picked my friend and I up in the dark and was drinking Faxe 10 (strong beer). She had what looked like 3-4 empty cans on the floor of her side of the car. It was a little unsetting but she was considerably collected and coherent. She had a bizarre way of twisting her words together that was oddly poetic.

You seem like an ambitious young man. What are your dreams for the Electric Voice Label?

I don't class my visions with the label as dreams, because I don't think they are anything we can't achieve. The people I surround myself with are individually gifted at what they do. Thankfully all of the resources are presented, making it simple to have a pragmatic sense of work. I certainly am young; therefore I am not looking to execute the foundation process in short time. I will keep experimenting with formats and presentation, and try not to exhaust our resources. In time I will spend time refining the label and as expected with any small business or hobby, sustainability is key.
What other labels do you find inspiring and/or really dig and why?

To those who know me this may sound biased because Brett is a good friend, but I really like what he has done with Campaign For Infinity. He has released some of my favourite cassettes in the last few years (notable: Teenage Panzerkorps, Horrid Red, Grand Trine, Rape Faction). I also have a lot of respect for Darcy Spidle and Divorce Records, as it was a prominent influence of my origins in the community of Halifax. He is really passionate about what he does and it shows in his work. OBEY Convention is a festival he puts on every year or so and is the highlight of the year in Halifax, in my opinion. I am happy to be helping him with the festival in 2012.

I have some collaborative release coming out with Danish label Skrot Up as well as works with Montreal's Hobo Cult. Some other notable active labels: Bruised Tongue, Captured Tracks, Dark Entries Records, FLA Tapes & Records and Arbutus Records. I also really dig the consistency in the aesthetic of labels like Sacred Bones and Night People.
Electric Voice Discography (to date)
EV001
::
Albino Slug II
–
EP
(Cassette, 2008)
EV002
::
Pig
–
Everything Isn't EP
(CD-R, 2009)
EV003
::
Vacuum
–
Tormented Bear EP
(Cassette, 2009)
EV004
::
Pig
–
Elbow Witch
(Cassette, 2009)
EV005
::
Church Hammer
–
Vol. I
(Cassette, 2010)
EV006
::
Church Hammer
–
Vol. II
(Cassette, 2010)
EV007
::
Church Hammer/Vacuum
–
Split
(Cassette, 2010)
EV008
::
Pig
–
I've seen the future and it's no place for me Compilation
(Cassette, 2010)
EV009
::
Various Artists
Electric Voice Compilation Vol I
(Cassette, 2010)
EV010
::
Milksnake
–
EP
(Cassette, 2010)
EV011
::
Friendly Dimension
–
Live: In the Pleasant Horrors of Space EP
(Cass., 2010)
EV012
::
Lantern
–
Deliver me from Nowhere
(Cassette, 2010)
EV013
::
Gigas
–
Tied Down to the Ones You Love LP
(Cassette, 2010)
EV014
::
Friendly Dimension
–
Bath Tub EP
(Cassette, 2011)
EV015
::
Duzheknew
–
LOL HELL EP
(Cancelled)
EV016
::
Wicked Crafts
–
"No Cure" EP
(Cass. (split w/ Campaign for Infinity, 2011)
EV017
::
U.S. Girls
–
EP
(7″, 2011)
EV018
::
The Friendly Dimension // 30 Year Old City Hex
–
"Poltergeist City"
(Cass., 2011)
EV019
::
Babysitter
–
"Paul's Cab" Single
(Cassette, 2011)
EV020
::
Monroeville Music Center
–
Les Defauts des Fabrication EP
(Cassette, 2011)
EV021
::
Milksnake
–
Lenny Bruce EP
(Cassette, 2011)
EV022
::
Membrain
–
EP
(Cassette, 2011)
EV023
::
Lantern // The Ether
–
Split
(Cassette, 2011)
EV024
::
Play Guitar
–
Single
(Cassette, split release w/ Craft Singles, 2011)
EV025
::
Grand Trine
–
Single
(Cassette, split release w/ Craft Singles, 2011)
EV026
::
Bad Vibrations
–
Single
(Cassette, split release w/ Craft Singles, 2011)
EV027
::
Transfixed
–
Single
(Cassette, split release w/ Craft Singles, 2011)
EV028
::
Crosss
–
Single
(Cassette, split release w/ Craft Singles, 2011)
EV029
::
Bloodhouse
–
Single
(Cassette, split release w/ Craft Singles, 2011)
EV030
::
Hand Cream // Crosss
–
Split
(Cassette, 2011)
EV031
::
Passion Party
–
EP
(Cassette, 2011)
EV032
::
Cat Bag // Transfixed
–
Bunker // Body Language
(12″ w/ Claire Dragon, 2011)
EV033
::
Rape Faction // Chevalier Avant Garde
–
Split
(Cassette, 2011)
EV034
::
Various Artists
Electric Voice Compilation Vol. II
(12″ Cassette, 2011)
EV035
::
Jeff & Jane Hudson
–
In My Car // Computer Jungle (+ Club mixes)
(12″, 2011)
EV036
::
Visual works by Jacqueline Lachance
(VHS, 2012)
(Editor's Note: Certain titles from this discography were not released by Electric Voice proper. As history's nature is to continually re-write itself, so, too, shall we gaze pastward at Matt's creative efforts and understand his temporal stream within the vision of Electric Voice.)
Transfixed
Physical Demands
[Dir. By: Heather Rappard]
Halifax, NS

When the last vestiges of
PiG
transpired within the historic vortex of creative matter, Transfixed launched straight into the digital ether with a
triumvirate
of Kraftwerkian oblation. Paired with
Meat Curtains'
Heather Rappard, "Physical Demands" emerges a linear behemoth, orthogonal to the layered VHS cut-ups marking its birth into the visual realm. Both audio and visual straddle the delicate lace wrapping the
hypersurface of the present
, grafting the temporally-obscured tension onto our misaligned anti-conscious. An inspiring correlation for the visually adventurous.


From the electric voices of Aaron Levin:
Bibelots of this calibre are rarely offered; an insane compilation capturing the audible wasteland of free-pop/punk/form creativity fermenting within Nova Scotian borders; a continuous psychic narrative seizing the spirits of Canada's most concentrated musical hive. Matt Samways has raised his golden conch, spreading his Electric Voice and summoning the fried minds of east Islanders everywhere. An exciting documentation of the current wave of fringe musics in Canada's East and something we will marvel upon in our disparate future. In order of appearance: Veitam Vets, Omon Ra, Dog Day, Cold Warps, Bad Vibrations, Stolen Minks, Meat Curtains, The Ether, PIG, Mess Folk, Fuck Montreal, Duzheknew, Vacuum, Throbbing Organ, Milksnake, D'EON, We Need Secrets, Shinobi, Compostainer, Torso, DA/AD, Corner Organs off, Cheif Thundercloud, Microorgans, Omma Cobba and the Eastside Marijuana Band (!!), Dead Dog, The Friendly Dimension, Scribbler, and Fascism.
Audio clip: Adobe Flash Player (version 9 or above) is required to play this audio clip. Download the latest version here. You also need to have JavaScript enabled in your browser.
Electric Voices Compilation – Side A
Audio clip: Adobe Flash Player (version 9 or above) is required to play this audio clip. Download the latest version here. You also need to have JavaScript enabled in your browser.
PIG / !Kung San / Scribbler
S/Pl/It
(meager / radiator)
(all over), NS
::web/sounds::


PIG continues to deliver their strange brew of time-lapse-weird-punk on this interesting document of Nova Scotia's experimental-everything scene. Splitting the bill with PIG are !Kung San, a somewhere-between pastoral noodling and post-hardcore endeavor from Westville, and Scribbler, Halifax's gravity-lens for experimental-anything in the Maritimes. Scribbler's six contributions seem to be cut-ups from an insane live-set full of atonal screaming and guitar shreddery; relentless stuff. And, man, I just can't get enough of PIG; the three tracks from them were not enough!
Audio clip: Adobe Flash Player (version 9 or above) is required to play this audio clip. Download the latest version here. You also need to have JavaScript enabled in your browser.
Audio clip: Adobe Flash Player (version 9 or above) is required to play this audio clip. Download the latest version here. You also need to have JavaScript enabled in your browser.
Audio clip: Adobe Flash Player (version 9 or above) is required to play this audio clip. Download the latest version here. You also need to have JavaScript enabled in your browser.
Basements are the best breeding grounds for disparate menageries, and PIG is no exception; Eastern Canada being the only possible locale able to produce such a strange cocktail of Terminal-Boredom-approved adjective-punk and disturbing walls of slow-noise leaking into Sonic Youth territory. So, let me summarize: elbow witch is a boundary-pushing, genre-tom-fuckery likely to induce face-melting and mind-damage. PIG are young and rad and you better jump on their bandwagon before they explode (i.e. start gripping their soon-to-be-massive back-catalog before it's too late).
Audio clip: Adobe Flash Player (version 9 or above) is required to play this audio clip. Download the latest version here. You also need to have JavaScript enabled in your browser.
Audio clip: Adobe Flash Player (version 9 or above) is required to play this audio clip. Download the latest version here. You also need to have JavaScript enabled in your browser.
---