Tag: ottawa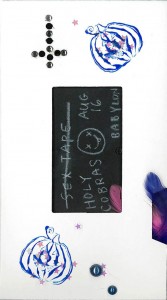 Holy Cobras
Sex Tape
(Directed by: Lesley Elora)
Ottawa, ON
From the cobra strike of Joni Sadler:
In the years they called Ottawa home, Holy Cobras became notorious for tearing up basements with their raw and hypnotic live performances. Their last gig as residents of the capital — captured on VHS by local filmmaker Lesley Elora — found them staying true to the psych-fueled antics that carved them a place in the city's punk heart. Now firmly established in Montreal with a new bassist in tow, they've wasted no time laying claim to their adoptive scene. But for those who witnessed the early Holy Cobras shows in the scrappy dive bars of Ottawa, this footage will serve as a reminder of the band's legacy in their hometown — and their ability to rage, regardless of the locale.
De l'attaque de cobra de Joni Sadler:
(Traduit par la brutale admiration de Catherine Debard)
À l'époque où les membres de Holy Cobras vivaient et traînaient à Ottawa, ils se sont bâtis une renommée mythique grâce à leurs brutales et hypnotiques prestations saccageuses de sous-sols. Pour leur dernier show en tant que résidents de la capitale — capté sur VHS par la cinéaste locale Lesley Elora — ils livrent une performance grotesque et démentielle, fidèle à la légende leur ayant permis de se tailler une place dans le cœur punk de la ville. Maintenant établis à Montréal avec un nouveau bassiste dans leurs rangs, ils n'ont pas perdu de temps pour prendre possession de leur scène adoptive. Mais pour ceux et celles qui ont été témoins des premiers shows de Holy Cobras dans les bars crades d'Ottawa, ce document d'archive servira à rappeler l'héritage qu'ils ont légué à leur ville natale, ainsi que leur habileté à foutre la zizanie, peu importe les circonstances.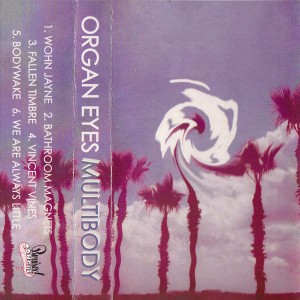 Organ Eyes
Multibody
Ottawa, ON
From the marmalade mind of Alex Bourque:
Ottawa space-case trio Organ Eyes' Bruised Tongue debut is a stack of fuzzancholic ethereal pop jams. Sam Secord's hauntingly shimmery vocals float over thick chunks of bass-fuzz and electronic drum patterns to create an expanse of echo-y avant-grunge ambience. Something's cooking in the nation's capital, and we're hungry.
De l'esprit mêlé d'Alex Bourque Alex Bourque:
(Traduit par le cerveau troublé de Dominic Mpilé)
Les débuts du trio ottavien aux frontières du réel Organ Eyes, sur l'étiquette Bruised Tongue, se manifestent par une abondance de tubes pop excessivement flous et éthérés. La voix envoûtante et chatoyante de Sam Secord domine la basse distortionnée et la batterie électronique pour créer un écho qui se répand dans une ambiance grunge avant-gardiste. Quelque chose se prépare dans la capitale, et nous avons hâte.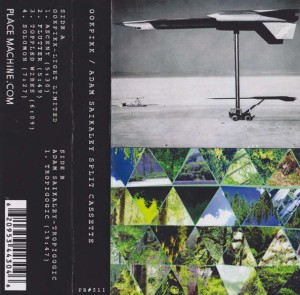 Ookpikk // Adam Saikaley
Light Limited // Tropigogic
Victoria, BC // Ottawa, ON
From the prescription pad of Johnnie Regalado:
Light Limited is a swan song for sentient synthesizers. A mad mathematician at the helm of an airship. The beats on "Flutter" paint your blood like a delicately composed CAT Scan. Just try to prevent a primordial arm swing during "Toppled Wires." This Doctor recommends deep bass and techno and prescribes a healthy overdose. For rest and relaxation, Adam Saikaley serves up Tropigogic. A Kubrickian portrait of a jettisoned escape pod drifting through space.
De l'ordonnancier de Johnnie Regalado:
(Traduit par les placebos sucrés de Nicolas Coutlée)
Light Limited est le chant du cygne des synthétiseurs sensibles. Un mathématicien fou à la barre d'un dirigeable. Les rythmes sur « Flutter » peignent votre sang comme une tomodensitométrie délicatement composée. Essayez seulement de réfréner un balancement de bras primordial à l'écoute de « Toppled Wires ». Le docteur recommande basse bien lourde et techno et vous en prescrit une saine overdose. Pour le repos et la relaxation, Adam Saikaley vous sert Tropigogic. Un portrait kubrikien d'une capsule de secours larguée à la dérive dans l'espace.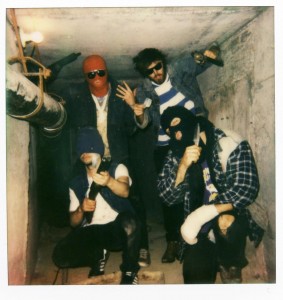 New Swears
Paradise
[Director: Nigel Somerville]
Ottawa, ON
From the punktopia of Travis Boisvenue and Emmanuel Sayer:
New Swears are a bunch of wild kids that live in a place called the Fun Boy Club House. It's been host to a lot of great shows, a lot of demented videos, and a lot of blood.
The first time I saw these guys they were called The Girlfriends. When they actually got around to playing music, they played perfect punk songs: snotty, careless, and full of heart. But they spent most of their set getting naked, flipping on their heads, and wearing monster masks. It one was one of the best things I'd ever seen.
Nowadays they're calling themselves New Swears and are playing music more than they're wearing monster masks. "Paradise" is one of my favourite music videos, and sums up pretty accurately what these guys are all about: partying like lunatics and playing great rock 'n roll.
How can they be so bonkers and still get their act together to crank out such good tunes? It boggles my mind. In any case, Emmanuel and I have put together an unsolicited commentary track for a video we both love, and that we had absolutely nothing to do with. Enjoy!
Travis Boisvenue and Emmanuel Sayer are the hosts of City Slang, a weekly rock 'n roll radio show airing Mondays at 9 pm on 89.1 FM in Ottawa (or online for the rest of us). Follow them @cityslangradio.
De la punktopie de Travis Boisvenue and Emmanuel Sayer:
(Traduit par Vincent Rondeau)
New Swears est un groupe de jeunes sauvages qui ont baptisé leur domicile « Fun Boy Club House ». On y a joué plusieurs excellents concerts, tourné beaucoup de vidéos déments, et fait couler pas mal de sang.
La première fois que je les ai vus, ils s'appelaient The Girlfriends et ils jouaient des chansons punk parfaitement construites : morveuses, désordonnées, du fond du coeur. Mais surtout, ils ont passé la plus grande partie de leur show à se déshabiller, à faire le poirier et à porter des masques de monstres. C'était un des grands moments de ma vie.
De nos jours, ils s'appellent New Swears et ils jouent plus de musique qu'autre chose. « Paradise » compte parmi mes clips préférés et donne une bonne idée de l'essence du groupe : faire le party comme des fous et jouer du rock 'n' roll de qualité.
Comment peuvent-ils être aussi malades et pourtant s'arranger pour produire d'aussi bonnes tounes? C'est un casse-tête. En tout cas, Emmanuel et moi avons assemblé spontanément un commentaire audio (ntr : en anglais seulement) pour un vidéo que nous adorons et avec lequel nous n'avons strictement rien eu à voir. Bonne écoute!
Travis Boisvenue et Emmanuel Sayer animent l'émission hebdomadaire de rock 'n' roll City Slang les lundis à 21h00 sur les ondes du 89.1 FM dans la région d'Ottawa (ou en ligne n'importe où). Suivez-les au @cityslangradio.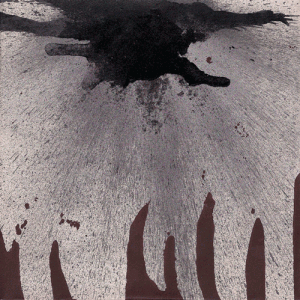 Caymans
Caymans
(Self Released)
Ottawa, ON

It's somewhat surprising how few times Blake Hargreaves has washed up on these shores. The real Evan Dando of Noise with a pedigree as diverse as
Dreamcatcher
,
Clinton Machine
and the mighty river
Thames
has now elbowed back into frame with this riff-wielding trio. Teaming with WC scribe Joni Sadler on the crash cymbals and power-blower John Sobol on sax, the
Caymans
CD-R is a flannel-blanketed trip into anthemic anguish. Do your life a favour and put this jammer on blast.
Audio clip: Adobe Flash Player (version 9 or above) is required to play this audio clip. Download the latest version here. You also need to have JavaScript enabled in your browser.
Audio clip: Adobe Flash Player (version 9 or above) is required to play this audio clip. Download the latest version here. You also need to have JavaScript enabled in your browser.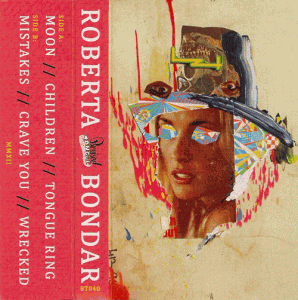 Roberta Bondar
Roberta Bondar EP
Ottawa, ON

Man, space is
cool
. The sheer limitlessness and expanse makes it rife for uninhibited interpretation and dissection. I'm sure you've at least heard the name Roberta Bondar before – probably stuck somewhere in your
elementary subconscious
. Part of a historical menagerie of
noteworthy Canucks
, Bondar now shares a moniker with four young Ottawa weirdos. Their debut EP, a cassette released on heavy-feeling Bruised Tongue, is a hyper-modern swig of what Canadian indie may be decades in the future. With a couple tracks eclipsing the seven-minute mark, Roberta Bondar (the band) is retracing the steps of Canada's original femi-naut. While most of these songs venture deep into blackness ("Tongue Rings", "Crave You"), there certainly are some more solarized tunes. "Mistakes" stretches over fragments of
vogue 90s slackerism
while the oretic, half-time happiness of "Wrecked" seems right in the gimbals of
satellite-spinning no-wavers
. Remember: we're not alone, so let's keep
twirling, twirling, twirling
into oblivion.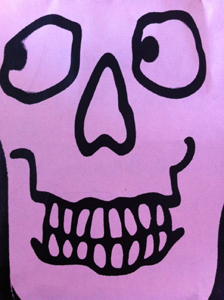 Various Artists
Afterburners Vol. 2
Asterisk, Canada

Bruised Tongue continues to do the lord's work on the second edition of its jam-stacked
cassette comp
. Perennial / recent faves like the shoeglazed slack-pop of Monomyth, moody night-moves of Boyhood, junk mountain warble of Occular Gymnastics, old man miasma of Mark Alexander McIntyre, ghoulie groovies Bruised Knees and a liquefied
Dylan homage
from Andy Boay don't fail to impress, but what's even more exciting is the unfamiliar names on this roster. Varying shades of rock are represented by the Hali-facsimile of
Organ Eyes
, drum machine twang of Black Train and hits from the pit of Greasy Skeletons and
Swollen Eyes
. The horizon gets blackened with a drone-out from Sky Pup before Jason Parent and RAAS bring the beat blitz. Amidst all this madness, Mark F. sticks out with a warped falsetto strummer conjuring
Mellow Gold
memories of a pre-Starbucks age. Grip it or
rip it
and give thanks.
Audio clip: Adobe Flash Player (version 9 or above) is required to play this audio clip. Download the latest version here. You also need to have JavaScript enabled in your browser.
Audio clip: Adobe Flash Player (version 9 or above) is required to play this audio clip. Download the latest version here. You also need to have JavaScript enabled in your browser.
Mark Alexander McIntyre – A Birthday Party In The Dew
Audio clip: Adobe Flash Player (version 9 or above) is required to play this audio clip. Download the latest version here. You also need to have JavaScript enabled in your browser.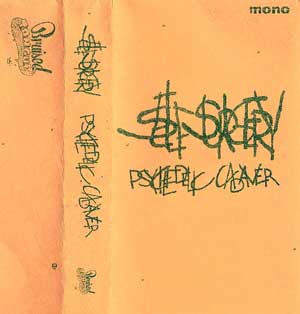 Self Surgery
Psychedelic Cadaver
Ottawa, ON

If your parent's parents were
terrified
by the satanic vibes emanating from backward playing records, they best stay away from
Psychedelic Cadaver
all together. The hiss sticking to the back of your throat may cause discomfort, but the feedback drowns your ear in
micro-waves
that erase all memories of silence. It's music for people who love airports mixed with
Chalupa and cigarettes
. This album is what's under your car in the parking garage and leering at you from the window as you baby sit. Cry if you want, but the demons will never rest.
Audio clip: Adobe Flash Player (version 9 or above) is required to play this audio clip. Download the latest version here. You also need to have JavaScript enabled in your browser.
Audio clip: Adobe Flash Player (version 9 or above) is required to play this audio clip. Download the latest version here. You also need to have JavaScript enabled in your browser.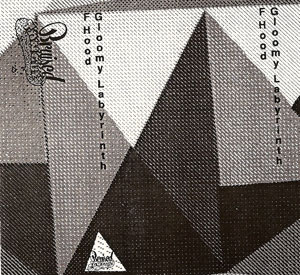 F Hood
Gloomy Labyrinth
Ottawa, ON

This is a diary entry from my cousin's recollection of her first acid trip. I think it applies here:
Crying will do no good. I am on the brink of everything. Tears well up and overwhelming joy tingles through my body like a hacky sack teeming with ants and funny bones. Moving my fingers is the most graceful thing in the world and a stream underneath IT ALL sends a wake that my brain can wind surf on. I'm laughing now like I've been hypnotized and my memory is in shock. I wish my hair was a little longer, though.
Audio clip: Adobe Flash Player (version 9 or above) is required to play this audio clip. Download the latest version here. You also need to have JavaScript enabled in your browser.
Audio clip: Adobe Flash Player (version 9 or above) is required to play this audio clip. Download the latest version here. You also need to have JavaScript enabled in your browser.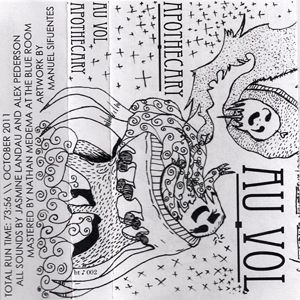 Au Vol
Apothecary
(Self Released)
Thunder Bay, ON // Ottawa, ON

Canada's cantankerous centrifuge (read: Thunder Bay) births
another
industrial mammoth. Rolling in throws of topological warble and droning magnificence, Au Vol soaks the diligent mind in patterns of pseudorandom bliss.
Apothecary
is not without its minimal ambience, bringing a truer vision into the audio dialog coursing through the Canadian Shield.
Audio clip: Adobe Flash Player (version 9 or above) is required to play this audio clip. Download the latest version here. You also need to have JavaScript enabled in your browser.
Audio clip: Adobe Flash Player (version 9 or above) is required to play this audio clip. Download the latest version here. You also need to have JavaScript enabled in your browser.
---