Tag: ottawa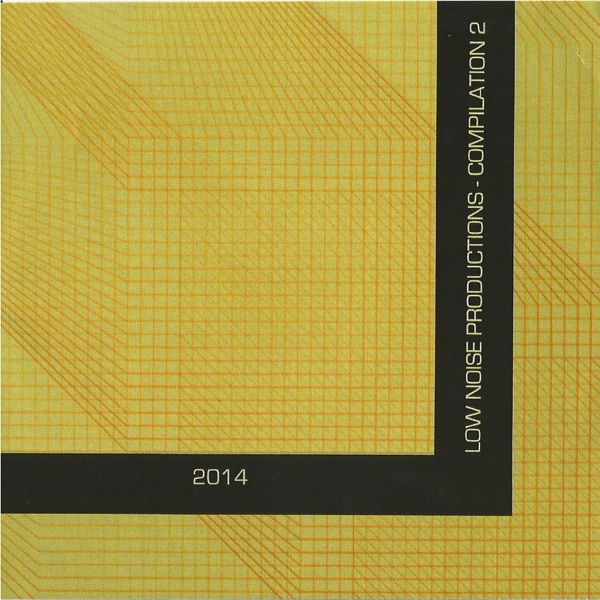 Various
LNP – Compilation 2
Ottawa , ON
From the motorik metabolism of Mark Anthony Brennan:
White. A cavernous room bathed in light. When you make your selection a drawer suddenly juts out from the infinite whiteness. Some selections gleam, like a brand-new super-efficient Porsche. Others are more clunky, but intriguing in their analogue peculiarity. Some remind you of sweaty nights on the techno dance-floors of Chicago. Then there's the one that brings back memories of the time in Berlin.
So many synths, so many styles. Finally, you decide. Yes, that one is perfect for your Terminator vs. Bladerunner flick.
Du métabolisme motorik de Mark Anthony Brennan:
(Traduit depuis la rutilante dystopie de Nicolas Coutlée)
Blanc. Une salle caverneuse baignée de lumière. Au moment de faire votre choix, un tiroir jaillit de la blancheur infinie. Certaines sélections brillent, comme une Porsche neuve et incroyablement performante. D'autres, moins rutilantes, vous intriguent par leur bizarrerie analogue. Quelques-unes vous rappellent ces nuits humides sur les pistes de danse techno de Chicago. Sans oublier cette dernière au contact de laquelle refont surface vos souvenirs du temps à Berlin.
Tant de synthés, tant de styles. Finalement , vous vous décidez. Oui, celle-ci sera parfaite pour votre prochain film, Terminator vs. Bladerunner.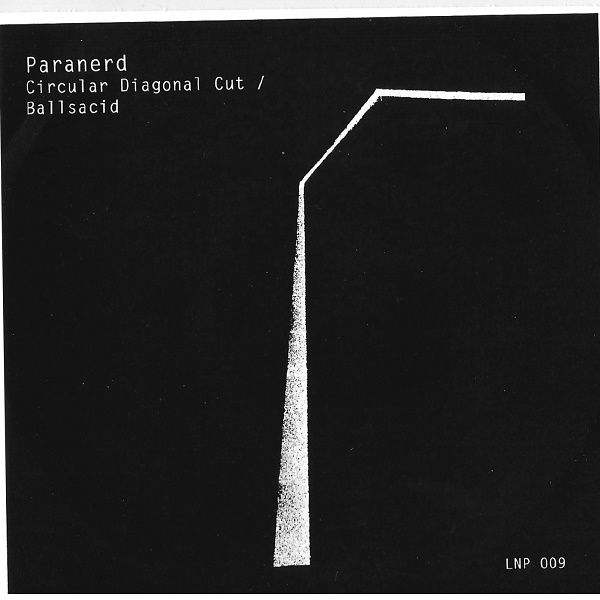 Paranerd
Circular Diagonal Cut
Ottawa, ON
From the terminal timeline of Mark Anthony Brennan:
Run. Run through the warehouse. Dark as the furthest corner of the bedroom closet. Mechanical sounds all around. Never sure which one is him.
I know this scene – we're in a club. But that's not shitty '80s dance, it's dark techno. People are dancing in slo-mo. So strange, so distant. That's him! He's following me in the crowd.
Back outside. Keep running. Things grab at me from all sides. Unseen, unfelt, but they are there. He's still there. Forever chasing. No one will ever call "cut", will they? This scene will last forever. And he will never stop.
De la ligne du temps terminale de Mark Anthony Brennan:
(Traduit au noir par Nicolas Coutlée)
Cours. Cours à travers l'entrepôt. Sombre comme le coin le plus reculé du placard de la chambre. Des sons mécaniques tout autour. Lequel d'entre eux est-ce?
Je connais cette scène – nous sommes dans un club. Mais le dance de merde est remplacé par du techno sombre. Les gens dansent au ralenti. Si étrange, si distant. C'est lui! Il me suit dans la foule.
De retour dehors. Cours encore. Des choses s'agrippent à moi de tous côtés. Invisibles, inaperçues, mais elles sont là. Lui aussi. Perpétuellement à mes trousses. Jamais personne ne s'écrira « Coupez! », pas vrai? Cette scène se poursuivra toujours. Et lui ne cessera jamais.
Paranerd – Circular Diagonal Cut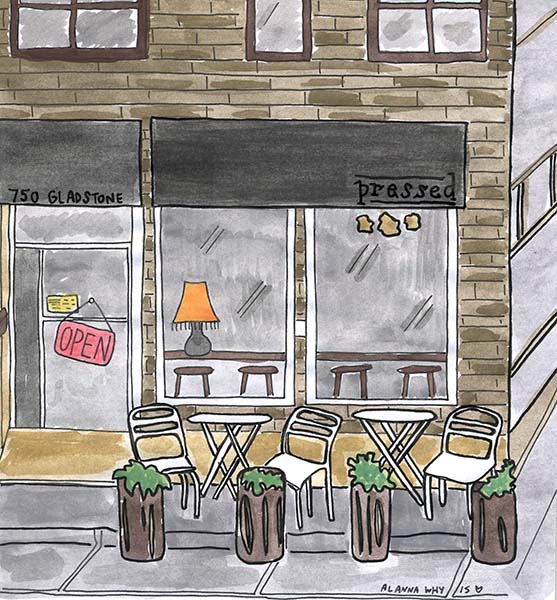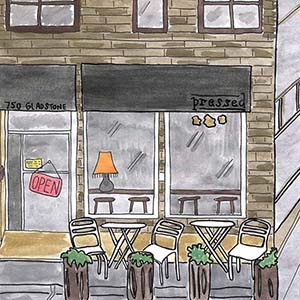 Pressed
Restaurant, Café
Capacity: 65
All ages, LGBTQ-friendly (washrooms divided by self-identified gender), accessible (portable ramps for entrance, bathroom)
(Illustration by: Alanna Yaraskavitch)
(Photos by: Matthew Blenkarn/Yuko Inoue)
750 Gladstone Ave.
Ottawa, ON
From the chicken scents of Matthew Blenkarn:
Originally conceived as a "hole-in-the-wall sandwich shop," Pressed quickly evolved into a hub for the Ottawa's diverse arts community since opening in Nov. 2011. On any given night, you can expect to hear pummeling noise, tuneful folk and jazz and gleefully weird punk, psychedelia and more wafting from its windows at 750 Gladstone Ave. But you can't just focus on music to get the breadth of Pressed. The restaurant hosts regular [poetry performances], and you're just as likely to see a local literary event, zine party or craft fair as you are to see a band nestled in its organic wooden interior. We spoke to Pressed owner Jeff Stewart, as well as Lidija Rozitis, the venue's booking manager (and a vocalist and guitarist in local bands Roberta Bondar and Blue Angel), to get a better understanding of this eclectic environment.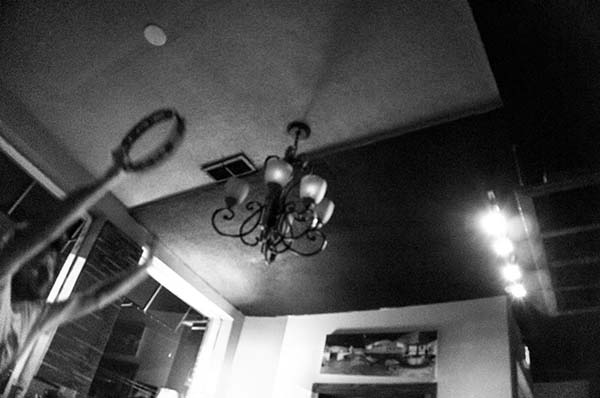 Pressed's stage (photo by Yuko Inoue)
What do you feel Pressed's appeal is? What makes it unique, and how do your acts contribute to that distinctiveness?
Lidija Rozitis: From a musical standpoint, I felt like there weren't too many venues in Ottawa a few years ago. A lot of the shows I went to were at houses. In the last little while, however, I have seen a decline in house shows and more venues becoming established around the city (Gabba Hey, House of Targ, Mugshots, Cafe Alt). House shows are really nice though, and I think Pressed (sort of) imitates the cozy, intimate vibe of a house show … Bands are allowed to move furniture around to suit their musical set up, and there are couches and church pews to sit on. And the place smells like your grandma is making delicious smoked chicken! It's small, and it's cozy. It's not a nightclub or fancy bar, but that's what makes Pressed unique.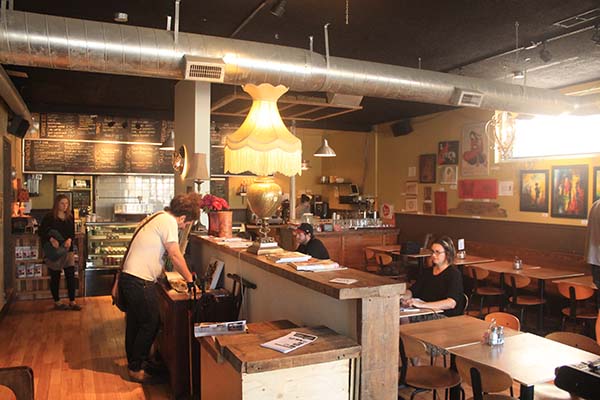 The restaurant during business hours (photo by Matthew Blenkarn)
What does Pressed offer the spoken word community? How do you help give them a space?
Jeff Stewart: I think in a number of ways. First of all, we have standing events here that are spoken word and poetry related. We have artistic showcases hosted by (Ottawa poet) Brandon Wint. We have a Words to Live By series and then a Railroad Poetry series. Those three events appeal to different types of audiences, so I think just having standing events like that creates an association between the place and spoken word. I think the layout of the place and having the right sound, light and size for those types of events just creates an inviting nest for people to come and have their events.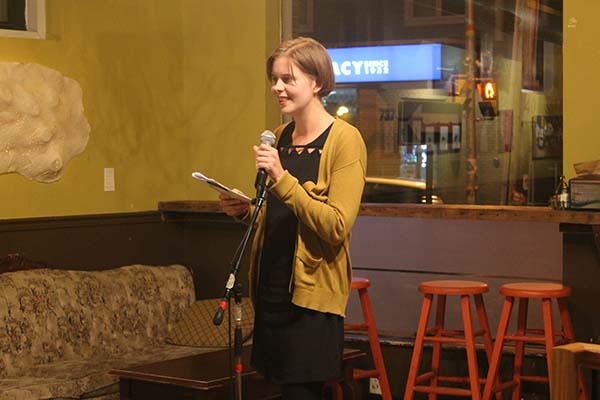 Zine editor and writer Lily Pepper at the launch party for the YOW zine (photo by Matthew Blenkarn)
You've also hosted a few Ottawa Zine-Offs and you have a zine rack. What about zine culture?
JS: I was open to the idea when (zine editor and writer Lily Pepper) approached me to have a zine rack here, and then I think, based on that, it became a bit of an anchor for zine culture. There were some people who wanted to have events here where they were creating zines and talking about zines and it seemed like a logical extension of that. I think that is something that has built a sort of community feeling. It's sort of a grassroots feeling where you don't always have a form of entertainment foisted on people as a developed, finished art form. It's more people coming together and creating in a space in a more spontaneous, democratic kind of way.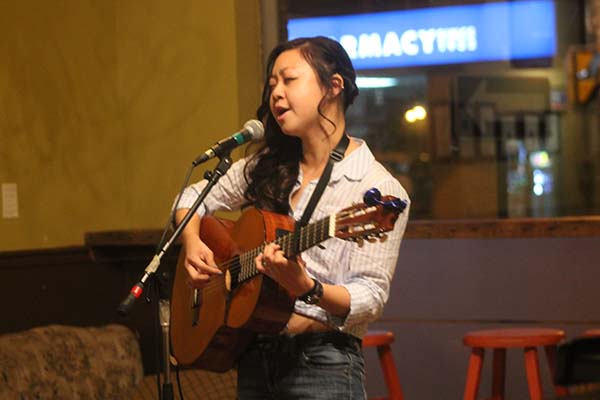 Gloria Guns of Scary Bear Soundtrack performs at the YOW zine launch party (photo by Matthew Blenkarn)
Why have such an eclectic line-up?
LR: There are a lot of amazing music venues that have opened up in Ottawa recently, so it's somewhat limiting to book four piece rock bands for an entire month. We do have many bands playing at Pressed, but with that said, I also have been trying to book more and more diverse musical acts every month. Pat Moore hosts a weekly Bluegrass night, Tariq Anwar hosts a monthly Open Mic night, Brandon Wint puts on a great monthly spoken word and musical showcase, and there are many jazz, classical, and experimental musicians performing at the space. Even then, music isn't the only art form requiring performance space. Because of the portability of tables and furniture at Pressed, the space can serve as both a sit down or standing venue. I think this versatility appeals to all types of artists, because the space serves whatever need you want it to. I try to book as many diverse types of events so that the space doesn't become pigeon-holed as the venue to do one certain type of artistic thing, but rather continually seen as a space to do whatever you want.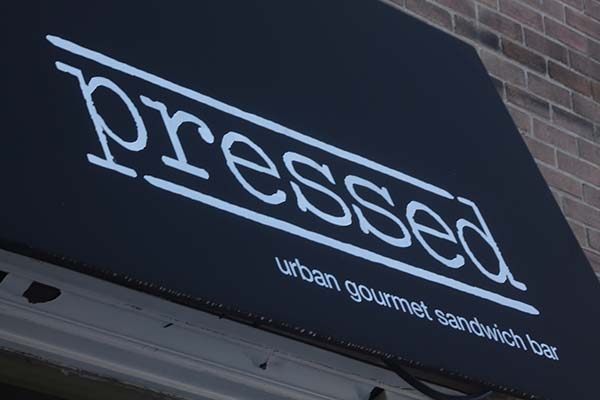 The awning that shades Pressed's small outdoor seating area (photo by Matthew Blenkarn)
How would you like to see Pressed grow in the future?
JS: I think I'd just like to see us continue along the lines that we're going along right now. I don't want us to get too big or large-band oriented, because I like the community aspect of the things we do. I think we have a really nice balance right now of bands coming in from out of town, from promoters and local bands and acts, local spoken word and then grassroots types of events as well. I think I'd just like to continue to become more and more integrated with the community and be seen more and more as a community living room and play space, I think.
Des odeurs de poulet de Matthew Blenkarn: (Traduit par l'eau à la bouche de Jessica Grenier) Ouvert en novembre 2011 en tant que « comptoir à sandwich sans prétention », Pressed est rapidement devenu un lieu de rencontre pour les différentes communautés artistiques d'Ottawa. Chaque soir, on peut s'attendre à ce que les fenêtres du 750 Gladstone Ave vibrent au rythme d'un noise acharné, de folk ou de jazz mélodieux, de punk joyeusement étrange ou encore de quelque chose de plus psychédélique. Mais Pressed, c'est beaucoup plus que de la musique. Le restaurant accueille régulièrement des performances poétiques, et, en venant se nicher dans son intérieur en bois naturel, on peut tout aussi facilement tomber sur un événement littéraire local, un party de zines ou un marché d'artisanat que sur un groupe de musique. Pour mieux comprendre cet environnement éclectique, nous avons discuté avec le propriétaire de Pressed, Jeff Stewart, ainsi qu'avec la responsable des réservations, Lidija Rozitis (qui est aussi chanteuse et guitariste dans des groupes locaux Roberta Bondar et Blue Angel).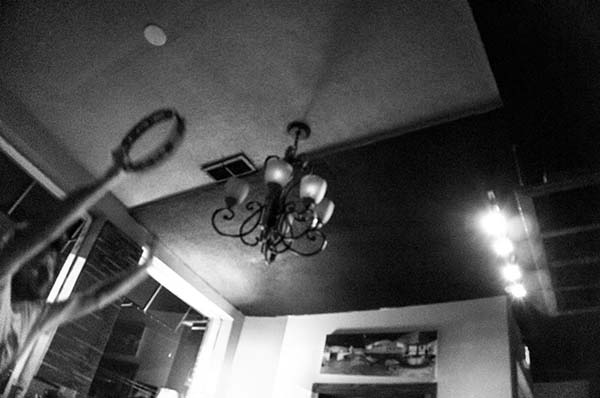 Selon vous, qu'est-ce qui fait le charme de Pressed? Qu'est-ce qui le rend unique et comment contribuez-vous à le garder ainsi?
Lidija Rozitis: Du point de vue musical, j'ai eu l'impression, il y a quelques années, qu'il n'y avait pas beaucoup de salles à Ottawa. Beaucoup de spectacles auxquels j'assistais avaient lieu dans des maisons. Dernièrement, j'ai remarqué un déclin de ce côté, et une augmentation des nouvelles salles de spectacles qui s'installent en ville (Gabba Hey, House of Targ, Mugshots, Cafe Alt). J'aime quand même beaucoup les spectacles ayant lieu dans des maisons, et je pense que Pressed imite (un peu) leur atmosphère intime et confortable… Les groupes peuvent bouger les meubles selon leurs besoins pendant qu'ils préparent leurs trucs, et il y a des divans et des bancs d'église pour s'asseoir. En plus, l'endroit sent comme si votre grand-mère était en train de faire du délicieux poulet fumé! C'est petit, c'est douillet. Ce n'est pas une discothèque ou un bar chic, mais c'est ce qui rend Pressed unique.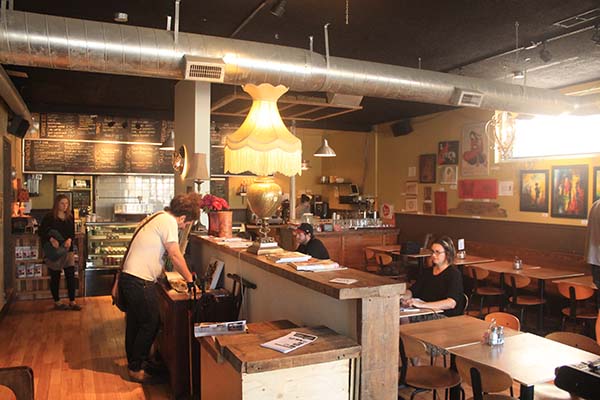 Le restaurant (pendant les heures d'ouverture) (photo de Matthew Blenkarn)
Que fait Pressed pour soutenir la communauté de la création orale?
Jeff Stewart: Je pense que nous aidons à plusieurs niveaux. Premièrement, il y a des événements permanents liés à la poésie et aux créations orales. Il y a des performances artistiques animées par (le poète d'Ottawa) Brandon Wint. Nous avons aussi les séries Words to Live By et Railroad Poetry. Ces événements attirent des publics différents, alors je pense que le fait qu'ils soient permanents crée un lien entre l'endroit et la création orale. Je trouve que le son, la lumière, l'agencement et les dimensions de l'endroit sont parfaits pour ce genre de soirées, ça en fait un petit nid parfait où organiser des événements.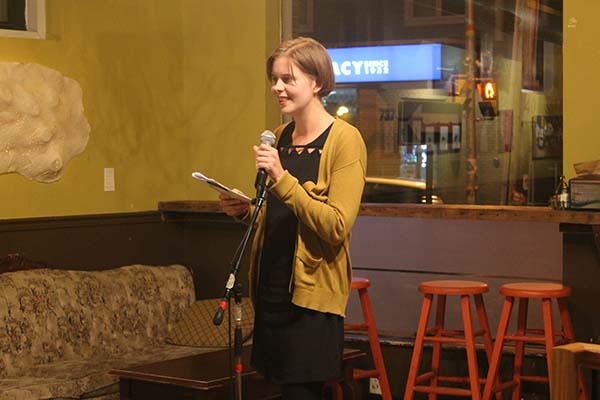 L'auteure Lily Pepper durant le lancement du zine YOW (photo de Matthew Blenkarn)
Vous avez accueilli quelques fois le festival Ottawa Zine-Offs et vous avez un présentoir de magazines. Qu'en est-il de cette culture?
JS: J'aimais l'idée d'avoir un présentoir de zines quand l'auteur et rédactrice en chef Lily Pepper est venue discuter de cette possibilité, et à partir de là, ça a en quelque sorte fourni un point d'ancrage à la culture zine. Des gens ont voulu organiser ici des événements de création et de discussions, et c'était comme une suite logique. Je pense que c'est une des choses qui ont aidé à construire un esprit de communauté. C'est un genre de sentiment populaire où on n'a pas toujours un événement artistique complet et défini qui est imposé aux gens : c'est plutôt des personnes se rassemblant quelque part pour créer quelque chose de façon spontanée et démocratique.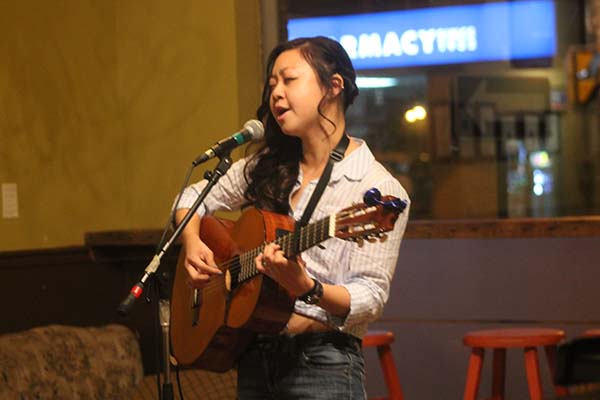 Prestation de Gloria Guns de Scary Bear Soundtrack à l'occasion du lancement de YOW (photo de Matthew Blenkarn)
Pourquoi avoir une programmation aussi éclectique?
LR: Il y a beaucoup de salles de spectacle géniales qui ont été ouvertes récemment à Ottawa, alors ça devient un peu contraignant de réserver un groupe rock pour tout un mois. C'est vrai qu'il y a beaucoup de groupes qui jouent ici, mais ceci étant dit, j'essaye d'avoir de plus en plus de performances musicales variées chaque mois. Pat Moore anime une soirée Bluegrass hebdomadaire, Tariq Anwar, une soirée mensuelle ouverte aux amateurs, et Brandon Wint présente aussi chaque mois une soirée créations orales et poésie, en plus des nombreux musiciens jazz, classiques et expérimentaux qui font des spectacles ici. Aussi, la musique n'est pas la seule forme artistique ayant besoin d'un espace. Puisque les tables et les meubles peuvent être déplacés, Pressed peut accueillir autant des spectacles pour un public assis que debout. Je pense que cette polyvalence intéresse différents types d'artistes, puisque l'endroit peut s'adapter à tous les besoins. J'essaye de réserver des événements de style le plus différent possible pour qu'on ne devienne pas étiqueté comme faisant toujours un seul genre de spectacle, pour que Pressed continue d'être perçu comme un lieu ouvert à tout.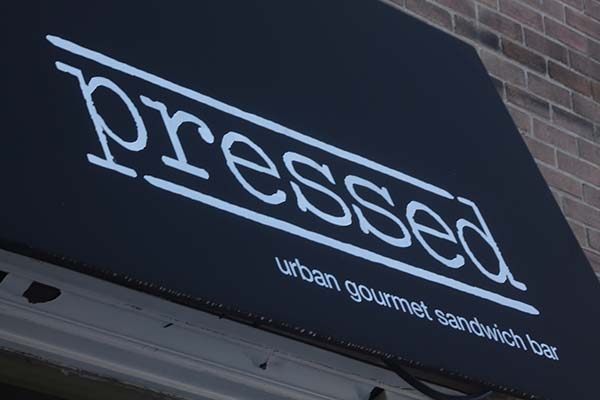 L'auvent qui protège la petite terrasse de Pressed (photo de Matthew Blenkarn)
Dans le futur, comment voudriez-vous voir grandir Pressed?
JS: Je pense que j'aimerais juste que l'endroit continue sur la même lancée qu'il a actuellement. Je ne veux pas qu'on devienne trop gros ou axé juste sur les gros groupes, parce que j'aime l'aspect communautaire que nous avons maintenant. Je trouve que nous avons un bel équilibre entre les promoteurs, les spectacles, les groupes d'ici et d'ailleurs en plus des créations orales locales et des événements plus populaires. Je pense que j'aimerais juste voir l'endroit s'ancrer davantage dans la communauté, et qu'il soit vu de plus en plus comme un terrain de jeu ou un salon communautaire.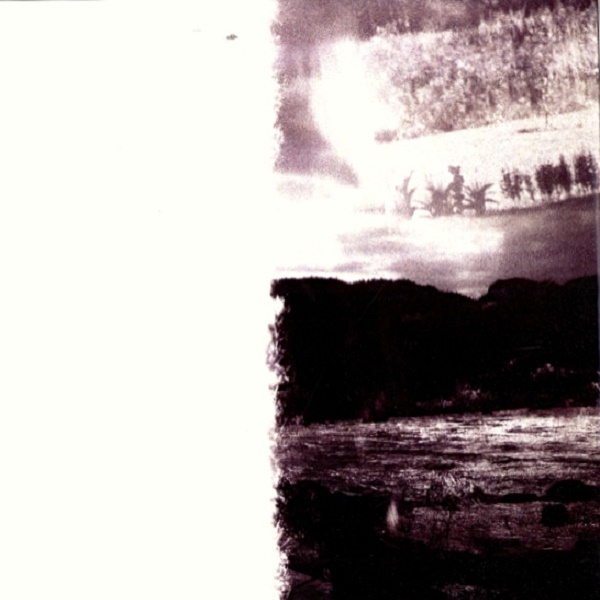 Richard Ritalin & Racism
Witch Hunter Blues
Ottawa/Toronto, ON
From Talia Jacob, once upon a time, in a land far, far away…
Richard Ritalin & Racism's fifteen-minute release sweeps you into twisted and tortured far away lands. Through cheeky rhymes and catchy chants, Richard's matter-of-fact talk-singing spins tall and horrible tales peopled with colourful and macabre characters. RR&R's fantastical tales of turpitude are indelible. Their rhythm and rhyme are just as haunting as the stories themselves. Do not be surprised when you find yourself involuntarily chanting the depraved and witty lyrics of Witch Hunter Blues.
De Talia Jacob, autrefois, dans un pays très, très éloigné…
(Traduit par Mylène à l'autre bout du monde Quevillon )
La sortie de l'album de Richard Ritalin & Racism – d'une quinzaine de minutes – vous emporte dans une contrée éloignée, tordue et torturée. La conversation chantée et terre-à-terre de Richard relate des contes horribles peuplés de personnages colorés et macabres, en utilisant des rythmes insolents et des chants accrocheurs. Les récits de RR&R remplis de turpitudes sont ineffaçables. Leurs rythmes ainsi que leurs rimes sont aussi obsédants que les histoires elles-mêmes. Ne soyez pas surpris si vous constatez que vous psalmodiez involontairement les paroles perverses et pleines d'esprit de Witch Hunter Blues.
Richard Ritalin & Racism – Marauding Monster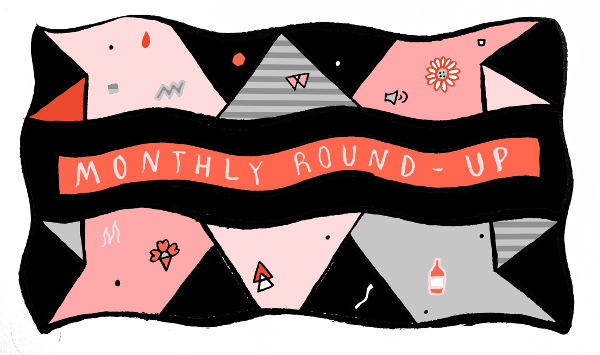 From the Lizard Cove :
In our ongoing pursuit to encourage, document, and connect creative expression across Canada, we cut through waves upon waves of ethereal sounds, wyld shreddery, and brooding drones. It is magnificent. Some of the best grips escape our grasping fists. We list them here:
Colin Fisher & Mike Gennaro – Sine Qua Non (Etobicoke, ON)
Forever Dazed – Midnight Moon Beams EP (Lakefield, ON)
Hybrid Frequency – Broken Circle (Toronto, ON)
Various / Mechanical Forest Sound – Selections, Vol. 1 (Toronto, ON)
Jamie Drake – Nigh (Toronto, ON)
Skull Bong – Burnt Endz (Toronto, ON)
FAVX – DESERT (Toronto, ON)
Mylar – Demos (Toronto, ON)
Lydia Ainsworth – Right From Real Pt. I (Toronto, ON)
Nite Comfort – Compilation Vol. 1: 2013-2014 (Toronto, ON)
Glass Random – In Some Night (Winnipeg, MB)
VIDEO: Bad River – Plasticine (Toronto, ON)
Christopher Bissonnette – Essays In Idleness (Windsor, ON)
Human Music – How's it Goin? (Winnipeg, MB)
The Party Dress – You're Dead 7″ (Winnipeg, MB)
telozkope – Frozen Prism (Winnipeg, MB)
Street Meat – Yellow Magic School Bus (Ottawa, ON)
New Wings – Ice Age, Golden Age (Kitchener, ON)
VIDEO: Beliefs – Tidal Wave (Toronto, ON)
Notre quête constante visant à encourager, à mettre en contact et à décrire les pratiques d'expression créatrice au Canada nous fait traverser vague après vague de sons éthérés, de shreds déchaînés et de sinistres bourdonnements; et c'est magnifique. De véritables joyaux échappent parfois à nos mains avides. Ils sont énumérés ici :
Colin Fisher & Mike Gennaro – Sine Qua Non (Etobicoke, ON)
Forever Dazed – Midnight Moon Beams EP (Lakefield, ON)
Hybrid Frequency – Broken Circle (Toronto, ON)
Various / Mechanical Forest Sound – Selections, Vol. 1 (Toronto, ON)
Jamie Drake – Nigh (Toronto, ON)
Skull Bong – Burnt Endz (Toronto, ON)
FAVX – DESERT (Toronto, ON)
Mylar – Demos (Toronto, ON)
Lydia Ainsworth – Right From Real Pt. I (Toronto, ON)
Nite Comfort – Compilation Vol. 1: 2013-2014 (Toronto, ON)
Glass Random – In Some Night (Winnipeg, MB)
VIDEO: Bad River – Plasticine (Toronto, ON)
Christopher Bissonnette – Essays In Idleness (Windsor, ON)
Human Music – How's it Goin? (Winnipeg, MB)
The Party Dress – You're Dead 7″ (Winnipeg, MB)
telozkope – Frozen Prism (Winnipeg, MB)
Street Meat – Yellow Magic School Bus (Ottawa, ON)
New Wings – Ice Age, Golden Age (Kitchener, ON)
VIDEO: Beliefs – Tidal Wave (Toronto, ON)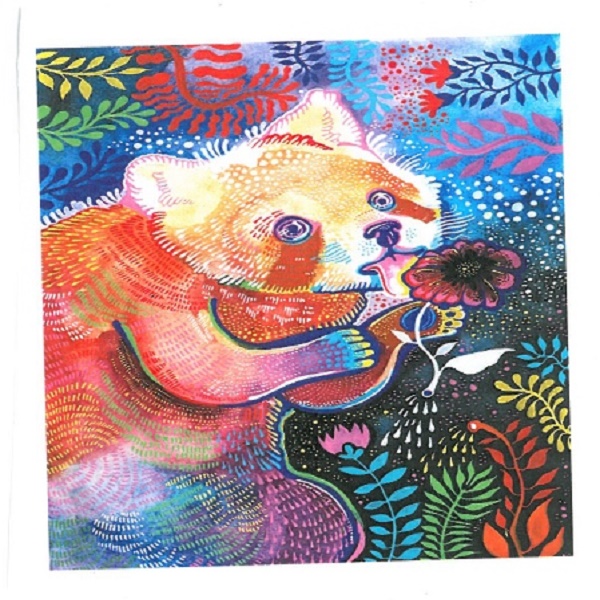 Red Panda
Exploding Rainbows
(Self-Released)
Ottawa, ON
From the psi-fi delusions of Mark Anthony Brennan:
Enter living room. Snap fingers – wall screen comes to life. Newscaster nattering on about terrorists using advanced atmospheric weapons. Who needs this? Switch to reality show about certified accountant wars. Yawn. Check emotion levels on wall switch. Euphoria, OK, but dial up peevishness to give the morning an edge. Need coffee. Annoying letters now scrolling across bottom of TV show. Something about poisoned air over the city. Fuck it. Open blinds. Man, traffic seems chaotic this morning. Head to kitchen – need coffee. Mental note to call video technician – colour of sky seems off.
Des délires psycho-fictifs de Mark Anthony Brennan:
(Traduit par les lucarnes soupirantes de Marie-Pier Chevrier)
Passer au salon. Claquer des doigts; l'écran mural prend vie. Un présentateur de nouvelles qui monologue sur les terroristes utilisant des armes atmosphériques de pointe. À quoi bon? Zapper vers une téléréalité où s'affrontent des comptables agréés. Bâiller. Vérifier l'interrupteur mural des niveaux d'émotions. L'euphorie, ça va, mais augmenter l'irritabilité pour électriser un peu la matinée. Besoin de café. Des lettres dérangeantes défilent maintenant au bas de la série télé. Quelque chose par rapport à l'air irrespirable au-dessus de la ville. Fuck it. Ouvrir les rideaux. Ostie que le trafic à l'air chaotique à matin. Direction la cuisine; besoin de café. Note mentale d'appeler le technicien vidéo; la couleur du ciel semble déséquilibrée.
Red Panda – Everybody Wants A Piece Of Heaven (Living In a High Definition Hell)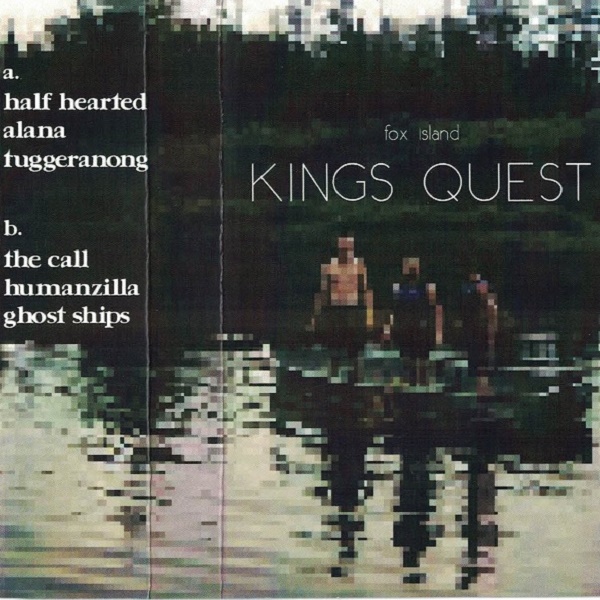 Kings Quest
Fox Island
(Self-Released)
Ottawa, ON
From the reverberated thoughts of Alec Lovely:
A date with friends turns into alone time on a heavy, grey afternoon. Wet concrete, streaky windows, hustle and bustle, flashing lights. No need or want to be with anyone on a day like this – just the right sounds to take you back to yesteryear, sharpened by a lo-fi nostalgia. Wondering how long the people around you will be there, the dream of youth feels like something finite. Spurred by the sounds that feel new and familiar, you wonder when the band in your headphones will be in your city, right in front of you.
De l'écho des pensées d' Alec Lovely:
(Traduit par Jessica Grenier)
Un après-midi lourd et gris. Un rendez-vous avec des amis qui devient un moment de solitude. Le béton mouillé, les vitres zébrées de pluie et de lumière, l'agitation des passants. Une journée où on n'a ni le besoin ni l'envie de côtoyer des gens – il faut juste le bon son pour un retour en arrière, accentué par un lo-fi nostalgique. Les rêves de jeunesse semblent restreints quand on se demande combien de temps les gens vont rester dans notre entourage. Les sons nouveaux mais familiers dans tes écouteurs te font t'interroger sur le moment où le groupe sera devant toi, dans ta ville.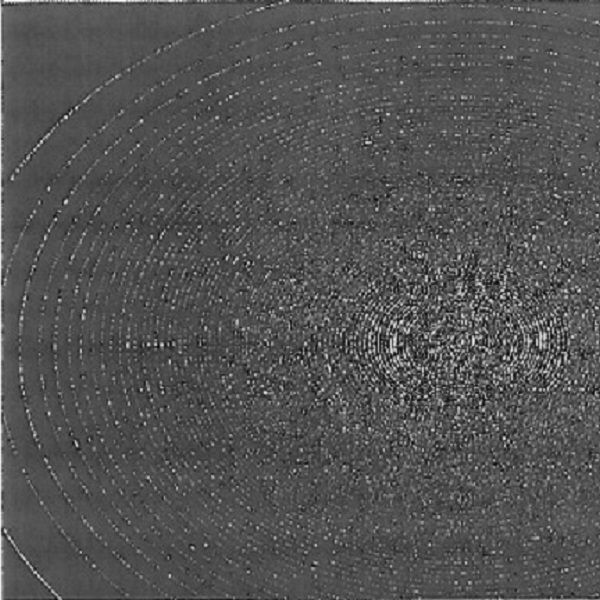 Blakkr Nið
Holy Visions
(Self-Released)
Ottawa , ON
From the empty childhood bedroom of Walker MacDonald:
At some point in time, everyone loses someone they love. Whether it be a relative, friend or partner, everyone will experience this kind of lose eventually. But coincidentally, even though everyone inevitably goes through this, you never really feel what it's like until it happens to you. Blakkr Nið and their collaborators (Missing Organs and King Brude) come the absolute closest to sonically explaining this feeling. Listening to Holy Visions is a very looming and haunting experience, evoking the same emotional responses you might feel after hearing a cancer diagnosis. This is music to bury your grandmother to.
De la chambre d'enfant vide de Walker MacDonald:
(Traduit par Jessica Grenier)
À un moment ou un autre, tout le monde doit surmonter la perte d'un être cher, que ce soit un parent, un ami ou un conjoint. Par contre, même si nous traversons tous cette expérience, il est impossible de savoir ce que l'on ressent avant de l'avoir vécu. Avec cet album, Blakkr Nið et ses collaborateurs, Missing Organs et King Brude, sont presque arrivés à une explication sonore de ce sentiment. L'écoute de Holy Visions est baignée d'une imminence lancinante qui suscite une réaction émotive semblable à celle pouvant être ressentie suite au diagnostic d'un cancer. C'est le genre de musique que l'on mettrait à l'enterrement de notre grand-mère.
Blakkr Nið – Sunn (featuring Missing Organs)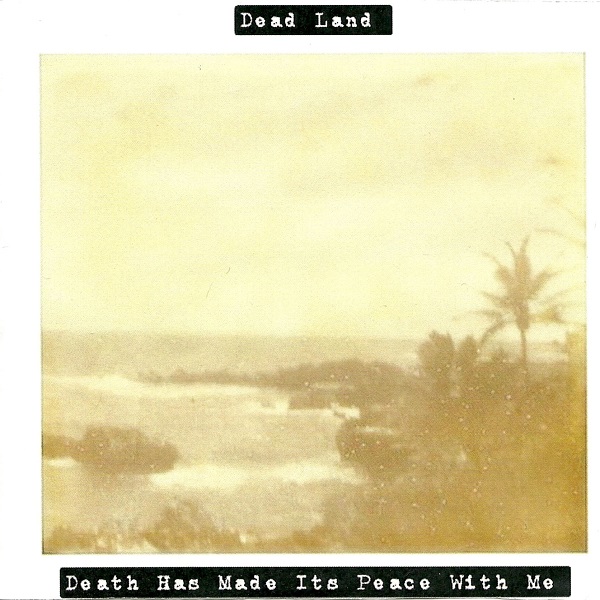 Dead Land
Death Has Made Its Peace With Me
(Self-Released)
Ottawa, ON
From the misguided handshake of Katie Jensen:
A shadow is following you. It bites at your heels, dragging exposed metacarpals across your skin. Its cheeks puff out with suspended breath, clammy and poised with droplets of mildew, begging for a kiss. It wants to be loved the way you loved yourself once.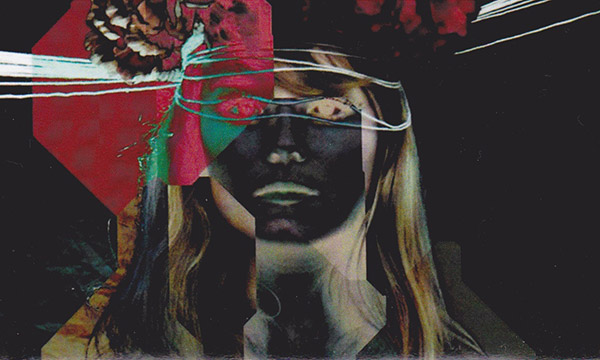 The Yips
Air Loom
Ottawa, ON
From the distorted parapets of Joshua Robinson:
Ouija words spill across distorted distances. Sound waves imbued with garage spirits that once stood so still now force their way through the parapets that keep their potential energy at bay. Air Loom is a staggering edifice of sound; a source of the waves that emanates from the eye of the storm , intorting its breath to the point of becoming the heavy dissonance that turns calm to clamour; 'yeah yeah yeahs' that reverberate across the northernly compass.
Des garde-fous tordus de Joshua Robinson:
(Traduit par Jessica Grenier)
Des mots de Ouija s'étendent sur un horizon déformé. Des vagues de son imprégnées d'esprits de garage, qui jadis restaient si immobiles, essayent de défoncer les garde-fous tenant à distance leur énergie potentielle. Air Loom est un édifice de son vertigineux; c'est la source de ces vagues qui émanent de l'œil de la tempête en tordant sa respiration intérieure, au point de devenir une lourde dissonance changeant le calme en cacophonie. Les « yeah yeah yeah » se répercutent à travers l'étendue nordique.
---