Tag: ottawa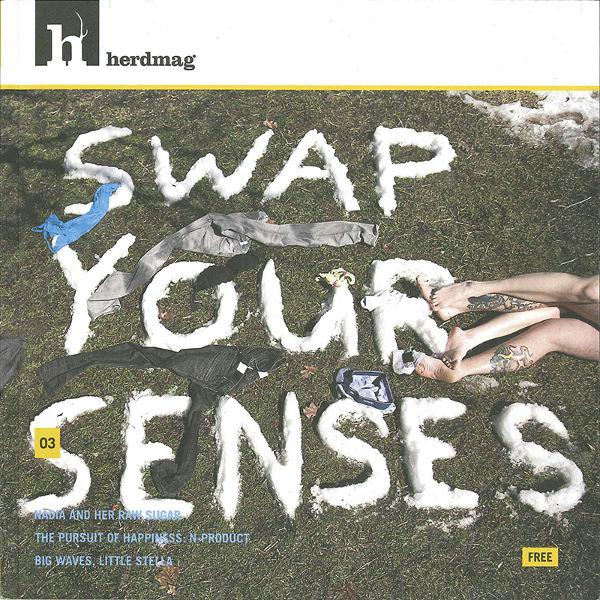 Herd Magazine
Issues 01-03
01: pp. 74 // 02: pp. 82 // 03: pp. 78
glue/adhesive bound
Ottawa, ON
Editor: Stephanie Vicente
From the grassroots of Brian Fauteux:
Communities are built and sustained through documentation, collaboration, participation.
Herdmag, free and published independently on a quarterly basis, begins its inaugural issue with a personal letter that offers itself to the city of Ottawa, its home. Herd is a platform for local cultural institutions, musicians, artists, chefs, and writers to make their presence known. With the turn of each page, the idea that one's creative trajectory must include moving to a larger metropolis (nearby Montreal or Toronto, for instance) is challenged.
"You're not looking hard enough." Here is a vibrant roster of groups and individuals who are making things happen. Locally.
In a gripping story about the closure of a historic downtown nightclub, an onlooker imagines what a typical night during the club's heyday might have been like. Ghosts and figments of the past are recalled alongside the old, discarded carpet that once caught the broken glass of flashbulbs. Herdmag is a collection of these glass shards. Only it is alive and active right now, reflecting, sharing, and documenting cultural activity so that one will never have to wonder about how the city might have looked, sounded, and moved.
Du mouvement Grassroots de Brian Fauteux:
(Traduit par la soif du passé de Louis-Félix Pellerin)
Pour faire rouler une communauté, il faut combiner ces trois choses : documentation, collaboration et participation. Herdmag, un trimestriel indépendant gratuit, ouvre son premier numéro avec une lettre personnelle adressée à sa ville d'origine, Ottawa. Herd est une plateforme sur laquelle des musiciens, des artistes, des chefs cuisiniers, des écrivains et des organismes culturels peuvent se faire connaître. La notion que tout cheminement créatif doit passer par les plus grandes agglomérations (comme Montréal ou Toronto, par exemple) est remise en question à chaque page.
« Tu ne cherches pas assez loin. » Voici un vibrant catalogue d'artistes et de groupes qui font brasser la scène locale. Dans une histoire poignante à propos de la fermeture d'un club du centre-ville, un observateur imagine ce qui devait être une soirée typique lorsque l'établissement était à son apogée. Spectres et bribes du passé sont retrouvés aux côtés du vieux tapis qui a naguère attrapé les fragments d'ampoules cassées. Herdmag est une collection de ces mêmes morceaux de vitre. Contrairement à la vieille bâtisse, le magazine est toujours actif en ce moment, remémorant, partageant et documentant l'activité culturelle pour que personne n'ait plus jamais à se demander de quoi la ville avait l'air dans le temps.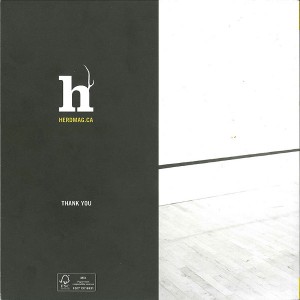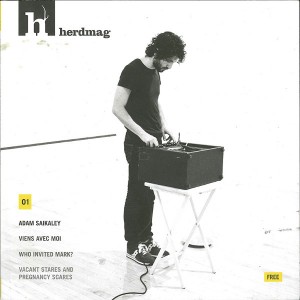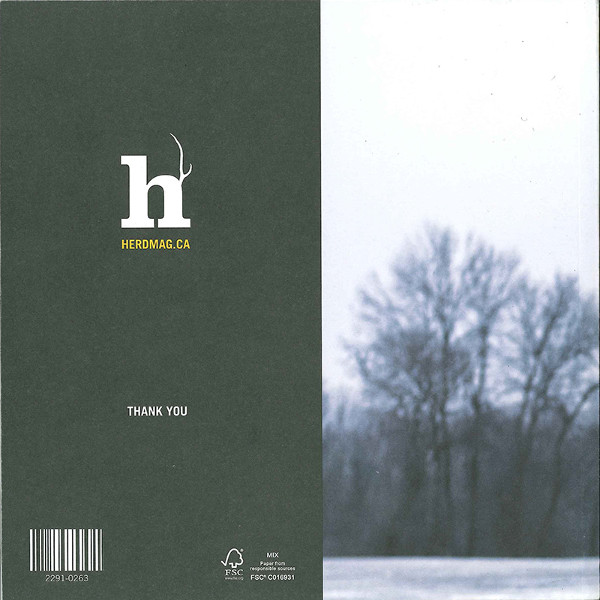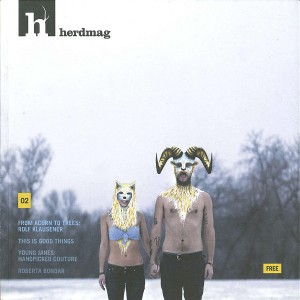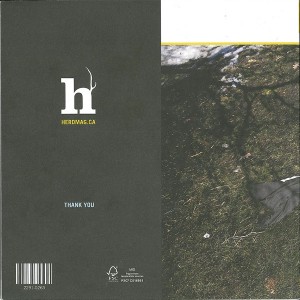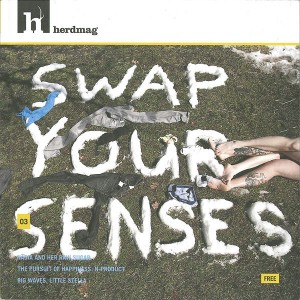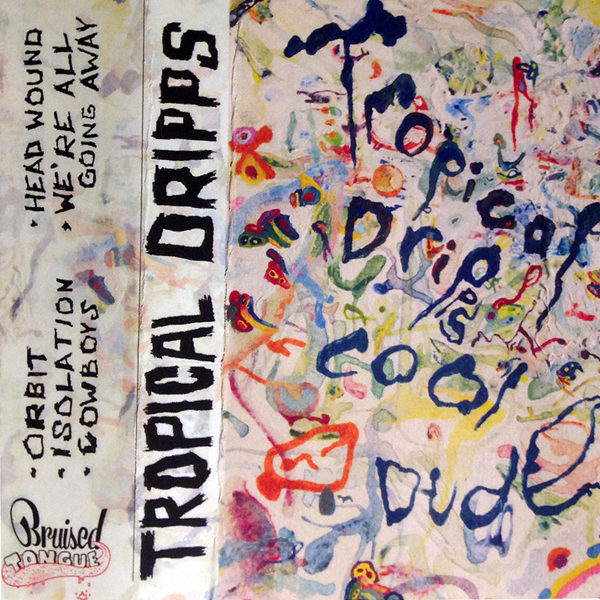 Tropical Dripps
Is Cool Dude
Ottawa, ON
From the existential mind-melt of Ryan Warner:
Bred in the basement. Reared on crazy. Tropical Dripps come on like snot-nosed gunslingers barreling straight into the abyss. The malformed music of Is Cool Dude is low on fidelity but high on everything else. Opener "Orbit" blasts the tape wide open with stabs of squealing guitars and an oppressive dual vocal attack. "Isolation" rides a twisted tropicalia riff before galloping across high lonesome verses and ring-modulated surf solos. The tape's third song "Cowboys" extends the swirling mix of surf, punk and western sounds as well as bolstering lyrical themes found throughout the album:
I met a cowboy / he had no words

He gave me the best advice / I ever heard
Lyrically, Is Cool Dude presents a type of exuberant existentialism; One that posits that the seeking of any real meaning, or, ahem, "truth" in this world is a pursuit of vanity. Rather than wallowing in meaninglessness, the Tropical Dripps rejoice. Closer "We Are All Going Away" pulses exuberantly, repeating the song's title until what is first perceived as an uncomfortable truth mutates into a comforting mantra-like slogan: "Don't worry… is cool dude."
De la déchéance mentale existentielle de Ryan Warner:
(Traduit par l'esprit en crise de Louis-Félix Pellerin)
Conçu au sous-sol. Entretenu dans la folie. Les Tropical Dripps font leur entrée avec l'intensité d'une bande de caïds mal-léchés fonçant à toute vitesse vers l'abysse. La musique malformée de Is Cool Dude contient peu de fidélité, mais déborde de tout le reste. Le morceau d'entrée « Orbit » explose avec des braillements de guitare ainsi qu'une attaque à double voix des plus agressantes. « Isolation » chevauche un riff tropicálien tordu avant de galoper à travers des vers solitaires et des solos de surf modulés en anneau. « Cowboys », la troisième chanson, continue dans la même graine de musique surf, punk et western et contient un bel exemple du genre de paroles encourageantes qu'on retrouve dans le reste de l'album :
I met a cowboy / he had no words

He gave me the best advice / I ever heard
Lyriquement parlant, Is Cool Dude présente un type d'existentialisme exubérant qui suggère que la recherche de tout sens ou, hum, « vérité » en ce bas monde est un acte motivé par la vanité. Au lieu de se morfondre dans l'insignifiance, les Tropical Dripps s'y exultent. Avec chaque répétition de ce passage résonnant avec exubérance, « We Are All Going Away », ce qui est d'abord perçu comme une vérité troublante se transforme en un slogan mantraesque réconfortant : « Don't worry… is cool dude » (T'inquiètes pas man… tout baigne).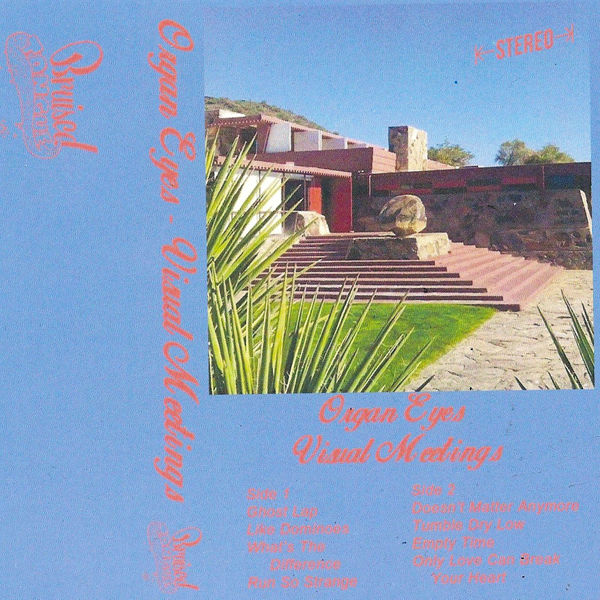 Organ Eyes
Visual Meetings
Ottawa, ON
From the daybreak and eventide of Brian Fauteux:
At dawn, Visual Meetings is perhaps the darkest. Waves of heavy fog, moving in from beyond. Rolling hills break up the heavy, low clouds with a hypnotic rhythm that mirrors our pulse. Yet, there is a warmth that carries through. As it brightens, strings and "Ahs" and an upbeat kick call-and-respond to a poppy psychedelic sensibility. Glowing, growing, spiraling and winding into a room that echoes, revealing its vastness. At dusk voices near and far, past and present, remind us that it's only love that will break our hearts.
De l'aube jusqu'aux dernières lueurs de Brian Fauteux:
(Traduit au rythme de Louis-Félix Pellerin)
C'est aux premières lueurs du jour que Visual Meetings est à son plus sombre. Un épais brouillard surgit de l'au-delà. Un vallon de collines perce les nuages volant à basse altitude avec un rythme hypnotique qui évoque notre pouls. Pourtant, on peut sentir le passage d'une certaine chaleur. Alors que la journée avance, des coups de cordes, des multiples « Ah ! » ainsi qu'un bon coup enjoué réagissent harmoniquement à une sensibilité pop-psychédélique. Le son brille, croît, serpente et se répercute à l'intérieur d'une chambre avec un écho qui révèle son immensité. Au crépuscule, des voix de près et de loin, d'antan et d'aujourd'hui nous rappellent qu'il n'y a que l'amour qui peut nous briser le cœur.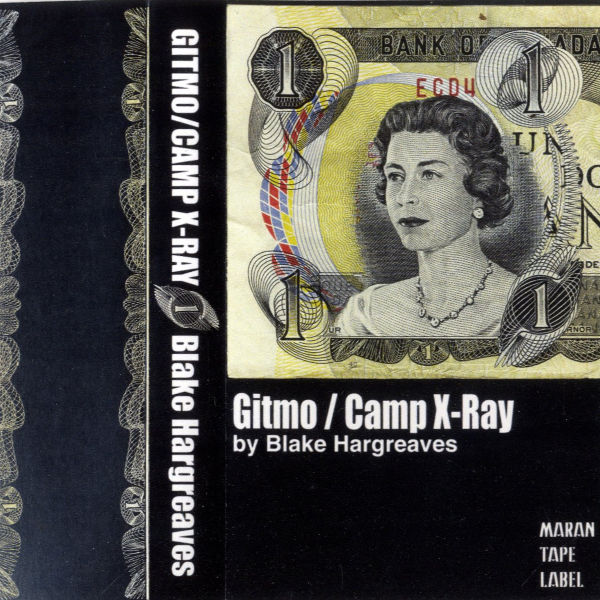 From the rumbling pleasure of Cassilou Landra:
Part one of a four-part series originally released in 2006, Fluorescent Friends and Cool Fest founder Blake Hargreaves' Gitmo / Camp X-Ray initially comes off as a sensory overblown interrogation chamber of heavy smog and venomous gases. Its title suggests a politically-charged affair, and coupled with the music it's easy to boil it down as a linear statement of political intention, but to do this would ignore its rumbling pleasures and deeply humanizing distortion.
As was pointed out by Hargreaves in an interview in AA Records Magazine #2, a hand-made flexi-disc lathe and zine released by artist Alivia Zivich and Nate Young (Wolf Eyes) of Aryan Asshole Records in 2007, "…history seems more like a tragedy, where people's intentions and capabilities and the real good and bad consequences of their interactions are hard to see, especially when they fight… and no one ever really wins the way they hoped to. I guess I could call it a comedy too, but I don't find it easy to be like that with the occurrences of complete fucking brutality in this hilarious comedy of humanity."
This 'comedy of humanity' is Gitmo / Camp X-Ray's modus operandi, with the abrasive, machinistic textures bellowing like a hearty laugh; a product of a human being. In exploring the edges between industrial pomp, pop swagger, and immersive noise, the engine buzz of such tracks as "You can pray once you cooperate 1" and "Brothers in Cuba" seems less to do with political intent and more as "a serenade to the observers and actors the world over who are actually making a real effort to understand and meet the challenges posed by situations like Gitmo, and of course to the people who find themselves there."
Des murmures de plaisirs de Cassilou Landra:
(Traduit par les gaz vénéneux de Raphaël Foisy)
La première partie d'une série de quatre, originalement parue en 2006, Gitmo / Camp X-Ray de Blake Hargreaves, fondateur de Fluorescent Friend et du Cool Fest, se ressent initialement telle une chambre d'interrogation de smog lourd et de gaz vénéneux survoltée de sensations. Le titre suggère un sujet chargé politiquement qui, conjugué à la musique, réduit facilement l'album à une affirmation politique linéaire. Mais ce serait ignorer les murmures de plaisirs et la distorsion profondément humanisante.
Comme l'a souligné Hargreaves dans un entretien dans AA Records Magazine #2, un flexi disc pressé à la main et un zine publié par Alivia Zivich et Nate Young (Wolf Eyes) sur Aryan Assohole Records en 2007, « … L'histoire ressemble davantage à une tragédie où les intentions des gens, leurs capacités et les véritables conséquences de leurs interactions, bonnes ou mauvaises, sont difficiles à voir, surtout quand ils se battent… et personne ne gagne réellement de la manière espérée. J'imagine que je pourrais également qualifier cela de comédie, mais il n'est pas simple de se comporter de cette façon face aux occurrences de brutalité complète dans cette hilarante comédie de l'humanité. »
Cette « comédie de l'humanité » est le modus operandi de Gitmo / Camp X-Ray avec ces textures machinales abrasives mugissant comme un rire franc; un produit d'un être humain. En explorant les frontières entre la splendeur de l'industriel, le maniérisme pop, et le noise immersif, le vrombissement de pièces comme « You can pray once you cooperate 1 » et « Brothers in Cuba » semble moins relié à une intention politique et davantage à « une sérénade aux observateurs et aux acteurs du monde entier qui font un réel effort pour comprendre et répondre aux défis posés par des situations comme Gitmo et bien sûr, à ceux qui se trouvent sur place. »

Black Hargreaves – You can pray once you co-operate 1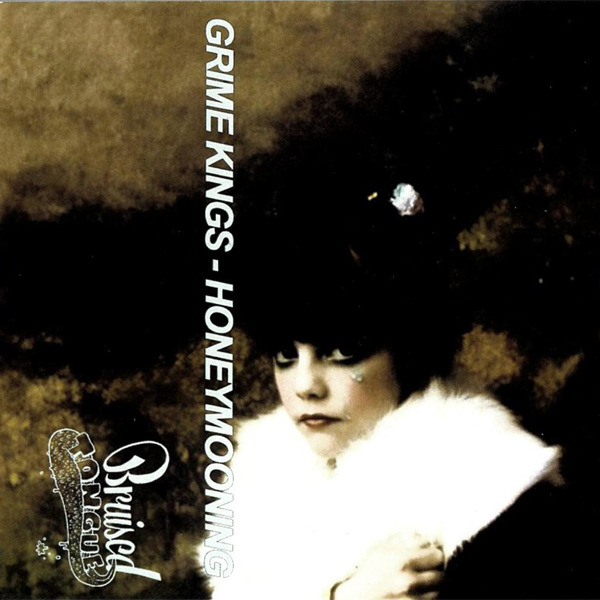 Grime Kings
Honeymooning
Ottawa // Belleville, ON
From the weathered palms of Kim Edgar:
Grime Kings' Honeymooning is a companion when your life is falling apart. This album is a reminder that music can so often be an intimate glimpse into the inner workings of someone's mind. It is cradling a baby bird in your cracked, weathered palms. It's startlingly easy to get swept up into the crescendos of harmonies that fit like interlocking fingers, in the time signatures, phrasing, rhythms which are always in flux. If this album was an object it would be a light-leaked, slightly out of focus photograph; weathered, faded, and a talisman imbued with all your memories. If this album was a colour it would be a tanned leather yellow.
Des paumes usées de Kim Edgar:
(Traduit par le stylo rouillé datant de l'école primaire de Louis-Félix Pellerin de Chevigny)
Honeymooning de Grime Kings est là pour vous lorsque la vie s'effondre. Cet album nous rappelle que bien souvent, la musique est un coup d'œil intime dans l'esprit de quelqu'un. C'est un peu comme de tenir un oisillon au creux de ses paumes usées et craquelées. C'est surprenant à quel point il est facile de se laisser emporter par ce crescendo d'harmonies qui se mêlent à un flux constant de mesures, de phrases et de rythmes, tels des doigts qui s'entrelacent. Si cet album était un objet, ce serait une photo un peu floue avec des fuites de lumière; usée et décolorée, c'est un talisman qui contient tous vos souvenirs. S'il était une couleur, ce serait le jaune cuir tanné.

Grime Kings – One Of Us Is Lonely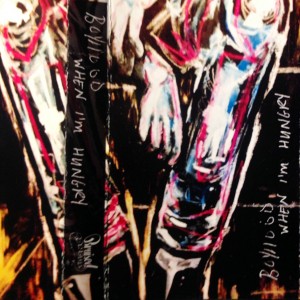 Boyhood
When I'm Hungry
Ottawa, ON
From the tardy basement incubator of Pavan Brar:
An all-encompassing and soothing coziness cloaks the 10-track span of Boyhood's When I'm Hungry. The album unconceals a familiar and intimate kind of bedroom-solipsism, carving out delta waves in static and crafting out lo-fi hummed lullabies. Let ocean-fuzz seep through the pores of your speakers, reverberating through the room in an embryonic warmth that's all too sedating to not become immersed in at once.
De l'incubateur au ralenti de Pavan Brar:
(Traduit par l'encéphale mou de Nicolas Coutlée)
Une douceur enveloppante et curatrice recouvre les dix pièces de Boyhood sur When I'm Hungry. Dévoilant une sorte de solipsisme de chambre à coucher intime et familier, l'album taille dans la statique des ondes delta au son des berceuses lo-fi fredonnées. Laissez le fuzz océanique infiltrer les pores de vos haut-parleurs et se réverbérer à travers la pièce telle une chaleur embryonnaire beaucoup trop anesthésiante pour ne pas vous y noyer aussitôt.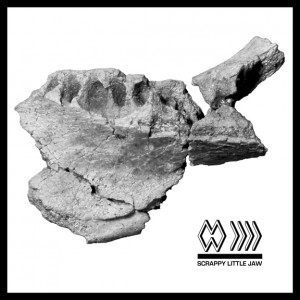 The Band Whose Name is a Symbol
Scrappy Little Jaw
(Self Released)
Ottawa, ON
From the tapered pants of Christopher Laramee:
Y'know the joy you get when you FINALLY check out a band that friends have been telling you to give a listen to for quite a while, then said band blows your head off? Ladies and gents, welcome to the pleasuredome, courtesy of Ottawa's THE BAND WHOSE NAME IS A SYMBOL (wicked nom de plume). These self-described "free psych rockers" achieve intense lift­off akin to some MAGIC LANTERN chatter, albeit sprayed with some noised boogie also reminding me of ETERNAL TAPESTRY. "Neu Sedan" goes quite a way to giving up the ghost as regards to the above inspiration. Hot spiral abounds here, sub­-metal riffage grabbing collars and shaking hard. TBWNIAS have released five albums in the last few years — vinyl only affairs, and whatever's on the Bandcamp. Sizzle away TBWNIAS, SIZZLE AWAY. Canada's best kept secret? No longer, folks. Also, any band that names jamz "Sask." and "Blues in Goddamn" has got their arrows pointed straight at my cold prairie heart. They should get together with Edmo's KRANG and trade eyeballs, NOW!!!
From the tapered pants of Christopher Laramee:
(Traduit avec la plume enthousiaste de Geneviève Simard)
Vous connaissez cette joie lorsque vous écoutez FINALEMENT un groupe de musique dont vos amis vous parlent depuis un bon moment et que leur musique vous jette par terre? Mesdames et messieurs, bienvenue dans ce lieu du plaisir, gracieuseté d'un groupe d'Ottawa, THE BAND WHOSE NAME IS A SYMBOL (super nom de plume). Ceux-ci, qui s'autoproclament des rockers « free psych », réussissent un décollage intense qui ressemble à du MAGIC LANTERN avec des mots, mais parsemé de quelques bruyants boogie qui font aussi penser à ETERNAL TAPESTRY. « Neu Sedan » fait beaucoup de chemin pour abandonner la ressemblance aux inspirations ci-dessus. De puissantes spirales abondent, des riffs sub-métal qui vous agrippent par le collet et vous tirent avec force. TBWNIAS ont sorti cinq albums au cours des dernières années, exclusivement sur vinyle, en plus de tout ce qui se trouve sur Bandcamp. Continue TBWNIAS, CONTINUE. Le secret le mieux gardé au Canada? Plus maintenant. En plus, un groupe de musique qui nomme ses chansons « Sask. » et « Blues in Goddamn », c'est comme une flèche pointée directement sur mon cœur froid des Prairies. Ils devraient rencontrer KRANG d'Edmonton et échanger leurs globes oculaires IMMÉDIATEMENT!!!

The Band Whose Name is a Symbol – Berlin, Ont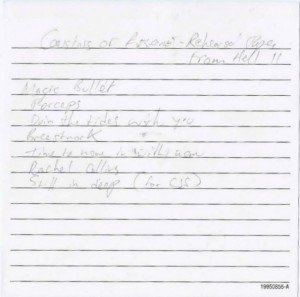 Cousins of Reggae
Rehearsal Tapes From Hell II
(Self Released)
Ottawa, ON
From the summa slamma of Javier Fuentes:
Blake Hargreaves has been a key conspirator in several mind-warping outfits, with an output that extends across all formats. One of his longest running projects is the fuzz-fried collaboration with Liam Thurston as Cousins of Reggae. The latest document to leak out from the duo's cavernous jam space lets us in on an inspired session of wasteland ballads and damaged zones. Stripping away pieces of the exterior chaos to entangle themselves further inside our cerebral vacuum, the disjointed melodies spin into glorious burnout. It sounds like the theme music for an old western taking place in a post-nuclear desert. On those vaporized plains, the only voice you can hear is the phantom sun. A proposition to enter the coolness of a shadowy ledge is rebuffed in favour of a walk back into the heat. Another masterful negotiation of abrasion and abandonment, and a crucial addition to the Cousins' canon.
Cousins of Reggae – Still In Deep (for CJS)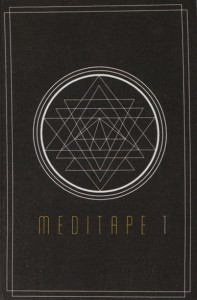 Meditapes
Meditape 1: Disconnection
Ottawa, ON
From the sleepy head of Catherine Debard:
Sometimes some of us are heads on hollow bodies. Our feelings are drained out from our bored, harakiri'd hearts. We are barely ourselves, washed out and evanescent. Floating in an in-between state, we wait for something worth returning to on this earth's strange reality.
Ottawa sound artist Tarek Al-Zand has set down an anchor for all those frail levitating bodies. Listening to the loops of home-made recording textures, tape hiss, profoundly moving guitars, and soothing ethereal voices, roots can dig out of those thick skins and find their way into a lucid meditation. At this exact moment, you think "Fuck my bed" and just lie on the wooden floor, eyes closed, and breathe. Because it is all too important. You suddenly remember how cool it is to live on a planet filled with awesome nature, organic and human mysteries, that every state is ephemera, and that you have a heart.
De la tête endormie de Catherine Debard:
(Traduit par Catherine Debard)
Parfois, certains d'entre nous sommes des têtes posées sur des corps vides. Les émotions s'écoulent de notre coeur las qui s'est fait hara kiri. Nous sommes à peine nous-mêmes, délavés et évanescents. Flottant entre deux états, nous attendons quelque chose qui mérite que nous replongions dans l'étrange réalité de la Terre.
Tarek Al-Zand, artiste sonore d'Ottawa, a jeté une ancre pour ces corps frêles en lévitation. En écoutant ces loops de textures d'enregistrement-maison, hiss de cassette, profondes guitares mouvantes et voix apaisantes éthérées, des racines peuvent transpercer ces peaux coriaces et trouver leur voie vers une méditation lucide. À ce moment précis, vous pensez "Fuck mon lit" et vous vous couchez sur le plancher de bois craquelé, les yeux fermés et vous respirez. Parce que c'est trop important. Vous vous souvenez tout à coup que c'est vraiment génial d'être en vie sur une planète remplie de natureincroyable, de mystères organiques et humains, que chaque état est éphémère et que vous avez un coeur.
Meditapes – Side One [excerpt]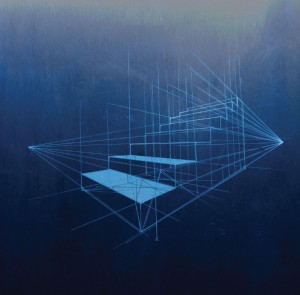 Violence
Erlebnis
Ottawa, ON
From the soiled smock of Nicolas Coutlée:
(Translated by Emily Estelle Belanger)
The needle goes in, the specimen falls still. The experiment can begin. Wielding their instruments of torture with medical precision, our two plastic surgeons of sound, Julie Morand-Ferron and Éric Trottier, patiently carve away the flabby body's flesh, revealing the angular skeleton underneath. The pulse beats on undisturbed, mechanical, amplified and filtered by the EKG. A dark and unsettling halo, the mute shadow of some German mad scientist, hangs over the operating table. While the chilling whine of an electric saw grates on in the rooms of the abandoned hospital, the patient is lost in soft, sedated visions, oblivious to the liberating violence inflicted upon him.
Du sarrau souillé de Nicolas Coutlée:
L'aiguille s'enfonce, le cobaye cesse de remuer. L'expérience peut débuter. Maniant leurs instruments de torture avec une précision chirurgicale, nos deux plasticiens du son, Julie Morand-Ferron et Éric Trottier, dépouillent la carcasse de sa chair flasque, en dévoilent patiemment l'ossature anguleuse. Le pouls demeure imperturbable, machinal, amplifié et filtré par l'électrocardiogramme. Halo sombre et inquiétant, l'ombre muette de quelque savant allemand fou plane sur la table d'opération. Et tandis que retentit le grincement glacial d'une scie électrique dans les salles sombres de l'hôpital abandonné, le patient, lui, se perd dans de douces visions anesthésiantes, inconscient de la violence libératrice qui s'abat sur lui au même instant.
Violence – The Curse of Dimensionality
---