Tag: ottawa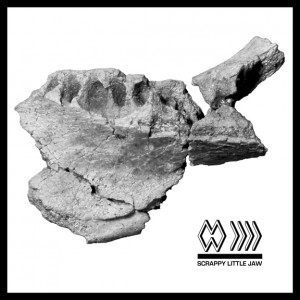 The Band Whose Name is a Symbol
Scrappy Little Jaw
(Self Released)
Ottawa, ON
From the tapered pants of Christopher Laramee:
Y'know the joy you get when you FINALLY check out a band that friends have been telling you to give a listen to for quite a while, then said band blows your head off? Ladies and gents, welcome to the pleasuredome, courtesy of Ottawa's THE BAND WHOSE NAME IS A SYMBOL (wicked nom de plume). These self-described "free psych rockers" achieve intense lift­off akin to some MAGIC LANTERN chatter, albeit sprayed with some noised boogie also reminding me of ETERNAL TAPESTRY. "Neu Sedan" goes quite a way to giving up the ghost as regards to the above inspiration. Hot spiral abounds here, sub­-metal riffage grabbing collars and shaking hard. TBWNIAS have released five albums in the last few years — vinyl only affairs, and whatever's on the Bandcamp. Sizzle away TBWNIAS, SIZZLE AWAY. Canada's best kept secret? No longer, folks. Also, any band that names jamz "Sask." and "Blues in Goddamn" has got their arrows pointed straight at my cold prairie heart. They should get together with Edmo's KRANG and trade eyeballs, NOW!!!
From the tapered pants of Christopher Laramee:
(Traduit avec la plume enthousiaste de Geneviève Simard)
Vous connaissez cette joie lorsque vous écoutez FINALEMENT un groupe de musique dont vos amis vous parlent depuis un bon moment et que leur musique vous jette par terre? Mesdames et messieurs, bienvenue dans ce lieu du plaisir, gracieuseté d'un groupe d'Ottawa, THE BAND WHOSE NAME IS A SYMBOL (super nom de plume). Ceux-ci, qui s'autoproclament des rockers « free psych », réussissent un décollage intense qui ressemble à du MAGIC LANTERN avec des mots, mais parsemé de quelques bruyants boogie qui font aussi penser à ETERNAL TAPESTRY. « Neu Sedan » fait beaucoup de chemin pour abandonner la ressemblance aux inspirations ci-dessus. De puissantes spirales abondent, des riffs sub-métal qui vous agrippent par le collet et vous tirent avec force. TBWNIAS ont sorti cinq albums au cours des dernières années, exclusivement sur vinyle, en plus de tout ce qui se trouve sur Bandcamp. Continue TBWNIAS, CONTINUE. Le secret le mieux gardé au Canada? Plus maintenant. En plus, un groupe de musique qui nomme ses chansons « Sask. » et « Blues in Goddamn », c'est comme une flèche pointée directement sur mon cœur froid des Prairies. Ils devraient rencontrer KRANG d'Edmonton et échanger leurs globes oculaires IMMÉDIATEMENT!!!

The Band Whose Name is a Symbol – Berlin, Ont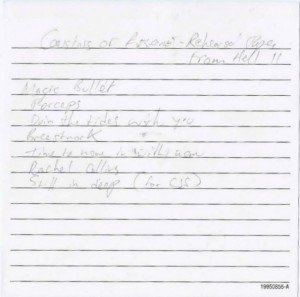 Cousins of Reggae
Rehearsal Tapes From Hell II
(Self Released)
Ottawa, ON
From the summa slamma of Javier Fuentes:
Blake Hargreaves has been a key conspirator in several mind-warping outfits, with an output that extends across all formats. One of his longest running projects is the fuzz-fried collaboration with Liam Thurston as Cousins of Reggae. The latest document to leak out from the duo's cavernous jam space lets us in on an inspired session of wasteland ballads and damaged zones. Stripping away pieces of the exterior chaos to entangle themselves further inside our cerebral vacuum, the disjointed melodies spin into glorious burnout. It sounds like the theme music for an old western taking place in a post-nuclear desert. On those vaporized plains, the only voice you can hear is the phantom sun. A proposition to enter the coolness of a shadowy ledge is rebuffed in favour of a walk back into the heat. Another masterful negotiation of abrasion and abandonment, and a crucial addition to the Cousins' canon.
Cousins of Reggae – Still In Deep (for CJS)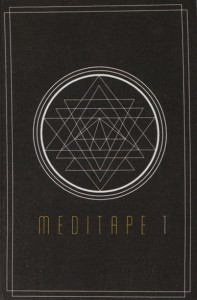 Meditapes
Meditape 1: Disconnection
Ottawa, ON
From the sleepy head of Catherine Debard:
Sometimes some of us are heads on hollow bodies. Our feelings are drained out from our bored, harakiri'd hearts. We are barely ourselves, washed out and evanescent. Floating in an in-between state, we wait for something worth returning to on this earth's strange reality.
Ottawa sound artist Tarek Al-Zand has set down an anchor for all those frail levitating bodies. Listening to the loops of home-made recording textures, tape hiss, profoundly moving guitars, and soothing ethereal voices, roots can dig out of those thick skins and find their way into a lucid meditation. At this exact moment, you think "Fuck my bed" and just lie on the wooden floor, eyes closed, and breathe. Because it is all too important. You suddenly remember how cool it is to live on a planet filled with awesome nature, organic and human mysteries, that every state is ephemera, and that you have a heart.
De la tête endormie de Catherine Debard:
(Traduit par Catherine Debard)
Parfois, certains d'entre nous sommes des têtes posées sur des corps vides. Les émotions s'écoulent de notre coeur las qui s'est fait hara kiri. Nous sommes à peine nous-mêmes, délavés et évanescents. Flottant entre deux états, nous attendons quelque chose qui mérite que nous replongions dans l'étrange réalité de la Terre.
Tarek Al-Zand, artiste sonore d'Ottawa, a jeté une ancre pour ces corps frêles en lévitation. En écoutant ces loops de textures d'enregistrement-maison, hiss de cassette, profondes guitares mouvantes et voix apaisantes éthérées, des racines peuvent transpercer ces peaux coriaces et trouver leur voie vers une méditation lucide. À ce moment précis, vous pensez "Fuck mon lit" et vous vous couchez sur le plancher de bois craquelé, les yeux fermés et vous respirez. Parce que c'est trop important. Vous vous souvenez tout à coup que c'est vraiment génial d'être en vie sur une planète remplie de natureincroyable, de mystères organiques et humains, que chaque état est éphémère et que vous avez un coeur.
Meditapes – Side One [excerpt]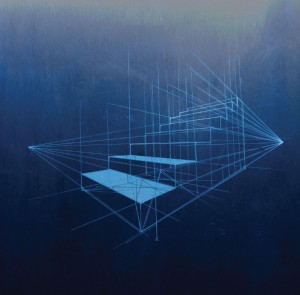 Violence
Erlebnis
Ottawa, ON
From the soiled smock of Nicolas Coutlée:
(Translated by Emily Estelle Belanger)
The needle goes in, the specimen falls still. The experiment can begin. Wielding their instruments of torture with medical precision, our two plastic surgeons of sound, Julie Morand-Ferron and Éric Trottier, patiently carve away the flabby body's flesh, revealing the angular skeleton underneath. The pulse beats on undisturbed, mechanical, amplified and filtered by the EKG. A dark and unsettling halo, the mute shadow of some German mad scientist, hangs over the operating table. While the chilling whine of an electric saw grates on in the rooms of the abandoned hospital, the patient is lost in soft, sedated visions, oblivious to the liberating violence inflicted upon him.
Du sarrau souillé de Nicolas Coutlée:
L'aiguille s'enfonce, le cobaye cesse de remuer. L'expérience peut débuter. Maniant leurs instruments de torture avec une précision chirurgicale, nos deux plasticiens du son, Julie Morand-Ferron et Éric Trottier, dépouillent la carcasse de sa chair flasque, en dévoilent patiemment l'ossature anguleuse. Le pouls demeure imperturbable, machinal, amplifié et filtré par l'électrocardiogramme. Halo sombre et inquiétant, l'ombre muette de quelque savant allemand fou plane sur la table d'opération. Et tandis que retentit le grincement glacial d'une scie électrique dans les salles sombres de l'hôpital abandonné, le patient, lui, se perd dans de douces visions anesthésiantes, inconscient de la violence libératrice qui s'abat sur lui au même instant.
Violence – The Curse of Dimensionality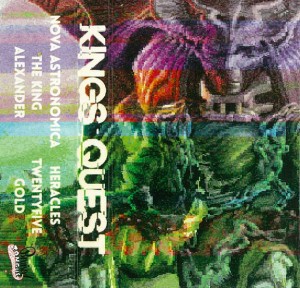 Kings Quest
Kings Quest EP
Ottawa, ON
From the magic mirror of Brendan Lehman:
From the vaunted halls of Bruised Tounge, another rewind-inducing gem rides in with the form of the Kings Quest EP; an homage to the mind of Roberta Williams. A musical sojourn of the fingers behind Ottawa's video game collective Dirty Rectangles, the tape quickly sets sail south from Daventry, riding waves of crisp harmony up through a starry sky. Winds of the dreamiest pop carry our hero forth on the whimsical and dangerous quest to rescue the king. The hero, delving the dungeons of faraway lands for great treasures, is grabbed by infectious guitar hooks that refuse to let go, invading the mind from some distant sonic plane. In the end, the hero — with a king rescued and treasures earned — sails into the sun on a cloud of shimmering noise, waiting eagerly for the next quest.
Du miroir magique de Brendan Lehman:
(Traduit de la figure de proue de Catherine Gaucher)
Du réputé château de Bruised Tounge, nous arrive le EP Kings Quest, un autre joyau entraînant une envie insatiable de rembobiner encore et encore; un hommage à l'esprit de Roberta Williams. Le périple musical de cette bande magnétique, également derrière le collectif de jeux vidéos d'Ottawa Dirty Rectangles, met rapidement le cap vers le sud de Daventry, voguant sur de fraîches harmonies sous un ciel étoilé. Des vents de pop rêveuse transportent notre héros vers une quête périlleuse et dangereuse pour sauver le roi. Fouillant les donjons des terres lointaines à la recherche de grands trésors, notre héros est attrapé par des hooks de guitares contagieux qui refusent de le laisser partir et qui envahissent son esprit depuis des avions soniques. À la fin du récit, le héros, un roi rescapé ainsi que les trésors mérités naviguent sur un nuage chatoyant de bruit en direction d'un soleil brûlant. Le héros attend sa prochaine quête avec impatience.
Babysitter
"Cemetary House"
(Directed by Phil Osborne)
Victoria, ON
From the melted mouth of Johnnie Regalado:
How quickly does the phrase 'face-melting' come to mind when you hear cuts from Babysitter? For the song "Cemetary House", which appears on both Tape 666 and the Monster Treasure split, Ottawa-based artist Phil "Uncle Phil" Osborne has sculpted and layered a video that aesthetically emulates these shredders' ability to mush your mind. That mask is probably what you looked like the first time you saw Babysitter live.
De la bouche fondue de Johnnie Regalado:
(Traduit par la fonte des glaces de Julie Forget)
À quelle vitesse est-ce que l'expression « face-melting » vient à l'esprit, lors de l'écoute d'extraits sonores de Babysitter ? Pour la chanson « Cemetary House », qui apparaît sur Tape 666 ainsi que sur le split Monster Treasure, Phil « Uncle Phil » Osborne, artiste établi à Ottawa, a sculpté et superposé en strates d'images une vidéo dont l'esthétique imite l'aptitude de ces destructeurs de son à mettre votre esprit en bouillie. Ce masque est probablement ce à quoi vous ressembliez après votre première présence à un show de Babysitter.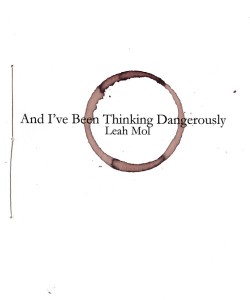 And I've Been Thinking Dangerously
Written by Leah Mol
Ottawa, ON
From the irreconcilable wrinkles of Joshua Robinson:
Housed in the 15 pages of And I've Been Thinking Dangerously by Leah Mol are the 'Certainties', 'Apprehensions', and 'Successions' of aging; personal accounts of the psychological struggles often associated with battling the realities of our maturation. Our self-awareness, drastically influenced by our living in a social context, is framed by Mol as being the culmination of our struggles to reconcile the irreconcilable wrinkles that crack our skin and the earth-shattering trembles of the uncertainties that masquerade as a truer sense of our self-concept.
How do we maintain our sense of place and significance in the paradoxical climate of life's many struggles? Love and loneliness; irony pirouetting as grand truth; beautiful memories giving way to the anxieties spurned by hindsight… Perhaps this search for answers, for the spirit of the actualizing and affirming self, holds the solace to Mol's poignant foray into the subjective experiencing of the human condition, of being called to answer life's grand challenges while simultaneously yearning to search out and rekindle the majesty of our youth. Mol's challenge to us is to embrace this fluid self, to harmonize our inner and outer worlds, to occupy that middle ground that constitutes life in all of its spider web trappings and bright colours.
Des rides irréconciliables de Joshua Robinson:
(Traduit par les pièges en toiles d'araignées de Hugo Hyart)
Au fil des 15 pages de And I've Been Thinking Dangerously de Leah Mol se succèdent «Certitudes », « Appréhensions » et « Successions » à propos du vieillissement ainsi qu'une série de comptes-rendus personnels sur les combats psychologiques souvent associés à notre lutte contre notre propre maturation. Notre conscience de soi, en grande partie influencée par notre contexte social, est définie par Mol comme étant le point culminant de nos luttes visant à réconcilier les irréconciliables rides qui creusent notre peau et les stupéfiants tremblements d'incertitudes qui passent pour une image de soi plus vraie.
Comment maintenir notre besoin de prendre place et de faire sens dans le climat paradoxal des nombreux combats de la vie? L'amour et la solitude; l'ironie qui par des pirouettes se fait passer pour la vérité vraie; de beaux souvenirs qui cèdent place avec le recul à l'anxiété… Peut-être cette quête de réponses, de l'esprit s'affirmant et se réinventant, tient lieu de soulagement à la poignante excursion de Mol dans l'expérience subjective de la condition humaine, d'être appelé à répondre aux grandes épreuves de la vie, tout en se languissant de rechercher et de retrouver la majesté de notre jeunesse. Le défi que nous lance Mol est d'embrasser ce soi si fluide, d'harmoniser nos mondes intérieurs et extérieurs, d'occuper l'espace intermédiaire qui constitue la vie dans tous ses pièges en toiles d'araignée et ses couleurs éclatantes.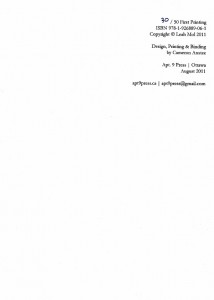 From the wire dreams of Jesse Locke:
As a hands-on conduit for sonic exploration, the modular synth reigns supreme. Ontario's Hugh Le Caine is an unheralded pioneer in this universe, with early voltage-controlled instruments such as the Sackbut — ramshackle as they may seem today — paving the way for Moog, Buchla and their ilk. In this short documentary, modern-day modular heads Edmund Eagan, Arturo "Hard Science" Brisindi and Mike "Muffwiggler" McGrath offer a tour through Le Caine's historic prototypes, now in the possession of the National Museum of Science and Technology. Director Travis Boisvenue and producer Ryan Gibson offer an engrossing introduction to the eccentric innovator, every bit as playful as his dripsody in blue.
Des rêves de fil de Jesse Locke:
(Traduit par Catherine Debard)
À titre de canal d'exploration sonique tangible, le synthétiseur modulaire règne en maître. L'Ontarien Hugh Le Caine est un pionnier méconnu de cet univers : ses premiers prototypes commandés par tension, tel que le Sackbut, ont pavé la voie pour Moog, Buchla et leurs semblables, aussi déglingués peuvent-ils être aujourd'hui. Dans ce court-métrage, les têtes modulaires d'aujourd'hui, Edmund Eagan, Arturo « Hard Science » Brisindi et Mike « Muffwiggler » McGrath, nous font une visite guidée historique des machines de Le Caine, propriétés maintenant du Musée des sciences et de la technologie du Canada. Le réalisateur Travis Boisvenue et le producteur Ryan Gibson nous offrent une introduction passionnante au monde de cet inventeur excentrique, tout aussi ludique que sa Dripsody in blue.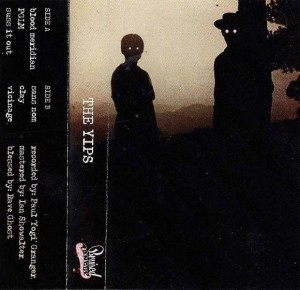 The Yips
The Yips EP
Ottawa, ON
From the nighttime dangers of Jenya Doudareva:
The Yips are howling like a pack of wolves, piercing the cold night air. It's nighttime in a remote village surrounded by dense dark woods, the kind of night when you can't shoo the menace away. This six-song EP is what makes the hair on the back of the villagers' necks stand. The older folk might even be telling their younglings that the Yips hide under their beds at night, ready to pounce if they misbehave.
Opener "Blood Meridian" starts with spine-chilling riffs and grows into something fiery and vibrant. "Clay", "PGLM", and "Sans Nom" bring forth rhythm and noise as menacing and fascinating as nature itself. "Suss it Out" reminds us that spending one's life fearful of the outside world is a dull affair, and perhaps embracing the nighttime dangers is worth it. Finally, "Vicinage", a soulful and eerie tale of loneliness and heartbreak, contrasts the EP's initial ghostliness with touching humanity.
Les cauchemars diurnes de Jenya Doudareva:
(Traduit par les cauchemars diurnes de Catherine Gaucher)
The Yips hurlent comme une meute de loups, perçant l'air froid de la nuit. C'est la nuit dans un village isolé, entouré d'une épaisse forêt, le genre de nuit durant laquelle il est impossible de chasser la menace au loin. Si les villageois ont les cheveux dressés sur la tête, ce EP de six titres en est la cause. Les aînés pourraient même faire croire aux jeunes enfants qu'une fois la nuit venue, les Yips se cachent sous leur lit, prêts à bondir s'ils se méconduisent.
En ouverture, "Blood Meridian" débute avec des accords vous glaçant l'échine et progresse avec fougue et dynamisme. "Clay", "PGLM" et "Sans Nom" mettent de l'avant des rythmes et des bruits aussi menaçants et fascinants que la nature elle-même. "Suss it Out" nous rappelle que passer son existence à craindre le monde extérieur est une terne affaire et peut-être qu'embrasser les dangers nocturnes en vaut la peine. Finalement, "Vicinage" , un mélancolique et étrange conte dépeignant solitude et chagrin, contraste avec l'initial aspect spectral de ce EP par une touche d'humanité.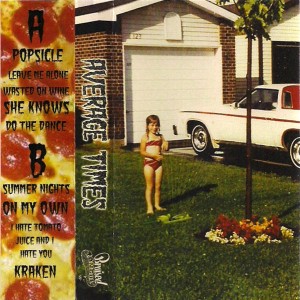 Average Times
Average Times
Ottawa, ON
From the exceedingly average Alex Hamlyn:
The first band in a while to provide the audio equivalent of a devious and mischievous 12-yr-old with a slingshot, Average Times have already set our capital's bruised tongues a wagging. Fuzz-laden guitars buzz like nectar-drunk honey bees, leading the charge with horn-like riffs until the rest of the band is ready to dogpile on you with hook after hook. If you can't be with the cool dude or dudette you like, your boss is a jerk and the pizza you ordered is late, pop this on and turn it all the way up. Day improved 100%, guaranteed — just be prepared for the sugar high you'll be feeling all week.
Du démesurément moyen Alex Hamlyn:
(Traduit par les 400 coups de Nicolas Coutlée)
Premier groupe depuis un bail à nous offrir l'équivalent audio d'un vilain garnement de douze ans armé d'une fronde, Average Times a déjà commencé à faire parler les langues meurtries de la capitale. Les guitares croulantes de fuzz bourdonnent comme des abeilles ivres de nectar et mènent la charge avec leurs riffs aux allures de cor tandis que le reste du groupe s'apprête à fondre sur vous mélodie après mélodie. Si vous ne pouvez être avec ce gars ou cette fille qui vous plait, que votre patron vous fait chier et que le livreur de pizza est en retard, faites tourner ce disque et montez le volume au max. Votre journée s'améliorera de 100%, c'est garanti — préparez-vous seulement à être sur un high de sucre toute la semaine.
---