Tag: ottawa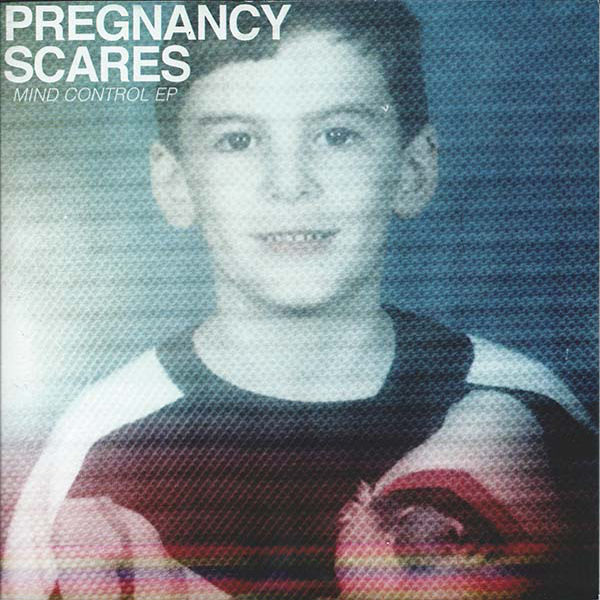 Howled chants hypnotize, rotting into feedback frequencies of confusion. Is the incessant pounding real or just inside your head? It doesn't matter — anger always takes the bait. Childhood shame rises out the chest, twists for air and collapses into decay upon the expulsion, a doom spit nightmare of desperate delirium. Memories snap their teeth before going in for another bite, proving cerebral hysteria breeds from the inside out. Death may be a terror, but modern life is war.
Pregnancy Scares
Mind Control EP
Ottawa, ON
From the turmoiled talons of Alanna Yaraskavitch:
Howled chants hypnotize, rotting into feedback frequencies of confusion. Is the incessant pounding real or just inside your head? It doesn't matter — anger always takes the bait. Childhood shame rises out the chest, twists for air and collapses into decay upon the expulsion, a doom spit nightmare of desperate delirium. Memories snap their teeth before going in for another bite, proving cerebral hysteria breeds from the inside out. Death may be a terror, but modern life is war.
Des serres tourmentées d'Alanna Yaraskavitch:
(Traduit par Jessica Grenier)
Des chants hurlés, hypnotisants, qui se décomposent en des fréquences confuses de feedback. Et ce martèlement incessant, il est réel ou juste dans ma tête? Ça ne changerait rien – la colère réagit toujours. De vieilles hontes d'enfance sortent des poitrines, serpentant en cherchant de l'air avant de se transformer en pourriture une fois expulsées : le tragique crachat cauchemardesque d'un délire désespéré. Les souvenirs font claquer leurs mâchoires avant d'arracher une autre bouchée, preuve que l'hystérie cérébrale nait de l'intérieur. La mort soulève peut-être la terreur, mais la vie moderne, c'est la guerre.

Pregnancy Scares – Master Race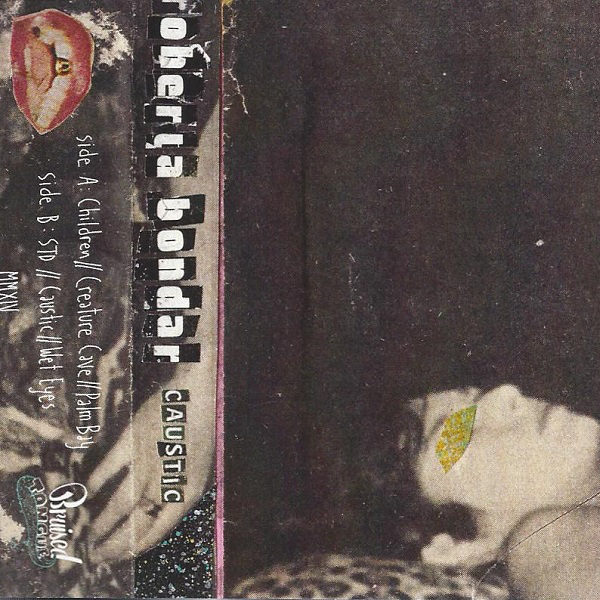 Two EPs in, Roberta Bondar have already fused nimble noise-rock with an experimental edge. Their latest, Caustic, grinds alt-rock and shoegaze into a sludgy pulp. "Children" opens with a string section that makes Bernard Hermann sound as serene as Brian Eno and features a repeated, mantra-like chorus. "Palm Bay" skids to a near-halt before rising from the dead midway through. The title track feels like a midnight trip through the Greenbelt on peyote. Caustic may slow down Roberta Bondar's sound, but damn if it won't stop your heart as well.
Roberta Bondar
Caustic
Ottawa, ON
From the midnight trip of Matthew Blenkarn:
Two EPs in, Roberta Bondar have already fused nimble noise-rock with an experimental edge. Their latest, Caustic, grinds alt-rock and shoegaze into a sludgy pulp. "Children" opens with a string section that makes Bernard Hermann sound as serene as Brian Eno and features a repeated, mantra-like chorus. "Palm Bay" skids to a near-halt before rising from the dead midway through. The title track feels like a midnight trip through the Greenbelt on peyote. Caustic may slow down Roberta Bondar's sound, but damn if it won't stop your heart as well.
De l'excursion nocturne de Matthew Blenkarn:
(Traduit par la nature hallucinogène de Jessica Grenier)
À peine deux albums de faits, et Roberta Bondar ont déjà fusionné le noise rock vif et la marge expérimentale. Leur plus récente sortie, Caustic, réduit du rock alternatif et du shoegaze en un amas boueux. Les cordes du premier morceau « Children » donnent à Bernard Hermann une apparence aussi sereine que Brian Eno; sans parler du refrain répété comme un mantra. « Palm Bay » dérape jusqu'à un arrêt presque complet, puis revient d'entre les morts à mi-chemin. La chanson « Caustic » est comme une excursion nocturne dans la ceinture verte sous l'influence de peyotl. Cet album ralentit peut-être le son de Roberta Bondar, mais il va clairement ralentir votre cœur aussi.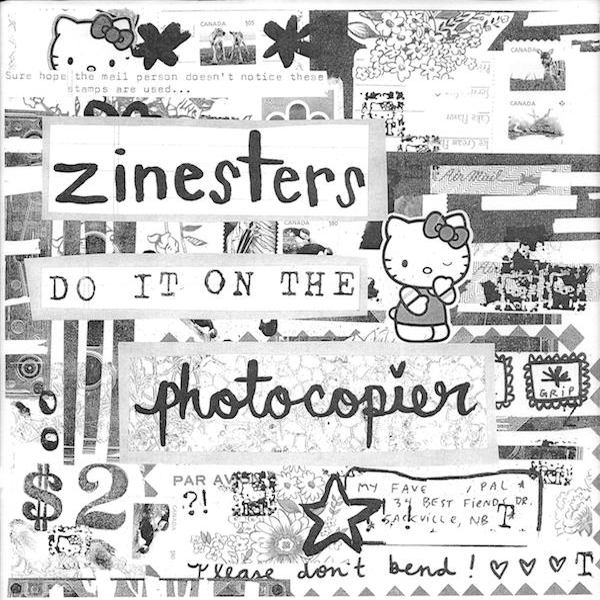 How To Make a Zine
Alanna Yaraskavitch
Ottawa, ON
From the wild 3 AM photocopying break-in of Alanna Yaraskavitch:
Like independent music itself, zines are hard to define but easy to identify. Zines (pronounced "zeens") are tiny, homemade magazines reproduced with the aid of a photocopier. There are two basic categories: fanzines (short for "fan magazine") and perzines (short for "personal zine"). However, these categories certainly do not cover everything, as the magical world of self-publishing also includes mini comics, newsletters, chapbooks and much, much more.
So why would someone make a zine if they are essentially photocopied versions of a tumblr dashboard? Common reasons for zine-love include that they are personal, uncensored and portable. I like making zines because I find them therapeutic to write and read, as well as a great excuse to send and receive snail mail. Intimacy and effort ("Someone went through the trouble to actually MAKE this?!") are also often stated as reasons as to why someone would go through the trouble of zine-ing.
Sometimes it is a hassle to actually create a zine, but as with anything, the effort is always worth the reward. Nothing is more fun to do than hold a stack of freshly-photocopied zines in your hands while dancing in your bedroom to The Courtneys screaming, "I MADE THIS! I DID IT!"
So stop putting it off! It's time to finish that years-in-the-making zine once and for all. Only four steps stand between you and your creation: content creation, aesthetic considerations, assembly and distribution.
1. CREATING CONTENT:
A. ON YOUR OWN:
The biggest question that comes with making a zine is the first one that you are going to have to answer: What is this zine going to be about? As a medium, zines work the best when they are about something close to the author and that the author cares about. Even if you think that what you are writing about is mundane or average, chances are that other people have similar experiences and would love to read about your thoughts and experiences.
This bring us to an important note: Sometimes it is hard to write about yourself without feeling like a narcissistic asshole. "Why would anyone even START to CARE about a personal anecdote from my childhood?!" I hear you screaming. "Isn't that self-indulgent?"
No! Well, maybe. Still, it is key to abandon that idea before you start creating. As William Zinnser writes in On Writing Well, "Writing is an act of ego, and you might as well admit it. Use its energy to keep yourself going."
B. ZINE TEAM:
Whether it's a split issue with a friend or a large compilation work with some vague scene acquaintances, there are some extra precautions to take regarding content if you are working with other people. When there's more than one person on the zine team, the number one tip is to not make any assumptions.
First off, do not assume that they are okay with their real name being published with their piece, especially if they are writing about a personal or sensitive topic. Moreover, make sure to always ASK before changing or even rearranging what someone else has written.
Another important thing to consider is that with a lot of people on one project, it is incredibly likely that some will not follow through on their commitment. Set deadlines frivolously early. It might feel dumb to tell people you need material two weeks or even a month before you actually do, but this allows a good margin for any (inevitably) late submissions. You will thank yourself for doing this later on!
<<< read more >>>
2. AESTHETIC:
A. THIS IS THE FUN PART:
Now that the content is done, it's time to make something that looks good. First of all, you need to decide what size your zine is going to be. Is it going to be quarter-size, half-size or just made with one page? Half-size, a standard piece of paper folded in two, is the easiest to start. However, you can get more bang for your buck by folding it once more and going for quarter-size, a format that is also easier to mail out later on. Next, it is good to think about how the content is going to be formatted. Will the text be written out on a typewriter, handwritten or typed on a computer? Are you using any images? If so, will they be drawings, photographs or cut-outs? The great part about zines is that this is all your call.
B. WATCH OUT:
Still, it's important to realize that you are going to be reproducing whatever you make on a photocopier, which holds some limitations. For example, it is likely that your zine, especially your first one, is going to be in black and white (colour copies are an expensive, and present their own kind of hassle best left to your later issues, as you become more experienced).
With black and white copies, some colours (like yellow) don't copy into grey tones, and pencil marks (especially light shading) don't photocopy well. Given this, it's a good idea to do a test run at the photocopier early on. Check in advance that whatever supplies you will be using are going to translate like you want them to when copied.
And whatever size, shape or shade of your zine, ALWAYS (ALWAYS!) leave margins of at least half a centimetre, if not more. You have spent all this time formatting words and images – it is a horrible feeling to arrive at the photocopier only to realize that the end of every sentence gets cut off during printing.
3. ASSEMBLY:
Now that you have written, drawn and formatted your zine, it is time to reproduce them for the masses. Photocopiers are pretty temperamental beasts, but they can easily be tamed with a little bit of know-how. There are two ways to go about copying: paying and not paying.
A. PAYING:
If you are paying for copies, go to a copy shop and ask someone to show you how to use the photocopier before wasting all of your allowance trying to make double-sided copies on your own. The staff is there to show you how to do this. Do not be afraid that they are looking at what you made and judging you about it. They are not! The staff help people make copies all day. It's their job.
B. NOT PAYING:
On the other hand, maybe you work in an office. Perhaps you're a student with access to a photocopier on-campus. You may have parents, friends, relatives, and they may have photocopiers, and you may just be in luck. Whatever the case, you have an IN to make your zine for free. Feel no guilt when copying without coin and continue in the footsteps of many a punk as fuck zinester before you.
N.B.: If you get fired because you stole your boss' keys and hosted a wild 3 AM photocopying break-in, don't blame me. You're going to have to decide how you want to make your copies on your own, so I wish you best of luck on that one.
C. METAL DOWN THE MIDDLE (STAPLING):
Once you make your copies you will need to assemble them. Most people staple all of the pages together in the middle, but I've seen zines held together by sewn thread, paper clips and even bobby pins. If you go for the stapling route, your pages will probably be too wide for the average stapler to reach the middle. Hence, you will need one of my favourite pieces of office supplies… the long-armed stapler! These can be purchased for about $40, or you can use the one at the copy shop.
4. DISTRIBUTION
You did it! You made a zine! Now that you've held a bunch in your sweaty palms while simultaneously shimmying to "Lost Boys", it's time to get your work out there.
A. PAYING THE PRICE:
Like all art, one way to distribute your creation is to force people to pay for it. A good rule of thumb when it comes to pricing zines is to charge whatever it cost you to photocopy one issue, then doubled and rounded to the nearest 50 cents or dollar. For example, the first issue of my perzine, Finale 95, cost $0.72 to photocopy, so I charged $2 for it.
But where do you sell your zines now that you have priced them? The answer is to look around in your city. Is there an independent publishing fair? A punk flea market? A craft and zine sale? Table at them if you feel comfortable!
Another way is to approach a zine distro and ask if they'll consider your zine. In Ottawa, there are two zine racks run by Lily Pepper. She buys my zine for half of what she sells it for. I don't make a lot of money this way, but I don't lose any money either.
B. GIVING IT AWAY:
Besides, the point of zines has never been to make money in the first place. In Ottawa, there is another way I get my creations out to the world: at the zine-off!
The Ottawa Zine-Off is a small event that occurs every six months for local writers and illustrators get together. Everyone makes something for the event, then trades with each other. This has been essential to the growth of the city's zine scene and is an awesome way to meet new people who don't go to shows.
However, you don't need to organize a zine-off to give away your work (but wouldn't it be cool if you did?!) You can leave your zine free for the taking at record stores, vintage stores, movie theatres, at the dentist's office, on the bus… who knows who will pick it up?
END NOTES:
Don't forget that it's okay if your first zine doesn't live up to all of your expectations or if something goes wrong while you're making it. In fact, given the medium, that's actually normal. Zines exist as a process of growing as an artist, writer and creative, a tool you can use to develop your skills, as well as yourself as a living, breathing human person! Zines are a weapon the size of your heart, so keep writing and keep copying.
Alanna Yaraskavitch is a second year journalism student at Carleton University who has been making zines under the name Alanna Why for the past four years. She has written many titles including Backwaves, a fanzine about Richard Simmons, and Scoopin' Times, a comic zine about working in an ice-cream parlour. Currently, she writes a perzine called Finale 95, wherein which she explores post-secondary misadventures, friendship and existential crises prompted by power-pop.
Des folles entrées par effraction à 3h du matin pour se servir du photocopieur d'Alanna Yaraskavitch:
(Traduit par Hugo Hyart)
Tout comme la musique indépendante, les zines sont difficiles à définir, mais faciles à identifier. Les zines (prononcé « tzine ») sont de tout petits magazines faits maison reproduits à l'aide d'un photocopieur. Il y a deux catégories de base : les fanzines (abréviation de « fan magazine ») et les perzines (abréviation de personal zine). Toutefois, ces deux catégories ne couvrent certainement pas tout, puisque le monde magique de l'autoédition comprend aussi les mini bandes dessinées, les bulletins d'information, les chapbooks (de petits livres qui contiennent des contes, des poèmes, des ballades, etc.) et beaucoup plus encore.
Alors, pourquoi faire un zine si ce ne sont essentiellement que des versions photocopiées d'un tableau de bord tumblr ? Le fait qu'ils soient personnels, non censurés et faciles à transporter comptent parmi les raisons les plus courantes pour lesquelles on aime les zines. J'aime faire des zines, car je les trouve leur rédaction et leur lecture thérapeutiques, en plus, ils constituent une superbe excuse pour entretenir des correspondances papier. L'intimité et l'effort qu'ils ont demandés (« Quelqu'un s'est vraiment donné la peine de FABRIQUER ça ?! ») sont aussi souvent évoqués comme raisons pour lesquelles quelqu'un irait s'embêter de faire et de lire des zines.
Parfois, c'est une corvée de passer du temps à créer un zine, mais comme avec toute chose, l'effort est toujours récompensé. Rien n'est plus amusant que de tenir une pile de zines fraîchement photocopiés entre ses mains en dansant dans sa chambre au rythme des Courtneys en criant : « JE L'AI FAIT! J'AI FAIT ÇA! »
Alors arrêtez de remettre à plus tard! Il est temps de finir de créer ces zines commencés il y a des années une bonne fois pour toutes. Il n'y a que quatre étapes entre vous et votre œuvre : la création du contenu, les considérations esthétiques, l'assemblage et la distribution.
1. CRÉER UN CONTENU :
A. CRÉER SEUL :
La plus grande question, et la première, à laquelle vous devez répondre lorsque vous décidez de créer un zine : de quoi parlera le zine? Comme média, les zines fonctionnent mieux quand ils traitent d'un sujet qui touche l'auteur et qui l'intéresse. Même si vous pensez que ce dont vous parlez est banal ou ordinaire, il existe probablement d'autres gens ayant des expériences similaires qui adoreraient lire à propos vos idées et vos expériences.
Ce qui nous amène à une remarque importante : parfois, il est difficile d'écrire à propos de soi sans se sentir comme un connard ou une connasse narcissique. « Pourquoi est-ce que quelqu'un aurait ne serait-ce qu'un DÉBUT d'INTÉRÊT pour une anecdote personnelle tirée de mon enfance ?! » Je vous entends crier: « N'est-ce pas de la complaisance envers soi-même ? ».
Non! Enfin, peut-être. Il n'en reste pas moins qu'il est primordial d'abandonner cette idée avant de commencer à créer. Comme William Zinsser l'a écrit dans On Writing Well, « Écrire est un acte d'ego, et vous êtes aussi bien de le reconnaître. Utilisez son énergie pour continuer à vous porter. »
B. ZINER EN ÉQUIPE :
Que ce soit un numéro partagé avec un ami ou un vaste travail de compilation regroupant de vagues connaissances d'une même scène, il y a quelques précautions supplémentaires à prendre quant au contenu lorsque vous travaillez avec d'autres gens. Quand plusieurs personnes participent à un zine, le premier conseil est de ne présumer de rien.
Tout d'abord, ne tenez pas pour acquis qu'ils sont d'accord pour que leur vrai nom soit publié avec leur oeuvre, surtout s'ils écrivent sur un sujet sensible ou personnel. Plus encore, soyez sûr de toujours DEMANDER avant de changer ou de réarranger ce que quelqu'un a écrit.
Une autre chose importante à considérer est que lorsque beaucoup de gens contribuent à un projet, il est plus que probable que certains ne termineront pas ce qu'ils avaient annoncé. Fixez des dates butoirs frivolement tôt. Cela peut paraître idiot de dire aux gens que vous avez besoin des documents deux semaines ou un mois avant que vous en ayez réellement besoin, mais cela laisse une bonne marge pour toute oeuvre remise (inévitablement) en retard. Vous serez heureux de l'avoir fait plus tard !
<<< la suite >>>
2. L'ESTHÉTIQUE :
A. C'EST LA PARTIE AMUSANTE :
Maintenant que le contenu est réalisé, c'est le moment de faire quelque chose de joli. Tout d'abord, vous devrez décider quelle taille aura votre zine. Un quart de page, une demi-page ou une page entière ? Le plus facile pour débuter est de choisir une demi-page soit une page standard pliée en deux. Toutefois, vous pourrez en avoir plus pour votre argent en le pliant une fois de plus et en travaillant sur un format quart de page qui sera aussi plus facile à envoyer par la poste plus tard. Ensuite, il est bon de savoir de quelle façon le contenu sera formaté. Le texte sera-t-il écrit à la machine à écrire, à la main ou à l'ordinateur? Utiliserez-vous des images? Si tel est le cas, est-ce que ce seront des dessins, des photographies ou des images découpées? Ce qui est génial avec les zines : c'est votre décision.
B. PRENEZ GARDE :
Quoi qu'il en soit, il est important de garder à l'esprit que vous reproduirez ce que vous faites à l'aide d'un photocopieur, ce qui n'est pas sans contraintes. Par exemple, il est probable que votre zine, à plus forte raison votre premier, soit en noir et blanc (les copies couleurs coûtent cher et comportent leurs propres lots d'ennuis qu'il vaudrait mieux garder pour vos prochaines parutions, quand vous aurez acquis de l'expérience). Avec les copies en noir et blanc, certaines couleurs (comme le jaune) ne sont pas copiées dans les teintes de gris, et les traits de crayon de bois (surtout s'ils sont pâles) ne se photocopient pas bien. En prenant ça en compte, c'est une bonne idée de faire très tôt un essai au photocopieur. Vérifiez en avance que les fournitures que vous utiliserez répondront à vos attentes une fois copiées.
Et quelle que soit la taille, la forme ou la nuance de votre zine, laissez TOUJOURS (TOUJOURS!) des marges d'au moins ½ cm, sinon plus. Vous avez passé tout ce temps à formater les mots et les images – c'est un sentiment horrible que d'arriver au photocopieur et réaliser que chaque fin de ligne est coupée à l'impression.
3. ASSEMBLAGE :
Maintenant que vous avez écrit, dessiné et formaté votre zine, il est temps de les dupliquer pour les distribuer au peuple. Les photocopieurs sont des bêtes très caractérielles, mais elles peuvent facilement être domptées avec un peu de savoir-faire. Il existe deux façons d'aborder l'impression : payer et ne pas payer.
A. PAYER :
Si vous payez pour photocopier, allez dans un centre de copies et demander à quelqu'un de vous montrer comment fonctionnent les photocopieurs avant d'aller gâcher tout votre argent de poche à essayer de faire des copies recto-verso seul(e). Ne craignez pas qu'ils regardent ce que vous avez fait et qu'ils vous jugent. Ce n'est pas ce qui les intéresse! Ils sont là pour aider les gens à faire des photocopies toute la journée. C'est leur boulot!
B. NE PAS PAYER :
D'un autre côté, peut-être travaillez-vous dans un bureau. Ou êtes-vous un étudiant avec un accès aux photocopieurs du campus. Vous avez peut-être des parents, des amis, une famille élargie, et ils ont peut-être un photocopieur, et ce pourrait bien être votre chance. Peu importe, vous avez un moyen de photocopier vos zines gratuitement. Ne ressentez aucune culpabilité quand vous photocopiez sans payer, et suivez les traces de nombreux zineux et de nombreuses zineuses putainement punk avant vous.
N.B. Si vous êtes viré parce que vous avez volé la clé de votre patron et organisé une folle entrée par effraction à 3 h du matin, ne vous en prenez pas à moi. Vous devez décider seul(e) comment vous voulez faire vos copies, je vous souhaite bien du courage.
C. ATTACHER AU MILIEU (AGRAFAGE) :
Une fois que vous aurez vos photocopies, vous devrez les assembler. La plupart des gens agrafent toutes les pages au milieu, mais j'ai vu des zines retenus par un fil cousu, des trombones ou même des épingles à cheveux. Si vous choisissez l'agrafage, vos pages seront certainement trop larges pour pouvoir atteindre le milieu avec une agrafeuse de base. Vous aurez donc besoin de mon outil de bureau préféré … la grande agrafeuse. Elles se vendent environ 40 $, ou vous pouvez aussi utiliser celle du centre de copies.
4. DISTRIBUTION
C'est fait! Vous avez fait un zine! Maintenant que vous en tenez quelques-uns dans vos mains moites tout en vous trémoussant au son de « Lost Boys », il est temps de distribuer votre oeuvre.
A. EN PAYER LE PRIX
Comme tout art, vous pouvez distribuer vos créations en forçant les gens à payer pour l'avoir. Un bon point de repère pour donner un prix au zine est d'en demander le prix que cela vous a coûté pour photocopier un numéro, de le doubler puis de l'arrondir aux 50 sous ou dollar le plus près. Par exemple, le premier numéro de mon perzine, Finale 95, m'a coûté 0,72 $ à photocopier, donc je demandais 2 $.
Maintenant que vous avez déterminé le prix, où pouvez-vous vendre vos zines? Il suffit de regarder autour de vous. Votre ville tient-elle une foire de la publication indépendante? Un marché aux puces punk? Un salon d'artisanat et de zines? Si vous êtes à l'aise, participez-y!
Vous pouvez aussi approcher un distributeur de zines et lui demander s'il souhaite distribuer le vôtre. À Ottawa, Lily Pepper possède deux présentoirs à zines. Elle achète mes zines pour la moitié du prix de revente. Je ne fais pas beaucoup d'argent de cette façon, mais je n'en perds pas non plus.
B. LE DONNER GRATUITEMENT
De toute façon, le but premier des zines n'a jamais été de faire de l'argent. À Ottawa, il existe une autre façon de mettre mes créations à la disposition de tous : le zine-off!
Le zine-off d'Ottawa est un petit évènement qui se déroule tous les six mois lors duquel les écrivains et les illustrateurs locaux se rencontrent. Tout le monde fait quelque chose pour l'occasion, puis l'échange avec les autres. Cet événement a été essentiel à la croissance de la scène zine de la ville, et c'est un moyen génial de rencontrer de nouvelle personne qui ne vont pas aux concerts.
Toutefois, il n'est pas nécessaire d'organiser un zine-off pour distribuer gratuitement votre travail (mais ne serait-ce pas trop cool si vous le faisiez?!) Vous offrir gratuitement votre zine chez les disquaires, dans les friperies, aux cinémas, chez le dentiste, dans le bus… Qui sait qui le prendra?
NOTES FINALES :
N'oubliez pas qu'il est normal que votre premier zine ne remplisse pas toutes vos attentes ou que quelque chose tourne mal pendant que vous le faites. En fait, étant donné le médium, c'est parfaitement normal. Les zines servent de processus de maturation en tant qu'artiste, qu'écrivain et que créateur. C'est un outil que vous pouvez utiliser pour développer vos compétences, aussi bien que pour vous épanouir en tant que personne vivante. Les zines sont une arme de la taille de votre cœur, alors continuez d'écrire et continuez de copier.
Alanna Yaraskavitch est une étudiante en journalisme de deuxième année à l'Université Carleton. Depuis quatre ans, elle crée des zines sous le pseudo Alanna Why. Elle a écrit pour plusieurs parutions, dont Backwaves, un fanzine sur Richard Simmons, et Scoopin' Times, un zine BD à propos du travail dans un bar laitier. En ce moment, elle écrit un perzine intitulé Finale 95, dans lequel elle explore ses aventures à l'université, ses amitiés et ses crises existentielles suscitées par la power-pop.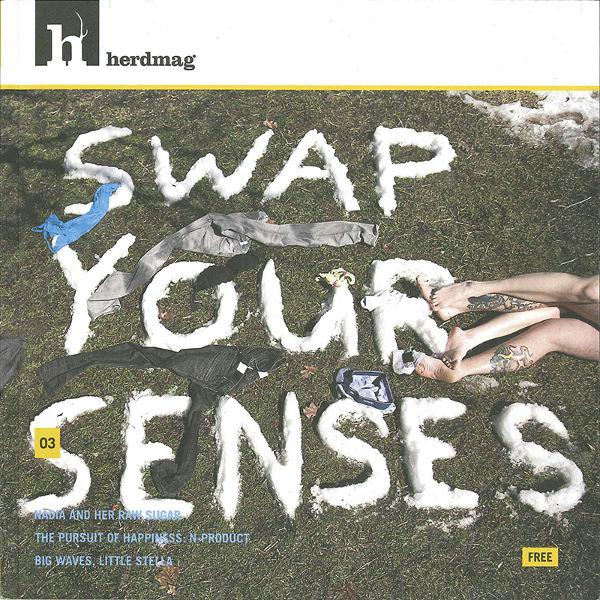 Herd Magazine
Issues 01-03
01: pp. 74 // 02: pp. 82 // 03: pp. 78
glue/adhesive bound
Ottawa, ON
Editor: Stephanie Vicente
From the grassroots of Brian Fauteux:
Communities are built and sustained through documentation, collaboration, participation.
Herdmag, free and published independently on a quarterly basis, begins its inaugural issue with a personal letter that offers itself to the city of Ottawa, its home. Herd is a platform for local cultural institutions, musicians, artists, chefs, and writers to make their presence known. With the turn of each page, the idea that one's creative trajectory must include moving to a larger metropolis (nearby Montreal or Toronto, for instance) is challenged.
"You're not looking hard enough." Here is a vibrant roster of groups and individuals who are making things happen. Locally.
In a gripping story about the closure of a historic downtown nightclub, an onlooker imagines what a typical night during the club's heyday might have been like. Ghosts and figments of the past are recalled alongside the old, discarded carpet that once caught the broken glass of flashbulbs. Herdmag is a collection of these glass shards. Only it is alive and active right now, reflecting, sharing, and documenting cultural activity so that one will never have to wonder about how the city might have looked, sounded, and moved.
Du mouvement Grassroots de Brian Fauteux:
(Traduit par la soif du passé de Louis-Félix Pellerin)
Pour faire rouler une communauté, il faut combiner ces trois choses : documentation, collaboration et participation. Herdmag, un trimestriel indépendant gratuit, ouvre son premier numéro avec une lettre personnelle adressée à sa ville d'origine, Ottawa. Herd est une plateforme sur laquelle des musiciens, des artistes, des chefs cuisiniers, des écrivains et des organismes culturels peuvent se faire connaître. La notion que tout cheminement créatif doit passer par les plus grandes agglomérations (comme Montréal ou Toronto, par exemple) est remise en question à chaque page.
« Tu ne cherches pas assez loin. » Voici un vibrant catalogue d'artistes et de groupes qui font brasser la scène locale. Dans une histoire poignante à propos de la fermeture d'un club du centre-ville, un observateur imagine ce qui devait être une soirée typique lorsque l'établissement était à son apogée. Spectres et bribes du passé sont retrouvés aux côtés du vieux tapis qui a naguère attrapé les fragments d'ampoules cassées. Herdmag est une collection de ces mêmes morceaux de vitre. Contrairement à la vieille bâtisse, le magazine est toujours actif en ce moment, remémorant, partageant et documentant l'activité culturelle pour que personne n'ait plus jamais à se demander de quoi la ville avait l'air dans le temps.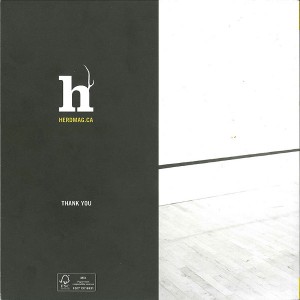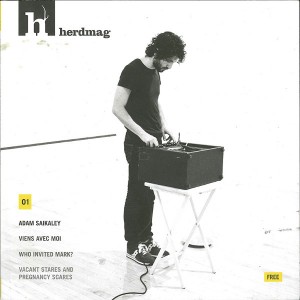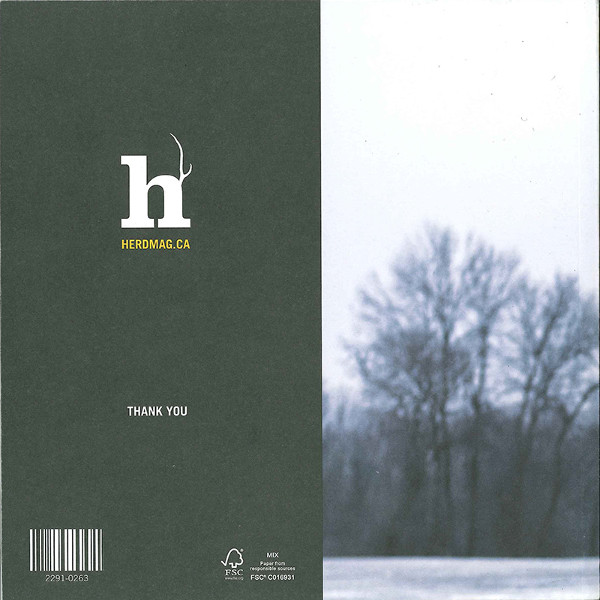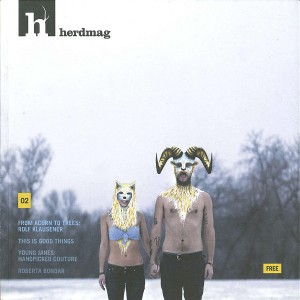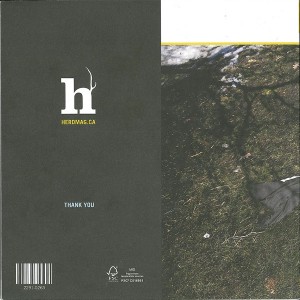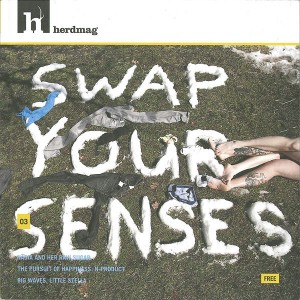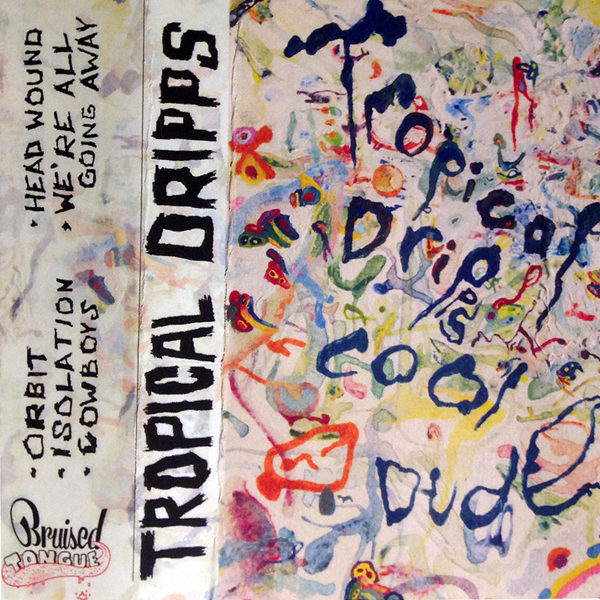 Tropical Dripps
Is Cool Dude
Ottawa, ON
From the existential mind-melt of Ryan Warner:
Bred in the basement. Reared on crazy. Tropical Dripps come on like snot-nosed gunslingers barreling straight into the abyss. The malformed music of Is Cool Dude is low on fidelity but high on everything else. Opener "Orbit" blasts the tape wide open with stabs of squealing guitars and an oppressive dual vocal attack. "Isolation" rides a twisted tropicalia riff before galloping across high lonesome verses and ring-modulated surf solos. The tape's third song "Cowboys" extends the swirling mix of surf, punk and western sounds as well as bolstering lyrical themes found throughout the album:
I met a cowboy / he had no words

He gave me the best advice / I ever heard
Lyrically, Is Cool Dude presents a type of exuberant existentialism; One that posits that the seeking of any real meaning, or, ahem, "truth" in this world is a pursuit of vanity. Rather than wallowing in meaninglessness, the Tropical Dripps rejoice. Closer "We Are All Going Away" pulses exuberantly, repeating the song's title until what is first perceived as an uncomfortable truth mutates into a comforting mantra-like slogan: "Don't worry… is cool dude."
De la déchéance mentale existentielle de Ryan Warner:
(Traduit par l'esprit en crise de Louis-Félix Pellerin)
Conçu au sous-sol. Entretenu dans la folie. Les Tropical Dripps font leur entrée avec l'intensité d'une bande de caïds mal-léchés fonçant à toute vitesse vers l'abysse. La musique malformée de Is Cool Dude contient peu de fidélité, mais déborde de tout le reste. Le morceau d'entrée « Orbit » explose avec des braillements de guitare ainsi qu'une attaque à double voix des plus agressantes. « Isolation » chevauche un riff tropicálien tordu avant de galoper à travers des vers solitaires et des solos de surf modulés en anneau. « Cowboys », la troisième chanson, continue dans la même graine de musique surf, punk et western et contient un bel exemple du genre de paroles encourageantes qu'on retrouve dans le reste de l'album :
I met a cowboy / he had no words

He gave me the best advice / I ever heard
Lyriquement parlant, Is Cool Dude présente un type d'existentialisme exubérant qui suggère que la recherche de tout sens ou, hum, « vérité » en ce bas monde est un acte motivé par la vanité. Au lieu de se morfondre dans l'insignifiance, les Tropical Dripps s'y exultent. Avec chaque répétition de ce passage résonnant avec exubérance, « We Are All Going Away », ce qui est d'abord perçu comme une vérité troublante se transforme en un slogan mantraesque réconfortant : « Don't worry… is cool dude » (T'inquiètes pas man… tout baigne).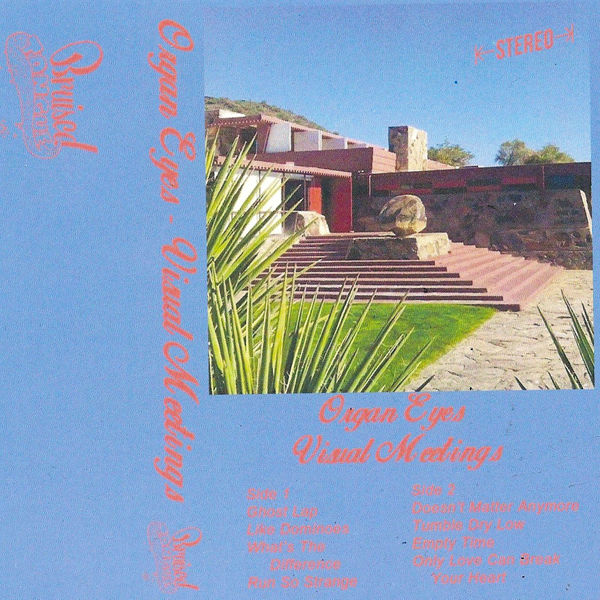 Organ Eyes
Visual Meetings
Ottawa, ON
From the daybreak and eventide of Brian Fauteux:
At dawn, Visual Meetings is perhaps the darkest. Waves of heavy fog, moving in from beyond. Rolling hills break up the heavy, low clouds with a hypnotic rhythm that mirrors our pulse. Yet, there is a warmth that carries through. As it brightens, strings and "Ahs" and an upbeat kick call-and-respond to a poppy psychedelic sensibility. Glowing, growing, spiraling and winding into a room that echoes, revealing its vastness. At dusk voices near and far, past and present, remind us that it's only love that will break our hearts.
De l'aube jusqu'aux dernières lueurs de Brian Fauteux:
(Traduit au rythme de Louis-Félix Pellerin)
C'est aux premières lueurs du jour que Visual Meetings est à son plus sombre. Un épais brouillard surgit de l'au-delà. Un vallon de collines perce les nuages volant à basse altitude avec un rythme hypnotique qui évoque notre pouls. Pourtant, on peut sentir le passage d'une certaine chaleur. Alors que la journée avance, des coups de cordes, des multiples « Ah ! » ainsi qu'un bon coup enjoué réagissent harmoniquement à une sensibilité pop-psychédélique. Le son brille, croît, serpente et se répercute à l'intérieur d'une chambre avec un écho qui révèle son immensité. Au crépuscule, des voix de près et de loin, d'antan et d'aujourd'hui nous rappellent qu'il n'y a que l'amour qui peut nous briser le cœur.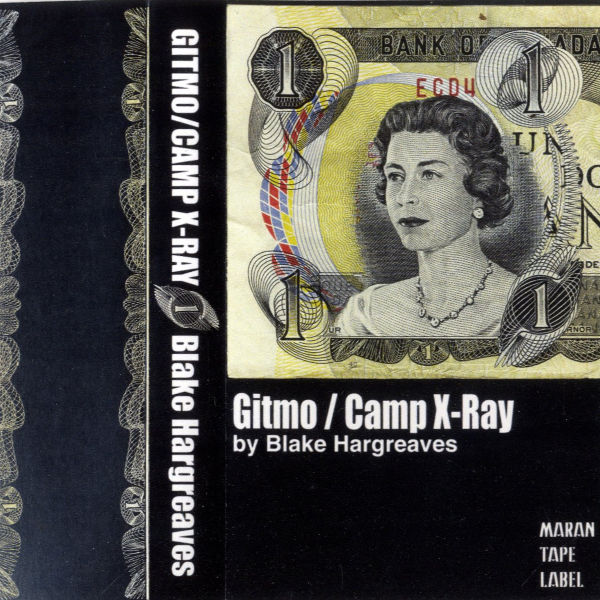 From the rumbling pleasure of Cassilou Landra:
Part one of a four-part series originally released in 2006, Fluorescent Friends and Cool Fest founder Blake Hargreaves' Gitmo / Camp X-Ray initially comes off as a sensory overblown interrogation chamber of heavy smog and venomous gases. Its title suggests a politically-charged affair, and coupled with the music it's easy to boil it down as a linear statement of political intention, but to do this would ignore its rumbling pleasures and deeply humanizing distortion.
As was pointed out by Hargreaves in an interview in AA Records Magazine #2, a hand-made flexi-disc lathe and zine released by artist Alivia Zivich and Nate Young (Wolf Eyes) of Aryan Asshole Records in 2007, "…history seems more like a tragedy, where people's intentions and capabilities and the real good and bad consequences of their interactions are hard to see, especially when they fight… and no one ever really wins the way they hoped to. I guess I could call it a comedy too, but I don't find it easy to be like that with the occurrences of complete fucking brutality in this hilarious comedy of humanity."
This 'comedy of humanity' is Gitmo / Camp X-Ray's modus operandi, with the abrasive, machinistic textures bellowing like a hearty laugh; a product of a human being. In exploring the edges between industrial pomp, pop swagger, and immersive noise, the engine buzz of such tracks as "You can pray once you cooperate 1" and "Brothers in Cuba" seems less to do with political intent and more as "a serenade to the observers and actors the world over who are actually making a real effort to understand and meet the challenges posed by situations like Gitmo, and of course to the people who find themselves there."
Des murmures de plaisirs de Cassilou Landra:
(Traduit par les gaz vénéneux de Raphaël Foisy)
La première partie d'une série de quatre, originalement parue en 2006, Gitmo / Camp X-Ray de Blake Hargreaves, fondateur de Fluorescent Friend et du Cool Fest, se ressent initialement telle une chambre d'interrogation de smog lourd et de gaz vénéneux survoltée de sensations. Le titre suggère un sujet chargé politiquement qui, conjugué à la musique, réduit facilement l'album à une affirmation politique linéaire. Mais ce serait ignorer les murmures de plaisirs et la distorsion profondément humanisante.
Comme l'a souligné Hargreaves dans un entretien dans AA Records Magazine #2, un flexi disc pressé à la main et un zine publié par Alivia Zivich et Nate Young (Wolf Eyes) sur Aryan Assohole Records en 2007, « … L'histoire ressemble davantage à une tragédie où les intentions des gens, leurs capacités et les véritables conséquences de leurs interactions, bonnes ou mauvaises, sont difficiles à voir, surtout quand ils se battent… et personne ne gagne réellement de la manière espérée. J'imagine que je pourrais également qualifier cela de comédie, mais il n'est pas simple de se comporter de cette façon face aux occurrences de brutalité complète dans cette hilarante comédie de l'humanité. »
Cette « comédie de l'humanité » est le modus operandi de Gitmo / Camp X-Ray avec ces textures machinales abrasives mugissant comme un rire franc; un produit d'un être humain. En explorant les frontières entre la splendeur de l'industriel, le maniérisme pop, et le noise immersif, le vrombissement de pièces comme « You can pray once you cooperate 1 » et « Brothers in Cuba » semble moins relié à une intention politique et davantage à « une sérénade aux observateurs et aux acteurs du monde entier qui font un réel effort pour comprendre et répondre aux défis posés par des situations comme Gitmo et bien sûr, à ceux qui se trouvent sur place. »

Black Hargreaves – You can pray once you co-operate 1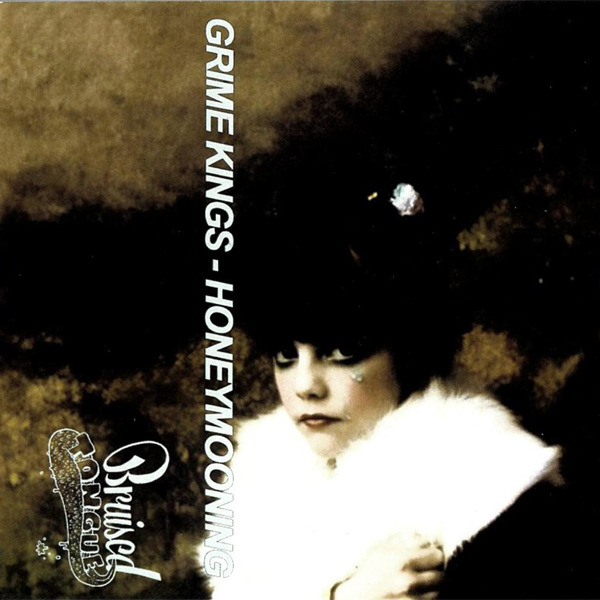 Grime Kings
Honeymooning
Ottawa // Belleville, ON
From the weathered palms of Kim Edgar:
Grime Kings' Honeymooning is a companion when your life is falling apart. This album is a reminder that music can so often be an intimate glimpse into the inner workings of someone's mind. It is cradling a baby bird in your cracked, weathered palms. It's startlingly easy to get swept up into the crescendos of harmonies that fit like interlocking fingers, in the time signatures, phrasing, rhythms which are always in flux. If this album was an object it would be a light-leaked, slightly out of focus photograph; weathered, faded, and a talisman imbued with all your memories. If this album was a colour it would be a tanned leather yellow.
Des paumes usées de Kim Edgar:
(Traduit par le stylo rouillé datant de l'école primaire de Louis-Félix Pellerin de Chevigny)
Honeymooning de Grime Kings est là pour vous lorsque la vie s'effondre. Cet album nous rappelle que bien souvent, la musique est un coup d'œil intime dans l'esprit de quelqu'un. C'est un peu comme de tenir un oisillon au creux de ses paumes usées et craquelées. C'est surprenant à quel point il est facile de se laisser emporter par ce crescendo d'harmonies qui se mêlent à un flux constant de mesures, de phrases et de rythmes, tels des doigts qui s'entrelacent. Si cet album était un objet, ce serait une photo un peu floue avec des fuites de lumière; usée et décolorée, c'est un talisman qui contient tous vos souvenirs. S'il était une couleur, ce serait le jaune cuir tanné.

Grime Kings – One Of Us Is Lonely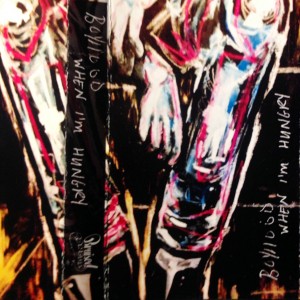 Boyhood
When I'm Hungry
Ottawa, ON
From the tardy basement incubator of Pavan Brar:
An all-encompassing and soothing coziness cloaks the 10-track span of Boyhood's When I'm Hungry. The album unconceals a familiar and intimate kind of bedroom-solipsism, carving out delta waves in static and crafting out lo-fi hummed lullabies. Let ocean-fuzz seep through the pores of your speakers, reverberating through the room in an embryonic warmth that's all too sedating to not become immersed in at once.
De l'incubateur au ralenti de Pavan Brar:
(Traduit par l'encéphale mou de Nicolas Coutlée)
Une douceur enveloppante et curatrice recouvre les dix pièces de Boyhood sur When I'm Hungry. Dévoilant une sorte de solipsisme de chambre à coucher intime et familier, l'album taille dans la statique des ondes delta au son des berceuses lo-fi fredonnées. Laissez le fuzz océanique infiltrer les pores de vos haut-parleurs et se réverbérer à travers la pièce telle une chaleur embryonnaire beaucoup trop anesthésiante pour ne pas vous y noyer aussitôt.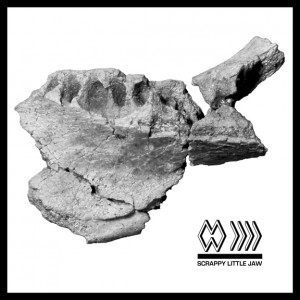 The Band Whose Name is a Symbol
Scrappy Little Jaw
(Self Released)
Ottawa, ON
From the tapered pants of Christopher Laramee:
Y'know the joy you get when you FINALLY check out a band that friends have been telling you to give a listen to for quite a while, then said band blows your head off? Ladies and gents, welcome to the pleasuredome, courtesy of Ottawa's THE BAND WHOSE NAME IS A SYMBOL (wicked nom de plume). These self-described "free psych rockers" achieve intense lift­off akin to some MAGIC LANTERN chatter, albeit sprayed with some noised boogie also reminding me of ETERNAL TAPESTRY. "Neu Sedan" goes quite a way to giving up the ghost as regards to the above inspiration. Hot spiral abounds here, sub­-metal riffage grabbing collars and shaking hard. TBWNIAS have released five albums in the last few years — vinyl only affairs, and whatever's on the Bandcamp. Sizzle away TBWNIAS, SIZZLE AWAY. Canada's best kept secret? No longer, folks. Also, any band that names jamz "Sask." and "Blues in Goddamn" has got their arrows pointed straight at my cold prairie heart. They should get together with Edmo's KRANG and trade eyeballs, NOW!!!
From the tapered pants of Christopher Laramee:
(Traduit avec la plume enthousiaste de Geneviève Simard)
Vous connaissez cette joie lorsque vous écoutez FINALEMENT un groupe de musique dont vos amis vous parlent depuis un bon moment et que leur musique vous jette par terre? Mesdames et messieurs, bienvenue dans ce lieu du plaisir, gracieuseté d'un groupe d'Ottawa, THE BAND WHOSE NAME IS A SYMBOL (super nom de plume). Ceux-ci, qui s'autoproclament des rockers « free psych », réussissent un décollage intense qui ressemble à du MAGIC LANTERN avec des mots, mais parsemé de quelques bruyants boogie qui font aussi penser à ETERNAL TAPESTRY. « Neu Sedan » fait beaucoup de chemin pour abandonner la ressemblance aux inspirations ci-dessus. De puissantes spirales abondent, des riffs sub-métal qui vous agrippent par le collet et vous tirent avec force. TBWNIAS ont sorti cinq albums au cours des dernières années, exclusivement sur vinyle, en plus de tout ce qui se trouve sur Bandcamp. Continue TBWNIAS, CONTINUE. Le secret le mieux gardé au Canada? Plus maintenant. En plus, un groupe de musique qui nomme ses chansons « Sask. » et « Blues in Goddamn », c'est comme une flèche pointée directement sur mon cœur froid des Prairies. Ils devraient rencontrer KRANG d'Edmonton et échanger leurs globes oculaires IMMÉDIATEMENT!!!

The Band Whose Name is a Symbol – Berlin, Ont
---