Tag: midori records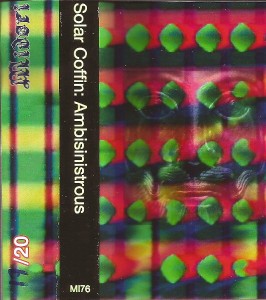 Solar Coffin
Ambisinistrous
Winnipeg, MB
From the time-lapse cocoon of Taylor Burgess:
Clicking in this cassette will be your final nail. It shall shunt you off into deep, lifeless space. No prospect of a return trip. And as you drift further, so does Ambisinistrous; it's a time-lapse cocoon, building the oscillating void around and within you. The duo makes use of all oscillations, creating rapt crowds in their great audiovisual din. It should be no surprise that Fletcher Pratt is half of the droning bliss behind this small-run cassette, with Erik Larsen taking the rest of the knob-twisting to the stars.
Du moment de cocon de Taylor Burgess:
(Traduit par Jacinthe Laplante)
Cliquer sur cette cassette sera votre coup de grâce. Elle vous mènera aux confins d'un espace sans vie. Sans possibilité de retour. Comme vous, Ambisinistrous dérive plus loin, un moment dans un cocon, créant un vide vibrant autour et à l'intérieur de vous. Ce duo utilise toutes les oscillations, captivant les foules avec leur grand boucan audiovisuel. Il n'est pas surprenant que Fletcher Pratt soit derrière le bonheur bourdonnant de cette courte cassette avec Erik Larsen qui nous porte jusqu'aux étoiles en jouant avec les boutons de réglage.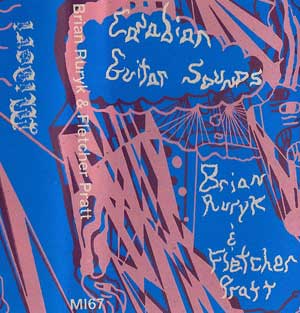 Brian Ruryk and Fletcher Pratt
Canadian Guitar Sounds
Toronto, ON // Winnipeg, MB

Toronto's storied
six-string weakling
and Winnipeg's notorious
nightmare machinist
junk it up on this flesh-crawling collab. The plainspoken title does little to prepare for the onslaught of shreddery lost in the tempest of tape loops and R2-D2 squeals. Bill Orcutt getting down with
Bernard Bonnier
is a start, but this is more like Mutant Concrète.
Audio clip: Adobe Flash Player (version 9 or above) is required to play this audio clip. Download the latest version here. You also need to have JavaScript enabled in your browser.
Brian Ruryk and Fletcher Pratt – Canadian Guitar Sounds [Excerpt]
---