Tag: mammoth cave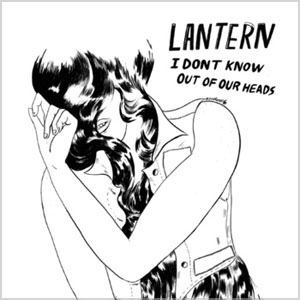 Lantern
I Don't Know b/w Out of Our Heads
Halifax, NS // Montreal, QC // Philadelphia, PA

Cheaper than a
leather jacket
but equally effective at scaring your parents, Lantern's new single takes them to new levels of speaker-blowing oblivion. "I Don't Know" resurfaces from
this summer's tape
on Night People, jabbed with adrenaline by drummer Sophie White's
Maclise
-via-hambone beat. But B-side "Out of Our Heads" is the true highlight—nearly five minutes of relentless bass-as-extra-tom-tom, high pitched smears of sneers, and a final solo of
celestial murk
. For Cuban heels only.
Audio clip: Adobe Flash Player (version 9 or above) is required to play this audio clip. Download the latest version here. You also need to have JavaScript enabled in your browser.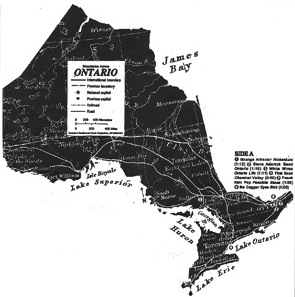 Various Artists
Bloodstains Across Ontario
Various, ON

Mammoth Cave's tribute to my recently adopted province and the third entry in its
Bloodstains series
is a rapid-fire bombardment of ON's finest hook-smugglers. Like speed dating at
Gaga Weekend
. it's a blur of faces young and old that spins by before you can decide if they're a creeper or a keeper. From the scummy sugar rush of Strange Attractors to White Wires' pogo-punk and the starry eyed twee of Peach Kelli Pop, side A spills over with jams. The flip sees Young Guv channel his inner Ric Ocasek, Slim Twig sprout up twice with shred-heavy side-project Tropics, and the unreleased cut from Shadowy Men on a Shadowy Planet jolt from idyllic to jugular-ripping. Of course,
Tonetta
steals the show with effortless elevator sleaze, urging Toronto residents to "clean it up, yeah, all the shit." Wooly bully bang for the buck grip.
Audio clip: Adobe Flash Player (version 9 or above) is required to play this audio clip. Download the latest version here. You also need to have JavaScript enabled in your browser.
Audio clip: Adobe Flash Player (version 9 or above) is required to play this audio clip. Download the latest version here. You also need to have JavaScript enabled in your browser.
Shadowy Men on a Shadowy Planet – Foreign/Aft
Audio clip: Adobe Flash Player (version 9 or above) is required to play this audio clip. Download the latest version here. You also need to have JavaScript enabled in your browser.
Peach Kelli Pop – Panchito Blues
Audio clip: Adobe Flash Player (version 9 or above) is required to play this audio clip. Download the latest version here. You also need to have JavaScript enabled in your browser.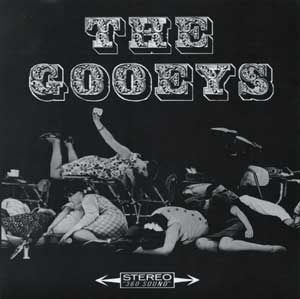 The Gooeys
Scary Black Cherry Nap
Calgary, AB

Craig Storm
and his seasick sailors of the good ship Gooey bob, surf and wooze through puddles of organ-fried carnival candy paisley-pop puke on this cavity-rotting platter from the
Cave
. Moving past deadpan and directly onto dead, Storm sounds like he'd rather be
filing his T4s
than fronting this squadron of subterranean vets, roping in past and present card carrying members of
Gaye Rage
,
Grown Ups
and the mammy slappin'
Topless Mongos
. Whether flipping herky jerk tempos like BBQ burgers or dipping scuba dive keys like the B-52s, this is the dictionary definition of quintessential, kiddies.
Audio clip: Adobe Flash Player (version 9 or above) is required to play this audio clip. Download the latest version here. You also need to have JavaScript enabled in your browser.
The Gooeys – Scary Black Cherry Nap
Audio clip: Adobe Flash Player (version 9 or above) is required to play this audio clip. Download the latest version here. You also need to have JavaScript enabled in your browser.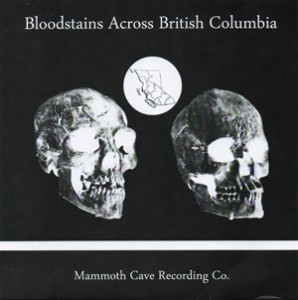 Various Artists
Bloodstains Across British Columbia
Vancouver, BC

In a show of ridiculous viscosity,
Mammoth Cave
have focused massive gravity waves on the festering Vancouver fringe-punk milieu, condensing their sinusoids into ten bursts of minute-long mayhem. It's
the second
in their Bloodstains series of Provincially-minded polaroids capturing this psychotic wave of ADD. Bands include:
Nü Sensae
,
Role Mach
,
White Lung
,
Shearing Pinx
,
AHNA
,
Shipyards
,
Needles//Pins
,
B-Lines
,
Manic Attracts
,
Indian Wars
, Young Mums,
Timecopz
, and
Student/Teacher
. Shred.
Audio clip: Adobe Flash Player (version 9 or above) is required to play this audio clip. Download the latest version here. You also need to have JavaScript enabled in your browser.
Audio clip: Adobe Flash Player (version 9 or above) is required to play this audio clip. Download the latest version here. You also need to have JavaScript enabled in your browser.
Audio clip: Adobe Flash Player (version 9 or above) is required to play this audio clip. Download the latest version here. You also need to have JavaScript enabled in your browser.
Audio clip: Adobe Flash Player (version 9 or above) is required to play this audio clip. Download the latest version here. You also need to have JavaScript enabled in your browser.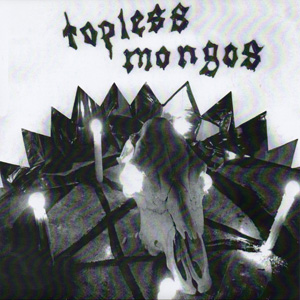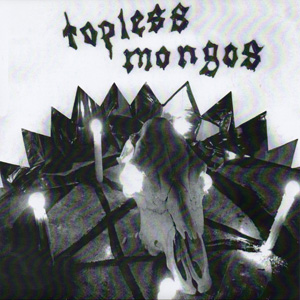 Topless Mongos
Hey My My b/w Theme from Human Centipede
Calgary, AB

These
mongos
mix furiosity, intensity, hooks, throw back and right now! You'll fall in love with your tormentor. Hard boiled garage punk on the A-side, full of slurred, straight-up, brief-and-rough hooks that'll dig deep into your brain. Side B is similarly grimy and tight, with some pervey muffled vox over old-but-new gar(b)agey riffs, with nods to
the sickest flick
. After 60 years, rock 'n roll is still exciting, and you have bands …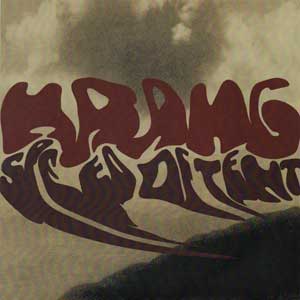 Krang
Speed of Tent b/w Spirit Animal
Edmonton, AB

Fall back into a hazy groove and get enveloped in Krang's tangible smog. Soulful, desolate, driving, soaring, otherworldly – the Edmonton band is in a constant state of psych-flux, but you're able to completely absorb the sonic explosion; picture spiraling through a wormhole while being aurally blasted from all sides. From meandering builds to garage energy to
Sabbath-styled
riffioso, you're always involved and immersed. Krang goes full on, so don't feel this fringe from the fringe – dive deep into these murky waters.
Audio clip: Adobe Flash Player (version 9 or above) is required to play this audio clip. Download the latest version here. You also need to have JavaScript enabled in your browser.
Audio clip: Adobe Flash Player (version 9 or above) is required to play this audio clip. Download the latest version here. You also need to have JavaScript enabled in your browser.


From the nervous sheets of Aaron Levin:
The most realized piece of psy-fi punk shreddery from the camp that put Alberta on the map for fringe aficionados. Burning beyond saturated garage riffery, Get On Your Nerves cauterizes all hemorrhaging power-chord burnitude, thrusting a strychnine hybrid of freejacked harmonies and maximum guitar overdrive straight to the dome. Bask in the crushed pop panoramas bursting through membranes of a nihilist future. Glorious 12″ vinyl LP with a limited clear version. Pass the grippy on the left hand side.
Audio clip: Adobe Flash Player (version 9 or above) is required to play this audio clip. Download the latest version here. You also need to have JavaScript enabled in your browser.
Audio clip: Adobe Flash Player (version 9 or above) is required to play this audio clip. Download the latest version here. You also need to have JavaScript enabled in your browser.


From the meth municipality of Aaron Levin:
The gnarly, driving pop sinusoids of Lethbridge's Fist City have finally entombed themselves in one eternal polyvinyl groove. Their catch drips in the ecstatic distortion flowing through the Southern Albertan hotbed, but it's Hunting You's torrid leads and dualic vocals that make them a beacon for all things adjective-punk. Well tuned heads will be plugged into their ardent pop sensibilities and otherworldly weirdness, levitating their grey matter to the next level of pop consciousness; a B-Side burner you'll be playing in the shower, popping on a two-wheeler, and jamming down main street throwing fists and launching space rockets. Quintessential grippage from the small library of beautiful no-field Canadiana.
Audio clip: Adobe Flash Player (version 9 or above) is required to play this audio clip. Download the latest version here. You also need to have JavaScript enabled in your browser.
Audio clip: Adobe Flash Player (version 9 or above) is required to play this audio clip. Download the latest version here. You also need to have JavaScript enabled in your browser.


From the crime sprees of Aaron Levin:
Southern Alberta's hilly wasteland continues to explode with Fist City's anamorphosis from the pop spectrum. Their twin-shriek phenomenon bludgeons us with searing, distorted leads, rolling bass lines, and a bewildering catchiness that has become their harmonic core. Fist City's debut single is a brilliant sortie from the disempowered rurality of Alberta, charging forward into instant hit and pop satisfaction. Limited to 99-copies and available to Wyrd Alberta patrons exclusively, the 7″ will luckily be rereleased owing to an epic pressing flaw on the b-side. Recommended grippage.
Audio clip: Adobe Flash Player (version 9 or above) is required to play this audio clip. Download the latest version here. You also need to have JavaScript enabled in your browser.


From the berserker barrage of Aaron Levin:
The third offering from berserker garage duo Famines is to-date the best showcase of their ferocious double amp massacre. With Mammoth Cave recording pioneer Paul Lawton at the helm, the low-end split guitar destruction and relentless drum-pattern rampage burst through with brilliant crunch and clamor. The grooves on this 7″ can barely contain Garrett's E-Honda drummery, so play it loud and watch your needle dance to the rhythm of the heat. Sleeve design by Raymond Biesinger. GRIPGRIPGRIP.
Audio clip: Adobe Flash Player (version 9 or above) is required to play this audio clip. Download the latest version here. You also need to have JavaScript enabled in your browser.
Famines – Syllables
Audio clip: Adobe Flash Player (version 9 or above) is required to play this audio clip. Download the latest version here. You also need to have JavaScript enabled in your browser.
Famines – Got Lies If You Want Them
---