Tag: jesse locke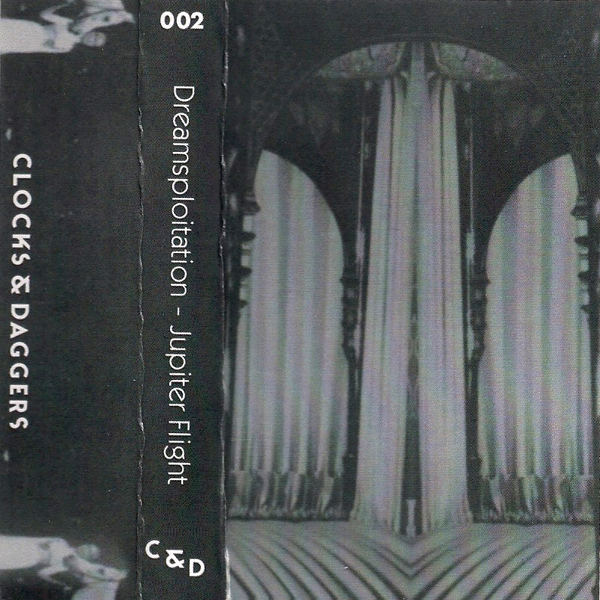 Dreamsploitation // You'll Never Get To Heaven
Jupiter Flight // Adorn
London, ON
From the red strings of Jesse Locke:
The instrumental engine of YNGTH streamed under most radars with Jupiter Flight in 2012. For those who missed this solo voyage from Chuck Blazevic, the crackled atmospherics, battering beatscapes and electronic chimes remain every bit as enveloping as his work with vocalist Alice Hansen. If stray copies still float in the void, reach out and grip.
The star-crossed pair return in spring 2014 with the launch of a label and six new songs of slow-motion breath-stop. Adorn drifts down dreamier rivers with lush, string-draped synth-pop lingering between moments of picturesque pause and Badalamenti lament. The duo adds ghostly and gorgeous ornamentation to any rooms they inhabit.
Des cordes rouges de Jesse Locke:
(Traduit dans un moment de répit par Nicolas Coutlée)
L'engin instrumental de YNGTH est passé sous la plupart des radars en 2012 avec la parution de Jupiter Flight. Pour ceux et celles qui auraient manqué le voyage solo de Chuck Blazevic, ses atmosphères qui crépitent, ses paysages de pulsations et ses carillons électroniques vous envelopperont tout autant que lorsqu'il est accompagné par la chanteuse Alice Hansen. Si quelques copies errantes flottent encore dans le vide, assurez-vous de mettre la main dessus.
Au printemps 2014, le tandem séparé par les étoiles nous revient avec le lancement d'une étiquette et de six nouvelles chansons langoureuses à couper le souffle. Luxuriante pop synthétique drapée de cordes, Adorn s'écoule le long des rivières oniriques, tanguant entre moments de répit pittoresque et lamentations à la Badalamenti. Peu importe la chambre qu'il occupe, le duo la pare de sublimes ornements spectraux.

Dreamsploitation – Jupiter Flight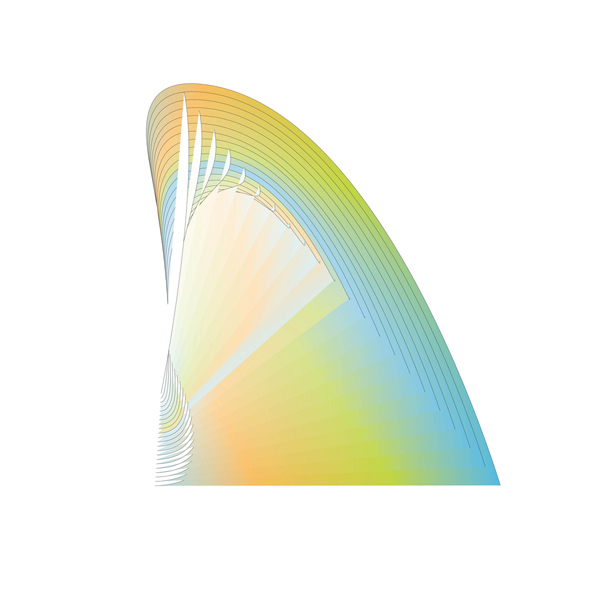 Hobo Cubes
Apex Ideals
(Debacle)
Montréal, QC
From the subtle sleep of Jesse Locke:
WC OG Francesco de Gallo sets down 12 inches of arachnidian mind-massage for the second time in less than a year. The warble-jam haunted house plunderphonics of his Ala Vjiior alias are replaced here with something subtle and formless, yet the lingering neck-chills continue to pulse and bleep from the cracks. "Structures in Stasis" plays Bloody Mary with the circuit-bent Speak & Spell spirit of Cthulhu, summoning the gatekeeper into this rainbow netherzone.
Du sommeil subtil de Jesse Locke:
(Traduit par Peter Particule)
Pour la seconde fois en moins d'un an, Francesco de Gallo – un vieux de la vieille chez Weird Canada – met en place 12 pouces de massage cérébral arachnéen : un album subtil, aux contours flous, dont les frissons persistants le long de l'échine continuent de jaillir des fissures sous forme de bips et de pulsations, et qui vient succéder au magma grésillant qui hante la house-collage possédée de son alias Ala Vjiior. « Structure in Stasis » joue à Bloody Mary avec l'esprit de Dictée Magique trafiquée de Cthulhu, suppliant à genoux le gardien de l'entrée de ces abysses multicolores.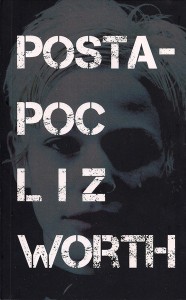 PostApoc
Written by Liz Worth
Toronto, ON
From the left-hand belief of Jesse Locke:
Liz Worth made her name with the Toronto/Hamilton punk tome Treat Me Like Dirt, and this poetic death trip is its illogical extreme. PostApoc's rapidly unraveling plot is seen through the twitching eyes of a suicide pact survivor in the midst of a music scene taking no future to heart. Make-believe bands like Valium serve as stand-ins for the Viletones, Girl for the B-Girls, and Shit Kitten for Simply Saucer, providing the soundtrack for an unholy bender in bizarro Toronto after the world's end.
As the second page explains, "it started with the earth sucking all the moisture back into the ground and replacing it with a slow, quiet dread that hung over the city like a veil." But drought is the least worrisome thing in this dystrophic dystopia run rampant with flesh-eating canines, imploding chests, and the cries of the dead. The first-person narrative switch-turns from an amplification of the unreliable into a drug-addled nightmare; Visions of two-faced praying mantis people, black magic beach houses, and animals with fungus for brains flickering between intervals of true desperation.
Here in the real world, the flip from music journalist to fictional weaver has roots of platinum logic. Liz Worth's blackened prose shoots up from six feet underground, and her characters still get treated like wormfood. Dig!
Des croyances de gauche de Jesse Locke:
(Traduit par les mains effrénées de Joannie Pharand)
Liz Worth s'est fait connaître avec son tome punk en provenance de Toronto/Hamilton Treat Me Like Dirt. Ce présent délire mortel et poétique est extrêmement illogique par rapport à ce tome. Le dénouement rapide de l'intrigue de PostApoc se fait connaître à travers les yeux tremblants d'un survivant à un pacte suicidaire au beau milieu d'une scène musicale ne prenant espoir en aucun futur. Des groupes de musique inventés, tels que « Valium », servent de remplaçants pour the Viletones, Girl pour B-Girls et Shit Kitten pour Simply Saucer. Ils offrent la trame sonore d'une beuverie démente dans la ville bizarroïde de Toronto, après la fin du monde.
Comme la seconde page l'explique, « ça a commençé avec la Terre qui aspira toute l'humidité et la remit dans le sol pour la remplacer par un effroi silencieux suspendu sur la ville comme une voile » (NDT ceci fut traduit par la traductrice de cette critique. Voici le passage en langue originale anglaise : « it started with the earth sucking all the moisture back into the ground and replacing it with a slow, quiet dread that hung over the city like a veil. ») Mais, la sécheresse est la dernière inquiétude à avoir dans cette dystopie dystopique remplie de canidés mangeurs de chair, de poitrines en éclats et de cris de morts. La narration à la première personne oscille entre amplifications invérifiables et cauchemars embrouillés induit par la drogue: des visions de mantes religieuses humaines à deux visages, des maisons ensorcelées au bord de l'eau et des animaux ayant des moisissures en guise de cerveau qui clignote en intervalles de véritable désespoir.
Ici, dans le vrai monde, la journaliste musicale devenue une tisserande de fiction a des racines logiques et exubérantes. La sombre prose de Liz Worth ressort de six pieds sous terre et ses personnages se font encore traiter comme des appâts pour vers de terre. Ça vous plaira !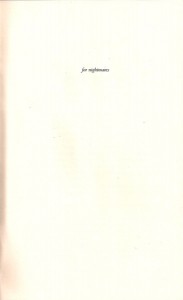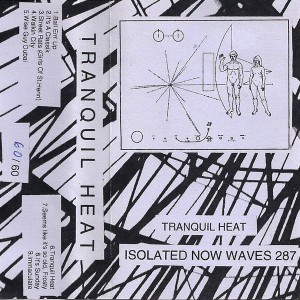 Tranquil Heat
Tranquil Heat
Montréal, QC
From the enigma of Jesse Locke:
This two-way tone zone from Jessica Mensch and Alexander Moskos is the piper song for the street rats of St. Henri. Splitting writing credits and alternating slurred vox, Mensch bashes rap-tap rhythms ranging from speed bag to glam stomp to AK-47, while Moskos mangles glitterbust riffs from the blown-out guts of a Peavey. Funk stab and biker rock radio leakage only add to the disorienting effects of the highly specific headspace this music invites/inhabits. It's a classik.
De l'énigme de Jesse Locke:
(Traduit à coups de couteau par Hugo Hyart)
Cette zone de tonalité à deux sens de Jessica Mensch et d'Alexander Moskos est la flûte enchantée pour les rats des rues de St-Henri. Se partageant l'écriture des morceaux et alternant les voix mal articulées, Mensch cogne des rythmes rêches et percutants qui vont du punching-ball au stomp glam à l'AK-47, tandis que Moskos tabasse des riffs glitterbustesques des entrailles explosées d'un Peavey. Des coups de couteau funk et des fuites de radios de rock motard ne font que contribuer aux effets désorientants de l'espace crânien hautement spécifique où cette musique habite/nous invite. C'est un classik.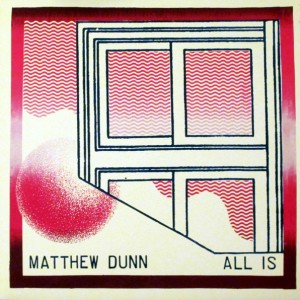 Matthew Dunn
All Is
(Cosmic Range)
Toronto, ON
From the moon gardens of Jesse Locke:
Doc Dunn flings open the shutters of perception on this vinyl-only expedition into the inner cosmos. Switched on to heliocentric frequencies, these home-recorded heatwaves were laid down Portastudio style as the blueprint for future flights in a group incarnation, yet stand alone as a soothing and spellbinding trip. Side A starts off with a series of soft-focus sketches varying in degrees of abstraction, but the pair of longer pieces on the flip is where it really lifts off. The 11-minute "All Is And Ever Will Be" hovers on a hazy organ drone with muted splatter-clatter skimming below the surface like a one-man Flower-Corsano Duo. Closer "Earth House" is the coolest pool of equanimity, layering echoed keys with electronic squelch and a headbobbing rhythm to bring the journey back to Satchidananda.
Des jardins lunaires de Jesse Locke:
(Traduit par la fréquence héliocentrique de Vincent Rondeau)
Doc Dunn ouvre grand les volets de la perception avec ce parcours du cosmos intérieur, disponible exclusivement sur vinyle. Ces vagues de chaleur sonores, réglées sur des fréquences héliocentriques et enregistrées maison à la Portastudio, constituent autant un modèle pour des explorations de groupe futures qu'un voyage en soi, à la fois envoûtant et apaisant. La face A présente une série de vignettes floues à degré d'abstraction variable, mais les deux longues pièces du verso décollent pour de bon. Sur « All Is and Ever Will Be », qui dure 11 minutes, la vibration d'un orgue vaporeux est troublée par le fracas d'une batterie sauvage, évoquant une fusion en un seul être du duo Flower-Corsano. La finale, « Earth House » est un lac frais d'équanimité aux sédiments de claviers réverbérés, de giclements électroniques et de rythmes entraînants qui vous ramènent vers le Satchidananda.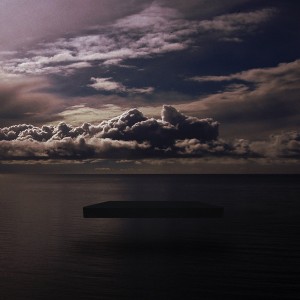 Black Walls
Communion
Toronto, ON
From the PTSD march of Jesse Locke:
Arising from the Paleolithic mist, one-man monolith Ken Reaume (a.k.a. Black Walls) obscures all hints of sunshine and big spins with his latest saga of overcast elegies. This funereal march floats above fields of headstones, stretching blackened tone poems to the point of oblivion. Strong contender for cover art of the year, and Liz Harris-level heartrend.
Du cortège de SSPT de Jesse Locke:
(Traduit dans l'ataraxie par Benoit Arcand)
Émergeant du brouillard paléolithique, l'homme-monolithe Ken Reaume (alias Black Walls) annihile toute possibilité d'ensoleillement ou de big spins avec sa dernière épopée d'oppressantes élégies. Cette marche funèbre plane sur un champ de stèles, étalant ses poèmes enténébrés jusqu'à l'amnésie. Prétendant sérieux au titre de pochette de l'année et porteur d'un accablement digne de Liz Harris.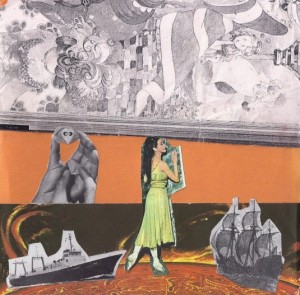 The Pink Noise // Man Made Hill
Split 7"
(Inyrdisk)
Montréal, QC // Toronto, ON
From the cryptic decisions of Jesse Locke:
This split disk surpasses expectations with a pair of institutions in peak form. The three-piece Pink Noise lurches like a post-punk Prometheus juiced on daisy-chained FX pedals as it wobbles askew and utters its first blasé words. The tightly coiled configuration that arrived on Greedy Heart has never sounded more menacing. Meanwhile, the man made mystery known as Randy Gagne shows off his vocal mutations with the burbling kiss and tell "Sweeter Than Ice" and ghoulish synth-pomp falsetto of "Cryptic Decision." Available with risograph cover art or 50 unique collages, like the fever dream scene up above.
Des décisions cryptiques de Jesse Locke:
(Traduit par les contorsions spiraloïdes de Nicolas Coutlée)
Ce split réunissant deux institutions en pleine possession de leurs moyens surpasse toutes les attentes. Le trio Pink Noise titube comme un Prométhée post-punk fou raide de pédales à effets interconnectées, alors qu'il gigote dangereusement et prononce ses premières paroles désenchantées. Les arrangements ficelés serrés de « Greedy Heart » n'auront jamais sonné aussi menaçants. Pendant ce temps, le mystère érigé de main d'homme, connu sous le nom de Randy Gagne, fait étalage de ses mutations vocales sur le secret d'alcôve guttural « Sweeter Than Ice » et de son fausset macabre aux accents de synthé cérémonieux sur « Cryptic Decision ». Offert avec une pochette imprimée sur risographe ou cinquante collages uniques, comme la scène de rêve fiévreux ci-dessus.
Man Made Hill – Cryptic Decision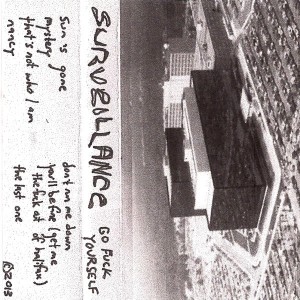 Surveillance
Go Fuck Yourself
(Self Released)
Halifax, NS
From the stereo mountain of Jesse Locke:
Tucked inside a zine-grade cassette sleeve with the sinister image of NSA HQ, this shambly Halifax trio upholds the Nova Scotian no-fi tradition. Slashing through the hiss with a barrage of blurred hooks, caterwaul harmonies and Mascisized overdrive, Surveillance alternate between sensitive slack and slam-dance squeal. Just because you're paranoid doesn't mean they aren't after you…
De la montagne stéréo de Jesse Locke:
(Traduit d'un pied de chèvre par Nicolas Coutlée)
Derrière une pochette de cassette arborant la sinistre image du QG de la NSA, ce chaotique trio d'Halifax perpétue la tradition néo-écossaise no-fi. Se frayant un chemin à travers le grichage à coups de mélodies embrouillées, d'harmonies de miaulements et de distortion mascisisée, Surveillance alterne entre la mollesse sensible et les cris perçants du mosh pit. Ce n'est pas parce que vous êtes paranoïaque qu'ils ne sont nécessairement pas après vous…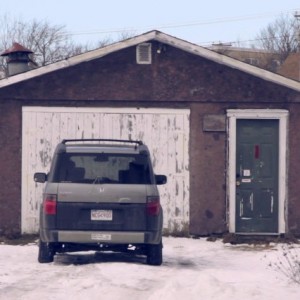 From the noise hounds of Jesse Locke:
This 12-minute doc on the modest but madcap community of Sackville, NB and its yearly Stereophonic Festival is a feel-good blast of East Coast inspiration. Set against a lulling dronescape from Mike Smith, the narration is provided by prime movers from the Killer Haze crew, Julie Doiron and other recognizable Maritime musical faces. Lensman Colin Medley shines a light on the town's current hotspots with the same subtle yet striking composition of his photographs and previous films. Everybody knows this is now here.
Stereophonic 11 runs from Wednesday, January 14 to Saturday, January 18, 2014 in various venues throughout Sackville, NB. For more info, visit the festival's website.
Des *noise hounds* de Jesse Locke Jesse Locke:
(Traduit par les images floues de Julie Forget)
Ce documentaire de 12 minutes sur la modeste mais folle communauté de Sackville, N.-B. et son festival annuel Stereophonic est un jet d'inspiration de la côte Est qui réchauffe le cœur. Accompagnée de l'apaisante musique drone de Mike Smith, la narration est assurée par les principaux membres de l'équipe de Killer Haze, Julie Doiron et d'autres visages connus de la scène musicale des Maritimes. Colin Medley, l'homme derrière l'objectif, met en lumière les endroits les plus fréquentés de la ville avec la subtile mais frappante composition déjà présente dans ses photographies et ses films précédents. Tout le monde le sait, c'est maintenant ici.
Le festival Stereophonic 11 se déroule du mercredi 14 janvier au samedi 18 janvier 2014 dans différents lieux de Sackville, N.-B. Pour plus d'informations, visitez le site du festival.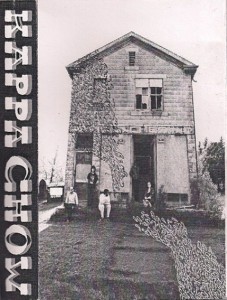 From the shred shed of Jesse Locke:
The turnt minds behind Astral Gunk split the sides of this cassette with paired off-the-floor sessions from Kappa Chow's Sackville and Montreal incarnations. The former packs a sax blurt that shimmies like a ramshackle Shrines, while the slow churn of "Bang Bang" is positively Flipperesque. The backside brings some more gospel yeh-yeh to its buzzsaw garage, yet the fidelity drops down to boombox-in-a-trash-can levels of grizzle. Boss tunes from both line-ups, and any band with a name borrowed from Pootie Tang gets a lifetime thumbs up.
De la cabane en lambeaux de Jesse Locke:
(Traduit par Joannie Pharand)
Les esprits frénétiques derrière Astral Gunk divisent les faces de cette cassette par la combinaison de sessions hors-de-ce-monde de Kappa Chow, des incarnations provenant de Sackville et de Montréal. Le premier laisse échapper un son de saxophone qui se dandine comme les Shrines délabrés, alors que le doux bouillonnement de « Bang Bang » est véritablement Flippant. Du dos de la cassette, on amène encore plus de gospel yeh-yeh au son garage bourdonnant de scie mécanique, et pourtant, la fidélité décline à un niveau de pleurnichement ghetto-blaster-de-poubelle. Boss s'accorde aux deux programmes et tout groupe portant un nom emprunté à Pootie Tang est approuvé à vie.
Kappa Chow – Save Your Opinion
---