Tag: jesse locke
From the wire dreams of Jesse Locke:
As a hands-on conduit for sonic exploration, the modular synth reigns supreme. Ontario's Hugh Le Caine is an unheralded pioneer in this universe, with early voltage-controlled instruments such as the Sackbut — ramshackle as they may seem today — paving the way for Moog, Buchla and their ilk. In this short documentary, modern-day modular heads Edmund Eagan, Arturo "Hard Science" Brisindi and Mike "Muffwiggler" McGrath offer a tour through Le Caine's historic prototypes, now in the possession of the National Museum of Science and Technology. Director Travis Boisvenue and producer Ryan Gibson offer an engrossing introduction to the eccentric innovator, every bit as playful as his dripsody in blue.
Des rêves de fil de Jesse Locke:
(Traduit par Catherine Debard)
À titre de canal d'exploration sonique tangible, le synthétiseur modulaire règne en maître. L'Ontarien Hugh Le Caine est un pionnier méconnu de cet univers : ses premiers prototypes commandés par tension, tel que le Sackbut, ont pavé la voie pour Moog, Buchla et leurs semblables, aussi déglingués peuvent-ils être aujourd'hui. Dans ce court-métrage, les têtes modulaires d'aujourd'hui, Edmund Eagan, Arturo « Hard Science » Brisindi et Mike « Muffwiggler » McGrath, nous font une visite guidée historique des machines de Le Caine, propriétés maintenant du Musée des sciences et de la technologie du Canada. Le réalisateur Travis Boisvenue et le producteur Ryan Gibson nous offrent une introduction passionnante au monde de cet inventeur excentrique, tout aussi ludique que sa Dripsody in blue.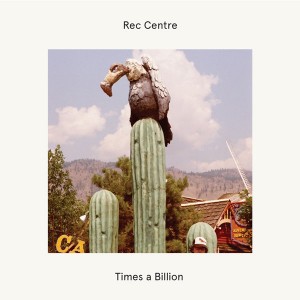 Rec Centre
Times a Billion
(Self Released)
Vancouver, BC
From the reverse heartbeat of Jesse Locke:
Vancouver's blitz kids have been delivering the goods all year long. Alex Hudson a.k.a. Rec Centre (a.k.a. the other tall guy second from left here) is a longtime associate of Jay Arner, and wafts in on a twin current of pure-pop melancholia. A clack-track deluge of digital handclaps, drum machine sputter and sensitive vocals tint these songs with outsized adolescent emotions, while the mopey perspective is patently adult. Grip time a billion!
Du battement de coeur inversé de Jesse Locke:
(Traduit par les pas de danse de Julie Forget)
Les nouveaux romantiques vancouvérois ont respecté leurs engagements tout au long de l'année. Alex Hudson alias Rec Centre (alias l'autre grand gars, deuxième à partir de la gauche ici), est un associé de longue date de Jay Arner et fait parvenir un courant double de mélancolie pop pur. Un déluge musical d'applaudissements digitaux, un crépitement de boîte à rythme et des voix délicates teintent ces chansons d'émotions surdimensionnées d'adolescent alors que la perspective boudeuse est manifestement adulte. À saisir des milliards de fois !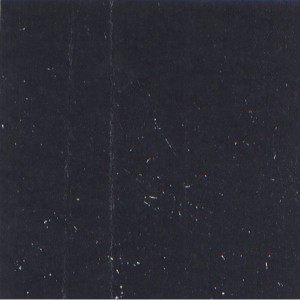 Femminielli Noir
L'Éveil
Montréal, QC
From the modest gabber of Jesse Locke:
The cavernous blackness of this cassette sleeve is the gateway to a yawning abyss. Bad boys of the Montreal subterrain Bernardino Femminielli and Jesse Osborne-Lanthier welcome us into their sonic sepulcher to reveal themselves as altered beasts. Here, the sensual whispers and spectral Italo disco of Femminielli's past masterworks are dispersed across an expressionistic soundscape of desolate ambience, garbled electronics and punishing four-on-the-floor. Only on side b's "Semence En Moi, Le Danger" do we see a glint of light through the darkness, as a haunted music box melody twirls away in an empty room.
Du papotage modeste de Jesse Locke:
(Traduit par le côté italo-spectral de Mathieu Bédard)
La noirceur caverneuse de la jaquette de cette cassette est une passerelle menant à un abysse béant. Les mauvais garçons du Montréal souterrain, Bernardino Femminielli et Jesse Osborne-Lanthier, nous invitent dans leur sépulture sonique où ils se révèlent à nous en tant que bêtes altérées. Ici, les chuchotements sensuels et l'italo disco spectral des dernières oeuvres de Femminielli se dispersent à travers un paysage sonore expressionniste à l'ambiance désolée, aux textures électroniques embrouillées et à la rythmique punitive. Seulement sur « Semence En Moi, Le Danger », sur le côté B, apercevons-nous une faible lueur à travers l'obscurité, tandis qu'une mélodie de boîte à musique tournoie au loin dans une pièce vide.
Femminielli Noir – Semence En Moi, Le Danger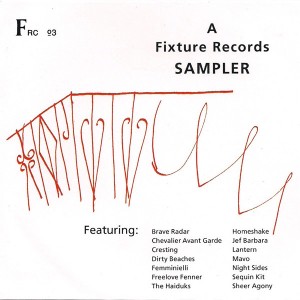 Various Artists
A Fixture Records Sampler
Asterisk, Canada
From the bewildered benevolence of Joseph Stephenson Taylor and Jesse Locke:
Gliding above, below and beside in a stream of benevolent jams, this is the accompaniment for the walking person, the sitting person, the busy and the bored. The Fixture Records "sampler", as they have so humbly put it, is home to 22 magnificently diversified tunes. It boasts a roster of names great and great, some bewilderingly great. Elder statespeople like Brave Radar, Mavo and Freelove Fenner — whose see-sawing Siouxsie-style riffage of "Sheperdess" is a standout here and on their latest LP — shuffle next to relative newcomers like the Haiduks, Night Sides and Homeshake — whose slinky seduction could melt any mixtape. Femminielli, Chevalier Avant Garde and Jef Barbara bring a dash of dangerous glamour, while Dirty Beaches hearkens back to his hazy days of yore. The jangular jawns of Sheer Agony close out this set with fizzical fitness, yet the show can't be stolen when it's stacked front to back.
De la bienveillance étrange de Joseph Stephenson Taylor and Jesse Locke:
(Traduit des jours d'antan de Stéphanie Trottier)
Défilant par-dessus, par-dessous et tout près d'un courant de jams bienveillants, voici l'accompagnement de celui qui marche, de celui qui est assis, de celui qui s'affaire et de celui qui s'ennuie. Le « sampler » de Fixture Records, comme il a été si humblement désigné, nous offre 22 morceaux magnifiquement diversifiés. Il se vante d'un répertoire de grands noms, grands et d'un grand déconcertant. Des démagogues anciens tels que Brave Radar, Mavo et Freelove Fenner – dont le riff de « Sheperdess » de style Siouxsie oscillant est mis de l'avant sur leur dernier LP – se mêlent aux nouveaux venus comme les Haiduks, Night Sides et Homeshake – dont la séduction sinueuse ferait fondre tout mixtape. Femminielli, Chevalier Avant Garde et Jef Barbara apportent une touche dangereuse de glam, alors que Dirty Beaches remonte à ses jours brumeux d'antan. Le tintement anguleux de Sheer Agony clôture l'album avec un entraînement fizzical. La vedette ne peut toutefois pas être volée lorsqu'elle joue du début à la fin.
Homeshake – She Can't Leave Me Here Alone Tonight
Stolen Organ Family Band
The Glitter Cream Supreme Tape
(Self Released)
Vancouver, BC
From the automated love of Jesse Locke:
This cult-like family band of self-knighted psychedelic hillbillies have been cranking out their own homebrewed concoctions for as far back as a hazy brain can remember. Yet The Glitter Cream Supreme Tape might be the Stolen Organs' magnum opus. Big Muffed guitar solos wail, Bella from Chains of Love gets cosmic on the keys, Casio bongos do battle with a flesh and blood funky drummer, and the duets of Kelly Badger and Conor Mack alternate from warped Johnny & June to a manic Father Yod. Ooo oww…
De l'amour automatisé de Jesse Locke:
(Traduit par le tracteur atomique de Nicolas Coutlée)
Hillbillies psychédéliques autoproclamés, les membres de ce groupe familial quasi-culte concoctent leurs mixtures artisanales aussi loin que mon cerveau embrouillé peut se souvenir. The Glitter Cream Supreme Tape est peut-être le magnum opus des Stolen Organs. Pédale Big Muff au plancher, envolées cosmiques de Bella de Chains of Love au synthé, affrontements sans merci entre les bongos Casio et un nouveau batteur funky en chair et en os, sans oublier les duos de Kelly Badger et Conor Mack qui ressemblent tantôt à une performance déjantée de Johnny & June, tantôt à celle d'un Father Yod maniaque. Ooo oww…
Stolen Organ Family Band – Glenn
Stolen Organ Family Band – Destroying The Past 2 Save The Future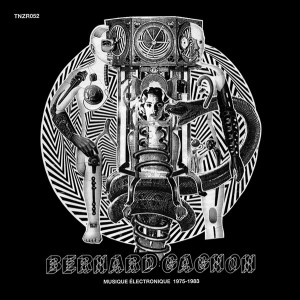 Bernard Gagnon
Musique Électronique (1975-1983)
(Tenzier)
Montréal, QC
From the sea lunch of Jesse Locke:
Musique Électronique (1975-1983) is another fascinating archival dig from Tenzier, the vinyl reissue label exclusively dedicated to Quebec's avant past. Bernard Gagnon's roots run deep into the Montreal subterrain with woefully under-documented projects ranging from the "speed-psych" band Gandarhva to MetaMusic alongside Kevin Austin, founder of Concordia's Electroacoustic Studios. After rubbing shoulders with no less than Xenakis and Cage, Gagnon hunkered down to workshop his own radiophonics, seven of which are collected in this snazzy reish.
The multi-part Moog suite "Gwendoline Descendue!" leads things off with a series of brain-tickling passages self-dubbed "musical giallo", but to these ears sounding closer to a Gristleized El Topo. "Dictée" warps a harried vocal phrase and scribbling pencil into mutant concrete, while closer "Gololo-Mashta" refigures rock group samples into rhythmic shards presaging the sound of Zs. Best of all is "Totem Ben", an aqueous outernational head-nodder created on Synclavier II that bangs like proto-Hobo Cubes. Stylish b&w cover art from the hyper-talented Felix Morel makes this a must-grip.
Du goûter océanesque de Jesse Locke:
(Traduit par le tricotin à mots d'Aliké Harel)
Musique Électronique (1975-1983) est un autre trésor dépoussiéré par Tenzier, maison de rediffusion de vinyles dédiée exclusivement à l'avant-garde québécoise d'autrefois. Les racines de Bernard Gagnon plongent au creux de l'underground montréalais avec des projets lamentablement sous-documentés tels le groupe psychédélique ultra rapide Gandarhva en passant par MetaMusic formé avec Kevin Austin, fondateur de Electroacoustic Studios à l'Université Concordia. Après avoir côtoyé rien de moins que Xenakis et Cage, Gagnon se retire dans son antre pour travailler sur ses propres radiofréquences, dont sept sont réunies dans cette réédition bichonnée.
« Gwendoline Descendue! », suite en plusieurs mouvements au synthétiseur Moog, ouvre le bal avec une série de passages titilleurs de neurones, un enregistrement qualifié par Gagnon de « giallo musical », mais qui se rapproche plutôt à mes oreilles d'El Topo joué par Throbbing Gristle. « Dictée » distord une phrase anxieuse et un crayon gribouilleur pour obtenir un mutant de musique concrète, alors que la finale « Gololo-Mashta » remanie des extraits de groupes rock en éclats rythmés et annonce le son de Zs. La meilleure piste demeure toutefois « Totem Ben », une création exonationale diaphane sur Synclavier II qui bûche comme du proto-Hobo Cubes et vous fera hocher de la tête en cadence. Avec en prime une pochette signée par l'hyper talentueux Félix Morel, sautez sur cet album immédiatement.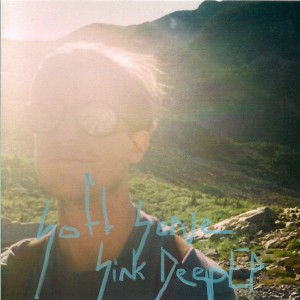 Soft Serve
Sink Deep
(Self Released)
Vancouver, BC
From the ice cream paint job of Jesse Locke:
Glorious jean-jacket jangle from a young Vancouver trio yet to celebrate their one-year birthday. This EP is a quickie, but I haven't come across many finer mission statements than opener "Words For Others" in 2013. The Josef K-styled speak-sing of frontman Kyle Thiessen hovers above glistening guitarmonies and Feelies twitch throughout three minutes in heaven. Hat tip to Jay Arner for another production home run.
De la job de peinture à la crème glacée de Jesse Locke:
(Traduit par Jacinthe Laplante)
Un brillant tintamarre de veste de jean d'un jeune trio de Vancouver qui n'a pas encore célébré son premier anniversaire. Cet EP est bref, mais je ne suis pas tombé en 2013 sur un meilleur énoncé de mission que l'ouverture « Words For Others ». Le style chanté-parlé à la Josef K du leader Kyle Thiessen erre dans les harmonies polies de guitare et les tics à la Feelies pendant trois minutes au paradis. Je tire mon chapeau à Jay Arner à la production pour un autre coup de circuit.
Lose 1-5
Written and Illustrated by: Michael DeForge
[7" x 10", b&w interior, full colour soft-cover]
Toronto, ON
From the honeyseed waterbed of Jesse Locke:
Michael DeForge's one-man anthology is the gateway to a gob-dropping world. Launched in 2009 and currently stretching to issue #5, it showcases the Toronto artist's darkened deadpan and warped imagination through a series of obsessively illustrated tales. Despite a range of narrators, from a sad-dad dog to a leather-skinned punk and zoologists's daughter, there remains a prevailing motif of everyday unsettlement and a desire to escape/transform into something beyond the ordinary in their first-person streams of dream-logic consciousness. Quick-hit strips such as the Abbey Loafer series (also appearing in the hallowed pages of Offerings) are a blast, yet DeForge truly lets his freak flag fly in longer stories such as "It's Chip" (Lose #2), "Someone I Know" (#4) or "Living Outdoors" (#5), following troubled characters through Kafka/Charles Burns-esque mutations. For those who missed out on individual issues, Koyama will bundle them together in the upcoming collection, A Body Beneath. Let's get lost…
Du lit à eau mielleux de Jesse Locke:
(Traduit du crayon feutré qui coule de Dominic Mpilé)
L'anthologie solo de Michael DeForge est une porte d'entrée dans un monde à la gueule qui dégoutte. Lancée en 2009 et publiée en exemplaires de 1 à 5, elle montre le côté sombre inexpressif et l'imagination déformée de l'artiste Torontois dans une série de contes illustrés de façon obsessionnelle. Malgré une variété de narrateurs, allant d'un père dépressif à une fille de zoologistes, punk et vêtue de cuir, il demeure un motif majeur de discorde quotidienne et un désir de s'enfuir ou de se transformer au-delà de soi, au-delà de sa conscience logique onirique. Les illustrations, comme la série des Abbey Loafer (aussi publiées sur les pages bénies d'Offerings) sont une bombe, mais DeForge impose véritablement son style dans des contes plus longs comme « It's Chip » (Lose #2), « Someone I Know » (#4) ou « Living Outdoors » (#5), suivant des personnes tourmentées dans des mutations de Kafka et Charles Burns. Pour ceux qui ont manqué les publications individuelles, Koyama les réunira dans les prochaines collections appelées A Body Beneath. Ça dégage…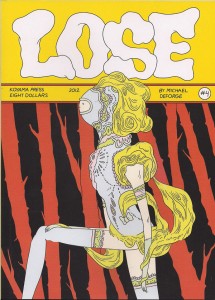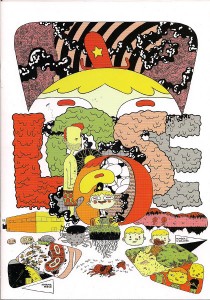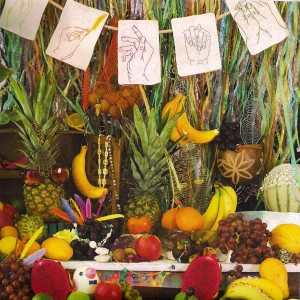 Various Artists
F R U I T S
Toronto, ON
From the Carmen Miranda rights of Jesse Locke:
This platter flows over with a prismatic array of bodacious sounds and mixed mood-inducers from Toronto's female class of fall 2013. The nine exclusive tunes include Isla Craig's soft shimmer, Bile Sister wave-dancing in her rave cave, and a freshly bucked 'n' blended devotional banger from Tenderness. The righteous Lido Pimienta leads the charge with martial snares and multi-tracked vocals that could summon the revolution, while the all-powerful Petra Glynt booms through a blacklit underground opera hall. Grip this disc quick and get a bonus baggie of bath salts from the krautrock-inspired scents of Spa Kosmische.
D'après les droits Carmen Miranda de Jesse Locke:
(Traduit dans un rythme tordant de Dominic MPILÉ)
Ce disque résonne de façon remarquable au moyen d'une gamme prismatique et d'une sensibilité inductrice jouées par des Torontoises de la cuvée printemps 2013. Les neuf chansons exclusives incluent le doux chatoiement d'Isla Craig, l'onde dansante à caractère rave de sous-sol de Bile Sister, et le tout nouveau lancement de ruade tordant, plein de dévotion de Tenderness. La vertueuse Lido Pimienta mène la cadence avec des pièges martiaux et de multiples pistes vocales qui pourraient appeler à la révolution, pendant que l'omnipotente Petra Glynt retentit dans une salle d'opéra souterraine éclairée à contre-jour. Procurez-vous rapidement ce disque et obtenez en bonus un sac de bain de sel au parfum d'inspiration krautrock de Spa Kosmische.
Tenderness – Orphans Howling in the Wild (Bucked & Blended Mix)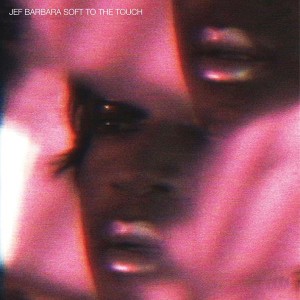 Jef Barbara
Soft to the Touch
Montréal, QC
From the loose diamonds of Jesse Locke:
Gliding through the glitz, glamour and grime of Montreal's late nite/all nite party, pop provocateur Jef Barbara has emerged as a modern day disco evangelist. Soft to the Touch is a neo-NRG masterclass of nightsuit strut, emotional rescue and six-string scorch delivered by one of the best backing bands in the biz: Jack Mac of Sheer Agony, Shub Roy of Dirty Beaches and Asäel Robitaille of Bataille Solaire. Vive le Kebekelektrik!
Des diamants en vrac de Jesse Locke:
(Traduit par la corde vocale de JulieForget)
Se glissant dans l'extravagance, le glamour et la crasse des fêtes nocturnes de Montréal, le provocateur pop Jef Barbara apparaît comme un évangéliste disco contemporain. Soft to the Touch est un cours de maître de néo-NRG qui enseigne à se pavaner en habit de soirée, un secours émotionnel et une brûlure à 6 cordes livrés par un des meilleurs groupes d'accompagnement du business : Jack Mac de Sheer Agony, Shub Roy de Dirty Beaches et Asäel Robitaille de Bataille Solaire. Vive le Kebekelektrik!
Jef Barbara – Soft to the Touch
Jef Barbara – I Don't Know What's Going On But Something's Coming On
---