Tag: jesse locke
Stolen Organ Family Band
The Glitter Cream Supreme Tape
(Self Released)
Vancouver, BC
From the automated love of Jesse Locke:
This cult-like family band of self-knighted psychedelic hillbillies have been cranking out their own homebrewed concoctions for as far back as a hazy brain can remember. Yet The Glitter Cream Supreme Tape might be the Stolen Organs' magnum opus. Big Muffed guitar solos wail, Bella from Chains of Love gets cosmic on the keys, Casio bongos do battle with a flesh and blood funky drummer, and the duets of Kelly Badger and Conor Mack alternate from warped Johnny & June to a manic Father Yod. Ooo oww…
De l'amour automatisé de Jesse Locke:
(Traduit par le tracteur atomique de Nicolas Coutlée)
Hillbillies psychédéliques autoproclamés, les membres de ce groupe familial quasi-culte concoctent leurs mixtures artisanales aussi loin que mon cerveau embrouillé peut se souvenir. The Glitter Cream Supreme Tape est peut-être le magnum opus des Stolen Organs. Pédale Big Muff au plancher, envolées cosmiques de Bella de Chains of Love au synthé, affrontements sans merci entre les bongos Casio et un nouveau batteur funky en chair et en os, sans oublier les duos de Kelly Badger et Conor Mack qui ressemblent tantôt à une performance déjantée de Johnny & June, tantôt à celle d'un Father Yod maniaque. Ooo oww…
Stolen Organ Family Band – Glenn
Stolen Organ Family Band – Destroying The Past 2 Save The Future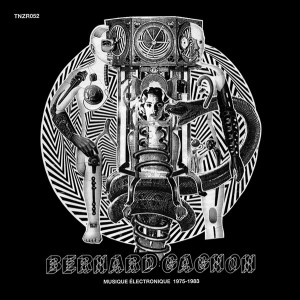 Bernard Gagnon
Musique Électronique (1975-1983)
(Tenzier)
Montréal, QC
From the sea lunch of Jesse Locke:
Musique Électronique (1975-1983) is another fascinating archival dig from Tenzier, the vinyl reissue label exclusively dedicated to Quebec's avant past. Bernard Gagnon's roots run deep into the Montreal subterrain with woefully under-documented projects ranging from the "speed-psych" band Gandarhva to MetaMusic alongside Kevin Austin, founder of Concordia's Electroacoustic Studios. After rubbing shoulders with no less than Xenakis and Cage, Gagnon hunkered down to workshop his own radiophonics, seven of which are collected in this snazzy reish.
The multi-part Moog suite "Gwendoline Descendue!" leads things off with a series of brain-tickling passages self-dubbed "musical giallo", but to these ears sounding closer to a Gristleized El Topo. "Dictée" warps a harried vocal phrase and scribbling pencil into mutant concrete, while closer "Gololo-Mashta" refigures rock group samples into rhythmic shards presaging the sound of Zs. Best of all is "Totem Ben", an aqueous outernational head-nodder created on Synclavier II that bangs like proto-Hobo Cubes. Stylish b&w cover art from the hyper-talented Felix Morel makes this a must-grip.
Du goûter océanesque de Jesse Locke:
(Traduit par le tricotin à mots d'Aliké Harel)
Musique Électronique (1975-1983) est un autre trésor dépoussiéré par Tenzier, maison de rediffusion de vinyles dédiée exclusivement à l'avant-garde québécoise d'autrefois. Les racines de Bernard Gagnon plongent au creux de l'underground montréalais avec des projets lamentablement sous-documentés tels le groupe psychédélique ultra rapide Gandarhva en passant par MetaMusic formé avec Kevin Austin, fondateur de Electroacoustic Studios à l'Université Concordia. Après avoir côtoyé rien de moins que Xenakis et Cage, Gagnon se retire dans son antre pour travailler sur ses propres radiofréquences, dont sept sont réunies dans cette réédition bichonnée.
« Gwendoline Descendue! », suite en plusieurs mouvements au synthétiseur Moog, ouvre le bal avec une série de passages titilleurs de neurones, un enregistrement qualifié par Gagnon de « giallo musical », mais qui se rapproche plutôt à mes oreilles d'El Topo joué par Throbbing Gristle. « Dictée » distord une phrase anxieuse et un crayon gribouilleur pour obtenir un mutant de musique concrète, alors que la finale « Gololo-Mashta » remanie des extraits de groupes rock en éclats rythmés et annonce le son de Zs. La meilleure piste demeure toutefois « Totem Ben », une création exonationale diaphane sur Synclavier II qui bûche comme du proto-Hobo Cubes et vous fera hocher de la tête en cadence. Avec en prime une pochette signée par l'hyper talentueux Félix Morel, sautez sur cet album immédiatement.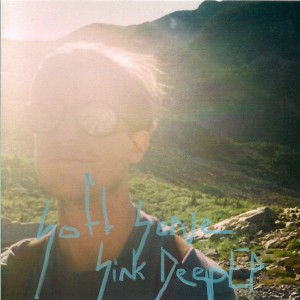 Soft Serve
Sink Deep
(Self Released)
Vancouver, BC
From the ice cream paint job of Jesse Locke:
Glorious jean-jacket jangle from a young Vancouver trio yet to celebrate their one-year birthday. This EP is a quickie, but I haven't come across many finer mission statements than opener "Words For Others" in 2013. The Josef K-styled speak-sing of frontman Kyle Thiessen hovers above glistening guitarmonies and Feelies twitch throughout three minutes in heaven. Hat tip to Jay Arner for another production home run.
De la job de peinture à la crème glacée de Jesse Locke:
(Traduit par Jacinthe Laplante)
Un brillant tintamarre de veste de jean d'un jeune trio de Vancouver qui n'a pas encore célébré son premier anniversaire. Cet EP est bref, mais je ne suis pas tombé en 2013 sur un meilleur énoncé de mission que l'ouverture « Words For Others ». Le style chanté-parlé à la Josef K du leader Kyle Thiessen erre dans les harmonies polies de guitare et les tics à la Feelies pendant trois minutes au paradis. Je tire mon chapeau à Jay Arner à la production pour un autre coup de circuit.
Lose 1-5
Written and Illustrated by: Michael DeForge
[7" x 10", b&w interior, full colour soft-cover]
Toronto, ON
From the honeyseed waterbed of Jesse Locke:
Michael DeForge's one-man anthology is the gateway to a gob-dropping world. Launched in 2009 and currently stretching to issue #5, it showcases the Toronto artist's darkened deadpan and warped imagination through a series of obsessively illustrated tales. Despite a range of narrators, from a sad-dad dog to a leather-skinned punk and zoologists's daughter, there remains a prevailing motif of everyday unsettlement and a desire to escape/transform into something beyond the ordinary in their first-person streams of dream-logic consciousness. Quick-hit strips such as the Abbey Loafer series (also appearing in the hallowed pages of Offerings) are a blast, yet DeForge truly lets his freak flag fly in longer stories such as "It's Chip" (Lose #2), "Someone I Know" (#4) or "Living Outdoors" (#5), following troubled characters through Kafka/Charles Burns-esque mutations. For those who missed out on individual issues, Koyama will bundle them together in the upcoming collection, A Body Beneath. Let's get lost…
Du lit à eau mielleux de Jesse Locke:
(Traduit du crayon feutré qui coule de Dominic Mpilé)
L'anthologie solo de Michael DeForge est une porte d'entrée dans un monde à la gueule qui dégoutte. Lancée en 2009 et publiée en exemplaires de 1 à 5, elle montre le côté sombre inexpressif et l'imagination déformée de l'artiste Torontois dans une série de contes illustrés de façon obsessionnelle. Malgré une variété de narrateurs, allant d'un père dépressif à une fille de zoologistes, punk et vêtue de cuir, il demeure un motif majeur de discorde quotidienne et un désir de s'enfuir ou de se transformer au-delà de soi, au-delà de sa conscience logique onirique. Les illustrations, comme la série des Abbey Loafer (aussi publiées sur les pages bénies d'Offerings) sont une bombe, mais DeForge impose véritablement son style dans des contes plus longs comme « It's Chip » (Lose #2), « Someone I Know » (#4) ou « Living Outdoors » (#5), suivant des personnes tourmentées dans des mutations de Kafka et Charles Burns. Pour ceux qui ont manqué les publications individuelles, Koyama les réunira dans les prochaines collections appelées A Body Beneath. Ça dégage…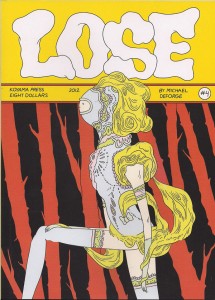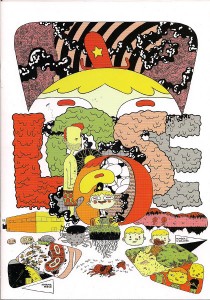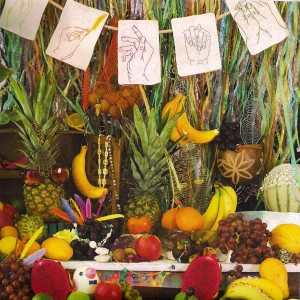 Various Artists
F R U I T S
Toronto, ON
From the Carmen Miranda rights of Jesse Locke:
This platter flows over with a prismatic array of bodacious sounds and mixed mood-inducers from Toronto's female class of fall 2013. The nine exclusive tunes include Isla Craig's soft shimmer, Bile Sister wave-dancing in her rave cave, and a freshly bucked 'n' blended devotional banger from Tenderness. The righteous Lido Pimienta leads the charge with martial snares and multi-tracked vocals that could summon the revolution, while the all-powerful Petra Glynt booms through a blacklit underground opera hall. Grip this disc quick and get a bonus baggie of bath salts from the krautrock-inspired scents of Spa Kosmische.
D'après les droits Carmen Miranda de Jesse Locke:
(Traduit dans un rythme tordant de Dominic MPILÉ)
Ce disque résonne de façon remarquable au moyen d'une gamme prismatique et d'une sensibilité inductrice jouées par des Torontoises de la cuvée printemps 2013. Les neuf chansons exclusives incluent le doux chatoiement d'Isla Craig, l'onde dansante à caractère rave de sous-sol de Bile Sister, et le tout nouveau lancement de ruade tordant, plein de dévotion de Tenderness. La vertueuse Lido Pimienta mène la cadence avec des pièges martiaux et de multiples pistes vocales qui pourraient appeler à la révolution, pendant que l'omnipotente Petra Glynt retentit dans une salle d'opéra souterraine éclairée à contre-jour. Procurez-vous rapidement ce disque et obtenez en bonus un sac de bain de sel au parfum d'inspiration krautrock de Spa Kosmische.
Tenderness – Orphans Howling in the Wild (Bucked & Blended Mix)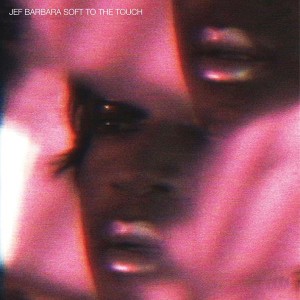 Jef Barbara
Soft to the Touch
Montréal, QC
From the loose diamonds of Jesse Locke:
Gliding through the glitz, glamour and grime of Montreal's late nite/all nite party, pop provocateur Jef Barbara has emerged as a modern day disco evangelist. Soft to the Touch is a neo-NRG masterclass of nightsuit strut, emotional rescue and six-string scorch delivered by one of the best backing bands in the biz: Jack Mac of Sheer Agony, Shub Roy of Dirty Beaches and Asäel Robitaille of Bataille Solaire. Vive le Kebekelektrik!
Des diamants en vrac de Jesse Locke:
(Traduit par la corde vocale de JulieForget)
Se glissant dans l'extravagance, le glamour et la crasse des fêtes nocturnes de Montréal, le provocateur pop Jef Barbara apparaît comme un évangéliste disco contemporain. Soft to the Touch est un cours de maître de néo-NRG qui enseigne à se pavaner en habit de soirée, un secours émotionnel et une brûlure à 6 cordes livrés par un des meilleurs groupes d'accompagnement du business : Jack Mac de Sheer Agony, Shub Roy de Dirty Beaches et Asäel Robitaille de Bataille Solaire. Vive le Kebekelektrik!
Jef Barbara – Soft to the Touch
Jef Barbara – I Don't Know What's Going On But Something's Coming On
Ephemera of Carl Didur
Existing during the recording of Zacht Automaat
Toronto, ON
[Photos: Rico Moran]
From the smiling wilderness of Jesse Locke:
Here at WC, we're prone to hyperbole when describing the things we love. Yet no amount of outsized praise, imaginary adjectives or inappropriate hyphens could come close to capturing the mystical powers of Carl Didur and Michael McLean (a.k.a. Zacht Automaat). Seemingly unhindered by time and space, the duo's creative output since 2010 has included a jaw-dropping 11 albums of seamlessly flowing instrumental expeditions into the farthest reaches of Canteburian prog, Düsseldorf-schooled kosmische and outernational hep. Slim Twig is the group's tireless champion, and has now done the world a great service by collecting choice cuts from their chronology onto an astronomical double LP published by his Calico Corp. imprint. To celebrate this momentous release, we met up with Didur in his hobbit-sized attic space for the latest edition of our Ephemera series spotlighting six totemic items from the Automaat story.
Zacht Automaat – Lost In The Peak District
Zacht Automaat – Ancaster Heights
NEW MEANS OF ORGANISATION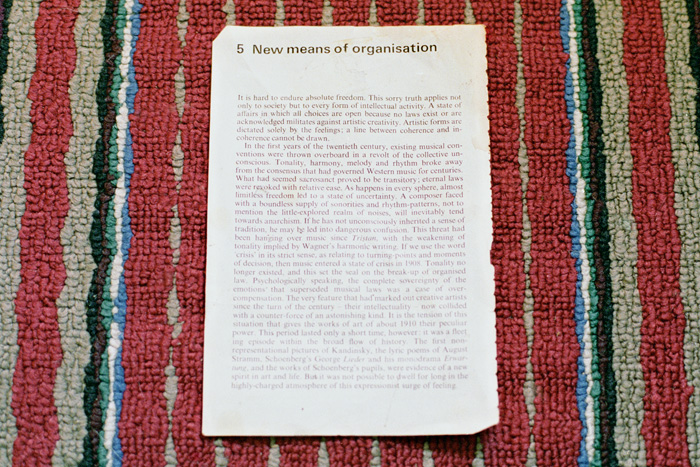 At the end of an afternoon of conversation my friend Eugene casually said "I have something for you, I think." He proceeded to lend me Twentieth Century Music by H.H. Stuckenschmidt, a book I carried around until the spine broke (it was admittedly fragile to begin with). It was a general history of the progression of the avant-garde from serialism through minimalism back to popularism or what-have-you. This particular page fell out one day and struck me vividly, as it dealt with the determination of a past generation to find new forms of expression; a recurring problem. That same day I contacted my friend Michael McLean and proposed we form a project called ZACHT AUTOMAAT dedicated to exploring any NEW MEANS OF ORGANISATION we could implement. We made a list (since lost) of every musical idea we had ever considered and set out to explore them as a highly disciplined, mobile, local unit. Taken as broadly or specifically as you please, it is a usefully vague motto.
ETHEL 1. CHAIR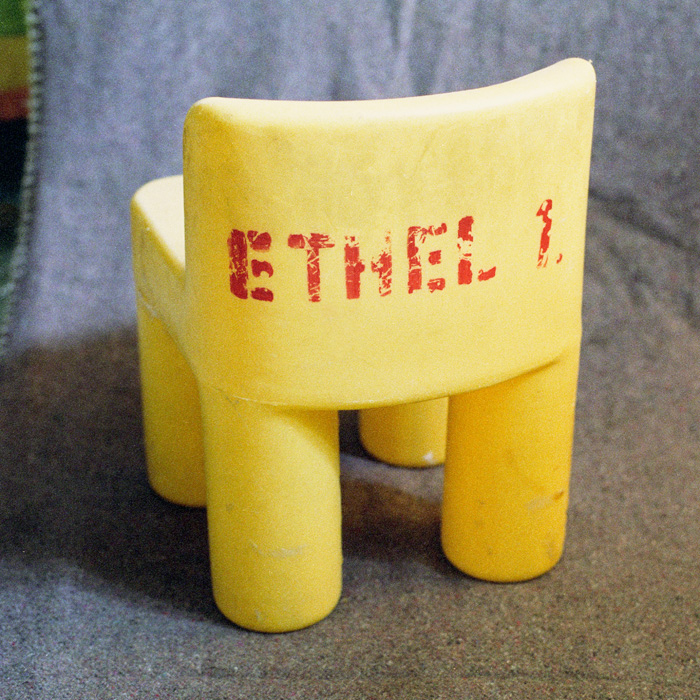 Michael McLean and I have been making music for 14 years now. This small yellow plastic chair has been a constant companion. Originally adopted by McLean as a totemic object in 2000 it was in his possession until 2010. This chair was at nearly every gig played by our old band and was always in the studio with us. Undue amounts of energy were spent on making sure the chair was in the appropriate position. Once it was left behind in Belleville, Ontario. Some strangers took it to the fair, to the beach, and a tattoo shop. They sent the band a series of photos before returning it with a treble clef tattooed to the right of the '1' (since faded). When McLean moved to England in 2011 I became its keeper. This chair is perpetually occupied by our childhood selves and is a constant connection to the spirit of freewheeling wonderment once-known. To me, the faded stencil evokes the VOYAGER probe in Star Trek I and speaks of long journeys in space. So picture a small child alone in space on this chair, making quiet sound effects and kicking tiny feet in the void.
SONG CHARTS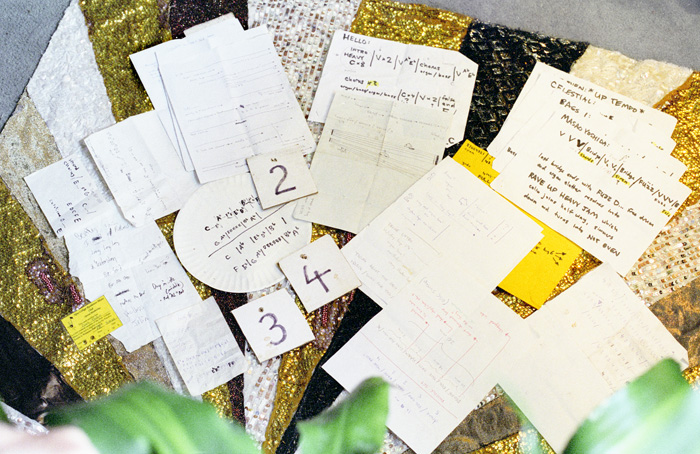 Here you see a selection of spontaneous notations, some rhythmic, some pitch related. Much of our music is off the cuff, undiscussed. We jot down just enough information to lay a musical groundwork. These scraps are usually abandoned by McLean at the end of the session and gathered up by me even though they rapidly become meaningless as the details fade from memory. They are shown here on my most radiant cape, hand-made by Alicia Nauta.
TAPE LOOPS AND TAPES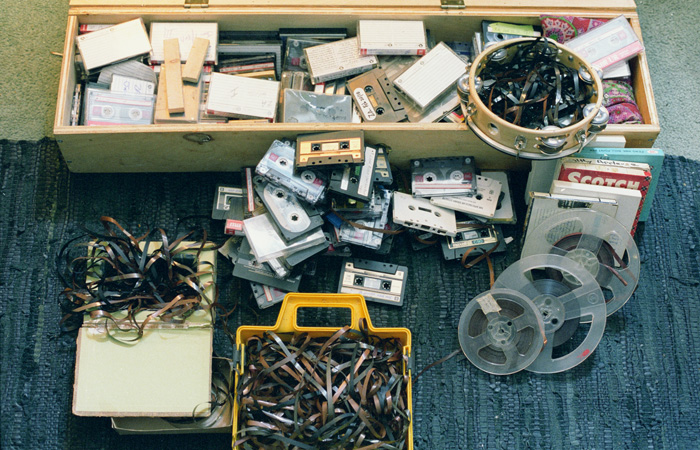 We record on tape because it is easy and familiar and makes things sound easy and familiar. One slight disadvantage is the amassing of physical piles of data, as it were. Here is a small selection of tapes and 1/4 tape loops related to ZACHT AUTOMAAT and my solo shows. All AUTOMAAT cassettes are labeled with date and number by McLean and this vital service should not go unnoticed. As material is transferred to computer for editing the tape itself becomes essentially useless and joins a ready pile. Contained between the bits selected for use, however, are thousands of passing moments of angry banter, abandoned melodic ideas, brief improvisations, long stretches of flam-riddled solo drumming, manic laughter, supercilious commentary, etc. All of the fleeting bits of process related to making-up music and being old friends are captured here in queasy aspic. We keep most of the original 2010 sessions in this homemade gun case McLean found on the street one day. There's a metaphor for you to explore.
MY TROUBLES FICTITIOUS, MY PLEASURES DELICIOUS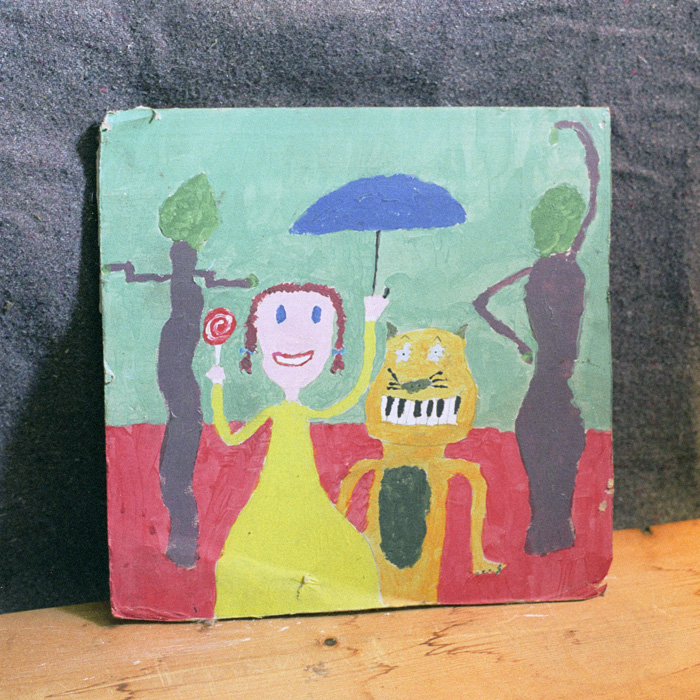 This is a 13×13 painting done on drywall by Benjamin Rosenblum in 2003 or so. His ceiling collapsed and the landlord recommended he fix it himself. On the extra scraps of drywall left over he did a series of tempera paintings that I found compelling. I asked him to make an album cover for me for a projected album to be called "My Troubles Fictitious, My Pleasures Delicious" and he painted this without further instruction. I decided I didn't like the title and he forbade me to use the painting for any other purpose. It hung in my kitchen until 2011 when I decided enough time had passed that I could use it, what the hell, and it became the cover of WE CAN'T HELP YOU IF WE CAN'T FIND YOU. I really really like this painting.
LIFE IS HARD, BUT GREAT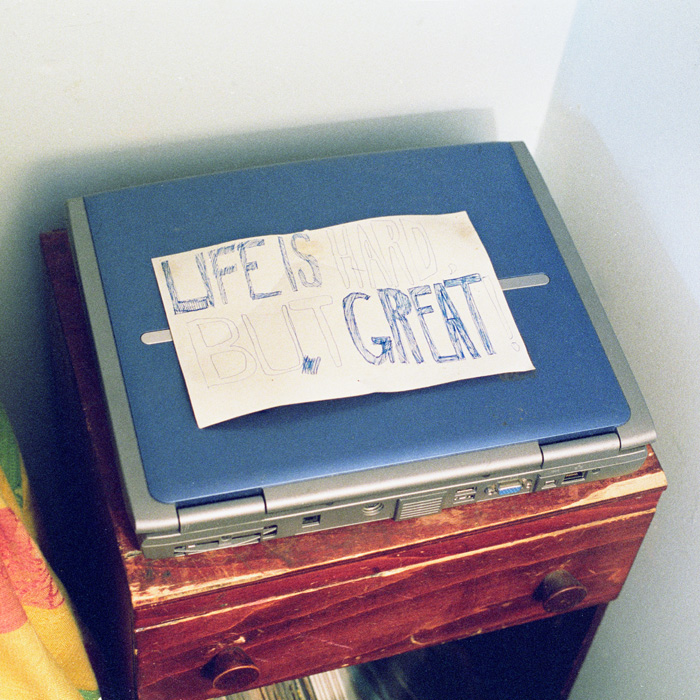 When attempting to get anything done at any time one should always remember this. It is hard to see but it says "LIFE IS HARD, BUT GREAT." Drawn in pen by Eugene Slonimerov (see NEW MEANS OF ORGANISATION) for someone in need of reassurance, it was left behind and became a sad but friendly piece of ephemera that has persisted beyond expectation. Take in pieces or whole as you need it.
De la nature souriante de Jesse Locke:
(Traduit par les fouilles au pinceau de Nicolas Coutlée)
Chez WC, nous aimons user d'hyperboles pour parler de choses que nous aimons. Cependant, aucun éloge dithyrambique, aucun adjectif imaginaire ni aucun trait d'union inapproprié ne saurait rendre toute la portée des pouvoirs mystiques de Carl Didur et de Michael McLean (alias Zacht Automaat). Apparemment libre de toute emprise spatio-temporelle, le duo a produit depuis 2010 un impressionnant total de 11 albums instrumentaux explorant sans relâche les confins du prog cantorbéryen, du kosmische de Düsseldorf et du cool extranational. Slim Twig, infatigable fidèle du groupe, vient de rendre une fière chandelle à l'humanité en regroupant sur un double album astronomique, paru sur son étiquette Calico Corp., une sélection de leurs meilleurs morceaux. Pour célébrer cette sortie capitale, nous avons rencontré Didur dans son grenier de hobbit dans le cadre de notre série Ephemera. Il nous présente ici six objets emblématiques dans l'histoire d'Automaat.
Zacht Automaat – Lost In The Peak District
Zacht Automaat – Ancaster Heights
DE NOUVELLES FORMES D'ORGANISATION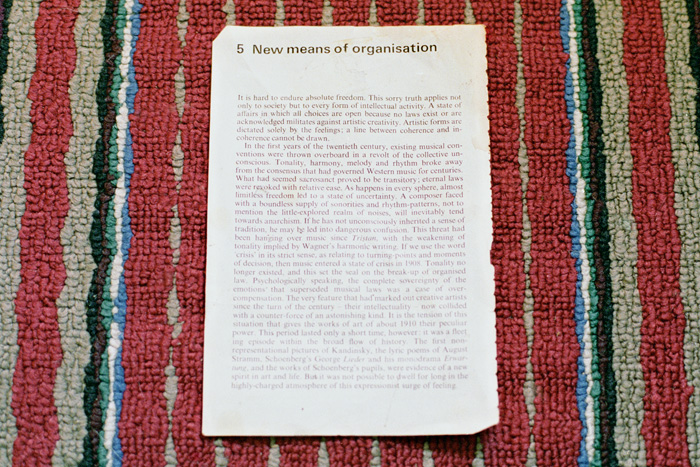 À la fin d'un après-midi en compagnie de mon ami Eugene, il m'a dit tout bonnement : « Je pense que j'ai quelque chose pour toi. » Il m'a alors prêté La musique du XXe siècle par H.H. Stuckenschmidt, livre que j'allais traîner jusqu'à ce que s'arrache la reliure (cette dernière était déjà abîmée au moment du prêt). Histoire générale de l'avant-garde, le livre retraçait l'évolution de la musique sérielle jusqu'au minimalisme pour revenir ensuite sur le populisme ou quelque autre courant. Une page, qui était tombée, attira particulièrement mon attention : elle traitait de la volonté d'une génération passée de découvrir de nouvelles formes d'expression, un problème récurrent. Le même jour, j'ai contacté mon ami Michael McLean pour lui proposer de former un projet appelé ZACHT AUTOMAAT, lequel serait dédié à l'exploration de NOUVELLES FORMES D'ORGANISATION que nous pourrions mettre de l'avant. Nous avons fait une liste (perdue depuis) de toutes les idées musicales que nous avions déjà eues, et nous nous sommes donnés pour objectif de les explorer méticuleusement en tant que formation versatile et locale. Qu'il soit pris de manière générale ou spécifique, ce mot d'ordre vague allait nous être utile.
CHAISE ETHEL 1.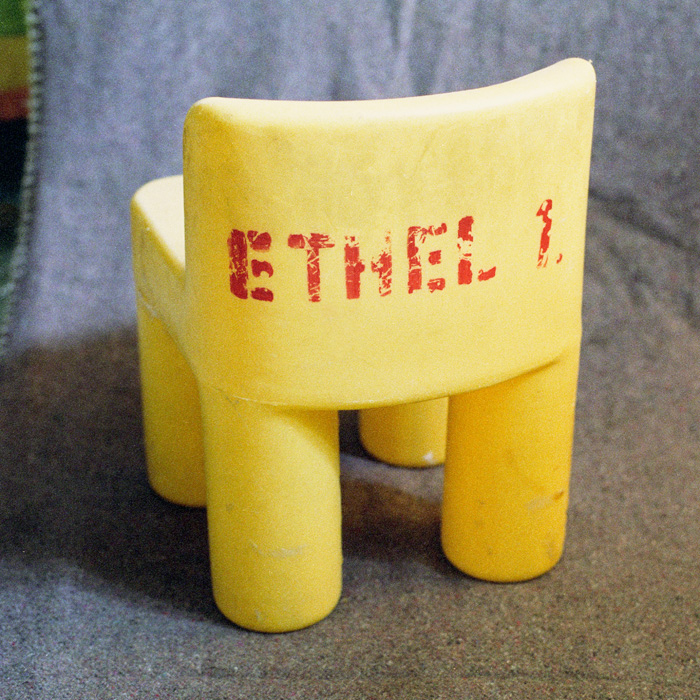 Voilà déjà 14 ans que Michael McLean et moi faisons de la musique. Cette petite chaise de plastique jaune nous accompagne depuis. Adoptée à l'origine par McLean en 2000, elle a été en sa possession jusqu'en 2010. Cette chaise s'est retrouvée pratiquement à chaque concert de notre ancien groupe et nous suivait toujours en studio. Nous avons passé un temps fou pour nous assurer qu'elle se trouvait toujours au bon endroit. Une fois, nous l'avons oubliée à Belleville en Ontario. Des inconnus l'ont amenée dans une foire, à la plage, dans un salon de tatous. Ils nous ont envoyé une série de photos avant de nous la retourner avec une clé de sol tatouée à la droite du « 1 » (effacée depuis). Lorsque McLean a déménagé en Angleterre en 2011, j'en suis devenu le dépositaire. Cette chaise est occupée perpétuellement par l'enfant qui sommeille en nous et nous garde en contact permanent avec cet esprit d'émerveillement sans bornes qui était jadis le nôtre. Les inscriptions effacées me rappellent la sonde VOYAGER dans Star Trek I et évoquent pour moi les longs périples dans l'espace. Imagine un enfant seul dans l'espace sur cette chaise, qui produit de faibles effets sonores et qui fait aller ses petits pieds dans le vide.
SCHÉMAS DE CHANSONS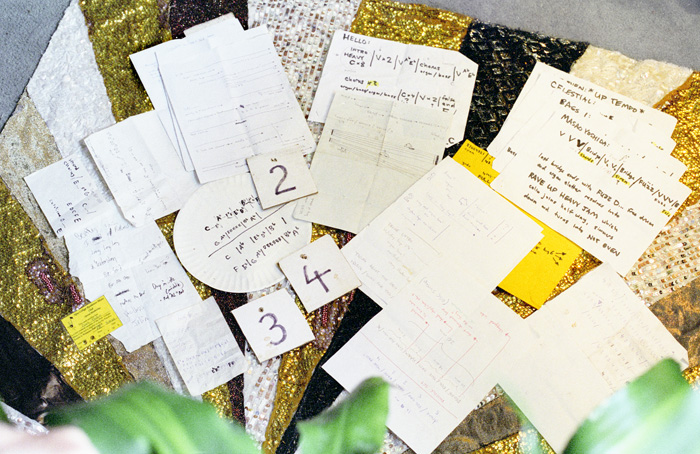 Voici une sélection d'annotations spontanées, certaines à propos du rythme, d'autres en lien avec la hauteur du son. Une grande part de notre musique est improvisée, non préméditée. Nous rassemblons juste assez d'informations pour ébaucher les fondations de notre musique. McLean abandonne normalement ces bouts de papier à la fin des sessions et je les ramasse même s'ils deviennent rapidement incompréhensibles au fur et à mesure que leurs détails s'effacent de notre mémoire. Ils sont rassemblées ici sur ma cape brillante de mille feux, fabriquée à la main par Alicia Nauta.
BOBINES ET CASSETTES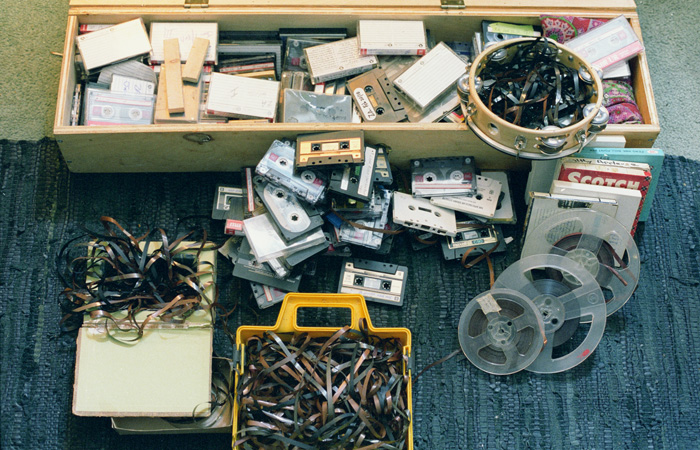 Nous enregistrons sur cassette parce que c'est facile et familier, ce qui donne un résultat facile et familier. Un léger désavantage de cette méthode est, comme vous pouvez le constater, l'accumulation de piles de données physiques. Il s'agit d'une petite sélection de cassettes et de bobines que nous utilisons pour ZACHT AUTOMAAT et mes concerts solo. McLean numérote et date toutes les cassettes de AUTOMAAT, une étape tout à fait vitale. Au fur et à mesure que le matériel est transféré sur ordinateur pour être édité, les cassettes deviennent inutiles et vont rejoindre le reste de la pile. Parmi les fragments retenus, on retrouve cependant un millier de moments évanescents de babillage colérique, d'idées mélodiques abandonnées, de brèves improvisations, d'interminables solos de batterie, d'éclats de rire maniaque, de commentaires dédaigneux, etc. Tous ces fragments, qui témoignent du processus musical et de notre amitié de longue date, sont conservés ici dans une glu qui donne mal au cœur. Nous gardons la plupart des enregistrements originaux de nos sessions de 2010 dans un étui à carabine artisanal que McLean a trouvé un jour dans la rue. À vous de faire sens de cette métaphore.
MES PROBLÈMES FANTAISISTES, MES PLAISIRS DÉLICIEUX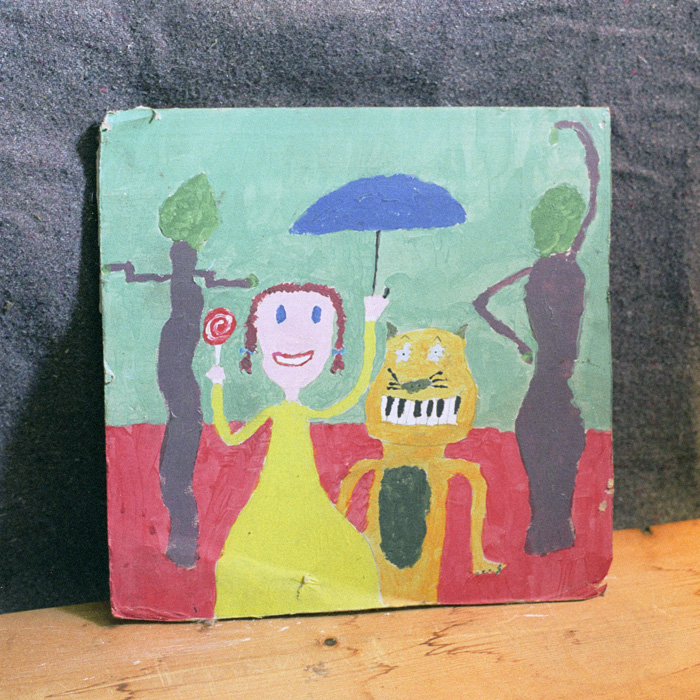 Il s'agit d'une peinture de 33x33cm sur plâtre par Benjamin Rosenblum datant des alentours de 2003. Son plafond s'est affaissé et le proprio lui a recommandé de faire les travaux lui-même. Sur les restes de Gyproc, il a effectué une série de temperas que je trouve fascinantes. Je lui ai demandé de faire la pochette d'un album que je projetais d'intituler « My Troubles Fictitious, My Pleasures Delicious » [Mes problèmes fantaisistes, mes plaisirs délicieux] et c'est ce qu'il a peint sans d'autre instruction. J'ai décidé que je n'aimais plus le titre, mais il m'a interdit d'utiliser la peinture pour quoi que ce soit d'autre. Jusqu'en 2011, le cadre est resté accroché dans ma cuisine. Je me suis finalement dit « Ah pis d'la marde » et j'ai décidé que suffisamment de temps s'était écoulé pour que je l'utilise : c'est devenu la pochette de WE CAN'T HELP YOU IF WE CAN'T FIND YOU. J'aime vraiment vraiment cette peinture.
LA VIE C'EST DURE, MAIS FORMIDABLE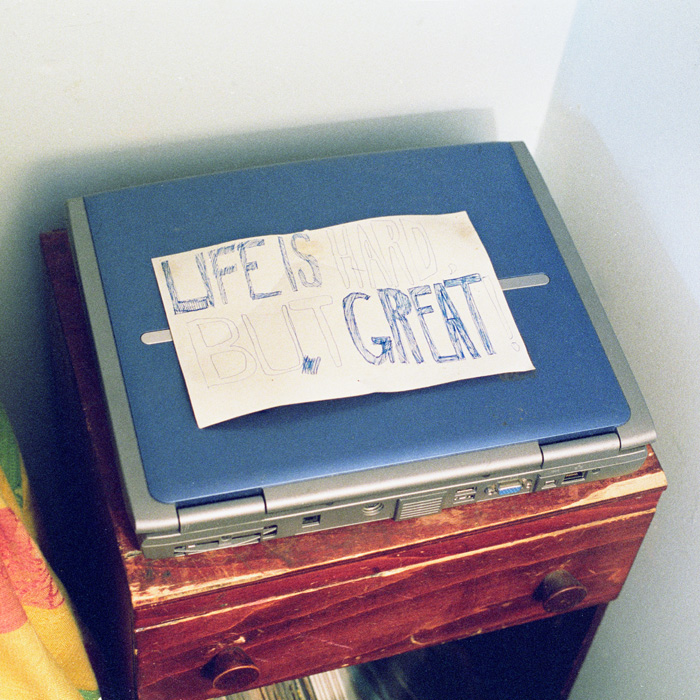 Au moment d'entreprendre quoi que ce soit, on devrait toujours se rappeler cette phrase. C'est difficile à distinguer, mais c'est écrit « LA VIE C'EST DURE, MAIS FORMIDABLE ». Tracée au stylo par Eugene Slonimerov (voir DE NOUVELLES FORMES D'ORGANISATION) à l'intention de quelqu'un qui avait besoin de réconfort, l'affiche a été abandonnée et est devenue un triste mais amical artefact ayant survécu beaucoup plus longtemps que prévu. On peut la considérer en tout ou en partie selon les besoins.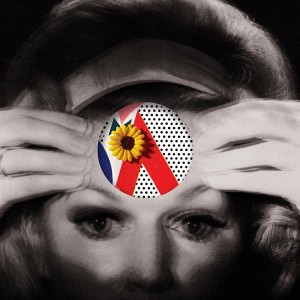 U.S. Girls
Free Advice Column
Toronto, ON
From the incidental boogie of Jesse Locke:
Meg Remy's latest transmission is another paradigm-shifting blast of powerful and empowering POP. Following last year's A+++ long-player GEM and the trunk-rattling "Island Song" remix she's now teamed with the notorious Onakabazien as overtime partners in crime. His dusted soul strut and blunted beats on the first three tunes of this EP swirl around Remy's passionate trills like a rhinestone cape, while "Disco 2012" brings Louis Percival's echo raps to the forefront on a melancholy mirrorball lament. GRIP.
De la danse accidentelle de Jesse Locke:
(Traduit par les déboires académiques d'Andréanne Dion)
La plus récente transmission de Meg Remy est une autre explosion de pop libératrice et puissante qui déplace les paradigmes. Après l'excellent disque GEM de l'année dernière et le cliquetant remix de « Island Song », elle fait maintenant équipe avec le célèbre Onakabazien, complice des heures supplémentaires. Sur les trois premières chansons de ce EP, son soul poussiéreux et ses rythmes émoussés tourbillonnent autour des trilles passionnées de Remy comme une cape en strass, alors que « Disco 2012 » met en avant le rap en écho de Louis Percival sur une complainte mélancolique en boule disco. À SAISIR.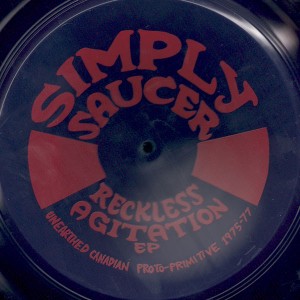 Simply Saucer
Reckless Agitation EP
(Logan Hardware // Galactic Archive)
Hamilton, ON
From the speeding Chevy of Jesse Locke:
For my money, this is hands down the dig of the year! Hamilton's hallowed heroes of electrified proto-punk have one of the sparsest discographies known to man, so an EP of previously unheard songs from their '70s halcyon days is a gift from the spaceways.
Dates, line-ups and fidelities vary throughout these four tunes, but this is Simply Saucer in relatively restrained live action mode, not the Sister Ray-damaged Jackson Square epics heard on side two of Cyborgs Revisited. The title track (1977) churns and chugs like "I Fought The Law" covered by actual criminals, as frontman Edgar Breau froths with a mouth full of gravel. "Oh So Much" (1975) slows down the carousel for a jangly jaunt that sounds like the Kinks fronted by Lou at his semi-sweetest, ending with a flatline yee haw. "Give It Away" (1976) knocks on the doors of never never land with some questions (from the liners: If it's a slide gtr it's Alex Pollington, if it's just electric gtr it's Steve Park) but it's fine six-string wrangling no matter whose hands are behind it. "Oh What You Say" (1978) is the lowest-fi of the bunch (and presumably taken from a live show), but also possibly the catchiest, with wall-of-hair backing vocals from the band's lifer bassist Kevin Christoff over a driving tune with its boot on the gas. Quintessential and essential.
Heads owe a debt to Chicago's great record shop/label/vintage video arcade Logan Hardware and Steve Krakow of Galactic Zoo Dossier for making this grip a reality. The narration from Breau introducing each side and wacky packaging of a 7" screwed inside a frisbee (flying saucer — get it?) are the cherries on top of a sundae 40 years in the making. Amazingly, this is just the tip of the ice floe, as the same camp is set to deliver a monster double LP (!!!) of unreleased Saucer songs in the near future. A match made in space…
De la Chevy qui file à toute allure de Jesse Locke:
(Traduit par les mots inédits de Julie Forget)
Selon moi, ce EP est sans conteste le meilleur de l'année ! Les parutions connues des héros hamiltoniens bénis du proto-punk électrisé sont des plus rares, donc un disque des chansons jamais entendues de leurs jours heureux des années 70 est un cadeau venu de l'espace.
Les dates, formations et loyautés varient dans ces quatre morceaux, mais c'est Simply Saucer dans un mode actif live relativement restreint et non pas les chansons épiques de Jackson Square discréditées de « Sister Ray » de la face deux de Cyborgs Revisited. La chanson-titre (1977) bouillonne et souffle comme « I Fought The Law » reprise par de vrais criminels, le leader Edgar Breau bavant, la bouche remplie de gravier. « Oh So Much » (1975) ralentit le manège avec une ballade cliquetante qui sonne comme les Kinks avec Lou à son presque plus agréable comme chanteur, terminant avec un yee haw stagnant. « Give It Away » (1976) frappe à la porte d'un pays imaginaire à certains égards (des lignes : « If it's a slide gtr it's Alex Pollington, if it's just electric gtr it's Steve Park » (« Si c'est une guitare jouée en slide, c'est Alex Pollington, si c'est juste une guitare électrique, c'est Steve Park. »)), mais c'est une bonne dispute de guitares à six cordes peu importe qui la joue. « Oh What You Say » (1978) est le plus lo-fi des morceaux (et sans doute pris d'une performance live), mais aussi le plus accrocheur, avec des accompagnements vocaux du bassiste à vie Kevin Christoff qui tapissent les murs de cheveux, sur une chanson énergique qui enfonce la pédale de gaz. Typique et essentiel.
Les avis en doivent une à la grande salle de jeux vidéo antiques et magasin/maison de disques de Chicago, Logan Hardware, et à Steve Krakow de Galactic Zoo Dossier pour avoir donné vie à cette rare parution. La narration de Breau au début de chaque face et l'emballage farfelu d'un 7'' inséré dans un frisbee (« flying saucer » (soucoupe volante) — vous voyez ?) sont les cerises sur le sundae qui a mis 40 ans à se réaliser. Étonnamment, ce n'est que la partie visible du iceberg, puisque le même clan prévoit sortir un LP double (!!!) monstre de chansons inédites de Saucer dans un avenir rapproché. Un match joué dans l'espace…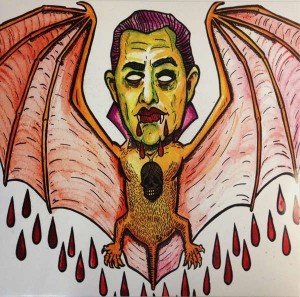 Pink Wine
Untitled
Toronto, ON
From the pink whine of Jesse Locke:
You can only beat on the brat for so long before he starts to beat back. On Pink Wine's debut platter (LP from the Canuck-punk lovers at P. Trash and cassette from the hosers at Hosehead), these rough-and-tumble charmers slick back their quiffs and hit the street with baseball bats swingin'. Joel French's bubblegum vox would make Nobunny proud, and the tunes are a timeless blast of soda shop bop. Oh yeah!
Du gémissement rosé de Jesse Locke:
(Traduit par Jankarza)
Vous ne pouvez taper sur le petit morveux que pour un certain temps avant qu'il ne vous tape dessus en retour. Sur le premier album de Pink Wine (33 tours offert par les amoureux de punk canadiens de P. Trash et cassette offerte par les arroseurs de Hosehead), ces chahuteurs charmeurs se lissent les cheveux en arrière et sortent dans la rue en balançant leurs battes de baseball. La voix gomme balloune de Joel French rendrait Nobunny fier, et les chansons sont une explosion intemporelle de be-bop de snack-bar. C'est ça!
---