Tag: jesse locke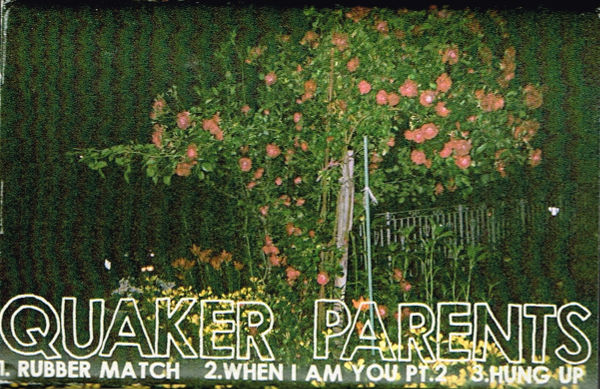 Quaker Parents
Rubber Match
Halifax, NS
From the racquetball court of Jesse Locke:
The brothers Grundy bounce back with a brimming cassingle of spidery-legged clockwork pop. Sputtering stop-start rhythms propel a parade of jitterbugged hooks set in place by the pace-setters. Hang on to these hang ups and don't miss the grip.
Du court de racquetball de Jesse Locke:
(Traduit par le revers de Louis-Félix Pellerin)
Les frères Grundy nous reviennent avec une cassingle grouillante de clockwork pop. Les rythmes stop-start propulsent une parade de crochets swingant mis en place par les pionniers du genre. Laissez ces complexes vous hanter et restez aux aguets pour une sortie éventuelle.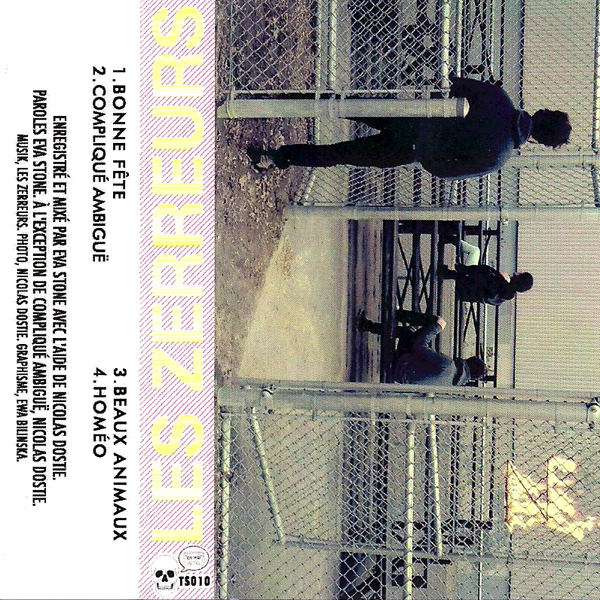 Les Zerreurs
Les Zerreurs
Montréal, QC
From the beaux animaux of Jesse Locke:
The ear-scrambling jammers formerly known as ManyMental Mistakes re-emerge caterwauling and clanging with a four-song cannonade. Les Zerreurs' appetite for deconstruction hoovers up everything in its path with an abrasive blast of guitar damage and blood-curdling chearleader chants. "Bonne Fête" might not be sung around family tables any time soon, but it finds the Montreal trio joining a time honoured tradition.
Des beaux animaux de Jesse Locke:
(Traduit par Sylvain Castilloux)
Les écrabouilleurs d'oreilles que l'on connaissait sous le nom de ManyMental Mistakes refont surface en dissonance, faisant tout un tapage avec une canonnade de 4 chansons. L'appétit pour la déconstruction des Zerreurs aspire tout sur son passage avec une explosion abrasive de guitare destructrice et ses chœurs de meneuses de claques à glacer le sang. «Bonne Fête» ne sera surement pas chanté autour de tables familiales de sitôt mais le trio montréalais le fait comme s'il honorait une ancienne tradition.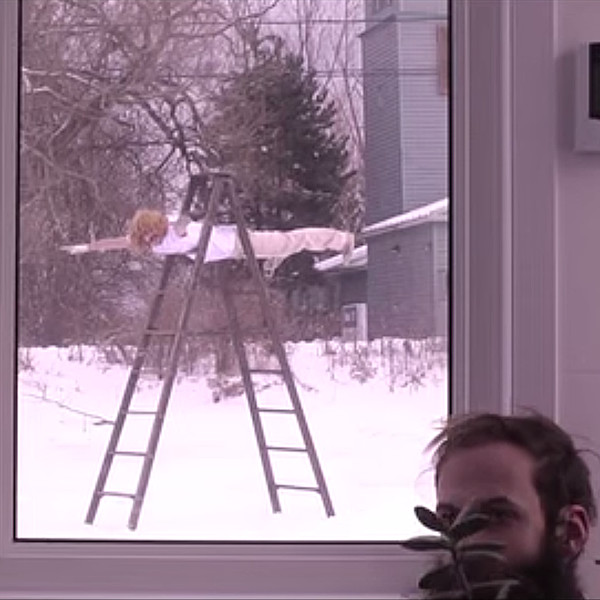 Man Made Hill
"Constant Touching / Troll Jazz"
(Director: Chris Boni)
Toronto, ON
From the body language of Jesse Locke:
Man Made Hill's extraterrestrial adolescent funk crams a chaos pouch with leather-gloved fistfuls of purple snow. Thee slow jam summer anthem of 2014 is visualized with khaki-clad choreography from the MANGEA men's dance troupe, plus a slinky bonus song coda. How we gonna move on as a human race?
Du langage corporel de Jesse Locke:
(Décodé et transcrit dans le langage mental de Louis-Félix Pellerin)
Le funk adolescent extraterrestre de Man Made Hill remplit d'une main gantée un sac banane avec des poignées de neige violette. LE slow jam de l'été 2014 est agrémenté d'une choréographie de la troupe de danse masculine accoutrée de kaki MANGEA et se termine avec une coda furtive. Comment on va faire pour aller de l'avant, en tant que race humaine?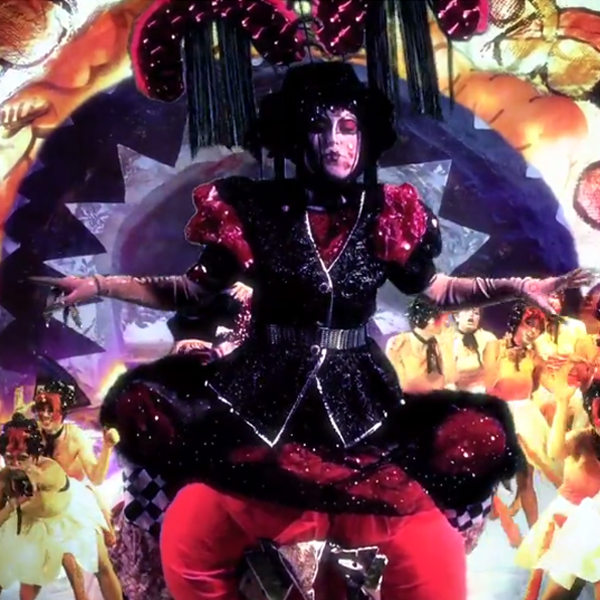 Smile Stealers
A film by Jasa Baka and Allison Moore
Director:: Allison Moore // Production Designer: Jasa Baka
Montréal, QC
From the paper moon photobooth of Jesse Locke:
Smile Stealers is a phantasmagoric fairy tale from the effervescent imaginations of Allison Moore and Jasa Baka. Dreamily weaving digital and practical effects, stop motion animation, eyeball-expanding costumes and sets, it tells a tale of cosmic transformation in a twinkly twee wonderland robbed of its joy. Recognizable faces from the Montreal music/art milieu such as Tyr Jami and Simon Schlesinger cast enchanting charms, yet the outsized expressions of Seripop's Chloe Lum — familiar to anyone who experienced the tightly coiled vortex of an AIDS Wolf performance — can't help but steal the show.
Du photomaton paper moon de Jesse Locke:
(Traduit par l'art visuel de Julie Forget)
Smile Stealers est un conte fantasmagorique provenant de l'imagination effervescente d'Allison Moore et de Jasa Baka. Les effets pratiques et numériques tissés de façon songeuse, l'animation image par image et les costumes et les parures à couper le souffle racontent une histoire de transformation cosmique dans un brillant paysage féérique maniéré privé de sa joie. Des visages connus du milieu musical et artistique de Montréal comme Tyr Jami et Simon Schlesinger présentent des charmes envoûtants. Toutefois, les expressions surdimensionnées de Chloe Lum de Seripop — connue de tous ceux qui ont expérimenté le vortex fermement enroulé d'un spectacle d'AIDS Wolf — ne peuvent faire autrement que voler la vedette.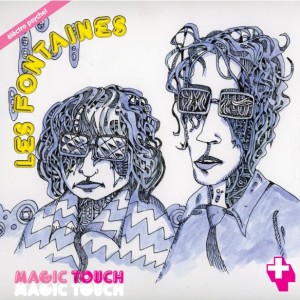 Les Fontaines
Magic Touch
Toronto, ON
From the superburger of Jesse Locke:
Lorenz Peter of Processor / LP's LPs / Corpusse renown teams with Heiki Sillaste from Toronto's early '90s EBM soul crushers Digital Poodle for this zorched dial flip to the dancefloor. Soft squelch, 808s and busted breaks squirm underneath paroxysms of mechanized vocal fry in a deluge of waveform whirlpools. Magic Touch is a playful affair for these electronic cultists, but their problèmes d'amour persist in other guises. O Canandaa!
Du superburger de Jesse Locke:
(Traduit de la plume flippante de Dominic MPILÉ)
Lorenz Peter, de Processor et du célèbre Corpusse (LP's LPs), s'associe avec Heiki Sillaste, du groupe torontois du début des années 90 Digital Poodle à la soul EBM crushy, dans cette ébauche musicale flippante jusqu'à la piste de danse. On entend des bruits de pataugeage, de la boîte à rythmes 808 et des breaks éclatés qui convulsent au paroxysme de voix craquées mécaniques dans un déluge de tourbillons ondulés. Le morceau Magic Touch est un moment ludique pour ces mordus de musique électronique, mais leur problèmes d'amour s'étalent en plusieurs apparences sonores. Ô Canandaa!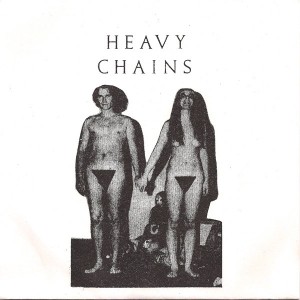 Heavy Chains
7"
Vancouver, BC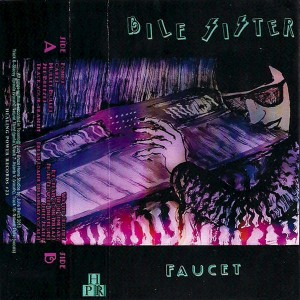 Bile Sister
Faucet
Toronto, ON
From the see breeze of Jesse Locke:
Julie Reich a.k.a. Bile Sister a.k.a. DJ Garbage Body is the shades-clad cortex of a circuit-fried storm. Jacked in to the mutated matrix of dancefloor declassification, she channels her inner Chandra with the puckered pluck of half machine lip moves. These Casiotone clone killers are now in the process of full band re-make/re-model, so keep an eye on the blockspace and seize the steeze.
De la brise de vue de Jesse Locke:
(Traduit par l'œil de la tempête de Virginie Langlois)
Julie Reich alias Bile Sister ou encore DJ Garbage Body est l'œil d'une tempête en furie qui se serait dissimulé derrière des lunettes de soleil. Connectée à la matrice mutante d'une musique dansante sans genre ni forme clairement défini, elle canalise son Chandra interne grâce à un mouvement des lèvres nerveux digne de l'album half machine lip moves. Ces adeptes du Casiotone sont passés d'un projet solo à un groupe proprement dit, alors gardez un œil sur ce qui se passe dehors et laissez-vous porter par le courant.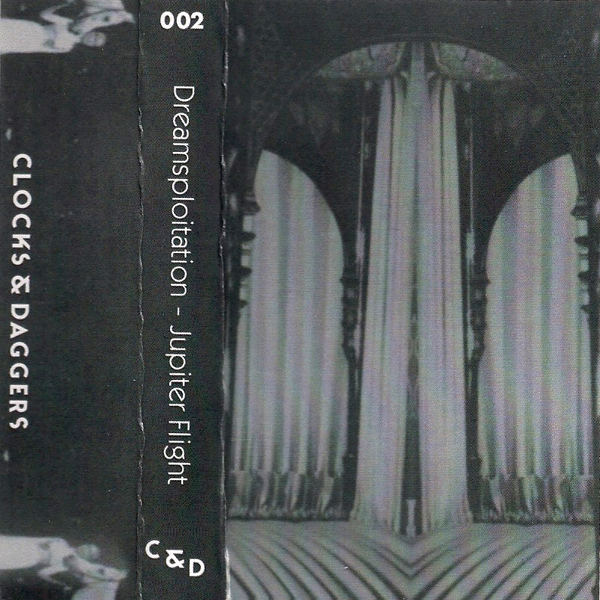 Dreamsploitation // You'll Never Get To Heaven
Jupiter Flight // Adorn
London, ON
From the red strings of Jesse Locke:
The instrumental engine of YNGTH streamed under most radars with Jupiter Flight in 2012. For those who missed this solo voyage from Chuck Blazevic, the crackled atmospherics, battering beatscapes and electronic chimes remain every bit as enveloping as his work with vocalist Alice Hansen. If stray copies still float in the void, reach out and grip.
The star-crossed pair return in spring 2014 with the launch of a label and six new songs of slow-motion breath-stop. Adorn drifts down dreamier rivers with lush, string-draped synth-pop lingering between moments of picturesque pause and Badalamenti lament. The duo adds ghostly and gorgeous ornamentation to any rooms they inhabit.
Des cordes rouges de Jesse Locke:
(Traduit dans un moment de répit par Nicolas Coutlée)
L'engin instrumental de YNGTH est passé sous la plupart des radars en 2012 avec la parution de Jupiter Flight. Pour ceux et celles qui auraient manqué le voyage solo de Chuck Blazevic, ses atmosphères qui crépitent, ses paysages de pulsations et ses carillons électroniques vous envelopperont tout autant que lorsqu'il est accompagné par la chanteuse Alice Hansen. Si quelques copies errantes flottent encore dans le vide, assurez-vous de mettre la main dessus.
Au printemps 2014, le tandem séparé par les étoiles nous revient avec le lancement d'une étiquette et de six nouvelles chansons langoureuses à couper le souffle. Luxuriante pop synthétique drapée de cordes, Adorn s'écoule le long des rivières oniriques, tanguant entre moments de répit pittoresque et lamentations à la Badalamenti. Peu importe la chambre qu'il occupe, le duo la pare de sublimes ornements spectraux.

Dreamsploitation – Jupiter Flight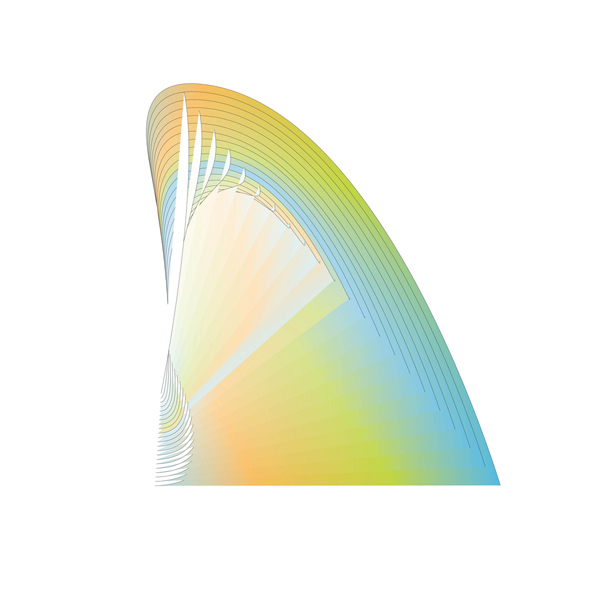 Hobo Cubes
Apex Ideals
(Debacle)
Montréal, QC
From the subtle sleep of Jesse Locke:
WC OG Francesco de Gallo sets down 12 inches of arachnidian mind-massage for the second time in less than a year. The warble-jam haunted house plunderphonics of his Ala Vjiior alias are replaced here with something subtle and formless, yet the lingering neck-chills continue to pulse and bleep from the cracks. "Structures in Stasis" plays Bloody Mary with the circuit-bent Speak & Spell spirit of Cthulhu, summoning the gatekeeper into this rainbow netherzone.
Du sommeil subtil de Jesse Locke:
(Traduit par Peter Particule)
Pour la seconde fois en moins d'un an, Francesco de Gallo – un vieux de la vieille chez Weird Canada – met en place 12 pouces de massage cérébral arachnéen : un album subtil, aux contours flous, dont les frissons persistants le long de l'échine continuent de jaillir des fissures sous forme de bips et de pulsations, et qui vient succéder au magma grésillant qui hante la house-collage possédée de son alias Ala Vjiior. « Structure in Stasis » joue à Bloody Mary avec l'esprit de Dictée Magique trafiquée de Cthulhu, suppliant à genoux le gardien de l'entrée de ces abysses multicolores.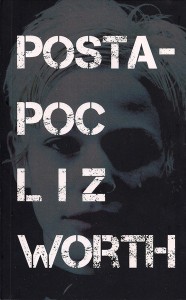 PostApoc
Written by Liz Worth
Toronto, ON
From the left-hand belief of Jesse Locke:
Liz Worth made her name with the Toronto/Hamilton punk tome Treat Me Like Dirt, and this poetic death trip is its illogical extreme. PostApoc's rapidly unraveling plot is seen through the twitching eyes of a suicide pact survivor in the midst of a music scene taking no future to heart. Make-believe bands like Valium serve as stand-ins for the Viletones, Girl for the B-Girls, and Shit Kitten for Simply Saucer, providing the soundtrack for an unholy bender in bizarro Toronto after the world's end.
As the second page explains, "it started with the earth sucking all the moisture back into the ground and replacing it with a slow, quiet dread that hung over the city like a veil." But drought is the least worrisome thing in this dystrophic dystopia run rampant with flesh-eating canines, imploding chests, and the cries of the dead. The first-person narrative switch-turns from an amplification of the unreliable into a drug-addled nightmare; Visions of two-faced praying mantis people, black magic beach houses, and animals with fungus for brains flickering between intervals of true desperation.
Here in the real world, the flip from music journalist to fictional weaver has roots of platinum logic. Liz Worth's blackened prose shoots up from six feet underground, and her characters still get treated like wormfood. Dig!
Des croyances de gauche de Jesse Locke:
(Traduit par les mains effrénées de Joannie Pharand)
Liz Worth s'est fait connaître avec son tome punk en provenance de Toronto/Hamilton Treat Me Like Dirt. Ce présent délire mortel et poétique est extrêmement illogique par rapport à ce tome. Le dénouement rapide de l'intrigue de PostApoc se fait connaître à travers les yeux tremblants d'un survivant à un pacte suicidaire au beau milieu d'une scène musicale ne prenant espoir en aucun futur. Des groupes de musique inventés, tels que « Valium », servent de remplaçants pour the Viletones, Girl pour B-Girls et Shit Kitten pour Simply Saucer. Ils offrent la trame sonore d'une beuverie démente dans la ville bizarroïde de Toronto, après la fin du monde.
Comme la seconde page l'explique, « ça a commençé avec la Terre qui aspira toute l'humidité et la remit dans le sol pour la remplacer par un effroi silencieux suspendu sur la ville comme une voile » (NDT ceci fut traduit par la traductrice de cette critique. Voici le passage en langue originale anglaise : « it started with the earth sucking all the moisture back into the ground and replacing it with a slow, quiet dread that hung over the city like a veil. ») Mais, la sécheresse est la dernière inquiétude à avoir dans cette dystopie dystopique remplie de canidés mangeurs de chair, de poitrines en éclats et de cris de morts. La narration à la première personne oscille entre amplifications invérifiables et cauchemars embrouillés induit par la drogue: des visions de mantes religieuses humaines à deux visages, des maisons ensorcelées au bord de l'eau et des animaux ayant des moisissures en guise de cerveau qui clignote en intervalles de véritable désespoir.
Ici, dans le vrai monde, la journaliste musicale devenue une tisserande de fiction a des racines logiques et exubérantes. La sombre prose de Liz Worth ressort de six pieds sous terre et ses personnages se font encore traiter comme des appâts pour vers de terre. Ça vous plaira !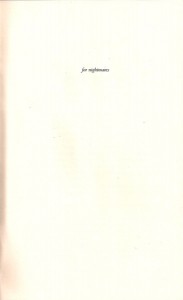 ---