Tag: hugo hyart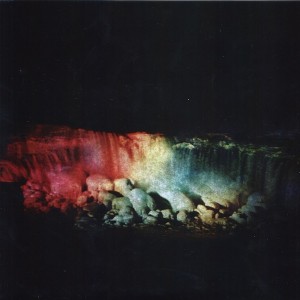 The Lad Mags
Trick
(Self Released)
Edmonton, AB
From the trickbag of Jibril Yassin:
The Lad Mags have always commandeered a dirty streak, but they've never sounded more in control of their otherworldly abilities, conjuring up fierce sound waves of soul-indebted scuzz rock . A-side "Trick" seems beamed from an alternate universe directly to the dark corners of your cerebral cortex with its sweet harmonies, lyrics of caustic kiss-offs, and indelible organ liftoffs. Yet b-side "You Stole My Mind" takes a different route entirely. Opting for an afterhours vibe, it's a sonic invitation taking you into a groovy ghoulie bash. Dig in, but take heed!
De la poche à malice de Jibril Yassin:
(Traduit lors d'une fête macabre par Hugo Hyart)
The Lad Mags font de la grosse musique sale depuis toujours, mais ils n'ont jamais été aussi en contrôle de leur capacités surnaturelles, invoquant des oscillations rock scuzz imprégnées de soul. La face A « Trick » semble rayonner d'un univers alternatif directement vers les coins sombres de ton cortex cérébral avec ses douces harmonies, ses paroles d'adieux caustiques et ses orgues indélébiles planants. La face B « You Stole My Mind » prend une direction complètement différente. Optant pour une ambiance de fin de soirée, on te lance une invitation sonore à une fête macabre qui groove. Bon appétit, mais fais gaffe!
Téléphone Maison
Le rock and roll passait par là?
Montréal, QC
From the circuitous intemperance of Joshua Robinson:
Surging with the resonant percussive pulse of a daydream demon caught in a strange land, Téléphone Maison's Le rock and roll passait par là?? combines the sound of the restless winding world with the engineered static of preternatural haze. This addition to Jeunesse Cosmique's growing list of friendly frantics oscillates to the fervid pitter-patter and mechanical pulsing of waveforms, breaking through the levies holding back the clamour-cuss of technological intemperance. With sounds inverted and turned inside out to reveal the skeletal fragmentation of diodic asymmetry, Téléphone Maison orchestrates the wild groans and underexplored origins of synthetic ear pleasure. This mental pirouette sees one spinning around oneself, cyclically spiralling until all remnants of heard familiarity are rendered mute, reconstituted as circuits vying for control of the space between our ears.
De l'intempérance détournée de Joshua Robinson:
(Traduit par la pirouette mentale de Hugo Hyart-Dauvergne)
Déferlant avec la pulsion percussive résonnante d'un démon rêveur coincé dans un étrange pays, Le rock'n roll passait par là de Téléphone Maison combine un son sinueux et agité avec la statique orchestrée d'une brume surnaturelle. Cet ajout à la liste grandissante de frénésies amicales de Jeunesse Cosmique oscille au crépitement fervent et mécanique d'ondulations pulsatives, perçant les taxes en retenant la clameur-juron de l'intempérance technologique. En utilisant des sons inversés et retournés sans dessus dessous pour révéler la fragmentation squelettique d'une asymétrie à diode, Téléphone Maison orchestre les grognements sauvages et les origines sous-explorées du plaisir de l'oreille synthétique. Cette pirouette mentale nous voit tourner sur nous-mêmes, cycliquement tourner en spirale jusqu'à ce que tous les résidus de familiarité entendus soient rendus muets, reconstitués en circuits rivalisant pour le contrôle de l'espace entre nos deux oreilles.
Téléphone Maison – Les Troubadours Du Roi Beaudouin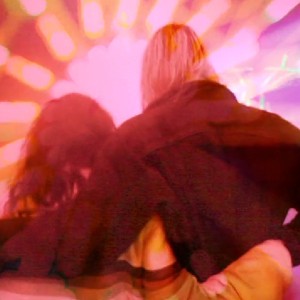 The Courtneys
"Lost Boys"
(Director: Rose Gagnon and Andrew Volk)
Vancouver, BC
From the neon mind of Harriet Wild:
Teen dreaming is fang-tipped and splashed in neon in The Courtneys' latest video: a hedonistic homage to vampire babes and school nights on the boardwalk. Under the spotlight-full moon, this is a teenage riot set to the thrust and jump of the arcade and amusement park; the whiff of cotton candy; the twirl 'n' hurl of no-curfew romance. Ride the Crazy Beach Party tonight!
De l'esprit néon de Harriet Wild:
(Traduit par Hugo Hyart)
La rêverie adolescente est plantée de crocs et aspergée de néon dans la dernière vidéo des Courtneys: un hommage hédoniste aux vampires adorables et aux nuits d'écoles sur les passerelles. Sous la pleine lune-projecteur, c'est une révolte adolescente au rythme de la poussée et des sauts de la salle de jeux-vidéos et du parc d'attraction; la bonne odeur de barbe à papa; le tournoiement lancé de la romance sans couvre-feu. Tous à la Crazy Beach Party ce soir!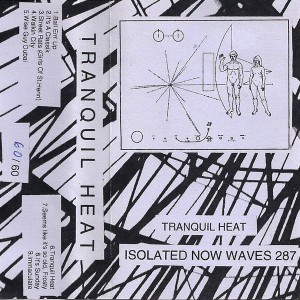 Tranquil Heat
Tranquil Heat
Montréal, QC
From the enigma of Jesse Locke:
This two-way tone zone from Jessica Mensch and Alexander Moskos is the piper song for the street rats of St. Henri. Splitting writing credits and alternating slurred vox, Mensch bashes rap-tap rhythms ranging from speed bag to glam stomp to AK-47, while Moskos mangles glitterbust riffs from the blown-out guts of a Peavey. Funk stab and biker rock radio leakage only add to the disorienting effects of the highly specific headspace this music invites/inhabits. It's a classik.
De l'énigme de Jesse Locke:
(Traduit à coups de couteau par Hugo Hyart)
Cette zone de tonalité à deux sens de Jessica Mensch et d'Alexander Moskos est la flûte enchantée pour les rats des rues de St-Henri. Se partageant l'écriture des morceaux et alternant les voix mal articulées, Mensch cogne des rythmes rêches et percutants qui vont du punching-ball au stomp glam à l'AK-47, tandis que Moskos tabasse des riffs glitterbustesques des entrailles explosées d'un Peavey. Des coups de couteau funk et des fuites de radios de rock motard ne font que contribuer aux effets désorientants de l'espace crânien hautement spécifique où cette musique habite/nous invite. C'est un classik.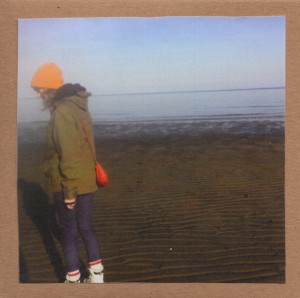 Hazy Montagne Mystique
2013 la fin d'un rêve, le début d'un autre
Montréal, QC
From the disamstarbled thoughts of Hugo Hyart:
(Translated by Hugo Hyart)
It starts like the end of a movie with a sampled monologue from Werner Herzog. Like a transition into another phase and to face the fear of the void, we move forward in our journey. A succession of phases, cyclical maybe, let us imagine that there is no beginnning or no end, only transitions. The rest are the drones, the impressions of past refracted in our mind by a mirror light-years from here, post-post-existentialism. This is the need to approach what we are, the mystery of our occurence in time, why we make music… Make or remake this trip and refresh your conceptions before plunging into a new daydream.
Des pensées déliétoilées de Hugo Hyart:
Ça commence comme la fin d'un film, avec un monologue échantilloné de Werner Herzog. Comme une transition vers une autre phase et face à la peur du vide sous chacun des pas que nous faisons en avant dans notre voyage. Une succession de phases peut-être cycliques nous laisse imaginer, qu'il n'y a pas de début ni de fin, qu'il n'y a que des transitions. Le reste, les bourdons, les impressions du passé réfractées dans notre esprit par un miroir à des années-lumières de là, l'après-après-existentialisme , la nécessité de se rapprocher de ce que nous sommes, le mystère de notre occurrence dans le temps, pourquoi faire de la musique … Faites ou refaites ce voyage et rafraîchissez vos conceptions avant de replonger dans une nouvelle rêverie.
Hazy Montagne Mystique – Flotter dans l'espace les yeux fermés
Hazy Montagne Mystique – Elle sait nager, parce qu'elle est sauveteur professionnel ft. Maud
Black Givre
Autorail
Montréal, QC
From the turing completion of Aaron Levin:
Autorail explodes with revolutionary annihilation; wrenching, quantized assaults into drumadelic nihilism. Judgement Day 2033. Drum machines self-aware with percussive impunity. 909mm shell casings strangling the sanctity of rhythm. Endurance is not an option. Black Givre have won; the aural desolation of their pragma viral within humanity's neural gripwork.
De la Turing-complétude d' Aaron Levin:
(Traduit par les neurones artificiels de Hugo Hyart)
Annihilation révolutionnaire, Autorail explose, déchire en une série d'assauts quantifiés jusqu'au nihilisme rythmadélique le plus complet. 2033, le Jugement dernier. Des boîtes à rythmes intelligentes qui jouissent d'une impunité percussive. Des cartouches de 909mm qui étranglent la sainteté du rythme. Toute résistance est futile. Black Givre a gagné; la désolation auditive de son pragma contamine de l'intérieur le réseau neuromimétique de l'humanité-collectrice.
The New Values
The New Values
(Self Released)
Vancouver, BC
From the noizy scuzz of Matty Jeronimo:
The New Values' self-titled LP opens with a crash, like a beat up hot rod skidding to a stop on the neighbours' lawn. The nervous mania of the class of 2013 makes fast friends with the relentless power chords of classic Stooges sped up to breakneck pace while the ghost of Malcolm Owen lingers in the corner. Smoke is pouring out of the car. It could explode at any moment. The pace is ever-shifting without letting up, lingering for a minute on noizy scuzz before deftly switching to tight Televisionesque rhythm. The driver stumbles out of the car, wild-eyed and coughing. Fifteen minutes later, you're sitting in your quiet living room wondering what happened.
De la crasse bruyante de Matty Jeronimo:
(Traduit par la vitesse vertigineuse de Hugo Hyart-Dauvergne)
Le disque LP éponyme des New Values s'ouvre avec fracas, comme une hot rod cabossée dérapant sur le gazon des voisins. La manie nerveuse de la classe de 2013 s'acoquine rapidement avec les accords de puissance entêtés classiques des Stooges accélérés à une cadence folle, alors que le fantôme de Malcolm Owen lambine dans un coin. De la fumée se déverse de la voiture. Ça pourrait exploser à tout moment. Le rythme est en constante évolution sans s'adoucir, s'attardant une minute sur une crasse bruyante avant de passer habilement à un rythme Televisionesque. Le conducteur s'extirpe en titubant de la voiture, les yeux fous et toussant. Quinze minutes plus tard, vous vous retrouvez assis dans votre salon au calme et vous vous demandez ce qui s'est passé.
The New Values – Straight Line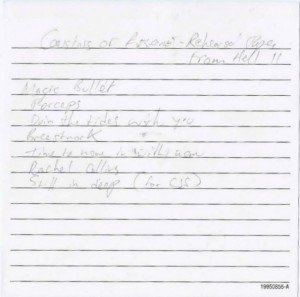 Cousins of Reggae
Rehearsal Tapes From Hell II
(Self Released)
Ottawa, ON
From the summa slamma of Javier Fuentes:
Blake Hargreaves has been a key conspirator in several mind-warping outfits, with an output that extends across all formats. One of his longest running projects is the fuzz-fried collaboration with Liam Thurston as Cousins of Reggae. The latest document to leak out from the duo's cavernous jam space lets us in on an inspired session of wasteland ballads and damaged zones. Stripping away pieces of the exterior chaos to entangle themselves further inside our cerebral vacuum, the disjointed melodies spin into glorious burnout. It sounds like the theme music for an old western taking place in a post-nuclear desert. On those vaporized plains, the only voice you can hear is the phantom sun. A proposition to enter the coolness of a shadowy ledge is rebuffed in favour of a walk back into the heat. Another masterful negotiation of abrasion and abandonment, and a crucial addition to the Cousins' canon.
Cousins of Reggae – Still In Deep (for CJS)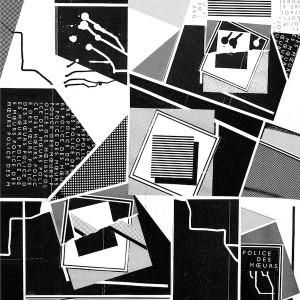 Police des Moeurs
Police des Moeurs
Montréal, QC
From the last chance of Hugo Hyart:
(Translated by Hugo Hyart)
Police des Mœurs further their Euro connections with the Mannequin Records coldwave cartel. On their first full-length LP, the Montreal group expand on their synthetic anthems of dark/luminous feelings. Under the guise of an Orwellian aesthetic, they declaim slammed observations on the floating air of the current era with dark and sumptuous synth-pop attacks. Tightrope-dancing moves on the verge of the void make you feel like running away from your troubles or into them head on.
This is the secret score for a grey, urban wasteland in the making, a natural environment for doom-blessed lives. Everyone wears a mask in the public space, leaping into their fortress of worried solitude. These internalized dances externalize thoughts to escape the unease. Mistakes meditated over and over enable an elevation. You are invited to soundtrack your anxieties and simultaneously escape.
De la dernière chance de Hugo Hyart:
Police des Moeurs étendent leurs connexions européennes avec le cartel de la coldwave Mannequin Records. Sur leur premier long jeu, le groupe de Montréal prolongent leur hymnes aux sentiments clair-obscur. Sous le couvert d'une esthétique orwellienne, ils déclament des observations claquantes sur l'air ambiant de l'ère actuelle au milieu d'attaques synthpop toujours sombres et somptueuses. Des mouvements funambulistes dansants au bord du gouffre vous donne envie de courir pour fuir ou aller faire face à vos problèmes.
Ce disque est une bande-son secrète pour des pays urbain gris, champs de ruines en puissance, environnement naturel pour des vies condamnées-bénies. Tout le monde porte un masque dans l'espace public et s'enfonce dans sa forteresse de solitude inquiète. Ces danses interiorisées là exteriorisent des réflexions pour échapper au malaise. Les erreurs méditées continuellement permettent de s'élever. Vous êtes priés de nourrir vos anxiétés pour leur échapper.
Police des Moeurs – Dernière Chance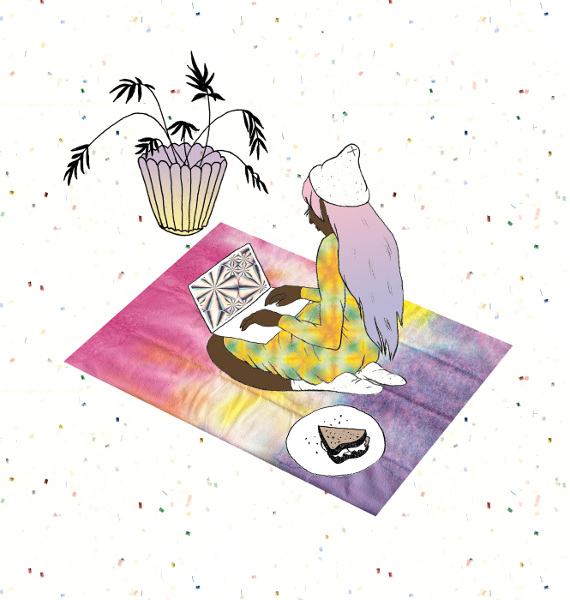 How To Start A Music Blog When You're 15
Shawna Naklicki
(Elliot Lake, ON)
[cover art: Tobin Louise Reimer]
Shawna Naklicki is a young grasshopper who learned (almost) everything she knows about blogging through mistakes. She's been writing with zeal at Sound Vat since age 15. Her proudest moment was finally getting business cards.
You are young. You live in a depressed post-boom retirement town. You have discovered CBC Radio, and find your late nights filled with soft static and international programming. Along with this discovery blooms a whole new world of music – Canadian music – that you've never heard before. You want to talk about it. You want everyone to know about it. You want to be a part of it. In an interweb world of infinite opinions, visions and sounds, you decide you have a voice. You start a blog:
1. Research
Research different blogging platforms before you choose one. Try to get an idea of what you want to get out of it, look at what blogs you read/use, and decide that Weebly is not a good blogging platform. In fact, it is not a blogging platform at all. Maybe I'm biased, but WordPress is the best place to start, as it's both very customizable while remaining user-friendly, working wonderfully for text-based blogs.
For image and video based blogs, Tumblr does the trick. It is quick and easy, but runs the risk of being social network-y, which can appear juvenile and mediocre. Blogger (Blogspot) is outdated in appearance, and customization options are few, but some blogs make it work.
2. Get a good name
Get a good name for your blog, and stick with it. You're not Apple, but branding is important no matter how big or small the project. Try to stay away from these: Sarah's Super Duper Music Blog, i lyke muzik, Shovel, etc. Memorable names are distinct, brief, and appropriate. (Do not in any circumstance name your Canadian music blog Candmu… been there, done that. It was a dark time.)
3. Avoid gushing
When you start writing (especially when it comes to album reviews), avoid gushing. It's easy to get carried away with complimentary words. Great reviews will capture the sound of a record with just their words, like this one, leaving you with the impression that you've already listened to the album. Looking at the review a few hours later can be helpful in seeing if you're over-praising.
4. Proofread!
This rule applies to anyone who writes anything ever. Seriously. It doesn't take all that long and will save you a few face-palms that usually arrive sometime after you prematurely press the publish button.
5. Make friends
Do not be afraid to reach out. Lucky you, you can hide behind a computer screen and use your big vocabulary to make people believe you can't still eat off the kid's menu. Reach out – send emails to your favourite record labels and blogs, tell them you're interested in what they're doing. Having connections is key to running a music blog.
6. Decide how to present yourself
This means you have to decide whether you're going to let people know how old you are. It's never good to lie about it, but people may not take you as seriously if they know your age. Some good adjectives to use instead of your age are: inexperienced, new, humble, spring chicken, wet behind the ears, etc.
7. Don't tell anyone
Don't tell anyone about your blog. Your parents will tell their friends and you'll never be allowed to cuss while ranting and raving about how disappointing the Polaris Prize Shortlist is. Your friends will probably be relatively unimpressed and will not even know what the Polaris Prize is.
8. Tell EVERYONE
Tell EVERYONE about your blog. Having more readers and people who want to know about what you're doing will feel great. Get the word out on social media, Twitter being especially handy. It allows you not only to connect with people in the industry, but also to share things when your time is limited.
9. Have patience
Yes, we are aware that you can't attend 19+ shows. When you get media invites to cool gigs in cities far away from your small Northern Ontario town, hang your acne-ridden head in sadness and wait it out.
10. Write. Write a lot.
Consistency is imperative. Getting discouraged is almost a guarantee, because gratification is not always instant. Nothing remedies it like getting a thank you email from that band whose debut record you decided to review or getting a promo download to that album you were going to buy.
11. Find your niche.
This advice may be overused, but establishing a unique voice is very important and creates a deeper connection with your readers. It is what makes people come back – it's what brought you here.
12. Do not make your hits more important than your content.
Do not, in any circumstance, make your hits more important than your content. Integrity, child! If you find yourself turning into modern day Rolling Stone, you may want to re-evaluate and remember why you're doing this in the first place.
Mistakes will be made. Tears may or may not be shed in hours that may or may not be late. But the rewards are well worth it and with these tips and some old fashioned elbow-grease, you are on your way to becoming a valuable part of a welcoming community that shares your values.
(Traduit par Hugo Hyart)
Shawna Naklicki est une jeune scarabée qui a appris (à peu près) tout ce qu'elle sait sur la tenue de blogue à travers des erreurs. Elle écrit avec zèle sur Sound Vat depuis ses 15 ans. Son plus grand moment de gloire a été de finalement recevoir des cartes de visites.
Vous êtes jeune. Vous vivez dans une ville de retraités déprimante à la gloire passée. Vous avez découvert CBC radio et vos nuits se ponctuent de programmes statiques doux et internationaux. En même temps que cette découverte éclot un tout nouveau monde de musique – de musique canadienne – dont vous n'aviez jamais entendu parlé auparavant. Vous voulez en parler. Vous voulez que tout le monde soit au courant. Vous voulez en faire partie. Dans un monde interconnecté infini d'opinions, de visions et de sons, vous décidez que vous avez votre mot à dire.
Vous commencez un blog :
1. Renseignez vous sur
Renseignez vous sur les différentes plateformes de blogue avant d'en choisir une. Essayez d'avoir une idée de ce que vous voulez en faire, regardez ce que les blogues que vous lisez utilisent et décidez que Weebly n'est pas une bonne plateforme de blogue. En fait ce n'est même pas une plateforme de blogue. Peut-être que je suis biaisé, mais WordPress est le meilleur endroit pour commencer, c'est à la fois très personnalisable tout en restant facile à manier et fonctionne très bien pour les blogues à base de texte.
Pour les blogues d'images et de vidéos, Tumblr fait l'affaire. C'est rapide et facile, mais ça prend le risque d'être réseau socialisant, ce qui peut apparaître juvénile et médiocre. Blogger (Blogspot) est dépassé niveau apparence, et les options de personalisations sont peu nombreuses, mais certains blogues s'en sortent bien.
2. Trouvez un bon nom pour votre blogue
Trouvez un bon nom pour votre blogue, et tenez-y vous. Vous n'êtes pas Apple, mais l'effet de marque est important quelque soit la taille du projet. Essayez de vous tenir à l'écart de ceux-ci : Le Blogue de Musique Super Génial de Sarah, i lyke muzik, Shovel, etc. Les noms mémorables sont distincts, bref et appropriés. (N'appelez en aucun cas votre blogue sur la musique canadienne Candmu …. je suis passé par là. C'était une sombre époque.)
3. Quand vous commencez à écrire évitez les gros épanchements.
Quand vous commencez à écrire, (surtout quand vous en venez aux critiques d'albums), évitez les gros épanchements. Il est facile de se laisser emporter en compliments. Les meilleurs critiques capturent le son d'un enregistrement avec leurs simples mots, comme celle-ci, et vous laisse avec l'impression d'avoir déjà écouté cet album. Relire la critique quelques heures plus tard peut aider à voir si vous en faîtes trop.
4. Relisez-vous!
Relisez-vous! Cette règle s'applique à toute personne qui écrit quoique ce soit, mais sérieusement. Ça ne prend pas tant de temps et ça vous évitera quelques mains au front qui se produisent habituellement après avoir poussé le bouton de publication prématurément.
5. Faîtes-vous des amis
Faîtes-vous des amis. N'ayez pas peur d'entrer en contact. Vous avez de la chance, vous pouvez vous cacher derrière l'écran de votre ordinateur et utiliser votre grand vocabulaire pour faire croire aux gens que vous ne pouvez pas encore manger plus qu'un menu enfant. Entrez en contact – envoyez des mails à vos étiquettes et blogues préférés, dîtes leur que ce qu'ils font vous intéresse. Avoir des connections est la clé dans la tenue d'un blogue.
6. Décidez comment vous vous présentez
Décidez comment vous vous présentez. Cela veut dire que vous devez décider si vous allez laisser les gens savoir quel âge vous avez. Ce n'est jamais bon de mentir sur son âge, mais certains ne vous prendront jamais sérieusement si ils le connaissent. Quelques bons adjectifs que vous pouvez utiliser pour éviter de donner votre âge : inexpérimenté, nouveau, poussin, jeunot-e, etc.
7. N'en parlez à personne
N'en parlez à personne. Vos parents en parleront à leurs amis et vous ne pourrez plus dire de gros mots lorsque vous pesterez et râlerez sur la décevante liste de nominés du Polaris Prize. Vos amis seront probablement relativement peu impressionnés et ne sauront peut-être même pas ce qu'est le Polaris Prize.
8. Dîtes le à TOUT LE MONDE
Dîtes le à TOUT LE MONDE. Avoir plus de lecteurs et de gens qui veulent en savoir plus sur ce que vous faîtes fera plaisir. Répandez la nouvelle sur les média sociaux, Twitter est très pratique pour cela. Cela vous permet de connecter avec des gens de l'industrie, mais aussi de partager des choses quand votre temps est compté.
9. Ayez de la patience
Ayez de la patience. Oui, soyez conscient que vous ne pouvez pas aller aux concerts + de 19 ans. Quand vous recevez une invitation pour des gigs sympas dans des villes loin de votre petite ville de l'Ontario du Nord, contenez en tristesse votre tête couverte d'acné et attendez que ça passe.
10. Ecrivez. Ecrivez beaucoup
Ecrivez. Ecrivez beaucoup. Être constant-e est impératif. Être découragé-e est quasiment une garantie, car la gratification n'est pas toujours immédiate. Rien n'y remède aussi bien que de recevoir un mail de remerciement de ce groupe dont vous aviez décidé de chroniquer le premier album ou de recevoir un téléchargement promotionnel pour cet album que vous alliez acheter.
11. Trouver votre niche
Trouver votre niche. Ce conseil est peut-être trop rabaché, mais établir une voix unique est très important et crée une connexion plus forte avec vos lecteurs. C'est ce qui fait que les gens vont vouloir revenir – c'est ce qui vous y a amené.
12. Ne rendez, sous aucunes circonstances, votre nombre de vues plus important que votre contenu
Ne rendez, sous aucunes circonstances, votre nombre de vues plus important que votre contenu. De l'intégrité mon enfant ! Si vous vous retrouvez à devenir un Rolling Stone des temps modernes, vous allez peut-être vouloir ré-évaluer ce que vous faîtes et vous souvenir du pourquoi vous le faisiez au début.
Des erreurs seront commises. Des larmes seront ou ne seront pas versées à des heures qui seront ou ne seront pas tardives. Mais les récompenses le valent bien et avec ces indications et de la bonne vieille huile de coude, vous êtes sur le chemin pour devenir une partie intégrante de la communauté accueillante qui partage vos valeurs.
---