Tag: hugo hyart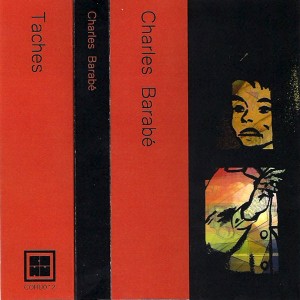 Charles Barabé
Taches
(La Cohu)
Victoriaville, QC
From the digressions and paintbrushes of Hugo Hyart:
(Translated by Hugo Hyart)
Charles Barabé filled 2013 with relentless discoveries and mind trips through his La Cohu imprint, including this standout solo release. High frequencies conjure an endless fall that makes you think you're moving forward, as deserted souls of all shapes welcome you to an Elysian field, going round this multi-coloured star at the speed of a tranquil rollercoaster wagon. Sometimes you meet hikers rambling on mountains with no top or base. On the eardrum canvas, the "taches" made by his aural paintbrushes shape a flow to help you find meaning or just contemplate in ataraxia. Much like everything in existence, huh? But beware, for the traps of generalization are numerous. Your mind is in space, yet your ears still hear bits from where you're sitting. Faraway places in our cranial box are right here. Look! This tape is yet another pair of glasses, showing us once again how the experimental music that seems to resonate so much in Quebec can be bewitchingly evocative. This one is sadly sold out, but we should be hearing more from Barabé in 2014. Dope!
Des digressions et pinceaux de Hugo Hyart:
Charles Barabé ne s'est pas épargné pour truffer 2013 de découvertes et de voyages de l'esprit à travers sa marque La Cohu, dont cette remarquable sortie solo. De hautes fréquences te portent dans une chute sans fin qui te fait penser que tu vas en avançant, tandis que des âmes désertées de toutes formes t'accueillent dans un Champ Elyséen faisant le tour de cette étoile multicolore à la vitesse d'un wagon de montagnes russes calme. Parfois tu rencontres des randonneurs se promenant sur des montagnes sans sommet ni base. Sur le canevas du tympan, les « tâches » laissées par des pinceaux auriculaires forment un courant qui t'aide à trouver un sens ou que tu peux contempler en ataraxie. Un peu comme tout dans l'existence, non? Mais prends garde, car les pièges de la généralisation sont nombreux. Ta tête est dans l'espace, mais tes oreilles entendent encore des bribes de là où tu es assis. Les endroits reculés dans notre boîte crânienne sont juste là. Regarde! Ce tape est encore une autre paire de lunettes, nous montrant une fois de plus comment la musique expérimentale qui semble tant résonner au Québec peut être aussi évocatrice et ensorcelante. Celui-là est malheureusement épuisé, mais on devrait entendre à nouveau parler de Barabé en 2014. Cool !
Charles Barabé – Taches A (extrait)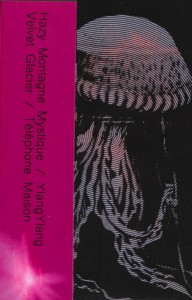 Various Artists
Perdu dans l'abysse
(La Cohu)
Montréal, QC
From the liquid mind of Hugo Hyart:
(Translated by the dip of Hugo Hyart)
What happens when two of the most productive entities in Canada team up? They go down to the abyss on the edge of the known world. Taking cues from the James Cameron film with aliens coming from beneath for a change, they make a detour from their trail of galactical altitude. The companions of Jeunesse Cosmique stop by La Cohu for a submarine ramble, trading their spacesuits for scubas. Past a certain depth, beyond conventional human conceptions and away from any stellar ray, this is a space odyssey the other way round into Neptune. Resting in deep ambience, altered heaviness, forgotten gravities. Hazy Montagne Mystique dip our stars' dust in the water to depths where the sun can't reach. YlangYlang makes us dance in analgesy until there's no up or down anymore. Velvet Glacier distort us our minds with enunciations and killer vibes. Téléphone Maison touches the bottom to take its pulse, as we briefly see what it is to be the other. Makes me want to see the movie.
De l'esprit liquide de Hugo Hyart:
Que se passe-t-il quand deux des entités les plus productives du Canada font équipe ? Ils descendent dans l'abysse aux frontières du monde connu. Prenant son inspiration du film de James Cameron avec les aliens venant des profondeurs pour changer, ils font un détour de leur chemin d'altitude galactique. Les compères de Jeunesse Cosmique passent chez La Cohu pour un petit tour en sous-marin et troquent leurs combinaisons spatiales pour des scaphandres. Passé une certaine profondeur, au-delà des conceptions humaines convenues , loin de tout rayon stellaire, une odyssée de l'espace dans l'autre sens direction Neptune. Ambiances reposantes et profondes, pesanteur altérée, gravité oubliée. Hazy Montagne Mystique propage notre poussière d'étoiles sous l'eau jusqu'aux profondeurs où le soleil n'éclaire plus. YlangYlang nous fait valser en analgésie et nous fais oublier haut et bas. Velvet Glacier va ensuite distordre nos esprits en énonciations et en vibrations qui tuent. Téléphone Maison touche le plancher abyssal pour prendre son pouls, tandis qu'on entrevoie le fait de devenir l'autre. Ça donne envie de voir le film.
Velvet Glacier – L'unique (Remix pour Marie Davidson)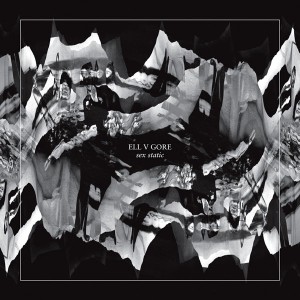 Ell V Gore
Sex Static
Calgary, AB
From the death strings of Hugo Hyart:
Ell V Gore is cold, grey and agitated. The debut transmissions of Elliot Jones and co. are crafted with care, precision and attention that matches intention. No fancy colours, no useless waves, only pure efficiency. In these times of reconquest of the industrial wastelands, their songs evoke a darkness predating the year punk broke. The Sex Static platter is delivered in style by Bad Actors who have recently emerged with another beautiful banger. Total grip!
Hugo Hyart:
(Traduit par Hugo Hyart)
Ell V Gore est froid, gris et agité. Les premières transmissions d'Elliot Jones et sa clique sont manufacturées avec soin, précision et attention intentionnée. Pas de couleur superflue, pas de vagues inutiles, simplement de l'efficacité. En ces temps de reconquêtes des friches industrielles, leurs morceaux évoquent une noirceur précédant l'année où le punk a explosé. L'assiette Sex Static est servie avec style par Bad Actors qui a récemment émergé avec une autre belle bestiole. À empoigner franchement !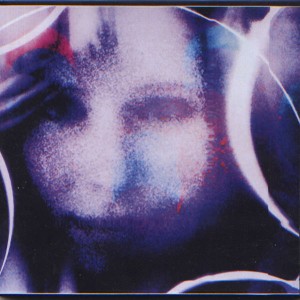 Nouveau Zodiaque
Nouveau Zodiaque EP
Montréal , QC
From the medina full of flowers of Hugo Hyart:
(Translated by the half-common, half-occult co-existence of Hugo Hyart)
Subterranean behemoth Hobo Cult Records presents four new pieces by Xarah Dion of Les Momies des Palerme in her Nouveau Zodiaque alias, each containing an entire universe. These songs arise from a half-common, half-occult co-existence of synthesisers, rhythm machines, Arabic, Albanian and Turkish instruments, plus Dion's diva-esque chants. "Au Parc Jarry" could be a new visit to "À la claire fontaine", while "Combustible" conjures mist darkening into big clouds full of rain. A meeting of modern, ancient and timeless.
De la médina fleurie d'Hugo Hyart:
Le béhémoth souterrain Hobo Cult Records présente quatre nouvelles pièces par Xarah Dion des Momies de Palerme, sous le nom de Nouveau Zodiaque, chacune porteuses d'univers différents. Ces morceaux donnent lieu à des coexistences mi-courantes-mi-occultes entre synthétiseurs, boîtes à rythme et instruments arabes, albanais et turcs, sur lesquelles viennent s'enfiler pareils à des draps flottants, les chants lyriques et divaesques de Dion. « Au Parc Jarry » pourrait être une nouvelle viste « À la claire fontaine », tandis que « Combustible » invoque une brume qui s'assombrit en de gros nuages de pluie. Une rencontre entre le moderne, l'ancien et l'intemporel.
Nouveau Zodiaque – Au Parc Jarry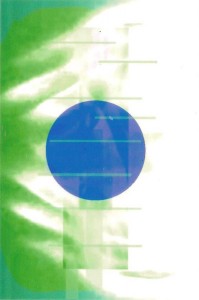 Hobo Cubes
Rapid Glow
Montréal, QC
From the sensations' fix of Hugo Hyart:
This is a tape made of sensations: an astral voyage into the mind, divided in sequences through subliminal and subconscious lands. Listening is recommended from a comfortable position, secure from all possible distractions in a familiar and reassuring environment. Float in your infinity-shaped cranial box plunged into matter modulated by undulations and flashes of scintillating colours in varying intensities. Forms take shape and disassemble into other forms. Close your eyes for a few minutes, and look, they are open.
Des sensations résolues de Hugo Hyart:
Ce tape est fait de sensations : un odyssée astral, à l'intérieur de l'esprit, divisé en séquences, au travers de pays subliminaux et subconscients. Une position allongée et confortable , loin de toutes sources de divertissement ou d'interruption est recommandée, dans un environnement familier et rassurant de préférence. On flotte dans sa boîte crânienne, aux contours infinis, baigné dans une matière modulée par des ondulations et des flashes de scintillantes couleurs d'intensités variables. Des formes se dessinent et se désagrègent en d'autres formes. Fermez les yeux cinq minutes, et regardez, les voilà ouverts.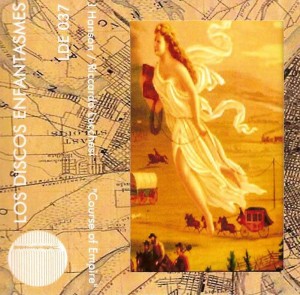 Riccardo Lucchesi // J Hanson
Course of Empire
Montréal, QC // Portland, OR
From the miraged eyes of Hugo Hyart:
A dissertation in audio on a mystic subject: the essence of an empire (the one south of the border) through the miraged eyes of two different artists — one a resident, the other a regular visitor.
J Hanson's side: A movie for the ears that takes you, as the cover art suggests, to territories above reality. The empire rises and construct itself into all of the frightening horrors and greatness it implies.
Riccardo Lucchesi's side: A single 25-minute piece entitled "The Blood of Empire (Black as Coal)" that takes you on a thick and liquid trip. The grimy underbelly of the empire reveals what it took to establish the darkness at its essence, buried in an obscure cave where birds sing and strange creatures dwell. As you move through the unreal galleries of the mine (at a steady pace like a ghost on a stray orbit), queer lights begin to flash — or perhaps they've always flashed. Who can this be? The American Myth is seen here through eyes that witness the mysteries which are normally obscured. Sometimes you've got to listen to the things you can't see.
Des yeux emmiragés de Hugo Hyart:
Une dissertation audio sur un sujet mystique : l'essence d'un empire (celui au sud de la frontière) à travers les yeux emmiragés de deux artistes différents : l'un autochtone, l'autre visiteur régulier.
Du côté de J. Hanson: Des films pour les oreilles qui vous emmènent, comme peut le laisser penser l'illustration en couverture, dans territoires au-dessus du réel. L'Empire se lève et se construit avec toutes les effrayantes horreurs et les grandeurs que cela implique.
Du côté de Riccardo Lucchesi: Une seule pièce de 25 minutes, "The Blood of Empire (Black as Coal)", un voyage épais et liquide parfois. Le côté enfoui et sale de l'Empire, ce qu'il a fallu pour établir la noirceur de son essence, au fond d'une grotte obscure ou des oiseaux chantent et d'étranges créatures évoluent. Tandis que l'on avance à travers les galleries iréelles de cette mine (à un rythme constant comme un fantôme sur une orbite détournée), de curieuses lumières se mettent à clignoter, ou ont-elles toujours clignotées. Qui cela peut-il bien être ? Le Mythe Américain se perçoit ici à travers des yeux qui voient des mystères que tout le monde ne voit ou ne remarque pas. Des fois il faut écouter ces choses, ces choses tout simplement invisibles.
Riccardo Lucchesi – The Blood of Empire (Black as Coal) [excerpt]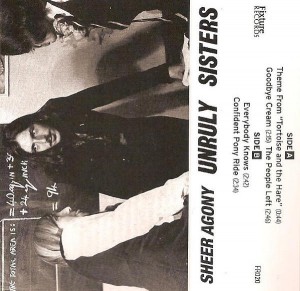 Sheer Agony
Unruly Sisters
Montréal, QC
From the crush and the voices in chorus of Hugo Hyart:
Classic pop vibes. Good old Syd included, feel free to invoke all the great masters, known or not, of the genre you can think of. Listening to this handful of songs lasting almost 11 minutes put together, you'll be heartened and ready to have a wonderful afternoon in style, be it sunny or cloudy/rainy.
Du béguin et des voix en choeur de Hugo Hyart:
(Traduit par Hugo Hyart)
Des ondes pop classiques. Ce bon vieux Syd inclue, n'hésitez pas à invoquer tous les grands maîtres du genre, connus ou pas, auxquels vous pouvez penser. A l'écoute de cette poignée d'airs ne durant que presque 11 minutes mis bout à bout, vous serez réconfortés et aurez chaud au cœur, prêts à passer avec classe un merveilleux après-midi, qu'il fasse beau ou qu'il fasse moche.
Sheer Agony – Theme From Tortoise and the Hare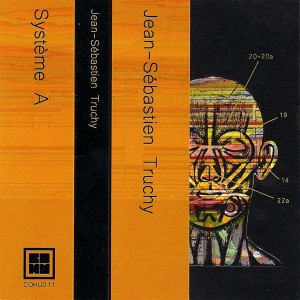 Jean-Sébastien Truchy
Système A
(La Cohu)
Montréal, QC
From the possessed control room of Hugo Hyart:
(Translated from afar by Hugo Hyart)
For this particular opus, Jean-Sébastien Truchy leaves a ghost spaceship (controlled by automatons to be precise) floating in intersidereal space. Système A exposes a series of "systems" (Compositions? Improvisations? Experimentations) numbered like test tubes. These are games our player-searcher can then reuse into something like this. Grip the tape from Charles Barabé's la cohu label, and check out the rest of his stacked catalog!
De la salle de contrôle possédée d' Hugo Hyart:
Pour cet opus particulier Jean-Sébastien Truchy, laisse son vaisseau spatial fantôme (contrôlé par des automates) flotter dans l'espace intersidéral. Système A expose une série de « systèmes ». (Compositions ? Improvisations ? Expériences) numérotés comme des éprouvettes. Ces jeux que notre joueur-chercheur élaborent peuvent ensuite être réutilisés dans des choses comme ça. Choppez cette cassette sur la cohu, le label de Charles Barabé et jetez un coup d'œil au reste de son fabuleux catalogue.
Jean-Sébastien Truchy – Système 16
---