Tag: hugo hyart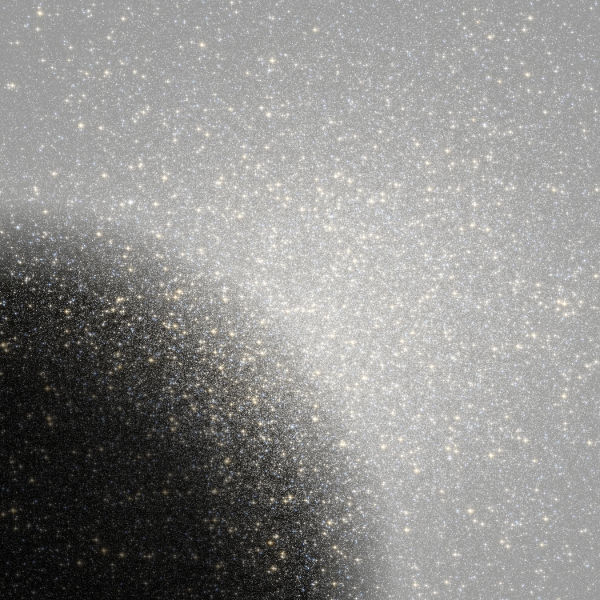 Secret Pyramid
Movements of Night
Vancouver, BC
From the yawning moulin of Adam Bradley:
This great creator, Secret Pyramid, has built magnificent geometry that rips skyward from the horizon. Frozen fractals splinter and jut with kaleidoscopic energy. Slow, careful movements groan over glacial fissures. Azure eyes reflect a blizzarding expanse. Gusts hurry across craggy plains, buried in white, fallen heaven. A reverent quietude booms. Awe is commanded. The loneliness of existence is pronounced, but like perfect dark night, it is soothing. Vision shifts from focus. Arms outstretched, we fall backward into the yawning moulin and are taken.
Du moulin qui bâille de Adam Bradley:
(Traduit par la gélifraction de Hugo Hyart)
Ce grand créateur, Secret Pyramid, a construit une somptueuse géométrie qui pointe vers le ciel à l'horizon. Des fractales gelées se brisent en éclats et saillent avec une énergie kaléidoscopique. De lents mouvements précautionneux gémissent au-dessus des fissures de glace. Des yeux bleu ciel réfléchissent l'étendue d'un blizzard. Des rafales se pressent sur des plaines escarpées, enterrées dans un blanc paradis déchu. Une respectueuse quiétude mugit. Un effroi mêlé de respect est de mise. La solitude de l'existence est prononcée, mais comme une nuit parfaitement sombre, c'est relaxant. La vision change de point de focalisation. Les bras déployés, nous nous laissons tomber à la renverse dans le moulin qui bâille et sommes pris.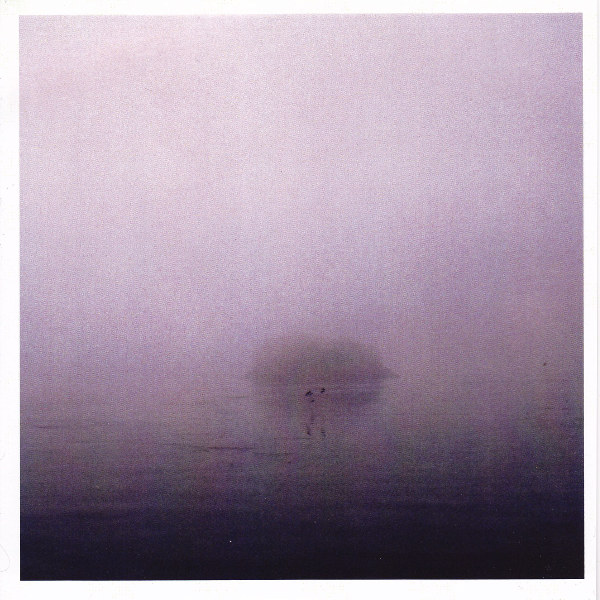 Student Teacher
Left For Dead
Vancouver, BC
From the magnetic contribution of Penny Clark:
Student Teacher dredges in discordant, mournful isolation and indents it on plastic vinyl. Baleful bass guitar paddles the song on a doomed journey, portended by cold iron guitar and omnisciently detached vocals. Kingfisher Bluez continues its run of concisely poignant releases with this magnetic contribution to the label's single-sided singles series.
De la contribution magnétique de Penny Clark:
(Traduit par la dissonante, funèbre isolation de Hugo Hyart)
Student Teacher drague une dissonante, funèbre isolation, et la projette sur le plastique vinyle. Une guitare basse sinistre pagaie la chanson sur un voyage condamné, annoncé par une froide guitare d'acier et un chant détaché de façon omnisciente. Kingfisher Bluez continue ses sorties poignantes et concises avec cette contribution magnétique à la série de singles à une face de l'étiquette.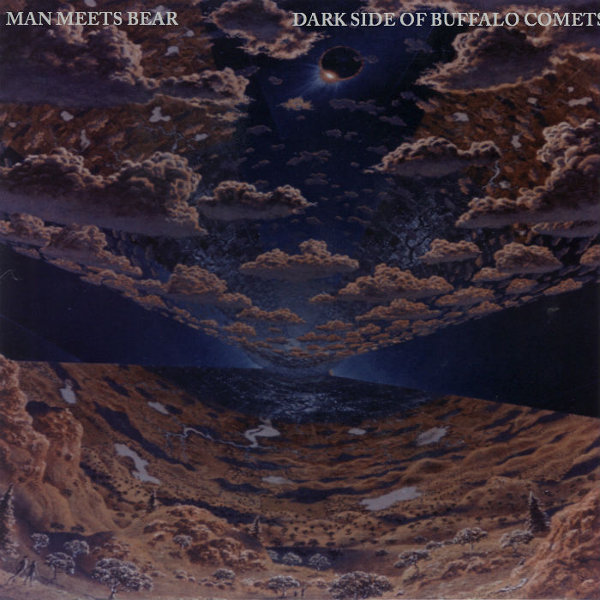 Man Meets Bear
Dark Side of Buffalo Comets
Kitchener, ON
From the digital beach of Javier Fuentes:
Travelling songbooks wash their way across northern shores, propelled by melodic winds and calming tides. Cosmic energy slides through organic terrain as lifted spirits awake from their slumber. Vast palettes of sound transform our worn-down trails into paths of of psychic discovery. Warm thoughts stick with us as we unravel the foreign spaces sleeping in our imagination, hidden in the textures of each song. Islands of beauty descend upon our memory before flashing through the unattainable grasp of our senses. Avoid the metaphysical barriers and grip quickly.
De la plage digitale de Javier Fuentes:
(Traduit par les espaces étrangers de l'imagination de Hugo Hyart)
Des recueils de chansons trouvent leur chemin sur le dos de vagues du Nord, propulsés par des vents mélodiques et des marées apaisantes. De l'énergie cosmique glisse sur un terrain organique tandis que des esprits élevés sortent de leur torpeur. De vastes palettes de son transforment nos sentiers défoncés en des chemins de découvertes psychiques. Des pensées chaleureuses restent dans nos têtes alors que nous découvrons les espaces étrangers dormant dans notre imagination, cachés dans la texture de chaque chanson. Des îles de beauté descendent sur notre mémoire avant d'apparaître dans l'inatteignable compréhension de nos sens. Évitez les barrières métaphysiques et attrapez ça rapidement.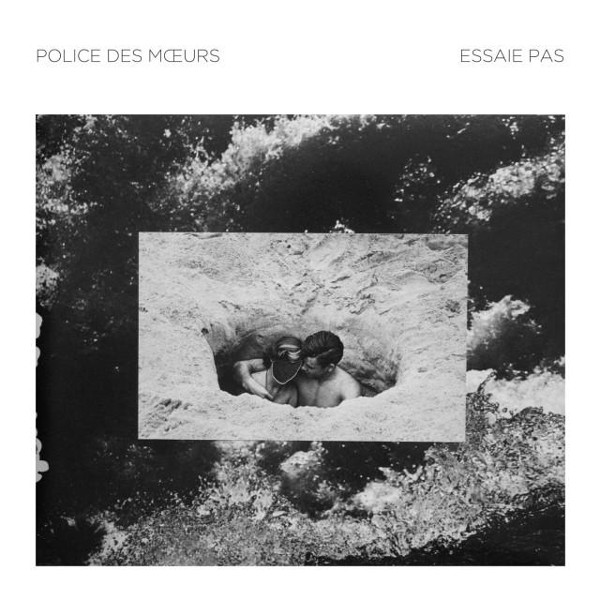 Police des Moeurs // Essaie Pas
Split
Montréal, QC
From the tension coping mechanisms of Hugo Hyart:
(Translated by Hugo Hyart)
Police des Moeurs are back and darker than ever, playing their synthesthetic pop from the shadowy recesses. In a destroyed world where the sun has lost its sense, all has to be reinvented with what will be found. Shared and public solitudes gather in their sighing ode to the sounds of the hovering nuclear war.
Invest in this record as a ticket to collide at night with the inevitable stranger. But Essaie Pas* to catch Marie Davidson and Pierre Guérineau's pace; don't be reckless. The duo invite us on a night of jackhammering relapses and frenetic insomniac abuse.
*Note: Essaie Pas = Don't Try
Des mécanismes à tenir la tension de Hugo Hyart:
Police des Moeurs nous reviennent, plus sombre que jamais, pour rejouer de leur pop synthesthétique des recoins peu éclairés. Dans le monde détruit où le soleil a perdu son sens, il faut tout réinventer, avec ce qu'on va trouver. Les solitudes publiques et partagées se rassemblent dans leur ode soupirante aux sons de la guerre nucléaire planante.
Investis dans ce disque comme dans un ticket pour percuter dans la nuit l'immanquable inconnu-e au détour d'une rue. Mais Essaie pas de capter le rythme de Marie Davidson et Pierre Guérineau ; soit pas téméraire. Essaie Pas nous invite à une nuit insomniaque d'abus frénétiques et de rechutes à un rythme de marteau-piqueur.

Police des Moeurs – Je te Montrerai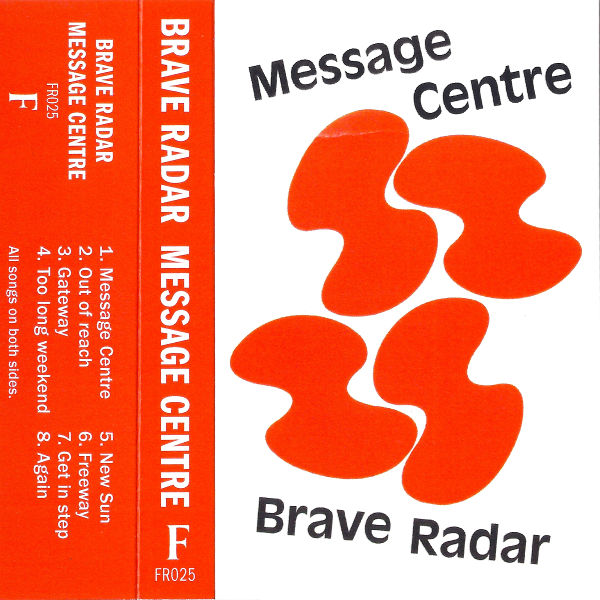 Brave Radar
Message Centre
Montréal, QC
From the sincere appreciation of Josh Boguski:
In the five years since their previous broadcast, Brave Radar have honed a persistently subdued sound, reappearing at the forefront of our interest with the future classic Message Centre. Despite its timeless tonality, this heap of pop clumps winks at the obscurity of its predecessors. Be sure to thank Tessa and Conor for founding Fixture before preparing to drift off to the world's most radical lullaby.
De l'appréciation sincère de Josh Boguski:
(Traduit par les berceuses les plus radicales de Hugo Hyart)
Pendant les cinq années qui se sont écoulées depuis leur dernière transmission, Brave Radar ont aiguisé un son qui persiste en subtilité, et redeviennent un intérêt de premier plan grâce au futur classique Message Center. Malgré sa tonalité intemporelle, cet amas de sons pop fait un clin d'oeil à l'obscurité de ses prédécesseurs. N'oubliez pas de remercier Tessa et Conor pour avoir fondé Fixture avant de vous préparer à dériver dans les berceuses les plus radicales au monde.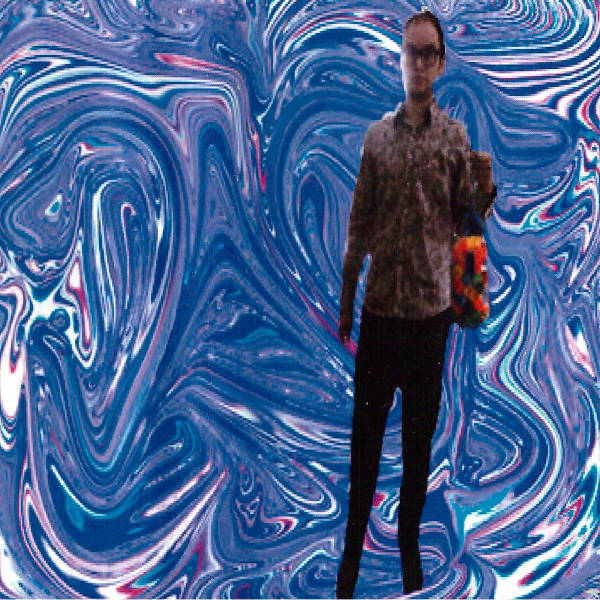 The Party Upstairs
Cartoon Universe
(Self Released)
Halifax, NS
From the blue dolphins pouring out of the enthusiaastic head of Hugo Hyart:
Like a magnetic tape trip in a world of glitched cartoons. Like a virtual tour in a ghostly carnival-casino-city. Like augmented reality trances through the information magic beans forest. Like a blink of human sentience. Holy lustig music.
Des dauphins bleus qui tombent du crâne enthousiaaste de Hugo Hyart:
Comme un voyage sur bande-magnétique dans un monde de dessin-animés bugués. Comme une virée virtuelle hallucinée dans une ville-carnaval-casino fantômatique. Comme des transes en réalité augmentée à travers la fôret des harricots magiques de la communication. Comme un clignotement de la sentience humaine. De la musique de sacré foufou.

The Party Upstairs – Languid Laughing Infinity

The Party Upstairs – The Jackrabbit Boogie in the Desert Under the Moon and the Sun As Well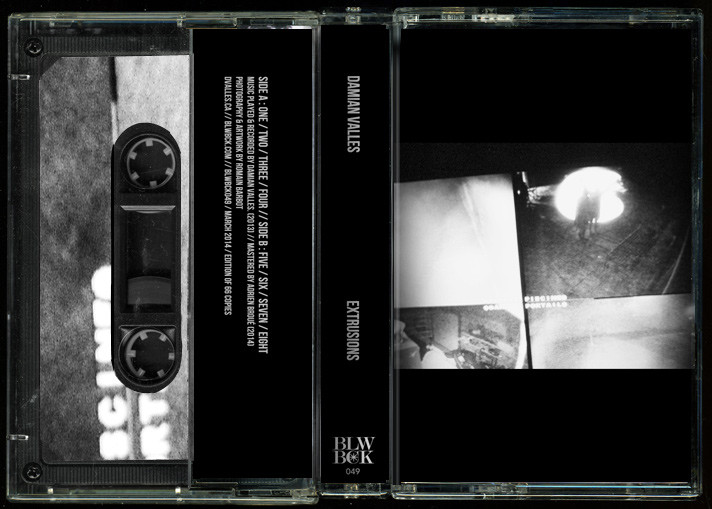 Damian Valles
Extrusions
(BLWBCK)
Kawartha Lakes, ON
From the old tub of Hugo Hyart:
(Translated by Hugo Hyart)
Damian Valles sets off on concrète explorations of sensorial boundaries. The tracks of this cassette would fit perfectly in your collection of auditary electroacoustic experiences from the edges of jazz or wordless poetry. These mystical sounds could be resonations of factories or old tubs. Dark and multiform, the magic sounds of these Extrusions reverberate in an abandoned hangar deep in the woods, nearly escaping out of this world.
Du rafiot de Hugo Hyart:
Damian Valles s'embarque dans de concrètes explorations des limites sensorielles. Les morceaux de cette cassette s'insèreraient parfaitement dans votre collection d'expériences sonores électro-acoustiques aux confins du jazz ou de la poésie sans mots. Ces bruits mystiques pourraient être des résonances d'usines ou de rafiots. Obscures et multiformes, les sons magiques de ces Extrusions se réverbèrent dans un hangar abandonné perdu dans les bois et s'échappent presque de ce monde.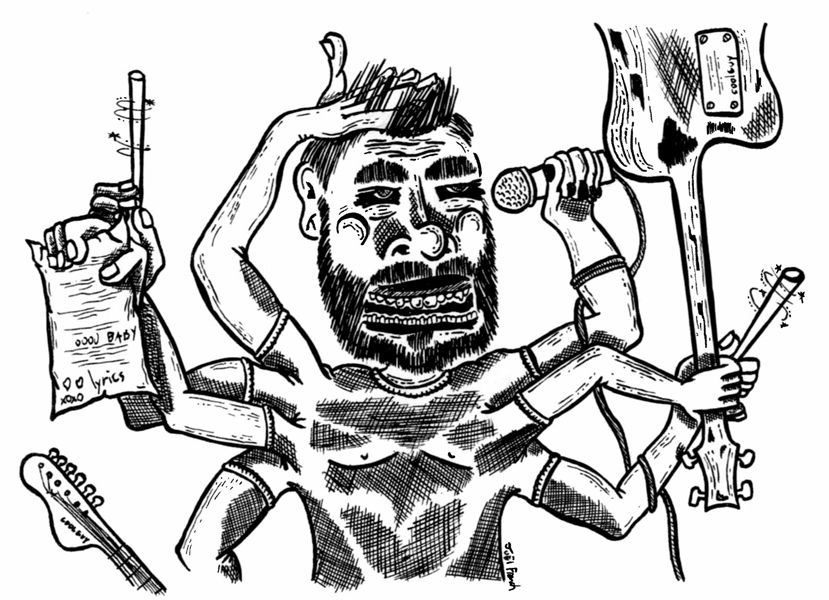 For some people, certainly those in my circle, keeping busy is the only way to stay sane and/or out of the types of trouble we instinctively gravitate towards. That's why it's pretty common (especially in Toronto, Ottawa and Halifax, it seems) to see the same faces playing either the same or various roles in a multitude of musical projects.
As of now I play in four bands (it was five till one disbanded recently – R.I.P. Sphinxs) and have found myself getting more and more accustomed to the thought of band practice being my "free time." It's actually preferred. Which is not to say it isn't hard work to maintain.
So for anybody looking to start/join another band but who thinks they won't have the time/dedication/motivation to do so, just know that there is a way to be moderately happy while also moderately stressed and constantly occupied. Here are my tips to avoid flipping your wig while playing in multiple bands.
KNOW YOUR BANDMATES AND WHAT THEY WANT
a. If you can't stand someone in regular life I highly doubt you'll be able to tolerate being in a cramped and stuffy jam space together, once or twice a week, and for hours on end. The majority of my bandmates are also close friends I would hang out with outside of band obligations, and those I don't hang out with I still enjoy. They're just actual adults with better things to do than hang with me. Choosing a bandmate simply because they're really good at what they do isn't enough. Unless you play arena rock and travel separately via private jet these people will have to become family, and the van your home. A cranky family in a cramped and stinky home. So choose them wisely.
b. It's really hard to move forward if everyone's idea of forward is a different direction. Make sure you're surrounded by likeminded individuals who are all willing to get this thing to where it should go. When I first started playing music I attempted to micro-manage every band I was in. Although having a good sense of what you want and the backbone to push for it is never a bad idea, it won't always fly with everyone else. Sometimes people will actually care so little about the band that any attempt at organizing or staying on top of things that they will push you to a mental breakdown. The key here is to–
KNOW YOUR ROLE
a. If you are a control freak and NEED to be in charge of everything at all times then your band(s) needs to be aware of that and willing to stand back as you do so. Avoid the clusterfuck of five people trying to take charge, but also be warned that there is a good chance you will burn yourself out if you try running multiple freakshows alone. Being a control freak myself I've found it easiest to take the reins for one band (to sate my hunger) and made sure to only get involved with other bands that already have a "Head Of The Household" I can trust. That's not to say I don't pitch in from time to time with what I think should/could be done, but it's crucial for my brain's well-being to know the ship will sail smoothly without me steering it.
b. Be picky. Know what you want your role to be in the band and choose accordingly. I've often seen members become miserable because they feel they "have no say" either in songwriting or booking or marketing or whatever. Know what position in the band you want to take on, and make sure the band is cool with you taking it. If not, move on. The one thing there is no shortage of is bands looking for members.
LOVE WHAT YOU DO
a. Being in a band can often be far from fun times all around. So if you are joining a band, you should make sure you're doing it for the right reasons: you love to play, you dig their tunes, and you're feeling it. If you join a band simply to flaunt the badge for your friends and Facebook to see, chances are good you'll get called out on it quicker than you think. Like everything in life it's about highs and lows, and people without the passion usually flake when the lows hit. Don't be a flake. Don't be a fake.
b. No one likes a Debbie Downer in the band. If you are miserable in regular life and try bringing that to the stage, it's unlikely that the crowd will be into your brooding ways. And if they are, I doubt your bandmates will be able to tolerate it for very long.
KNOW YOUR SHIT
a. Being in one band usually means you need to memorize at least 30-45 minutes' worth of material. For every band you join remember that number will double. If you don't know the songs inside and out, both you and your bandmates will start getting real frustrated that you never hit the Gm in the chorus of that one song. If you aren't capable or willing to put in the time to learn the songs and maintain said learning, maybe a new band isn't what you need.
b. Knowing your shit also includes knowing what's going on with your band(s). Be organized. When do you play next? When are you jamming? Where/when are you recording? Just because you aren't the one booking the shows doesn't mean you can be unaware of when they're happening. Being in multiple bands gets real annoying (mostly for your bandmates) when you've constantly got two shows booked on the same night, or are always cancelling practice last minute because you "forgot" you had to jam with someone else. Keep a calendar and check it daily. Your phone is good for more than texting and Snapchat.
HAVE A (DIFFERENT) RELEASE
I get it. You play in a million bands because music is your life. It gets really easy to find yourself getting bored with things you love simply because you never give yourself the opportunity to miss them. So explore something else. Draw. Read. Write. Watch TV. Work your job. Whatever. I create visual art, write, run a record label and work full-time when I'm not playing with my bands. It may seem like a lot, but being constantly busy is all I know and I manage it by exploring these other avenues. If music is ALL YOU EVER DO it will most likely become routine. Routine, like in any relationship, kills the romance.
ADMIT YOU ARE AT LEAST A LITTLE BIT MENTAL
Most humans work their jobs and go home to complain about how they wish they could spend even less time doing so. Most musicians work their job and then spend much of the remainder of their day/night either jamming, working on songs, fixing their gear, loading in/out, playing shows or organizing their next step/show. This is mental. We are mental. If you play in multiple bands you are even more mental. But then again, there's a reason we feel the drive to do what we do and it's probably one of the reasons people pay money to hear or see us. Embrace the mental.
This has been my take on how to maintain a somewhat sane life while playing in multiple bands, and is solely based on my experience, which has been tons and tons of trial and error. I've made and quit friendships. I've loved and lost. I've had moments of clarity and months when I felt I was losing my mind. As in all other aspects of life, just know what you want and be honest while going for it. If it's not right for you, drop it and move on. Stay happy. Stay tite.
Comment jouer dans plusieurs groupes
(Traduit par les moments de lucidités de Hugo Hyart-Dauvergne)
Pour certaines personnes, en tous cas celles que je fréquente, rester actif est le seul moyen de rester sain d'esprit et/ou en dehors des types de problèmes vers lesquels nous gravitons instinctivement. C'est pourquoi il est assez commun (particulièrement à Toronto, Ottawa et Halifax apparemment) de voir les mêmes visages jouer soit les mêmes rôles soit plusieurs rôles dans une multitude de projets musicaux. Ces temps-ci je joue dans quatre groupes (cinq jusqu'à ce que l'un fasse bande à part récemment – R.I.P. Sphinxs) et au fil du temps je me suis de plus en plus fait à l'idée que les répét étaient mon "temps libre". En fait, c'est mieux comme ça. Ce qui ne veut pas dire que ce n'est pas du boulot à gérer.
Donc, avis à tous ceux et toutes celles qui chercheraient à commencer/rejoindre un autre groupe mais qui ne pensent pas avoir le temps/la dévotion/la motivation de le faire : sachez juste qu'il y a moyen d'être modérément heureux tout en étant modéremment stressé et constamment occupé. Voici mes conseils pour éviter de péter des câbles en jouant dans plusieurs groupes à la fois.
CONNAÎTRE SES PARTENAIRES ET SAVOIR CE QU'ILS VEULENT
a. Si vous ne pouvez pas supporter quelqu'un dans la vie en général, je doute sérieusement que vous soyez capable de le supporter dans un local de répétition confiné et mal aéré, une ou deux fois par semaine, pendant des heures et des heures. La majorité de mes partenaires de groupes sont aussi des amis proches avec lesquels je traînerais en dehors des obligations de la vie de groupe, et j'apprécie aussi ceux avec lesquels je ne traîne pas. Ce sont de vrais adultes avec de meilleures choses à faire que de traîner avec moi. Choisir un partenaire de jeu sur le seul critère qu'il/elle est très bon/bonne dans son domaine n'est pas suffisant. À moins que vous ne jouiez dans des stades et ne voyagiez séparément chacun dans votre jet privé, ces gens devront devenir une famille, et le van votre maison. Une famille d'excentriques dans une maison étroite et mal odorante. Alors choisissez-en les membres de manière avisée.
b. Il est très dur d'avancer si l'idée que chacun se fait de l'avant est en fait une direction différente. Faites en sorte d'être entouré d'individus ayant le même état d'esprit que vous, qui ont la volonté d'emmener ce truc là où il doit aller. Quand j'ai commencé à jouer de la musique, j'essayais de micro-gérer tous les groupes auxquels j'appartenais. Même si le fait d'avoir une bonne idée de ce que vous voulez et l'énergie pour porter le projet n'est jamais une mauvaise chose, cela ne conviendra pas toujours à tout le monde. Parfois les gens s'en ficheront tellement du groupe que toute tentative pour organiser ou rester en charge vous entraînera vers la dépression nerveuse. Le tout est ici de –
CONNAÎTRE SON RÔLE
a. Si vous êtes un maniaque qui veut tout contrôler et que vous avez BESOIN d'être en charge de tout, tout le temps, votre ou vos groupes doivent en être au courant et prêts à se mettre en retrait si nécessaire. Évitez le gros bordel de vous retrouver avec 5 personnes essayant d'être aux manettes en même temps, mais sachez aussi qu'il y a une bonne chance que vous vous fassiez péter des câbles si vous essayez d'être le patron tout seul de plusieurs cirques en même temps. Étant moi-même un maniaque du contrôle, j'ai trouvé plus facile de prendre les rênes d'un seul groupe (pour satisfaire ma faim) et de faire en sorte de ne m'impliquer que dans d'autres groupes ayant déjà "un chef de famille" en qui je peux avoir confiance. Cela ne veut pas dire que je ne donne pas un coup de main de temps en temps dans ce sur quoi je pense qu'il y pourrait avoir/qu'il y aurait quelque chose à faire, mais il est crucial pour le bien-être de mon cerveau que le bateau soit en mesure de naviguer sans que je sois à la barre.
b. Soyez exigeant. Sachez quel rôle vous voulez avoir dans le groupe et faites vos choix en conséquence. J'ai souvent vu des membres devenir misérables parce qu'ils n'avaient pas "leur mot" à dire que ce soit dans l'écriture, la réservation des concerts, la commercialisation ou autre. Déterminez quel rôle vous voulez jouer dans le groupe, et faites en sorte que le groupe accepte que vous assumiez ce rôle. Sinon, passez à autre chose. S'il y a bien une chose qui ne manque pas, ce sont des groupes cherchant des membres.
AIMER CE QU'ON FAIT
a. Être dans un groupe est souvent loin d'être toujours amusant. Donc si vous vous joignez à un groupe, soyez sûr de le faire pour les bonnes raisons : vous aimez jouer, vous adorez leurs morceaux, et vous le sentez bien. Si vous rejoignez un groupe seulement pour vous en enorgueillir auprès de vos amis et le montrer au tout-Facebook, il y a de bonnes chances pour que vous soyez remercié plus vite que vous ne le croyez. Comme tout dans la vie, c'est une succession de hauts et de bas et les gens sans passion fondent comme neige au soleil quand ils heurtent le fond. Ne soyez pas de la neige. Ne soyez pas un imposteur.
b. Personne n'aime les rabat-joie permanents. Si vous vous sentez misérable dans la vie et que vous essayez de mettre ça sur la scène, il est très peu probable que la foule voudra partager vos humeurs. Et si elle le fait, je ne sais pas si vos partenaires de groupe le tolèreront longtemps.
MAÎTRISEZ VOTRE SUJET
a. Être dans un groupe implique généralement de mémoriser une matière d'au moins 30 à 45 minutes. Pour chaque groupe que vous rejoindrez, cette matière sera multipliée par deux. Si vous ne connaissez pas les chansons sur le bout des doigts, vous et vos partenaires allez être très frustrés à chaque fois que vous ne ferez pas l'accord en sol mineur sur le refrain de ce foutu morceau. Si vous n'êtes pas capable ou si vous n'avez pas envie de prendre le temps d'apprendre les chansons et d'entretenir ledit apprentissage, peut-être qu'un nouveau groupe n'est pas ce dont vous avez besoin.
b. Maîtriser son sujet implique aussi de savoir ce qui se passe dans le(s) groupe(s). Soyez organisé. Où est-ce que vous jouez la prochaine fois? Quand est-ce que sont les répét'? Où/quand enregistrez-vous? Ce n'est pas parce que vous ne réservez pas les concerts que vous devez ignorer quand ils se passent. Être dans deux groupes en même temps devient vraiment embarrassant (surtout pour vos partenaires) quand vous êtes toujours programmé sur deux spectacles en même temps, ou que vous annulez toujours les répét' au dernier moment parce que vous avez « oublié » que vous deviez jouer avec quelqu'un d'autre. Tenez un calendrier et regardez-le quotidiennement. Le téléphone, ça ne sert pas qu'à envoyer des sms et à utiliser Snapchat.
AVOIR UNE SORTIE (DIFFÉRENTE) À SA DISPOSITION
J'ai compris. Vous jouez dans un million de groupes parce que la musique, c'est votre vie. Il peut devenir extrêmement facile de s'ennuyer dans les choses que vous aimez juste parce que vous ne vous donnez jamais l'opportunité qu'elles vous manquent. Alors explorez autre chose. Dessinez. Lisez. Écrivez. Regardez la télé. Faites votre boulot. N'importe quoi. Je suis un artiste visuel, je gère un label de musique et je travaille à plein temps quand je ne joue pas dans mes groupes. Ça peut paraître beaucoup, mais être constamment occupé est la seule chose que je connaisse et je gère cela en explorant ces autres possibilités. Si la musique est la SEULE CHOSE QUE VOUS FAITES DANS LA VIE, il y a de grandes chances pour que cela devienne une routine. Et comme dans toute relation, la routine tue la romance.
ADMETTRE QU'ON EST UN PEU MALADE MENTAL
La plupart des êtres humains travaillent et rentrent à la maison en se plaignant de ne pas pouvoir y passer moins de temps. La plupart des musiciens travaillent et passent le reste du reste de leur temps diurne/nocturne à répéter, à travailler sur des chansons, à réparer du matériel, à le charger et le décharger, à jouer dans des concerts et à organiser leur prochaine étape/leur prochain concert. Il faut être cinglé. Nous sommes cinglés. Si vous jouez dans plusieurs groupes en même temps, vous êtes encore plus cinglé-e. Mais là encore, si nous le faisons, il y a une raison et c'est probablement une des raisons pour lesquelles le public vient nous voir et nous écouter. Alors acceptez les troubles mentaux.
Voici mon point de vue sur la façon de maintenir une vie à peu près saine en jouant dans plusieurs groupes en même temps. Cette vision est basée sur ma seule expérience, qui a été constituée de tonnes et de tonnes d'essais et d'erreurs. Je me suis fait des amis, j'ai perdu des amis aussi. J'ai aimé et j'ai perdu. J'ai eu des moments de lucidité et des mois où j'avais l'impression de perdre la tête. Comme dans tous les autres aspects de la vie, sachez juste ce que vous voulez et soyez honnête avec vous-même. Si cela ne vous va pas, laissez tomber et passez à autre chose. Restez heureux. Soyez rigoureux.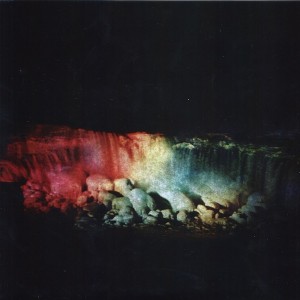 The Lad Mags
Trick
(Self Released)
Edmonton, AB
From the trickbag of Jibril Yassin:
The Lad Mags have always commandeered a dirty streak, but they've never sounded more in control of their otherworldly abilities, conjuring up fierce sound waves of soul-indebted scuzz rock . A-side "Trick" seems beamed from an alternate universe directly to the dark corners of your cerebral cortex with its sweet harmonies, lyrics of caustic kiss-offs, and indelible organ liftoffs. Yet b-side "You Stole My Mind" takes a different route entirely. Opting for an afterhours vibe, it's a sonic invitation taking you into a groovy ghoulie bash. Dig in, but take heed!
De la poche à malice de Jibril Yassin:
(Traduit lors d'une fête macabre par Hugo Hyart)
The Lad Mags font de la grosse musique sale depuis toujours, mais ils n'ont jamais été aussi en contrôle de leur capacités surnaturelles, invoquant des oscillations rock scuzz imprégnées de soul. La face A « Trick » semble rayonner d'un univers alternatif directement vers les coins sombres de ton cortex cérébral avec ses douces harmonies, ses paroles d'adieux caustiques et ses orgues indélébiles planants. La face B « You Stole My Mind » prend une direction complètement différente. Optant pour une ambiance de fin de soirée, on te lance une invitation sonore à une fête macabre qui groove. Bon appétit, mais fais gaffe!
Téléphone Maison
Le rock and roll passait par là?
Montréal, QC
From the circuitous intemperance of Joshua Robinson:
Surging with the resonant percussive pulse of a daydream demon caught in a strange land, Téléphone Maison's Le rock and roll passait par là?? combines the sound of the restless winding world with the engineered static of preternatural haze. This addition to Jeunesse Cosmique's growing list of friendly frantics oscillates to the fervid pitter-patter and mechanical pulsing of waveforms, breaking through the levies holding back the clamour-cuss of technological intemperance. With sounds inverted and turned inside out to reveal the skeletal fragmentation of diodic asymmetry, Téléphone Maison orchestrates the wild groans and underexplored origins of synthetic ear pleasure. This mental pirouette sees one spinning around oneself, cyclically spiralling until all remnants of heard familiarity are rendered mute, reconstituted as circuits vying for control of the space between our ears.
De l'intempérance détournée de Joshua Robinson:
(Traduit par la pirouette mentale de Hugo Hyart-Dauvergne)
Déferlant avec la pulsion percussive résonnante d'un démon rêveur coincé dans un étrange pays, Le rock'n roll passait par là de Téléphone Maison combine un son sinueux et agité avec la statique orchestrée d'une brume surnaturelle. Cet ajout à la liste grandissante de frénésies amicales de Jeunesse Cosmique oscille au crépitement fervent et mécanique d'ondulations pulsatives, perçant les taxes en retenant la clameur-juron de l'intempérance technologique. En utilisant des sons inversés et retournés sans dessus dessous pour révéler la fragmentation squelettique d'une asymétrie à diode, Téléphone Maison orchestre les grognements sauvages et les origines sous-explorées du plaisir de l'oreille synthétique. Cette pirouette mentale nous voit tourner sur nous-mêmes, cycliquement tourner en spirale jusqu'à ce que tous les résidus de familiarité entendus soient rendus muets, reconstitués en circuits rivalisant pour le contrôle de l'espace entre nos deux oreilles.
Téléphone Maison – Les Troubadours Du Roi Beaudouin
---