Tag: halifax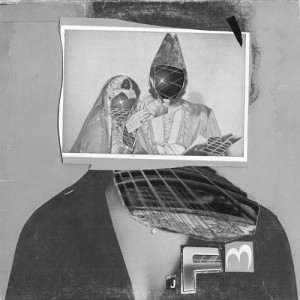 From the mental mosaic of James Lindsay:
Like a bike ride through downtown in August, JFM's s/t LP is a safari of sounds and styles. These moments only stay with you long enough to make their point, as if they were wafting from the windows of cars and clubs, bars and backyard parties, before you pedal past and the next one gets a hold of your head. Less spasmodic and more sample-based than Black Dice but coming from a similar urban zoo, Jesse Frank Matthews is a radio anthropologist as collage artist, collecting critical bits to make a mosaic in your mind that feels at once nostalgic and immediate, metropolitan and organic.
De la mosaïque mentale de James Lindsay:
(Traduit par Vincent Rondeau)
Comme une promenade en vélo au centre-ville en août, l'album éponyme de JFM est un safari de sons et de styles éphémères qui semblent sortis des fenêtres des voitures, des bars, des partys dans les arrière-cours, et que l'on n'entend que quelques secondes, le temps d'apprécier chacun avant de pédaler jusqu'au prochain. Issu d'un zoo urbain, tout comme Black Dice, mais au son moins spasmodique et plus axé sur l'échantillonnage, Jesse Frank Matthews est un anthropologue de la radio qui s'amuse à faire des collages artistiques en assemblant des retailles critiques en mosaïques de l'esprit qui sont à la fois nostalgiques et immédiates, métropolitaines et organiques.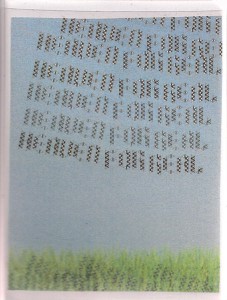 Heaven For Real
Wanton
(Self Released)
Halifax, NS
From the tangled post-isms of V. Rachel Weldon:
Rather than a long, modernist tangled web, each song on Wanton is its own flippant little narrative, snubbing grandiose post-isms for no-phony pop prose. "Love Solo" walks on air out of the gate, melting wavy distortion over the carefree voice of a young crush. "Owner" is a three-act play, cut into pieces and shuffled around on the floorboards in a burst of creative catharsis. Dynamic, sporadic and unpredictable, the plot progression of Wanton's closing and (sort-of) title track unfolds alineary, with bursts of conflict on either side of the sandwich meat, a stylistic reversal of its seminal influences. The brothers Grundy have done it again.
Des post-ismes entremêlés de V. Rachel Weldon:
(Traduit par le sandwich végé de Nicolas Coutlée)
Plutôt que de former une large toile moderne et intriquée, chaque morceau sur Wanton raconte sa propre petite histoire frivole, préférant aux grandioses post-ismes une prose pop certifiée authentique. « Love Solo » se pavane joyeusement dès les premières enjambées, la voix désinvolte d'un jeune amoureux surfant les vagues de distorsion. « Owner », une pièce en trois actes, est découpée en morceaux et reconfigurée à même les planches dans un élan cathartique de créativité. Dynamique, sporadique et imprévisible, la progression narrative de la chanson finale et (en quelque sorte) titre de Wanton se dévoile de manière non-linéaire, prise en sandwich entre deux feux conflictuels, un revirement stylistique de ses influences séminales. Les frères Grundy frappent encore.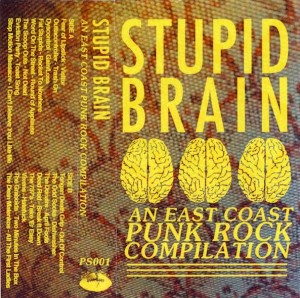 Various Artists
Stupid Brain: An East Coast Punk Rock Compilation
Halifax, NS // Dartmouth, NS // Moncton, NB
From the pizza buffet of Alison Lang:
This flinty little comp is filling and half wholesome, half greasy like a good Pizza Delight buffet, showing off a satisfying assortment of the Maritimes' finest punkers (aside from the curious absence of a couple good 'uns). Maybe you feel like fun, rangy, Brutal Knights-style wrasslin' punk? The Graboids provide with their snappy choice cut, "Two Minutes In The Box." Elsewhere, band of local legends Dyscontrol brings the straight-up 'Du-meets-Wipers vibe with "Gain/Loss", probably one of the most assured and economical tunes on the tape. Dearly departed power-pop outfit Tongan Death Grip's "Out of Control," is a tune so spotlessly clean and elegantly constructed that you could eat garlic fingers off of it; Dartmouth's Scoop Outs out-Plaskett everyone else on the endearment front with their grungy, sweetly mordant "Not Dead" and Moncton's Fear of Lipstick contribute a desperate and romantic ode to aliens, which would work solidly in their favour even if the song wasn't good (it is.) Then there's the all-girl hardcore outfit Vixens who may or may not still exist and spit through all the tidy harmonized boyish platitudes like snake milk with "Hatefuck." There's even a band called the Donairs, fer fuck! This tape is loaded.
De la pizza du coin Alison Lang:
(Traduit par la platitude puérile de Vincent Rondeau)
Cette solide petite compilation, nourrissante, mi-saine et mi-grasse comme un bon buffet Pizza Delight, présente une excellente sélection des meilleurs groupes punk des Maritimes, malgré l'absence de quelques formations notables. L'énergique « Two Minutes in the Box » de The Graboids plaira aux fans de punk plaisant et combatif à la Brutal Knights, tandis que les légendes locales de Dyscontrol fournissent une des chansons les plus confiantes et économiques de cette cassette avec « Gain/Loss », à la manière de Hüsker Dü et des Wipers. « Out of Control » de la regrettée formation de power-pop Tongan Death Grip est impeccablement construite et élégante, tandis que Scoop Outs, de Dartmouth, surpassent tous les pseudo-Plaskett pour ce qui est d'être attachants avec « Not Dead », doucement mordante et grunge à souhait. De Moncton, Fear of Lipstick entonnent une ode désespérément romantique aux extra-terrestres, ce qui jouerait en leur faveur même si la chanson n'était pas bonne (et elle l'est). Il y a aussi le groupe de hardcore féminin Vixens, dont le statut présent est incertain, et qui tranchent dans le vif des platitudes harmonisées et puériles avec la cinglante « Hatefuck », et même un groupe qui porte le nom The Donairs. Bref, une cassette toute garnie.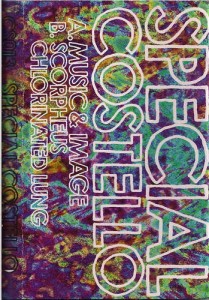 Special Costello
Music and Image
Halifax, NS
From the aural hinterland of Harriet Wild:
Special Costello's Music and Image radiates equally as urban soliloquy and meditative monk on the seashore. The dusky and expansive title track wanders the borders between pavement, ocean and sky. In this aural hinterland, Jeremy Costello's cavernous vocals float in a tidal, yet harmonious ebb and flow against guitars straight outta Dead Man. B-sides "Scorpheus" and "Chlorinated Lung" wrest the scaffold of Side A into a hypno-pop structure synthesizing the minimal and maximal, captured in solo rhythm. Delicacy is in the details.
De l'arrière-pays sonore de Harriet Wild:
(Traduit par Dominic Mpilé)
Le EP Music and Image de Special Costello sonne tout autant comme un monologue urbain qu'un moine méditatif au bord de la mer. La chanson-titre, sombre et débordante, parcourt les frontières entre le pavé, l'océan et le ciel. Dans cet arrière-pays sonore, la voix caverneuse de Jeremy Costello flotte telle une marée, un va-et-vient harmonieux sur fond de guitares tirées directement de Dead Man. Les mélodies « Scorpheus » et « Chlorinated Lung » de la face B transforment l'échafaudage de la face A en une structure hypno-pop synthétisant le minimal et le maximal en un seul et unique rythme. La délicatesse réside dans les détails.
Special Costello – Music and Image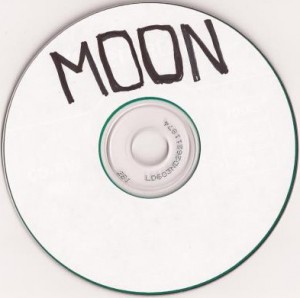 Moon
Moon
(Self Released)
Halifax, NS
From the moulting expectations of Tobias Rochman:
Halifax group Moon's name is either paying tribute to Divorce Records owner Darcy Spidle's daughter, the directorial debut of David Bowie's son, a bare ass, a cult or all of the above.
The blank, bold, minimalist gesture that is this self-released CDR's packaging is a clever comment on cyber-capitalism, the diminishing role of the craftsperson in the digital age, disposable blog music as a tribal signifier used in sexual courting, and the modern record label as a middleman mournfully splitting the crumbs of a pie no one ordered.
This is an impressive debut. It is a snake in dog's clothing, moulting expectations, shedding careless first impressions and slithering towards the heat lamp of your heart. Moon's reflective pop music offers itself as a companion, setting the world to a kraut-beat like a ticking clock, a soundtrack for all that happens until that unseen final moment when — your foot already in the stirrup — death's famous black horse arrives.
For those of us not anticipating the expansion of government controlled drone-killings on home or foreign soil, tangerine coloured "reality augmentation" glasses pumping ads straight to our retinas, or the slapdash reality TV contest that will decide the next leader of the Catholic church, at least we'll have more from this promising group to look forward to.
Des lunettes lunatiques de Tobias Rochman:
(Traduit par Laurence Ouellette et Nicolas Coutlée)
À quoi le nom du groupe Moon fait-il référence? Est-ce un hommage à la fille du fondateur de Divorce Records, Darcy Spidle? Aux débuts cinématographiques du fils de David Bowie? À un cul à l'air? À une secte? À chacune de ces réponses?
Le format ultra-minimal, presque audacieux, de ce CD-Rom auto-produit suggère que le groupe d'Halifax sait très bien qu'il s'insère dans un monde où règne un cyber-capital qui propulse une musique jetable et immatérielle en abondance, ou encore que les labels, affairés à répartir des miettes de pain, sont en obsolescence avancée.
En tout cas, Moon ne laisse pas indifférent. Tel un serpent dissimulé sous une fourrure de chien, il hurle à la lune et glisse, avec une nonchalance reptilienne, tout droit vers la lueur infra-rouge de votre coeur. Moon vient se lover en vous sans hésitation, et vous enveloppe de sa pop opale sur un beat krautrock. Une trame sonore sublime pour n'importe quel moment; même le dernier.
Pour ceux d'entre vous qui n'attendent pas avec impatience de voir les avions drones se multiplier, de faire l'acquisition de lunettes de « réalité augmentée » orange bombardant votre rétine de publicités plus qu'elle ne l'est déjà ou de vous taper la prochaine télé-réalité pour l'élection du prochain leader du Vatican, consolez-vous; il y a toujours Moon, qui promet de nous en donner encore.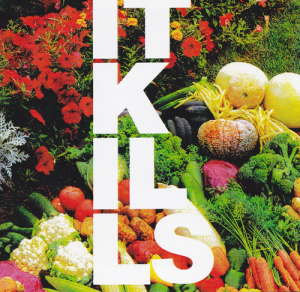 It Kills
It Kills
(Self Released)
Halifax, NS
Originally Released: 2010
From the veggie-laced gardens of Michael Thomas:
In 2010, three members of I See Rowboats formed a short-lived group that would only produce one album. It Kills is the sound of divine retribution. Among the shifting melodies, swirling strings, ominous keys and chanting voices you will discover the band's dark soul. But maybe it's not all doom and gloom; here and there you will be presented with a glimmer of hope. A possible soundtrack for the end of the world.
Michael Thomas is the founder of Grayowl Point, a Toronto-based source for Canadian indie music reviews, interviews and news.
Du potager de Michael Thomas:
(Traduit par Nicolas Coutlée & Alex Vail)
En 2010, trois membres de I See Rowboats forment un groupe le temps d'un album. It Kills est le son du châtiment divin. Au travers des mélodies changeantes, des guitares turbulentes, des claviers sinistres et des voix chantantes, vous découvrirez l'âme sombre du groupe. Mais peut-être que les ténèbres n'ont pas tout englouti; ici et là, vous trouverez une lueur d'espoir. Un bon choix de trame sonore pour la fin du monde.
Michael Thomas est le fondateur de Grayowl Point, un blog musical de Toronto qui offre « critiques, interviews et nouvelles sur la scène indie canadienne ».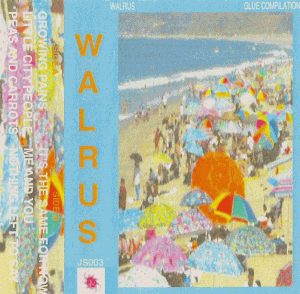 Walrus
Glue Compilation
Halifax, NS

Wrapped in a soupy gauze of slow-pitched delirium, Walrus' sophomore summertime creeper unravels the
dormant fantasies
deep within all of us. It's easy to waver within their cosmic surreality as you percolate through bubbling pop warbles and disparate vocals rooted deeply within the school of
Brave Radar
and the drug-ladled
Amos & Sara
. A superb beach-side jammer for the fantasian sunrise.
Audio clip: Adobe Flash Player (version 9 or above) is required to play this audio clip. Download the latest version here. You also need to have JavaScript enabled in your browser.
Audio clip: Adobe Flash Player (version 9 or above) is required to play this audio clip. Download the latest version here. You also need to have JavaScript enabled in your browser.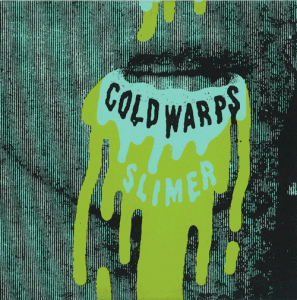 Cold Warps
Slimer
(Fundog)
Halifax, NS

Sometimes it's good to take a break to keep the people hungry, and in the case of Halifax's sweetie pop-punkers Cold Warps, absence makes the heart grow fuzzier. The foursome — who currently maintain a long-distance relationship with their Ottawa-based guitarist Dom Taylor — released a tantalizing
smattering of demos
and a
Cheap Trick cover
after their last tape, and
Slimer
marks their first physical release in around two years. While the songs remain breezy on the surface, with the usual hooks that unspool for days, the music itself boasts a bit more gnarl and heft – a tiny bit grungier, a little heavy and
head-y
. It's August now, so let's close with a cottage analogy: the boys still have their feet planted
on the beach
, but
Slimer
dips a toe into the swampy shit at the bottom of the lake —
the secret of the ooze
.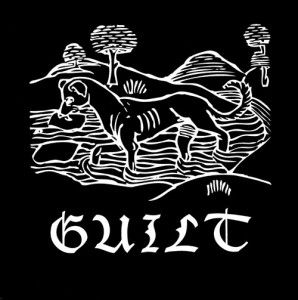 Guilt
Guilt
(Self Released)
Halifax, NS

There are some records that speak for themselves, but others bellow, bark, and bawl as if something more than your simple satisfaction was at stake. With their first effort as Guilt, Halifax's Matthew Grimson and Craig Leonard have assembled an astonishingly unique cycle of robust industrial music from little more than synthesizer and electronics, drum machine, and Grimson's sputtered prose-poetry. By foregrounding this last element the album aligns itself with other records that similarly privilege the demented musings of their literate masterminds such as Stephen Jesse Bernstein's
Prison
album and
A Lot of People Would Like to See Armand Schaubroeck… Dead
, but Guilt conjures a more mutant music through the stretched notes, plosive bursts, and maniac cadences of Grimson's unique delivery.
Audio clip: Adobe Flash Player (version 9 or above) is required to play this audio clip. Download the latest version here. You also need to have JavaScript enabled in your browser.
This raggedly original record is equally remarkable for the fine line it cuts between the industrial revolutions you might enjoy from that clutch of records what darkens da Expedit between yer Phycus and Psyche holdings and the chilly synth music some Montrealers have been fashioning to beat the sticky heat of the Maple Summer. It's a stretch to associate Guilt with either homegrown Corpus (or, Corpusse, in Canadian English), but goddamn if there ain't something exemplary about this exceptional fuckin' record, which burrows through the anhedonic bleakness and vexed convictions of our era and returns with a glimmer of hope for music, ideas, and the attitudes that hold 'em together in this besotted land.
You may know Leonard from his endeavors with Mitchell Wiebe and Dave Ewenson in the industrial-rhumba trio Catbag, but he earns his keep as an artist and educator at the Nova Scotia College of Art and Design. His visual art suggests an interest in systems and information entropy, and these concerns are evident in his nearly-structural contributions to this project. The duo's other half, Grimson, is an almost criminally under-celebrated icon of the East Coast music scene with a repertoire of some 900 recorded songs to his name and connections to such folks as the Sloan boys (they cover a tune of his on their pseudo-party album) and Joel Plaskett. Over the years, Grimson has cultivated the image and sounds of a saltier Warren Zevon, but Guilt represents a surprising new tangent for the man, with only his baroque lyricism uniting past and present.
Audio clip: Adobe Flash Player (version 9 or above) is required to play this audio clip. Download the latest version here. You also need to have JavaScript enabled in your browser.
Beneath Grimson's poetry, Leonard's roughly tailored moves give the impression of an impeccable industrial outfit. While the man certainly looks fetching in a ruffled tuxedo shirt, he plays it relatively austere here, with programmed percussion serving as the propulsive base for his chopped and screwed synth-bass figures. On the album's opener, for example, a cardiac beat is slowly deconstructed through the introduction of a four-note synth line, piercing sine waves, and overdriven guitar squeal. On "Piggy", the beat shuffles to the edge of the dance floor as a walking bass line is jostled about on a detuned synthesizer. And on "Skin Islands", a mantric pulse is conjured with only syncopated synth notes. Through the careful layering of saxophone skronk and electronic bleeps the song builds up to a drop that will leave you wondering if The Units knew a lick about high-pressure days. On the B-side, "The Trunk" is the most atmospheric song-poem on the album, with a distant rumble and a sparse piano line providing its skeletal rhythm. It is a haunting number that ends abruptly when Grimson poses an enigmatic question. After that, the duo launch into a Sightings-esque jammer with the positively pigfuck assault of "Adult Braces."
Lyrically, the album is a haggard tramp through the muck of a great many topics, though a fascination with parricide provides the work with something of an organizing principle. Over the course of the album, the great crime is addressed in literal and figurative terms, as mere act and the stuff of both atmosphere and politics. Take "Midnight Hanging." On the album's opener Grimson sets the mood with a bad trip bricolage of references to the authors, characters, and scenarios of wantonly hardboiled and noir fiction. "A witness handler, I'm a witless Chandler behind Richard Starks smile", he bellows. And through this creative confusion of patrimony, he is able to reference some of the genre's great figures and double the subversive take on authority that is the genre's central premise. "Just like when Mike Hammer breaks a woman's jaw," he coos, "the Spillane breaks."
In "Piggy," parricide is confronted in its literal sense, with the song's eponymous narrator completing the act that ultimately stumps the empowered axe-man in Meatloaf's "Wasted Youth." "I killed my parents," proclaims Piggy; "I'm covered in their blood." But what can a Pig do when his parents are "a bunch of fucking assholes" and his father says he shouldn't smoke pot? The song frightens because it follows the youthful rebelliousness of punk rock to the end of the line; but Grimson is not afraid to consider the consequences of such a piss in the abyss as things go sour for the hapless Piggy when he is caught in flagrante. But whereas Oedipus is blinded for his crime, the ailing figment of Grimson's imagination is left speechless and confined to a wheelchair, with his caretakers unable to "tell if he farted or spoke."
Some of Grimson's most humourous lines come when he extends this parricidal hostility to the lordly authority of rock 'n' roll's supposed heroes. "I beat up Mick Jones after the sound check," he moans on "Midnight Hanging," but he "thought the Clash were shit" so this offense can be excused. In fact, they sounded "worse than Jagger's digital dick," so the persecution was practically warranted. And yet, Grimson reserves some of his most biting critique for the impotent institutions that maintain the culture of mediocrity in which these figures thrive. The CBC, for example, "is what a moron sees when he does not know what he has to be;" and who could argue, with the fine work our Harperian Candidate has wrought on the once noble broadcaster? How long, one wonders, till the damn service is administered entirely by the establishment functionaries that frighten poor Piggy because "None of them are even unfaithful?" "Even to Joni," as Grimson growls; "and Joni sucks, she's awful, she's worse than Lou Reed… And you gotta try pretty hard to be worse than Lou Reed!"
On the backside of the album, the logic of the parricidal act is extended to consider the coup d'état, with a bleary-eyed Grimson imagining himself as the "intellectual" amongst a FLQ splinter-cell that is threatening to blow up a disco after taking its DJ hostage. As the situation intensifies, the character comes to question the cause before fleeing to Greenwich Village where he can live like a draft dodger in reverse, with his fellow Manhattanites unaware of his past. Interestingly, Grimson abandons the fiction at the song's mid-point so that he can reminisce about his time as a youngster living in Montreal during the October Crisis. "The FLQ was the first punk rock I ever heard," he recalls of his time "in an official shut down, [a] police state… Thanks Mr. Trudeau." Une goutte de sang tomba sur le suaire, as they say… but was that Hugo or Huggy Bear? At any rate, it would be worth your time to reflect on the apparently coincidental origination of this song and this moment in Grimson's former province, where an idiot premier and his corrupted party have been turning pirouettes on our civil liberties for months now. And if you are willing to agree that this track might have something to say about the connections between this era and that, you might also note how Jacqueline Lachance's video for "Piggy" recalls Joyce Wieland's Pierre Vallières through its tight close-ups on a mouth speaking the words of this percipient mouthpiece.
Of course, Grimson has a whole lot more to say on the album, so you'll have to pick it up to get a fuller sense of what he's on about. Over the course of the record's five long songs he conjures the uncanny image of a frightening and noble proposition: youth's disaffection maintained into middle age. Add Leonard's punkish provocations to the mix and you have yourself an album that matches the severity of our times with an industrial beatitude that is the diametrical opposite of the empty pleasantry that has come to dominate the so-called underground in our country. There is something more than mere gratification at stake in Guilt's vorticular shuffle, and they are not afraid to put it all on the line with this singular first album.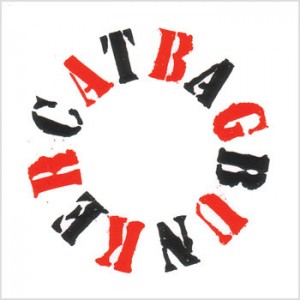 Catbag
Bunker Junker
Halifax, NS

Catbag hang out somewhere between
the crypt
and a charmingly decrepit seaside lounge. Their first LP missive confronts this dichotomy head on: the A-side Bunker captures trance-inducing duets for sax and maracas that are slowly joined by growls and throbbing bass fuzz. But the synthetic
swoop
that opens the B-side Junker heralds a different sort of active
background music
where vibraphone and organ are dusted on more subtle but equally eerie grooves. You might feel an ocean breeze, but it'll be a cold one.
Audio clip: Adobe Flash Player (version 9 or above) is required to play this audio clip. Download the latest version here. You also need to have JavaScript enabled in your browser.
---