Tag: halifax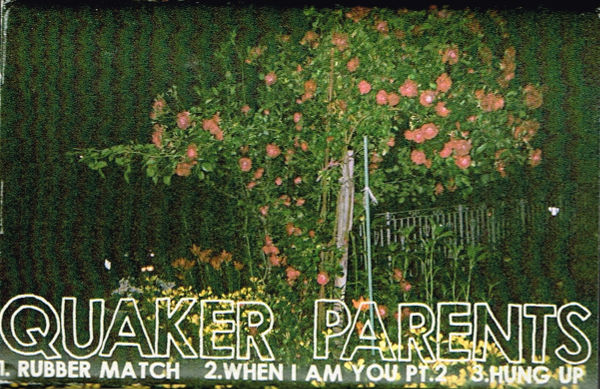 Quaker Parents
Rubber Match
Halifax, NS
From the racquetball court of Jesse Locke:
The brothers Grundy bounce back with a brimming cassingle of spidery-legged clockwork pop. Sputtering stop-start rhythms propel a parade of jitterbugged hooks set in place by the pace-setters. Hang on to these hang ups and don't miss the grip.
Du court de racquetball de Jesse Locke:
(Traduit par le revers de Louis-Félix Pellerin)
Les frères Grundy nous reviennent avec une cassingle grouillante de clockwork pop. Les rythmes stop-start propulsent une parade de crochets swingant mis en place par les pionniers du genre. Laissez ces complexes vous hanter et restez aux aguets pour une sortie éventuelle.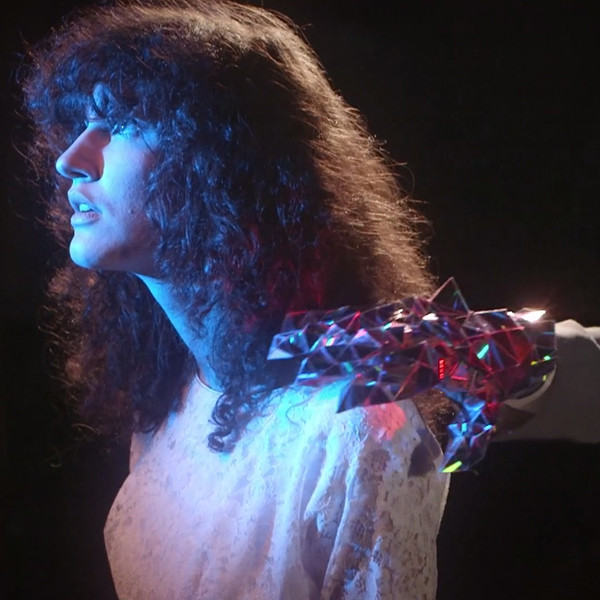 Monomyth
"Patsy"
(Directed by: Seth Smith)
Halifax, NS
From the feline fancy of Alanna Yaraskavitch:
Uncle Wayne said you didn't have to dance, but that won't calm yr bobbing head. Directed by Dog Day's Seth Smith, "Patsy" is four minutes of sickly pastels and sedated smiles, proving that the one you love will always hurt you. Sweep up the shards, the cat must slink on.
Des fantaisies félines d'Alanna Yaraskavitch:
(Traduit par Andréanne Dion)
Uncle Wayne a dit que vous n'aviez pas à danser, mais ça n'empêche pas votre tête de se balancer. Dirigé par Seth Smith de Dog Day, « Patsy », c'est quatre minutes de pastels maladifs et de sourires sous sédatif qui prouvent que ceux que vous aimez finiront toujours par vous blesser. Balayez les éclats de verre, le chat doit avancer.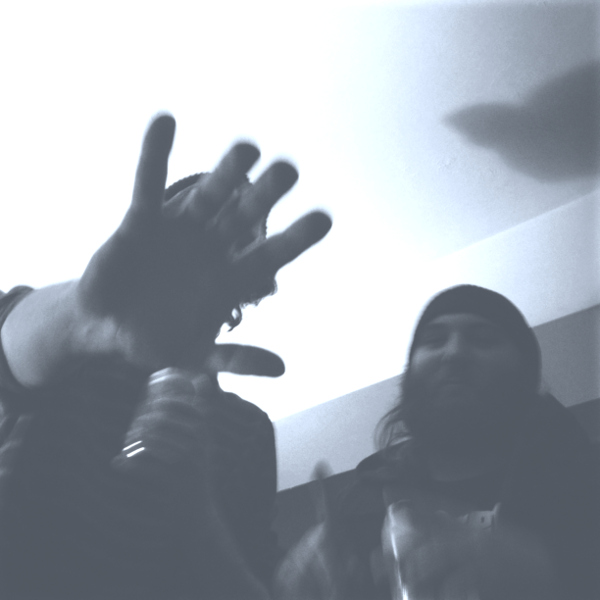 Walrus
Glam Returns
Halifax, NS
From the mammalian acidulousness of Joshua Robinson:
The East again beckons the distinguished reverie of post-altitudinous apperception. With Glam Returns, Halifax's mammalian high-risers render bounty unto the absenteeistic self-amity of those locked to the rhetoric-turned-chime of generations past. As a cannonade expounding the glorious return of acidulously spaced-out time-travel, this release heralds a return to the multi-dimensionality of the melting divides and superfluous colour-dreams of self-conceived introspection. Glam Returns in fine form, and psych-folk has again coalesced into that which is hypnotic.
De l'acidulité mammalienne de Joshua Robinson:
(Traduit dans l'hypnose absentéiste de David Kohler)
Une fois encore, l'Est attire notre attention sur ses rêveries distinguées à l'aperception post-himalayenne. Avec Glam Returns, les lits gigognes mammaliens de Halifax nous offrent leur générosité sous la forme de l'auto-amitié absentéiste de ceux qui sont prisonniers d'une rhétorique au goût de carillon des générations passées. Telle une canonnade battant le glorieux retour acidulé et stupéfiant du voyage à travers le temps, cette sortie annonce un retour à la multi-dimensionnalité des divisions fondantes et des rêves en couleurs superflus d'une introspection auto-conçue. Glam Returns en pleine forme, et le psych folk est à nouveau cristallisé en ce qui est hypnotique.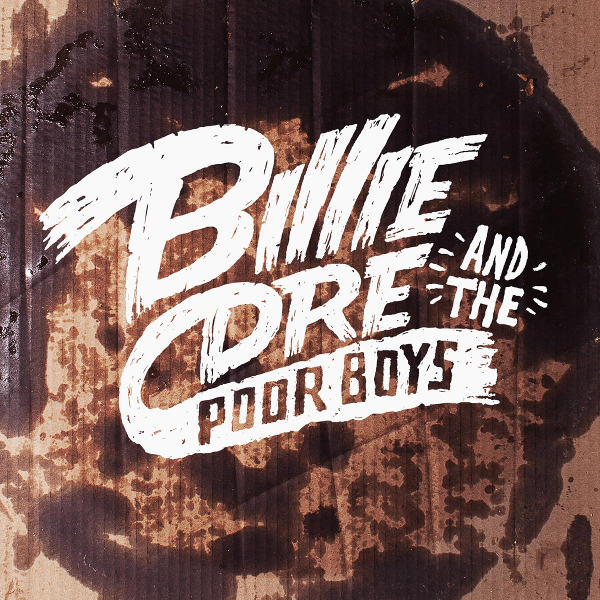 Billie Dre & The Poor Boys
Garlic Fingers
(Self Released)
Halifax, NS
From the late-night cravings of Brennan McCracken:
Anthems of late-night attitude. Odes to sweat-soaked ceiling tiles, one a.m. al fresco and speed — the lifestyle, not the drug — played loud and fast, then louder and faster. Garlic Fingers is a monumental release, with 10 songs that distill the garage tsunami of the Poor Boys' live show pure grease. This is a record for the people: woah-oh choruses, melody-deconstructing solos and relentless rhythms, the kind of music that sounds better with handclaps included. Smiles guaranteed.
Des envies nocturnes de Brennan McCracken:
(Traduit en solidarité par Nadine Tkatchevskaia)
Des hymnes d'attitude nocturne. Des odes aux carreaux du plafond trempés de sueur, un matin al fresco et du speed — le style de vie pas la drogue — jouées bruyamment et vite, puis plus bruyamment et plus vite. Garlic Fingers est un enregistrement monumental avec 10 chansons qui distillent le tsunami dans le garage du concert live des Poor Boys, de la graisse pure. Il s'agit d'un enregistrement pour le peuple : des refrains wouah-oh, des solos qui déconstruisent les mélodies et les rythmes incessants; le genre de musique qui a un meilleur son en tapant des mains. Des sourires garantis.

Billie Dre & The Poor Boys – King Taco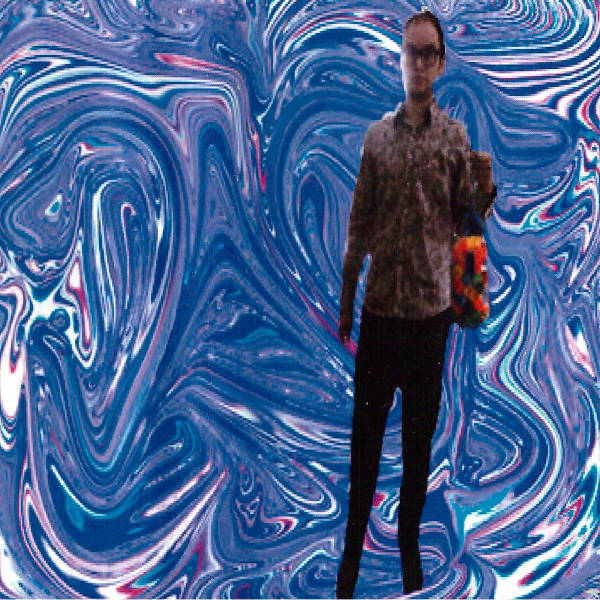 The Party Upstairs
Cartoon Universe
(Self Released)
Halifax, NS
From the blue dolphins pouring out of the enthusiaastic head of Hugo Hyart:
Like a magnetic tape trip in a world of glitched cartoons. Like a virtual tour in a ghostly carnival-casino-city. Like augmented reality trances through the information magic beans forest. Like a blink of human sentience. Holy lustig music.
Des dauphins bleus qui tombent du crâne enthousiaaste de Hugo Hyart:
Comme un voyage sur bande-magnétique dans un monde de dessin-animés bugués. Comme une virée virtuelle hallucinée dans une ville-carnaval-casino fantômatique. Comme des transes en réalité augmentée à travers la fôret des harricots magiques de la communication. Comme un clignotement de la sentience humaine. De la musique de sacré foufou.

The Party Upstairs – Languid Laughing Infinity

The Party Upstairs – The Jackrabbit Boogie in the Desert Under the Moon and the Sun As Well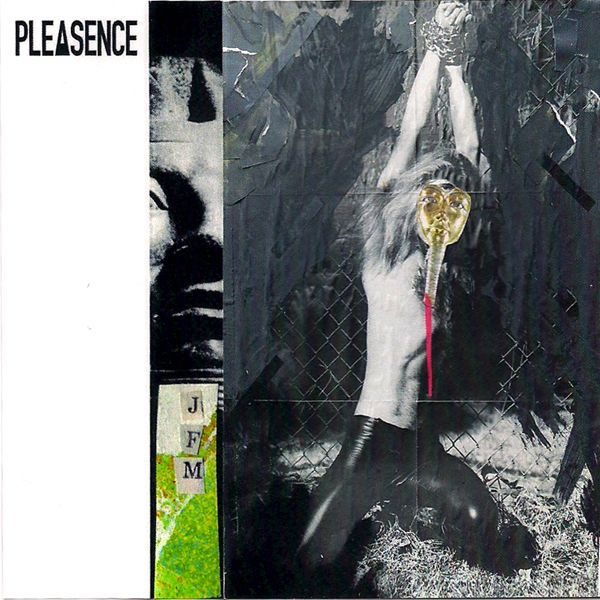 From the crass cranium of Farah Barakat:
JFM (Jesse Frank Matthews) constructs groovy soundscapes using a sampler and effects. For his cassette debut on Pleasence Records, the loops are minimally constructed, maximally effective. One carefully chosen beat, riff or rhythm is looped for minutes at a time, as intricate tweaks are added to create titillating audio collages before switching the vibe. Squat is a long, pleasant (pun intended) city drive late at night, with identical streetlights guiding you down the road like outstretched arms.
Du crâne insensible de Farah Barakat:
(Traduit par le doux murmure d'Anaïs Njike)
Producteur de musique décalée et compositeur solo de musique électronique, JFM (Jesse Frank Matthews) crée une atmosphère musicale groovy à partir d'un sampleur et d'effets sonores. Sa première cassette sortie sur Pleasence Records est l'exemple d'une boucle minimale, pour un effet maximal. Une rythmique ou un riff minutieusement choisis qui constituent une boucle répétée pendant plusieurs minutes, à laquelle s'ajoutent des éléments complexes pour créer un univers audio émoustillant avant de passer à l'ambiance suivante. Squat est aussi agréable qu'une longue virée en voiture tard dans la nuit, dans une ville dont les réverbères, identiques, vous tendent les bras pour guider votre chemin.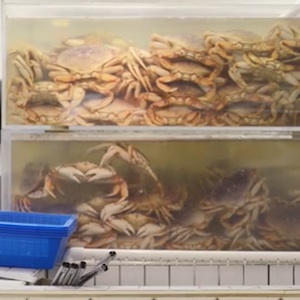 Cousins
"Mess"
(Directed by Neil Moignard)
Halifax, NS
From the marshmallow heart of Brad Casey:
Life is tragic and confusing and loaded with humour, violence and food. Raise your head, join us in the void and with all our hearts we'll stuff our bodies full of marshmallow stuff.
Du coeur en guimauve de Brad Casey:
(Traduit en une bouchée par Nicolas Coutlée)
La vie est tragique, déroutante, pleine d'humour, de violence et de nourriture. Relevez la tête, suivez-nous dans le vide et, dans la joie et l'allégresse, nous gaverons nos corps de pâte de guimauve.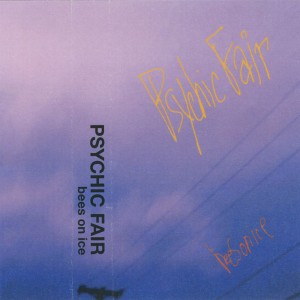 Psychic Fair
Bees on Ice
(Self Released)
Halifax, NS
From the third eye of Josh Silver:
Bees on Ice glitters in its glammy pop like a neon sign for the mysterious palm reader down the street you always meant to visit. Gritty guitars grind like a weather beaten door, while clean drums cushion like dense velvet drapery slung across windows. The crystal ball conjures up Psychic Fair's surreal world, bringing forth a prismatic, sparkling, and methodical strangeness, drawing the listener into the deeper mystery.
Du troisième œil de Josh Silver:
(Traduit par les lignes de la main de Julie Forget)
Bees on Ice brille dans sa glam pop comme l'enseigne au néon de la mystérieuse diseuse de bonne aventure un peu plus loin sur la rue que vous avez toujours voulu visiter. Des guitares rugueuses bûchent comme une porte battue par le vent pendant que les drums purs amortissent le tout comme un épais rideau de velours suspendu devant les fenêtres. La boule de cristal fait apparaître le monde surréel de Psychic Fair, donnant naissance à une étrangeté prismatique, étincelante et méthodique, amenant l'auditeur dans le plus profond des mystères.

Psychic Fair – Won't it Be Weird When We Can't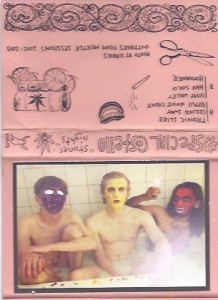 Special Costello
Stoner Nights
(Self Released)
Halifax, NS
From the Dionysian spirit of V. Rachel Weldon:
Ever since being handed the Agoraphobia demo by Baby Cages' songstress Halloway Jones — which did, as expected, sweep me up in the weird and beautiful songwriting, and rich whimsical wailing of Jeremy Costello — I've been dreaming in Costello-vision. In my head, it's like Bowie and Lynch are not just working together, but actually sharing a brain.
Stoner Nights wanders in, modest and unassuming, like a shift of gaze. Served up on a platter of slacker-virtuoso bedroom recordings, strangers might be taken by the range of stylistic polygames. "Ivory Wallet" is a virtual pleasure cruise through a post-disco digital wasteland, the grooviest glimpse of SC yet. But "Ceiling Sway" is the flood point, a Costelloist ballad that strikes my Nietzschean sensibility; thanks in no small part to Nick Dourado's steady crashing drums, it overflows through cracks in molten crust with a slow ecstatic bubbling. Special Costello is no longer the artist. They have become the work of art.
De l'esprit dionysiaque de V. Rachel Weldon:
(Traduit avec Nic-Co-lo-Davian amour par L. Frank)
Depuis que la chanteuse Halloway Jones de Baby Cages m'a donné la démo Agoraphobia, je rêve en Costello-vision. Comme attendu, la démo m'a emporté dans les compositions belles et bizarres et la voix riche et capricieuse de Jeremy Costello. Dans ma tête, Bowie et Lynch ne font pas que travailler ensemble, c'est comme s'ils partageaient le même cerveau.
Stoner Nights apparaît tranquillement, modeste et sans prétention comme le mouvement subtil d'un regard. Ses enregistrements de chambre à coucher d'une virtuosité nonchalante et sa gamme de jeux stylistiques risquent toutefois d'intéresser les nouveaux venus. « Ivory Wallet » est une croisière virtuelle à travers des ruines numériques post-disco, jusqu'à présent la chanson de SC qui a le plus de groove. Mais « Ceiling Sway » est le point culminant, une ballade costelloïste qui touche ma sensibilité nietzschéenne. Grâce aux rythmes constants et écrasants du batteur Nick Dourado, elle déborde au travers des fissures de la croûte fondue avec un bouillonnement lent et extatique. Special Costello ont cessé d'être les artistes. Ils sont devenus l'oeuvre d'art.

Special Costello – Ceiling Sway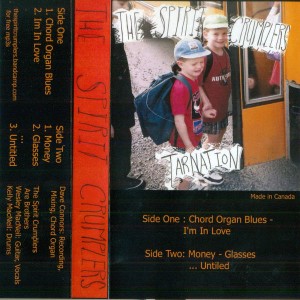 The Spirit Crumplers
Tarnation
(Self Released)
Halifax, NS
From the avenged sevenfolds of Farah Barakat:
The Spirit Crumplers define themselves as two vegan brothers playing garage-pop. And that they are, yet there's much more within their premiere release, Tarnation. There's a lot of spirit within their songs, and a strong sense that the brothers MacNeil poured their hearts and souls into this project. They even include their own zine with each cassette.
A certain sense of humbleness comes from the band's choice to open with a cover of the Daniel Johnston song ''Chord Organ Blues''. The MacNeils offer a beautiful rendition that does the original justice while simultaneously setting the tone for their own lo-fi sound. A comparison can be drawn between the higher pitched vocals of Johnston and singer-guitarist Wesley MacNeil (plus a little bit of John K. Samson of The Weakerthans). The Spirit Crumplers stick to an organic mix of guitar, drums and vocals, giving them a lot of room to toy with their sonic style. Tarnation tugs at your heartstrings, if not from the adorable lyrics, then maybe from the teeny guitar solo at the end of ''Glasses''.
De la revanche de Farah Barakat:
(Traduit par la rédemption de Catherine Gaucher)
The Spirit Crumplers se définissent comme deux frères végétaliens qui jouent du garage pop. Et ils le sont. Toutefois, il y a davantage de contenu dans Tarnation, leur première parution. Il y a beaucoup d'esprit au sein de leurs chansons et il nous reste un fort sentiment que les frères MacNeil ont versé corps et âme dans ce projet. Ils accompagnent même chaque cassette de leur propre zine.
On sent une certaine humilité dans leur choix d'une reprise de « Chord Organ Blues » de Daniel Johnston comme pièce d'ouverture. Les MacNeil offrent une interprétation magnifique qui rend justice à la version originale, tout en gardant le ton de leur son lo-fi. Une comparaison peut être faite entre le chant aigu de Johnston et celui du chanteur-guitariste Wesley MacNeil (avec aussi un peu de John K. Samson de The Weakerthans). The Spirit Crumplers construisent un mélange organique de guitare, batterie et chant, laissant beaucoup d'espace pour explorer leur style sonique. Tarnation atteindra les cordes sensibles de votre coeur. Si ce n'est pas grâce aux adorables paroles, alors peut-être que ce sera grâce au petit solo de guitare clôturant « Glasses ».

The Spirit Crumplers – Glasses
---