Tag: halifax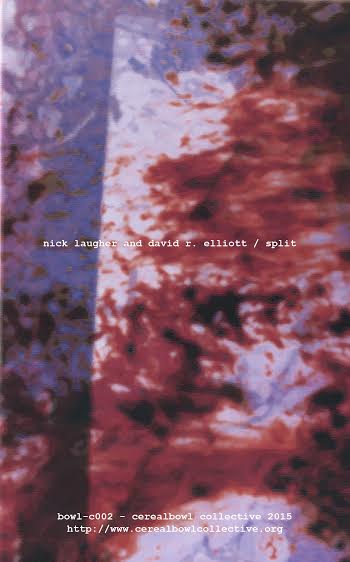 David R. Elliott & Nick Laugher
Split
Halifax, NS
From the misled blues of Mike Roy:
The bell for last call shakes your temples. You fumble in your pocket for a couple of quarters to slide into the tired jukebox huddled in the corner. A boozey, lo-fi melody answers your 2 AM call for companionship as another whiskey sour catches your hand. The fuzzy howls and sliding acoustics warm you before the liquor reaches your blood stream. Is this belligerence or retrospection?
Du blues floué de Mike Roy:
(Traduit par Jessica Grenier)
La cloche du last call déchire tes tympans. Tu fouilles dans tes poches pour trouver un vingt-cinq sous à glisser dans le jukebox fatigué blotti dans un coin. Une ivresse de lo-fi mélodique répond à ta demande de compagnie nocturne pendant qu'un autre whiskey sour vient occuper ta main. Les cris indistincts et les glissements de la guitare te réchauffent avant même que l'alcool n'ait atteint ton système sanguin. Est-ce hostile ou rétrospectif?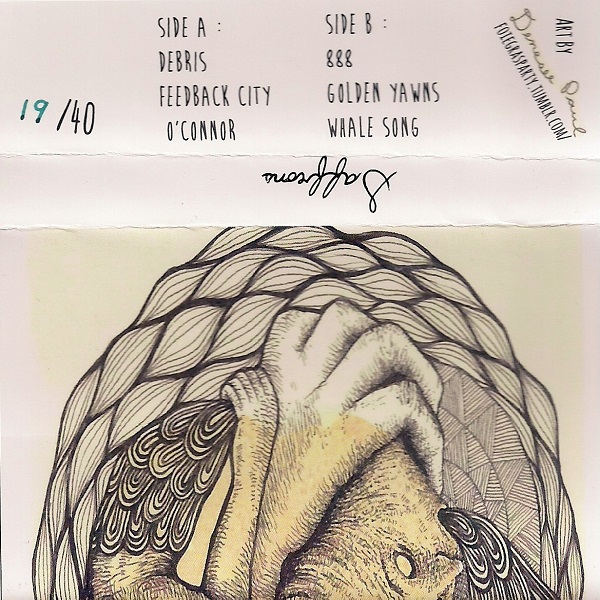 Saffrons
Saffrons
(Self-Released)
Halifax, NS
From the fruit looped spoons of Eleanor Wearing:
What are you waiting for? Plunge headfirst into a muddy whirlpool of bone-jangling reverbs until you are fully immersed in a cavern of swamp rock. A voice speaks to you through an invisible answering machine. It loops and echoes off the walls of the cave's rough interior, drawing you further into its depths. Twangy syllables bang around you, over you, through you. Your pulse increases, trying to match the capricious pattern. Slowly, the voice gets quieter. The whirlpool slows. Was it a dream?
De la cuillère fruitée bouclée d'Eleanor Wearing:
(Traduit par Mylène Moi Quevillon)
Qu'attendez-vous? Plongez tête première dans un obscur vortex de réverbérations [pétaradantes] jusqu'à ce que vous soyez complètement immergé dans une caverne de swamp rock. Une voix s'adresse à vous à partir d'un répondeur invisible. Elle tourne en boucle et son écho se répercute sur les parois inégales de la caverne, vous aspirant dans ses profondeurs. Les syllabes nasillardes se bousculent autour de vous, par-dessus vous, à travers vous. Votre pouls augmente, essayant de s'accorder à ce rythme fantasque. Et tout doucement, la voix se calme. Le tourbillon s'atténue. Était-ce un rêve?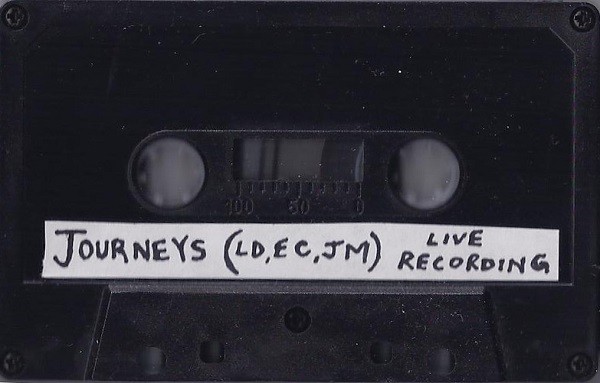 Journeys
Soft Release
(Self-Released)
Halifax, NS
From the long way of Javier Fuentes:
There's always been some wandering aspect when listening to the members of Journeys, with a distinctness to each drift; natural, futuristic, trance-like. Together, the feelings they create escape distinctions altogether while becoming embedded in the very sentiment itself. Carried to the farthest point where wandering and belonging are the same thing. Spaces shift beneath, but there is structure in both stillness and movement. Unconscious anticipation; you're starting to remember that the wait has already ended.
De la profondeur de Javier Fuentes:
(Traduit par Jacinthe Laplante)
L'écoute des membres de Journeys provoque toujours un sentiment d'errance, chaque dérive est unique; naturelle, futuriste, méditative. En groupe, les sentiments qu'ils engendrent se dérobent à toute distinction tout en s'enracinant à même l'état d'esprit. Transportés jusqu'à [la frontière] où l'errance et l'appartenance s'unissent. En dessous, les espaces se déplacent, mais il existe une structure à la fois dans l'immobilité et dans le mouvement. Anticipation inconsciente; vous commencez à vous rappeler que l'attente est déjà terminée.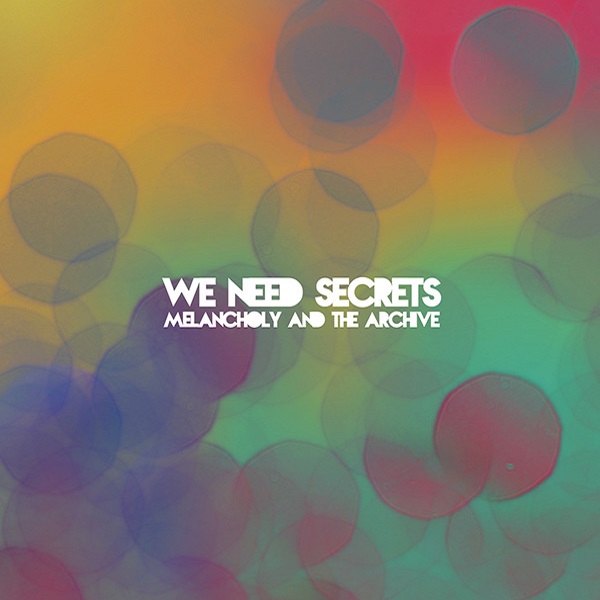 We Need Secrets
Melancholy and the Archive
Halifax, NS
From the Cold Clutches of Kelly MacNeil:
The archives are brimming, teeming with the lessons from antiquity. We ask, is this still us? Birth Was The Death Of Him, Let Me In is etched in the deadwax with a tumultuously steady hand. Melancholy and the Archive possesses that same hand and with it pushes and pulls sonic elasticity near the brink of pure chaos. We Need Secrets must have touched many conifer trees. A hand covered in sap is slowly withdrawn, and causes a moment of suspension, an inkling of harmony. The goo holds the flesh and the bark together, if you possess that unshakably steady hand.
Des poignes froides de Kelly MacNeil:
(Du retour d'entre les morts de Nicolas Coutlée)
Les archives débordent, elles grouillent des leçons de l'Antiquité. Mais est-ce bien nous encore? Sur le sillon de départ, gravé d'une main sûre dans le tumulte, on peut lire Birth Was The Death Of Him, Let Me In (la naissance fut sa mort, laissez-moi entrer). De cette même main, Melancholy and the Archive repousse et étire l'élasticité sonique jusqu'au bord du chaos pur. We Need Secrets s'est probablement frotté à de nombreux conifères. Une main enduite de sève se retire lentement, créant un moment de suspens, un soupçon d'harmonie. La glu retient ensemble l'arbre et l'écorce, si votre main est aussi sûre et inébranlable.
We Need Secrets – Months Like Years
Special Costello // Blonde Wig
Split
(Self Released)
Halifax, NS
From the soft underbelly of Katie Jensen:
Your best thinking happens as your brain floats untethered behind you. It knocks into things excitedly when you get your best ideas.
Do you remember when the jellied grey matter slid into a splintered crack and wouldn't come out? Something tugged on the leash and it resonated with tension, sending rippling curves of pressure down the length. Your mouth filled with the froth of bitter frustration, but you swallowed hard and kept walking.
Du doux bas-ventre de Katie Jensen:
(Traduit par Jason Rule)
Vos meilleures réflexions arrivent quand votre cerveau flotte librement derrière vous. Il bascule de tous les côtés, tout excité quand vous avez vos meilleures idées.
Vous souvenez-vous quand la matière grise gelée se glissait dans une fissure éclatée, et ne voulait pas sortir? Quelque chose tirait sur la laisse, et résonnait difficilement, envoyant des courbes ondulantes de pression sur toute la longueur. Votre bouche se remplissait avec une écume de frustration amère, mais vous avaliez fort et continuiez à marcher.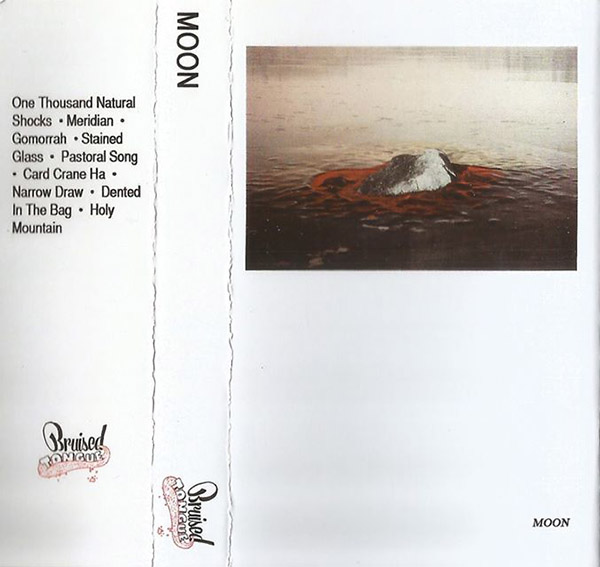 From la tête dans la lune of Matthew Swann:
In 1969 humankind visited the moon. In 2015 moon visited humankind. It brought the following gifts: 1) Ege Bamyasi-ish psych, hovering above a heavy, post-punk ground. 2) Flute, organ and harmonies swimming, over a laid back, deadpan lead. 3) A head full of stunning winter reverie. 4) The comely reconciliation of vintage and avant garde. These offerings, and more are broadcast through nine haligonian hymns, assembled onto cassette and disseminated across the land via bruised tongue – Ottawa's curator of the bold, beautiful, and bizarre.
De « la tête dans la lune » de Matthew Swann:
(Traduit par Jessica Grenier)
En 1969, l'humanité a posé le pied sur la lune. En 2015, la lune lui rend la pareille et elle apporte des cadeaux : 1) du psych à la Ege Bamyasi planant sur un lourd sol de post-punk. 2) Une flute, un orgue et des harmonies qui dansent devant une voix détendue et impassible. 3) Une tête remplie d'éblouissantes rêveries hivernales. 4) La magnifique réconciliation entre rétro et avant-garde. Ces offrandes et d'autres encore sont diffusées en neuf hymnes haligoniens sur une cassette et disséminée sur Terre par le biais de bruised tongue – conservateur ottavien de l'audacieux, du beau et du bizarre.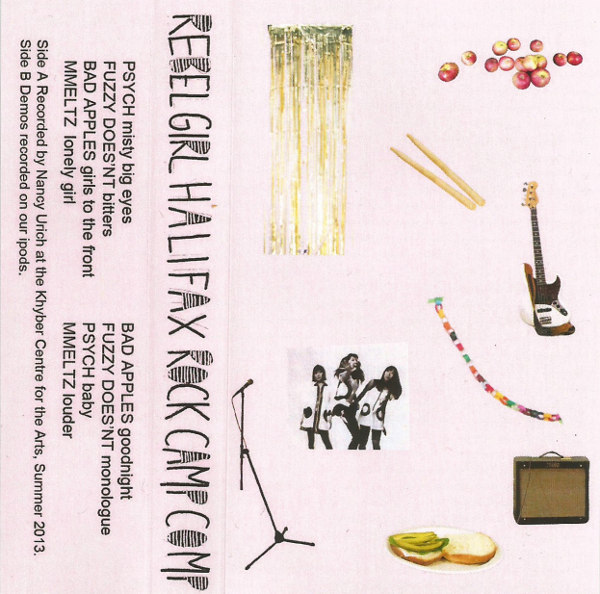 Various Artists
Rebel Girls Halifax Compilation
(Self Released)
Halifax, NS
From the allied arms of Kelly MacNeil:
'I'm just a girl alone in the world, alone in the world and I can't deal'. Walls are set, lines are drawn, expectations daunt and inhibit. It has been broken before, precedence has been set. Let us do it again. Empower the girls, give them the role models, the tools, and let their voices be heard! From the top of the Citadel, echoing in the Khyber long live!, and spreading through all age spaces. Spreads to basements and garages where friends sit slamming their hopes and fears on drums, bass, guitars, and microphones. Playing what you want, where you want, to the people you want.
The Lauras
The Lauras
(Self Released)
Halifax, NS
From the wiggly elbows of Kelly MacNeil:
Spotlights sweep in. Do not peer at your shoes too long, for sneakers have been known to change in the most romantic of ways. The Lauras meander, pausing to murmur blissful rhythms the depth and breadth of Jipugtug, accentuated by head-noddingly compatible jangles. Disembodied dance hall harmonies are removed of active patrons. Think Olympic Hall. They turn to reveal another face. There are sunny breakfast mornings here, beside the drooping eyelids of regret and remorse. Pavement pounders slip in and cozy up to last-slow-dance-of-the-night emcee announcements. Ending with stomachs full of butterflies. Full but yearning.
Des coudes frétillants de Kelly MacNeil:
(Traduit par Jessica Grenier)
Tu es sous les projecteurs. Ne fixe pas tes souliers trop longtemps : on sait qu'ils ont tendance à devenir des plus romantiques. The Lauras erre, n'arrêtant que pour murmurer une béatitude rythmique ayant l'étendue et la profondeur de Jipugtug, accentuée par un cliquètement invitant les hochements de tête. Les commanditaires sont retirés des harmonies de salles de danse désincarnées. Pense Olympic Hall. Ils se retournent, révélant un autre visage. Ici, les déjeuners de matins ensoleillés côtoient les paupières lourdes de regret et de remords. Les batteurs de bitume s'emmêlent puis s'entrelacent pour le dernier slow de la soirée, annoncé par l'animateur. Elle se termine avec des estomacs remplis de papillons… et de désir.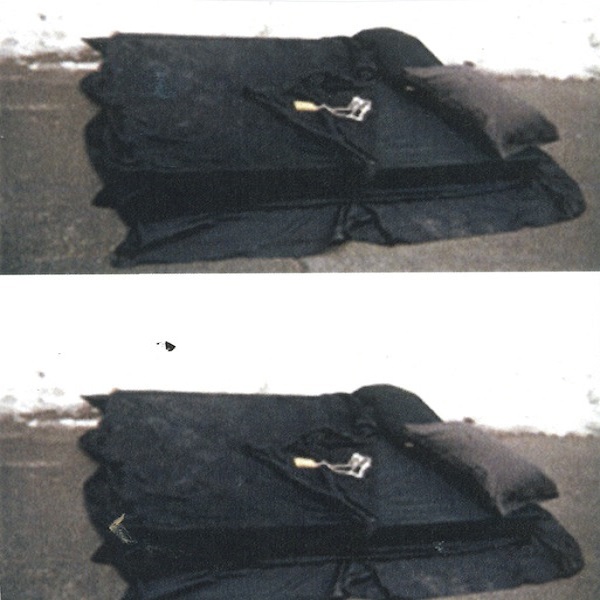 Heaven For Real
Heaven For Real's Live Underground
(Self Released)
Halifax, NS
From the genetic mutation of Claire Marie Guimond:
A rock show in an alternate universe where evolution has deleted social anxiety. Standing close to someone if you want to. Speculating hesitation in a song, like it's a quirk: how could it be that we were so affected? But sometimes the melody doesn't join up right. Maybe this new tension in your sides is the expression of some locked-up ancient gene… Triggered by something you're not sure but it'll come slowly, frail and remembering everyone here is ninety-nine percent the same as you.
De la mutation génétique de Claire Marie Guimond:
(Traduit par Jehane Yazami)
Un spectacle de rock dans un univers parallèle, où l'évolution a supprimé toute forme d'anxiété sociale. Être debout et proche de quelqu'un, si c'est ce que tu désires. Faire allusion à l'hésitation dans une chanson, c'est un type de bizarrerie étrange: comment est-ce possible de se sentir si affecté? Mais certaines fois, la mélodie ne se joint pas proprement. Peut-être que cette nouvelle tension sur tes cotés est l'expression d'un gène ancien, qui était enfermé… Déclenché par quelque chose dont tu n'es pas sûr, mais qui viendra lentement, fragile et avec la réalisation que tout le monde ici est à quatre-vingt-dix-neuf pour cent pareil comme toi.

Heaven For Real – Live at Oasis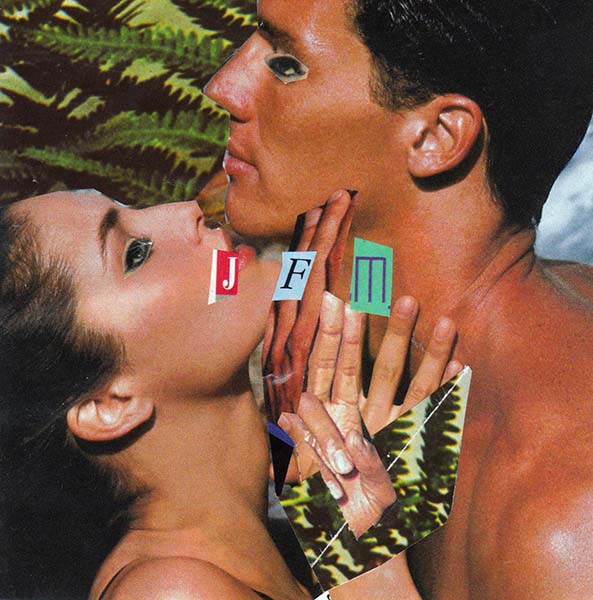 From the cloaked time of Jesse Locke:
On his second release of 2014, Maritime wavejumper Jesse Frank Matthews stretches bugged-out beatscapes into new shapes of fractured FX expressionism. From the hop 'n' bounce of "101 Dimensions" to the warbling dreams of "Flesh It Out" to the flickering flutes and ragga rhythms of "Fall Asleep With Candles Lit", Moult serves up a JFM buffet. At its core, "Eeenuff" delivers a tribute to an early inspiration with sorrowful strings bumped up to dance far beyond curfew.
Du temps voilé de Jesse Locke:
(Traduit par Jessica Grenier)
Sur son deuxième album sorti en 2014, lewavejumper maritime Jesse Frank Matthews étire des paysages rythmés délirants pour en faire de nouvelles formes fracturées d'effets expressionnistes. Des bonds de « 101 Dimensions » aux rêves gazouillants de « Flesh It Out » en passant par les flutes défaillantes et les ragga-rythmes de « Fall Asleep With Candles Lit », Moult de JFM est un véritable buffet. La pièce centrale, « Eeenuff », rend hommage à une de ses premières influences avec des cordes mélancoliques de plus en plus intenses, prêtes à danser bien plus tard que le couvre-feu.
---