Tag: halifax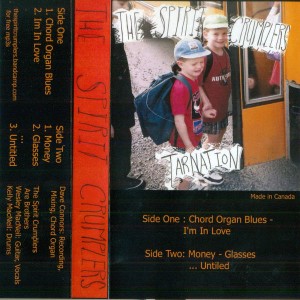 The Spirit Crumplers
Tarnation
(Self Released)
Halifax, NS
From the avenged sevenfolds of Farah Barakat:
The Spirit Crumplers define themselves as two vegan brothers playing garage-pop. And that they are, yet there's much more within their premiere release, Tarnation. There's a lot of spirit within their songs, and a strong sense that the brothers MacNeil poured their hearts and souls into this project. They even include their own zine with each cassette.
A certain sense of humbleness comes from the band's choice to open with a cover of the Daniel Johnston song ''Chord Organ Blues''. The MacNeils offer a beautiful rendition that does the original justice while simultaneously setting the tone for their own lo-fi sound. A comparison can be drawn between the higher pitched vocals of Johnston and singer-guitarist Wesley MacNeil (plus a little bit of John K. Samson of The Weakerthans). The Spirit Crumplers stick to an organic mix of guitar, drums and vocals, giving them a lot of room to toy with their sonic style. Tarnation tugs at your heartstrings, if not from the adorable lyrics, then maybe from the teeny guitar solo at the end of ''Glasses''.
De la revanche de Farah Barakat:
(Traduit par la rédemption de Catherine Gaucher)
The Spirit Crumplers se définissent comme deux frères végétaliens qui jouent du garage pop. Et ils le sont. Toutefois, il y a davantage de contenu dans Tarnation, leur première parution. Il y a beaucoup d'esprit au sein de leurs chansons et il nous reste un fort sentiment que les frères MacNeil ont versé corps et âme dans ce projet. Ils accompagnent même chaque cassette de leur propre zine.
On sent une certaine humilité dans leur choix d'une reprise de « Chord Organ Blues » de Daniel Johnston comme pièce d'ouverture. Les MacNeil offrent une interprétation magnifique qui rend justice à la version originale, tout en gardant le ton de leur son lo-fi. Une comparaison peut être faite entre le chant aigu de Johnston et celui du chanteur-guitariste Wesley MacNeil (avec aussi un peu de John K. Samson de The Weakerthans). The Spirit Crumplers construisent un mélange organique de guitare, batterie et chant, laissant beaucoup d'espace pour explorer leur style sonique. Tarnation atteindra les cordes sensibles de votre coeur. Si ce n'est pas grâce aux adorables paroles, alors peut-être que ce sera grâce au petit solo de guitare clôturant « Glasses ».

The Spirit Crumplers – Glasses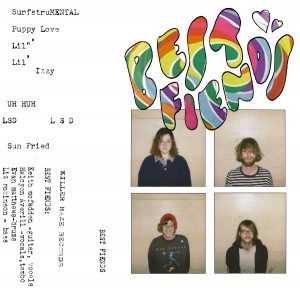 Best Fiends
Best Fiends
Halifax, NS
From the Micron 05 of Josh Silver:
Lo-fi Haligonians Best Fiends are straight from the garage, one located squarely on a beach. The masterful blending of surf riffs with rugged instrumentation creates a distinctively East Coast sound, embodying the laid back but resilient Maritime attitude. This six-song cassette carries an energy that is second to none, leaving the listener grooving in an ecstatic frenzy.
Du Micron 05 de Josh Silver:
(Traduit par la boîte de crayons feutres de Catherine Gaucher)
Les Haligoniens lo-fi Best Fiends sortent tout droit du garage, un garage situé carrément sur une plage. Le mélange magistral de riffs surf combinés à une instrumentation robuste créent un son distinctement Côte Est incarnant l'attitude relax mais résistante des Maritimes. Cette cassette de six chansons transporte une énergie surpassant tout et laissant l'auditeur plongé dans une frénésie extatique.
Nap Eyes
Whine of the Mystic
Halifax, NS
From the paranoid delirium of Josh Boguski:
Considering the eccentric history of Nigel Chapman's songwriting, it's no surprise that Montreal's anticipated new label, Plastic Factory, chose Whine of the Mystic as its first release. Recorded at the elusive Drones Club, this saintly record radiates with the light of the community from which it was born. The instrumentation of Halifax veterans Josh Salter, Seamus Dalton, and Brad Loughead mutate Chapman's empathetic folk into anthemic grooves. Sometimes noisy, sometimes introspective, but always tasteful, Nap Eyes are a band you can proudly take home to Mom.
Du délire parano de Josh Boguski:
(Traduit par la parano délirante de Virginie Langlois)
Étant donné les antécédents excentriques des compositions de Nigel Chapman, pas étonnant que Plastic Factory le nouveau label de Montréal dont on attend beaucoup, ait choisi Whine of the Mystic pour sa première sortie. Enregistré dans ce lieu indéfinissable qu'est le Drones Club, ce disque empreint de sainteté rayonne de la lumière de la communauté qui l'a vu naître. L'instrumentation de ces anciens combattants d'Halifax Josh Salter, Seamus Dalton et Brad Loughead transforment le folk empathique de Chapman en véritables hymnes. Parfois bruyant, parfois introspectif, mais toujours agréable, Nap Eyes est un groupe que vous pouvez fièrement présenter à vos parents.
Nap Eyes – Delirium and Persecution Paranoia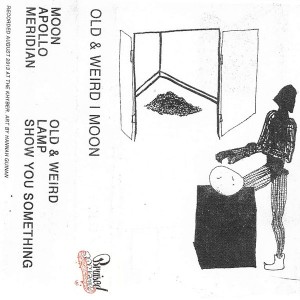 Moon // Old and Weird
Split
Halifax, NS // Halifax, NS
From the prime meridian of Josh Silver:
This split release from Bruised Tongue is a musical juxtaposition. Moon's jangly guitars materialize visions from another world as sparkling cymbals clash, taking the listener on a trip through spaces of both resonance and dissonance. On side two, Old and Weird provides an off-kilter complement with narrative songs of young life. The music flows in the same fashion as the story contained in the lyrics; floating guitars and vocals held in place by a punching rhythm section. In only four songs, these complexities and contradictions create a rich experience, leaving you wanting more.
Du premier méridien de Josh Silver:
(Traduit par Jan Karza)
Le dernier split cassette de Bruised Tongue est une juxtaposition musicale. Les guitares cacophoniques de Moon matérialisent des visions d'un autre monde tandis que des cymbales étincelantes se repercutent, faisant voyager l'auditeur à l'intérieur d'espaces de résonance et de dissonance. Sur le deuxième côté, Old and Weird fournit un complément décalé avec des chansons narratives d'une jeune vie. La musique coule de la même manière que l'histoire contenue dans les paroles; des guitares et des voix flottantes, maintenues en place par une section rythmique coup de poing. En seulement quatre chansons, ces complexités et contradictions créent une expérience riche, vous laissant sur votre faim.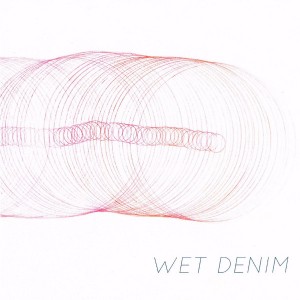 Wet Denim
Wet Denim
(Self Released)
Halifax, NS
From the sincere grin of Brennan McCracken:
The four members of Wet Denim have musical fingerprints all over the Halifax scene (see: Cousins, Cactus Flower and the Just Barelys), but make no mistake: their debut album is filled with songs that belie the side-project tag they may receive. This music is unabashedly pop, brimming with melodies that embrace, and slight turns of phrase that tickle the brain. It's earnestly sweet with an ornery underbelly, like a Nova Scotian hillside where wildflowers are indistinguishable from weeds.
Du large sourire sincère de Brennan McCracken:
(Traduit par le flair auditif de Julie Mayer)
Les quatre membres de Wet Denim marquent toute la scène haligonienne de leurs empreintes digitales musicales (voir : Cousins, Cactus Flower et The Just Barelys), mais ne vous y méprenez pas : leur premier album est rempli de chansons qui démentent l'étiquette de projet parallèle qu'on pourrait leur coller. Leur musique est résolument pop, débordante de mélodies enveloppantes et de tours de phrases subtils qui titillent le cerveau. C'est d'une douceur sincère aux dessous vicieux, comme une colline néo-écossaise où il est impossible de distinguer les fleurs sauvages des mauvaises herbes.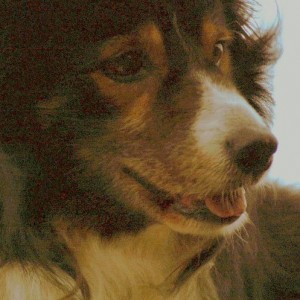 Dog Day
"In Another Life"
(Directed by Seth Smith)
Halifax, NS
From the surreal feel of Christina Bell:
Seth and Nancy's particularly adventurous, superstar pup Woofy is front and centre in this cute dog video made for "In Another Life." The roaming rock 'n' roll track is fresh off their 2013 album Fade Out. Acid aesthetics give the majestic landscape in the video a certain surreal feel. The visuals lend themselves to a hypnagogic atmosphere that is typical of director Seth Smith. The melancholic rock riffs and longing vocals play perfectly with entrancing imagery resulting in a complete dream drenched package.
De la sensation surréaliste de Christina Bell:
(Traduit par les rêves acides de Catherine Gaucher)
Woofy, le chien particulièrement aventureux de Seth et Nancy, est la vedette de ce vidéo de chien mignon tourné pour « In Another Life ». Cette chanson de rock 'n' roll déferlant est fraîchement tirée de leur album Fade Out, paru en 2013. L'esthétique acide du vidéo donne au paysage majestueux une certaine touche surréaliste. L'imagerie se prête à une atmosphère hypnagogique, typique du réalisateur Seth Smith. Ces images envoûtantes s'agencent parfaitement avec les riffs de rock mélancolique et les chants nostalgiques, le résultat étant tout entier imbibé de rêve.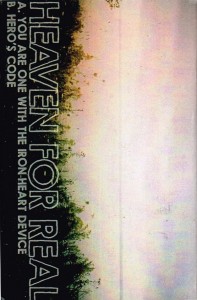 Heaven For Real
Hero's Code
Halifax, NS
From the iron heart device of Max Cotter:
Hero's Code is a mathematically calculated insurrection waged on every mediocre house show ever booked. It may be the music blowing your mind or the fact that you left your ear plugs at home. One way or another, whoever's basement this is will be going up in flames tonight while we dance to sounds as sharp as the broken glass underfoot and pop hooks as pervasive as the smell of mold and sweat. Heaven For Real's spontaneity gets straight to the point with precision and a simple message: grip this, buckle in, and groove to its meandering-yet-meticulous tidal riffs.
Du cœur d'acier de Max Cotter:
(Traduit par la pensée sinueuse mais méticuleuse de Virginie Langlois)
Hero's Code est une insurrection méthodique menée à l'assaut de toutes les soirées house pas terribles. Soit vous avez le souffle coupé par la musique, soit vous regrettez d'avoir oublié vos bouchons d'oreille à la maison. En tout cas, quel que soit le lieu choisi pour la performance, attendez-vous à ce que la salle s'embrase ce soir lorsqu'on va se mettre à danser au rythme de sonorités aussi acérées que du verre brisé sous le pied et d'accroches pop aussi puissantes que l'odeur de moisissure et de sueur. La spontanéité de Heaven For Real's va droit au but avec précision et un message simple : emparez-vous de la musique, accrochez-vous et laissez-vous porter par le raz-de-marée sinueux mais méticuleux des riffs.
Heaven For Real – You Are The One With The Iron Heart Device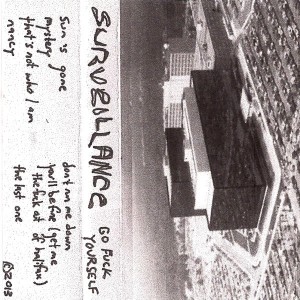 Surveillance
Go Fuck Yourself
(Self Released)
Halifax, NS
From the stereo mountain of Jesse Locke:
Tucked inside a zine-grade cassette sleeve with the sinister image of NSA HQ, this shambly Halifax trio upholds the Nova Scotian no-fi tradition. Slashing through the hiss with a barrage of blurred hooks, caterwaul harmonies and Mascisized overdrive, Surveillance alternate between sensitive slack and slam-dance squeal. Just because you're paranoid doesn't mean they aren't after you…
De la montagne stéréo de Jesse Locke:
(Traduit d'un pied de chèvre par Nicolas Coutlée)
Derrière une pochette de cassette arborant la sinistre image du QG de la NSA, ce chaotique trio d'Halifax perpétue la tradition néo-écossaise no-fi. Se frayant un chemin à travers le grichage à coups de mélodies embrouillées, d'harmonies de miaulements et de distortion mascisisée, Surveillance alterne entre la mollesse sensible et les cris perçants du mosh pit. Ce n'est pas parce que vous êtes paranoïaque qu'ils ne sont nécessairement pas après vous…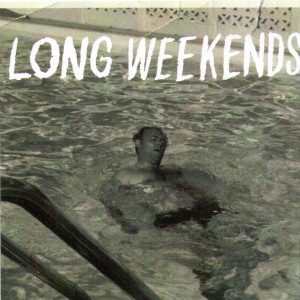 Long Weekends
Tell It To My Heart
(Self Released)
Halifax, NS
From the tremulous cadence of Mark Streeter:
True story: I jammed this EP all summer long at my bookstore job in Southern Ontario, and people were always coming up to the desk to ask what it was. That their guesses would range everywhere from — true story, remember — Arcade Fire (I suspect this has to do with Noel's slightly tremulous cadence) to the Wipers (witness the searing first minute of "Trades") says a lot about the band's versatility and its range of sonic touchstones.
Long Weekends sound as immediate and energetic as anybody's first band, but also full of the kind of craftsmanship and confidence that comes from a solid decade of playing in dozens of bands and sharing practice spaces/apartments/record collections with dozens of other people in bands. From the 'verbed out guitars to the drums thudding off the walls, and lyrics about feeling like a chump for having done the right thing, this sounds like music that is made in a part of the world where you go surfing in a full body suit, equal parts courageous and vulnerable.
There's (probably) no such thing as a "Halifax sound" — a term that is likely to strike you as insufferable if you're from there — but there's a great Walrus article yet to be written about the unique circumstances that make the city such a strong incubator of tradition. Bands like Monomyth and Moon (another Noel M project!) are getting a lot of recognition outside Halifax city limits, but the well runs so much deeper. It's unlikely that this very part-time band of guys with very full-time jobs will ever come to play your town (the band name doubles as their jam schedule) so let these recordings transport you to the coast.
De la cadence frémissante de Mark Streeter:
(Traduit par le repos complet de Catherine Gaucher)
Histoire vraie : Durant tout un été, alors que j'étais libraire dans le sud de l'Ontario, j'ai écouté cet EP et les gens affluaient à mon comptoir pour me demander ce qui jouait. Les suppositions allaient dans toutes les directions — rappelez-vous, c'est une histoire vraie — d'Arcade Fire (probablement à cause de la cadence légèrement frémissante de Noel) aux Wipers (en raison de la brûlante première minute de « Trades ») : cela en dit long sur la polyvalence de ce groupe et sur la diversité de ses références soniques.
Le son de Long Weekends est aussi immédiat et énergique que n'importe quel groupe débutant, mais aussi travaillé et rempli d'une assurance obtenue grâce à une bonne décennie à faire partie d'une dizaine de groupes et à partager des espaces de pratique/appartements/collections de disques avec une dizaine d'autres personnes dans des groupes. Des guitares retentissantes jusqu'aux imprévisibles battements sourds de tambours et grâce à des paroles évoquant l'impression de se sentir idiot pour avoir bien agi, cette musique sonne comme si elle avait été composée dans un endroit du monde où l'on surfe vêtu de la tête au pied d'une combinaison, à la fois courageux et vulnérable.
Il n'existe (probablement) pas de « son Halifax » — un terme sûrement insupportable si vous êtes originaire de là-bas — mais il y aurait un excellent article à écrire dans le Walrus au sujet des circonstances uniques qui font de cette ville un tel incubateur de traditions. Des groupes tels que Monomyth et Moon (un autre projet de Noel M!) attirent beaucoup d'attention à l'extérieur des limites de la ville d'Halifax, mais la source est loin d'être épuisée. Il est peu probable que ces groupes à temps très partiel formés par des gars ayant des emplois à temps très plein viennent jouer dans votre ville (le nom du groupe évoque leur emploi du temps très chargé), alors laissez cet enregistrement vous transporter sur la côte.
Long Weekends – The Best You Ever Had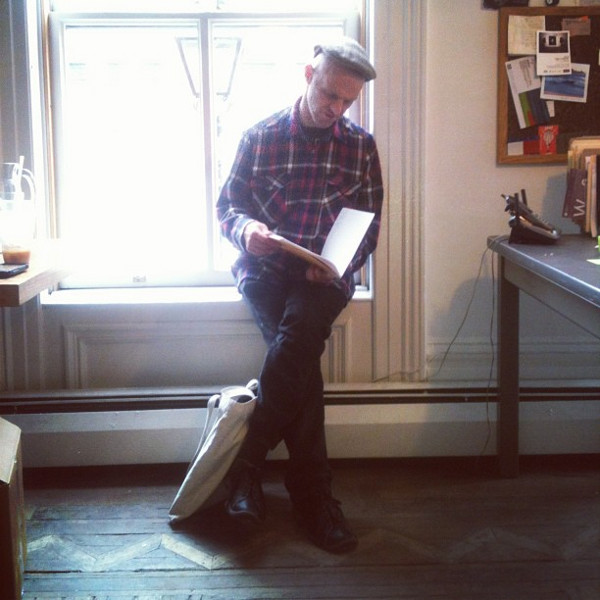 Darcy Spidle
[Founder of OBEY Convention, Divorce Records, and Heavy Fog]
Halifax, NS
From the dense mist of Joel Thibert:
The other day, a friend told me something along the lines of "I have my ear to the ground, and I keep hearing strings." Do you think that elements of classical music are currently growing to play a bigger role in the future of nationwide experimentation?
Admittedly, my use and even understanding of the term "classical" is probably debatable, but I am interested in this burgeoning community of young, underground artists from Canada who self-identify with that genre label in some way. They are the folks who have trained in classical music but also found their ways into other genres, both popular and experimental. An artist like Alice Hansen comes to mind. She is a university trained composer but also a member of ambient pop duo You'll Never Get to Heaven. Zachary Fairbrother of Lantern is another example. When the politics and aesthetics of those two worlds collide, it can make for very intriguing music and discussion. In ways, that's what I'm trying to explore with Heavy Fog.
Your main label, Divorce, already has a pretty good following. What do you feel are the benefits of a cassette sub-label for experimental/classical releases?
I had been hearing a lot of recordings by young composers that seemed to straddle the line between "classical" and genres I'm more used to like noise, drone, ambient, punk, indie, etc. And like noise and other outsider genres, this underground classical material was exploratory and, at times, absolutely mind blowing. These were really fresh sounds for me, so I felt compelled to get involved. Running a label is truly a musical journey of discovery, and I guess this has been a journey that I have been wanting to take for awhile.
As for a cassette sub-label, I think tape (and CD-R) culture has been essential to the development of fringe music. For a number of reasons, tape labels can take the most risks and push the boundaries of what is considered a proper release or even listenable music. It just hit me that the new music I was discovering could fit and even benefit from this culture.
<<< read more >>>
I've also increasingly been returning to the cassette format in my personal listening habits. Of course, analog is great, but the long format is also a nice element. With a record, you have 30 to maybe 40 minutes. All of our Heavy Fog releases will be 70 minutes or more, which is a minimum time for most of this music to properly unfold.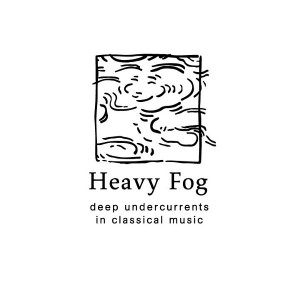 What makes Bespoken plays Nick Storring and Daniel Brandes a good choice as a first release?
Heavy Fog was just a vague idea until I started chatting with Toronto's Nick Storring. Somehow, our online conversations eventually led to this label emerging fully formed. He had a number of recordings in the works, all of which I immediately wanted to release! And his suggestions for artists to check out have been an amazing resource. Like Alice and Zach, Nick is an example of a composer who has broken away from many of the constricting elements of traditional classical music. His current work (check out Gardens) is some of the most exciting music I have heard all year.
Experimentation is always important to me as a curator both at my festival and with the label, but for Heavy Fog I also want to focus on music that is uplifting and, dare I say it, beautiful. The Bespoken album really fit that bill. Nick and I also felt that the folk qualities of Bespoken would really suit the analog format quite well.
Who are some artists you're excited to work with in the future?
Well, I'm taking it slow and trying hard not to get too far ahead of myself. I could spend every hour on this new label, but I have about a half a dozen other projects on the go as well. Finding balance in life is tough. That being said, the next release is in the works and should be available in January. We will be doing a retrospective on Toronto new-age classical pianist John S. Gray. Again, this is an artist who was introduced to me by Nick. John's music has this flowing, meditative quality that, although less dense, reminds me in ways of Lubomyr Melnyk, who I believe was one of John's contemporaries. John has a massive collection of recordings. I can't wait to wade in over the holidays.
Can we expect to see an increase Heavy Fog-friendly artists at OBEY Convention in the future?
A goal of the OBEY Convention is to bring together artists of all kinds, so yes, I would love to see that happen. We try to touch on that world each year, but it would be nice to see even more.
Is there anything else you'd like to say? Something to promote, someone to praise, something to be excited about?
Bespoken will be officially releasing their Heavy Fog cassette (and essentially launching the label) in Toronto on Tuesday, December 10th at the Tranzac Club. They will be joined by Allison Cameron and Christopher Willes. The talented Haligonian Robert Drisdelle will be providing visuals. For those not in the Toronto, order the cassette or download the album over here. Thanks!
For more info on Darcy and his wonderful work with OBEY in particular, check out our previous interview with him.
De la brume épaisse de Joel Thibert:
(Traduit en tag-team par Hugo Hyart et Nicolas Coutlée)
L'autre jour, un ami m'a dit quelque chose du style« J'arrête pas d'entendre des violons partout. » Penses-tu qu'en ce moment certains éléments de la musique classique sont appelés à jouer un rôle de plus en plus important dans l'expérimentation musicale au pays?
J'avoue que mon utilisation et même ma compréhension du terme « classique » sont probablement sujettes à débat, mais je m'intéresse à cette communauté canadienne bourgeonnante de jeunes artistes marginaux qui s'identifient d'une façon ou d'une autre à cette étiquette. Ce sont des personnes qui ont étudié la musique classique tout en explorant d'autres genres, populaires ou expérimentaux. Je pense à une artiste comme Alice Hansen. C'est une compositrice formée à l'université, mais elle est aussi membre du duo de pop ambiante You'll Never Get to Heaven. Zachary Fairbrother de Lantern est un autre exemple. Quand les politiques et les esthétiques de ces deux mondes entrent en collision, il peut en résulter des musiques et des discussions très intrigantes. D'une certaine façon, c'est ce que j'essaie d'explorer avec Heavy Fog.
Divorce, ton label principal, compte déjà un bon nombre d'adeptes. Quels avantages crois-tu que ce sous-label cassette peut comporter pour des parutions expérimentales/classiques?
J'ai entendu beaucoup d'enregistrements de jeunes compositeurs à cheval entre le « classique » et d'autres genres qui me sont plus familiers comme le noise, le drone, l'ambiant, le punk, l'indie, etc. Et comme le noise et d'autres genres marginaux, ces compositions de classique underground étaient exploratoires et, parfois, complètement époustouflantes. C'était très rafraîchissant à mes oreilles, alors j'ai eu envie de m'impliquer. Gérer un label est réellement un voyage de découvertes musicales, et je suppose que ça faisait longtemps que je voulais m'engager dans cette aventure.
Pour ce qui est du sous-label, je pense que la culture de la cassette (et du CD-R) a été essentielle au développement de la musique marginale. Pour de nombreuses raisons, ces étiquettes peuvent prendre plus de risques et repousser les frontières de ce qui est considéré comme une parution légitime ou même de ce qui est écoutable. Je me suis simplement rendu compte que cette nouvelle musique que je découvrais pouvait cadrer au sein de cette culture et même en bénéficier.
<<< read more >>>
Je me suis aussi tourné de plus en plus vers le format cassette dans mes habitudes d'écoute personnelle. Bien sûr, l'analogique c'est génial, mais la longue durée est aussi un élément intéressant. Avec un disque, vous avez 30 à peut-être 40 minutes. Toutes nos parutions sur Heavy Fog seront d'au moins 70 minutes, durée minimale pour que cette musique se déploie proprement.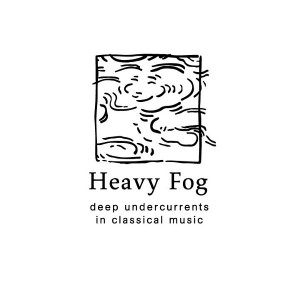 Qu'est-ce qui fait de Bespoken plays Nick Storring and Daniel Brandes un bon choix à titre de première parution?
Heavy Fog n'était qu'une idée vague avant que je discute avec Nick Storring de Toronto. D'une façon ou d'une autre, l'étiquette a pris forme au fil de nos conversations en ligne. Il avait déjà bon nombre d'enregistrements en chantier que je voulais déjà faire paraître sur-le-champ! Et ces suggestions d'artistes constituaient une mine d'or incroyable. Comme Alice et Zach, Nick est un exemple de compositeur s'étant libéré de plusieurs éléments contraignants propres à la musique classique traditionnelle. Son projet actuel (qui se nomme Gardens) figure parmi les musiques les plus excitantes que j'ai entendues cette année.
Quels sont quelques-uns des artistes avec qui tu as hâte de collaborer?
Pour le moment, je prends mon temps et j'essaie de ne pas trop me projeter dans l'avenir. Je pourrais passer toutes mes journées sur cette nouvelle étiquette, mais j'ai également environ une demi-douzaine d'autres projets en cours. Dans la vie, trouver l'équilibre est difficile. Cela dit, je travaille en ce moment sur une prochaine parution qui devrait sortir en janvier. Nous ferons une rétrospective de John S. Gray, pianiste classique nouvel-âge de Toronto. Encore une fois, il s'agit d'un artiste que Nick m'a suggéré. La musique de John a ce côté fluide et méditatif qui, bien que moins dense, me rappelle d'une certaine façon Lubomyr Melnyk, un contemporain de John si je me souviens bien. John possède une immense collection d'enregistrements. Je suis impatient de m'y plonger durant le temps des fêtes.
Peut-on s'attendre dans l'avenir à une présence plus forte d'artistes proches de Heavy Fog à OBEY Convention?
L'un des objectifs de OBEY Convention est de rassembler des artistes de toutes sortes, donc oui, j'aimerais que ça se produise. On essaie de toucher un peu à cet univers chaque année, mais ce serait bien d'en avoir encore plus.
As-tu quelque chose à ajouter? Quelque chose à promouvoir, à encenser, quelque chose qui t'allume?
Le lancement officiel de la cassette de Bespoken (et par le fait même de l'étiquette Heavy Fog) aura lieu à Toronto le mardi 10 décembre au Tranzac Club. Le groupe sera accompagné par Allison Cameron et Christopher Willes. Le talentueux Haligonien Robert Drisdelle se chargera des projections. Pour ceux et celles à l'extérieur de Toronto, vous pouvez acheter la cassette ou télécharger l'album ici. Merci!
Pour plus d'information sur Darcy et le merveilleux travail qu'il effectue pour OBEY, lisez notre dernière entrevue avec lui.
---