Tag: halifax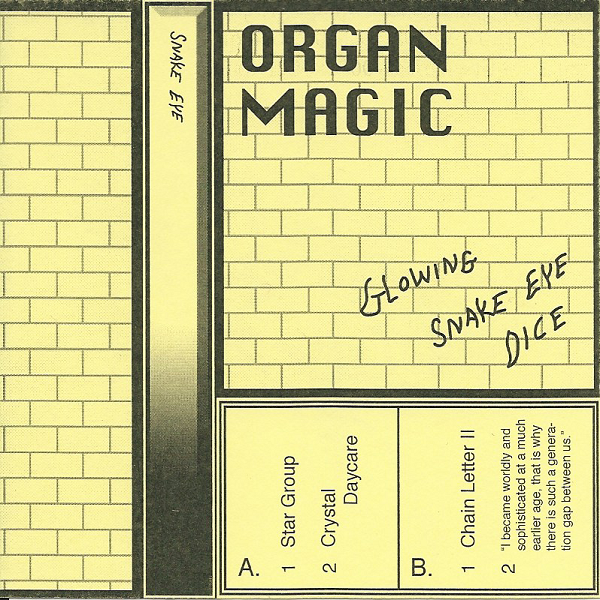 Organ Magic
Glowing Snake Eye Dice
(Self-Released)
Halifax, NS
From the solipsistic thwomping of Adam Bradley:
Stride into the house, the house built of interwoven, interlocking glowsticks, all activated and emanating a jumping energy. Fluorescence omnipresent save for the black of the hollow dancehall far ahead, flashing, heaving, thwomping. A mist of sweat travels through the maniac strobe and envelops like a druggy hug. Floor is condensation slick and rubbery like a dead balloon that's been sucked on. Ceiling is disco tiles, pulsing spastic morse. The atmosphere is dovetailed with a solipsistic confidence and the horn of plenty promises a bubbling bounty of vice.
Du *thwompage* solipsiste d' Adam Bradley:
(Traduit par l'optique épileptique de Julie Mayer)
Entrez dans la maison, la maison faite de bâtons lumineux entrelacés et interconnectés, tous activés et desquels émane une énergie bondissante. Une fluorescence omniprésente vous garde de la noirceur du dancehall creux qui clignote, se soulève et thwompe loin devant. Une brume de sueur voyage à travers la lumière stroboscopique maniaque et vous enveloppe comme un câlin de junkie. Le sol, rendu glissant par la condensation, est aussi caoutchouteux qu'un ballon dégonflé dont on a aspiré l'air. Le plafond aux allures de boule disco pulse du morse spasmodique. Une assurance solipsiste se joint à l'ambiance et la corne d'abondance promet une prime pétillante de vice.
Organ Magic – I became worldly and sophisticated at a much earlier age, that is why there is such a generation gap between us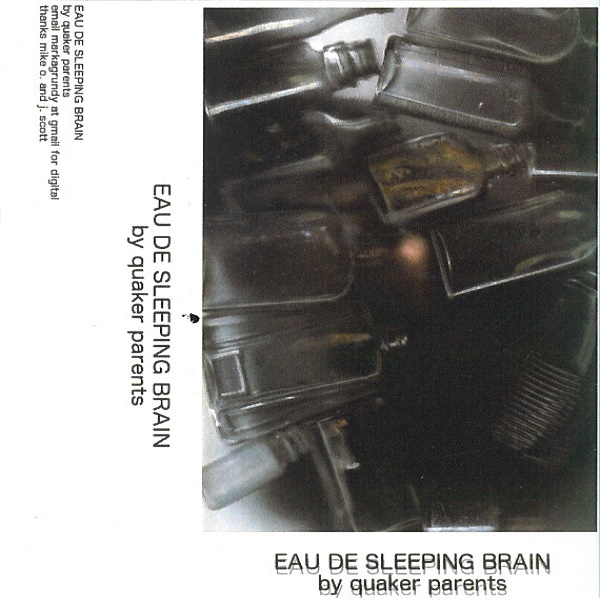 Quaker Parents
Eau De Sleeping Brain
(Self-Released)
Halifax, NS
From the dream crashes of Claire Marie Guimond:
Step out of this birthday party crowd into dewy night air condense instant comfort. Across the street's a parking lot for a scene to study: the last time you woke up in a car, dreams were messy incongruent like Earth's broken crust, recollected minutes swimming in sticky magma, sometimes crashing, lasting impact marks. Wanting to remember words spoken half an hour ago coming back as only images. With tectonic cycles too long to observe, need to speed it up to react quicker, this is where simple truths emerge with the intrinsic response. It's set in structure to cycles of melody that spiral eddying inwards and inwards until the one mustered climactic jump to clear the groove—the streets are empty and the nighttime light feels unfamiliar, and right now you're just as out of context as waking up in a car…
Provenant des rêves accidentés de Claire Marie Guimond:
(Traduit par Jehane Yazami)
Sorts de la foule de cette soirée d'anniversaire dans la nuit à l'air frais condensé confort instantané. De l'autre coté de la rue se trouve un parking, une scène à étudier: la dernière fois que tu t'es réveillé dans une voiture, tes rêves étaient embrouillement incohérent comme la croute brisée de la Terre, des minutes recollectées dans du magma collant, parfois fracassant, des marques d'impact qui durent. Il faut se rappeler des mots mentionnés il y a 30 minutes, mais ils ne reviennent qu'en images. Avec des cycles tectoniques trop longs pour l'observation, besoin d'accélérer et de réagir plus rapidement, c'est ici que les vérités simples émergent avec la réponse intrinsèque. C'est fixé structurellement à des cycles de mélodie qui tourbillonnent en spirale intérieurement et intérieurement jusqu'au saut climatique rassemblé pour dégager le groove – les rues sont vides et la lumière de la nuit sembleétrangère, et à ce moment même tu es tout autant hors de contexte qu'en te réveillant dans une voiture…
Quaker Parents – Simple Needs Problems & Side Change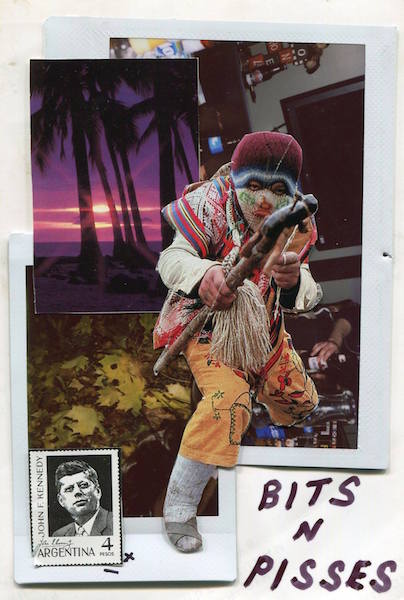 Kurt Inder
bits n pisses
Halifax , NS // Grand Falls-Windsor, NL
From the spare parts of Mike Roy:
The maestro of DIY bedroom pop has already impressed with his demo, but Newfoundland's Kurt Inder has quickly returned with a collection of tracks new and old on bits n pisses. The assured new confidence that was bubbling on his demo has finally reached its steaming peak on this release. Standouts like "girl hat" and "oranges" take new heights on Inder's brilliantly layered formula, creating a sonic being from a mish mash of multimedia muses.
Des pièces détachées de Mike Roy:
(Traduit par les trois tasses de thé de Nicolas Coutlée)
Le mæstro de la pop intime DIY nous avait déjà impressionné avec son démo. Heureusement, le Terreneuvien Kurt Inder n'a pas tardé à récidiver avec bits n pisses, une collection de pièces nouvelles et anciennes. La nouvelle assurance qu'on pouvait entendre percoler sur son démo a enfin atteint son point d'ébullition. Des titres marquants comme « girl hat » et « oranges » atteignent de nouveaux sommets grâce à la brillante approche multicouches d'Inder, lui permettant de créer une entité sonique à partir d'un méli-mélo de muses multimédiatiques.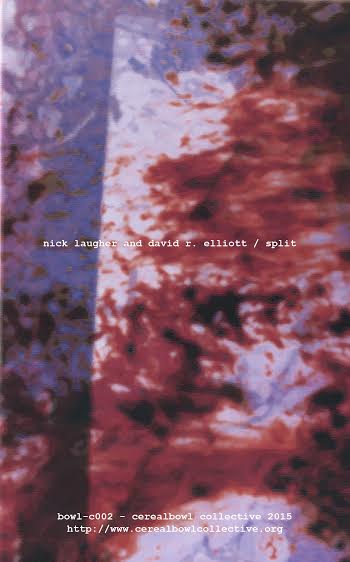 David R. Elliott & Nick Laugher
Split
Halifax, NS
From the misled blues of Mike Roy:
The bell for last call shakes your temples. You fumble in your pocket for a couple of quarters to slide into the tired jukebox huddled in the corner. A boozey, lo-fi melody answers your 2 AM call for companionship as another whiskey sour catches your hand. The fuzzy howls and sliding acoustics warm you before the liquor reaches your blood stream. Is this belligerence or retrospection?
Du blues floué de Mike Roy:
(Traduit par Jessica Grenier)
La cloche du last call déchire tes tympans. Tu fouilles dans tes poches pour trouver un vingt-cinq sous à glisser dans le jukebox fatigué blotti dans un coin. Une ivresse de lo-fi mélodique répond à ta demande de compagnie nocturne pendant qu'un autre whiskey sour vient occuper ta main. Les cris indistincts et les glissements de la guitare te réchauffent avant même que l'alcool n'ait atteint ton système sanguin. Est-ce hostile ou rétrospectif?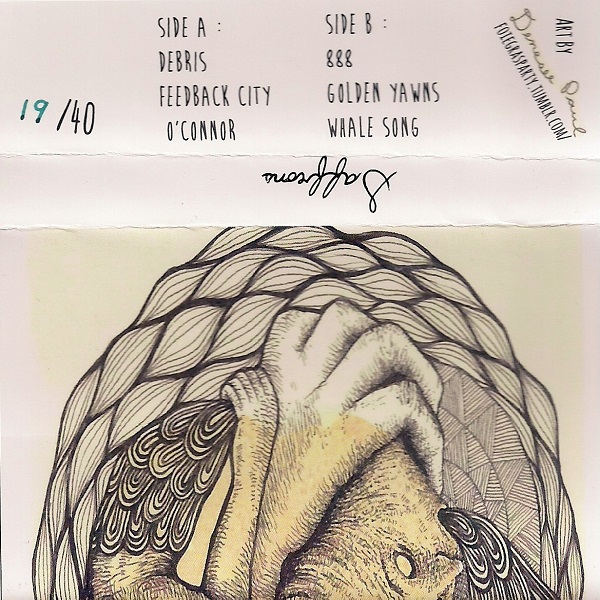 Saffrons
Saffrons
(Self-Released)
Halifax, NS
From the fruit looped spoons of Eleanor Wearing:
What are you waiting for? Plunge headfirst into a muddy whirlpool of bone-jangling reverbs until you are fully immersed in a cavern of swamp rock. A voice speaks to you through an invisible answering machine. It loops and echoes off the walls of the cave's rough interior, drawing you further into its depths. Twangy syllables bang around you, over you, through you. Your pulse increases, trying to match the capricious pattern. Slowly, the voice gets quieter. The whirlpool slows. Was it a dream?
De la cuillère fruitée bouclée d'Eleanor Wearing:
(Traduit par Mylène Moi Quevillon)
Qu'attendez-vous? Plongez tête première dans un obscur vortex de réverbérations [pétaradantes] jusqu'à ce que vous soyez complètement immergé dans une caverne de swamp rock. Une voix s'adresse à vous à partir d'un répondeur invisible. Elle tourne en boucle et son écho se répercute sur les parois inégales de la caverne, vous aspirant dans ses profondeurs. Les syllabes nasillardes se bousculent autour de vous, par-dessus vous, à travers vous. Votre pouls augmente, essayant de s'accorder à ce rythme fantasque. Et tout doucement, la voix se calme. Le tourbillon s'atténue. Était-ce un rêve?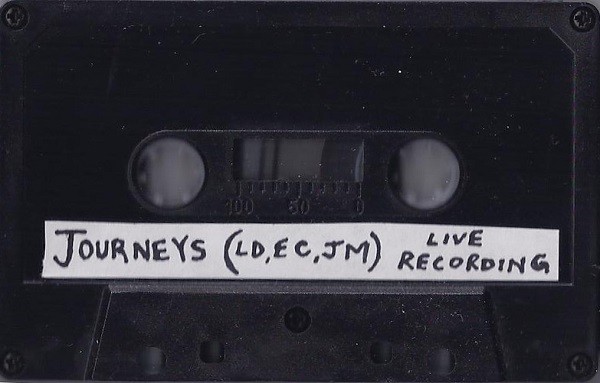 Journeys
Soft Release
(Self-Released)
Halifax, NS
From the long way of Javier Fuentes:
There's always been some wandering aspect when listening to the members of Journeys, with a distinctness to each drift; natural, futuristic, trance-like. Together, the feelings they create escape distinctions altogether while becoming embedded in the very sentiment itself. Carried to the farthest point where wandering and belonging are the same thing. Spaces shift beneath, but there is structure in both stillness and movement. Unconscious anticipation; you're starting to remember that the wait has already ended.
De la profondeur de Javier Fuentes:
(Traduit par Jacinthe Laplante)
L'écoute des membres de Journeys provoque toujours un sentiment d'errance, chaque dérive est unique; naturelle, futuriste, méditative. En groupe, les sentiments qu'ils engendrent se dérobent à toute distinction tout en s'enracinant à même l'état d'esprit. Transportés jusqu'à [la frontière] où l'errance et l'appartenance s'unissent. En dessous, les espaces se déplacent, mais il existe une structure à la fois dans l'immobilité et dans le mouvement. Anticipation inconsciente; vous commencez à vous rappeler que l'attente est déjà terminée.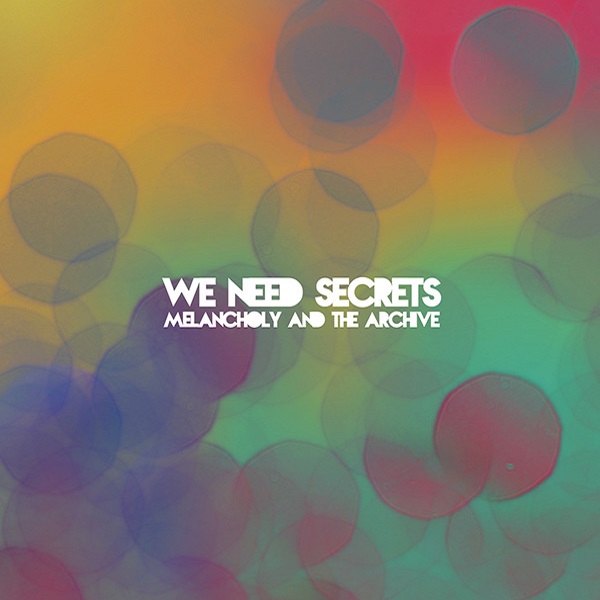 We Need Secrets
Melancholy and the Archive
Halifax, NS
From the Cold Clutches of Kelly MacNeil:
The archives are brimming, teeming with the lessons from antiquity. We ask, is this still us? Birth Was The Death Of Him, Let Me In is etched in the deadwax with a tumultuously steady hand. Melancholy and the Archive possesses that same hand and with it pushes and pulls sonic elasticity near the brink of pure chaos. We Need Secrets must have touched many conifer trees. A hand covered in sap is slowly withdrawn, and causes a moment of suspension, an inkling of harmony. The goo holds the flesh and the bark together, if you possess that unshakably steady hand.
Des poignes froides de Kelly MacNeil:
(Du retour d'entre les morts de Nicolas Coutlée)
Les archives débordent, elles grouillent des leçons de l'Antiquité. Mais est-ce bien nous encore? Sur le sillon de départ, gravé d'une main sûre dans le tumulte, on peut lire Birth Was The Death Of Him, Let Me In (la naissance fut sa mort, laissez-moi entrer). De cette même main, Melancholy and the Archive repousse et étire l'élasticité sonique jusqu'au bord du chaos pur. We Need Secrets s'est probablement frotté à de nombreux conifères. Une main enduite de sève se retire lentement, créant un moment de suspens, un soupçon d'harmonie. La glu retient ensemble l'arbre et l'écorce, si votre main est aussi sûre et inébranlable.
We Need Secrets – Months Like Years
Special Costello // Blonde Wig
Split
(Self Released)
Halifax, NS
From the soft underbelly of Katie Jensen:
Your best thinking happens as your brain floats untethered behind you. It knocks into things excitedly when you get your best ideas.
Do you remember when the jellied grey matter slid into a splintered crack and wouldn't come out? Something tugged on the leash and it resonated with tension, sending rippling curves of pressure down the length. Your mouth filled with the froth of bitter frustration, but you swallowed hard and kept walking.
Du doux bas-ventre de Katie Jensen:
(Traduit par Jason Rule)
Vos meilleures réflexions arrivent quand votre cerveau flotte librement derrière vous. Il bascule de tous les côtés, tout excité quand vous avez vos meilleures idées.
Vous souvenez-vous quand la matière grise gelée se glissait dans une fissure éclatée, et ne voulait pas sortir? Quelque chose tirait sur la laisse, et résonnait difficilement, envoyant des courbes ondulantes de pression sur toute la longueur. Votre bouche se remplissait avec une écume de frustration amère, mais vous avaliez fort et continuiez à marcher.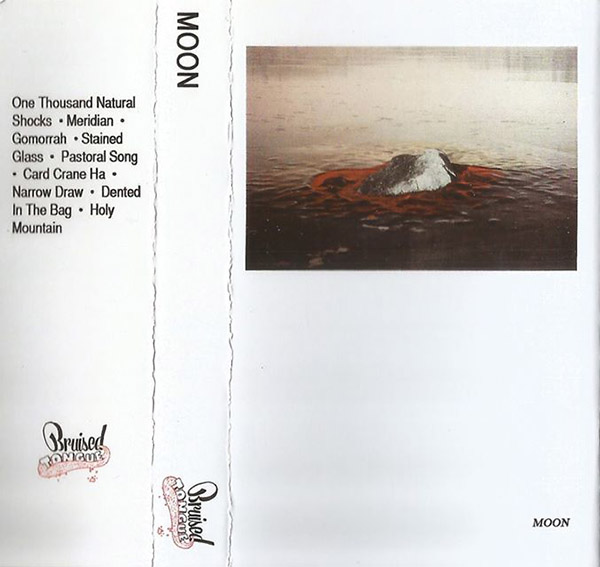 From la tête dans la lune of Matthew Swann:
In 1969 humankind visited the moon. In 2015 moon visited humankind. It brought the following gifts: 1) Ege Bamyasi-ish psych, hovering above a heavy, post-punk ground. 2) Flute, organ and harmonies swimming, over a laid back, deadpan lead. 3) A head full of stunning winter reverie. 4) The comely reconciliation of vintage and avant garde. These offerings, and more are broadcast through nine haligonian hymns, assembled onto cassette and disseminated across the land via bruised tongue – Ottawa's curator of the bold, beautiful, and bizarre.
De « la tête dans la lune » de Matthew Swann:
(Traduit par Jessica Grenier)
En 1969, l'humanité a posé le pied sur la lune. En 2015, la lune lui rend la pareille et elle apporte des cadeaux : 1) du psych à la Ege Bamyasi planant sur un lourd sol de post-punk. 2) Une flute, un orgue et des harmonies qui dansent devant une voix détendue et impassible. 3) Une tête remplie d'éblouissantes rêveries hivernales. 4) La magnifique réconciliation entre rétro et avant-garde. Ces offrandes et d'autres encore sont diffusées en neuf hymnes haligoniens sur une cassette et disséminée sur Terre par le biais de bruised tongue – conservateur ottavien de l'audacieux, du beau et du bizarre.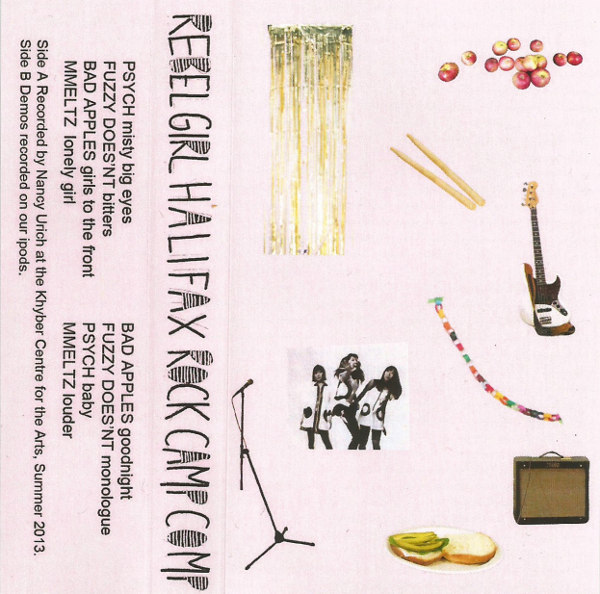 Various Artists
Rebel Girls Halifax Compilation
(Self Released)
Halifax, NS
From the allied arms of Kelly MacNeil:
'I'm just a girl alone in the world, alone in the world and I can't deal'. Walls are set, lines are drawn, expectations daunt and inhibit. It has been broken before, precedence has been set. Let us do it again. Empower the girls, give them the role models, the tools, and let their voices be heard! From the top of the Citadel, echoing in the Khyber long live!, and spreading through all age spaces. Spreads to basements and garages where friends sit slamming their hopes and fears on drums, bass, guitars, and microphones. Playing what you want, where you want, to the people you want.
---