Tag: halifax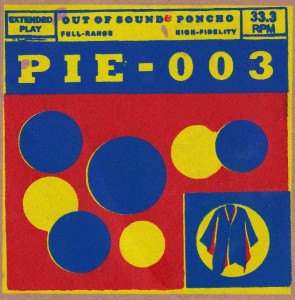 Various Artists
PIE-003
Halifax, NS
From the diffuse afternoonism of Joshua Robinson:
Halifax is a uniquely magnificent place. Masquerading as the second coming of the disparate and displaced flower power generation, its local musicians hold the innate ability to transcend the barriers of time and space. Out Of Sound and Poncho's collaborative 7" split release fulfills this promise, culling the tenants of the past's fascination with folklore and infusing it with a reinvigorated proletarian ethic that instantly validates its DIY aesthetic.
Walrus, the Haligonian embodiment of James Mercer with a tinge of Ray Davies, spin a wavy yarn, replacing the cold proximity of the Atlantic with the spirited percussive pulse of drum circle bongos that masterfully belie the alt-rock underpinnings of this ode to diffuse afternoonism. Shadow Folk reimagine the bubblegum-pop of the early '60s, rich with warm backing vocal 'oohs' and 'ahhs' that designate this as music from a bygone era of adolescent infatuation. With the immutable spirit of an alt-Americana spaghetti gunslinger, Gnarwhalz rip and run across the red lacquer terra firma of PIE-003 with the clamorous reckoning of party infused recklessness. Lastly, Sheepman exude a slew of musical stylings with origins likely traceable to the lysergic daydreams of their incorporeal predecessors, a primordial conglomeration of marvelously crafted unicellular elevator folk with the vocal stylings of a cheerful Morrissey. This four-way split is the four-course meal that serves to fill the insatiable appetite of our Canadian longing for music that reminds us of our past.
De l'après-midi diffus de Joshua Robinson:
(Traduit de la grasse matinée de Catherine Gaucher)
Halifax est un endroit magnifiquement unique. Se faisant passer pour des membres de la nouvelle génération flower power disparate et déplacée, ses musiciens locaux détiennent une capacité innée à transcender les barrières du temps et de l'espace. La collaboration d'Out of Sound et de Poncho sur ce split 7 pouces remplit cette promesse grâce à une fervente fascination pour le folklore infusé d'une éthique prolétaire revigorée, validant instantanément l'esthétique DIY du EP.
Walrus, l'incarnation haligonienne de James Mercer avec une teinte de Ray Davies, remplace la froide proximité de l'Atlantique par le pouls fougueux et percutant d'un cercle de tambours qui dément magistralement les fondations du rock alternatif de cette ode aux après-midis diffus. Shadow Folk réimagine la pop gomme balloune du début des années 60, riche de par ses chaleureux choeurs composés de « oohs » et de « ahhs » qui désignent la musique d'une époque révolue et remplie d'engouements juvéniles. Avec l'esprit immuable d'un flingueur de Western spaghetti, Gnarwhalz traverse la terre ferme de PIE-003 tel le souvenir bruyant d'une fête infusée d'insouciance. Finalement, Sheepman puise dans un tas de styles musicaux dont les origines probables prennent racine dans les rêveries diurnes lysergiques de leurs prédécesseurs disparus, un rassemblement de folk merveilleusement conçu accompagné d'un style vocal évoquant l'allégresse de Morrissey. Ce split est tel un repas quatre services comblant l'appétit insatiable de notre nostalgie canadienne pour la musique évoquant notre passé.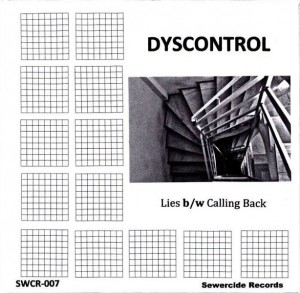 Dyscontrol
Lies b/w Calling Back
Halifax, NS
From the disapproving dirge of Mark Streeter:
Dyscontrol's songs are soaked with urgency. They grab me by the collar, pull me up to eye level and demand to know if am living my life to the best and fullest of my abilities. "Sure I am," I reply, dropping the needle on "Lies." Sweat beads on my brow as a telecaster unsheathes itself, its clear tone gleaming through the speakers. By the time the band has pummeled through to its disapproving dirge chorus, I am thinking that it's time I took a long look in the mirror about a few things.
That should be enough, but the band's not done yelling at me. "Calling Back" is all defiant resolve, rising to a gotta-go-I-got-something-in-my-eye quaver by the end. Sometimes I look back on my life and see only one set of footprints. Those are the moments when Dyscontrol is carrying me. They could've left me behind with all the other lying liars who don't call back, but they care about me and they want me to stop wasting my life right now. So many lies, indeed. I am going to the gym now.
Du chant funèbre désapprobateur de Mark Streeter:
(Traduit par Claudine Maclure)
Les chansons de Dyscontrol sont imbibées d'urgence. Elles m'attrapent par le collet, me tirent à la hauteur des yeux et me demandent si, dans ma vie, j'exploite au maximum le meilleur de mes capacités. Je réponds « bien sûr » en déposant le bras de lecture sur « Lies ». Des perles de sueur glissent sur mon sourcil quand la chaîne se dégaine; sa sonorité cristalline brille à travers les haut-parleurs. Au moment où le groupe roue de coups son funèbre refrain désapprobateur, je me dis qu'il est temps d'examiner longuement mon reflet dans le miroir pour réévaluer certaines choses.
Tout cela pourrait suffir, mais le groupe n'a pas fini de me crier après. « Calling back » est un rebelle déterminé qui soulève, vers la fin, une croche « je-dois-partir-j'ai-quelque-chose-dans-mon-œil ». Parfois, je regarde le chemin que j'ai mené et je ne vois qu'une paire d'empreintes. C'est dans ces moments que Dyscontrol me transporte. Il aurait pu me laisser derrière avec tous les autres menteurs menteurs qui ne rappellent jamais, mais il se soucie de moi et il veut que j'arrête de gaspiller ma vie. Trop de mensonges, en effet. Je vais m'entraîner au gym.
Quivers
Self Portrait In E
Halifax, NS
From the grouplove innuendo of Joshua Robinson:
Rich with the esotericism of an anachronistic and nostalgic release, Quivers sublimate to fruition with live performance grouplove innuendo. Manifest as the middle ground between pastism and presentism (in the most respectful of ways), the Halifax band is a modern embodiment of the orgiastic creativity of the free-thought '70s. Quivers hold the flame to reconstitute music as an artform that is equal parts nostalgia and progression. In the light of all that is truly authentic, they bear the mark of transitional beings praying for a return to our fruitful and artfully idiosyncratic past.
Des allusions à l'amour de groupe de Joshua Robinson:
(Traduit par les voix lumineuses de Julie Forget)
Riche de l'ésotérisme d'une sortie anachronique et nostalgique, Quivers sublime et se réalise grâce à une prestation live allusive à l'amour de groupe. Terrain d'entente manifeste entre le passéisme et le présentisme (de la plus respectueuse des manières), le groupe d'Halifax est une incarnation moderne de la créativité orgiaque des années 70, période de libre-pensée. Quivers détient la flamme pour restituer la musique en tant que moyen d'expression artistique puisant autant dans la nostalgie que dans l'évolution. À la lumière de tout ce qui est réellement authentique, le groupe porte la marque de ces êtres transitoires qui prient pour un retour à notre passé fécond et habilement idiosyncrasique.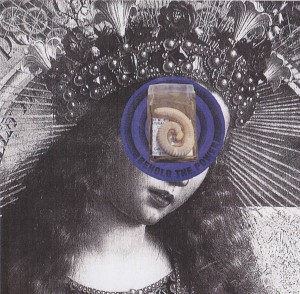 Monomyth
King Does This Not Please You? (Behold the Power)
(Self Released)
Halifax, NS
From the smoke and mirrors of Johnnie Regalado:
An offering from below. A self-aware relic. Sacrificial lamb for the gods of rock. This would surely please the kings. There's enough blissful harmony here to make a chorus of angels bashful. There are enough duels to the death between dual guitar lines to spill a carpet of blood. Monomyth have composed their opera in a house of mirrors. Twang and tones flex from concave to convex, fine-tuned over a friendly game of cards between fiends. Behold the power….
De la poudre aux yeux de Johnnie Regalado:
(Traduit par l'équilibre de Julie Forget)
Une offrande provenant de plus bas. Une relique qui se connaît bien. Une victime expiatoire pour les dieux du rock. Cela plairait sûrement aux rois. Il y a ici une assez grande harmonie bienheureuse pour rendre les anges d'une chorale timides. Il y a assez de duels à mort entre les doubles lignes de guitare pour faire couler un tapis de sang. Monomyth a composé son opéra dans une maison de miroirs. Des sons de corde pincée et des tonalités se courbent en traits concaves et convexes, bien réglés lors d'une partie de cartes amicale entre démons. Voici la puissance…
Broken Deer
Unseen World
(Self Released)
Halifax, NS
From the kaleidoscopic contours of Joshua Robinson:
Broken Deer's Unseen World is a waking attempt to corporealize the sleeping spirit. Lindsay Dobbin exhumes her slumbering cosmos from the depths of her sleep, pensively thrusting it into the fabric of her awakened day. Enriching consciousness with the palette of dream colours, sleep and wakefulness merge at the point where the hues of one meet the shades of the other.
In these songs Dobbin finds herself in the golden eyes of humpback whales; in the marvelling precipices of oceanic cliffs; in the hazy dream space that exists between harsh tangibility and the warm embrace of the endlessly abstract wilderness of our kaleidoscopically contoured sleep. And she does so with the vigour of an experienced traveller, almost as if cartography means less to her about mapping-out and more about breathing-in the brilliances of the newly discovered.
Unseen World, in both its written and musical forms, is the map of the soul stenciled as its most personal: dreams cast as water-coloured worlds. Here, Dobbin is as much the whale in her dreams as she is the Broken Deer in her everyday.
Des contours kaléidoscopiques de Joshua Robinson:
(Traduit par les onze heures de sommeil de Nicolas Coutlée)
Unseen World de Broken Deer cherche à matérialiser l'esprit du dormeur dans la réalité éveillée. Lindsay Dobbin extirpe son cosmos somnolent des profondeurs de sa nuit et le brode pensivement au tissu du jour lumineux. Enrichie par la palette des couleurs du rêve, la conscience éveillée se fond au sommeil, mélange des teintes de l'une avec les ombres de l'autre.
Avec ces chansons, Dobbin se retrouve dans la prunelle dorée de baleines à bosse, dans les précipices stupéfiants de falaises océaniques, dans l'espace vague séparant la violence du monde concret de la chaude caresse des étendues abstraites infinies qu'offrent les contours kaléidoscopiques de notre sommeil. Elle parcoure ces landes avec la vigueur de l'exploratrice expérimentée, ne cherchant pas tant à cartographier mais à humer les reflets chatoyants de ses découvertes.
Autant dans sa forme manuscrite que musicale, Unseen World est la carte de l'âme reproduite dans tout ce qu'elle a de personnel : des rêves comme une série d'univers à l'aquarelle. Ici, Dobbin incarne tout autant la baleine de ses rêves que le cerf blessé de son quotidien.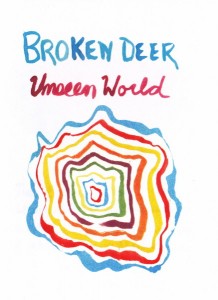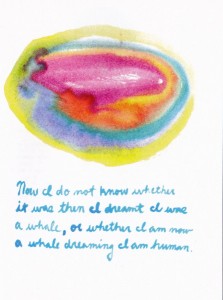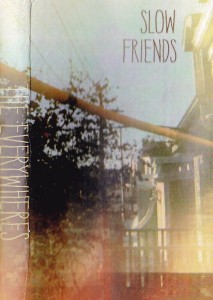 The Everywheres
Slow Friends
(Self Released)
Halifax, NS
From the tonal geography of Joshua Robinson:
Canada's East Coast is the proverbial breeding ground for music born in basement bedrooms scarred by the Atlantic's erosive salty air, sleepy skins cracked and hardened by freezing rain. In the same way that the Maritime environment marks the exteriors of its inhabitants, the locales' expressive climate is also marked by unique idiosyncrasies. Lo-fi tape hiss and minimalist production are the marks of Nova Scotia's indie enclave, and Halifax's The Everywheres are an embodiment of the province's tonal geography. Slow Friends exudes an analog warmth, painting the seasons in the shades of comfort found between bodies packed into small basements for the sake of experiencing something akin to the Bay of Fundy's high tide.
De la géographie tonale de Joshua Robinson:
(Traduit par les marées changeantes d'Andréanne Dion)
La côte est du Canada est un terreau fertile pour la musique conçue dans des chambres de sous-sols, marquée par l'air salé érosif de l'Atlantique, et les peaux endormies fendues et endurcies par la pluie glacée. Tout comme l'environnement des Maritimes marque l'aspect extérieur de ses habitants, leur climat expressif est aussi composé de particularités uniques. Le sifflement lo-fi des cassettes et la production minimaliste sont les signes distinctifs de l'enclave indie de la Nouvelle-Écosse, et le groupe d'Halifax The Everywheres est l'incarnation de la géographie tonale de la province. Slow Friends suinte une chaleur analogique, colorant les saisons avec les teintes réconfortantes que l'on retrouve entre les corps qui remplissent des sous-sols minuscules pour vivre quelque chose qui s'apparente à la marée haute dans la baie de Fundy.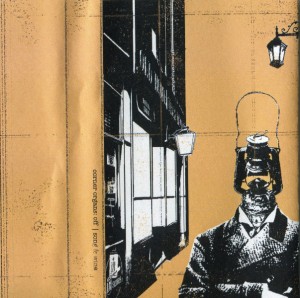 Corner Organs: Off
Songs & Wine
(Veverzay)
Halifax, NS
From the hazy fog of Joshua Robinson:
Rich with the warmth of unencumbered DIY, Nova Scotia's Corner Organs: Off rein in the damp chill of the Atlantic breeze with a basement alt-folk sound pushing these songs over cold sand, under grey skies, and through the hazy early morning fog. The minimalism of Songs & Wine is perhaps what renders it most captivating: a handful of discernible sounds bound together with threads of tape hiss soundscapes and whispered vocals begging for a reprieve from the overwhelming power of the Eastern shoreline. This juxtaposition of minimalist sounds with abstractions of austerity marks this as music not bound by geography, politics, or appropriated sentiment. This is truly Canadian gruff, with beards sweeping wood chips and dead leaves from cold cement floors. Yet the sternness and sorrow give way to a glowing pride in the knowledge that Nova Scotia's heart lies as much in its scenery as it does in the creative endurance of its inhabitants.
Du brouillard trouble de Joshua Robinson:
(Traduit par Jacinthe Laplante)
Débordant de chaleur faite maison et sans contrainte, le groupe néo-écossais Corner Organs: Off règne dans la brise fraîche et humide de l'Atlantique, avec un son alt-folk de sous-sol qui pousse ces chansons au-dessus du sable froid, sous un ciel gris et à travers le brouillard trouble de l'aube. Ce qui rend Songs & Wine si captivant, c'est peut-être son minimalisme : une poignée de sons distincts, liés par le paysage sonore du sifflement des cassettes et par les chants chuchotés qui implorent un répit de la force accablante du littoral de l'est. Cette juxtaposition de sons minimalistes et d'abstractions d'austérité révèle une musique qui n'est pas limitée par la géographie, la politique ou les sentiments appropriés. C'est de la vraie rudesse canadienne, avec des barbes balayant les planchers de ciment froids de leurs copeaux de bois et de leurs feuilles mortes. Et pourtant, l'austérité et le chagrin cèdent leur place à la fierté rayonnante de savoir que le cœur de la Nouvelle-Écosse réside autant dans son paysage que dans l'endurance créative de ses habitants.
Corner Organ: Off – All There Is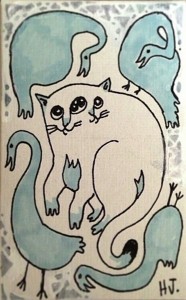 Baby Cages
I'm So Sorry
(HJ Tapes)
Halifax, NS
From the red room of V. Rachel Weldon:
Stoned and alone. Fuzzed-out of body. When did this room fill with people? Heavy lids and swollen tongue. Weird that you can't feel your left arm, not at all. Tunnel vision eclipses everything else, but the hand in the small of your back gently reminds you to not move laterally. Go on. Halloway Jones and Jeremy Costello make bedroom eyes from across the smoke filled room. She, with the bleeding heart and sobbing chords, he, behind the controls of the mystery machine. He rubs his hands together, and her arms bend back sometimes. They're full of secrets.
De la pièce rouge de V. Rachel Weldon:
(Traduit dans le mystère par Juitch)
Seul et défoncé. Hors de ton propre corps. Quand est-ce que cette pièce s'est remplie de monde? Les paupières lourdes et la langue enflée. Bizarre que tu n'arrives pas à sentir ton bras gauche, pas du tout. Une vision en tunnel éclipse tout le reste, mais la main au bas de ton dos te rappelle gentiment de ne pas bouger latéralement. Continue. Halloway Jones et Jeremy Costello te font les yeux doux à travers la pièce enfumée. Elle, avec le cœur qui saigne et des accords en sanglots, lui, aux contrôles de la mystérieuse machine. Il se frotte les mains, et elle a parfois les bras tordus. Ils sont pleins de secrets.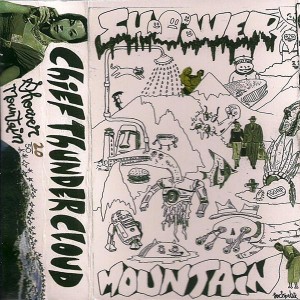 Chief Thundercloud
Shower Mountain
(Self Released)
Halifax, NS
From the circling drain of Jesse Locke:
Last time we heard from Chief Thundercloud, Halifax's resident bedroom bum-out tsar was warbling out the anti-wank version of "Freebird" to beat 'em all. Two years later, Craig Currie returns with another downcast cloud of scrawled diary entries and unrequited woe in an acoustic echo chamber. Reportedly recorded in a single take without headphones, these songs send out shiver-waves with a close-ear intimacy that can find us all. A+.
Du drain circulaire de Jesse Locke:
(Traduit par les esprits farfelus de Louis Warnock et Danielle Drolet)
La dernière fois que nous avons entendu parler de Chief Thundercloud, le tsar de chambre à coucher mélancolique d'Halifax gazouillait la version la plus modeste de « Freebird » jamais enregistrée. Deux ans plus tard, Craig Currie est de retour avec un autre nuage lourd formé d'extraits de journal intime et de malheurs éconduits, dans une chambre de résonnance acoustique. Enregistrées, selon certaines sources, en une seule prise et sans l'utilisation d'écouteurs, ces chansons provoquent des vagues de frissons grâce à une intimité sonore qui peut tous venir nous chercher. A+.
Chief Thundercloud – Brief Encounters
PANOS
PANOS
(Self Released)
Halifax, NS
From the muted trombone of Brennan McCracken:
The song titles and eclectic proclivity of PANOS' self-titled debut may suggest a link to another grandiose Canadian band, but these similarities are mostly superficial. While the aforementioned Toronto collective played with broad, colourful strokes, PANOS presents itself as a more muted and subdued affair. Ringleader Panos Giannoulis' previous experience with local jazz great Jerry Granelli shows throughout, especially on the graceful sway of the apropos "SevenEight". The interplay between big and small is brilliantly explored here, but even the record's loudest moments feel remarkably gentle, as if softened by years of external exposure.
Du trombone muet de Brennan McCracken:
(Traduit par le balancement instable de Julie Forget)
Les titres des chansons et la tendance éclectique du premier album éponyme de PANOS peuvent évoquer un autre groupe canadien grandiose, mais ces similarités sont pour la plupart superficielles. Alors que le susmentionné collectif torontois jouait de manière forte et colorée, PANOS propose un son plutôt doux et feutré. L'effet d'une collaboration antérieure entre le leader Panos Giannoulis et Jerry Granelli, grand artiste jazz local, se fait entendre tout au long de l'album, surtout dans l'harmonie gracieuse de l'à propos « SevenEight ». L'interaction entre grand et petit est brillamment explorée ici, mais même les moments les plus puissants de l'album paraissent remarquablement légers, comme adoucis par des années d'exposition externe.
---