Tag: halifax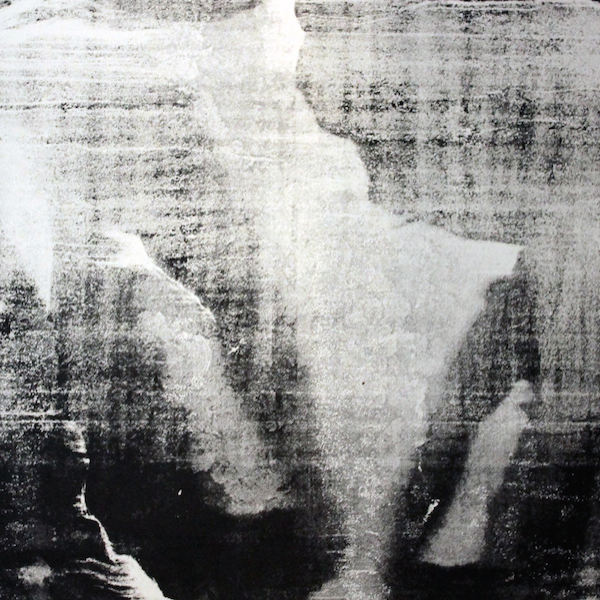 Lindsay Dobbin
Arrival
(Phinery)
Halifax, NS
From the residue of Jonathan Park:
Nothing has been so real yet so hauntingly fractured. It's hard to grasp any sort of detail aside from grainy, transparent images. A presence is felt but you cannot see faces. It's headed toward a shadowed entranceway. You have arrived at the opening and are swallowed whole by the deep within.
Des résidus de Jonathan Park:
(Traduit par L. François)
Rien n'a été aussi réel tout en étant aussi magnifiquement fracturé. Difficile de saisir de quelconques détails si ce n'est des images granuleuses transparentes. On ressent une présence mais impossible de voir les visages. On se dirige vers une porte d'entrée sombre. On arrive à l'entrée pour être aussitôt aspiré tout entier vers les profondeurs.

Lindsay Dobbin – Guided Memory / Residue (excerpt)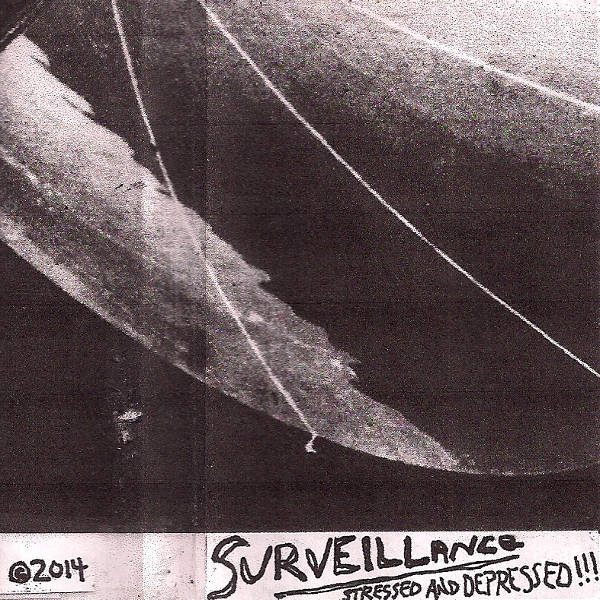 Surveillance
Stressed and Depressed
(Self Released)
Halifax, NS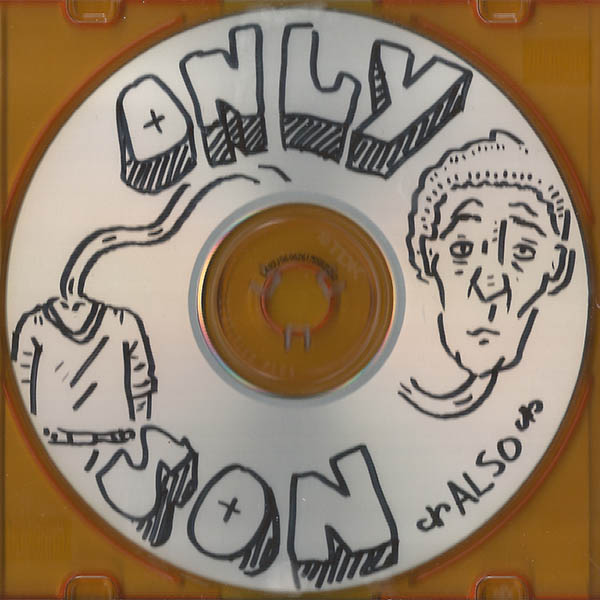 Only Son
Also
(Self Released)
Halifax, NS
From the basements of Kelly MacNeil:
Can you grab a feeling? Do they scatter from your fingertips like the elusive grasshoppers of our hazy summer childhoods? Only Son does and manipulates them, creating symphonies of pure head nodding bliss, smooth beats, and basement choruses. There is hope hidden hidden away in old boxes next to chord organs and rat traps; unpolished gems smothered by dust. Fiddle with the ingredients. Alchemy through the heart. Throw them lovingly out the window without looking back. These one-man-band melodies drip with his joy and sadness. They belong to him but squeeze into our hearts with ease.
Du sous-sol de Kelly MacNeil:
(Traduit par Jessica Grenier)
Peut-on attraper les émotions, ou est-ce qu'elles s'échappent des doigts entreprenants comme les sauterelles furtives durant les brumes de nos étés d'enfance? Only Son y parvient, les manipulant pour créer des symphonies de rythmes doux, de purs hochements de tête béats et des refrains de sous-sol. Il y a de l'espoir caché dans les vieilles boîtes entre l'orgue électrique et les pièges à rats; gemmes brutes étouffées par la poussière. Touchez aux ingrédients l'alchimie au cœur. Lancez-les par la fenêtre, amoureusement et sans hésitation. Ces mélodies d'homme-orchestre dégoulinent de joie et de tristesse. Elles sont siennes, mais elles s'insinuent aisément dans nos cœurs.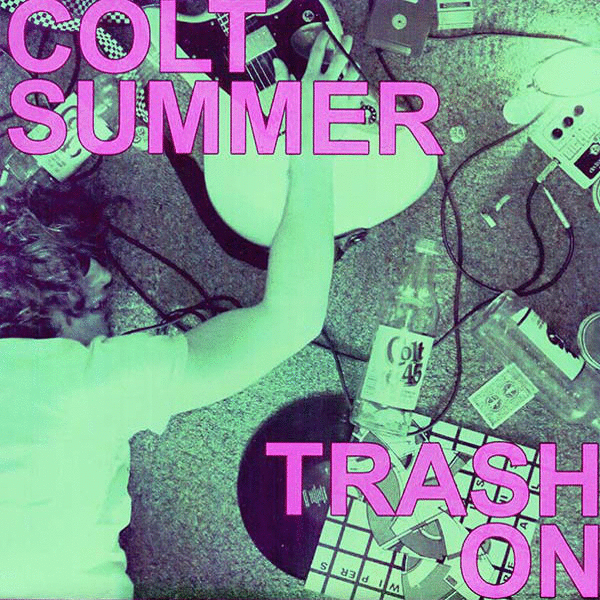 OUTTACONTROLLER // Pink Wine
Colt Summer // OUTTAWINE
(P. Trash) // Self Released
Halifax, NS // Toronto, ON,
From the drunk punk of Mark Gillis:
Halifax hosers OUTTACONTROLLER rip out a couple of sloshy slummer jams on their Colt Summer 7", an ode to the drunk punk days of adolescence. They're then joined by Toronto greasers Pink Wine for the cross-pollinating, cover-ama split release, OUTTAWINE. It's full of power-pop psalms about poor sleeping habits that'll make you pogo 'til you puke, and laments about how your once favourite band) has long since broken your heart, which is something that neither of these bands will ever do for as long as they're around.
Du punk en boisson de Mark Gillis:
(Traduit par le pogo sombre d'AnneMarie Papillon)
Les mauvais garçons d'Halifax OUTTACONTROLLER servent deux chansons style slush d'été bien tassée sur leur dernier 7 pouces, Colt Summer, une ode à ces journées d'adolescence un peu arrosée. Ils sont ensuite rejoints par les Torontois graisseux Pink Wine pour la sortie de OUTTAWINE, un split contre-pollinisé. C'est rempli de psaumes power pop à propos de mauvaises habitudes de sommeil qui te feront faire le pogo jusqu'à gerber et te lamenter que ton ancien groupe préféré t'as brisé le coeur, quelque chose qu'aucun de ses deux groupes là ne fera, de toute leur existence.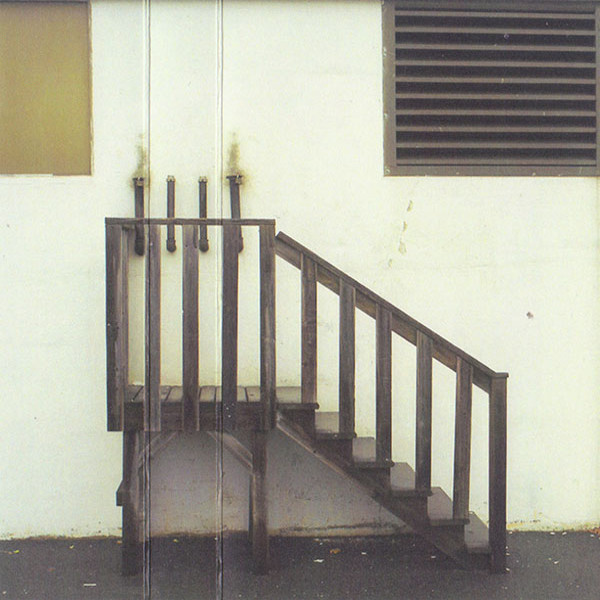 Kings Girls
Numbers
Halifax, NS
From the New Scientist style-aping of Liam Kennedy:
For the first time ever, a sonic structure has been documented. A recent collaboration between radio-astrophysicists and sonographists produced recordings of a sonic structure with a familiar physical parallel.
Using expensive tests, unchanneled emotional energy via sound waves was found to pool in specific locations, such as a jam room, and form a pocket parallel to the geological structure conventionally known as a cave. Inside, energy can dwell in reflective sullenness while thrashing out to unformed rage. This phenomenon is termed "mood caves".
The findings, numbered I-VII, are available on audio cassette.
Following this discovery, The Ministry of Natural Resources stated its importance for Canadian industry and detailed plans for resource extraction.
De la représentation New Scientist-esque de Liam Kennedy:
(Traduit par Jessica Grenier)
Pour la toute première fois, une structure acoustique a pu être documentée. Une récente collaboration entre des radio-astrophysiciens et des sonographistes a mené à l'enregistrement d'une structure acoustique au moyen d'un parallèle physique connu.
À l'aide d'onéreux examens, il a été découvert que l'énergie émotive non canalisée par les ondes sonores s'accumulait dans des endroits précis, comme des locaux de pratique, jusqu'à former des constructions semblables aux structures géologiques conventionnellement appelées « grottes ». À l'intérieur, l'énergie peut s'adonner à une réflexion solennelle doublée d'une rage informe et destructrice. Le terme « grottes caractérielles » renvoie à ce phénomène.
Les résultats, numérotés de I à VII, sont disponibles sur cassette audio.
Suite à cette découverte, le ministère des Ressources naturelles a souligné son importance pour l'industrie canadienne et a rendu public un plan d'extraction de la ressource.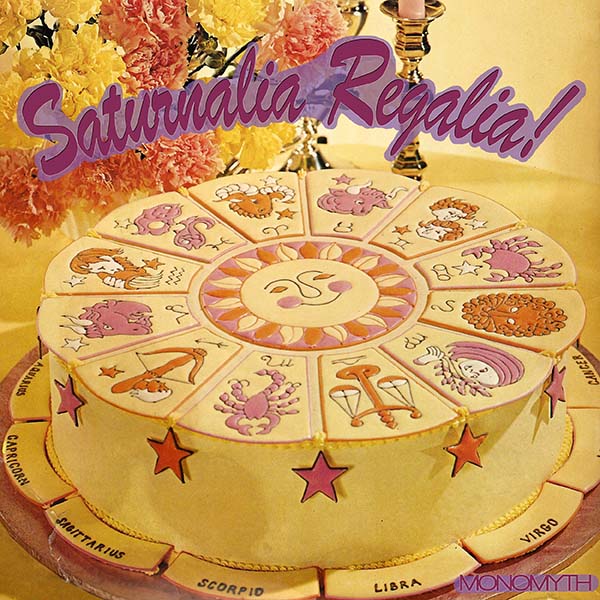 Monomyth
Saturnalia Regalia!
Halifax, NS
From the pac ambition of Stephen Guy:
Monomyth return to the varied whimsy of their earliest offerings, following a flirtation with tougher strutting and waggier frugging. The hooks dig sharply into your mind and till the ground where memories of the explosive Haligonian glory years are buried, but there are lots of other fresh and woozy nutrients. It's very difficult to project credible good vibes in these dark times, but Monomyth deliver another melodious affirmation.
De la pac ambition de Stephen Guy:
(Traduit par Jessica Grenier)
Monomyth retourne vers les fantaisies changeantes de ses premières offrandes, tout en continuant de flirter avec un strut plus dur et un frug plus frétillant. Les accroches incisives s'enfoncent dans le cerveau, à travers les nutriments couvrant le sol, frais et suintants, jusqu'aux souvenirs de la belle époque haligonienne. En ces temps sombres, il est très difficile de projeter autant de vibrations positives, mais Monomyth livre une autre affirmation mélodieuse.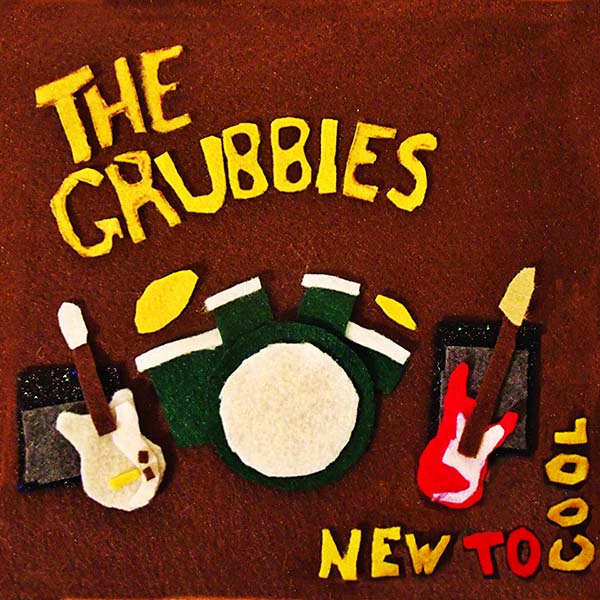 The Grubbies
New to Cool
(Self Released)
Halifax, NS
From the preferred Gus' Pub VLT of Scott Brown:
Halifax is a city lousy with great bands right now, and here we have one of the best. Featuring an east coast pop genius is certainly a good start, but this quick and cool collection shines thanks to the entire organization, as opposed to its specific pieces. This is a crew with the right riffs, smooth vocals, and streetwise lyrics that make you want to breeze across the MacDonald Bridge and start a band in Dartmouth.
Des machines de loterie du Gus Pub préféré de Scott Brown:
(Traduit par la chevelure cérulescente de Jessica Grenier)
Aujourd'hui, Halifax est une ville qui grouille de très bons groupes – et nous avons ici un des meilleurs. La présence d'un génie de la pop de la côte est est un bon commencement, mais cet album de type simple et rapide ne brille pas pour ses pistes séparées, mais pour son ensemble. C'est un groupe avec de bons riffs, des voix douces et dont l'urbanité des paroles vous donne le goût de traverser le pont Macdonald pour partir un groupe à Dartmouth.

The Grubbies – The Girl From Who Are You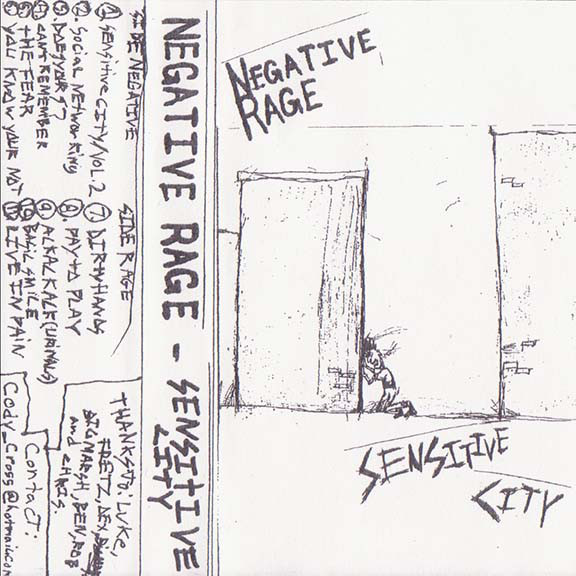 Negative Rage
Sensitive City
(Self Released)
Halifax, NS
From the mundane horrors of Liam Kennedy:
Priced to sell split level with wall-to-wall carpeting and minimal water damage, the location of boredom, unmet expectations, constraint, and fear of the unknown is back on the market! Finished basement requires refurbishing and contains all of the mundane horrors that conjured hardcore punk out from suburb kids of defence contractors, public servants, and middle management. Features two-car garage where psychic tension between adolescent ideals and adult compromises are permanently at a stalemate. Please direct all inquiries to jean jacketed and chaos-pouched newly unemployed video rental store workers.
Des horreurs ordinaires de Liam Kennedy:
(Traduit par la terreur blasée de Jessica Grenier)
Cette maison unifamiliale comprenant beaucoup de tapis et peu de dégâts d'eau – à prix abordable pour un environnement d'ennui, de contraintes, d'attentes déçues et de peur de l'inconnu – est de nouveau sur le marché! Le sous-sol aménagé est à rénover et renferme les horreurs ordinaires que le punk hardcore a fait sortir de la progéniture banlieusarde des servants publics, des gestionnaires intermédiaires et des entrepreneurs de défense. Comprend un garage deux places où les tensions créées par les idéaux adolescents et les compromis adultes sont dans une impasse permanente. Pour toute question, veuillez vous adresser aux anciens commis de club vidéo à la chaotique veste de jeans.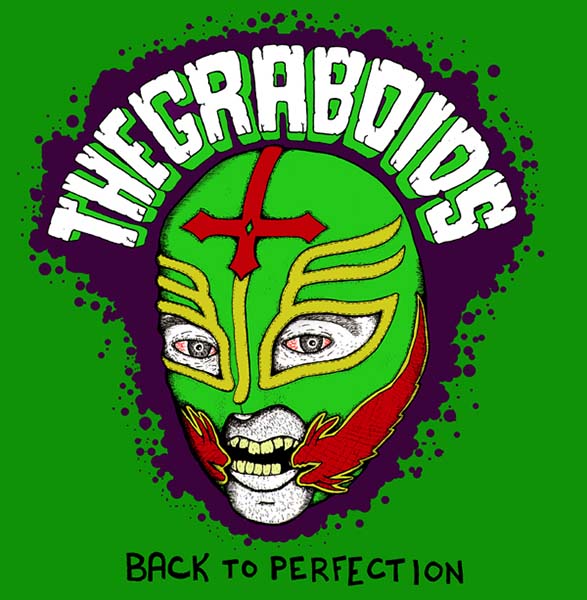 The Graboids
Back to Perfection
(Self Released)
Halifax, NS
From the luchador mask of Joel French:
Get in the ring for four short rounds with these self-loathing East Coast pop-punkers and you'll be sure to come out pogoing and smelling like hacked darts. The A-side gets the party started but B-sides "Your Mom's New Boyfriend" and "Bad Ramones" pin you down for the win.
Du masque de *luchador* de Joel French:
(Traduit par Jessica Grenier)
Saute sur le ring pour quatre rounds contre ces pop-punks de la côte est asphyxiés par leur haine d'eux-mêmes – c'est certain que tu vas ressortir en faisant le pogo et en sentant le cendrier. La face A lance le bal, mais « Your Mom's New Boyfriend » et « Bad Ramones » de la face B t'écrasent par terre, leur assurant ainsi la victoire.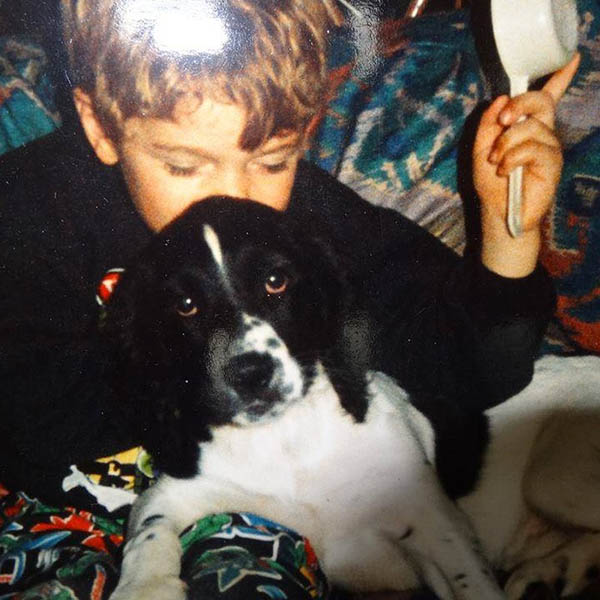 Robert Loveless
Domino
(Self Released)
Halifax, NS
From the stygian discotheque of Josh Rohs:
Somewhere, there's a stygian discotheque that plays Robert Loveless ad infinitum. On Domino, Loveless sounds like he's been hangin' with the no-goodniks on the wrong side of the harbour. Warped 45-soul gets sleazy with manipulated grooves. This one's another diamond in Halifax's kimberlite pipe.
De la discothèque ténébreuse de Josh Rohs:
(Traduit par les sons magnétiques de Julie Forget)
Quelque part se trouve une discothèque ténébreuse où l'on joue du Robert Loveless à l'infini. Sur Domino, Loveless a l'air d'avoir fréquenté les voyous dans le mauvais côté du refuge. En présence de grooves manipulés, un soul 45 tordu devient glauque. Voici un autre diamant provenant de la pipe de kimberlites d'Halifax.

Robert Loveless – Get a Life, Get a Love
---