Tag: grunge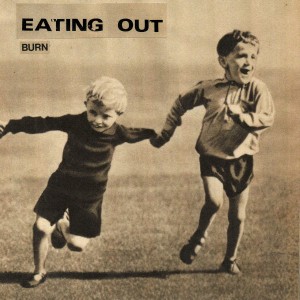 Eating Out
Burn
Vancouver, BC
From the cloudbursts of Alison Lang:
Supergroup is a funny word. It summons visions of older men in sharp hats, or maybe younger men in eyeliner. Eating Out is a supergroup in that it features four punx from three super bands, but there is not a shred of ego heard in the music, nor a single note wasted. The songs on Burn sparkle and crunch like a smashed bottle on pavement darkened by West Coast cloudbursts. And then the closer, "That's My Man," is a ghostly-winsome grunge-pop dream. 100% fun.
Des averses d' Alison Lang:
(Traduit par le déchaînement de Julie Forget)
Le terme « supergroupe » est amusant. Il rassemble les visions de vieux hommes portant d'élégants chapeaux, ou peut-être d'hommes plus jeunes portant du eye-liner. Eating Out est un supergroupe dans le fait qu'il comporte 4 punks provenant de 3 super groupes, mais aucune trace d'ego ne se trouve dans leur musique et aucune note n'y est perdue. Les chansons de Burn éclatent et craquent comme une bouteille se brisant sur la chaussée assombrie par les averses de la côte Ouest. Et puis, le dernier morceau, « That's My Man », se voit être un rêve pop grunge fantomatique-charmant. Voilà 100 % de plaisir.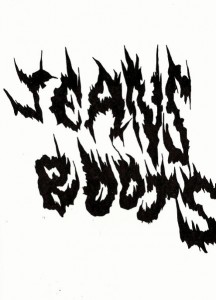 Jeans Boots
Z0RG C1TY
Saskatoon, SK
From the sly deliverance of Laura Stanley:
Filling in the cracks of the expansive prairie skyline with their chaotic sounds and distorted pop-rock melodies, Saskatoon's Jeans Boots emerge as a band in control of their craft. Cutting through the grunge is the sickly sweet voice of Jeans herself: Jeanette Stewart. These four songs quickly captivate thanks to her confident vocal tone and the partnership of moveable guitar hooks. Despite the EP's robotic title, its core contains a rich well of human emotions: desire, love, and loss. If these feelings suddenly become too intense, the sly deliverance and playful charm of the standout track, "Asshole", will ease any burdens.
De l'articulation futée de Laura Stanley:
(Traduit par les émotions intenses d'Andréanne Dion)
Remplissant les fissures du vaste horizon des Prairies avec ses sons chaotiques et ses mélodies pop-rock déformées, Jeans Boots de Saskatoon apparait comme un groupe qui maîtrise son art. À travers le grunge, on entend la voix mielleuse de Jeans elle-même: Jeanette Stewart. Ces quatre chansons sont captivantes grâce à sa tonalité vocale assurée et à la coopération de rythmes de guitare amovibles. En dépit du titre robotique de ce EP, son noyau contient un puits riche en émotions humaines: désir, amour et perte. Si ces sentiments deviennent tout à coup trop intenses, l'articulation futée et le charme espiègle du morceau, « Asshole », qui se démarque des autres, pourra alléger le fardeau.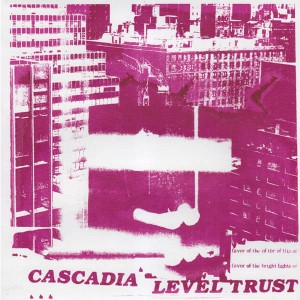 Cascadia
Level Trust
Vancouver, BC
From the passed deadlines of Christopher Laramee:
Here's a lean and mean one from our friends on the left coast. Melodic fury recalling Boston's finest, The Swirlies, duking it out with a punch-drunk and possibly deafened Jesus Lizard. Shoegaze (starting to hate that word) styled lackadaisical vocals push "Yours" into a sonic space few venture near. KARP meets MBV? Yeah, I'm down. Flip the fucker and the b-side's opener "Deny" hits all the right spots with railroad guitars nudging the vocals into a late-night meeting by the bridge for some FINALIZING of a situation. Closer "Ever" pulls the rug out with some neat sludge action and a speed-up that shows the folks to be no mere grunge (hate that one too) copyists. Check this Van City trio quick and maybe they'll drive you into the woods. And leave you there.
Du délai expiré depuis longtemps de Christopher Laramee:
(Traduit par la bougie enflammée de Julie Forget)
Voici tout un EP de nos amis de la côte Ouest. Une fureur mélodique rappelant les meilleurs de Boston, The Swirlies, jouant avec un Jesus Lizard sonné et possiblement assourdi. Les voix apathiques de style shoegaze (je commence à haïr ce mot) poussent « Yours » dans un espace acoustique que peu osent approcher. KARP rencontre MBV? Ouais, j'suis partant. Retournez ce connard de disque et la première pièce de la face B, « Deny », vise juste à l'aide de chemins de fer de guitares, encourageant les voix vers un rendez-vous de fin de soirée près du pont pour FINALISER une situation. Le dernier morceau, « Ever », coupe l'herbe sous le pied avec de l'action boueuse intéressante et une accélération qui montre que ces gens ne sont pas de simples copieurs de grunge (j'haïs ce mot-là aussi). Jetez un coup d'œil à ce trio de Vancouver, ils vous mèneront peut-être dans les bois. Et vous y laisseront.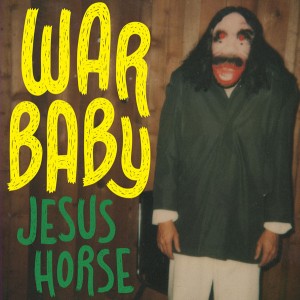 War Baby
Jesus Horse
Vancouver, BC
From the ripped jeans collection of Johnnie Regalado:
This might be one of those rare instances when a band can immediately invoke comparisons to Nirvana and not totally suck. In fact, the parallels are almost a disservice. War Baby lay down grungy jams on Jesus Horse that would make mainstream '90s commercial radio throwback stations a thousand times more tolerable. Listening to this record on repeat will make your hair grow long and greasy at an alarming rate. This Vancouver-based trifecta of power invoke undeniable levels of thrash. Jon Reddit's guitar and vocals are hypnotic summonings from a dark cave. Aaron Weiss' bass lines patch into your spinal cord and induce uncontrollable nods of appreciation. Kirby Fisher caps the sonic assault by smashing the songs into your eardrums. All of this was somehow harnessed at The Noise Floor, home to some of the west coast's best recordings of the last few years, among which Jesus Horse definitely belongs.
De la collection de jeans déchirés de Johnnie Regalado:
(Traduit par Nicolas Coutlée et le fantôme de Kurt Cobain)
Voilà peut-être l'une des rares occasions où un groupe suscite instantanément des comparaisons avec Nirvana sans être totalement à chier. De fait, le parallèle lui fait presque du tort. War Baby nous offre sur Jesus Horse des jams grunge ayant le pouvoir de rendre mille fois plus tolérable n'importe quelle station de radio commerciale prisonnière du son mainstream des années 90. Écouter cet album en boucle rendra vos cheveux gras et les fera pousser à un rythme alarmant. Basé à Vancouver, ce triumvirat de puissance atteint des sommets incomparables de thrash. La guitare et la voix de Jon Reddit s'élèvent comme des incantations hypnotiques d'une sombre grotte. Les lignes de basse d'Aaron Weiss s'immiscent jusqu'à votre épine dorsale pour vous faire hocher incontrollablement la tête d'appréciation. Kirby Fisher mène l'assaut sonique en vous martelant les pièces directement sur vos tympans. D'une façon ou d'une autre, toute cette énergie a réussi à être canalisée depuis The Noise Floor, berceau de certains des meilleurs enregistrements de la côte ouest des dernières années, auxquels s'ajoute assurément Jesus Horse.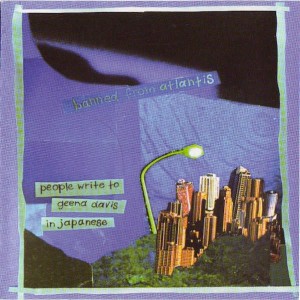 Banned from Atlantis
People Write to Geena Davis in Japanese
(Sister Records)
Winnipeg, MB
Originally Released: 1995
From the prairie myth of Joe Strutt:
Winnipeg makes an effective backdrop for a personal struggle to understand how a benevolent God could have created such a hostile universe.

Kingwell would go on to bestow the name "Plague City" on the town he grew up in, as a not-quite-fond nod to its general hostility toward eking out a comfortable life in any season. It's the sort of place where there's not much to do, so you start a band. I guess that was sort of the case for Banned From Atlantis — I remember reading an interview where they joked that they got together because they were the only Superchunk fans in the city. Starting with some good songs on a decent self-recorded cassette, People Write to Geena Davis in Japanese would emerge as something startlingly transformed, with thunderous drums and aggressively slacker-ish guitars provided by Bob Weston who was brought in to produce the record. The album would be released against the backdrop of the funeral for the Jets (the real Jets, still exiled in Arizona, not the new, fake, militarism-humping Jets). The team would last for one more lame-duck season, but the band would be done by year's end.
Things were grim in Plague City, with an unsavoury right-wing political-correctness ("how did they ever get so good at calling other people names?") establishing a flimsy "Save Our Jets" narrative where we weren't supposed to question the elites' plans to cut a blank cheque for the city's failed and cowardly capitalists. The home I grew up in got sold, and on the cusp of getting my degree (alongside — and this is a true story — no less than Fred Penner) I moved downtown, into my first apartment and quickly learned to recognize the local gang signs. Waving goodbye to all my friends left and leaving, I decided to stay for one more year. I put my polisci courses to work in a dead-end job that involved breathing in other people's cigarette smoke and watching them piss away their paycheques on VLTs. I put my philosophy courses to work by settling into a winter-long existential funk, wondering what the hell I was going to do with my life.
Long story short: the things you don't know about yourself in 1995 are going to be the things you don't know about yourself in 2013. There's a prairie myth of winter stoicism — that it toughens you up, makes things endure — but in the end it simply breaks some things, like the ice on the rivers at the city's heart: solid ground heaved into fragments by remorseless, unseen forces. Long story short: the band would break up (though guitarist Doug McLean would notably move on to The Bonaduces and The Paperbacks), the Jets would leave, and I too would leave. "Because the thing about a Plague City summer is that it's never quite long enough to let you forget that winter."
Joe Strutt blogs at Mechanical Forest Sound, a slow-paced investigation of a wide range of artists — mostly reflecting on concerts as shared experiences, acts of citizenship and a chance to get down. Fuzzy photographs and clear-sounding original live recordings a specialty.
Du mythe des Prairies de Joe Strutt:
(Traduit par la peste urbaine de Vincent Rondeau)
Winnipeg est un endroit particulièrement propice à la crise de conscience de l'individu qui tente de comprendre comment un Dieu bienveillant aurait pu créer un univers aussi hostile.

Kingwell a aussi donné à la ville de son enfance le surnom pas si affectueux de « Plague City » (la ville de la peste), en référence à la difficulté d'y trouver une vie confortable, peu importe la saison. C'est le genre d'endroit où il n'y a pas grand chose à faire, alors on part un band. J'imagine que c'est le cas de Banned From Atlantis : je me rappelle avoir lu une entrevue avec les membres du groupe qui disaient s'être rencontrés parce qu'ils étaient les seuls fans de Superchunk en ville. À partir de quelques bonnes chansons sur une cassette enregistrée maison, People Write to Geena Davis in Japanese s'est métamorphosé en un album surprenant, plein de percussions retentissantes et de guitares slacker agressives offertes par le producteur invité Bob Weston. Le disque a paru pendant les funérailles des Jets (les vrais Jets encore exilés en Arizona, pas la fausse nouvelle équipe aux tendances militaristes). L'équipe a continué de jouer pour une saison pitoyable, mais le groupe s'est dissolu avant la fin de l'année.
Tout allait mal alors à Plague City : des relents déplaisants de rectitude politique de droite alimentaient un point de vue « sauvez nos Jets! » selon lequel on n'était pas supposé remettre en question l'idée des élites de faire un chèque en blanc aux capitalistes ratés et lâches de la ville. La maison de mon enfance a été vendue, et juste au moment où j'allais compléter mon diplôme (en même temps que Fred Penner, sans blague) j'ai emménagé dans mon premier appartement au centre-ville, où j'ai rapidement appris à reconnaître les symboles des gangs locaux. Au moment où tous mes amis partaient, j'ai décidé de rester en ville pour un an de plus. À l'aide de mes cours de science politique, j'ai décroché un emploi sans avenir où je respirais la fumée de cigarette des gens venus gaspiller leurs chèques de paye à la loterie vidéo. À l'aide de mes cours de philosophie, j'ai sombré dans le doute existentiel tout l'hiver en me demandant ce que j'allais faire de ma vie.
Bref, ce qu'on ne connaît pas à propos de soi-même en 1995, on ne le connaît pas plus en 2013. Il y a un mythe du stoïcisme hivernal qui veut que l'hiver des Prairies bâtit le caractère, qu'il permet de mieux endurer toutes sortes de vicissitudes, mais au fond, tout finit par casser comme la glace des rivières au coeur de la ville, un bloc solide fragmenté par des forces invisibles et impitoyables. Bref, le groupe s'est dissolu (toutefois, le guitariste Doug McLean a ensuite fait partie des Bonaduces et des Paperbacks), les Jets sont partis et moi aussi. « Parce que le problème avec l'été à Plague City, c'est qu'il n'est jamais assez long pour oublier l'hiver. »
Joe Strutt écrit pour le blog Mechanical Forest Sound, qui examine en profondeur un large éventail d'artistes en réfléchissant sur la notion du concert en tant qu'expérience partagée, acte de citoyenneté et occasion de s'amuser. Points forts : les photos floues et les enregistrements originaux clairs.
Banned From Atlantis – Sovereign Thug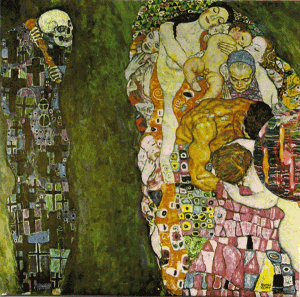 Grime Kings
First View of the New
Belleville, ON

From the dream-inducing corollaries of Aaron Levin:
Gnarly basement moves form this Belleville loner. Stalwart sonic penetrations into dream-inducing corollaries peppered with Gen X vibes for the 2.0 webfed. Inconceivable catch runs concurrent through clamourous permutations of height: rock riffery, piano balladry, proto-rappery, and experimental reppiditry. At the prodigious life-length of 17, Grime Kings unravels new layers of popular shred. Gripfest y2k12.
Audio clip: Adobe Flash Player (version 9 or above) is required to play this audio clip. Download the latest version here. You also need to have JavaScript enabled in your browser.
Audio clip: Adobe Flash Player (version 9 or above) is required to play this audio clip. Download the latest version here. You also need to have JavaScript enabled in your browser.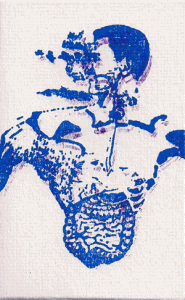 WTCHS
Wet Weapons EP
(Perdu)
Hamilton, ON

Strange sounds upon
strangewinds
emerge from a newly born Steeltown oasis. The strangled snare of gnarled guitars harken upon the nethersteps of Haligonia, but it's the hooded nihilism of WTCHS' droning vocals that yield
unlimited satisfaction
. Hope comes in a multitude of flavour. Hand-stamped package complete with 6-minute tape-only drone-out. Grip sicc widdit.
Audio clip: Adobe Flash Player (version 9 or above) is required to play this audio clip. Download the latest version here. You also need to have JavaScript enabled in your browser.
Audio clip: Adobe Flash Player (version 9 or above) is required to play this audio clip. Download the latest version here. You also need to have JavaScript enabled in your browser.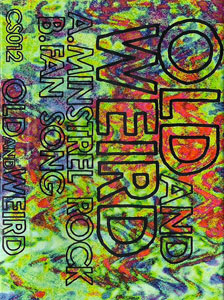 Old and Weird
Minstrel Rock b/w Fan Song
Halifax, NS

The
hypercolor
sleeve of this cassingle is at odds with the understated pop contained within. Like sonic compatriots
Brave Radar
the moves here are delicate, floating freely between any particular sound or style with the softest layer of
peachfuzz
coating the low end of "Fan Song." All the ramshackle sweetness you need in less than three minutes.
Audio clip: Adobe Flash Player (version 9 or above) is required to play this audio clip. Download the latest version here. You also need to have JavaScript enabled in your browser.
Audio clip: Adobe Flash Player (version 9 or above) is required to play this audio clip. Download the latest version here. You also need to have JavaScript enabled in your browser.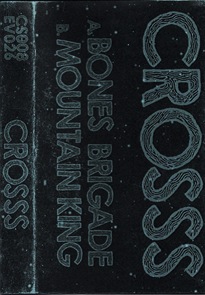 Crosss
Bones Brigade b/w Mountain King
Toronto, ON

Craft Singles chief exec Andy March puts his best
flower power
foot forward on this scorched denim vest jambone. Anglofied undulations linger in the myst of heart-shaped hooks and the algebraic pterodactyl armed stick work of a
Haligonian stalwart
, which is all just an ostentatious way of saying that these songs totally rock.
Audio clip: Adobe Flash Player (version 9 or above) is required to play this audio clip. Download the latest version here. You also need to have JavaScript enabled in your browser.
Audio clip: Adobe Flash Player (version 9 or above) is required to play this audio clip. Download the latest version here. You also need to have JavaScript enabled in your browser.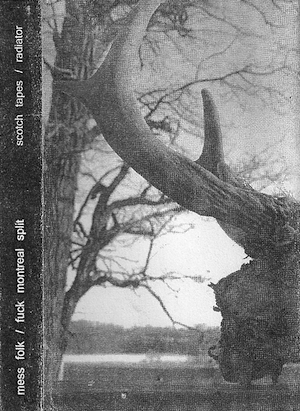 Mess Folk
: C'est l'été, il fait chaud pis t'es quand même dans ce bar-là, celui qui va faire mal le lendemain et qui se cure avec une plottée de bines pis les fonds de la veille. Du rock garage boueux qui sonne comme si tu te faisais verser de la bière dans les trous d'oreille. Tu te réveilles hungover, tu cales ton Gatorade trop vite pis tu vires la cassette de bord.
Fuck Montreal
sonne le glas et te paraphrase un mal de tête dans lequel se confondent des chants tribaux pis des comptines patibulaires sur un fond de grunge hanté. Fuck Montreal essaie peut-être de te faire peur, mais t'es là pour leur montrer que t'es pas pire tuff pis que tu combats le feu par le feu – pis que plus que ça fait mal, moins ça fait mal.
From the beautiful f**king mess of Benoit Poirier:
Mess Folk: It's the summer, it's hot and you're still in that bar. You know it's gonna hurt tomorrow and you're gonna cure it with cold beans and leftovers. The band's sludgy garage rock sounds like having cans of beer poured into your ears. You wake up hungover, drink your Gatorade way too fast and flip the tape. Fuck Montreal make the bells toll and paraphrase a headache in which tribal chants and creepy nursery rhymes intertwine in a confused mass over spooky grunge riffs. They might try to scare you, but you're there to show them that you're kinda tuff and that you fight fire with fire – and that the more it hurts, the less it hurts.
Audio clip: Adobe Flash Player (version 9 or above) is required to play this audio clip. Download the latest version here. You also need to have JavaScript enabled in your browser.
Audio clip: Adobe Flash Player (version 9 or above) is required to play this audio clip. Download the latest version here. You also need to have JavaScript enabled in your browser.
---