Tag: fuck montreal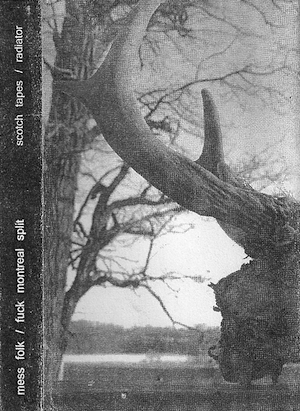 Mess Folk
: C'est l'été, il fait chaud pis t'es quand même dans ce bar-là, celui qui va faire mal le lendemain et qui se cure avec une plottée de bines pis les fonds de la veille. Du rock garage boueux qui sonne comme si tu te faisais verser de la bière dans les trous d'oreille. Tu te réveilles hungover, tu cales ton Gatorade trop vite pis tu vires la cassette de bord.
Fuck Montreal
sonne le glas et te paraphrase un mal de tête dans lequel se confondent des chants tribaux pis des comptines patibulaires sur un fond de grunge hanté. Fuck Montreal essaie peut-être de te faire peur, mais t'es là pour leur montrer que t'es pas pire tuff pis que tu combats le feu par le feu – pis que plus que ça fait mal, moins ça fait mal.
From the beautiful f**king mess of Benoit Poirier:
Mess Folk: It's the summer, it's hot and you're still in that bar. You know it's gonna hurt tomorrow and you're gonna cure it with cold beans and leftovers. The band's sludgy garage rock sounds like having cans of beer poured into your ears. You wake up hungover, drink your Gatorade way too fast and flip the tape. Fuck Montreal make the bells toll and paraphrase a headache in which tribal chants and creepy nursery rhymes intertwine in a confused mass over spooky grunge riffs. They might try to scare you, but you're there to show them that you're kinda tuff and that you fight fire with fire – and that the more it hurts, the less it hurts.
Audio clip: Adobe Flash Player (version 9 or above) is required to play this audio clip. Download the latest version here. You also need to have JavaScript enabled in your browser.
Audio clip: Adobe Flash Player (version 9 or above) is required to play this audio clip. Download the latest version here. You also need to have JavaScript enabled in your browser.
Various Artists
Khyber Compilation
(Self Released)
Halifax, NS

Halifax's premier fringe-art
playhouse
has pulled together a mammoth compilation capturing the recent wave of do-it-with-everyone artists roaming the Haligonian landscape. Where other cities devolve into scene sectarianism, Halifax bursts with cross-genre vigor, laying the streetwork for steadfast artifacts like the
Khyber Compilation
. Similar in spirit to the
Emergency Room
comp.,
Khyber
wins for the sheer spread of pressure-waves; from the red-lined raw-fi of Fuck Montreal to the casio-blown R&B of Pastoralia, it seems that every buckeyed freak managed to explode with colour beneath the Khyber's magnificent arches. Includes many new-jacks to the scene, too! Proceeds from the tape go to future renovations at the Khyber. Bands included:
Cousins
,
Soaking Up Jagged
, Fresh Flesh,
Special Noise
, Cactus Flower,
It Kills
,
Secret Colours
,
Fuck Montreal
,
DUZHEKNEW
,
Bloodhouse
, Trash Heap,
Play Guitar
,
Mean Wind
,
Bad Vibrations
,
Datacave
, CROSSS,
Catbag
,
The Rhythm Method
, and
Pastoralia
.
Audio clip: Adobe Flash Player (version 9 or above) is required to play this audio clip. Download the latest version here. You also need to have JavaScript enabled in your browser.
Audio clip: Adobe Flash Player (version 9 or above) is required to play this audio clip. Download the latest version here. You also need to have JavaScript enabled in your browser.
Mean Wind – Down for the Count
Audio clip: Adobe Flash Player (version 9 or above) is required to play this audio clip. Download the latest version here. You also need to have JavaScript enabled in your browser.
---