Tag: drone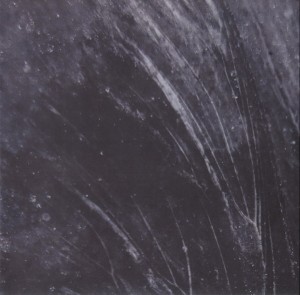 From the behemothic devastation of Liam Kennedy:
There are a lot of great things about music, but the most amazing quality might be its ability to alter your brainwaves. Music can set a mood or change it; it has the power to give you the reckless drive to throw yourself into the pit (courtesy: Bad Brains) AND get down to some heavy baby-making (courtesy: D'Angelo). Some even claim sound can have the same effect on our brains as drugs from Ambien to LSD.
Gates have all of the above effects, and more. The dark, ambient, pulsating tones of "Outer Labyrinth" put you deep in the Amazon next to a Neitzschian explorer on a doomed expedition, leaving you wracked with trepidatious curiosity. "Inner Labyrinth" is the soundtrack to a lucid dream that finds you in the middle of the wreck of the astral Titanic, marveling at the behemothic devastation. Like any good buzz, the effects can sneak up unsuspectingly. You may not realize how much your mental chemistry has changed until the album has played through and you're left with that horrible scream people call silence. Gates offer a starting point for uneasy meditations or a score for your terrorscapes at the core.
De la dévastation béhémotique de Liam Kennedy:
(Traduit par les méditations agitées de Virginie Langlois)
Il y a plein de bonnes choses dans la musique mais ce qui est particulièrement intéressant, c'est l'effet qu'elle peut avoir sur notre cerveau. La musique a une grande influence sur notre humeur : elle peut susciter une irrépressible envie de se jeter dans un puits (merci Bad Brains) ou de faire un bébé là tout de suite maintenant (merci D'Angelo). Certains vont jusqu'à prétendre que les sons peuvent avoir le même effet sur notre cerveau que des médicaments ou des drogues comme l'Ambien ou le LSD.
Gates a tous les effets susmentionnés, et plus encore. Les sonorités obscures, ambiantes et pulsées de Outer Labyrinth vous transportent au beau milieu de l'Amazone aux côtés d'un explorateur nietzschéen dans une expédition vouée à l'échec qui vous laisse dans un état de curiosité inquiète. Inner Labyrinth est la bande sonore d'un rêve lucide dans lequel vous vous retrouvez dans l'épave du Titanic astral, émerveillé par la dévastation béhémotique. Comme pour toute bonne substance euphorisante, les effets peuvent survenir de façon inopinée. Il vous faudra peut-être attendre d'avoir écouté l'album dans son intégralité avant de réaliser à quel point votre chimie mentale a changé. Vous serez alors confronté à ce cri horrible qu'on appelle silence. Gates offre un point de départ pour des méditations agitées ou une trame sonore pour une descente aux enfers.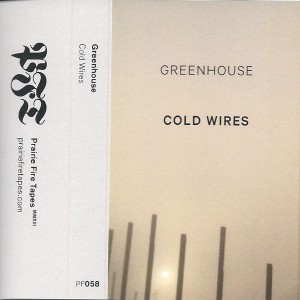 Greenhouse
Cold Wires
Winnipeg, MB
From the green apartment of Kevin Strang:
Winnipeg drone guitarist Curran Farris has become known for his signature tones and signals, elevating the listener in both live and recorded settings. Cold Wires continues his ethereal world of pedal worship, providing a musical base to a moment in which one can pause and be raised above the void of soundlessness in their mental make-up, looking down upon their thoughts as they are momentarily lifted into a lush musical landscape. Serving as the perfect follow up to his 2011 album Tired Forever, with Cold Wires Farris gives the listener another escape for 45 minutes and 14 seconds.
De l'appartement vert de Kevin Strang:
(Traduit par le cercle chromatique de Catherine Gaucher)
Curran Farris, guitariste drone originaire de Winnipeg connu pour le son distinctif de ses tonalités et signaux, est capable de soulever ses auditeurs autant en écoute live que sur enregistrement. Cold Wires est conséquent de son monde éthéré voué au culte des pédales et fournit une trame musicale propice à un moment où l'on peut faire une pause et, dans une constitution mentale, être élevé au-dessus du vide du silence, observant d'en haut les pensées pendant qu'elles s'élèvent momentanément dans un luxuriant paysage musical. Servant de parfaite suite à son album Tired Forever, paru en 2011, Farris, avec Cold Wires, offre à ses auditeurs une autre évasion de 45 minutes et 14 secondes.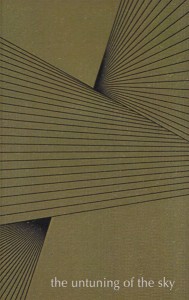 Sarah Davachi
The Untuning of the Sky
Vancouver, BC
From the castle in the sky of Catherine Debard:
(Translated by Catherine Debard)
Close your eyes. Now, let the void into your mind and feel the healing power of sound. Oscillations infiltrate and frequencies vibrate in the ear drum, spreading through the brain in a smooth but firm massage, and filtering out any thoughts for a peaceful half-asleep concentration. Different tones and synthetizer shapes layer into a subtle and sophisticated assemblage. Sines, squares, triangles, sawtooth wave poems, analog wire-dreams and ghostly harmonic manifestations appear and disappear in this soundscape by Vancouver's Sarah Davachi. "Alms Vert" opens it up as a luxurious drone, a cave filled with glowy diamonds where eerie animals hibernate. Pure, fluctuating synth notes cover a lush swarm of melodies. Then, the album softly shifts from one ambience to another, always maintaining a balance of spatiality, resonance and the sacred. Krankyesque Stars of the Lid sound-statues build in your head as consciousness grows towards the light.
Du château dans le ciel de Catherine Debard:
Fermez les yeux. Maintenant, faites le vide dans votre esprit et ressentez le pouvoir de guérison du son. Des oscillations d'ondes sonores et de fréquences s'infiltrent dans le conduit auditif, s'étirent jusqu'au cerveau pour lui donner un massage à la fois doux et ferme, toute pensée est filtrée dans cet état entre l'éveil et le sommeil pour une paisible concentration. Différentes couches de tons et de formes de synthétiseurs se superposent dans un assemblage sophistiqué subtil. Des vagues de poésie en forme de sines, squares, triangles et sawtooth, des rêves au filage analogue et des manifestations fantômatiques d'harmoniques forment une fantasmagorie, dans ce paysage sonore de Sarah Davachi, de Vancouver. "Alms Vert" ouvre sur un drone luxuriant, une grotte de diamants luminescents où hibernent d'étranges créatures. Une couche de son pur et légèrement fluctuant recouvre un foisonnement de mélodies. Puis, l'album change doucement de forme, se déplace d'une ambiance à l'autre en maintenant continuellement un équilibre de spatialisation, de résonance et de sacré. Des statues de son krankyesque à la Stars of the Lid se cristallisent dans votre tête tandis que votre conscience s'élève vers la lumière.
Sarah Davachi – Alms vert [excerpt]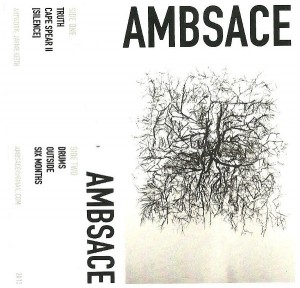 Ambsace
Ambsace
(Self Released)
Toronto, ON
From the cavernous subconscious of Brennan McCracken:
On his latest cassette as Ambsace, J.M. Ladd may gauze his brand of melancholy with a sheathing of lo-fi textures, but make no mistake: this is grand, ambitious music, and when heard in the right context it has amazing emotional potency. The word ambsace may suggest a low point — and the sound of these five songs certainly reinforces that sadness — but something about them proves to be uplifting in unlikely ways. Like approaching headlights in a syrupy fog, this is a brief escape from cacophonic singularity.
Du subconscient caverneux de Brennan McCracken:
(Traduit par la puissance musicale de Julie Forget)
Sur sa plus récente cassette sous le nom d'Ambsace, il se peut que J. M. Ladd panse sa marque de mélancolie d'un revêtement de textures lo-fi, mais croyez-moi : il s'agit d'une musique sensationnelle et ambitieuse et lorsqu'écoutée dans le bon contexte, elle détient une puissance émotionnelle stupéfiante. Le mot ambsace peut suggérer un moment des plus difficiles – et le son de ces cinq chansons renforce sans doute cette tristesse – mais quelque chose à leur sujet révèle un espoir de manière improbable. Comme l'approche de phares dans un brouillard apaisant, voici un moyen de s'évader brièvement de la singularité cacophonique.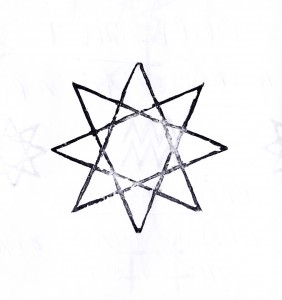 Citadel
Torchbearer
Calgary, AB
From the closeted greys of Joshua Robinson:
Where are we when we awake? This place. Its frozen fog. Its blanketing damp. You, the Stargazer, as I play Torchbearer. These glistening divides between empty bedrooms. We traverse the distance as if we too are a current between two poles; points separated by great space. But why are we here? Why do we awake within this calamitous sprawl? This frailty; this void; this vast unknown. We pivot and turn, but our axis is bronzed by the rust of the years we spend dancing in one place. You pirouette, I conduct, and at the end, all that's left is this still-frame of analogue sepia-tone sway. And all will carry on, as the frozen fog settles. In these points separated by great space we grow evermore, so frayed by these ticking clocks and closeted greys.
Des gris enfermés de Joshua Robinson:
(Traduit par les rêves cachés de Julie Forget)
Où sommes-nous quand nous nous réveillons? À cet endroit. Son brouillard gelé. Son voile humide. Toi, le Stargazer, quand je joue Torchbearer. Ces séparations brillantes entre des chambres vides. Nous parcourons la distance comme si nous étions nous aussi un courant entre deux pôles; des endroits séparés par le grand espace. Mais pourquoi sommes-nous ici? Pourquoi nous réveillons-nous dans cette étendue calamiteuse? Cette fragilité; ce vide; ce vaste inconnu. Nous pivotons et tournons, mais notre axe est recouvert de bronze par la rouille des années que nous passons à danser dans un même endroit. Tu pirouettes, je dirige, et à la fin, tout ce qui reste est ce cadre immobile d'un mouvement analogue de couleur sépia. Et tout continuera, alors que le brouillard gelé s'installera. Dans ces endroits séparés par le grand espace, nous grandissons toujours, exaspérés par le tic-tac de ces horloges et par ces gris enfermés.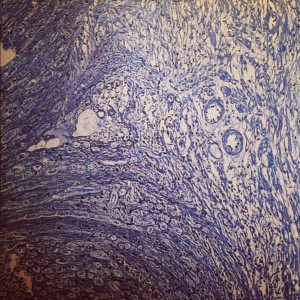 Mad/Mod
Neurinomes
Montréal, QC
From the nocturnal tones of James Lindsay:
Montreal drone duo Mad/Mod make music with a massive vista on their latest beautifully packaged release on Arachnidiscs. Touching on a wide variety of influences, from free-jazz to 20th century minimalism to electric folk, and clocking in at 78 minutes, Mad/Mod embrace ambition with the kind of confidence reserved for serious people who know they are making serious music. Similar to some sounds found in their city's orchestral post-rock scene, but lacking the crescendo-bravado and personnnel often found in those collectives, these compositions work on a softer level with moods more difficult to articulate. Neurinomes is not made to heard in the cavernous cathedral, but in the confines of an apartment, where the nocturnal tones can feel intimate and safe sharing their subtle secrets.
Des tonalités nocturnes de James Lindsay:
(Traduit par Hugo Hyart)
magnifique et plus récente parution sur le label Arachnidiscs, le duo drone montréalais Mad/Mod produit de la musique avec une vision énorme. Embrassant une grande variété d'influences sur cet album de 78 minutes, allant du free-jazz au minimalisme du 20ème siècle, en passant par le folk électrique, Mad/Mod épouse l'ambition avec le genre d'assurance réservée aux gens sérieux qui savent qu'ils font de la musique sérieuse. Rappelant certains sons de la scène post-rock orchestrale de leur ville, mais sans les crescendos fanfaronnants et les éléments personnels souvent retrouvés dans ces collectifs, ces compositions jouent à un niveau plus doux, avec des humeurs plus difficiles à articuler. Neurinomes n'est pas fait pour être écouté dans une cathédrale caverneuse, mais dans les confins d'un appartement où les tonalités nocturnes peuvent se sentir proche et en sécurité alors qu'elles partagent leurs subtils secrets.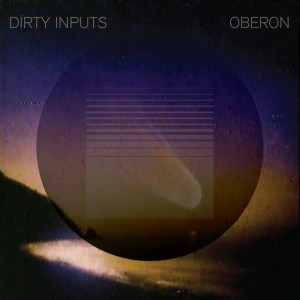 Dirty Inputs
Oberon EP
(Self Released)
Toronto, ON
From the orbiting radar of Adam Bradley:
Awake to this. Drifting in the void, on double-axis spin, a vast dappling of starlight perforates an ocean of black. Oberon delivers us to this, the view of a stone on course through the solar system, a voyeuristic tour of sublimity. It invites us to visit its namesake, a moon of Uranus that orbits some 2,720,000,000 kilometers away from Earth. Using warm synths, software and drum machines, Aaron Dawson (Off The International Radar), chose to approach ambient electronic music with a classical mind. At times channeling Gustav Holst, this suite explores the reaches of epic expanse, liminal space and plain awe.
Du radar en orbite d' Adam Bradley:
(Traduit à 2,720,000,000 kilomètres d'Obéron par Andréanne Dion)
Prenez-en conscience. À la dérive dans le vide, dans une révolution sur deux axes, une immense étendue d'étoiles mouchète un océan de noir. Oberon nous livre ceci, la vue d'une pierre qui traverse le système solaire, une visite voyeuriste de la sublimité. Il nous invite à visiter son homonyme, une lune d'Uranus qui orbite à quelques 2,720,000,000 kilomètres de la terre. À l'aide de synthétiseurs chaleureux, de logiciels et de boîtes à rythmes, Aaron Dawson (de Off The International Radar) choisit d'aborder la musique électronique ambiante avec un esprit classique. Évoquant parfois Gustav Holst, ces morceaux explorent les confins d'une étendue interminable, l'espace frontière et l'émerveillement pur et simple.
Dirty Inputs – Oberon//Overture
54M1
54MP132
Montréal, QC
From the amorphous impressions of Adam Bradley:
Iridescent tendrils syrup through the temporal skin, flicking seconds, caressing the periphery of awareness. Cold, amorphous impressions squint and tangle, exhaling a dream language. Flitting and glitchy pinpricks of static are contained as a nucleus within the pendulating coelum of some great star beast. Insert the vessel, don the helmet and experience heliotropic growth of thought towards a bright black semi-oblivion.
Des impressions informes d'Adam Bradley:
(Traduit par l'électricité statique d'Andréanne Dion)
Des vrilles irisées glissent à travers la peau temporelle, parcourant les secondes, caressant les périphéries de la conscience. Des impressions froides et informes se penchent et s'enchevêtrent, expirant une langue rêveuse. Des points de statique tordus papillonnent et forment un noyau à l'intérieur du cœlome balançant d'une grande étoile monstrueuse. Embarquez à bord du vaisseau, revêtez votre casque et expérimentez la croissance héliotropique de vos pensées en direction d'un demi-oubli noir vif.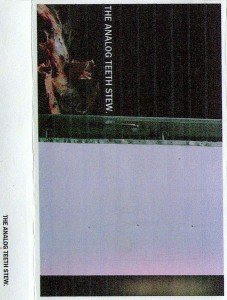 The Analog Teeth Stew
The Analog Teeth Stew
Hull, QC
From the turbulent currents of Trevor Blumas:
There must be something in the water in Hull these days. The Analog Teeth Stew is yet another project spewing forth from the turbulent currents of the Ottawa river, bringing with them a certain sci-fi bleakness: a Tarkovsky-esque take on the genre, if Tarkovsky was rendered incapacitated and instead forced to direct from inside the chamber of an iron lung. Recorded using mostly analog instruments, the result is something like an android with a human heart trying to envision Bel Geddes' Futurama with an apocalyptic, algorithmic mind incapable of imagining a tomorrow. As such, the future seems to end here: in a entangled orgy of circuitry and electromagnetic drone. Think Sunn O))) meets these guys, if their programmer were to mysteriously die and leave them to their own devices.
Des courants tumultueux de Trevor Blumas Trevor Blumas:
(Traduit par le court-circuit d'Andréanne Dion)
Il doit y avoir quelque chose dans l'eau à Hull ces temps-ci. The Analog Teeth Stew est le plus récent projet à émerger des courants tumultueux de la Rivière des Outaouais, amenant avec eux une désolation propre à la science-fiction : une approche du genre digne de Tarkovsky , si Tarkovsky devenait invalide et était forcé de travailler depuis l'intérieur d'un poumon d'acier. Enregistré en utilisant principalement des instruments analogiques, l'album qui résulte est un peu comme un androïde doté d'un cœur humain, qui tente d'imaginer l'exposition Futurama de Bel Gedde avec un esprit apocalyptique et algorithmique incapable de concevoir un futur. En soi, le futur semble s'arrêter ici, dans une orgie entremêlée de circuits et de bourdonnements électromagnétiques. Pensez à un mélange entre Sunn O))) et ce groupe, si leur programmeur mourrait dans des circonstances mystérieuses et qu'ils devaient se débrouiller seuls.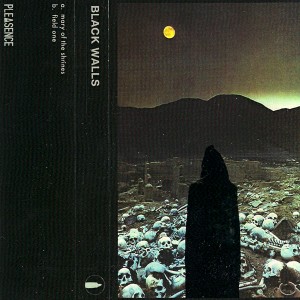 Black Walls
Mary of the Shrines
Etobicoke, ON
From the sparse breaths of Javier Fuentes:
Black Walls' epic Mary of the Shrines unwinds like a journey into a deep-sea cave, pushing further into the darkness with each movement. Monolithic guitar squalls ring out as voices from past travellers tell their tales. The drone thins out into sparse breaths as b-side "Field One" descends to the open air and towards the heavens. A communion of spirits awaits…
Des souffles épars de Javier Fuentes:
(Traduit par Claudine Maclure)
Mary of the Shrines se déroule comme un voyage dans une grotte sous-marine profonde, plongeant plus loin dans les ténèbres à chaque mouvement. Les bourrasques de guitares monolithiques résonnent, alors que les voix de voyageurs disparus racontent leurs histoires. Le bourdonnement s'amincit en souffles épars au moment où "Field One", la face B, descend à l'air libre, puis vers les cieux. Une communion d'esprits vous attend!
Black Walls – Mary of the Shrines
---