Tag: drone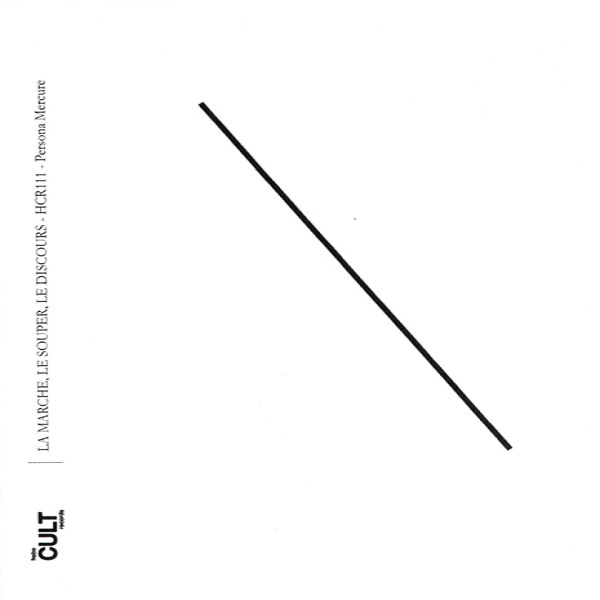 Persona Mercure
La Marche, Le Discours, Le Souper
Montreal, QC
From the sonic singularity of Johnnie Regalado:
The stark beauty of this drone is matched only by the elegant simplicity of the artwork. Three tracks that gravitate around the black holes of our mind; music made for a rendezvous where everything happens in threes. The trio of tone rings the full alert, whispers 'walk calmly towards the nearest exit' and lays out a feast amongst the infinitesimal screaming silence of space.
De la singularité sonore de Johnnie Regalado:
(Traduit par Jessica Grenier)
La beauté saisissante de ce drone n'est égalée que par la simple élégance de l'illustration. Les trois pistes gravitent autour du trou noir de nos esprits; une musique faite pour des rendez-vous où tout arrive par trois. Le trio tonal fait sonner l'alerte, murmurant de « marcher calmement vers la sortie la plus près » en exposant un festin parmi les minuscules silences criants de l'espace.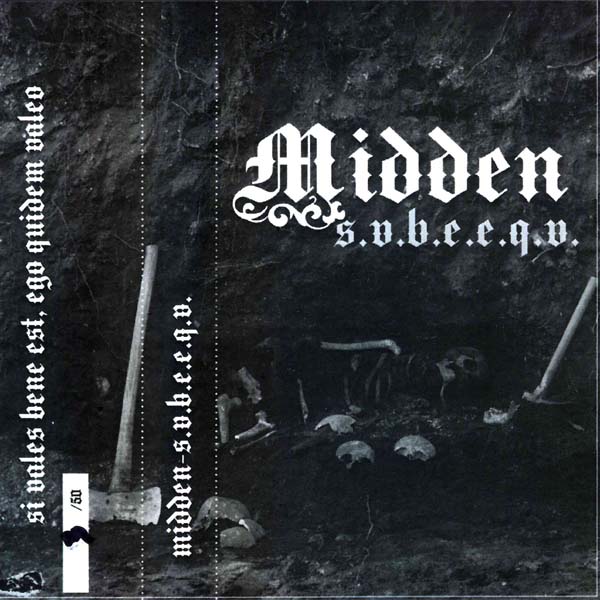 Midden
SVBEEQV
(Self Released)
Vancouver, BC
From the audible half life of Johnnie Regalado:
The crying decay of the things that leave us behind. The slow bellowing rot of excess need. An audible half-life oscillating around our physical existence. The immortal pulse of memory. Hold a relic of someone long gone against your ear and hear their message: If you're well, then I'm well too.
De la moitié audible de la demi-vie de Johnnie Regalado:
(Traduit par Joel Mak)
Des choses qui nous abandonnent et nous oublient se décomposent en pleurant. Le mugissement lent de la pourriture des besoins excessifs. Une demi-vie audible oscille autour de notre existence matérielle. Le pouls immortel de la mémoire. Tenez une relique de quelqu'un qui est révolu depuis longtemps à votre oreille et écoutez ce qu'il a à dire: Si vous allez bien, moi je vais bien aussi.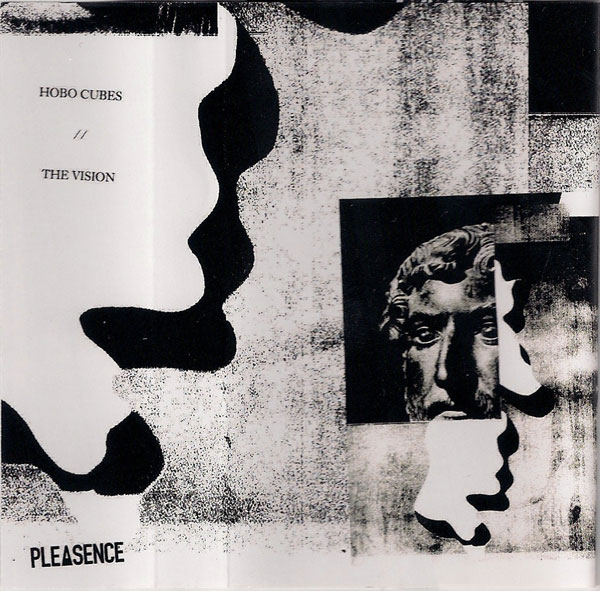 Hobo Cubes
The Vision
Montreal, QC
From the home drone of Josh Silver:
The standard puzzle is made up of a regularized series of pieces. Each piece severed from its greater system takes on a life of its own: a sail fragment becomes a patch of cloudy sky or a ship's mast is mistaken for a window frame. The undulating drones of The Vision construct an assemblage of puzzle pieces, slicing up jazz solos and excess takes to be recombined and morphed. Here a saxophone becomes a sweeping wave of sound and a drum section becomes a mountainous accent breaking through the formal drone-zone patina.
Du drone personnel de Josh Silver:
(Traduit par Jessica Grenier)
Un casse-tête se compose généralement d'une série de pièces de base. Chaque pièce séparée de l'ensemble devient une forme de vie autonome : un fragment de voile peut devenir une parcelle d'un ciel nuageux, ou le mat d'un navire être pris pour le cadre d'une fenêtre. Le drone ondulant de The Vision assemble les pièces d'un casse-tête, sectionnant des solos de jazz pour en refondre/métamorphoser les excès. Ici, un saxophone devient une vague de son déferlante, une batterie, un accent colossal défonçant la surface de la drone-zone.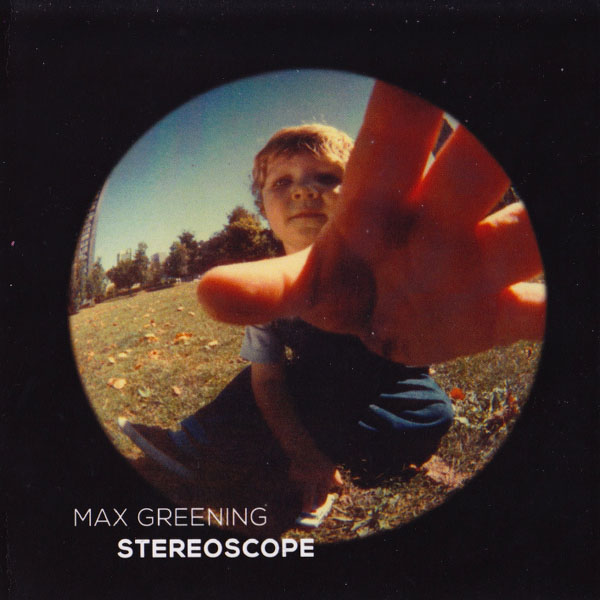 Max Greening
Stereoscope
Vancouver, BC
From the reverberating metallurgy of Jake Bornheimer:
A stone submarine sinking to the depths of the ocean. A pitch black dome with all the sky's constellations laid out upon it. A still pool of water with a single shining coin at the centre. At times it seems like Stereoscope is a film in auditory form. It's a collection of moments, captured in thick rippling sound. Speaking voices arise from the surface of the music, wreathed in crackles and pops. It is at once richly organic & precisely synthetic, with Heckish clouds of static noise revolving stereoscopically around the observer.
Des réverbérations métallurgiques de Jake Bornheimer:
(Traduit par l'insularité frileuse de Marie-Pier Chevrier)
Un paquebot de pierre coulant vers les profondeurs de l'océan. Un dôme noir de jais où s'étend chaque constellation. Une pièce d'or scintillante au coeur d'une flaque d'eau immobile. Stereoscope a des allures de film se prenant pour une chanson. Comme une collection de moments encastrés dans un son épais et houleux. Des dialogues en émergent, couronnés de crépitements et cliquetis. Le tout est à la fois d'un vivant palpable et d'une précision mécanique, avec des nuages de bruit statique à la Hecker en révolution stéréoscopique autour de l'observateur.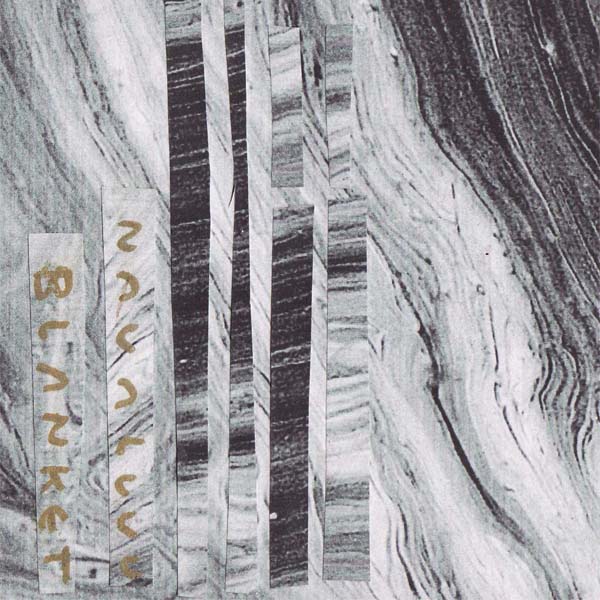 Nava Luvu
Blanket
(Self-Released)
Yellowknife, NWT
From the semi-conscious state of Gabe Girard:
A prolonged meditation on a droning, pulsing theme as inexorable as the frigid climate from which it hails, Nava Luvu offer Blanket – a cure for the common cold, among other ailments. They blur the line between tracks, opting for a record that could start and end anywhere you please. Allow yourself to be lulled into a pleasant, semi-conscious state, free from the burden of urban sprawl and inner city haste.
De l'état semi-conscient de Gabe Girard:
(Traduit par les yeux clos de Jessica Grenier)
Une méditation prolongée sur fond de pulsation bourdonnante aussi inexorable que le climat aride duquel il provient, Nava Luvu nous offrent Blanket, un remède pour soulager les rhumes, entre autres maladies. Ils ont brouillé la limite entre les pistes, optant pour un album qui pourrait commencer et finir où vous le souhaitez. Laissez-vous bercer jusqu'à un agréable état semi-conscient, libéré de la précipitation des grandes villes et du poids de l'étalement urbain.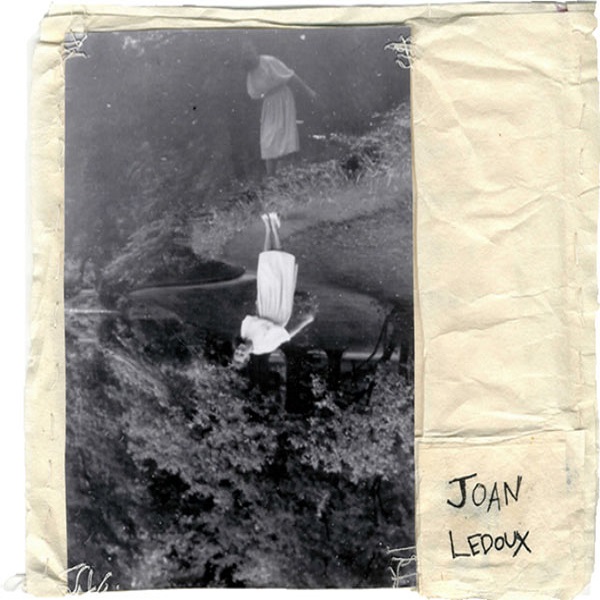 Joan Ledoux
EP
(Self Released)
Gatineau, QC
From the dainty digits of Noah Sherman:
This debut ranges from calming to irritating to somber to simply unnerving – then the next track starts. The focal point in the EP comes on the ultimate track in which noise music interrupts the beautifully delicate soundscape, before fading back to obscurity and allowing the soft tones to take over once more. It's a perfect contrast that epitomizes the audio adventure.
Des doigts délicats de Noah Sherman:
(Traduit par Jessica Grenier)
Ce premier album passe de relaxant à irritant, à sombre, à carrément perturbant – puis la deuxième piste commence. Le point fort arrive à la dernière piste, où du noise vient interrompre la beauté délicate d'un paysage sonore avant de retourner dans le néant, laissant les douces tonalités reprendre le dessus. Cet excellent contraste illustre à la perfection l'aventure audio.

Joan Ledoux – Prom Dress/Burial Ground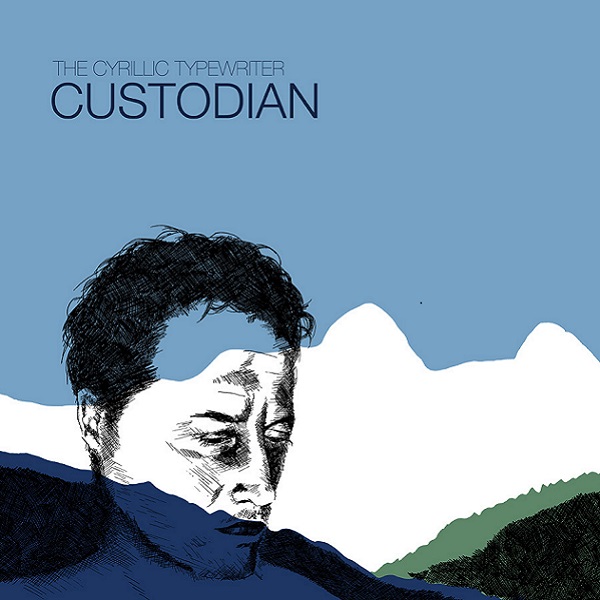 The Cyrillic Typewriter
Custodian
Vancouver, BC
From the bleeding eyes of Marie LeBlanc Flanagan:
Skies under eyelids droning. Foghorns from above, from below. We heard them clattering in the wind, they are all the same. Always the hunger. Bow pulls tight and reverses. Repeat. Dirty water and the rag. Down the hole they are clamouring. A face, no matter which way the head turns. Tight connection prevents escape. Vibration.
Des yeux ensanglantés de Marie LeBlanc Flanagan:
(Traduit par le deuxième visage de Jessica Grenier)
Un ciel infini sous des paupières bourdonnantes. D'en haut et d'en bas, nous entendons des cornes de brume qui s'entrechoquent dans le vent. Elles sont toutes identiques. La faim, toujours présente. Le nœud se serre puis se desserre, et c'est reparti. Eau sale et haillons. Tout au fond du trou, ils font du vacarme. Un visage, peu importe de quel côté tourne la tête. Des liens solides rendent la fuite impossible. Vibration.

The Cyrillic Typewriter – Lament 3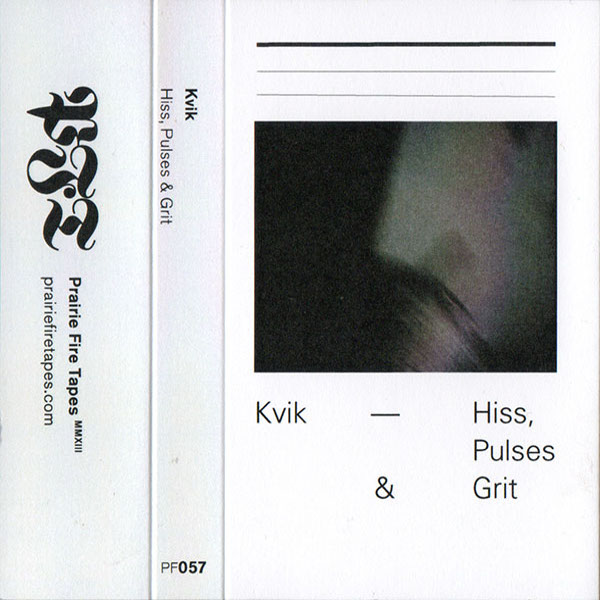 Kvik
Hiss, Pulses, & Grit
(Prairie Fire Tapes)
Montréal, QC
From the cold buzz of Kevin Hainey:
Kvik is the long running avant garde project of Montreal's Simon Thibaudeau, who I can profess is not only an outstanding crafter of drones, noises and compositional narratives, but a fine chef as well. Perhaps he treats sounds like foods, blending the right flavours and spices together, marinating, mixing and sautéing them to perfection. This latest tape showcases his brilliant knack for arranging organic compositions that heat up, fry, cool down and serve up fresh as a full course meal. Both of these sidelong pieces are testament to Thibaudau's calm and articulate skill at sculpting engaging arrangements out of otherwise alienating sounds.
Du bourdonnement glacé de Kevin Hainey:
(Traduit par Jessica Grenier)
Kvik est le projet de longe date du Montréalais avant-gardiste Simon Thibaudeau, qui est – je peux le certifier – non seulement un maitre du drone, du noise et de la composition narrative, mais en plus, un chef talentueux. Il apprête peut-être le son comme la nourriture, sachant incorporer les bonnes épices aux saveurs, avant de tout mélanger pour les faire sauter à la perfection. Cette cassette démontre son brillant savoir-faire pour les arrangements de compositions organiques qui vont réchauffer, faire frire, puis refroidir et servir l'équivalent d'un repas complet. Les pistes de chaque face sont la preuve du calme et de la compétence articulée de Thibaudau lorsqu'il sculpte des arrangements engageants à partir de sons qui, autrement, seraient aliénants.

Kvik – Dim Seen Through Cataracts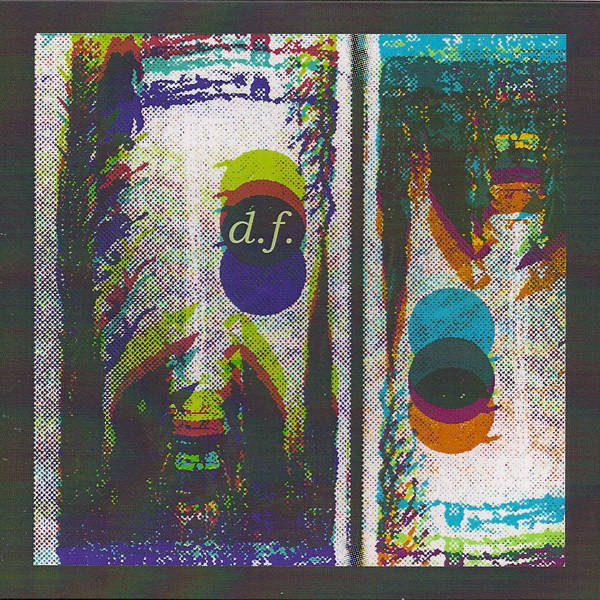 D.F.
Snowshell + Tape Decay Works
Calgary, AB
From the snow's hell of Jesse Locke:
Devin Friesen breaks out his frozen gtr for another trudge through analog atrophy and shuddering drum machine dread. This CD edition collects the original grip-or-it's-gone Snowshell lathe with six additional blasts of dome-clearing desolation, bottoming out with the 15-minute "Return of the Raiders." Stay frosty…
De l'enfer de neige de Jesse Locke:
(Traduit par les bas de laine troués de Jessica Grenier)
Devin Friesen est sorti de sa GTR glacée pour une autre marche pénible à travers l'atrophie analogique et le frisson d'une boîte à rythme terrifiante. Cette édition en CD rassemble Snowshell (l'original, dépêchez-vous avant qu'il n'y en ait plus!) et six autres explosions dévastatrices à faire sauter le plafond, et se conclu avec les 15 minutes de « Return of the Raiders ». Alors, faites attention…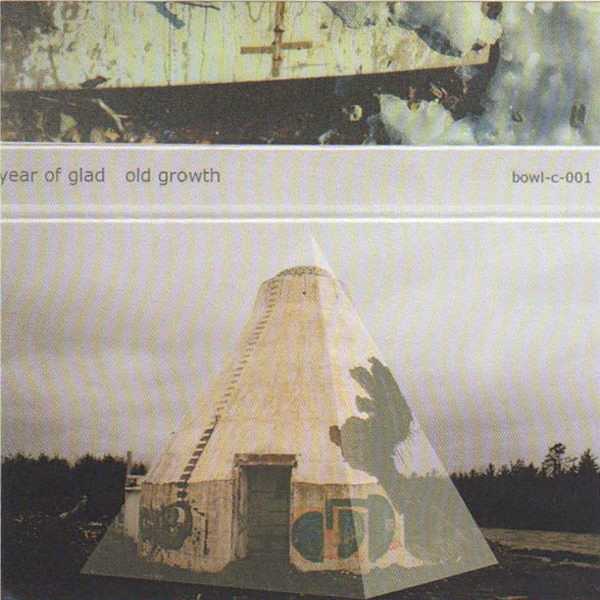 Year of Glad
Old Growth
Montréal, QC
From the self-consuming snake of Rachel Weldon:
Tones expand infinitely across an apocalyptic wasteland. Last gasps of existence smear across the temporal canvas, breathing life into a new and evolved lifeform. Euphonic in its thickness of space, Old Growth's dynamic ambience enlarges the mind. We are in here. Space slashed with subsidized time relentlessly pushes forward, growing bigger as it consumes its surroundings.
Du serpent en train de se manger lui-même de Rachel Weldon:
(Traduit par Jessica Grenier)
Les sons s'étirent à l'infini par-dessus la dévastation d'un paysage post-apocalyptique. Les derniers souffles de vie sont étalés sur le canevas temporel, donnant naissance à une nouvelle forme d'existence évoluée. Rendu euphonique par l'épaisseur de son espace, Old Growth offre des ambiances dynamiques qui élargissent l'esprit. Nous sommes ici, à l'intérieur : l'espace est lacéré par un congé payé qui cherche inlassablement à avancer, grossissant au rythme où il consume ce qui l'entoure.
---