Tag: drone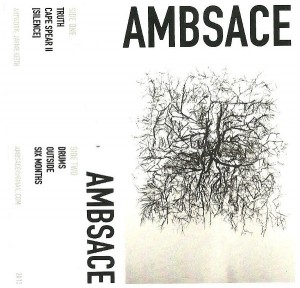 Ambsace
Ambsace
(Self Released)
Toronto, ON
From the cavernous subconscious of Brennan McCracken:
On his latest cassette as Ambsace, J.M. Ladd may gauze his brand of melancholy with a sheathing of lo-fi textures, but make no mistake: this is grand, ambitious music, and when heard in the right context it has amazing emotional potency. The word ambsace may suggest a low point — and the sound of these five songs certainly reinforces that sadness — but something about them proves to be uplifting in unlikely ways. Like approaching headlights in a syrupy fog, this is a brief escape from cacophonic singularity.
Du subconscient caverneux de Brennan McCracken:
(Traduit par la puissance musicale de Julie Forget)
Sur sa plus récente cassette sous le nom d'Ambsace, il se peut que J. M. Ladd panse sa marque de mélancolie d'un revêtement de textures lo-fi, mais croyez-moi : il s'agit d'une musique sensationnelle et ambitieuse et lorsqu'écoutée dans le bon contexte, elle détient une puissance émotionnelle stupéfiante. Le mot ambsace peut suggérer un moment des plus difficiles – et le son de ces cinq chansons renforce sans doute cette tristesse – mais quelque chose à leur sujet révèle un espoir de manière improbable. Comme l'approche de phares dans un brouillard apaisant, voici un moyen de s'évader brièvement de la singularité cacophonique.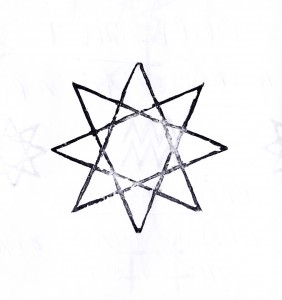 Citadel
Torchbearer
Calgary, AB
From the closeted greys of Joshua Robinson:
Where are we when we awake? This place. Its frozen fog. Its blanketing damp. You, the Stargazer, as I play Torchbearer. These glistening divides between empty bedrooms. We traverse the distance as if we too are a current between two poles; points separated by great space. But why are we here? Why do we awake within this calamitous sprawl? This frailty; this void; this vast unknown. We pivot and turn, but our axis is bronzed by the rust of the years we spend dancing in one place. You pirouette, I conduct, and at the end, all that's left is this still-frame of analogue sepia-tone sway. And all will carry on, as the frozen fog settles. In these points separated by great space we grow evermore, so frayed by these ticking clocks and closeted greys.
Des gris enfermés de Joshua Robinson:
(Traduit par les rêves cachés de Julie Forget)
Où sommes-nous quand nous nous réveillons? À cet endroit. Son brouillard gelé. Son voile humide. Toi, le Stargazer, quand je joue Torchbearer. Ces séparations brillantes entre des chambres vides. Nous parcourons la distance comme si nous étions nous aussi un courant entre deux pôles; des endroits séparés par le grand espace. Mais pourquoi sommes-nous ici? Pourquoi nous réveillons-nous dans cette étendue calamiteuse? Cette fragilité; ce vide; ce vaste inconnu. Nous pivotons et tournons, mais notre axe est recouvert de bronze par la rouille des années que nous passons à danser dans un même endroit. Tu pirouettes, je dirige, et à la fin, tout ce qui reste est ce cadre immobile d'un mouvement analogue de couleur sépia. Et tout continuera, alors que le brouillard gelé s'installera. Dans ces endroits séparés par le grand espace, nous grandissons toujours, exaspérés par le tic-tac de ces horloges et par ces gris enfermés.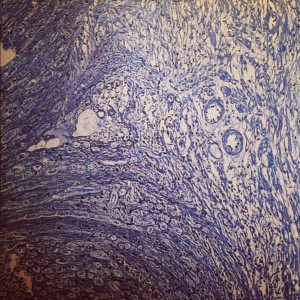 Mad/Mod
Neurinomes
Montréal, QC
From the nocturnal tones of James Lindsay:
Montreal drone duo Mad/Mod make music with a massive vista on their latest beautifully packaged release on Arachnidiscs. Touching on a wide variety of influences, from free-jazz to 20th century minimalism to electric folk, and clocking in at 78 minutes, Mad/Mod embrace ambition with the kind of confidence reserved for serious people who know they are making serious music. Similar to some sounds found in their city's orchestral post-rock scene, but lacking the crescendo-bravado and personnnel often found in those collectives, these compositions work on a softer level with moods more difficult to articulate. Neurinomes is not made to heard in the cavernous cathedral, but in the confines of an apartment, where the nocturnal tones can feel intimate and safe sharing their subtle secrets.
Des tonalités nocturnes de James Lindsay:
(Traduit par Hugo Hyart)
magnifique et plus récente parution sur le label Arachnidiscs, le duo drone montréalais Mad/Mod produit de la musique avec une vision énorme. Embrassant une grande variété d'influences sur cet album de 78 minutes, allant du free-jazz au minimalisme du 20ème siècle, en passant par le folk électrique, Mad/Mod épouse l'ambition avec le genre d'assurance réservée aux gens sérieux qui savent qu'ils font de la musique sérieuse. Rappelant certains sons de la scène post-rock orchestrale de leur ville, mais sans les crescendos fanfaronnants et les éléments personnels souvent retrouvés dans ces collectifs, ces compositions jouent à un niveau plus doux, avec des humeurs plus difficiles à articuler. Neurinomes n'est pas fait pour être écouté dans une cathédrale caverneuse, mais dans les confins d'un appartement où les tonalités nocturnes peuvent se sentir proche et en sécurité alors qu'elles partagent leurs subtils secrets.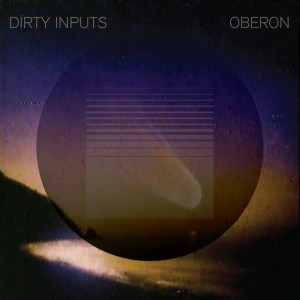 Dirty Inputs
Oberon EP
(Self Released)
Toronto, ON
From the orbiting radar of Adam Bradley:
Awake to this. Drifting in the void, on double-axis spin, a vast dappling of starlight perforates an ocean of black. Oberon delivers us to this, the view of a stone on course through the solar system, a voyeuristic tour of sublimity. It invites us to visit its namesake, a moon of Uranus that orbits some 2,720,000,000 kilometers away from Earth. Using warm synths, software and drum machines, Aaron Dawson (Off The International Radar), chose to approach ambient electronic music with a classical mind. At times channeling Gustav Holst, this suite explores the reaches of epic expanse, liminal space and plain awe.
Du radar en orbite d' Adam Bradley:
(Traduit à 2,720,000,000 kilomètres d'Obéron par Andréanne Dion)
Prenez-en conscience. À la dérive dans le vide, dans une révolution sur deux axes, une immense étendue d'étoiles mouchète un océan de noir. Oberon nous livre ceci, la vue d'une pierre qui traverse le système solaire, une visite voyeuriste de la sublimité. Il nous invite à visiter son homonyme, une lune d'Uranus qui orbite à quelques 2,720,000,000 kilomètres de la terre. À l'aide de synthétiseurs chaleureux, de logiciels et de boîtes à rythmes, Aaron Dawson (de Off The International Radar) choisit d'aborder la musique électronique ambiante avec un esprit classique. Évoquant parfois Gustav Holst, ces morceaux explorent les confins d'une étendue interminable, l'espace frontière et l'émerveillement pur et simple.
Dirty Inputs – Oberon//Overture
54M1
54MP132
Montréal, QC
From the amorphous impressions of Adam Bradley:
Iridescent tendrils syrup through the temporal skin, flicking seconds, caressing the periphery of awareness. Cold, amorphous impressions squint and tangle, exhaling a dream language. Flitting and glitchy pinpricks of static are contained as a nucleus within the pendulating coelum of some great star beast. Insert the vessel, don the helmet and experience heliotropic growth of thought towards a bright black semi-oblivion.
Des impressions informes d'Adam Bradley:
(Traduit par l'électricité statique d'Andréanne Dion)
Des vrilles irisées glissent à travers la peau temporelle, parcourant les secondes, caressant les périphéries de la conscience. Des impressions froides et informes se penchent et s'enchevêtrent, expirant une langue rêveuse. Des points de statique tordus papillonnent et forment un noyau à l'intérieur du cœlome balançant d'une grande étoile monstrueuse. Embarquez à bord du vaisseau, revêtez votre casque et expérimentez la croissance héliotropique de vos pensées en direction d'un demi-oubli noir vif.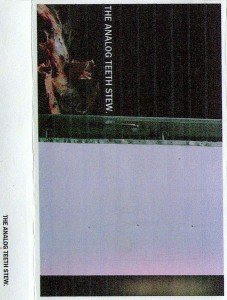 The Analog Teeth Stew
The Analog Teeth Stew
Hull, QC
From the turbulent currents of Trevor Blumas:
There must be something in the water in Hull these days. The Analog Teeth Stew is yet another project spewing forth from the turbulent currents of the Ottawa river, bringing with them a certain sci-fi bleakness: a Tarkovsky-esque take on the genre, if Tarkovsky was rendered incapacitated and instead forced to direct from inside the chamber of an iron lung. Recorded using mostly analog instruments, the result is something like an android with a human heart trying to envision Bel Geddes' Futurama with an apocalyptic, algorithmic mind incapable of imagining a tomorrow. As such, the future seems to end here: in a entangled orgy of circuitry and electromagnetic drone. Think Sunn O))) meets these guys, if their programmer were to mysteriously die and leave them to their own devices.
Des courants tumultueux de Trevor Blumas Trevor Blumas:
(Traduit par le court-circuit d'Andréanne Dion)
Il doit y avoir quelque chose dans l'eau à Hull ces temps-ci. The Analog Teeth Stew est le plus récent projet à émerger des courants tumultueux de la Rivière des Outaouais, amenant avec eux une désolation propre à la science-fiction : une approche du genre digne de Tarkovsky , si Tarkovsky devenait invalide et était forcé de travailler depuis l'intérieur d'un poumon d'acier. Enregistré en utilisant principalement des instruments analogiques, l'album qui résulte est un peu comme un androïde doté d'un cœur humain, qui tente d'imaginer l'exposition Futurama de Bel Gedde avec un esprit apocalyptique et algorithmique incapable de concevoir un futur. En soi, le futur semble s'arrêter ici, dans une orgie entremêlée de circuits et de bourdonnements électromagnétiques. Pensez à un mélange entre Sunn O))) et ce groupe, si leur programmeur mourrait dans des circonstances mystérieuses et qu'ils devaient se débrouiller seuls.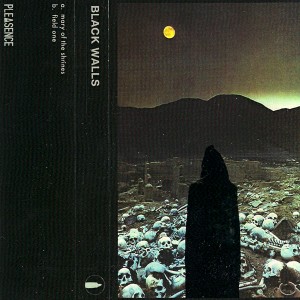 Black Walls
Mary of the Shrines
Etobicoke, ON
From the sparse breaths of Javier Fuentes:
Black Walls' epic Mary of the Shrines unwinds like a journey into a deep-sea cave, pushing further into the darkness with each movement. Monolithic guitar squalls ring out as voices from past travellers tell their tales. The drone thins out into sparse breaths as b-side "Field One" descends to the open air and towards the heavens. A communion of spirits awaits…
Des souffles épars de Javier Fuentes:
(Traduit par Claudine Maclure)
Mary of the Shrines se déroule comme un voyage dans une grotte sous-marine profonde, plongeant plus loin dans les ténèbres à chaque mouvement. Les bourrasques de guitares monolithiques résonnent, alors que les voix de voyageurs disparus racontent leurs histoires. Le bourdonnement s'amincit en souffles épars au moment où "Field One", la face B, descend à l'air libre, puis vers les cieux. Une communion d'esprits vous attend!
Black Walls – Mary of the Shrines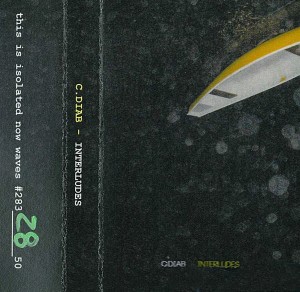 C.Diab
Interludes
Vancouver, BC
From the tectonic slow-dance of Bryce Warnes:
These petrichoral arrangements moan and stutter and sing, summoning Cascadia in dripping canopies and tectonic slow-dance. Working primarily with bowed guitar, C.Diab deposits tones in layers, building sedimentary dronescapes, wistful core samples of moments and moods gone by. Split into four parts, "In Seven" is a rainy improvisation featuring Colby Sparks and Nam Shub jam-mate Bill Young, weaving a thread through the album and wrapping the whole in an unsettling, ritual atmosphere. Starting off side B, "The Valley and Its Night" brings it all back home with beachfire-warm fingerpicking. Interludes is a limited-run, must-grip deep listening experience for the innerspace wayfarer.
Du slow tectonique de Bryce Warnes:
(Traduit du stylo grinçant de Dominic Mpilé)
Cet album, telle une odeur plaisante des premières pluies, est grinçant, saccadé et bourdonnant. Il lance un appel à la Cascadie par des sons qui simulent des auvents qui gouttent et des slows tectoniques. Jouant principalement de la guitare frottée, C.Diab empile les tons et produit une ambiance de drone sédimentaire, de carottage mélancolique qui laisse passer le temps et les états d'âme. Scindé en quatre parties, "In Seven" est une pluie d'improvisations, dont la collaboration de Colby Sparks et de Bill Young, compagnon de jam de Nam Shub, permet d'enfiler son style à travers l'album et d'envelopper le tout dans une atmosphère troublante et rituelle. Depuis la face B, "The Valley and Its Night" nous ramène aux sources, grattant de la guitare sur la plage, près d'un feu de camp. Interludes, sorti en quantité limitée, est une expérience saisissante et profonde pour les voyageurs intérieurs.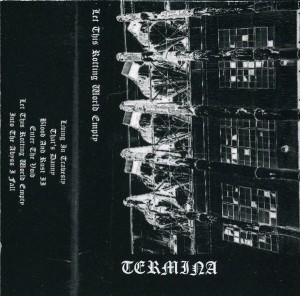 Termina
Let This Rotting World Empty
Montréal, QC
From the ominous urge of James Lindsay:
This minimal, mechanized noise sounds like a field recording from an abandoned warehouse where a cold wind howls through its ribs. Inside, a single microphone amongst rotting VHS tapes captures the band playing at half-speed when no one's around. Hidden behind all this grave decay is a melodic drone that does much of the work, going about its job like an emotionally dead surgeon, clinically augmenting an ominous urge. Another mysterious and limited (30 copies!) release by Magic Mother, who seem to have made it their mission to exclusively offer up music that sounds like the bleakest winter. (Termina now perform under the name La Naegleria)
Du désir irrépressible de James Lindsay:
(Traduit par Joannie Pharand)
Minime et mécanisé, ce bruit sonne comme un enregistrement fait sur le terrain d'un entrepôt abandonné où hurle, à travers les tripes de la structure, un vent froid. À l'intérieur, un seul micro parmi des cassettes VHS avariées capte le groupe jouant leur musique au ralenti lorsqu'il n'y a personne sur les lieux. Derrière tout cet imposant pourrissement se cache un ronronnement mélodieux s'occupant d'une partie du travail, s'attardant à la besogne comme un chirurgien sans émotion et faisant cliniquement accroître un désir irrépressible. C'est une autre édition limitée (30 copies!) et mystérieuse de Magic Mother, qui semble avoir pour mission d'offrir exclusivement de la musique qui sonne comme l'hiver le plus sombre. (Termina est maintenant connu sous le nom de La Naegleria)
Termina – Let This Rotting World Empty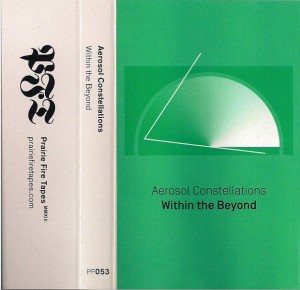 Aerosol Constellations
Within the Beyond
Vancouver, BC
From the star child of Kevin Hainey:
I remember the first time I saw some wax and homemade CD-Rs by Aerosol Constellations in the Shearing Pinx merch zone five or six years ago. I knew they were a band for me. I didn't even have to hear the music. My mind began to bubble with cosmic sprays, star clusters and gamma light. A splinter project from J.V. Dub of the aforementioned Pinx and Bill Batt of Stamina Mantis, Aeorosol Constellations are hitting the road with their atmospheric mix of post-rock dynamism and restraint, so look out for them to be touching down in your town soon enough. In the meantime, get online and grip this highly limited tape as soon as you possibly can. It's a space race to the outer limits, and your mind is the finish line.
Du fils des étoiles de Kevin Hainey:
(Traduit par le rêve étoilé de Dominic Mpilé)
Je me souviens, il y a cinq ou six ans, de la première fois que j'ai vu des vinyles et des CD-R autoproduits par Aerosol Constellations sur la table de marchandises de Shearing Pinx. J'ai tout de suite su que j'aimerais ce groupe, je n'avais même pas à écouter leur musique. Mon cerveau s'est mis à bouillonner, j'avais l'impression de voir des effluves cosmiques, des groupes d'étoiles et des rayons gamma. J'ai donc acheté le CD-R, et comme de fait, je l'ai assez aimé pour l'avoir encore aujourd'hui, ce qui n'est pas peu dire. Projet mis en place par J. V. Dub de Shearing Pinx et Bill Batt de Stamina Mantis, Aeorosol Constellations partent à l'aventure avec un mélange atmosphérique de post-rock énergique et modéré. Écoutez-les pour être emporté par l'ouragan qui arrive. Entretemps, procurez-vous en ligne cette cassette en édition limitée le plus tôt possible. C'est une course dans l'espace qui vous conduira jusqu'aux limites extrêmes, et votre cerveau est le point d'arrivée.
---