Tag: drone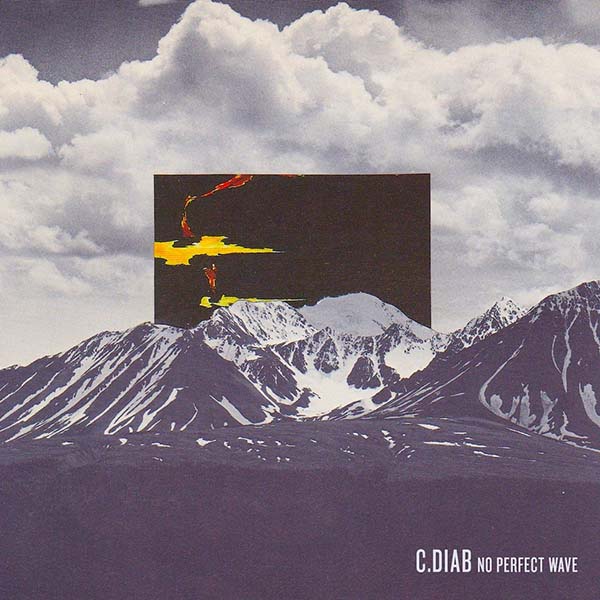 C. Diab
No Perfect Wave
(Self Released)
Vancouver, BC
From the flawed undulation of Bryce Warnes:
Bowed guitar forms the core of C. Diab's expansive sound vision. It's an ongoing meditation at once wistful, melancholy and coy. On this album, his third transmission, he evolves beyond the mother-instrument by incorporating piano, organ and trumpet. Vancouver tape decayer Ian William Craig plays a role in the project too. You can hear him in the crackling ghosts of "Your Interruption," and in the way "Stars Fall to Flames (Shootout)" disintegrates on re-entry. This is crucial music, and perhaps Diab's most cohesive message to date. An extended love song for the crooked valley made by trough and crest.
De l'ondulation imparfaite de Bryce Warnes:
(Traduit par Jessica Grenier)
La révérence des guitares est au cœur de la vision sonore expansive de C. Diab; c'est une méditation continuelle qui est à la fois pensive, timide et mélancolique. Sur cette troisième transmission, il va au-delà de l'instrument-mère en incorporant piano, orgue et trompette dans son album. L'esthétique de la désintégration du Vancouvérois Ian William Craig est également de la partie. On peut l'entendre dans les crépitements fantomatiques de « Your Interruption » comme dans l'entrée désintégrée de « Stars Fall to Flames (Shootout) ». Cette musique cruciale est probablement l'ensemble le plus cohérent de Diab jusqu'à présent : une longue chanson d'amour pour sa vallée tortueuse, toute de crêtes et de dépressions.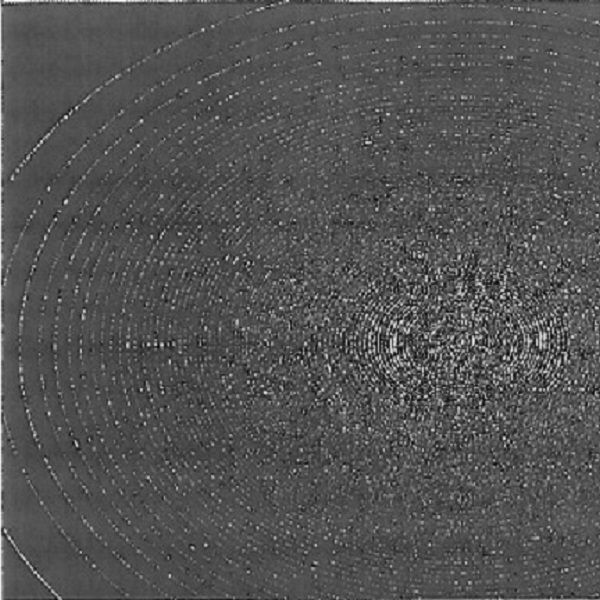 Blakkr Nið
Holy Visions
(Self-Released)
Ottawa , ON
From the empty childhood bedroom of Walker MacDonald:
At some point in time, everyone loses someone they love. Whether it be a relative, friend or partner, everyone will experience this kind of lose eventually. But coincidentally, even though everyone inevitably goes through this, you never really feel what it's like until it happens to you. Blakkr Nið and their collaborators (Missing Organs and King Brude) come the absolute closest to sonically explaining this feeling. Listening to Holy Visions is a very looming and haunting experience, evoking the same emotional responses you might feel after hearing a cancer diagnosis. This is music to bury your grandmother to.
De la chambre d'enfant vide de Walker MacDonald:
(Traduit par Jessica Grenier)
À un moment ou un autre, tout le monde doit surmonter la perte d'un être cher, que ce soit un parent, un ami ou un conjoint. Par contre, même si nous traversons tous cette expérience, il est impossible de savoir ce que l'on ressent avant de l'avoir vécu. Avec cet album, Blakkr Nið et ses collaborateurs, Missing Organs et King Brude, sont presque arrivés à une explication sonore de ce sentiment. L'écoute de Holy Visions est baignée d'une imminence lancinante qui suscite une réaction émotive semblable à celle pouvant être ressentie suite au diagnostic d'un cancer. C'est le genre de musique que l'on mettrait à l'enterrement de notre grand-mère.
Blakkr Nið – Sunn (featuring Missing Organs)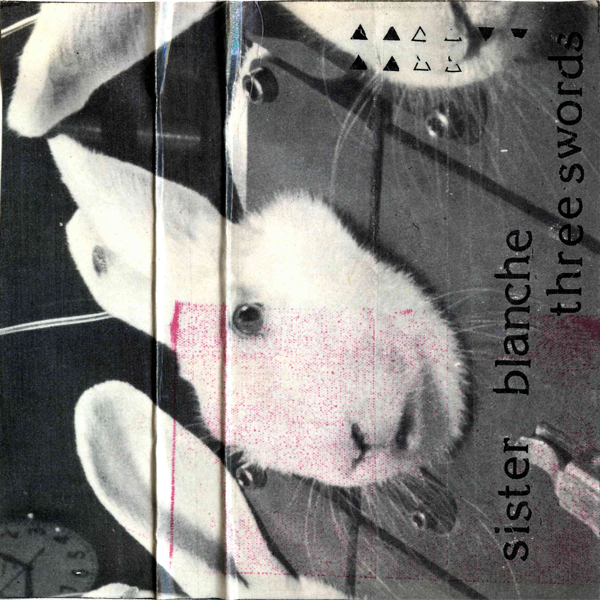 Sister Blanche
Three Swords
(Self Released)
Victoria, BC
From the overgrown backyard of Johnnie Regalado:
With an ear pressed against the wall, the throbbing loops of a neighbour's solo shed session reverberates through insulated plaster and skin. An audible distance makes the heart drone fonder. Tape decay mimics the falling ceiling tiles and peeling paint of our scruddy homes. When this building comes tumbling down, the cassette will be the only treasure worth saving.
De l'arrière-cour négligée de Johnnie Regalado:
(Traduit par la poussière accumulée sur Jessica Grenier)
Les boucles musicales lancinantes de ton voisin qui joue seul dans sa remise se répercutent à travers le plâtre et la peau de ton oreille, collée sur le mur – une distance sonore qui fait s'amouracher du drone. La dégradation de bande rappelle le son des tuiles du plafond s'écrasant par terre, de la peinture s'effritant dans des maisons abandonnées. Cette cassette sera la seule chose méritant d'être sauvée lorsque l'édifice s'effondrera.
Sister Blanche – I'm Also Sorry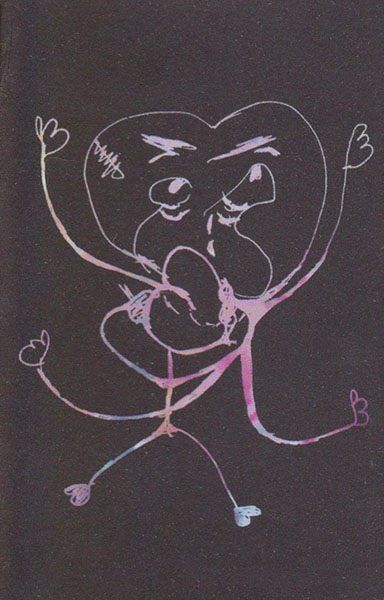 Hazy Montage Mystique
Lullaby Drone For Insomniac People
Montréal, QC
From the shattered lapse of Joshua Robinson:
Soft dreams of inverted balance; silence comes alive as drones of heavy sighs breathe an ambience that is both coloured and prismatic. Churned glimpses of retrofit eupnea: sartor and thread one and the same. Shattered lapse and opaque magic melt to the bottom of their wick as broken patterns of lunar-drawl stretch to meet the end of the earth. Sounds that double as chartered courses into the dim unknown; sounds that enter empty spaces, filling them with the voices of static revenants.
De la déchéance fragmentée de Joshua Robinson:
(Traduit par les oxymores ambulants de Marie-Pier Chevrier)
De doux rêves à l'équilibre inversé, et le silence qui s'anime et qui bourdonne des respirations lourdes d'une ambiance à la fois colorée et prismatique. Des aperçus barattés d'une eupnea: sartor améliorée, le fil unique, l'identique. Déchéance fragmentée et magie opaque fondent jusqu'au bas de leur mèche, pendant que des motifs brisés de coulées lunaires vont se perdent aux extrémités de la terre. Des sons en itinérance cartographiée dans le flou de l'inconnu; des sons qui pénètrent les espaces creux et les remplissent des voix de revenants statiques.
Hazy Montagne Mystique – Lunaire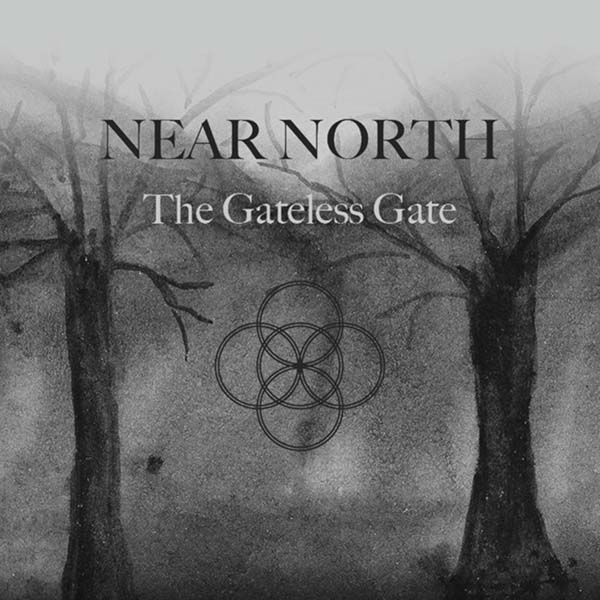 The Gateless Gate
Near North
(Self Released)
North Bay, ON
From the evidenced sounds of Joshua Robinson:
"Quiet". Woolgathering as soft steps struggle to stomach the circuitous decay underfoot. A quiet that doubles as both hum and rattle; tectonic yet remote. Reticence that builds upon itself as so many hours upon the day. This is time lapse caught in situ; the stillness has found mood-form in the vibrance of a tamed chaos. Where the halcyon subsides, we are trapped at the point of denoument and the twirling precipice of soundless collapse. In these faults we find effulgent absence; in absentia we find pieces abridged.
Des sons justifiés de Joshua Robinson:
(Traduit par Jessica Grenier)
« Silence ». Rêvasser en marchant doucement, chaque pas s'efforçant d'assimiler le déclin tortueux du sol. Un silence qui est tant cliquetis que fredonnement, tectonique mais éloigné. Une réticence qui se construit sur elle-même, comme les heures sur le jour. C'est un laps de temps figé in situ, la fixité ayant trouvé sa forme-émotion dans la vibrance d'un chaos dompté. Là où le beau se retire, nous sommes prisonniers du point de dénouement, du précipice tourbillonnant d'un effondrement silencieux. Dans ces erreurs nous trouvons une absence éclatante; in absentia, des pièces abrégées.

The Gateless Gate – Our Forest Walk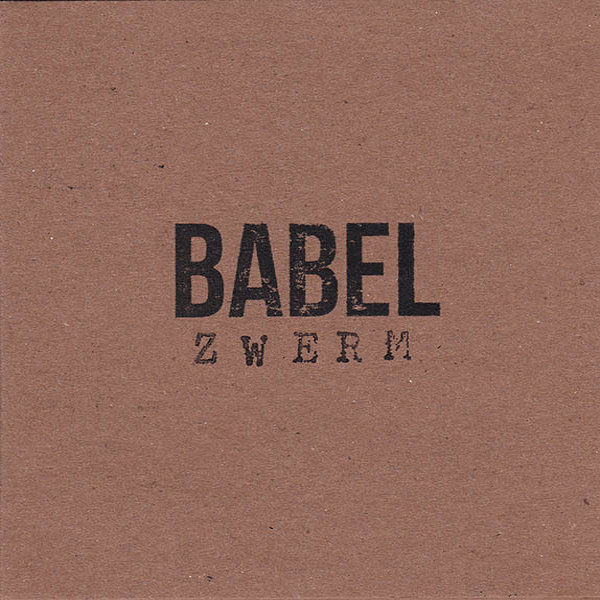 From the improvised plan of Josh Silver:
There are no straight edges on Jupiter. Rhythm is broken into curving arabesques, resonating concentric circles into the cosmic void. Singular sounds interact over fluid ostinatoes – receding into background radiation in a prepared experiment. The instrument is bent into the music, layered and moulded through physical and ethereal alteration. The listener ascends into a frenzy of interplanetary messages emanating from a distance.
Du plan improvisé de Josh Silver:
(Traduit par Jessica Grenier)
Il n'y a aucune ligne droite sur Jupiter. Le rythme se brise en arabesques, résonnant en cercles concentriques vers le vide cosmique. Les sons isolés interagissent sur de fluides ostinatos, l'expérience préméditée les réduisant à des radiations d'arrière-plan. L'instrument est courbé vers la musique; étagé puis moulé par des transformations physiques et éthérées. L'auditeur s'élève vers une frénésie de messages interplanétaires émanant du lointain.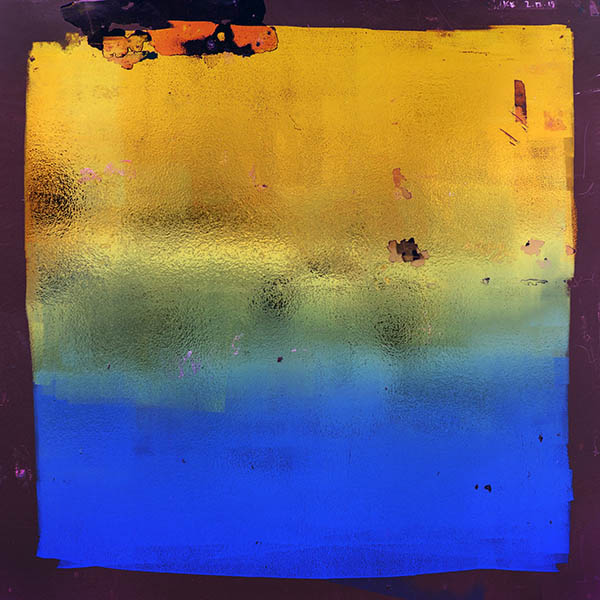 Ian William Craig
A Turn of Breath
Vancouver, BC
Du fatum élégiaque de Benoit Arcand:
Paysage dans la brume, les débris d'humanité révèlent un monde désenchanté. Nous ne sommes pas ici dans l'ornière du cliché post-apocalyptique, mais dans l'orbe de l'authentique révélation, sybilline et obvie. Le drone anthume de A Turn of Breath vous dépouille de toute ironie, de toute frivolité. En bon émule de la décadence, vous prenez ensuite place dans le char d'Hermès et montez à l'assaut de l'ineffable, muraille qui se donne à qui sait entendre. Alors vous verrez. Des ruines sans désespérance. La dignité dans le chaos. La grâce dans la voix humaine. La foi au bout du souffle.
From the elegiac fatum Benoit Arcand:
(Translated by L. Langille)
A landscape in mist, humanity's debris reveals a disenchanted world. We're not here in the ordinary post-apocalyptic cliché, rather we're in the sphere of authentic revelation, symbiotic, in the met-and-done-away-with. The authentic drone of A Turn of Breath strips you of all irony and friviolity. A good disciple of decadence, you then take the place on Hermes' throne and mount the height of ineffability, a wall which gives to those who know how to listen. Then you see. Ruins without despair. Dignity in chaos. Grace of the human voice. Faith at the end of a breath.

Ian William Craig – One the Reach of Explanations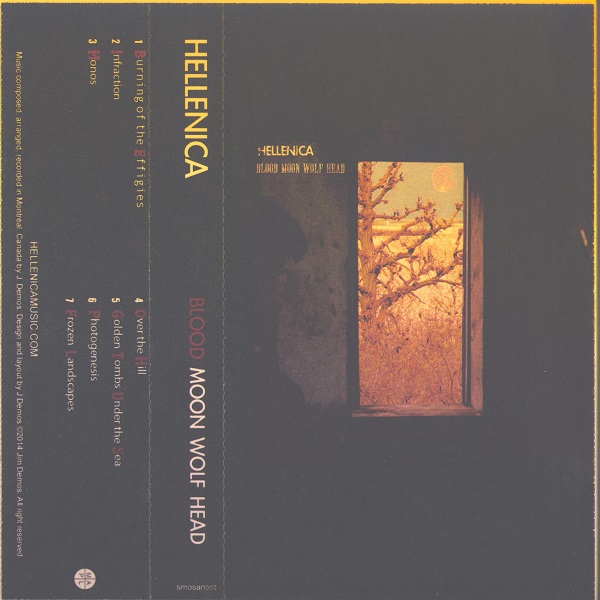 Hellencia
Blood Moon Wolf Head
(Self-Released)
Montreal, QC
From the banks of Eva Jane:
A soundtrack for the dreams of space and time. The tracks off Blood Moon Wolf Head take you from overlooking our water based planet to the very beginning, where there would be no better way to listen to these translucent, reverie inducing sounds than in the cave you call your home. Hellenica stitch together a soundscape through an unremitting spell of time, saying Howdy! to the 21st century.
Des rives d'Eva Jane:
(Traduit par Jessica Grenier)
Une trame sonore pour des rêves d'espace et de temps : les pistes de Blood Moon Wolf Head t'emmènent en survolant notre planète à base d'eau jusqu'au tout début; et il n'y aurait pas de meilleur endroit pour écouter ces sons translucides invitant à la rêverie que la grotte où tu habites. Hellenica raccommode un paysage sonore par un envoûtement temporel incessant; un salut au 21e siècle.

Hellenica – Burning of the Effigies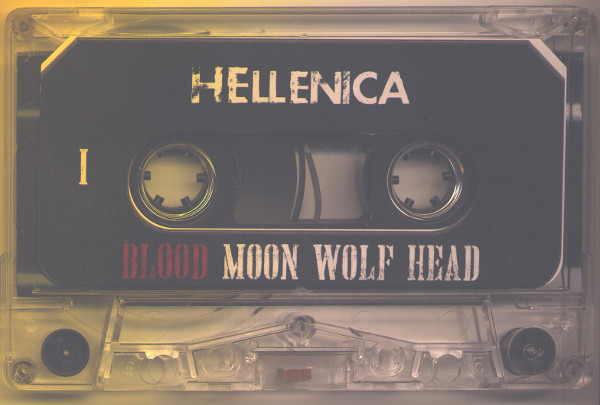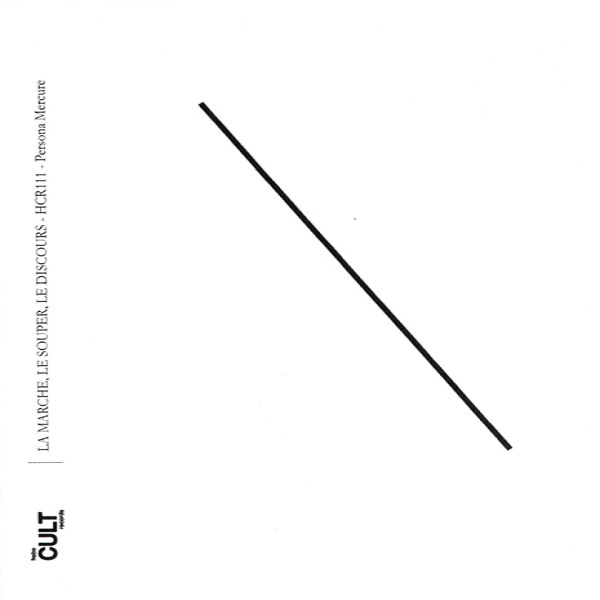 Persona Mercure
La Marche, Le Discours, Le Souper
Montreal, QC
From the sonic singularity of Johnnie Regalado:
The stark beauty of this drone is matched only by the elegant simplicity of the artwork. Three tracks that gravitate around the black holes of our mind; music made for a rendezvous where everything happens in threes. The trio of tone rings the full alert, whispers 'walk calmly towards the nearest exit' and lays out a feast amongst the infinitesimal screaming silence of space.
De la singularité sonore de Johnnie Regalado:
(Traduit par Jessica Grenier)
La beauté saisissante de ce drone n'est égalée que par la simple élégance de l'illustration. Les trois pistes gravitent autour du trou noir de nos esprits; une musique faite pour des rendez-vous où tout arrive par trois. Le trio tonal fait sonner l'alerte, murmurant de « marcher calmement vers la sortie la plus près » en exposant un festin parmi les minuscules silences criants de l'espace.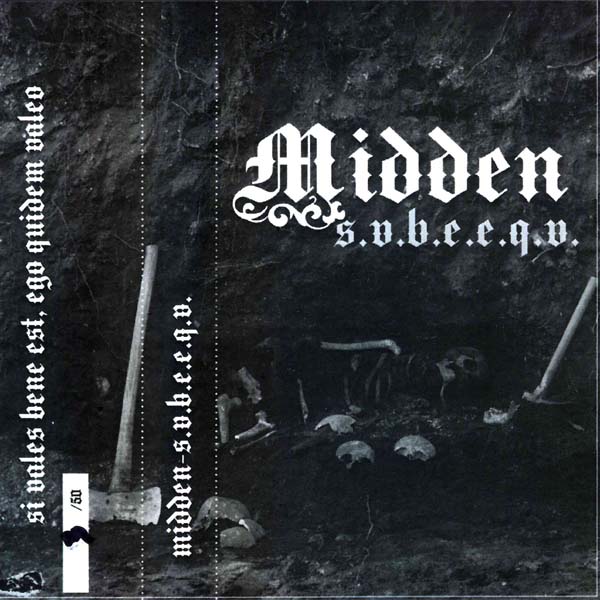 Midden
SVBEEQV
(Self Released)
Vancouver, BC
From the audible half life of Johnnie Regalado:
The crying decay of the things that leave us behind. The slow bellowing rot of excess need. An audible half-life oscillating around our physical existence. The immortal pulse of memory. Hold a relic of someone long gone against your ear and hear their message: If you're well, then I'm well too.
De la moitié audible de la demi-vie de Johnnie Regalado:
(Traduit par Joel Mak)
Des choses qui nous abandonnent et nous oublient se décomposent en pleurant. Le mugissement lent de la pourriture des besoins excessifs. Une demi-vie audible oscille autour de notre existence matérielle. Le pouls immortel de la mémoire. Tenez une relique de quelqu'un qui est révolu depuis longtemps à votre oreille et écoutez ce qu'il a à dire: Si vous allez bien, moi je vais bien aussi.
---