Tag: drone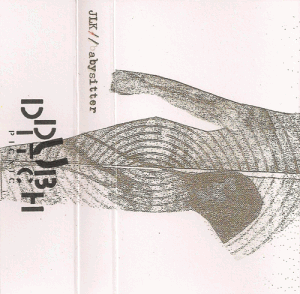 JLK & Babysitter
c30
Montreal, QC & Victoria, BC

Some more prime-ass outer limits holler courtesy of the fine folks at Winnipeg's
Dub Ditch Picnic
. The product of a healthy jam between Montreal's
JLK
and Victoria's
Babysitter
, this tweaker's moan sounds like they decided to do some straight up cover of Lynch's
Eraserhead soundtrack
, recorded inside of the chassis of some burnt out Greyhound bus. Not for the faint of heart or ear. Of these three tracks of lurker's compensation, this scribe's favourite has gotta be the last one, "Wanderings", a very apt description of what goes down. Is this blues? Yes it is, a very special and lonesome kind of blues. Sorta sounds like what it would be like to be a toddler and watch your favourite stuffed animal slowly light itself on fire. You've been warned…
Audio clip: Adobe Flash Player (version 9 or above) is required to play this audio clip. Download the latest version here. You also need to have JavaScript enabled in your browser.
Audio clip: Adobe Flash Player (version 9 or above) is required to play this audio clip. Download the latest version here. You also need to have JavaScript enabled in your browser.
Various Artists
PIXXX3
Asterisk, Canada

Following a sacral network of
obscure contours
to somewhere in the middle of Calgary and Vancouver (perhaps in some rune-filled terminus), the members of
USSR
congregate and document themselves.
PIXXX3
finds them frozen like statues buried under the ash of some great Pompeii, caught unawares in the midst of some unknown millenarian liturgy, their ritualized poses interlocking through unknown
geometries
towards a transcendental logic.
Hobo Cubes
' bubbling opening overlooks an abyss of tenebrous depths and sonorous chambers, explored by the voices of Aaron Sereda and Josh Fraser. Burro's pall of desert dissonance collapses into Mongst's expansive drone. Country and Western offers Teutonic excursions while Cadillac Spring blasts damaged acrid folk. Everything fits. Highly recommended: listen to the whole thing
here
.
Audio clip: Adobe Flash Player (version 9 or above) is required to play this audio clip. Download the latest version here. You also need to have JavaScript enabled in your browser.
Audio clip: Adobe Flash Player (version 9 or above) is required to play this audio clip. Download the latest version here. You also need to have JavaScript enabled in your browser.
Audio clip: Adobe Flash Player (version 9 or above) is required to play this audio clip. Download the latest version here. You also need to have JavaScript enabled in your browser.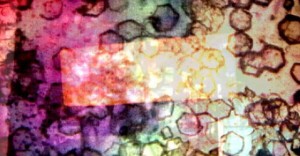 Hey Mother Death
Desert of Trees and Water
[Director: Heather Rappard]
Halifax, NS

Sustaining the séance of their debut cassette, spectre-beat duo
Hey Mother Death
find Gondry/Björkian symmetry with chromatic visionary
Heather Rappard
. These ghostly exposures link up so perfectly with the spellbinding whispers, scorched guitars and splintered trip-hop that it's difficult to imagine one without the other. This one screams Serious Art from start to finish, with nary an
ironic wink
in sight.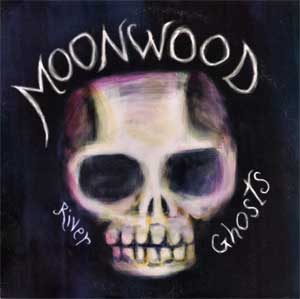 Moonwood
River Ghosts
Etobicoke, ON

Borne on the fever dreams of aquatic explorers, Moonwood journey fringeward through the fourth underworld. Their mesmerizing pursuit of exotic minimalism is
peppered
with gourd flutes, lap harps and
ekatantari
to give their forlorn excursions final entry within nature's infinite drone. Music for water borne disease, indeed. Clear-blue vinyl for the pure of grip.
Audio clip: Adobe Flash Player (version 9 or above) is required to play this audio clip. Download the latest version here. You also need to have JavaScript enabled in your browser.
Moonwood – Drawing Water From a Poisoned Well
Audio clip: Adobe Flash Player (version 9 or above) is required to play this audio clip. Download the latest version here. You also need to have JavaScript enabled in your browser.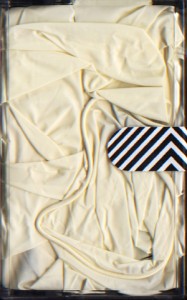 Escapists
HPPD Island
Montreal, QC
::web/sounds::

Swaddling their inaugural cassette in a surgical glove cocoon, Montreal's newest modular synth and electronics power duo scramble brains like
Ramsay does eggs
. The inspired mind-meld of Frank "Hobo" De Gallo and Jesse "
Meat Parade
" Osborne-Lanthier oozes from ear to ear with effervescent washes, high-pitched squeaks and interplanetary gabber in a post-space-rave chillout room. The
totemic objects
encased within offer a time capsule from the year
2046
. O.R. They?
Audio clip: Adobe Flash Player (version 9 or above) is required to play this audio clip. Download the latest version here. You also need to have JavaScript enabled in your browser.
Escapists – Ergoline Sky (excerpt)
Audio clip: Adobe Flash Player (version 9 or above) is required to play this audio clip. Download the latest version here. You also need to have JavaScript enabled in your browser.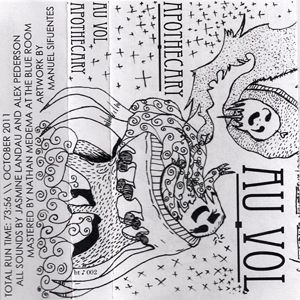 Au Vol
Apothecary
(Self Released)
Thunder Bay, ON // Ottawa, ON

Canada's cantankerous centrifuge (read: Thunder Bay) births
another
industrial mammoth. Rolling in throws of topological warble and droning magnificence, Au Vol soaks the diligent mind in patterns of pseudorandom bliss.
Apothecary
is not without its minimal ambience, bringing a truer vision into the audio dialog coursing through the Canadian Shield.
Audio clip: Adobe Flash Player (version 9 or above) is required to play this audio clip. Download the latest version here. You also need to have JavaScript enabled in your browser.
Audio clip: Adobe Flash Player (version 9 or above) is required to play this audio clip. Download the latest version here. You also need to have JavaScript enabled in your browser.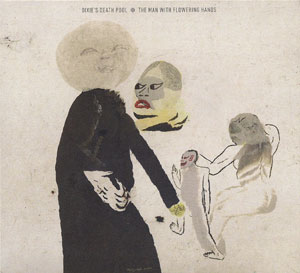 Dixie's Death Pool
The Man With Flowering Hands
Vancouver, BC

Shuffling and smiling through a moon-hung
Ren. Faire
when the dandelion wine has kicked in for the minstrels, electroacoustic jazzbo Lee Hutzulak dips into that
crazy river
. Tucked underneath his faded poncho, the twinkle-eyed lifeguard of Dixie's Death Pool unleashes a squadron of
steam punk arachnids
to undertake his mystical bidding.
Rev
up your electric flute, grab a Mackie Blackjack and get jiggy.
Audio clip: Adobe Flash Player (version 9 or above) is required to play this audio clip. Download the latest version here. You also need to have JavaScript enabled in your browser.
Dixie's Death Pool – Paper That Folds Itself
Audio clip: Adobe Flash Player (version 9 or above) is required to play this audio clip. Download the latest version here. You also need to have JavaScript enabled in your browser.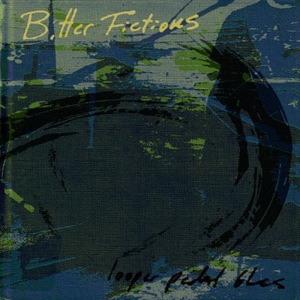 Bitter Fictions
Looper Pedal Blues
(This Is Shaking Box Music)
Calgary, AB

Revelling in the unabashed pleasures of record collection rock, alt-weekly barnstormer and vinyl slinging stalwart Devin Friesen has hit a stride with his effects-laden
solo flight
.
Looper Pedal Blues
is one of two new cassettes from Friesen's own
Gerogerigegege-inspired
imprint, pairing epic instrumental fuzz-outs and guitar-damaged confessionals abuzz with
post-SY
hookery. We love the jams and the jams run free.
Audio clip: Adobe Flash Player (version 9 or above) is required to play this audio clip. Download the latest version here. You also need to have JavaScript enabled in your browser.
Bitter Fictions – Nervous Stranger
Audio clip: Adobe Flash Player (version 9 or above) is required to play this audio clip. Download the latest version here. You also need to have JavaScript enabled in your browser.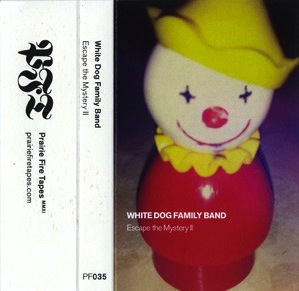 White Dog Family Band
Escape the Mystery II
Winnipeg, MB

Chris Jaax, the patriarch of
Winnipeg's noise scene
, is also the patriarch of the White Dog Family Band. More motorik than mere mortals, his eight-year-old munchkin Magnus meanly rocks the mic, mocking music as you know it. You'll be thrust headfirst into
hypnotheraphy
through this cassette, the final White Dog release and one of his easiest on the ears. Obey the mountainous composition and its
ganja man
"de-mix" version on the flip to escape all mysterious matter into hyper-awareness of the meaningful mendacity of your senses. White Dog, what is your secret?
Audio clip: Adobe Flash Player (version 9 or above) is required to play this audio clip. Download the latest version here. You also need to have JavaScript enabled in your browser.
White Dog Family Band – Escape The Mystery II Pt. 1
Audio clip: Adobe Flash Player (version 9 or above) is required to play this audio clip. Download the latest version here. You also need to have JavaScript enabled in your browser.
White Dog Family Band – Escape The Mystery II (Version) Pt. 1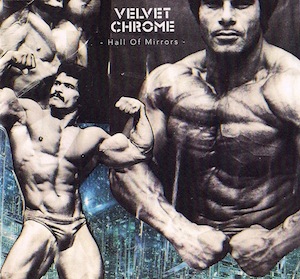 Velvet Chrome
Hall of Mirrors
Montreal, QC

Just in time for
tour
, Frank Hobo and the infamous guitar shredder JLK drop this CD (remember those?) of haunted ramblings down the dustbowl backroads. As Velvet Chrome, the power couple combines sensibilities to create a toxic concoction of
No Wave skree
and ugly Americana laced with hits from the
cosmic blotter
. Though the majority of these workouts are propelled by primitive drum beats and detuned six-string strategies, seven-minute drifter "Glass Maze" is a primarily vocal-based drone, and closer "Miles Away" is one of the most beautiful pieces of Motorik bliss this side of Neu! 75. A merch table must.
Audio clip: Adobe Flash Player (version 9 or above) is required to play this audio clip. Download the latest version here. You also need to have JavaScript enabled in your browser.
Audio clip: Adobe Flash Player (version 9 or above) is required to play this audio clip. Download the latest version here. You also need to have JavaScript enabled in your browser.
---