Tag: drone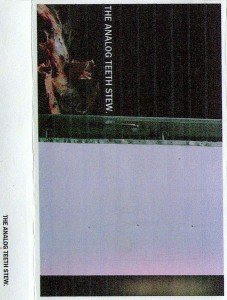 The Analog Teeth Stew
The Analog Teeth Stew
Hull, QC
From the turbulent currents of Trevor Blumas:
There must be something in the water in Hull these days. The Analog Teeth Stew is yet another project spewing forth from the turbulent currents of the Ottawa river, bringing with them a certain sci-fi bleakness: a Tarkovsky-esque take on the genre, if Tarkovsky was rendered incapacitated and instead forced to direct from inside the chamber of an iron lung. Recorded using mostly analog instruments, the result is something like an android with a human heart trying to envision Bel Geddes' Futurama with an apocalyptic, algorithmic mind incapable of imagining a tomorrow. As such, the future seems to end here: in a entangled orgy of circuitry and electromagnetic drone. Think Sunn O))) meets these guys, if their programmer were to mysteriously die and leave them to their own devices.
Des courants tumultueux de Trevor Blumas Trevor Blumas:
(Traduit par le court-circuit d'Andréanne Dion)
Il doit y avoir quelque chose dans l'eau à Hull ces temps-ci. The Analog Teeth Stew est le plus récent projet à émerger des courants tumultueux de la Rivière des Outaouais, amenant avec eux une désolation propre à la science-fiction : une approche du genre digne de Tarkovsky , si Tarkovsky devenait invalide et était forcé de travailler depuis l'intérieur d'un poumon d'acier. Enregistré en utilisant principalement des instruments analogiques, l'album qui résulte est un peu comme un androïde doté d'un cœur humain, qui tente d'imaginer l'exposition Futurama de Bel Gedde avec un esprit apocalyptique et algorithmique incapable de concevoir un futur. En soi, le futur semble s'arrêter ici, dans une orgie entremêlée de circuits et de bourdonnements électromagnétiques. Pensez à un mélange entre Sunn O))) et ce groupe, si leur programmeur mourrait dans des circonstances mystérieuses et qu'ils devaient se débrouiller seuls.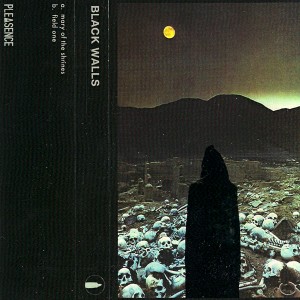 Black Walls
Mary of the Shrines
Etobicoke, ON
From the sparse breaths of Javier Fuentes:
Black Walls' epic Mary of the Shrines unwinds like a journey into a deep-sea cave, pushing further into the darkness with each movement. Monolithic guitar squalls ring out as voices from past travellers tell their tales. The drone thins out into sparse breaths as b-side "Field One" descends to the open air and towards the heavens. A communion of spirits awaits…
Des souffles épars de Javier Fuentes:
(Traduit par Claudine Maclure)
Mary of the Shrines se déroule comme un voyage dans une grotte sous-marine profonde, plongeant plus loin dans les ténèbres à chaque mouvement. Les bourrasques de guitares monolithiques résonnent, alors que les voix de voyageurs disparus racontent leurs histoires. Le bourdonnement s'amincit en souffles épars au moment où "Field One", la face B, descend à l'air libre, puis vers les cieux. Une communion d'esprits vous attend!
Black Walls – Mary of the Shrines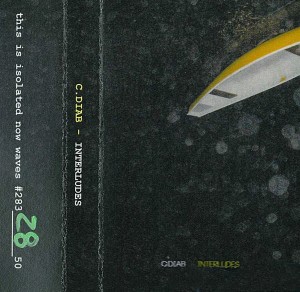 C.Diab
Interludes
Vancouver, BC
From the tectonic slow-dance of Bryce Warnes:
These petrichoral arrangements moan and stutter and sing, summoning Cascadia in dripping canopies and tectonic slow-dance. Working primarily with bowed guitar, C.Diab deposits tones in layers, building sedimentary dronescapes, wistful core samples of moments and moods gone by. Split into four parts, "In Seven" is a rainy improvisation featuring Colby Sparks and Nam Shub jam-mate Bill Young, weaving a thread through the album and wrapping the whole in an unsettling, ritual atmosphere. Starting off side B, "The Valley and Its Night" brings it all back home with beachfire-warm fingerpicking. Interludes is a limited-run, must-grip deep listening experience for the innerspace wayfarer.
Du slow tectonique de Bryce Warnes:
(Traduit du stylo grinçant de Dominic Mpilé)
Cet album, telle une odeur plaisante des premières pluies, est grinçant, saccadé et bourdonnant. Il lance un appel à la Cascadie par des sons qui simulent des auvents qui gouttent et des slows tectoniques. Jouant principalement de la guitare frottée, C.Diab empile les tons et produit une ambiance de drone sédimentaire, de carottage mélancolique qui laisse passer le temps et les états d'âme. Scindé en quatre parties, "In Seven" est une pluie d'improvisations, dont la collaboration de Colby Sparks et de Bill Young, compagnon de jam de Nam Shub, permet d'enfiler son style à travers l'album et d'envelopper le tout dans une atmosphère troublante et rituelle. Depuis la face B, "The Valley and Its Night" nous ramène aux sources, grattant de la guitare sur la plage, près d'un feu de camp. Interludes, sorti en quantité limitée, est une expérience saisissante et profonde pour les voyageurs intérieurs.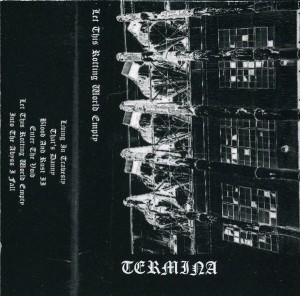 Termina
Let This Rotting World Empty
Montréal, QC
From the ominous urge of James Lindsay:
This minimal, mechanized noise sounds like a field recording from an abandoned warehouse where a cold wind howls through its ribs. Inside, a single microphone amongst rotting VHS tapes captures the band playing at half-speed when no one's around. Hidden behind all this grave decay is a melodic drone that does much of the work, going about its job like an emotionally dead surgeon, clinically augmenting an ominous urge. Another mysterious and limited (30 copies!) release by Magic Mother, who seem to have made it their mission to exclusively offer up music that sounds like the bleakest winter. (Termina now perform under the name La Naegleria)
Du désir irrépressible de James Lindsay:
(Traduit par Joannie Pharand)
Minime et mécanisé, ce bruit sonne comme un enregistrement fait sur le terrain d'un entrepôt abandonné où hurle, à travers les tripes de la structure, un vent froid. À l'intérieur, un seul micro parmi des cassettes VHS avariées capte le groupe jouant leur musique au ralenti lorsqu'il n'y a personne sur les lieux. Derrière tout cet imposant pourrissement se cache un ronronnement mélodieux s'occupant d'une partie du travail, s'attardant à la besogne comme un chirurgien sans émotion et faisant cliniquement accroître un désir irrépressible. C'est une autre édition limitée (30 copies!) et mystérieuse de Magic Mother, qui semble avoir pour mission d'offrir exclusivement de la musique qui sonne comme l'hiver le plus sombre. (Termina est maintenant connu sous le nom de La Naegleria)
Termina – Let This Rotting World Empty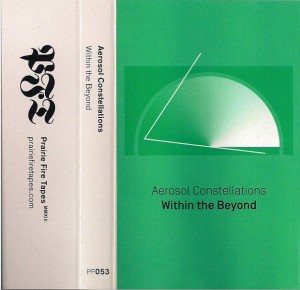 Aerosol Constellations
Within the Beyond
Vancouver, BC
From the star child of Kevin Hainey:
I remember the first time I saw some wax and homemade CD-Rs by Aerosol Constellations in the Shearing Pinx merch zone five or six years ago. I knew they were a band for me. I didn't even have to hear the music. My mind began to bubble with cosmic sprays, star clusters and gamma light. A splinter project from J.V. Dub of the aforementioned Pinx and Bill Batt of Stamina Mantis, Aeorosol Constellations are hitting the road with their atmospheric mix of post-rock dynamism and restraint, so look out for them to be touching down in your town soon enough. In the meantime, get online and grip this highly limited tape as soon as you possibly can. It's a space race to the outer limits, and your mind is the finish line.
Du fils des étoiles de Kevin Hainey:
(Traduit par le rêve étoilé de Dominic Mpilé)
Je me souviens, il y a cinq ou six ans, de la première fois que j'ai vu des vinyles et des CD-R autoproduits par Aerosol Constellations sur la table de marchandises de Shearing Pinx. J'ai tout de suite su que j'aimerais ce groupe, je n'avais même pas à écouter leur musique. Mon cerveau s'est mis à bouillonner, j'avais l'impression de voir des effluves cosmiques, des groupes d'étoiles et des rayons gamma. J'ai donc acheté le CD-R, et comme de fait, je l'ai assez aimé pour l'avoir encore aujourd'hui, ce qui n'est pas peu dire. Projet mis en place par J. V. Dub de Shearing Pinx et Bill Batt de Stamina Mantis, Aeorosol Constellations partent à l'aventure avec un mélange atmosphérique de post-rock énergique et modéré. Écoutez-les pour être emporté par l'ouragan qui arrive. Entretemps, procurez-vous en ligne cette cassette en édition limitée le plus tôt possible. C'est une course dans l'espace qui vous conduira jusqu'aux limites extrêmes, et votre cerveau est le point d'arrivée.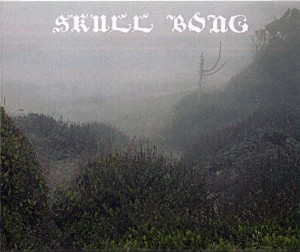 Skull Bong
Positive Infinity
(Inyrdisk)
Toronto, ON
From the gauze and effect of James Lindsay:
Elusive and mysterious in sound, Skull Bong filters a blast furnace through hazy codeine gauze that prevents the pleasurable headache from becoming unmanageable. Never so harsh, there is little aggression in this atmosphere. A warm, organic quality tenderly controls the swelling to a natural minimalism, incorporating the occasional instrument or clinking bottle to remind us that we're still here, lost in the forest. This is coming from a similar state of mind as Six Heads' improv collage that climbs like vines. This is morning music for the swarms of insects that make their home by the side of the highway.
De la gaze imbibée de James Lindsay:
(Traduit par la généreuse prescription de Nicolas Coutlée)
Soniquement insaisissable et mystérieux, Skull Bong filtre un haut-fourneau au travers un voile vaporeux de codéine qui empêche le plaisant mal de tête de devenir insoutenable. Jamais aussi corrosif, à peu près rien n'agresse dans cette atmosphère. Une sensation chaude, organique maintient tendrement le gonflement à un minimalisme naturel, incorporant un instrument occasionnel ou un tintement de bouteille pour nous rappeler que nous sommes toujours là, perdus dans la forêt. Tout cela émerge d'un état d'esprit similaire au collage improvisé de Six Heads qui grimpe comme les vignes. De la musique matinale pour les essaims d'insectes qui trouvent domicile au bord de l'autoroute.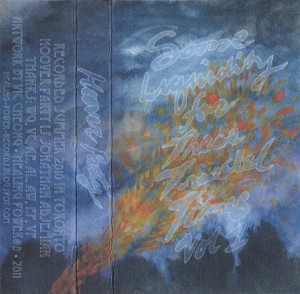 Hoover Party
Some Liquidity for these Troubled Times
Toronto, ON
From the open eye of Christopher Laramee:
Jonathan Adjemian's name is a new one to me. Once a member of Jon Rae and the River and laying down organ stabs in $100, the Torontonian lights out for the hinterlands on this synth-based tape that groans its way to Nirvana in the most pleasurable of fashions. The nine untitled tracks here unfurl themselves at a languid pace that recalls Eno-era Harold Budd, in addition to spiky concrete-esque filter workouts that dissolve into heavy machine babble conversations. Equally able to soundtrack an IBM corporate seminar or those midnight mini-movies of the mind, Jonathan hits all the right chords on this one. Hit up the folks at Healing Power for a copy, 'cause they gonna go quick.
De l'oeil ouvert de Christopher Laramee:
(Retracé par Vincent Rondeau)
Je ne connaissais pas Jonathan Adjemian, ancien membre de Jon Rae and the River et organiste sans merci de $100, mais sur cette cassette, le Torontois s'enfuit dans l'arrière-pays et atteint le nirvâna par vagues de synthétiseurs plaintifs. Ces neuf pièces sans titre se déploient langoureusement, rappelant les collaborations de Brian Eno et Harold Budd, en alternance avec des exercices de filtrage plus concrets et acerbes qui se dissoudent en conversations mécaniques. Aussi apte à accompagner un séminaire corporatif d'IBM que les rêveries intérieures de minuit, la performance de Jonathan est exemplaire. Procurez-vous l'album dès maintenant chez Healing Power.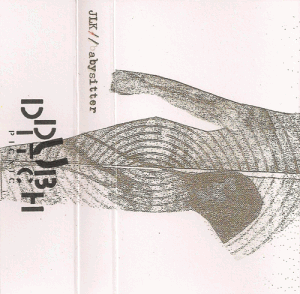 JLK & Babysitter
c30
Montreal, QC & Victoria, BC

Some more prime-ass outer limits holler courtesy of the fine folks at Winnipeg's
Dub Ditch Picnic
. The product of a healthy jam between Montreal's
JLK
and Victoria's
Babysitter
, this tweaker's moan sounds like they decided to do some straight up cover of Lynch's
Eraserhead soundtrack
, recorded inside of the chassis of some burnt out Greyhound bus. Not for the faint of heart or ear. Of these three tracks of lurker's compensation, this scribe's favourite has gotta be the last one, "Wanderings", a very apt description of what goes down. Is this blues? Yes it is, a very special and lonesome kind of blues. Sorta sounds like what it would be like to be a toddler and watch your favourite stuffed animal slowly light itself on fire. You've been warned…
Audio clip: Adobe Flash Player (version 9 or above) is required to play this audio clip. Download the latest version here. You also need to have JavaScript enabled in your browser.
Audio clip: Adobe Flash Player (version 9 or above) is required to play this audio clip. Download the latest version here. You also need to have JavaScript enabled in your browser.
Various Artists
PIXXX3
Asterisk, Canada

Following a sacral network of
obscure contours
to somewhere in the middle of Calgary and Vancouver (perhaps in some rune-filled terminus), the members of
USSR
congregate and document themselves.
PIXXX3
finds them frozen like statues buried under the ash of some great Pompeii, caught unawares in the midst of some unknown millenarian liturgy, their ritualized poses interlocking through unknown
geometries
towards a transcendental logic.
Hobo Cubes
' bubbling opening overlooks an abyss of tenebrous depths and sonorous chambers, explored by the voices of Aaron Sereda and Josh Fraser. Burro's pall of desert dissonance collapses into Mongst's expansive drone. Country and Western offers Teutonic excursions while Cadillac Spring blasts damaged acrid folk. Everything fits. Highly recommended: listen to the whole thing
here
.
Audio clip: Adobe Flash Player (version 9 or above) is required to play this audio clip. Download the latest version here. You also need to have JavaScript enabled in your browser.
Audio clip: Adobe Flash Player (version 9 or above) is required to play this audio clip. Download the latest version here. You also need to have JavaScript enabled in your browser.
Audio clip: Adobe Flash Player (version 9 or above) is required to play this audio clip. Download the latest version here. You also need to have JavaScript enabled in your browser.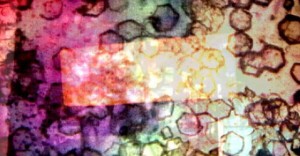 Hey Mother Death
Desert of Trees and Water
[Director: Heather Rappard]
Halifax, NS

Sustaining the séance of their debut cassette, spectre-beat duo
Hey Mother Death
find Gondry/Björkian symmetry with chromatic visionary
Heather Rappard
. These ghostly exposures link up so perfectly with the spellbinding whispers, scorched guitars and splintered trip-hop that it's difficult to imagine one without the other. This one screams Serious Art from start to finish, with nary an
ironic wink
in sight.
---