Tag: drone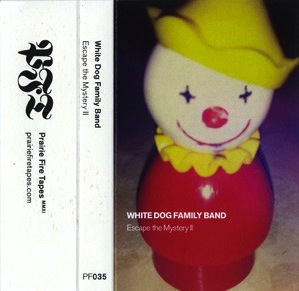 White Dog Family Band
Escape the Mystery II
Winnipeg, MB

Chris Jaax, the patriarch of
Winnipeg's noise scene
, is also the patriarch of the White Dog Family Band. More motorik than mere mortals, his eight-year-old munchkin Magnus meanly rocks the mic, mocking music as you know it. You'll be thrust headfirst into
hypnotheraphy
through this cassette, the final White Dog release and one of his easiest on the ears. Obey the mountainous composition and its
ganja man
"de-mix" version on the flip to escape all mysterious matter into hyper-awareness of the meaningful mendacity of your senses. White Dog, what is your secret?
Audio clip: Adobe Flash Player (version 9 or above) is required to play this audio clip. Download the latest version here. You also need to have JavaScript enabled in your browser.
White Dog Family Band – Escape The Mystery II Pt. 1
Audio clip: Adobe Flash Player (version 9 or above) is required to play this audio clip. Download the latest version here. You also need to have JavaScript enabled in your browser.
White Dog Family Band – Escape The Mystery II (Version) Pt. 1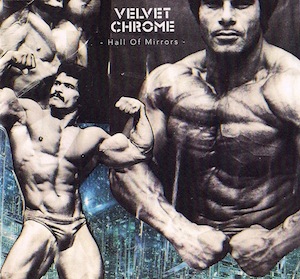 Velvet Chrome
Hall of Mirrors
Montreal, QC

Just in time for
tour
, Frank Hobo and the infamous guitar shredder JLK drop this CD (remember those?) of haunted ramblings down the dustbowl backroads. As Velvet Chrome, the power couple combines sensibilities to create a toxic concoction of
No Wave skree
and ugly Americana laced with hits from the
cosmic blotter
. Though the majority of these workouts are propelled by primitive drum beats and detuned six-string strategies, seven-minute drifter "Glass Maze" is a primarily vocal-based drone, and closer "Miles Away" is one of the most beautiful pieces of Motorik bliss this side of Neu! 75. A merch table must.
Audio clip: Adobe Flash Player (version 9 or above) is required to play this audio clip. Download the latest version here. You also need to have JavaScript enabled in your browser.
Audio clip: Adobe Flash Player (version 9 or above) is required to play this audio clip. Download the latest version here. You also need to have JavaScript enabled in your browser.


From the cult of Aaron Levin:
In the valley between post-apocalyptic nihilism and ritual suicide resides a devastating sonic philosophy bred for mental undoing. Push the needle into AHNA's polyvinyl debut and let this doomic celebration course through your mental veins. As the threads of fybre binding your consciousness burn away, AHNA's desolate bellowing will forge new paths within the fermented entrails of your guttural chaos. Sip the froth of your own undoing and relinquish AHNA's morose gin. \m/GRIP\m/
Audio clip: Adobe Flash Player (version 9 or above) is required to play this audio clip. Download the latest version here. You also need to have JavaScript enabled in your browser.
Audio clip: Adobe Flash Player (version 9 or above) is required to play this audio clip. Download the latest version here. You also need to have JavaScript enabled in your browser.


From the genital fusion of Aaron Levin:
Kamira sees Mongst traversing the dualic streams of Glassian multi-part ambience and melanic guitar exertion; both avenues percolating his soundscape with dialectical conviction. Let the hypnotic minimalia of "Or Does It Explode" take your mind through a 12 minute trip into ancient ambient pastures, climaxing with a heavy dose of tranquil string dronage. The whole passage seems serene when compared to "The Riverboard Caroline"'s avant-occult shreddery, and thankfully the contradictions don't stop there. A brilliant strip of experimentalia from one of Vancouver's finest.
Audio clip: Adobe Flash Player (version 9 or above) is required to play this audio clip. Download the latest version here. You also need to have JavaScript enabled in your browser.
Audio clip: Adobe Flash Player (version 9 or above) is required to play this audio clip. Download the latest version here. You also need to have JavaScript enabled in your browser.


From the dogless white of Jesse Locke:
Barking at the moon from the heart of middle Canada, White Dog's Chris Jacques doubles as the co-founder of Prairie Fire Tapes and its off branch Dub Ditch Picnic. This four-song c30 is the latest ear-clot from his ambient/drone project, and finds Jacques in a meditative mood while maintaining trademark murk. Following three storm and stress instrumental creepers, the clear culmination is closer "A Forest". Here, haunted vocal samples sink into plaintive acoustic plucks, mystical wind chimes and ominous horror movie hums for a spirit animal ceremony that's both mesmerizing and mysterious.
Audio clip: Adobe Flash Player (version 9 or above) is required to play this audio clip. Download the latest version here. You also need to have JavaScript enabled in your browser.
White Dog – A Forest [excerpt]
Audio clip: Adobe Flash Player (version 9 or above) is required to play this audio clip. Download the latest version here. You also need to have JavaScript enabled in your browser.


From the misty fire of Aaron Levin:
Winnipeg's Prairie Fire boldly capture Solars' dronic embers on this fantastic voyage within the sublime realms of electronic nullism. Delicate, aquatic guitars hover above the pulsing washes of Mist's b-side, while "solder + sons" drills deep within our cosmic electrolytes. Stay for the full ride and bring your mind to pure psychic parity. Both tracks were recored live.
Audio clip: Adobe Flash Player (version 9 or above) is required to play this audio clip. Download the latest version here. You also need to have JavaScript enabled in your browser.
Audio clip: Adobe Flash Player (version 9 or above) is required to play this audio clip. Download the latest version here. You also need to have JavaScript enabled in your browser.


From the Jabroka-filled pockets of Aaron Levin:
Beneath Alienation's beautifully die-cut packaging (typical Patente faire) lays a harrowing journey into Quebec's multi-format experimental scene. Alienation is the audible outlet by visual artist Simon Langevin. Simon's autodidactic approach to the genre's freedom gives 2010 a welcomed erraticism resulting in a strange mix between multi-format, avant-meanderings and static post-techno beat collages. Add an 11-minute minor-key ethereal floater and you've got yourself a veritable trip through Simon's consciousness; corrugated tunnels lined with deep, dark textures appropriate for any hang-out setting not involving: smiles, fun, or not-goths. Killer psychedelic artwork to boot. +1 Patente.
Audio clip: Adobe Flash Player (version 9 or above) is required to play this audio clip. Download the latest version here. You also need to have JavaScript enabled in your browser.
Audio clip: Adobe Flash Player (version 9 or above) is required to play this audio clip. Download the latest version here. You also need to have JavaScript enabled in your browser.
From the private mind garden of Jesse Locke:
As far as awesome-sounding made-up genres go, Actual Water's self-described 'nature punk' is right up there with GOBBLE GOBBLE's 'flu pop', the Bayonets!!!' 'now wave' and Nu Sensae's 'voodoo punk'. It's also a bit of a red herring, as you'd be hard pressed to compare the music of this Toronto trio to anything in nature, except perhaps when listening to the bird calls on the 35-minute drone piece "Zodiac Letters" which spans the entirety of Leon's side B. During a recent visit to Toronto and Rotate This, I was lucky enough to snatch up a copy of this cassette, and it's now sitting near the top of my favourite finds of 2009. Sounding like a more blown-out Japanther or a friendlier Intelligence, Actual Water slather their hooks with hiss, chiming razor-blade riffs and trashy Trashmen hollers.
Audio clip: Adobe Flash Player (version 9 or above) is required to play this audio clip. Download the latest version here. You also need to have JavaScript enabled in your browser.
Audio clip: Adobe Flash Player (version 9 or above) is required to play this audio clip. Download the latest version here. You also need to have JavaScript enabled in your browser.
Palette cleansing rhythmic noise from Montreal packaged beautifully via Quebec City's finest experimental boutique label Patentes. Tongue and Groove bombards us with with fifteen minutes of organic, droning noise before collapsing into an ironic heap of 80s trash vis-Ã -vis Scorpions "No One Like You" with electronic manipulations hovering in the background. I prefer the kind of accessible, meditative, and neutral-inducing static from Noise Cobra over the stinging reality bite you get when confronted with noise's harsh counterpart. I've listened to this album about four times now and I feel ready to face my urban reality; meditation. I look forward to more from Noise Cobra and Patentes.
Audio clip: Adobe Flash Player (version 9 or above) is required to play this audio clip. Download the latest version here. You also need to have JavaScript enabled in your browser.
Seizure Salad / Indiensoci
The New The Good The Bad and The Ugly Sound Track
(Ice Cream Ala Mode Tape and Sound)
Calgary, AB / Montreal, QC
::web/sounds::
This cassette woke me up on the first day of my vacation. My buzzer rang at 8am this morning and I was pissed-off. I ripped open the parcel and the Seizure Salad / Indiensoci split-cassette fell out; I was excited and ashamed. Seizure Salad's side skidded into my mind with a lo-fi barrage of experimental psychedelia; a droning, rhythmic travelogue to the far-reaches of Disneyâ"¢-hell filled with distorted film illusions and guitar shreddery. It's a real narrative with emotionally percussive climaxes and mellow, ambient descents. On the flip-side, Indiensoci sends her parsed, ambient bellowing in an attempt to balance the intricate mind-barrage of Seizure Salad. Indiensoci is the not-so-secret side project from BRAIDS' singer and it all makes sense; mellifluous echoes of her voice traveling from every direction in cassette-quad beauty and sentient brilliance – it's all the things we love about BRAIDS in one stream of magnetic tape. Where Seizure Salad takes you on a Trip Thru Hell, Indiensoci brings you back to the world of the half-alive, allowing a return to your dreams, naps, narratives, and lives with the subtle feeling that everything is not-OK, but it's all lovely because her vocal wysps linger on in half-audible existence. An easy contender for best experimental cassette of 2009.
Audio clip: Adobe Flash Player (version 9 or above) is required to play this audio clip. Download the latest version here. You also need to have JavaScript enabled in your browser.
Seizure Salad – Sleeping Buddy
Audio clip: Adobe Flash Player (version 9 or above) is required to play this audio clip. Download the latest version here. You also need to have JavaScript enabled in your browser.
Seizure Salad – The Lion Thing
Audio clip: Adobe Flash Player (version 9 or above) is required to play this audio clip. Download the latest version here. You also need to have JavaScript enabled in your browser.
Indiensoci – Boys aRe Stupid 1 (the snowshoe)
Audio clip: Adobe Flash Player (version 9 or above) is required to play this audio clip. Download the latest version here. You also need to have JavaScript enabled in your browser.
Indiensoci – Boys aRe Stupid 2 (touched by a sentiment)
And for fun, here is two more Seizure Salad tracks…
Audio clip: Adobe Flash Player (version 9 or above) is required to play this audio clip. Download the latest version here. You also need to have JavaScript enabled in your browser.
Seizure Salad – Beauty Lewis & The News
Audio clip: Adobe Flash Player (version 9 or above) is required to play this audio clip. Download the latest version here. You also need to have JavaScript enabled in your browser.
---