Tag: drone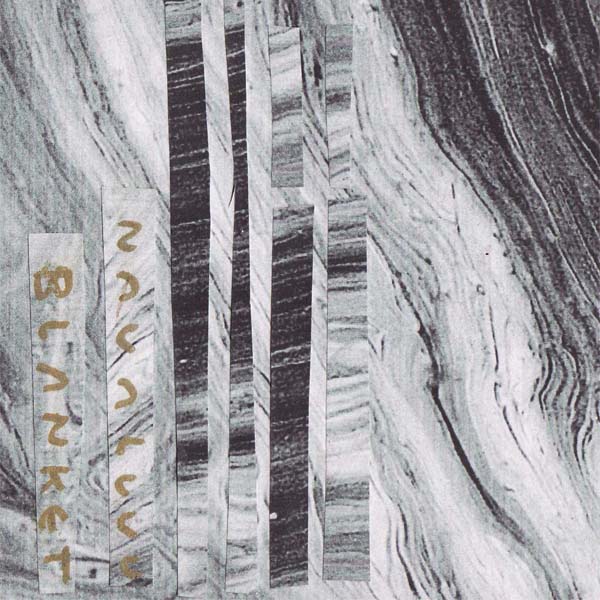 Nava Luvu
Blanket
(Self-Released)
Yellowknife, NWT
From the semi-conscious state of Gabe Girard:
A prolonged meditation on a droning, pulsing theme as inexorable as the frigid climate from which it hails, Nava Luvu offer Blanket – a cure for the common cold, among other ailments. They blur the line between tracks, opting for a record that could start and end anywhere you please. Allow yourself to be lulled into a pleasant, semi-conscious state, free from the burden of urban sprawl and inner city haste.
De l'état semi-conscient de Gabe Girard:
(Traduit par les yeux clos de Jessica Grenier)
Une méditation prolongée sur fond de pulsation bourdonnante aussi inexorable que le climat aride duquel il provient, Nava Luvu nous offrent Blanket, un remède pour soulager les rhumes, entre autres maladies. Ils ont brouillé la limite entre les pistes, optant pour un album qui pourrait commencer et finir où vous le souhaitez. Laissez-vous bercer jusqu'à un agréable état semi-conscient, libéré de la précipitation des grandes villes et du poids de l'étalement urbain.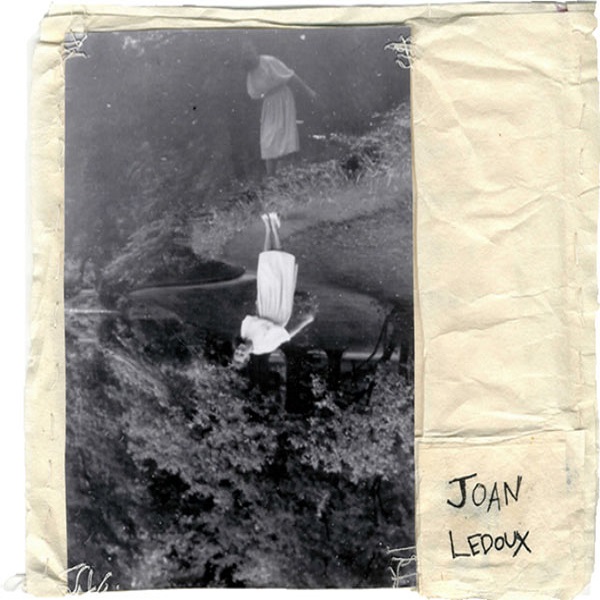 Joan Ledoux
EP
(Self Released)
Gatineau, QC
From the dainty digits of Noah Sherman:
This debut ranges from calming to irritating to somber to simply unnerving – then the next track starts. The focal point in the EP comes on the ultimate track in which noise music interrupts the beautifully delicate soundscape, before fading back to obscurity and allowing the soft tones to take over once more. It's a perfect contrast that epitomizes the audio adventure.
Des doigts délicats de Noah Sherman:
(Traduit par Jessica Grenier)
Ce premier album passe de relaxant à irritant, à sombre, à carrément perturbant – puis la deuxième piste commence. Le point fort arrive à la dernière piste, où du noise vient interrompre la beauté délicate d'un paysage sonore avant de retourner dans le néant, laissant les douces tonalités reprendre le dessus. Cet excellent contraste illustre à la perfection l'aventure audio.

Joan Ledoux – Prom Dress/Burial Ground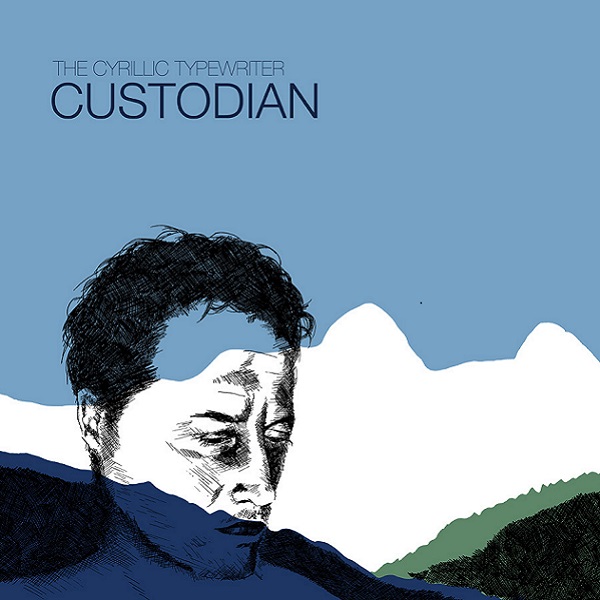 The Cyrillic Typewriter
Custodian
Vancouver, BC
From the bleeding eyes of Marie LeBlanc Flanagan:
Skies under eyelids droning. Foghorns from above, from below. We heard them clattering in the wind, they are all the same. Always the hunger. Bow pulls tight and reverses. Repeat. Dirty water and the rag. Down the hole they are clamouring. A face, no matter which way the head turns. Tight connection prevents escape. Vibration.
Des yeux ensanglantés de Marie LeBlanc Flanagan:
(Traduit par le deuxième visage de Jessica Grenier)
Un ciel infini sous des paupières bourdonnantes. D'en haut et d'en bas, nous entendons des cornes de brume qui s'entrechoquent dans le vent. Elles sont toutes identiques. La faim, toujours présente. Le nœud se serre puis se desserre, et c'est reparti. Eau sale et haillons. Tout au fond du trou, ils font du vacarme. Un visage, peu importe de quel côté tourne la tête. Des liens solides rendent la fuite impossible. Vibration.

The Cyrillic Typewriter – Lament 3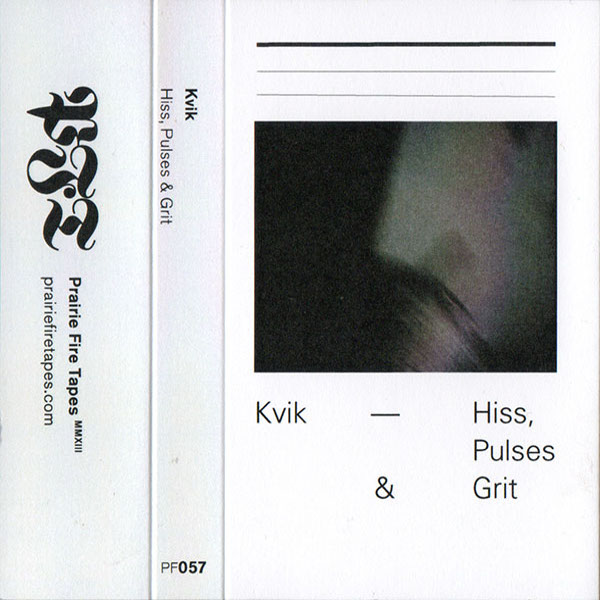 Kvik
Hiss, Pulses, & Grit
(Prairie Fire Tapes)
Montréal, QC
From the cold buzz of Kevin Hainey:
Kvik is the long running avant garde project of Montreal's Simon Thibaudeau, who I can profess is not only an outstanding crafter of drones, noises and compositional narratives, but a fine chef as well. Perhaps he treats sounds like foods, blending the right flavours and spices together, marinating, mixing and sautéing them to perfection. This latest tape showcases his brilliant knack for arranging organic compositions that heat up, fry, cool down and serve up fresh as a full course meal. Both of these sidelong pieces are testament to Thibaudau's calm and articulate skill at sculpting engaging arrangements out of otherwise alienating sounds.
Du bourdonnement glacé de Kevin Hainey:
(Traduit par Jessica Grenier)
Kvik est le projet de longe date du Montréalais avant-gardiste Simon Thibaudeau, qui est – je peux le certifier – non seulement un maitre du drone, du noise et de la composition narrative, mais en plus, un chef talentueux. Il apprête peut-être le son comme la nourriture, sachant incorporer les bonnes épices aux saveurs, avant de tout mélanger pour les faire sauter à la perfection. Cette cassette démontre son brillant savoir-faire pour les arrangements de compositions organiques qui vont réchauffer, faire frire, puis refroidir et servir l'équivalent d'un repas complet. Les pistes de chaque face sont la preuve du calme et de la compétence articulée de Thibaudau lorsqu'il sculpte des arrangements engageants à partir de sons qui, autrement, seraient aliénants.

Kvik – Dim Seen Through Cataracts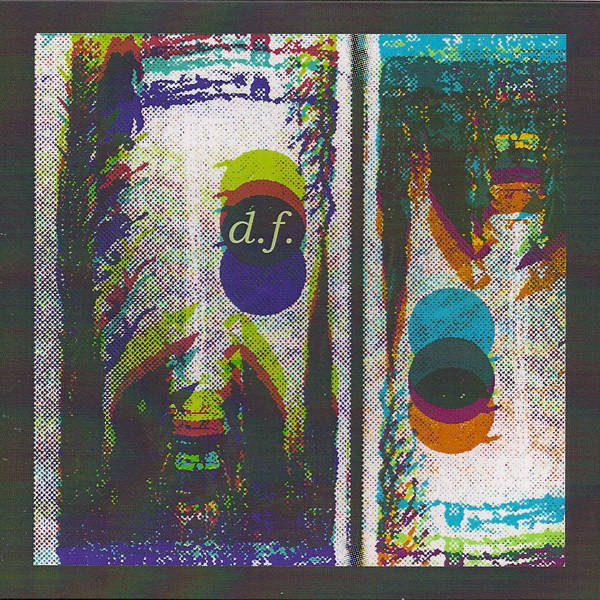 D.F.
Snowshell + Tape Decay Works
Calgary, AB
From the snow's hell of Jesse Locke:
Devin Friesen breaks out his frozen gtr for another trudge through analog atrophy and shuddering drum machine dread. This CD edition collects the original grip-or-it's-gone Snowshell lathe with six additional blasts of dome-clearing desolation, bottoming out with the 15-minute "Return of the Raiders." Stay frosty…
De l'enfer de neige de Jesse Locke:
(Traduit par les bas de laine troués de Jessica Grenier)
Devin Friesen est sorti de sa GTR glacée pour une autre marche pénible à travers l'atrophie analogique et le frisson d'une boîte à rythme terrifiante. Cette édition en CD rassemble Snowshell (l'original, dépêchez-vous avant qu'il n'y en ait plus!) et six autres explosions dévastatrices à faire sauter le plafond, et se conclu avec les 15 minutes de « Return of the Raiders ». Alors, faites attention…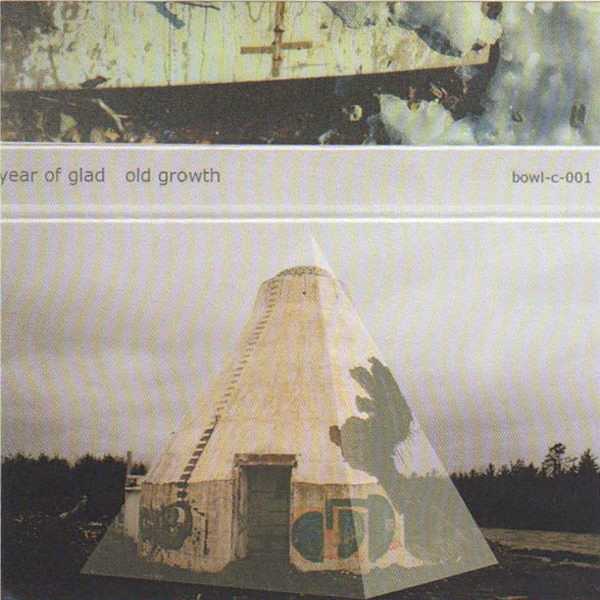 Year of Glad
Old Growth
Montréal, QC
From the self-consuming snake of Rachel Weldon:
Tones expand infinitely across an apocalyptic wasteland. Last gasps of existence smear across the temporal canvas, breathing life into a new and evolved lifeform. Euphonic in its thickness of space, Old Growth's dynamic ambience enlarges the mind. We are in here. Space slashed with subsidized time relentlessly pushes forward, growing bigger as it consumes its surroundings.
Du serpent en train de se manger lui-même de Rachel Weldon:
(Traduit par Jessica Grenier)
Les sons s'étirent à l'infini par-dessus la dévastation d'un paysage post-apocalyptique. Les derniers souffles de vie sont étalés sur le canevas temporel, donnant naissance à une nouvelle forme d'existence évoluée. Rendu euphonique par l'épaisseur de son espace, Old Growth offre des ambiances dynamiques qui élargissent l'esprit. Nous sommes ici, à l'intérieur : l'espace est lacéré par un congé payé qui cherche inlassablement à avancer, grossissant au rythme où il consume ce qui l'entoure.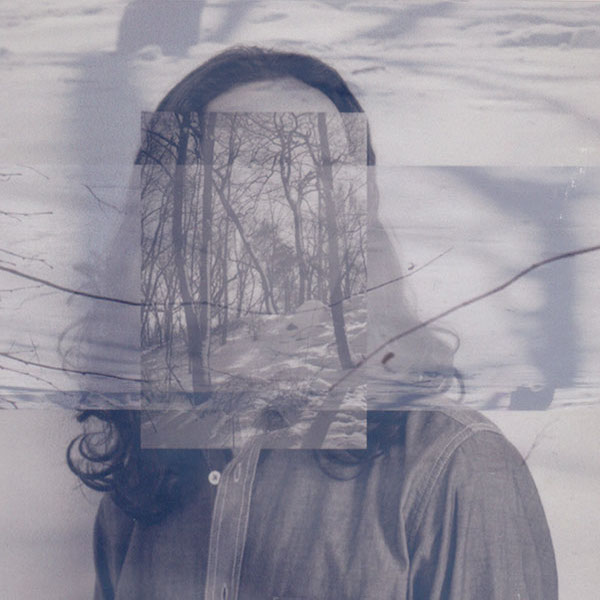 Mosaias
Mosaias
(Self Released)
Saskatoon, SK
From the infinite squall of Joshua Robinson:
With an ear for the sound of nuanced infinity, Saskatoon's Stephen Cooley imbues these songs with the vitality of the endlessly temperate dusk. Wind against face. Face against firmament; the deep, dark sky of our mirrored looking-glass self. There is a stirring at the point where electrostatic impulse causes fibers to weave together; that point of calm before the storm when stillness is animated and motion becomes static. Herein lies the potential energy of the prairie squall: a slumbering giant.
De la bourrasque perpétuelle de Joshua Robinson:
(Traduit par le regard impressionné de Jessica Grenier)
L'oreille sensible à la sonorité nuancée de l'infini de Stephen Cooley – de Saskatoon – a insufflé dans ces chansons la vitalité de la pénombre perpétuellement tempérée. Le vent sur le visage, le visage vers le firmament; la sombre immensité du ciel, notre reflet fixant le miroir. Il y a une vibration à l'endroit où les filaments, sous une impulsion électrostatique, s'entremêlent : le calme avant la tempête, le moment où l'immobilité s'anime et où le mouvement se fige. De là vient toute l'énergie potentielle des bourrasques des Prairies : un géant endormi.
Silence
diy concert/performance/publishing/creation space
Capacity: 60 seated, 80 standing
Accessibility: all ages shows, barrier-free entrance and washroom, lgbtq friendly, frequent PWYC events
(Illustration by Hugh Mater, Photo by Steph Yates)
46 Essex Street
Guelph, ON
From the diamond incisor of Danica Evering:
The conceptual great-great-grandbrainchild of John Cage, Silence is a scrappy space that has become a second home for Guelph's many improvisers, thinkers, printmakers, creators, discussers, hand-makers, noise lovers, musicians, bookbinders, and experimenters. Though it cut its baby teeth as an ongoing experimental music series housed in the Macdonald Stewart Art Centre, Silence has made its home at 46 Essex (a former auto body shop and chinchilla breedery) and has become a thrumming hub for alternative culture. The building was recently purchased by musicians and enthusiasts Gary Diggins, Daniel Fischlin, Catherine Kormendy, and Martha Nandorfy, and we caught up with Silence's founder, radical hurdy gurdy player/inventor/composer/coffee roaster Ben Grossman.
Nihilist Spasm Band at Silence, Kazoo! Fest 2014, video by Colin Medley
DE: Silence is a portal for challenging new sounds. What's important in stretching our ears and sticking with the weird?
BG: What's important for me as a listener is that I'm constantly surprised by what I hear. I lose interest quickly when I can understand something, I want there to be some mystery and challenge in art and music. I'm also intrigued by this idea that challenging art and music and stuff has some value in stretching humans cognitively and emotionally and politically and socially. That it can serve as a rehearsal for dealing with otherness in the world and coming to appreciate things we don't understand. So there's maybe a bigger social or cosmic picture too.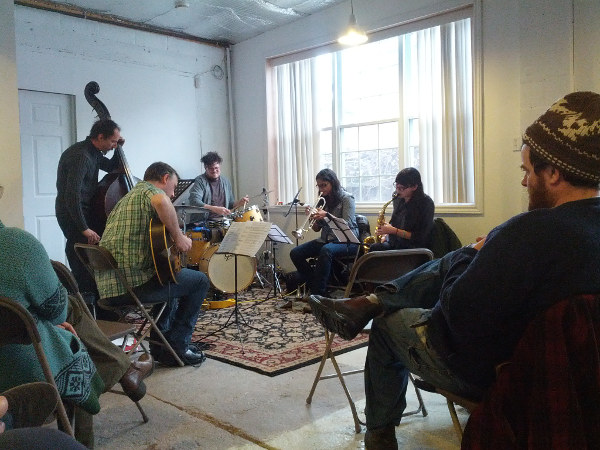 First Show at 46 Essex St., photo by Ben Grossman
DE: You started out by programming sounds, but Silence now encompasses art, politics, and DIY maker culture among other things. Can you tell us a little more about the rhizomatic branching out of this ethic?
BG: I think that had so much to do with becoming a space, instead of just a series—one person can only do so much. But if there's any ideology behind it, you could connect it to John Cage's idea that everything is theatre, that the arts interpenetrate whether we intend them to or not. He talks about how no one closes their eyes at a concert anymore, because everything that's around, whether it's intended or not, is part of the experience. So it's only natural that visual, and time-based, and architectural considerations come into play. It's not just about sound in isolation. Plus, of course, just that's how shit happened.
Michael Mucci at Silence
DE: The space at 46 Essex is somewhat of a tiny strip-mall (or shall we choose something less troublingly suburban?) of alternative culture in Guelph. It's been home and host to PS Guelph, Kazoo!, Pinball Sessions, Raft and Map, Department of Lost Records, art shows, theatre, improvisation groups, and many others. How do the organizations involved the communities around them feed each other?
BG: Do they feed each other, or do they simply coexist? They feed each other in a very practical way in that audiences get shared. But there's also the kind of collaboration which you can't really plan on that much. I'm really reluctant to even talk about it for fear of calcifying it into something formal. There're the ad-hoc kinds of things where people come in and see the space, they think that they could do an installation of some prints over here, make some music over there. Those kinds of things that if you tried to organize them would probably fail miserably. But when you just create an empty space for it, it can allow those things to happen if there's enough of a spirit of anything goes. Those are important things to me: cheap, accessible, dirty (a little bit). They do feed each other, but I'm not sure it's in ways that could easily be articulated too well. You're not force-feeding anything to the audience, you're not even presenting it to them on a platter. You're just saying, here's a bunch of stuff: some publishing, some music, some sound, and some video, and you can make something out of it, because you have a brain and you can do it.
---
Thresholds like these are usually difficult to cross, tied up in commerce, privilege, and expectations. But we walk through this one like it's a door in our houses, our living rooms, finding comrades and fellow makers on the other side. Mix tape bricks smoke stack high on the roof, exhaling doilies and inexhaustible devotion. Inside wires and weirdos tangle, sparking. Like the space between the rafters, Silence is the charged potential between two notes. A breath-held aperture that invites unruly, abundant co-creation.
Des incisives incrustées de diamants de Danica Evering:
(Traduit par Jessica Grenier)
Silence – qui pourrait être considéré comme l'héritier conceptuel de John Cage – est un espace morcelé devenu maison d'accueil pour les marginaux de Guelph, tant les improvisateurs, les penseurs, les graveurs, les discuteurs, les artisans, les amateurs de bruit, les musiciens et les relieurs que les expérimentateurs. Après s'être fait les dents en tant que série musicale expérimentale en continu au Macdonald Stewart Art Centre, Silence s'est établi au 46 rue Essex (anciennement un atelier de débosselage et un élevage de chinchilla) et est devenu un centre bourdonnant de culture alternative. La bâtisse a récemment été achetée par Gary Diggins, Daniel Fischlin, Catherine Kormendy et Martha Nandorfy, des musiciens et des passionnés, et nous avons rencontré le fondateur de Silence, l'inventeur/compositeur/torréfacteur de café/joueur d'orgue de Barbarie extrême : Ben Grossman.
Nihilist Spasm Band à Silence, Kazoo! Fest 2014, vidéo de Colin Medley
DE: Silence est un portail pour les sons nouveaux et provocateurs. Pourquoi est-il important de tendre l'oreille et de s'intéresser à ce qui est étrange?
BG: Ce qui m'importe en tant qu'auditeur, c'est d'être constamment surpris par ce que j'entends. Je perds rapidement intérêt quand je peux comprendre quelque chose. Je veux qu'il y ait du mystère et du défi dans l'art et la musique. Aussi, l'idée que l'art provocateur – et la musique et tout ça – ait un rôle à jouer dans le fait d'étendre les capacités sociales, émotives, politiques et cognitives de l'humain m'intrigue. Qu'il serve de pratique pour faire face à l'altérité dans le monde, pour en venir à être sensibles aux choses qu'on ne comprend pas. Alors, il y a peut-être aussi une vision d'ensemble sociale ou cosmique.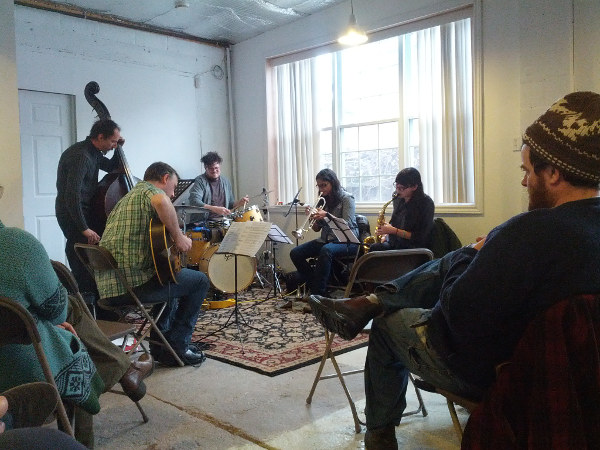 Premier spectacle au 46 rue Essex, photo de Ben Grossman
DE: Tu as commencé par la programmation de son, mais Silence touche maintenant entre autres l'art, la politique et la culture artisanale. Peux-tu nous parler un peu des ramifications rhizomateuses de cette éthique?
BG: Je pense que c'est beaucoup dû au fait d'être devenu un espace plutôt qu'une simple série – une seule personne ne peut pas faire tout ce travail. Mais s'il y a une idéologie derrière, elle pourrait être liée à l'idée de John Cage que tout n'est que théâtre, que les arts s'interpénètrent qu'on le veuille ou non. Il parle des gens qui ne ferment plus les yeux durant les concerts aujourd'hui, parce que tout ce qui les entoure fait partie de l'expérience, que ce soit voulu ou non. Alors, il est naturel que des considérations comme l'aspect visuel, temporel et architectural entrent en ligne de compte. Ce n'est pas juste une question d'isolation acoustique. Et puis, évidemment, c'est comme ça que les choses se passent.
Michael Mucci à Silence
DE: Le 46 rue Essex ressemble vaguement à petit centre commercial (ou devrait-on trouver quelque chose évoquant moins une banlieue déconcertante?) pour la culture alternative à Guelph. En plus des expositions, du théâtre et des groupes d'improvisation, l'édifice a notamment accueilli PS Guelph, Kazoo!, Pinball Sessions, Raft and Map et Department of Lost Records. Comment les organisations et les communautés qui les entourent se soutiennent-elles mutuellement?
BG: Est-ce qu'elles se soutiennent ou est-ce qu'elles font simplement coexister? Dans les faits, elles se soutiennent mutuellement puisque le public est partagé, mais il y a aussi un genre de collaboration qu'on ne peut pas vraiment planifier. En fait, j'hésite même à en parler de peur que ça le calcifie en quelque chose de formel. Il y a des fois plus ad hoc où les gens entrent pour voir l'endroit, puis se mettent à imaginer comment ils pourraient faire une installation avec des gravures par ici, jouer de la musique par-là… Ce genre de choses échoueraient sûrement lamentablement si on essayait de les organiser. Mais le fait de créer un endroit libre juste pour ça peut permettre à ces choses de se produire – si on se dit que tout est permis. Ce qui est important pour moi, c'est que ce soit accessible, abordable et sale (un peu). C'est vrai qu'elles se soutiennent, mais je ne suis pas certain que ce soit d'une façon qui pourrait être articulée clairement. On n'essaie pas de gaver le public, on ne lui présente même pas quelque chose sur un plateau. C'est plus de dire : voici un paquet de trucs, des publications, de la musique, du son, quelques vidéos, et tu peux en faire quelque chose, parce que tu as un cerveau et que tu en es capable.

---
Ce genre de seuils est généralement difficile à franchir parce qu'ils sont trop enchevêtrés dans le commerce, les privilèges et les attentes. Mais ici, on entre comme si c'était la porte de notre maison ou de notre salon pour aller rejoindre des camarades et des collègues-artisans. Une grande cheminée de cassettes s'élève sur le toit, crachant une fumée tissée de dévouement intarissable. Le filage interne et les bizarroïdes se mêlent, créant des étincelles. Comme l'espace entre les chevrons, Silence est le potentiel chargé entre deux notes. Une ouverture créée par un souffle retenu, invitant une cocréation abondante et chaotique.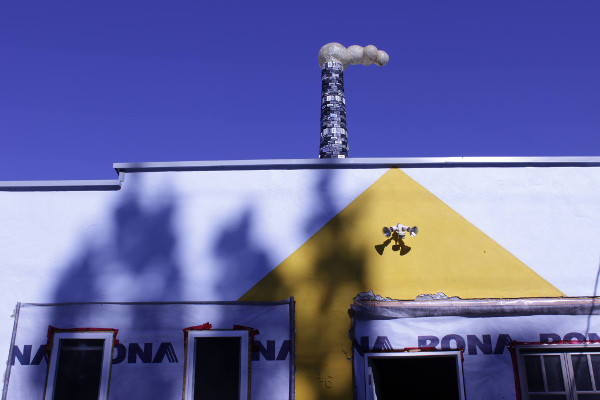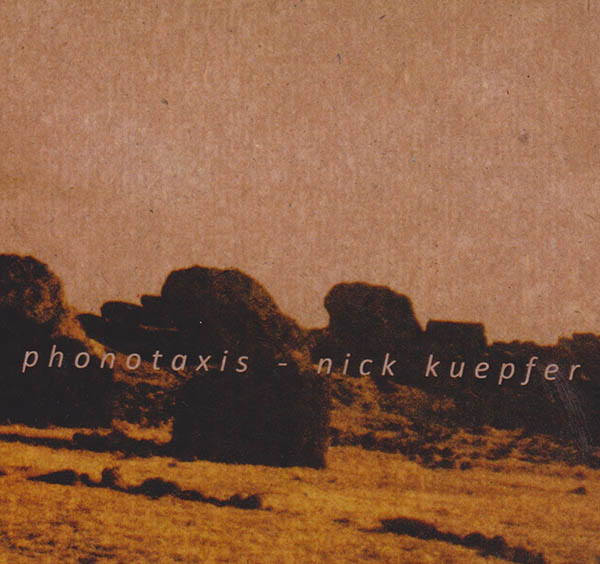 Nick Kuepfer
Phonotaxis
(Self Released)
Montréal, QC
From the synaptic mind-fogs of Joshua Robinson:
Delirium mind-fog hovers as the hazy overgarment that shrouds this release in an ethereality that is the aged and wondrous archetype of drone-glory. Manipulating the analog sepias of the bleeding starkness that blurs the fineries of static stasis and zoetic flux, Nick Kuepfer cossets these participles of the ever grand and particulate astral body. They are the intoned splendor paeans of spirit guides lost in the expansive diameters of limitless amplitudes, their waves brushing and then breaking against the littoral skins of syndetic pastures.
Du brouillard synaptique de Joshua Robinson:
(Traduit par Jessica Grenier)
Un brouillard délirant gagne les esprits, une cape floue enveloppant cet album d'une immatérialité propre à l'ancien archétype du drone dans toute sa splendeur. En manipulant la sépia analogique de l'austérité blessée qui trouble les parures de la stagnation statique et de la fluctuation zooétique, Nick Kuepfer dorlote ces participes, matière particulaire du corps astral grandiose. Ce sont les louanges splendides chantés par des guides spirituels perdus dans les diamètres expansifs d'amplitudes sans limites, leurs vagues frôlant puis se brisant sur les peaux du littoral des pâturages reliés.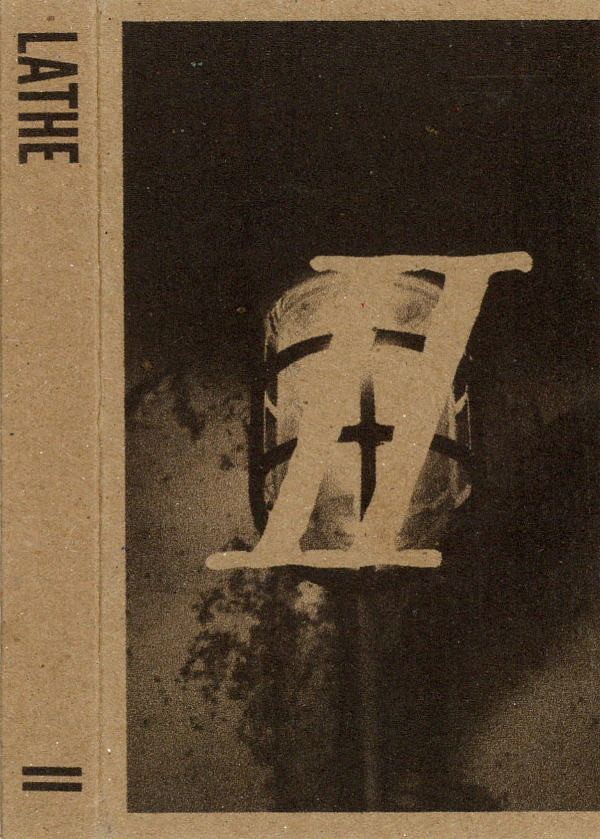 LATHE's two-song cassette takes its time warming up to you, never trying to overwhelm with its sparse, string-bending riffs and subdued drums, hazily evocative of latter-day Earth
LATHE
II
(Self Released)
Kingston, ON
From the power tower of Doreen Girard:
This live, two-song cassette takes its time warming up to you, never trying to overwhelm with sparse, string-bending riffs and subdued drums, hazily evocative of latter-day Earth. That's not to say it hangs back in the shadows, too timid to communicate with strangers. It listens patiently, is comfortable with silences, chooses its words thoughtfully. And anyway, once the ice is broken, it's clear that Lucas Huang (guitar/voice) and Liam Cole (drums) are deep in fervent conversation, and would rather not be disturbed.
De la tour électrique de Doreen Girard:
(Traduit par Andréanne Dion)
Cette cassette de deux chansons enregistrées live vous réchauffe lentement, sans jamais essayer de vous submerger avec ses riffs épars qui tordent les cordes et sa batterie feutrée, qui évoquent vaguement les derniers jours de Earth. Cela ne veut pas dire qu'elle se tient dans l'ombre, trop gênée pour approcher les étrangers. À l'aise dans le silence, elle écoute patiemment et choisit ses mots avec soin. Et de toute façon, une fois la glace brisée, il devient clair que Lucas Huang (guitare/chant) et Liam Cole (batterie) sont absorbés par une conversation passionnante et qu'ils préféreraient ne pas être dérangés.
---